For years the de facto choice when building a cafe racer was the air-cooled, 865cc Triumph Bonneville. With very few changes it dominated the retro market for a generation – from its Hinkley manufactured beginnings in 2001 to its final EFI form rolled out of Thailand fifteen years later. And that's because the Thruxton, T100 and the Scrambler all offered excellent reliability, good build quality and a host of exceptional aftermarket parts for sensible money. Scores of amazing customs were crafted out of these evergreen classics, many of which have graced these fine pages.
But what are they actually like to own and work on? Are they a legitimately good bike, or do they trade entirely on the name alone? Well, read on as Return of the Cafe Racers runs through everything you need to know before putting your hard-earned down on a Hinckley classic.
AESTHETICS
At first glance, the Bonneville and its brethren are perfect candidates for an honest-to-God cafe racer. Most models run wire wheels, a traditional frame and right-way-round forks with twin rear shocks. So the conversion to a good looking cafe'd special should be an easy one, right? Well, no.
Look carefully and you'll see the truly exceptional cafe conversions require more work than you'd expect. Sure, a hunchbacked seat, de-restricted exhaust and a set of clip-ons make something that looks fairly convincing – but the best customs take a whole lot more work than that. Because the devil is in the detail. The chunky, ugly, plastic detail.
The indicators and brake lights are oversized, the switchgear is unsightly and the simplest modification can have a flow-on effect that'll lighten your wallet and leave a big fat grin on the face of British Customs. A short rear fender will require you get a smaller, less obnoxious tail light. A smaller headlight will need a new mount – and then the ignition assembly relocated away from the headlight ears. As soon as you alter or remove a part on these Triumphs it shows up the deficiency of another.
Look at the dash. It's encased in plastic and with the most obnoxious idiot light array, you're likely to see. On earlier models, it can be replaced easily with all manner of aftermarket parts, but later years get trickier.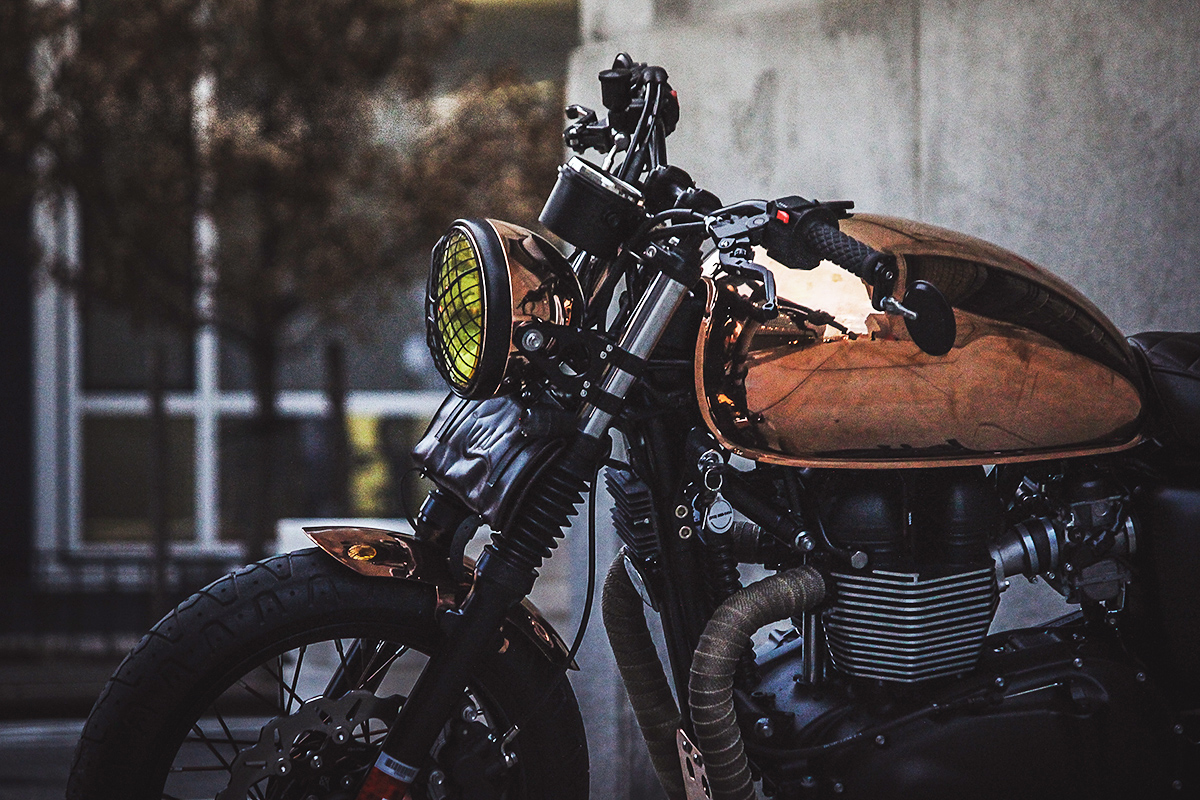 Take a look at the cockpit of the Miss Moneypenny Bonneville shown above. Looks great, huh? But that smaller headlight necessitates a new set of headlight brackets, an ignition relocation kit, a lay-flat-dash and some idiot light hiding. Conclusion – bucketloads of money.
Cafe builders take note: From 2011 on the Bonneville range run the CAN-bus system. If the electronic signals to the bike's brain don't travel through a working dash setup then you're in for some warning light action or even a total non-start from the engine. This means you'll need to modify the wiring or use a prohibitively expensive product from Motogadget, or, in extreme cases, hollow out part of the fuel tank and stash the whole dash in there out of sight.
And here's another reason to stick with a pre-2011 model. That same year they went to fuel injection, neatly hidden inside a very convincing fake set of carburetors. But the fuel tank had to be widened to accommodate the fuel pump. This throws out the proportions and makes swapping the tank a very, very difficult task.
The EFI system also comes with an array of sensors and electronic spaghetti that clutters up the air box space. Getting that light, see-through look through the center of the bike is virtually impossible with these models. Custom EFI Bonnevilles have been crafted, but the truly light and nimble looking specials will run carbs. They've got the tank, the fueling and the gauge array that lends itself to being stripped back. And that's not the only good thing about the early models.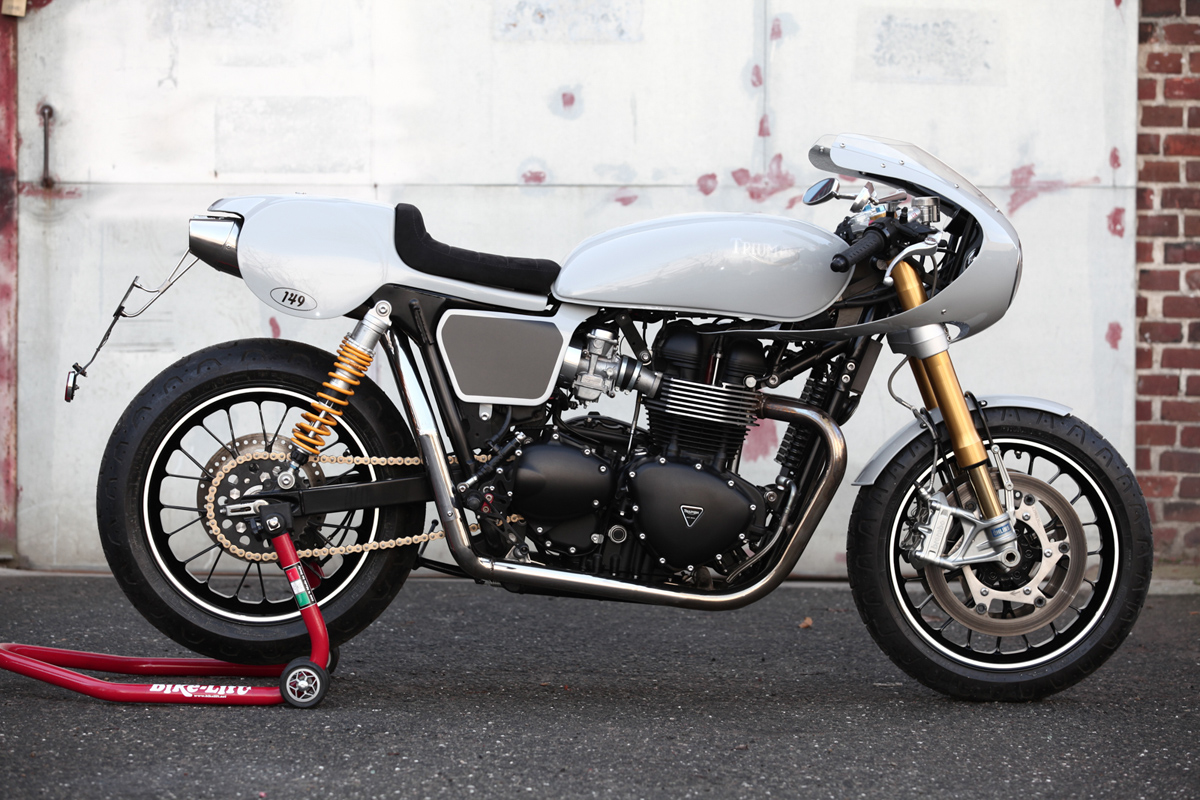 The fuel injection means you'll never be able to strip down the center of the bike. Fortunately, it leads creative builders to come up with some interesting ways to cover the fuel injection system. Like they did with the Shady Sam Bonneville SE.
THE ENGINE
The later Bonneville's are handicapped by a fuel injection system that is unintelligent, snatchy and delivers poor fuel economy. It can all be fixed – you'll need to find a new map, run an aftermarket exhaust and ignition system, disable a host of sensors and alter the gearing slightly for a bike that'll run as the British motorcycling gods intended. So while it's tempting to go for a late model, try and find an early model that runs the hassle-free carbs.
Also, don't be afraid of the earliest, smaller displacement Bonnevilles. While 'no replacement for displacement' has a ring of truth to it, the 795cc Bonneville's feature a more aggressive cam profile that allows the bike to wind up quicker and more aggressively. This easily makes up for the slight difference in capacity. In fact, the early cam profile works so well engine tuners often run it on worked 865cc models in lieu of a dedicated performance cam.
All variations of the engine are willing, capable units that largely lack personality. They're quick enough to get yourself killed on but little more than that. Power delivery is linear and vibration free but largely without the side effect of personality. But there are plenty of ways to get your twin honking.
Whatever you want to do to the bike has been done before. Turbo? Sure. Supercharged? Of course! Most will run a modified intake and exhaust system but some still crave more and opt for high-compression pistons and some porting. But you will be sacrificing a simple, easy to maintain and incredibly reliable engine. Owners do over 100,000 problem-free miles before the second (lower) of the oil pumps inside the engine shits itself and needs the cases to be split. That being said, even modified engines tend to offer their riders a long, trouble-free life.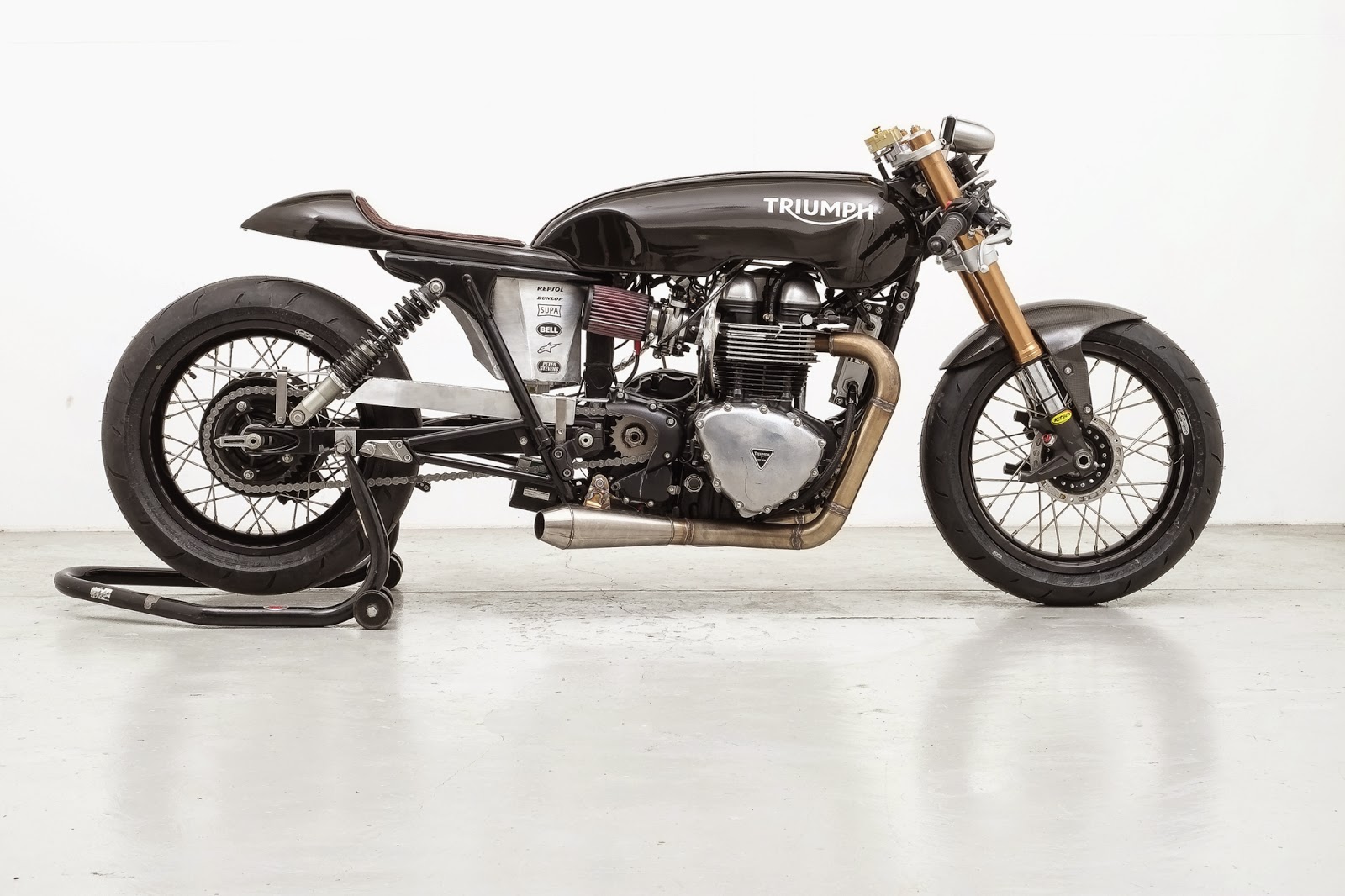 Whatever you can think of doing to the Triumph, someone has done it before. Usually not as nice as this, Aussie salt racer though.
It's all helped along by servicing that is straightforward and easy to do. Oil changes are at 6,000 miles and the valves done every 16,000. For every step of servicing there are incredible, well-documented how-to's scattered throughout the internet that put workshop manuals to shame.
HANDLING
Without putting too fine a point on it, Bonneville suspension is best described as 'shit'. Made from sub-par components, oversprung and underdamped, the ride quality can be excruciating. Tempting as it is to try and get more horsepower out of your Triumph, the very first thing you should really do is upgrade the suspension.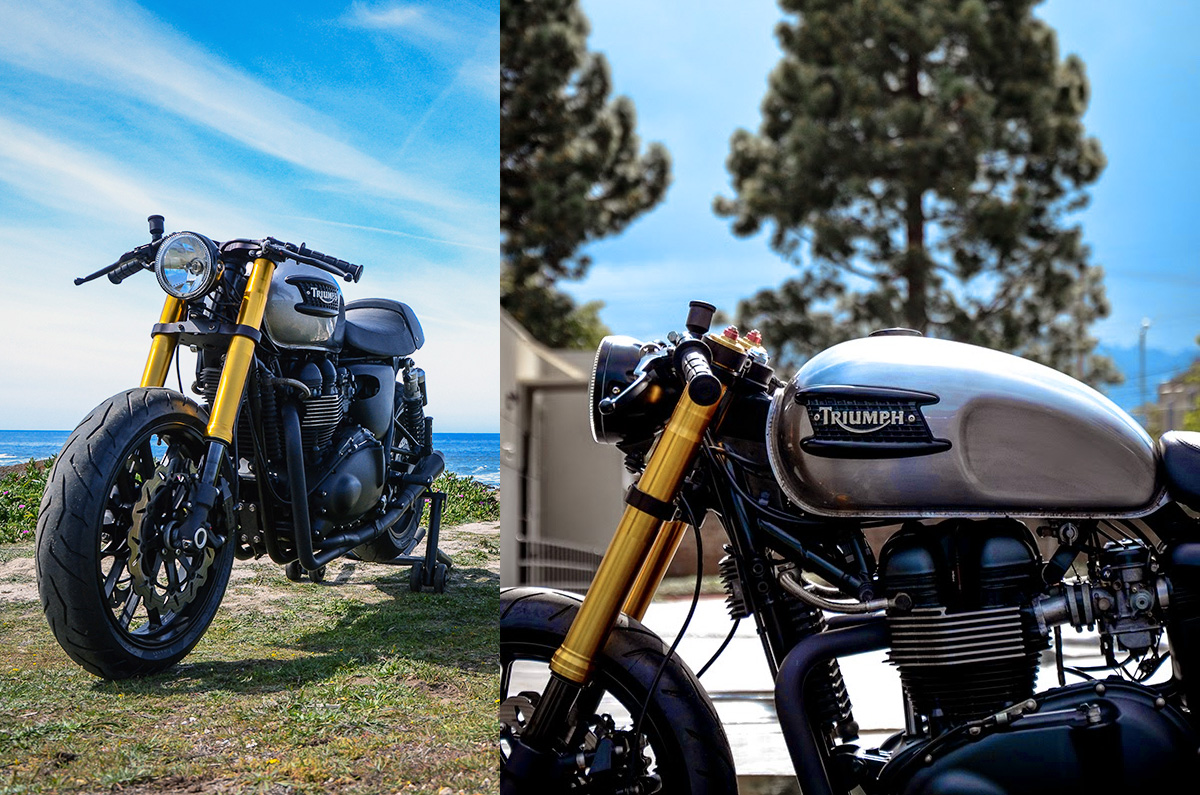 One way to improve the handling. A complete front end swap and piggyback rear shocks like on this build by The Bullitt. But there are easier ways to make your Triumph behave on the road.
Thankfully the fix is easy. The fronts can be tightened up with progressive springs and thicker oil (or in my case, constant-wound springs with Ricor 'intimidators' that did a fantastic end of keeping the suspension sensible). At the rear, a new set of twin shocks will do the job nicely. Hot tip – Ohlins aren't worth it in this case. The Bonneville-specific models are the cheapest in the lineup that are hardly worth it for the price. Instead look to Ikon, Hagon or any other number of cheaper manufacturers that have been dealing with these kinds of bikes for years. Better suspension will make the biggest difference to your Thruxton or Bonneville.
While the suspension can be tidied up it's important to acknowledge that the Bonneville and Thruxton were always slightly porky. Not grossly overweight – more of a dad-who-has-had-a-few-too-many-beers-after-work-each-week kind of fat. At speed, they're largely fine, but around town and at a walking pace they'll surprise you with their heft. It's one of the few problems with the Bonneville that isn't easily solved.
THE AFTERMARKET
Aftermarket parts suppliers sell every kind of product to improve these bikes. They've had an enormous following around the world, especially in the good ol' United States of America. As a result, the Bonneville and Thruxton have virtually every kind of accessory you can imagine to deal with any kind of problem, real or imagined, that they suffer from.
It's not quite as extensive as the catalogs for the Yamaha SR500 and nowhere near the codex-like entries that prop up the Harley Davidson market, but a number of shiny trinkets that you can put all over your Bonneville is astonishing.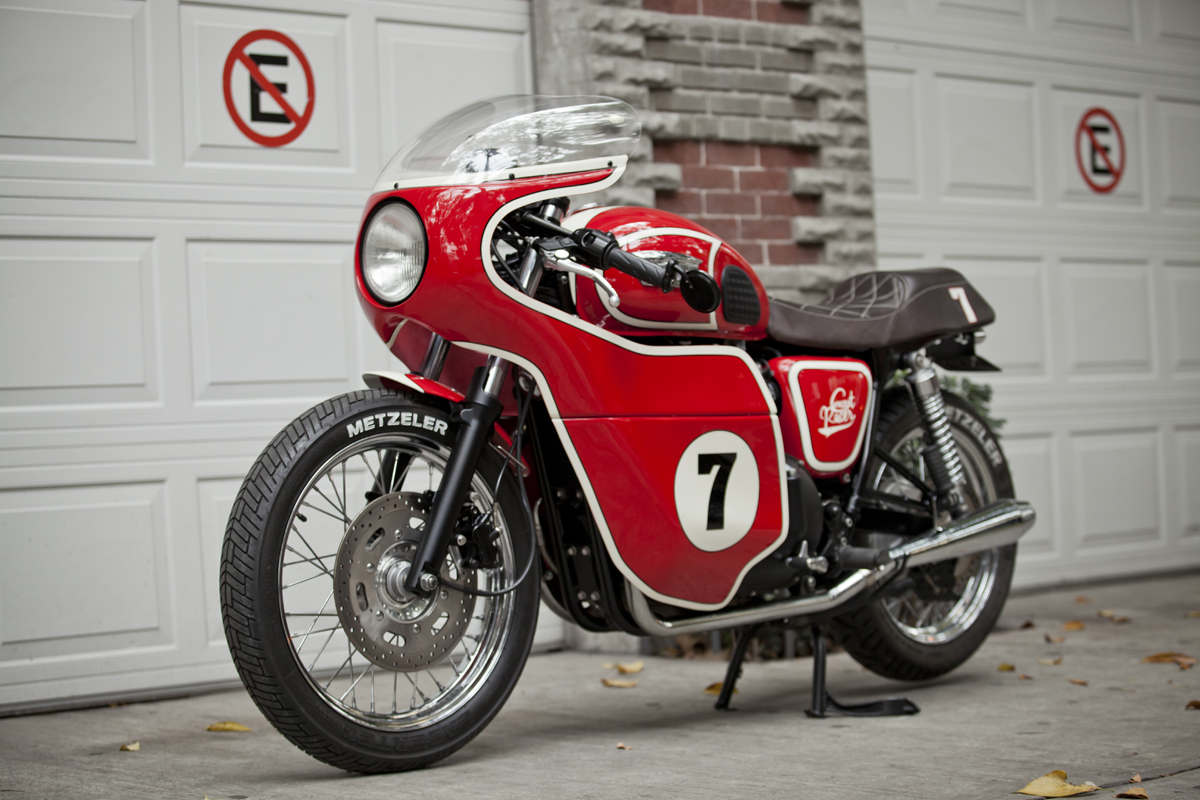 Bolt on parts help, but with a little more effort you could get this. Phoar.
There's seats, bars, mirrors, countless little dongles of questionable veracity, all manner of aftermarket exhaust options, side covers, fuel tanks and brake upgrades. Modifying the bike is easy with only a modicum of mechanical knowledge. It's so easy it feels like cheating.
But which one to pick?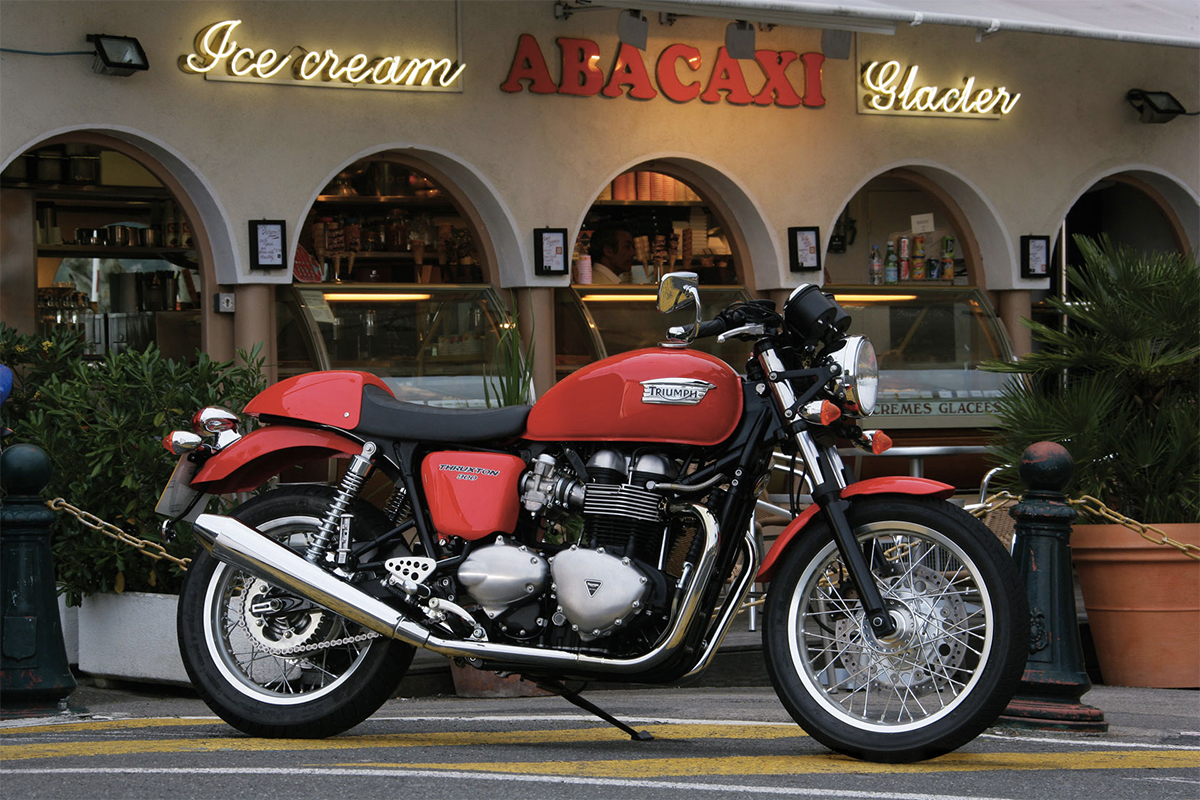 THE TRIUMPH THRUXTON
The model which will interest most of the readers here is going to the cafe-styled Thruxton. I remember when it was first released and listening to the hardcore cafe crowd parrot that the Thruxton was 'built not bought'. That chorus started to quieten though when they realized they were infinitely more reliable and handled better than any old leaky custom they'd cobbled together.
Compared to the T100 and the Scrambler the Thruxton does go harder. It has higher compression pistons, a different cam profile and different fuel-air mix that means that the bike revs harder and longer than the other models. But don't expect it to completely rock your world. It's still a very well-behaved bike that's very forgiving to ride.
The Thruxton also comes with the best compromise in the wheel range, with 18" rims front and back striking a good balance between turn in and being aesthetically correct.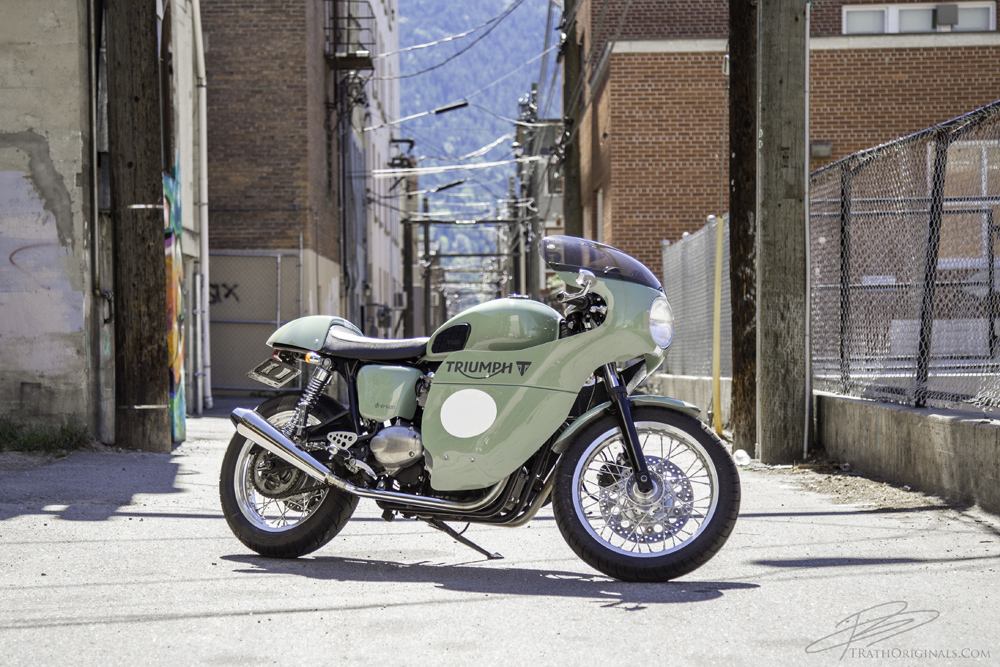 Looks incredible, doesn't it? But if you cast your eye over it there's not much this Thruxton has required aside from the fairing. So many standard components could be left in situ and left looking good.
The Thruxton demands a premium over the standard Bonneville and for our purposes, it's completely justified. It's 90% of the way there already – it needs a trim of the guards, headlight, indicators and that goddamn dash fixed, but when that's done you've got a bike that looks bloody good. It's the easy, most satisfying option. But don't discount the least popular bike in the Bonneville range.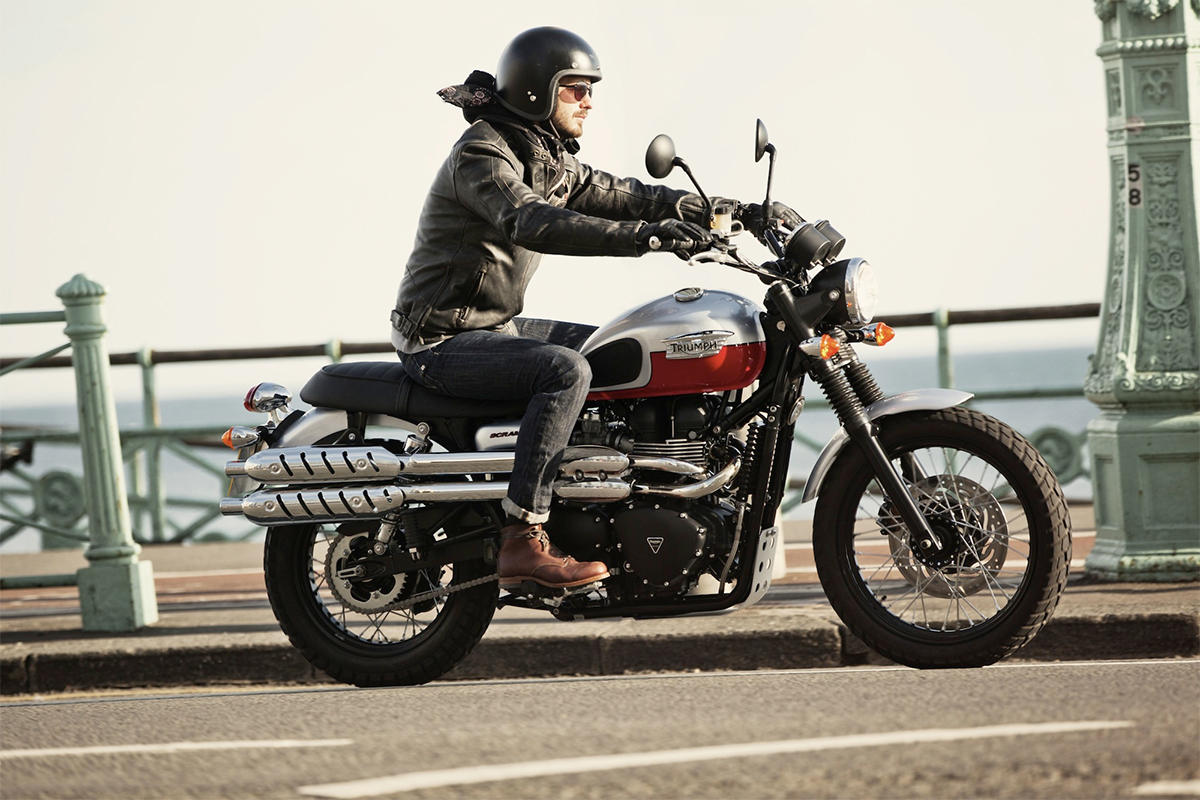 THE TRIUMPH SCRAMBLER
On paper that would be the dirt-styled Scrambler. I say 'dirt-styled' because the crazy hardcore riders who actually took them off road will tell you that the top-heavy Scram with its gorgeous high-mounted exhaust and underslung rear brake caliper is a less than ideal off-road steed.
Engine wise it puts out less horsepower too, thanks to the rephrased engine (270-degree firing order instead of 360) and for most of its life, running slightly lower displacement. But don't be too worried about this – the engine is actually significantly different to the other models in the lineup and it's got personality. So while you'll find the engine runs out of breath earlier up top, it's a more fun ride getting there. And really – if you're riding one of these things pinned at the top of the rev range it's probably not the bike for you.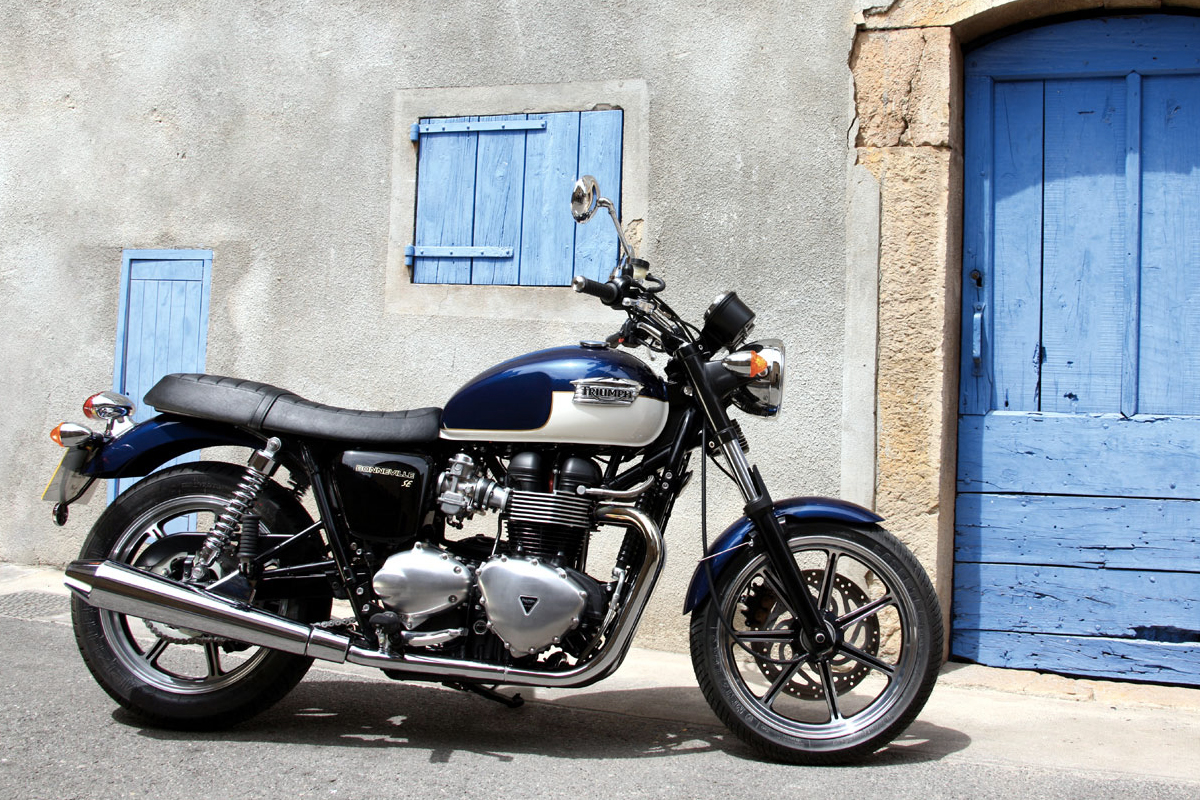 THE BONNEVILLE SE
The 17" mag-wheeled SE was my choice of ride for a number of years. It handles noticeably better than the 19" front on the standard model and the mags run tubeless tyres. But customizing one is a tricky affair. If you're going for a 60's style bike you'll never get there with the proportions offered by the 17" rims. There's been some amazing 80's themed builds around, but you'll want to change your colour palette and goal of the build accordingly.
WHAT TO LOOK FOR WHEN BUYING A BONNEVILLE
There is virtually nothing to warn you guys about. They're absolutely dead reliable. In fifteen years of production in two countries, there is only one real issue I can think of. A weeping cam cover gasket. And that's it.
As long as the bike has been maintained well there is nothing to be scared of and no particular part to check for noise. Most have been well maintained, but there are a few out there that were picked up as inner-city runabouts that were ridden into the ground. You'll be able to pick them a mile off – they'll be covered in rust, damage from slight drops and will probably be running NYC tags. But for most owners, the bike was their pride and joy and treated as such.
Truthfully, the best value for money is to be found in the earlier models. While they're a few cc's down on the later models the power delivery is slightly more aggressive and their build quality just seems to be a little better. Regardless of engine size, aim for a carburetted one – you'll find all sorts of modifications are easier and it'll look better with the standard fuel tank.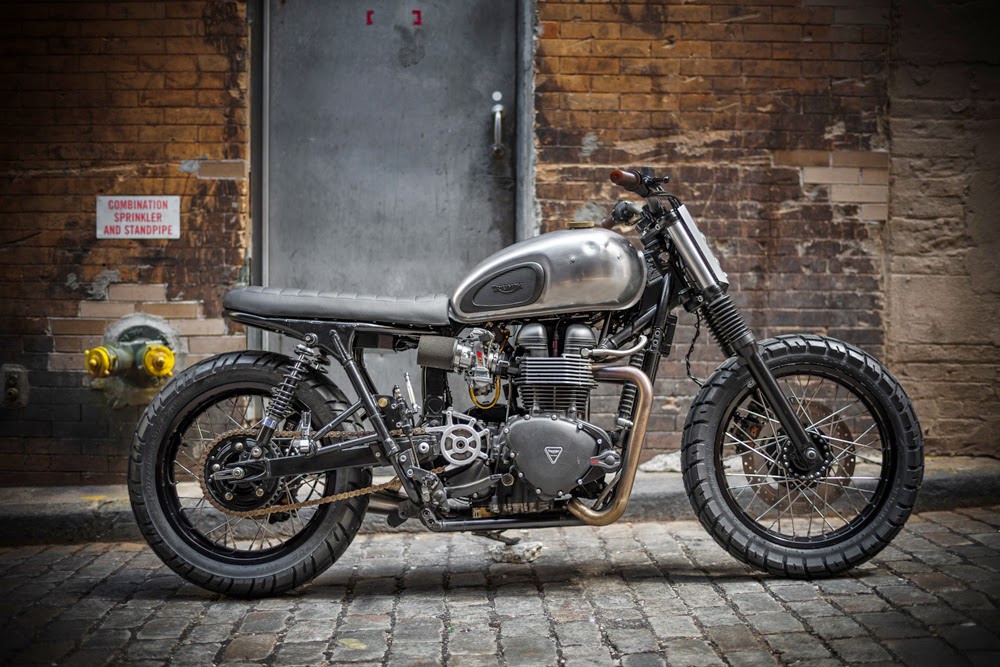 No dash? Small tank? Open frame? Yep, that's a pre-fuel injected Bonneville. The one to get if you want to completely denude the bike. 
IN CONCLUSION
The air-cooled Triumph Bonneville's are fine motorcycles with an incredible track record for reliability. While not the most inspiring ride they offer excellent value for money and looks that that lend themselves well to modification.
But to get the best out of a Bonneville you'll need to sort it's fuelling (if injected) and you will need to sort the suspension. Thankfully cost-effective options are plentiful and there's an incredible amount of online resources to help you get there.
The Triumph lineup didn't become so damn popular for no reason.
Story by Marlon Slack
— Other Café Contenders —