"I first met this bike and its owner at one of our cancer fundraisers in Dallas. The bike sounded like it was running on half a cylinder, the tail section had been chopped up beyond restoration, the throttle cable was hanging on by a thread and it stalled every time it came to a stop. It was heartbreaking to hear that one of our local shops (who have since shut down) took advantage and had seriously overcharged her!"
"I talked to Loryn Thompson the owner of the bike for a while and she told me that the KZ440 was her first bike and that she was thinking about giving it up to get something more reliable." Sofi told Loryn that getting rid of the bike was not the only solution and that the expense of buying the reliable bike she wanted was comparable to fixing this bike. Knowing how good Sofi's work was Loryn decided that she wanted a GT-Moto custom bike instead.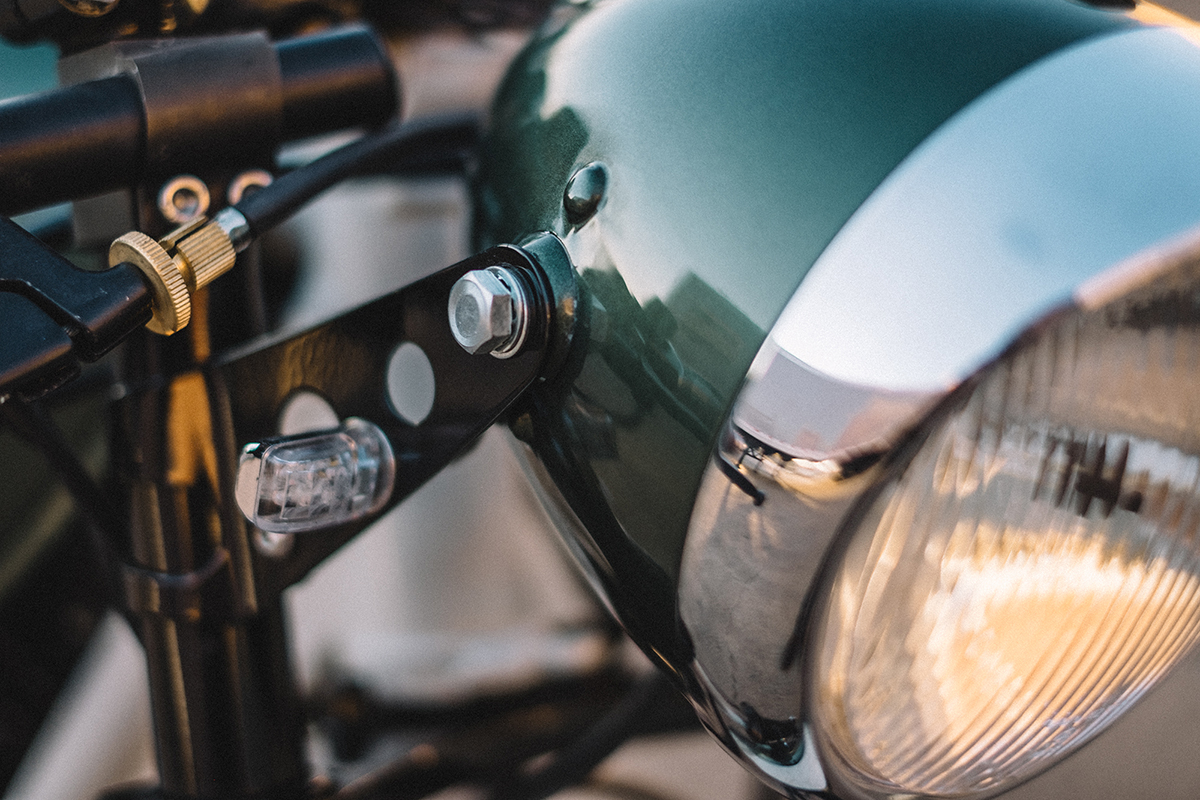 "I was, of course, happy she chose to keep the bike. I understand too well the desire to make your first bike perfect and reliable and knew I could do that for her. So we sat down together and Loryn gave me a bunch of random colors that she liked so I could get to work planning the build."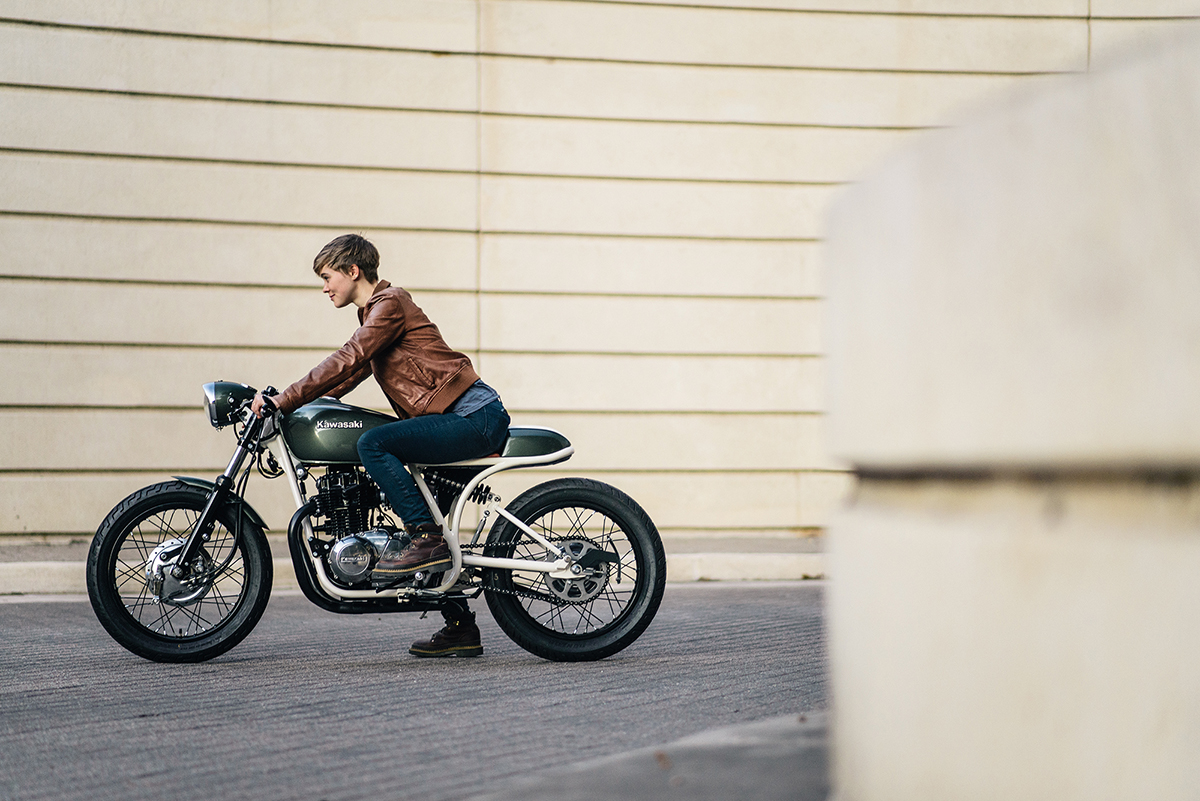 First up Sofi tended to the KZ440's tired old, 1980 B-1 engine. After rebuilding it back to factory spec the engine was shot with a high temp gloss black and the alloy side covers polished to a mirror finish. The front end suspension was then also restored to original spec with new seals and oil and the brake drums rebuilt and covers polished. After a quick trip to the powder coaters, the rims also received a black finish before being re-laced with black spokes and contrasting polished alloy nipples.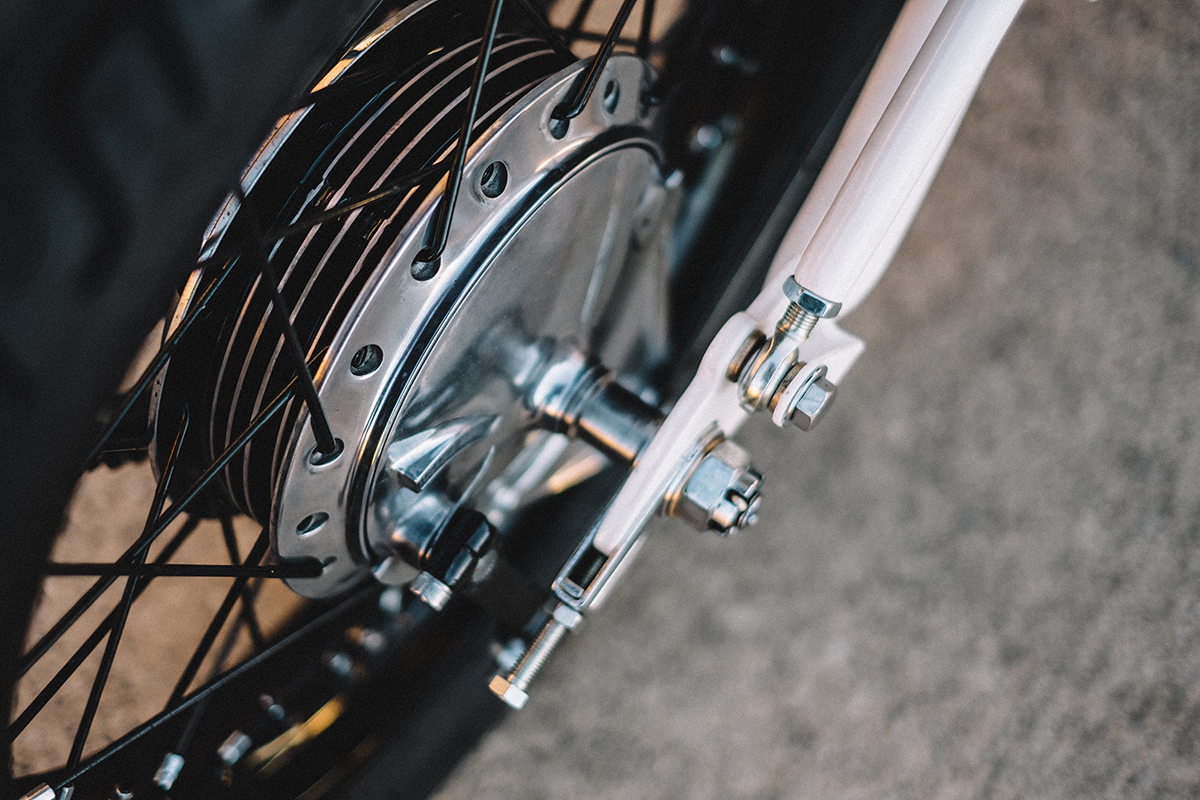 Next, it was time to tackle on the frame. In order to rectify the damage to the rear Sofi had to resort to more cutting. She removed the rear third of the frame to make way for a custom subframe that mirrored the circumference of the rear wheel and established a straight bone line that ran parallel to the road. To support the rear end she also revised the rear suspension, opting for a mono shock design that used a single Hagon shock.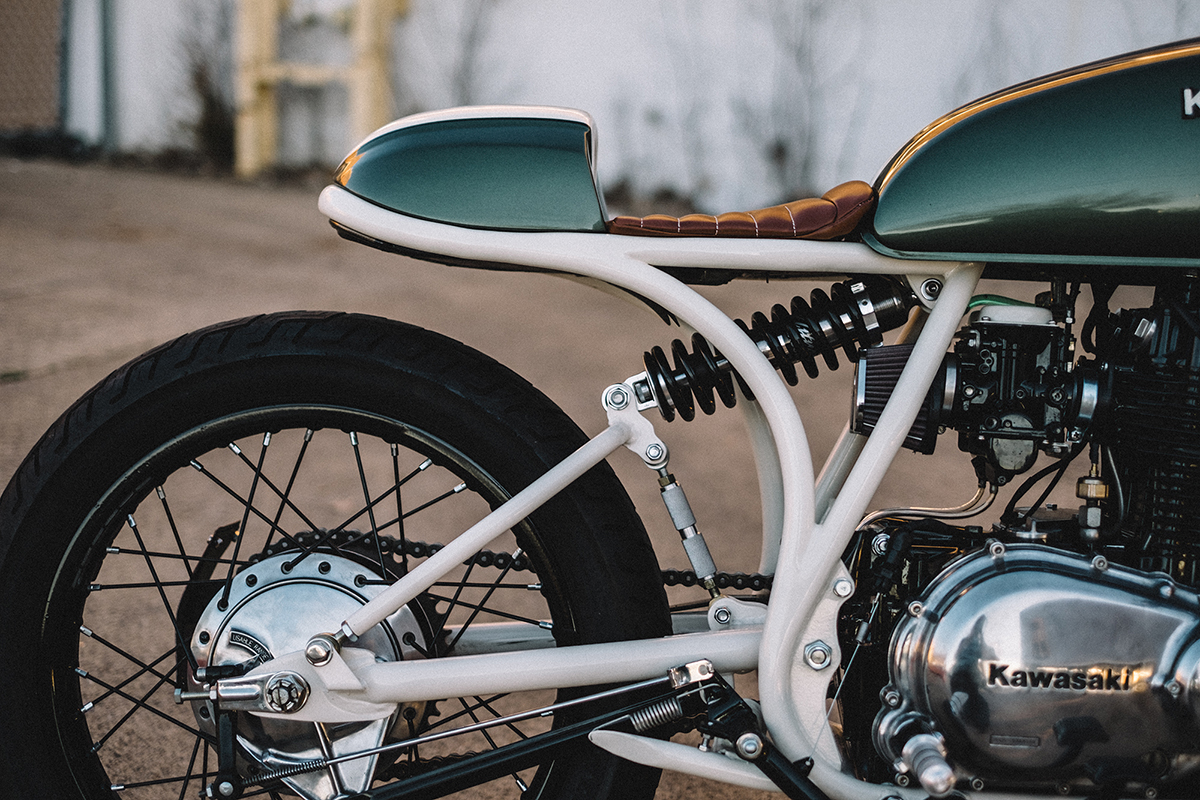 The proportions of Kawasaki's stock fuel tank suited Sofi's vision so a new tail end was shaped using the rear silhouette of the tank as a guide. For lighting, Sofi reclaimed a Harley headlight bucket to which she added a Ducati flared ring and new speedo. The stock indicators were replaced by tiny LED units and the accessory lights have been cleverly integrated into the top yoke.
Lastly, Sofi used Loryn's color suggestions to create the bikes new paint scheme. A cream white frame with metallic olive bodywork and matching cream racing stripe. Sofi's good friend Tanner Leaser then added one more request from Loryn by pinstriping her Kawasaki KZ440's name, 'The Little Rat' onto the top of the fuel tank.
As far as customer satisfaction goes, Sofi nailed it with this one… "When I went to Loryn's place to pick up the bike it was the last time she saw it until it was finished. We unveiled the Little Rat to our friends and Loryn at one of our 'Bikes & Coffee' meets at the Houndstooth Coffee shop in Dallas. She hadn't even seen photos of the progress! I am happy to say… we both cried like little girls."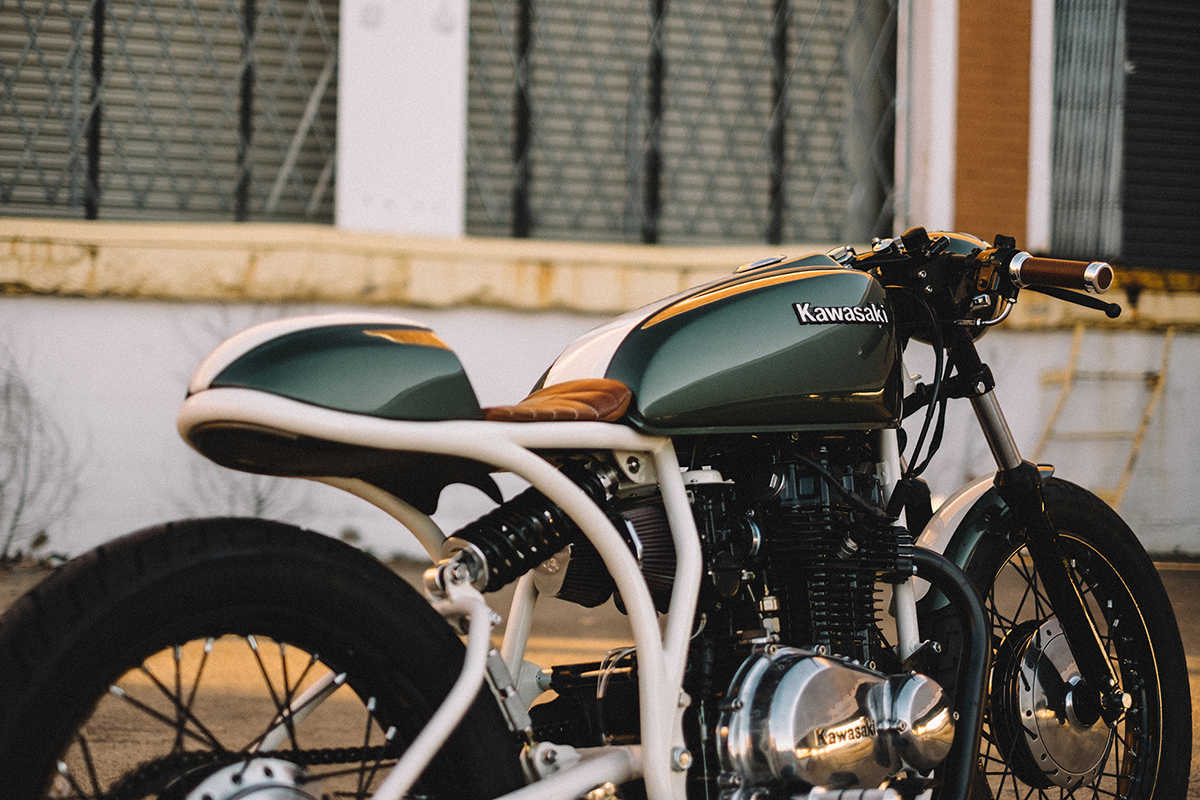 Loryn's been documenting her riding life on her own blog 'Ride Well' where you can read an interview with Sofi about the build of her Little Rat. Be sure to check it out for even more details about the bike.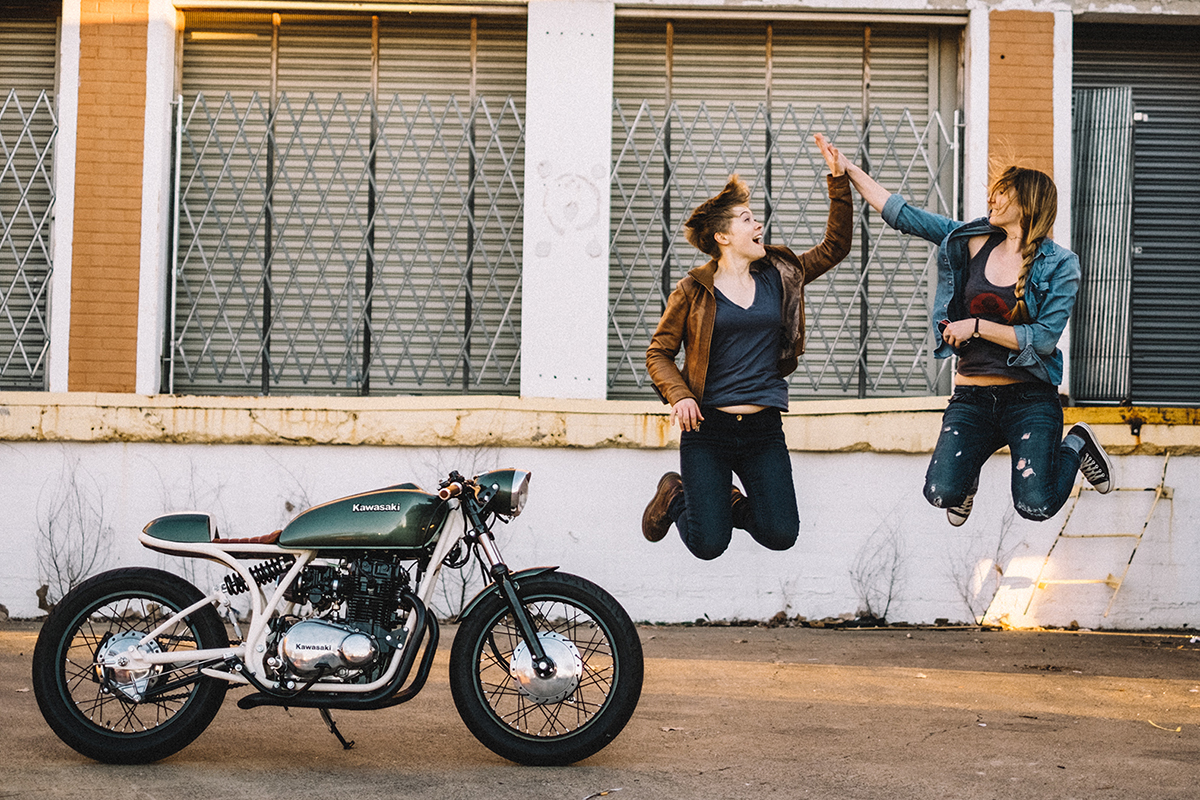 I've had the privilege of following Sofi Tsingo's GT Moto workshop evolve over the last few years. During that time she's improved her skill set tenfold and also generously devoted her time and work to helping out charities. She's also built a handful of amazing bikes and her latest creation is the icing on the GT Moto cake. The <a href="https://www.returnofthecaferacers.com/category/kawasaki-cafe-racer/">Kawasaki</a> KZ440 cafe racer she calls the 'Little Rat' is her first official customer and build and in typical Sofi style the build started as a way of helping out someone in need.