The Honda CB750 was for many years the poster child of the "new wave" cafe racer scene. These days however modern cafe racer alternatives like the BMW R NineT and Hinkley's Triumph Bonneville range have surpassed them in popularity. That doesn't make them any less desirable though.
For some time the hallowed SOHC Honda CB750s were the most revered cafe racer donors due to their historical significance. Unfortunately, early model CB750s now fetch serious dollars. But there are plenty of other models in the CB750 34-year run that can be attained relatively cheaply. One builder who has monopolised on this is Canadian college professor and ex-racing catamaran designer Sylvain Carignan.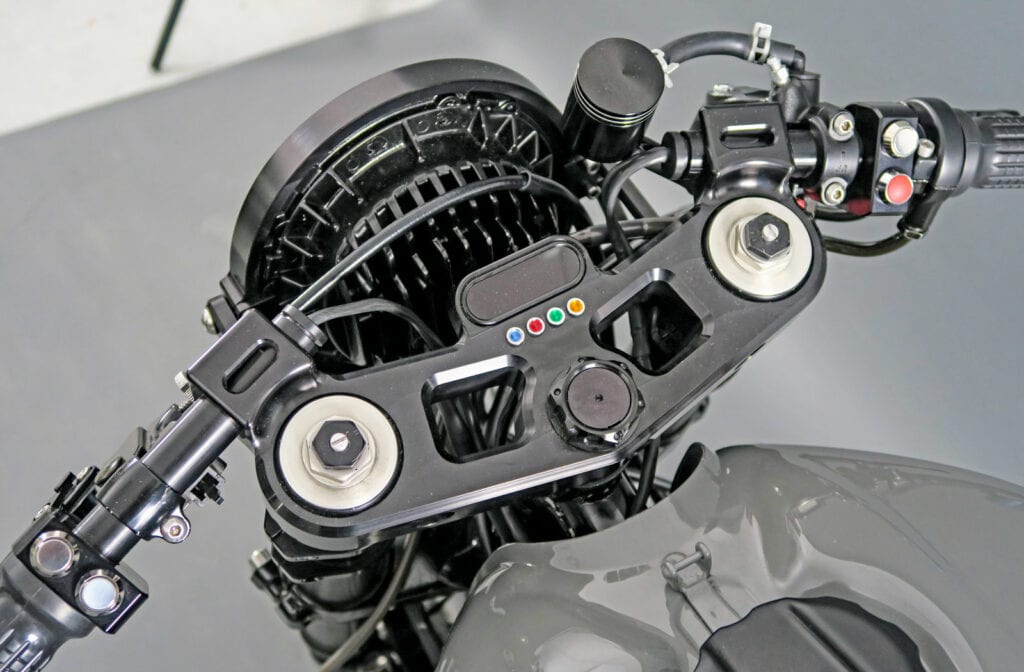 This isn't the first time we've featured Sylvain's work. His Honda CB cafe racers have impressed us so much in the past they've appeared in the Return of the Cafe Racers Best Cafe Racers of the Year lists and earned him a spot in our Top 10 Honda Cafe Racer round up. Building on his learnings from his past projects Sylvain has put together yet another sleek and stylish CB750 Cafe Racer. It's based on a 1979 Honda CB750 and he's named it 'Microdose'.
"I took inspiration from my previous motorcycles," says Sylvain. "This bike is a continuation of the CB750 Smooth Sailing and my 2 CB900F cafe racers. I looked for the purest and simplest lines. This bike is called Microdose since each line and section of the bike is designed to get the right dose. The perfect dose to achieve perfection, in my point of view!"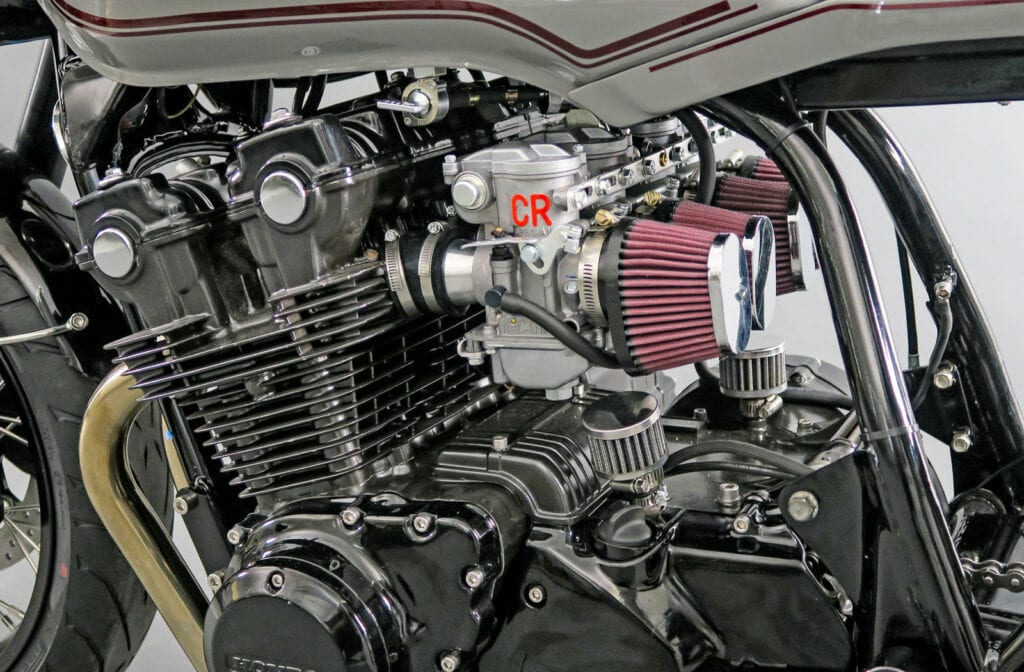 Microdose was built over an 18-month timeframe. Work began during the COVID lockdowns and it soon became the ideal distraction for Sylvain from the chaos.
Rather than completing each component of the build one stage at a time, Sylvain chose to split his time across the different tasks. "On one side of my workshop, the engine was being reconditioned. On the other side the development of the rear cowl was done with Solidworks," he says.
For the engine work, Sylvain focused on reconditioning the 42-year-old inline-four. He resurfaced the heads and replaced valves, rings, seals and gaskets. Then before everything went back together the crankcases were sandblasted and freshened up with a baked coat of crisp black. Not everything was returned to factory spec though. In order to bump up the Honda's power figures carburetion is now provided by a quartet of Keihin CR29s while the exhaust utilises a custom, free-flowing 4-into-1 system.
For the development of the bodywork, Sylvain took a much more high tech approach.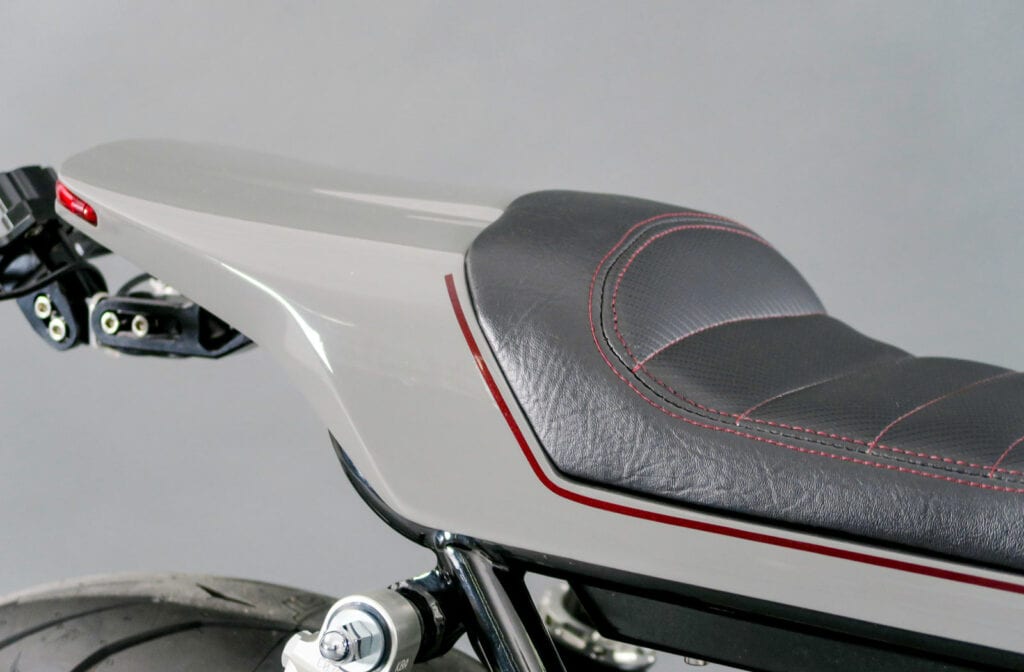 "Once the cowl design was mastered, research and time to develop the moulds directly from a 3D printer was necessary. I utilised a PLA mould manufacturing technique with the 3D printer. This made it possible to produce shapes that feature undercuts, which are negative angles." he explains. "This opened up the possibility for the creation of carbon and fibreglass parts."
As a result of his hard work, the new tail unit is constructed from carbon fibre which weighs about as much as the bikes original side panels. But fitting it to the Honda required a fair bit of rejigging.
"Honda's DOHC series requires extensive work to the subframe when building these bikes. We took the opportunity to make the tail loop a little different from what we normally see. In addition, we have added an electrical box that can accommodate the regulator, the battery and a Motogadget M-Unit Blue module."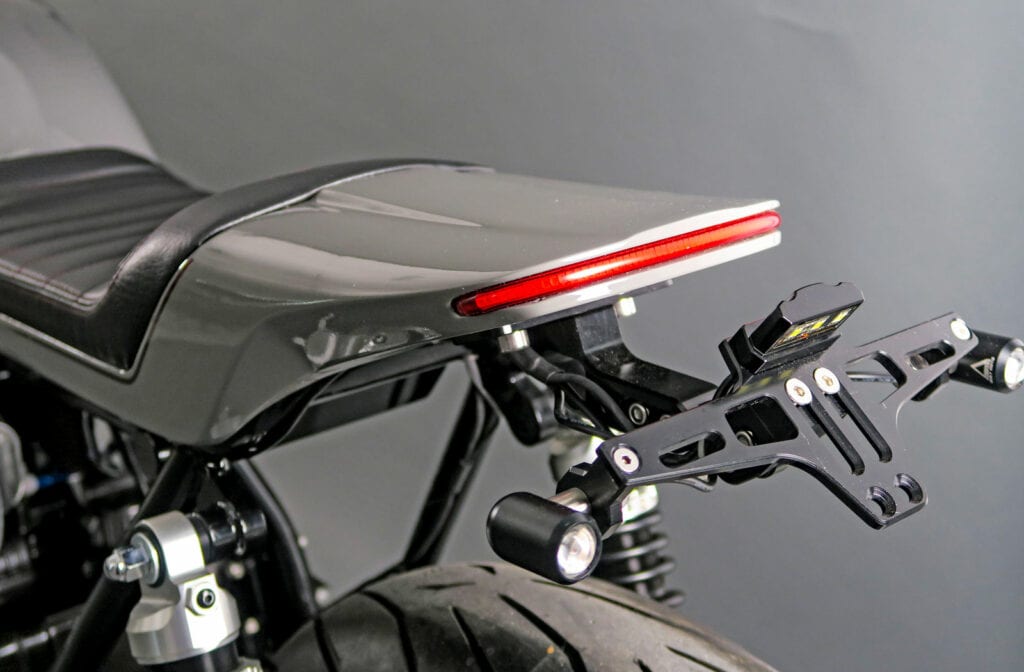 Another project undertaken during the build was to machine a bespoke triple tree. Designed to house a Motogadget Motoscope Mini, and all the necessary warning lights, Sylvain proclaims it's some of his best work to date. Aside from looking great the new setup also allowed the fitment of a modern front end.
Taking pride of place at the pointy end of his CB750 is a set of rebuilt and re-anodised 2006 Suzuki GSX-R forks. Paired with a set of modern rear shocks and the GSX-R front brakes it's transformed the handling of the Honda, taking it from late 70s sloppiness to riding like it's on rails.
It's not just the suspension that's been updated here though. The electrics are all new too, starting with a simplified harness. The new turn signals are from Australia's Purpose Built Moto and there's a 7 inch LED headlight suspended in a custom machined housing. Hidden under the bodywork you'll also find an array of 3D printed components that help to simplify things further and keep everything stowed neatly.
Some of the finishing touches on Sylvain's Microdose CB750 include Buchanan 18 inch rims wrapped in Pirelli Angel rubber. A set of Cognito Moto footpegs and one of their front end conversion hubs. And then there's the paint.
This time round Sylvain has gone with a more muted colour scheme, but it's certainly no less impressive. The grey hails from the current Dodge catalogue while the red is from Porsche's colour palette. It's the perfect modern touch for this artfully reimagined classic and another stunning build from Canda's CB750 cafe racer king.