That's a wrap for another year of cafe racer coverage from around the globe. This year was Return of the Cafe Racers twelfth birthday and we celebrated it with a new look website, a renewed focus on workshop and DIY stories and, as always, a plethora of top-notch cafe racer builds. As I looked back over the year I picked out a few personal favourites, so to give them the attention they deserve I have compiled this Top 10 Cafe Racers of 2018 list.
This year the top 10 list includes bikes that may surprise a few. That's because they aren't what you may consider a traditional cafe racer. Before you cry blasphemy take a moment to appreciate the work that's gone into each one and I'm sure you'll agree with my choices. So, without further adieu scroll down to see the Return of the Cafe Racers Top 10 Cafe Racers of 2018.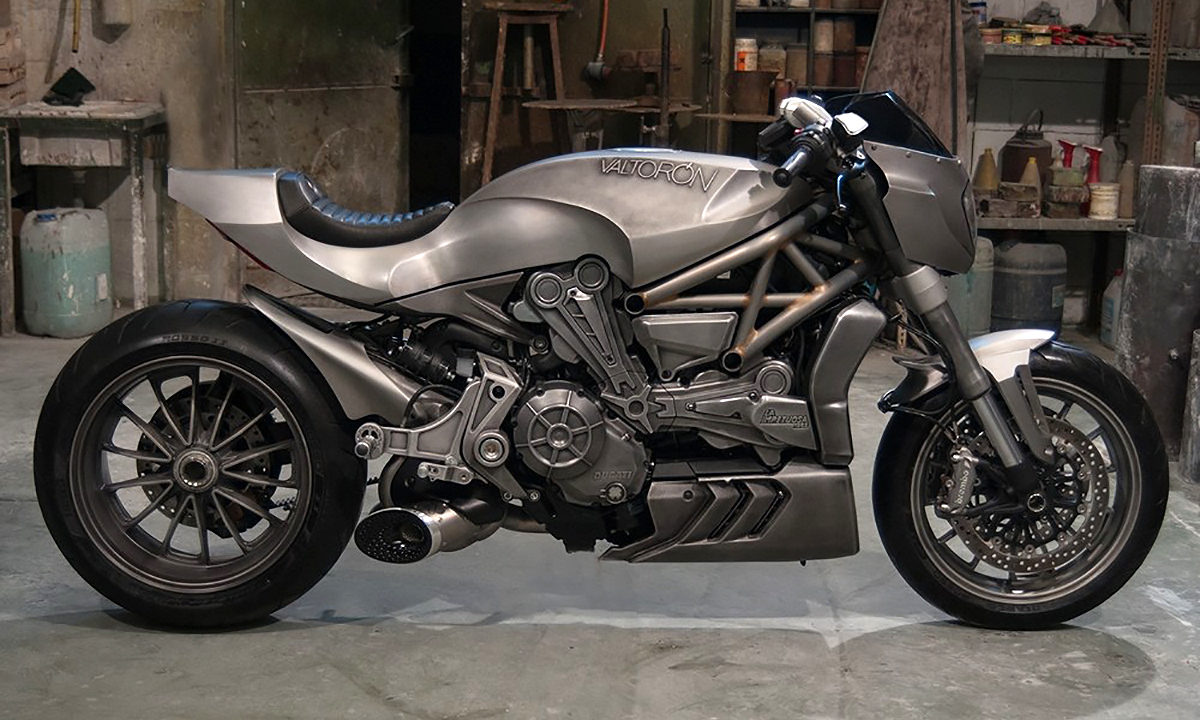 Number 10 on the list was built by the talented Delgado brothers of Spain. At their Valtoron workshop and foundry, they literally sculpt and forge each of their amazing custom motorcycles from scratch. This unique approach delivers unique results such as their 'La Impetuosa 1262' Ducati Diavel.
The Valtoron Diavel build was a commissioned project from Ducati Spain. After acquiring the bike they spent 2 months getting to know it on the roads of Madrid. When the time came to decide on a direction for the project, the brothers went for a dragster/cafe racer styled build that matched the Diavel's high-powered performance. As with all their builds, this bikes bodywork was carved from clay before being cast in aluminium. The Valtoron sand casting process gives the bodywork a raw, almost medieval appearance that adds to La Impetuosa's menacing demeanour. Could this be the best looking Diavel on the planet? It certainly has my vote.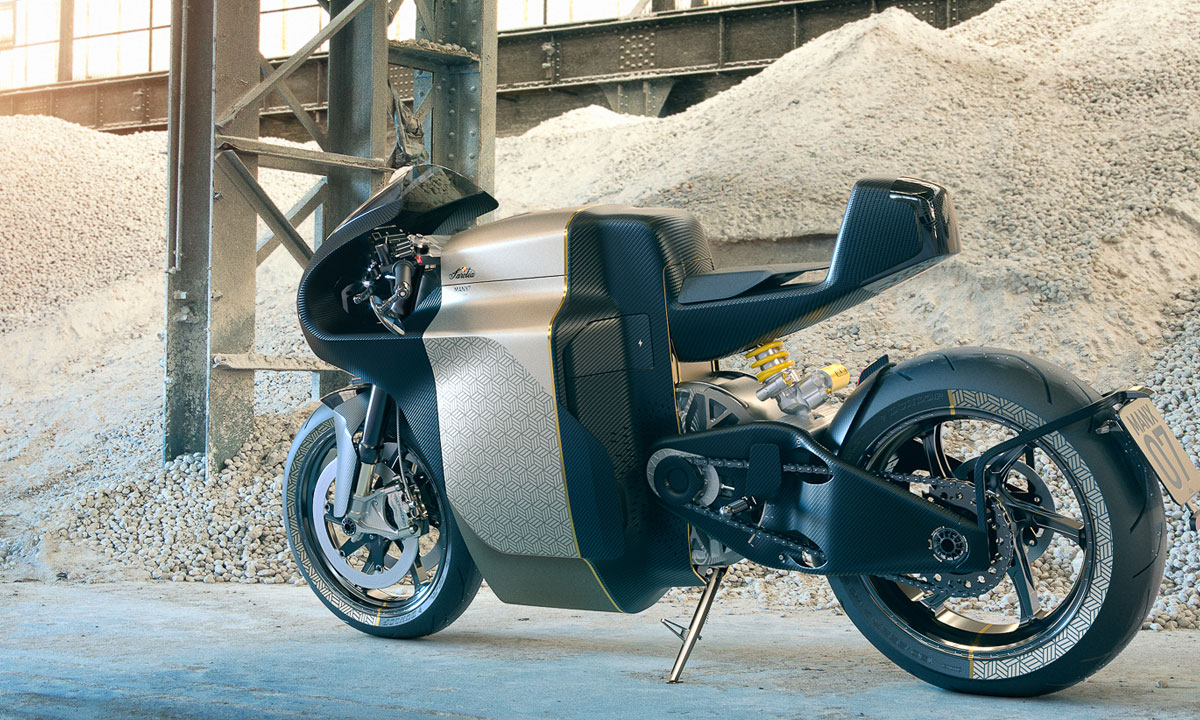 Whether or you like it or not electric motorcycles are coming. Harley Davidson will soon be releasing their first all-electric model, but this beauty comes from independent manufacturer Saroléa motorcycles. The Manx7 is the byproduct of Saroléa's exploits at the Isle of Mann TT Zero, a racing series created especially for electric motorcycles. Saroléa have created a road going bike that boasts some very impressive stats. The Manx7 is powered by a 120w brushless motor that produces a whopping 450Nm of torque. It can rocket from 0-100kmh in a measly 2.8 seconds and charging takes in a mere 25 minutes. The bikes range is also very respectable with an estimated 330km achievable from a full charge.
As impressive as all those figures are it's the styling of the Manx7 that I like the most. Saroléa found their inspiration in classic race bikes of the '70s and have created a neo-retro look that makes me weak at the knees. If all electric motorcycles looked as good as this I'd make the switch today!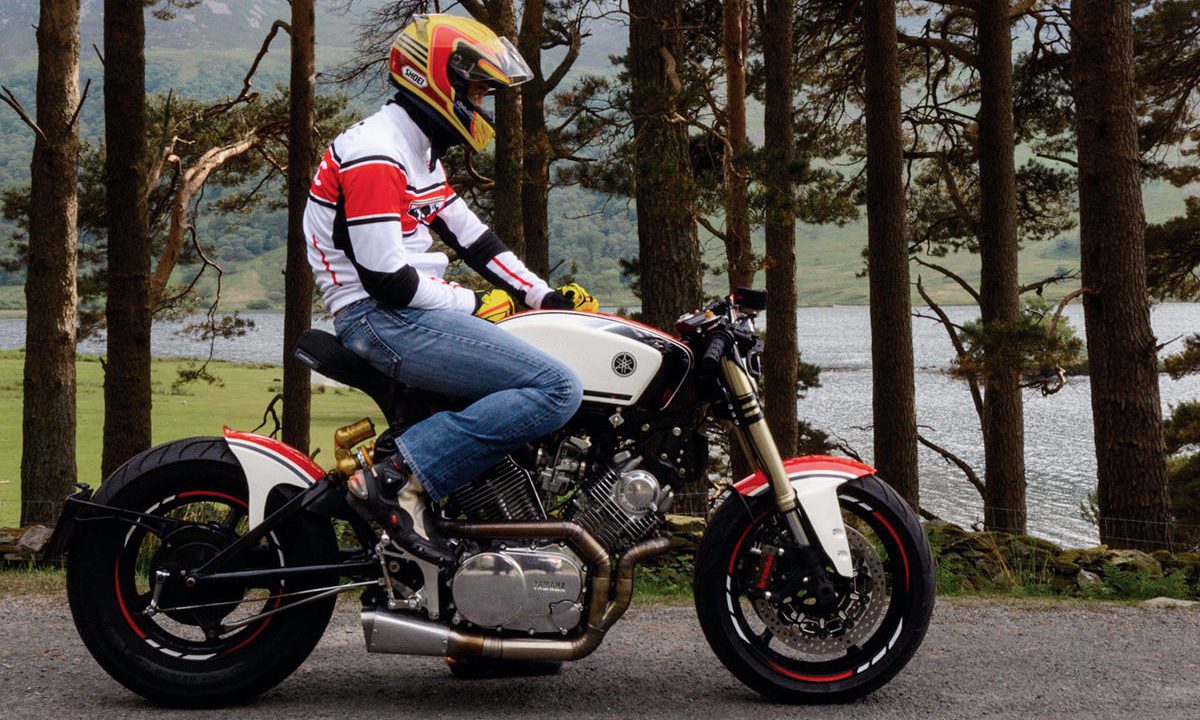 I always admire builders who take a 'my bike, my way' approach. Massimo Carriero of Italian workshop KSC Daygo did exactly that when he created this Yamaha XVS750 cafe racer. The Virago is proportioned appropriately for Massimo's physique and, as he calls it, is a modernised version of Yamaha's classic v-twin. Working with a good friend the pair used a mix of modern production techniques and traditional fabrication to create the 'MC02' cafe racer. A Yamaha R1 front end was installed using a 3D designed triple clamp and the bodywork is a mix of repurposed parts from various different donors. Massimo finished the bike using '70s Yamaha racing inspired livery and by all accounts, it is ridden appropriately.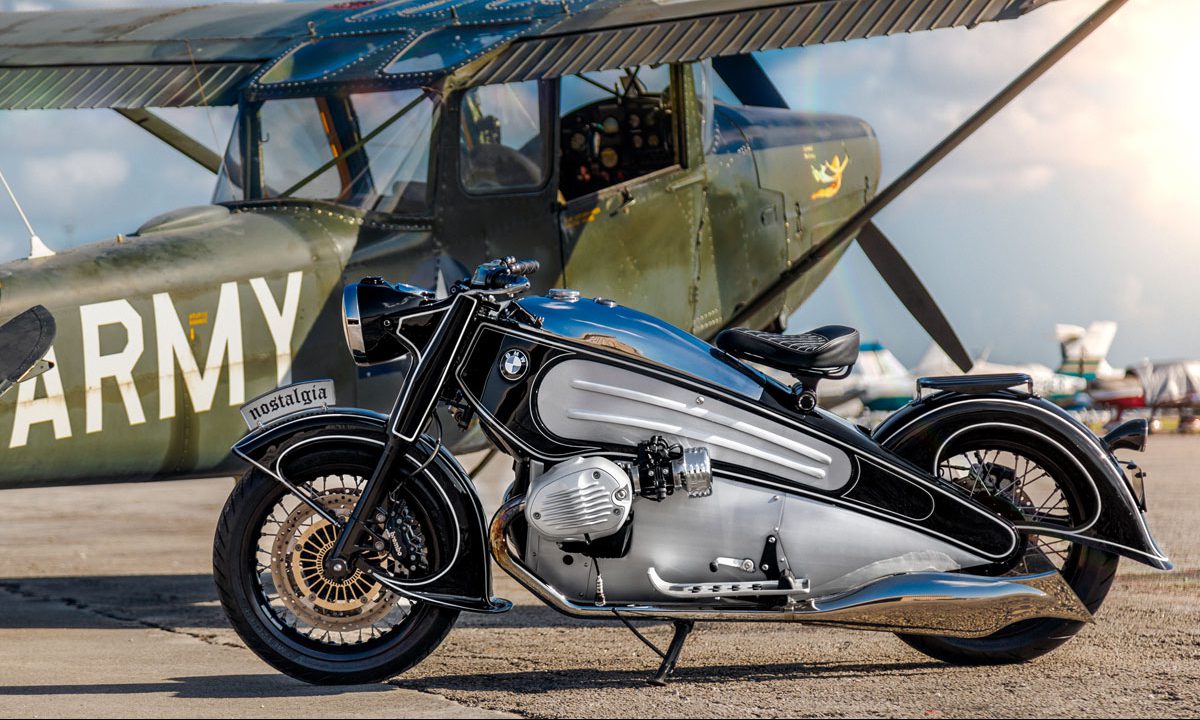 The Nostalgia BMW R7 by NMoto Studio is the black sheep on this top 10 cafe racers list. For starters, it's more of a replica build than a custom cafe racer. NMoto has recreated the BMW R7, a prototype motorcycle that was developed over 70 years ago. The Nostalgia R7 also happens to be a "kit bike" rather than a one-off build. Using a BMW R Nine T as the donor they can create this art deco delight for around $49,500 USD (including the $15,400 R9T purchase price). So why did it make my top 10 list? Because it's an absolute work of art and an admirable achievement. During the transformation, NMoto installs 96 custom components, including a long list of premium aftermarket ones. Everything is made from aluminium so Nostalgia weighs less than its donor and you can even order a tank shift version.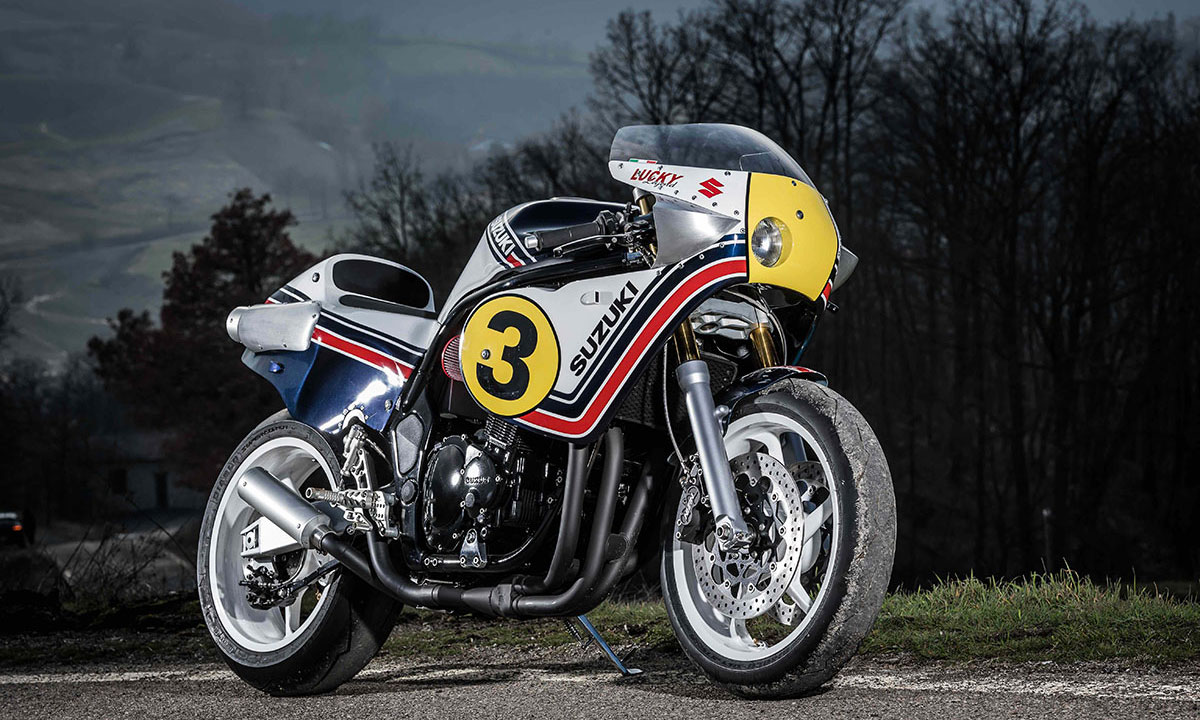 More retro racer than cafe racer this custom Suzuki Bandit was built by Sergio Giordano of Italian Dream Motorcycles. Sergio has styled the Bandit to pay homage to legendary Italian racer Marco Lucchinelli's 1981 Grand Prix winning RG500. The Bandit is no 500cc two-stroke rocket, but IDM have done their utmost to create an accurate replica of Marco's racer. The replica bodywork was formed from original moulds and it wears period correct Suzuki livery. The result is a homage that's so accurate that when IDM asked Marco to sign the bike he was referring to it as his own.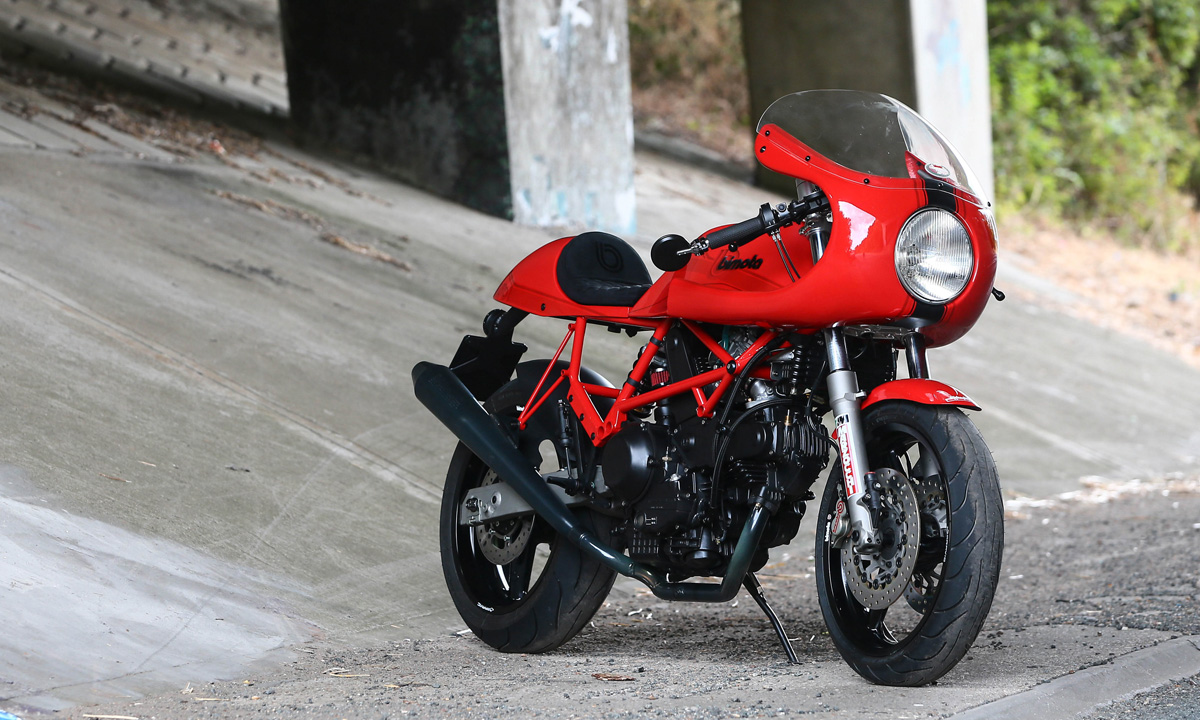 "I wanted to build a DB1 to the same high standards as Bimota would have, but in a style they may have used if it was conceived in the 1970s" This was the approach John Fallon of Britain's 'Made in Italy Motorcycles' took with this build, and he clearly nailed it. John's bold red DB1 is enough to make any Italian motorcycle fan, or any motorcycle fan for that matter, go weak at the knees. To realise his vision John worked with Laurent Amann of Storik to build a custom aluminium tank and tail. John also spent 12 months acquiring original DB1 parts to return the bike to an almost original state. The result of all his hard work is cafe racer that looks as though it rolled straight out of Bimota's factory making it a worthy addition to this year's top 10 list.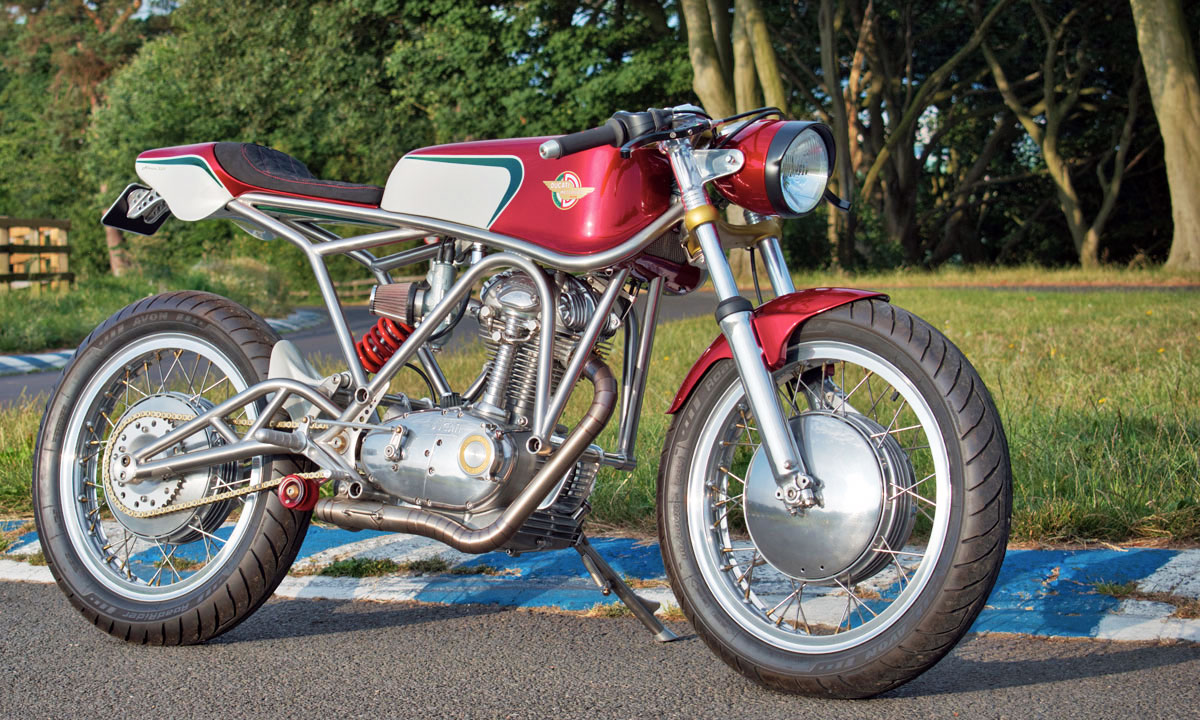 You've never seen a Ducati 350 like this before. That's because Jim Alonze built 90% of this stunning machine himself. From its curvaceous stainless steel frame to the handmade aluminium bodywork and right down to the perspex taillight lens and alloy headlight brackets. For this feature, Jim shared the complete story of the build. Hit the read more link below for all the juicy details.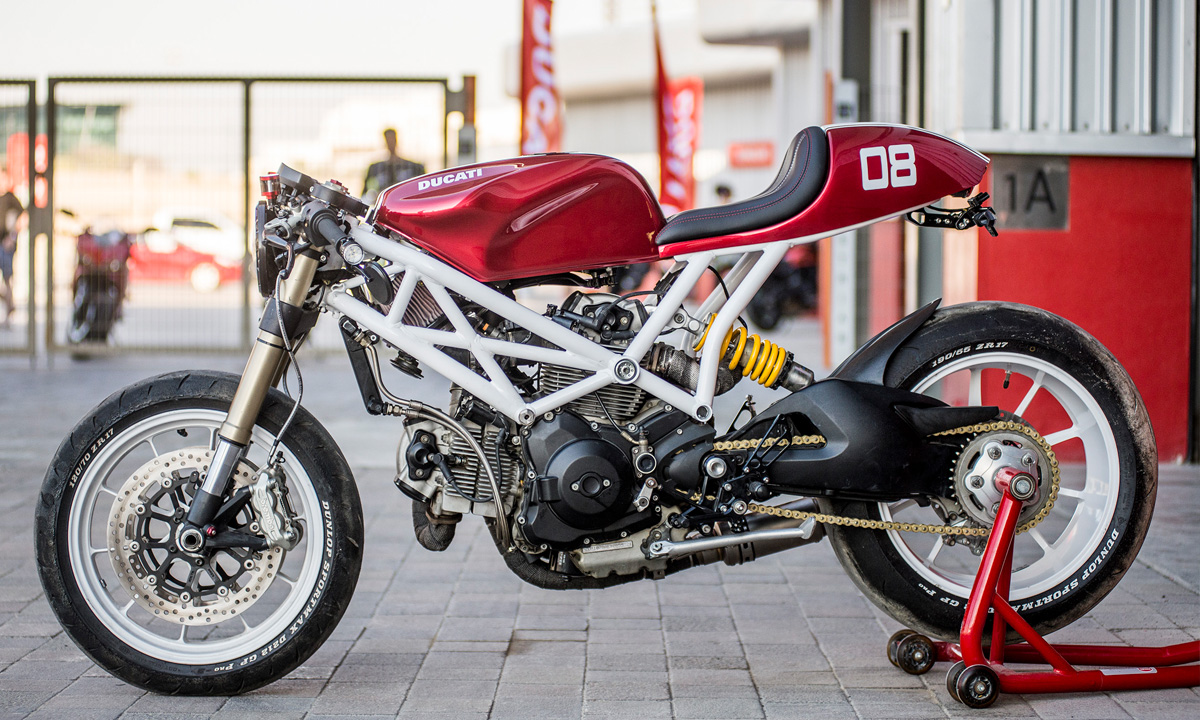 In 3rd place on this top 10 cafe racers list is the 3rd Ducati to make the cut. This custom Ducati Monster 1100 was pieced together by Marc Roissetter in the United Arab Emirates. For the build Marc sourced a "running" Monster from a wrecker that had sustained some cosmetic damage. Marc invested months of his time putting the track capable Monster cafe racer together only to discover the bike's engine had been repaired by a total hack. Despite the huge setback, Marc soldiered on with the build and the result was clearly worth the effort. Marc broke his Ducati 'Monstrosity' in on the race track where it proved to be a very capable racer.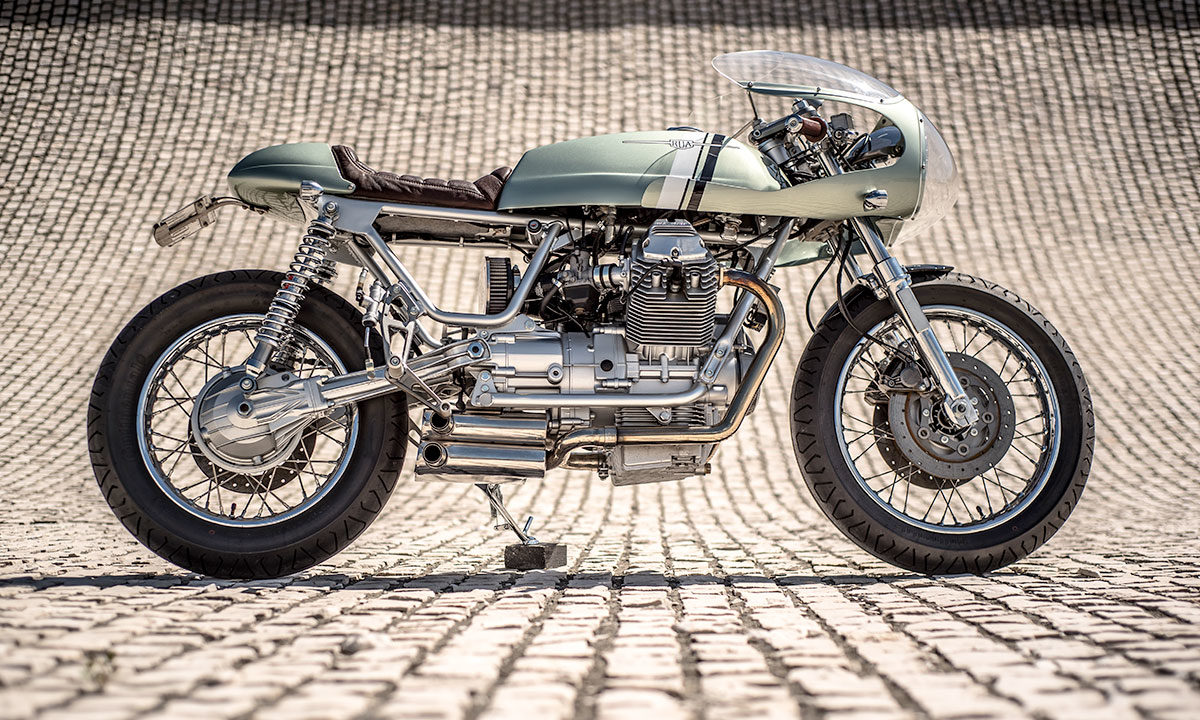 Our feature on the Rua Machines Moto Guzzi Nevada cafe racer came via our friends at Revival of the Machines in Madrid. Based in Portugal, Rua Machines are more commonly known for customising classic Japanese motorcycles. However, this Moto Guzzi cafe racer proves they can build a stunning bike no matter the donor. The cafe racer started out as a rather lacklustre, cruiser styled Moto Guzzi Nevada 750. To convert the Nevada into a cafe racer Rua Machines drastically revised its frame using a Moto Guzzi Le Mans for inspiration. The new bodywork is a mix of Ducati and replica fibreglass parts and everything has been restored to near new condition. As far a cafe racer builds go this awesome bike is a great example of how it should be done.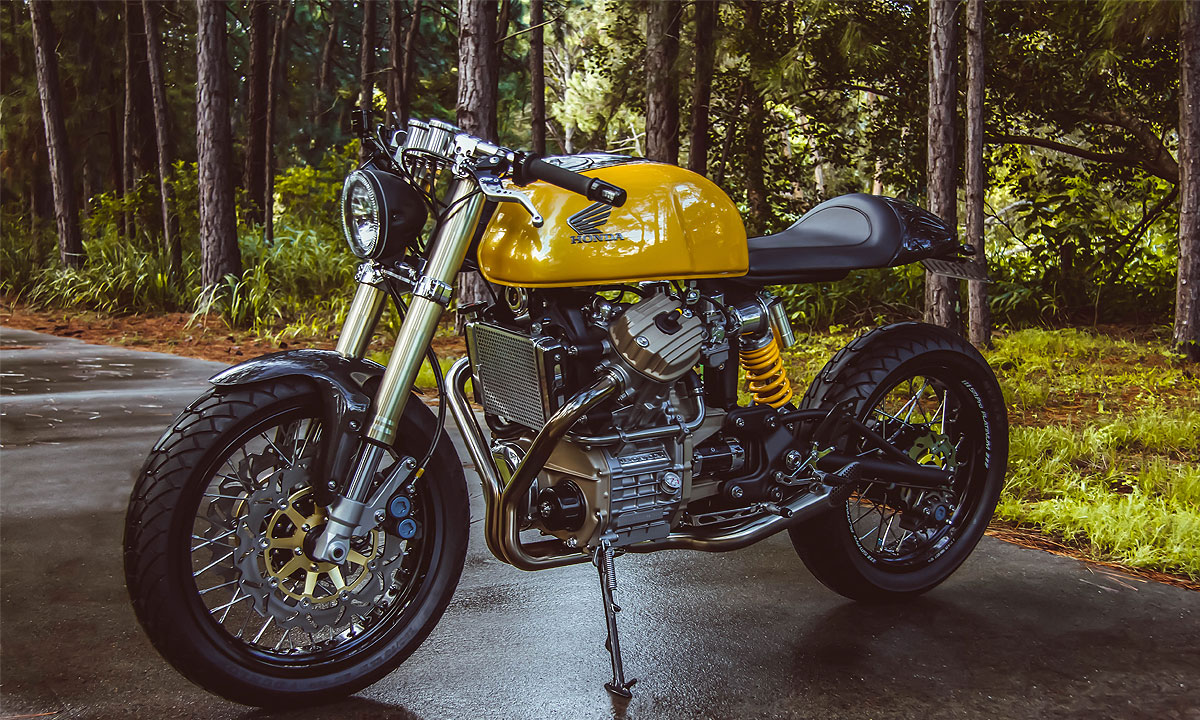 For reasons I can't explain Honda's CX500 has become a hot favourite for cafe racer conversions. The CX (and GL) engine series was the only Guzzi style, horizontally opposed twin Honda ever built. The CX is said to be bulletproof, but unloved, 30+ year old examples require a fair bit of work to get them running right. It also has a frame that's hunched worse than Quasimodo's back making it difficult to achieve a balanced bone line. And who can forget the fact that they were referred to as the "plastic maggot" when they were first released. Despite all that I continue to receive regular CX500 cafe racer submissions from my readers. This year was no different, but when Garth Allison's Honda CX500 cafe racer landed in my inbox I started to reconsider all my CX criticisms.
Garth's CX500 cafe racer is nothing short of amazing. During the 3 year project, he rebuilt the entire bike from the ground up. Weight saving was a priority and everything, including the engine internals, were trimmed down. He has also optimised the bikes handling by retrofitting components from modern sports bikes. Garth is a welder by trade and many of the parts on his bike were designed and built by him from scratch, including the awesome honeycomb tipped exhaust.
Placing this bike at the number one spot on my Top 10 Cafe Racers list was the obvious choice. Thankfully Garth's CX500 cafe racer was also a hot favourite with my readers, racking up a huge number of shares and likes on all of the Return of the Cafe Racers social accounts.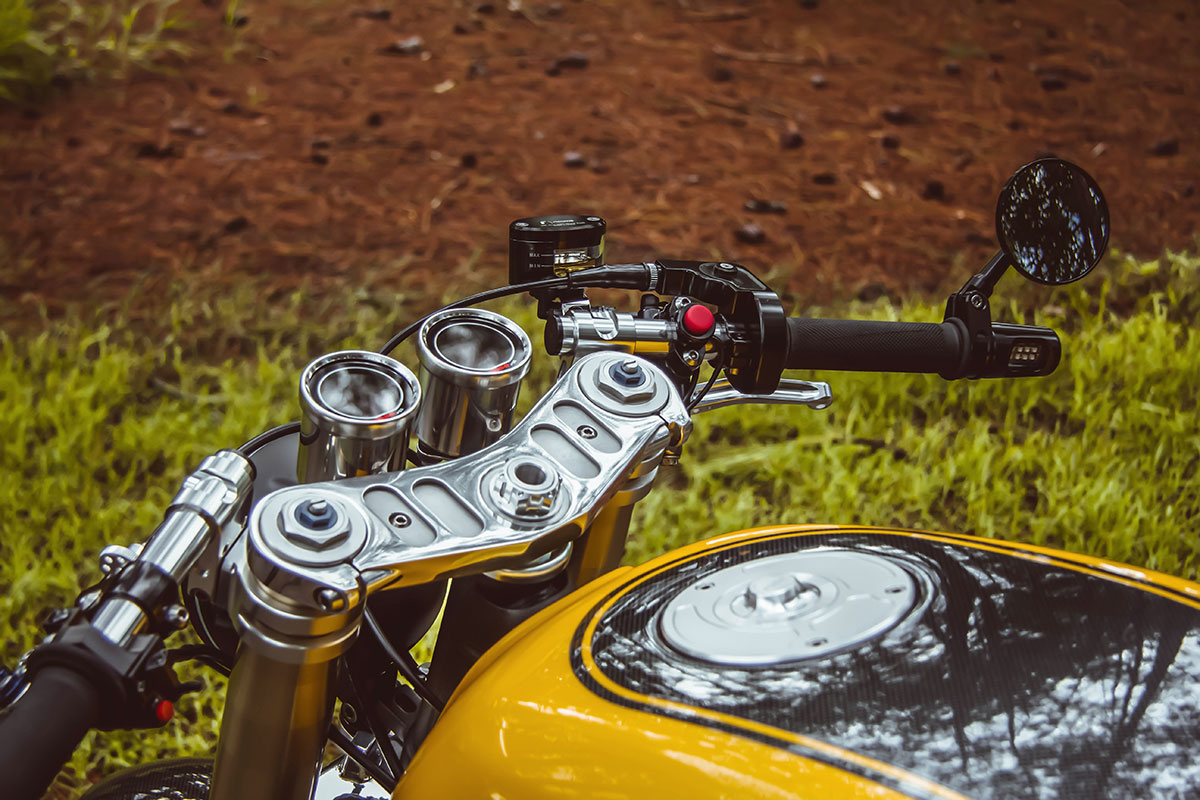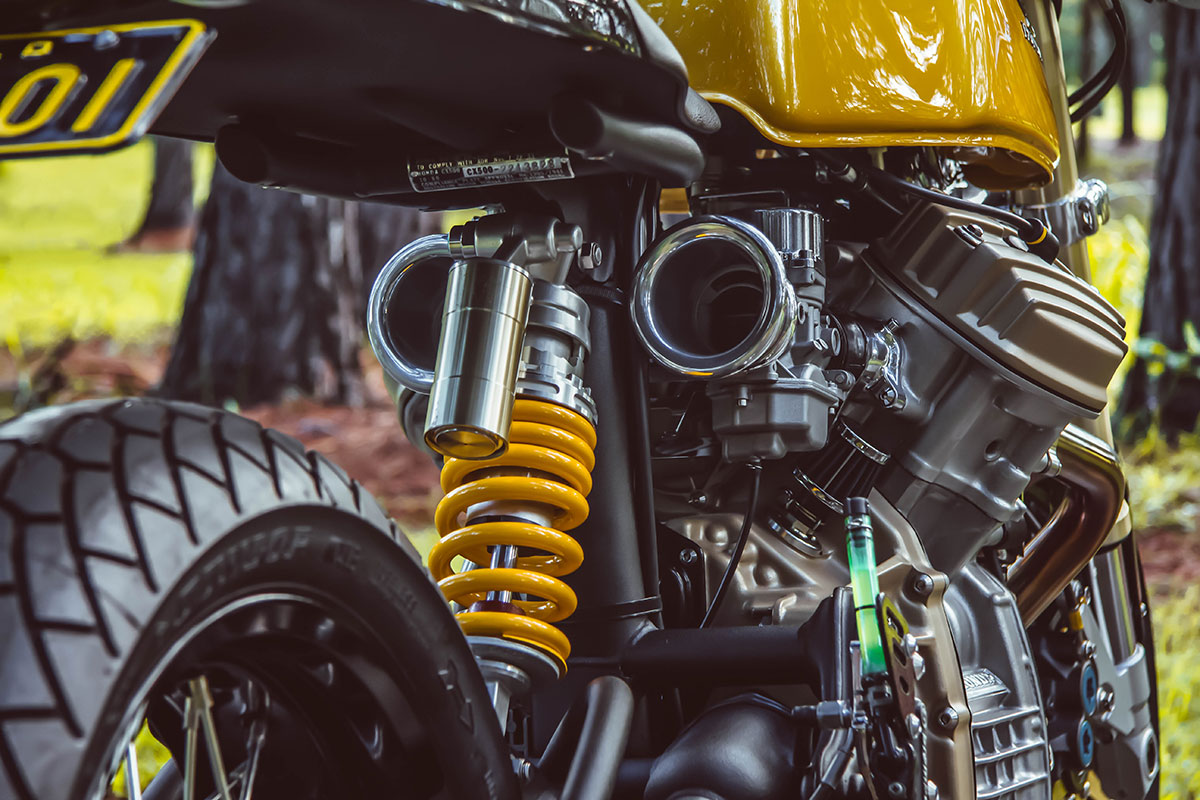 Have you built a cafe racer of your own? To see it featured on Return of the Cafe Racers you can submit it here.