I've seen plenty of personal builds that have been inspired by professional ones. It's not often they stack up to be as good as the pro builds though. Today I think it is safe to say that this one does. It's a bold statement I know, so read on and you can decide for yourself whether or not it's justified.
Garth Allison took inspiration during the build of this Honda CX500 cafe racer from none other than Sascha Lakic, who I recently interviewed here on the site. Rather than me telling you how Garth put this amazing bike together, I thought I'd let you hear it in the builders own words…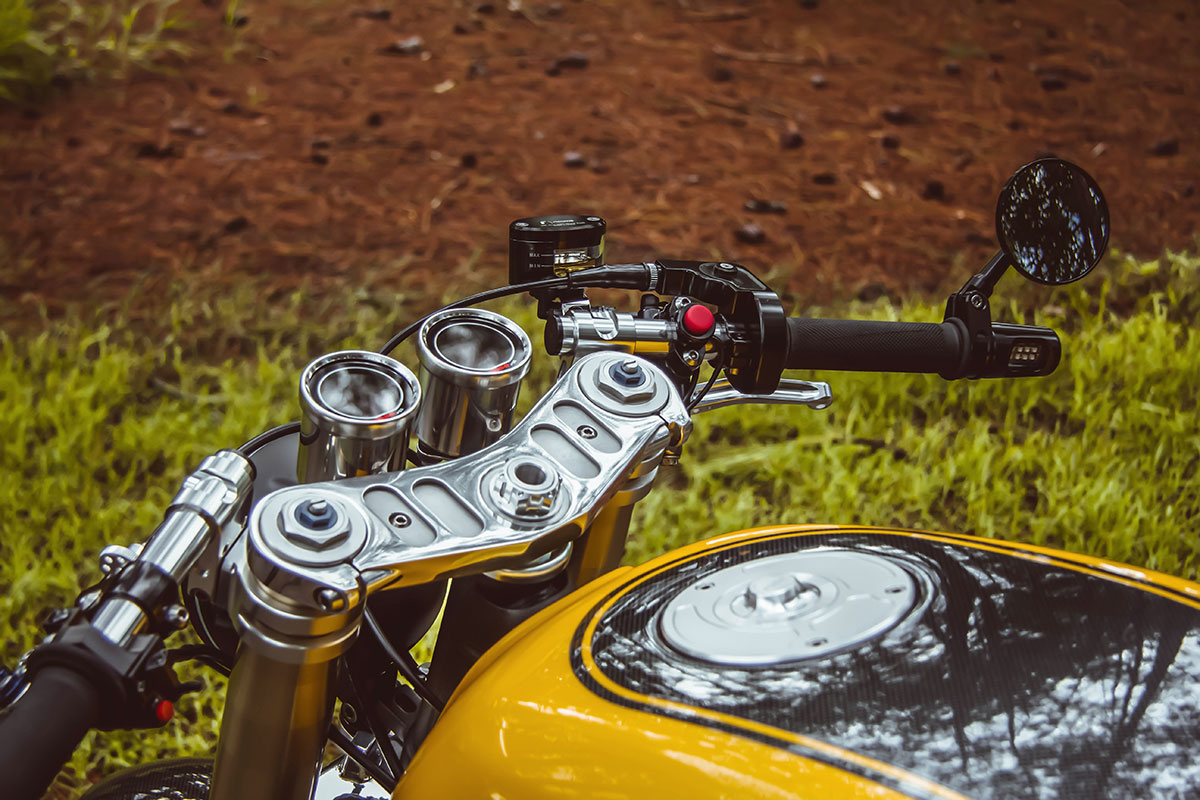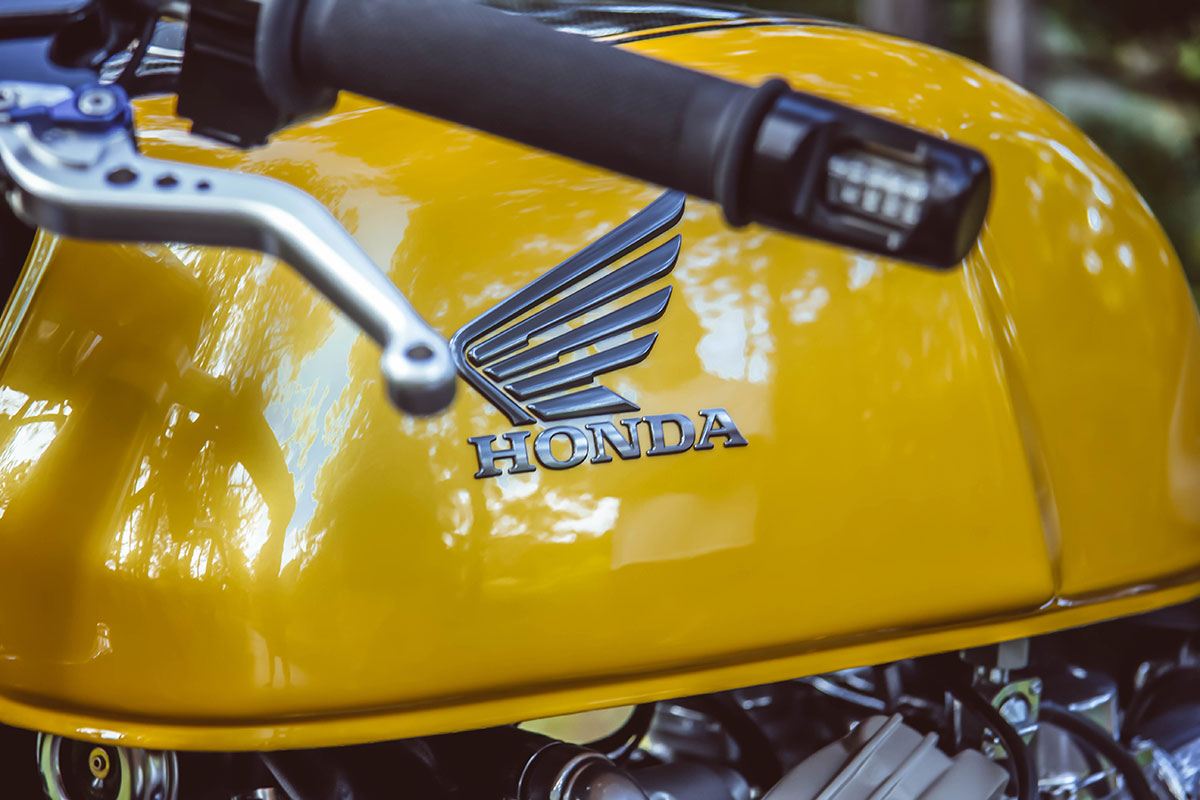 "My build started 3 years ago when CX500s didn't seem to be as popular to customise as they are now. One custom CX I had seen was Sasha Lakic's CX500 GTS and it was a real stand out. I've always loved motorbikes from a young age and had a chance when I was sixteen to get a motorcycle mechanic apprenticeship. l soon found myself modifying bikes and tinkering with them in my spare time. Roll on some forty odd years, and I work as a welder in a furniture manufacturing business for a long time friend who raced speedway in England for seven years.
One day at the factory my friend said "you know we have all the equipment here to make a bike" and I said that's great but funds are tight. His suggested solution was that I make most of it myself. So, drawing inspiration from Sasha Lakic, I found a wrecked CX in Casino, NSW, cash exchanged hands and I nervously assured my wife I could get it done.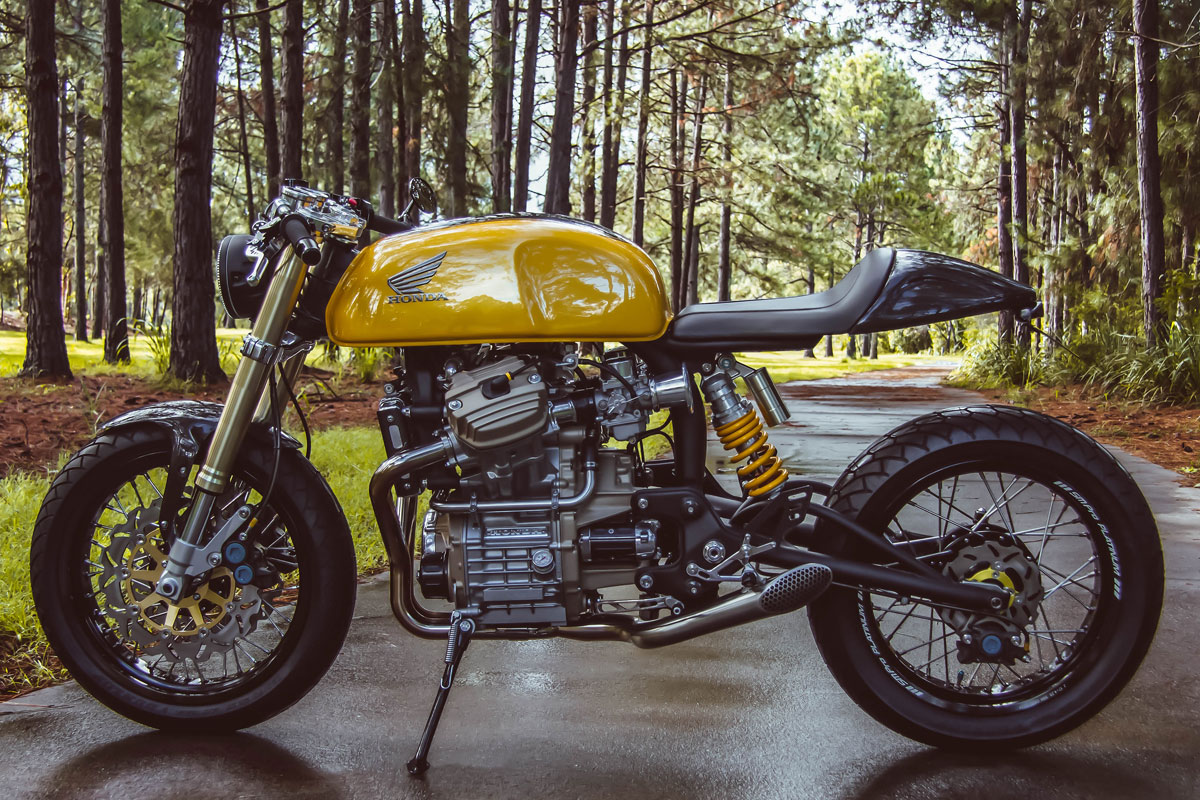 First I sourced a set of Yamaha R1 forks that came with the brake callipers and rear shock. I shortened the forks 30mm internally and pressed the CX steering head stem into the bottom triple clamp, trimming any unnecessary castings away then polishing them. From the start of this build I wanted spoked wheels, so I bought some 6061 billet alloy and turned up the hubs on a lathe. The front was easy but the rear took more time as I wanted to use a YZ80 front disc fit with an R1 rear blue spot calliper. They were then polished, anodised black and laced to a set of lightweight SM Pro platinum rims using stainless spokes. I also added a Buell carbon fibre front guard to give me the modern look I was after.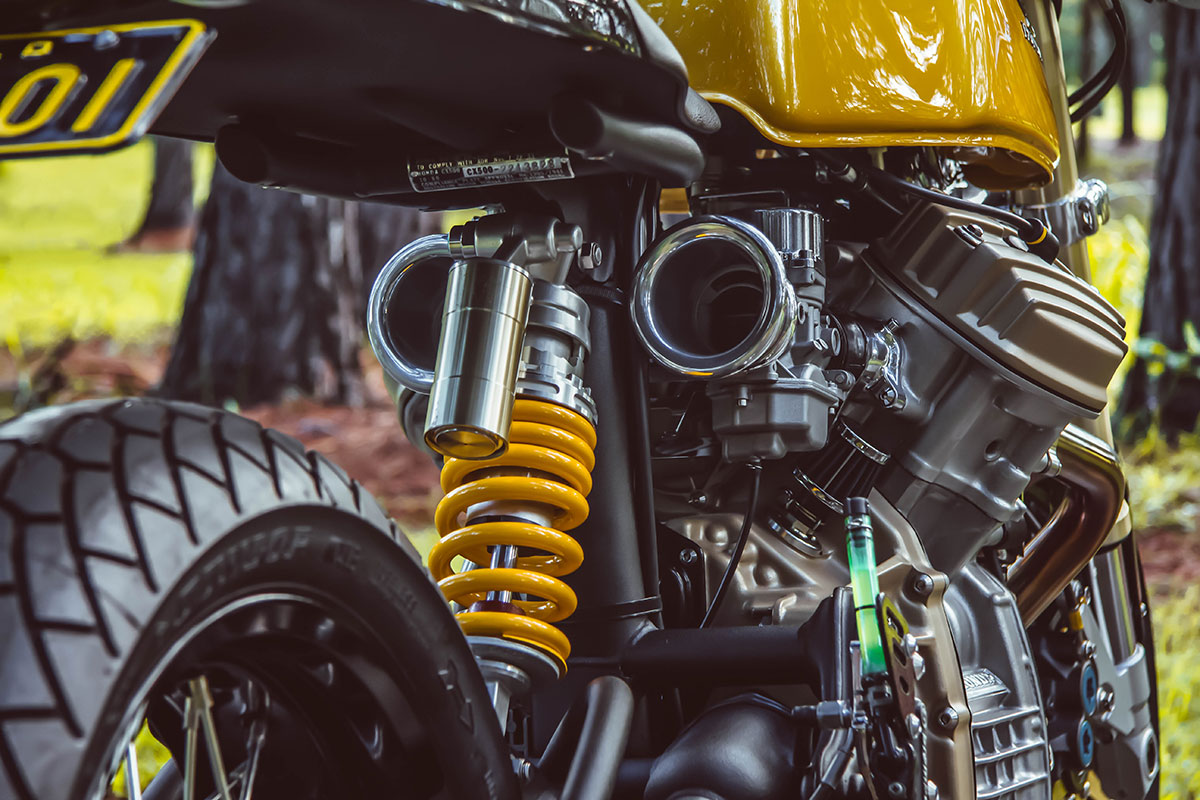 Another prerequisite of mine for this build was to lighten every item on the bike as much as I could. I stripped the frame down, cut off the unwanted rear section and de-tabbed it. The new seat base I made out of alloy and I capped it off with a Buell carbon fibre ducktail. I then widened the swingarm 15mm to accommodate the 160/60x 17″ Dunlop mutant rear tyre and designed some bracing to prevent flex. I then had them powder coated a satin black textured finish called "Sahara "which is extremely tough. The rear sets I designed and had laser cut from stainless along with numerous other brackets. I sloped the tank forward, fitted a racing fuel cap and filled in the rear cavity to match the rest of the tank. I outsourced the paintwork which was done in Renault yellow, with a carbon fibre decal insert and chrome Honda badges.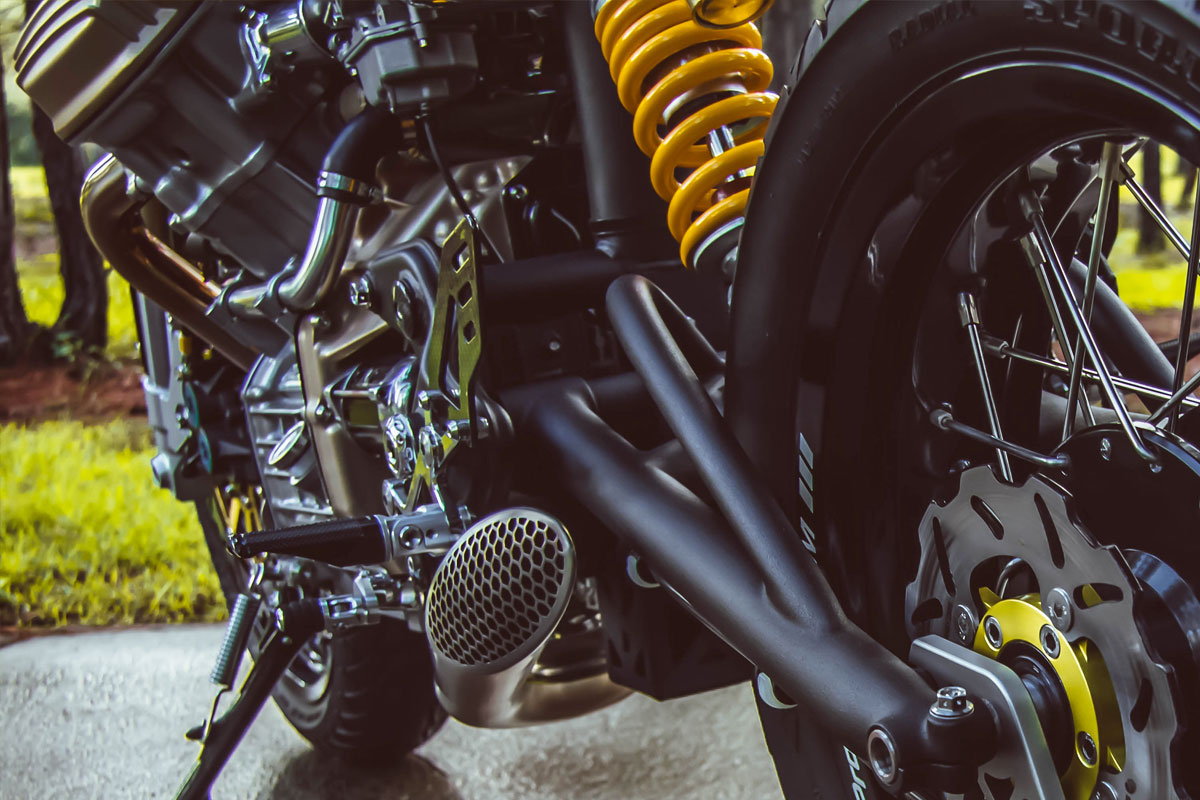 The carburettors have bell mouths fitted along with stainless inlet brackets and to make things simple an external choke lever. The exhaust system is handmade from U bends that I cut and shut. I rolled the muffler cone and installed my own baffles before closing it off with a laser cut honeycomb cap that is welded on. The radiator came from a CBR250 and the protector was laser cut to match the exhaust pattern. The coolant water pipe is stainless again made from model boat engine exhaust pipes and a spigot to overcome a CX weak point. The engine itself is standard although I have lightened the crankshaft and flywheel. I shaved three and a half pounds off and had it balanced so the bike now accelerates fast and smooth.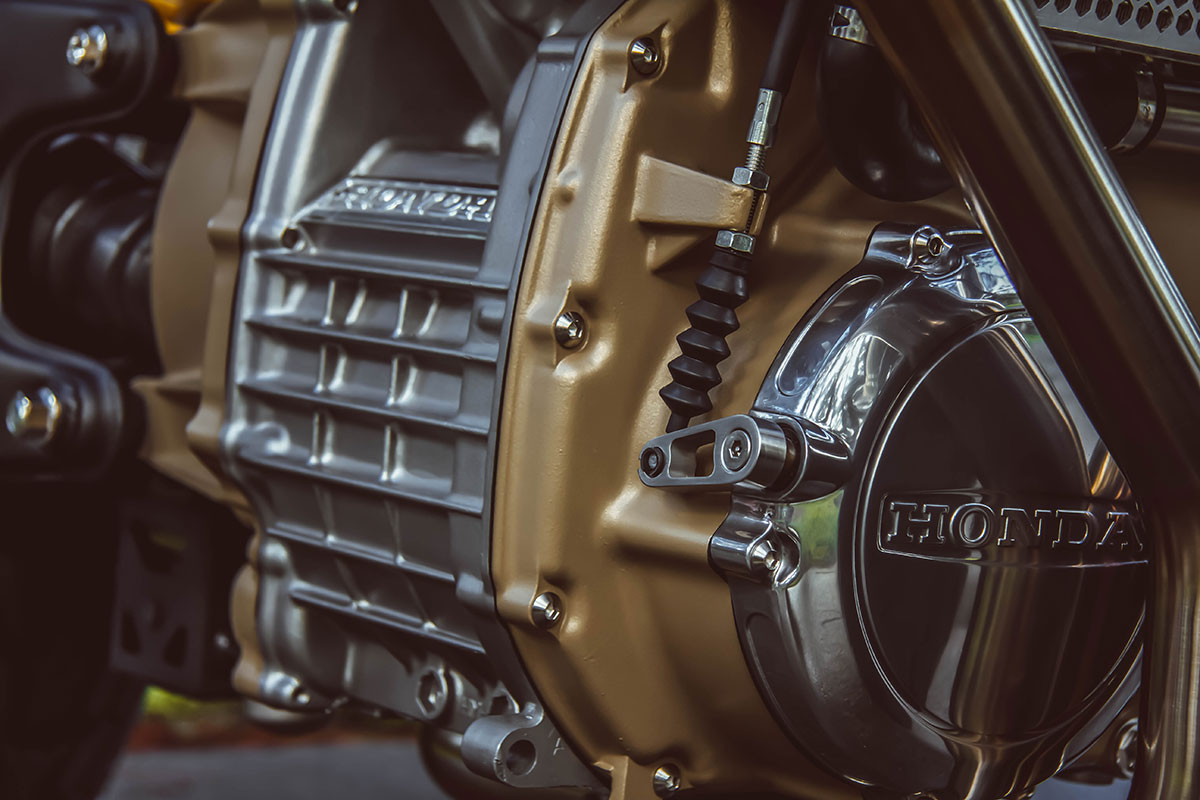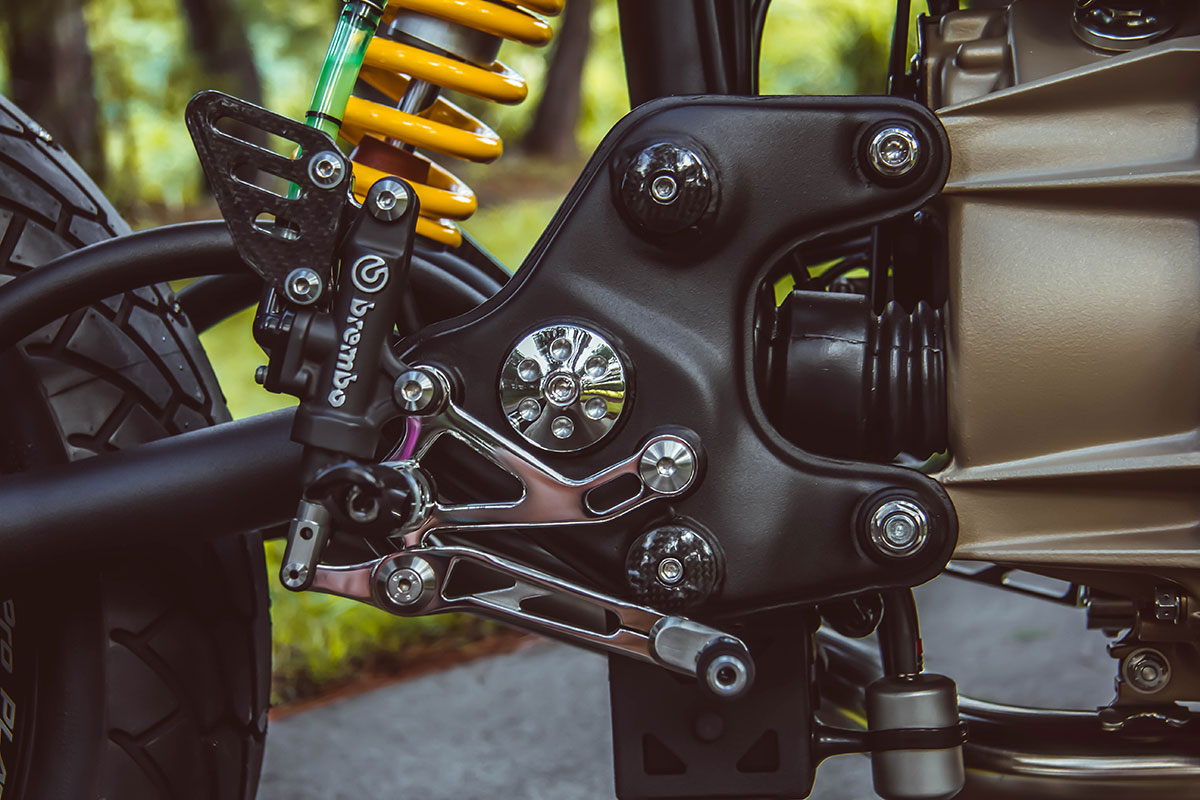 The engine colour scheme was inspired by Ducati NCR engines as I wanted something different for my Honda.  The side stand is a carbon fibre one off some Asian scooter I saw on the net. I fit it to an existing engine mount and the front case, to give it strength. I have used pro bolt race spec stainless bolts on the bike and made countless brackets, pivot bolts and washers; so many it would be hard to remember them all. I completely remade the wiring loom, mounted the battery under the frame and made the rear tail tidy.
When it was finished I entered my CX in the Laverda Concours and won both peoples and judges choice awards. The first time in the history of this event it has happened. Before I started this build I read somewhere that you make a cafe racer to suit yourself not anyone else, but it's nice to know that others appreciate what I've done."