Even in the motorcycle world, trends, like all things in life, come and go. The cafe racer scene has seen a huge resurgence in the last decade, which is probably why you're here, reading this. Some things will never go out of style, like jeans and a white t-shirt. I think vintage bikes and cafe racers fall into this immortal category. However, just like the family photos of you in the '90s with those frosted tips, some styles might not stand the test of time.
No, I'm not talking about the wild OCC choppers of the early 2000s.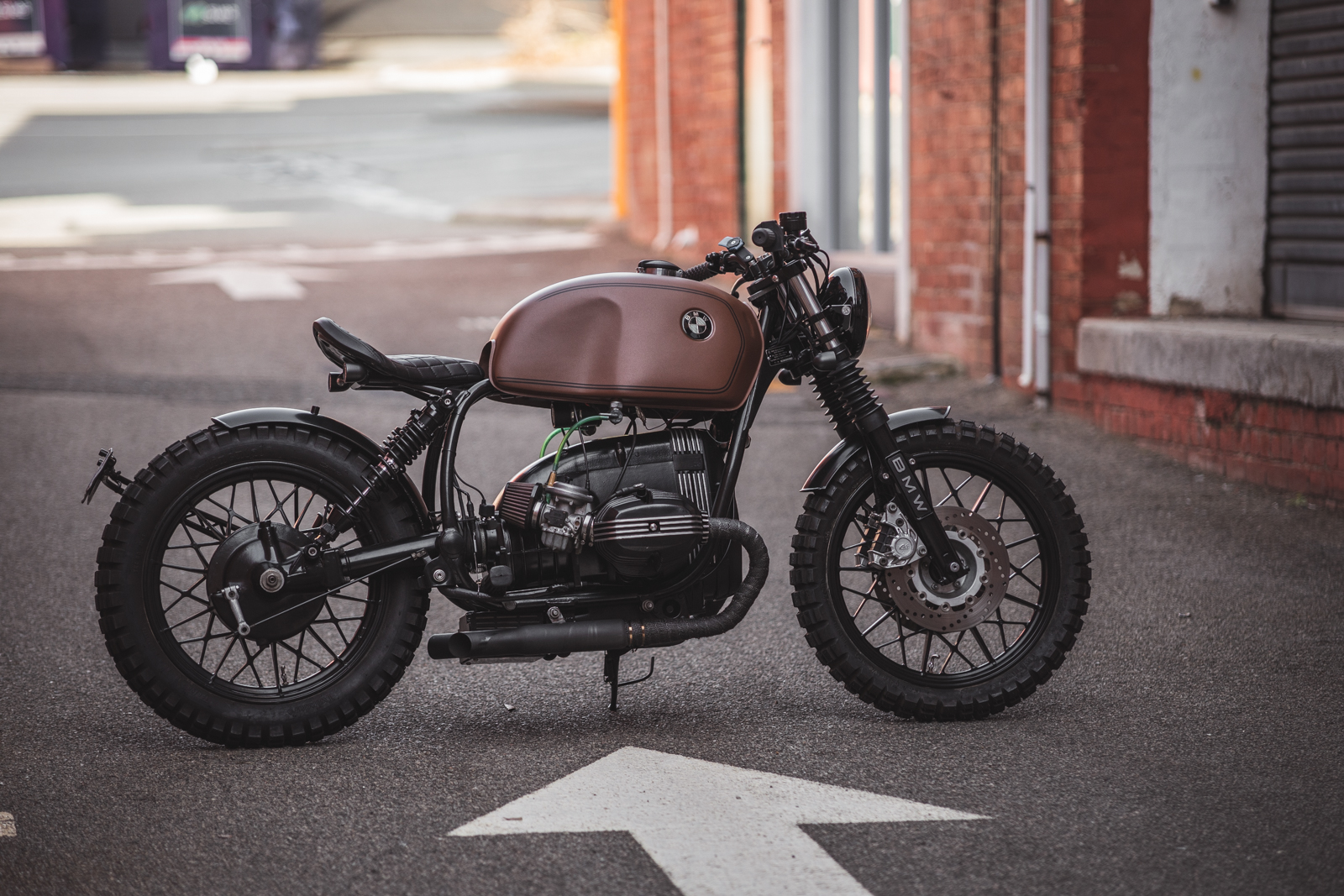 Over the last few years, a certain style of custom motorcycle has emerged and I just know what to think of them, let alone call them. They combine classic cafe racer aspects with some scrambler and street tracker parts thrown in for good measure. They most always have beautifully crafted exhausts, single saddle-style seats and some have very aggressive, knobbly tyres.
Sound familiar yet? If they do, you're probably picturing the work of one man in particular – Arjun van den Boom of Ironwood Custom Motorcycles. He would have to be one of the most prolific bike builders on the planet (at least that's what my Instagram feed is trying to tell me).
This bike is not an Ironwood creation. This BMW R65 was built by Billy and the team at Rogue Motorcycles in Perth, Western Australia. Billy is well versed in giving his customers what they want and that is exactly how this build came to be. When the client arrived at Rogue with a stock BMW R65 the design brief merely stipulated two things. It had to be in the style of Arjun van den Boom and low. The rest was up to Billy and the gang.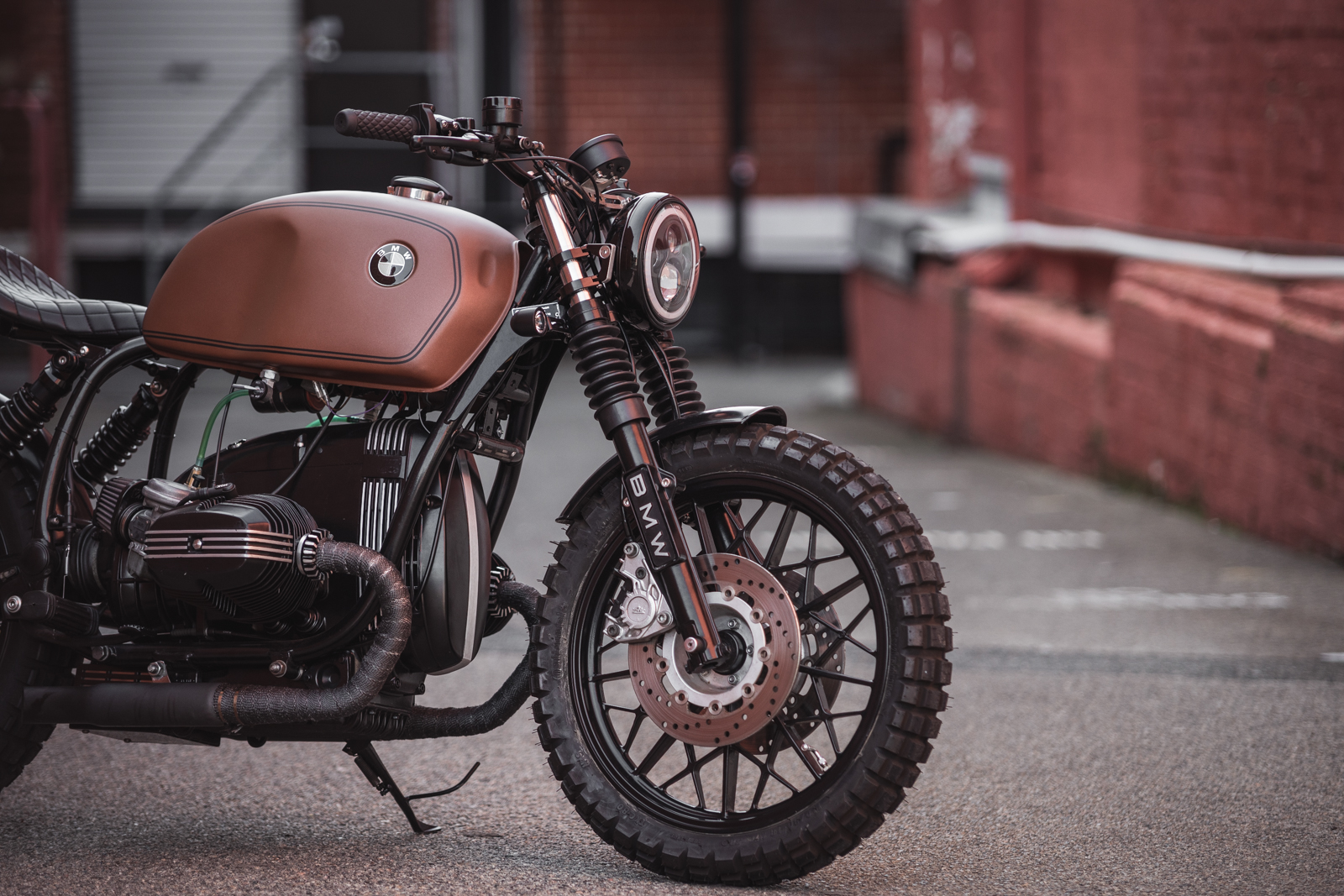 With the bike stripped down work was started on the custom subframe. This style of bike is almost categorised wholly by the saddle-style seat so it had to be just right. BMWs of this era had a bolt-on subframe so that was completely removed, along with a number of tabs.
As the only pillion space is technically on top of the tank, there was also no need for the pillion pegs. With the cutting and grinding discs all worn out the frame, swingarm, wheels and forks were sent off for black powder coat. The engine also got a fresh lick of paint.
Billy builds bikes in the same way as I cook. When I cook, it's enough for 10 people and when Billy builds a bike that has special parts, he always makes extra. This bike is no exception with Rogue now selling the complete subframe kit for anyone who is after this style for their BMW. With everything back from paint a diamond-stitched Biltwell Solo Seat 2.0 was matched to the subframe.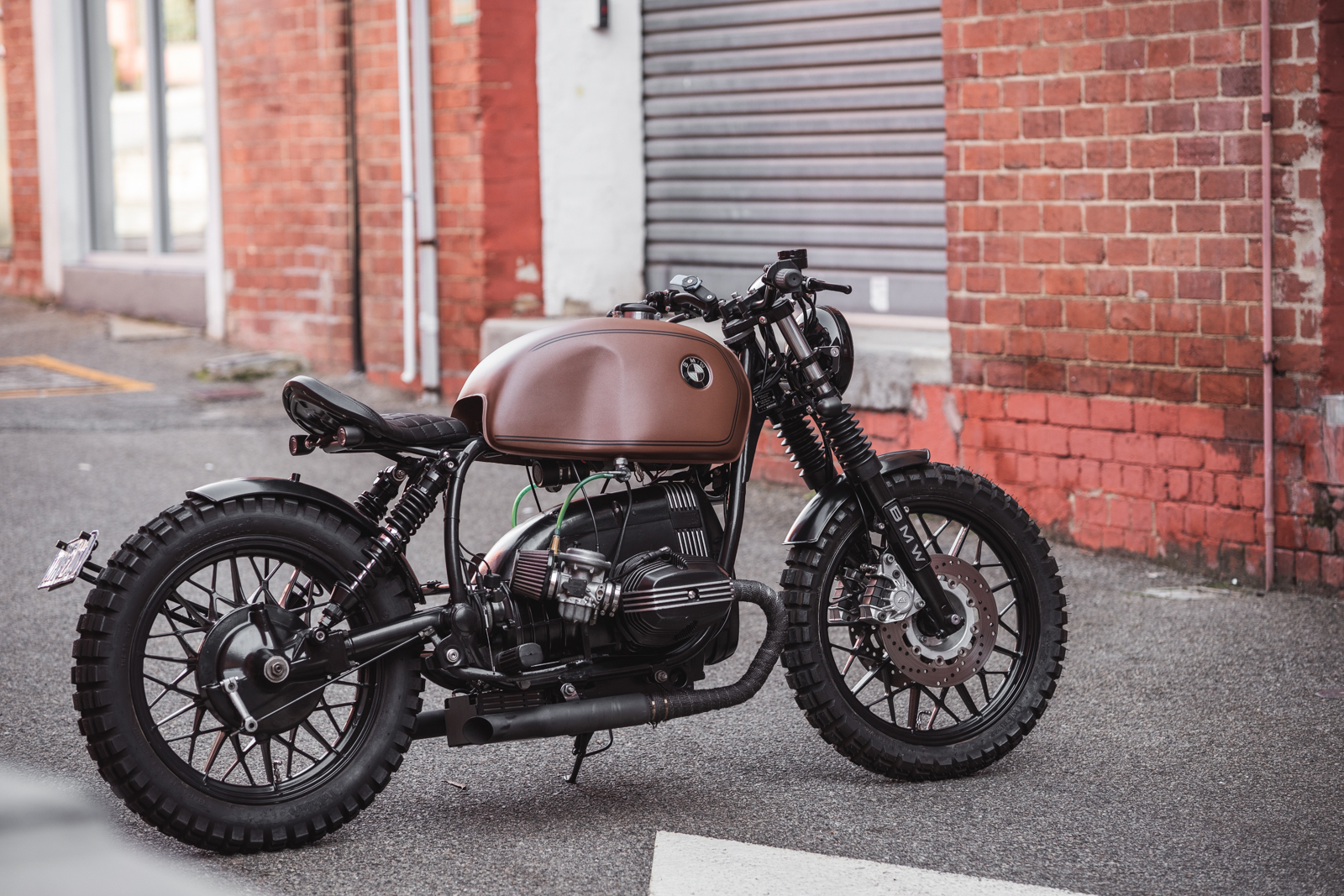 The alloy fenders are both off the shelf at Rogue and are mounted with custom brackets. Under the fenders are the stock wheels wrapped in Continental TKC80 tyres. The control centre of the bike got a whole suite of upgrades, including aluminium handlebars and Motone switches with internal wiring.
There are Axel Joost relays, a Daytona Velona speedo and a 7″ LED headlight. There are some smart 2-1 indicators up front and 3-1 indicators out back, all from Moose. Biltwell Torker grips (that match the seat) complete the rider cockpit.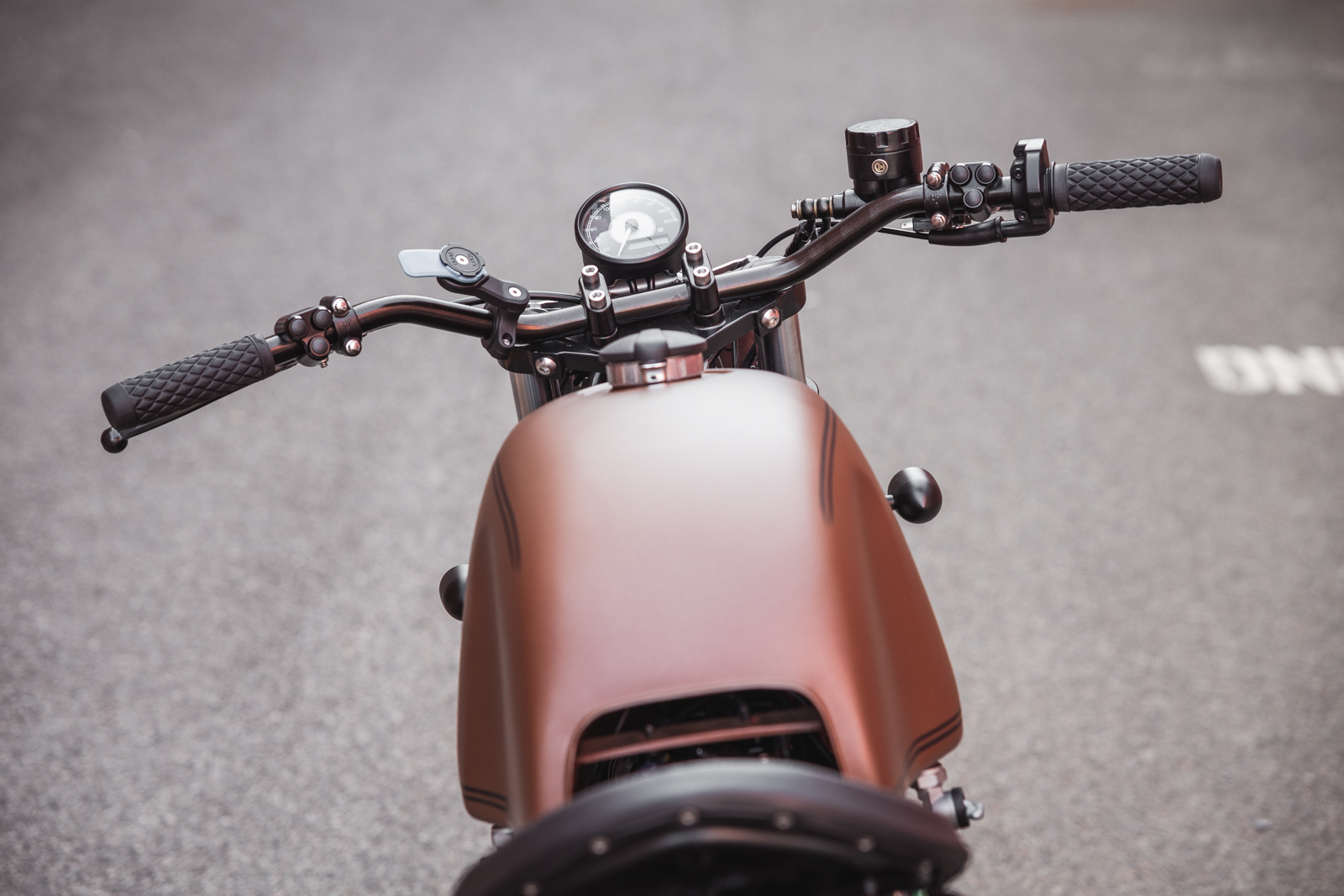 The R65 tank was replaced by a matte brown R100 tank and was topped with a Motone Monza style fuel cap. The black pinstripe on the tank is particularly nice.
After installing DNA pod filters and slash-cut mufflers to help the engine breathe, the bike was sent off to Thorsten at BM Bikes in Jandakot. As Perth's reigning BMW guru, the R65 was in good hands and returned ready to rip with a fresh tune.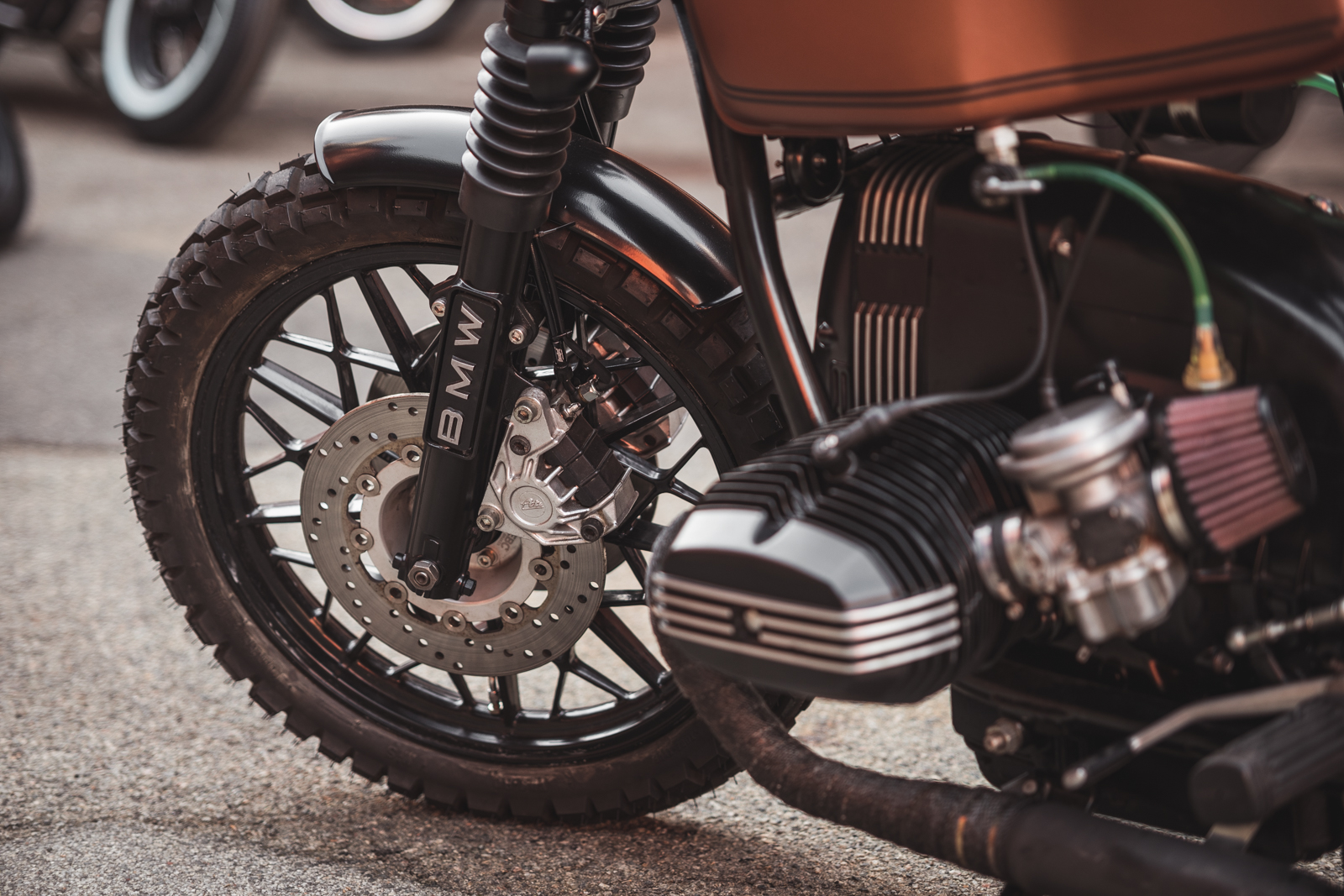 This style of bike requires the perfect stance and Billy nailed it. The front forks have been lowered and there are new, fully adjustable YSS rear shock absorbers to keep the back end planted.
With such a minimalist build, fine details can make or break a bike. Rogue are masters at this sort of thing and you can see their trademark brilliance when up close. The front forks are sporting some hand-cast BMW badges that replace the ugly factory reflectors. These are from Jack Johnson at Kingston Customs in the UK, an ex-colleague of Billy.
There are also carbon fibre-looking BMW badges on the tank and some small, aftermarket choke knobs on the carbs. Keeping the lights on is a new battery, which was relocated from under the seat to underneath the engine. This is housed in a Rogue BMW R-Series battery box and, again, these are available to buy on the Rogue website for a fraction of the price of their competitors.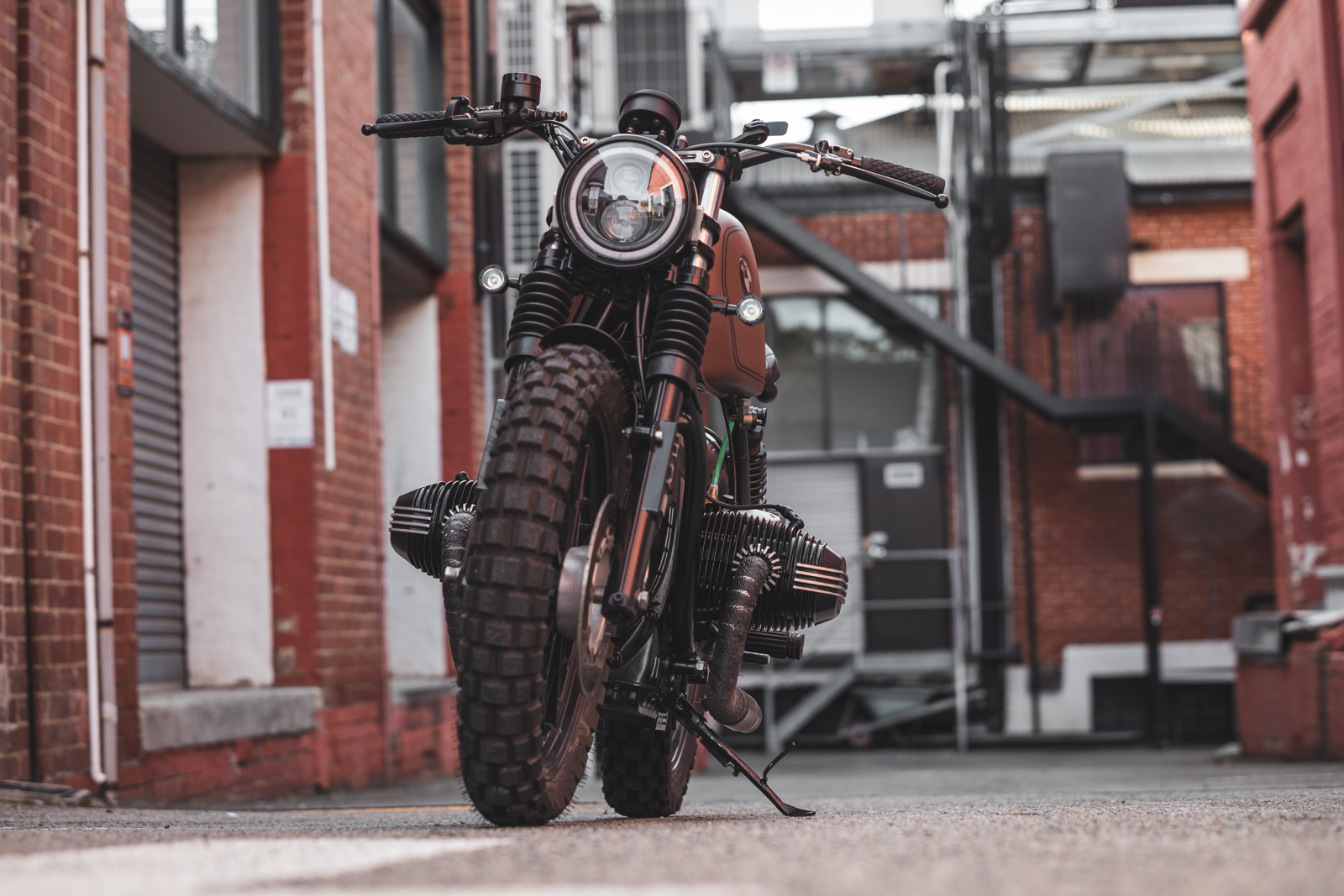 After spending a few hours shooting this bike I've realised that it is worth far more than the sum of its parts. With the solo seat, huge tyres and no luggage room, the build is undeniably an aesthetic exercise. That said, it must be an absolute blast to ride and I wouldn't complain if it had a spot in my own garage.
This is a unique creation that will turn heads wherever it goes. Billy, the Rogue crew and the owner should be proud as punch of this category-defying motorcycle and I hope to see more of these brawling bikes on the streets of Perth for years to come.
Photography by Ben Pilatti