BMW's stalwart R100 was offered in various guises from 1976 to 1996. The 980cc boxer twins made adequate power, had proven reliability, and had large fuel tanks. This made them a bike of choice for those who wanted to go far, fast.
Over the R100's 20 years riders were spoilt for choice when it came to trim levels. From fully faired touring machines like the R100RT to the R100S sport machine. Today, we are looking at the latter. Featuring a bikini fairing, Brembo disc brakes and a claimed 70hp, the R100S was a popular bike in its day. In fact, I still see them being ridden regularly.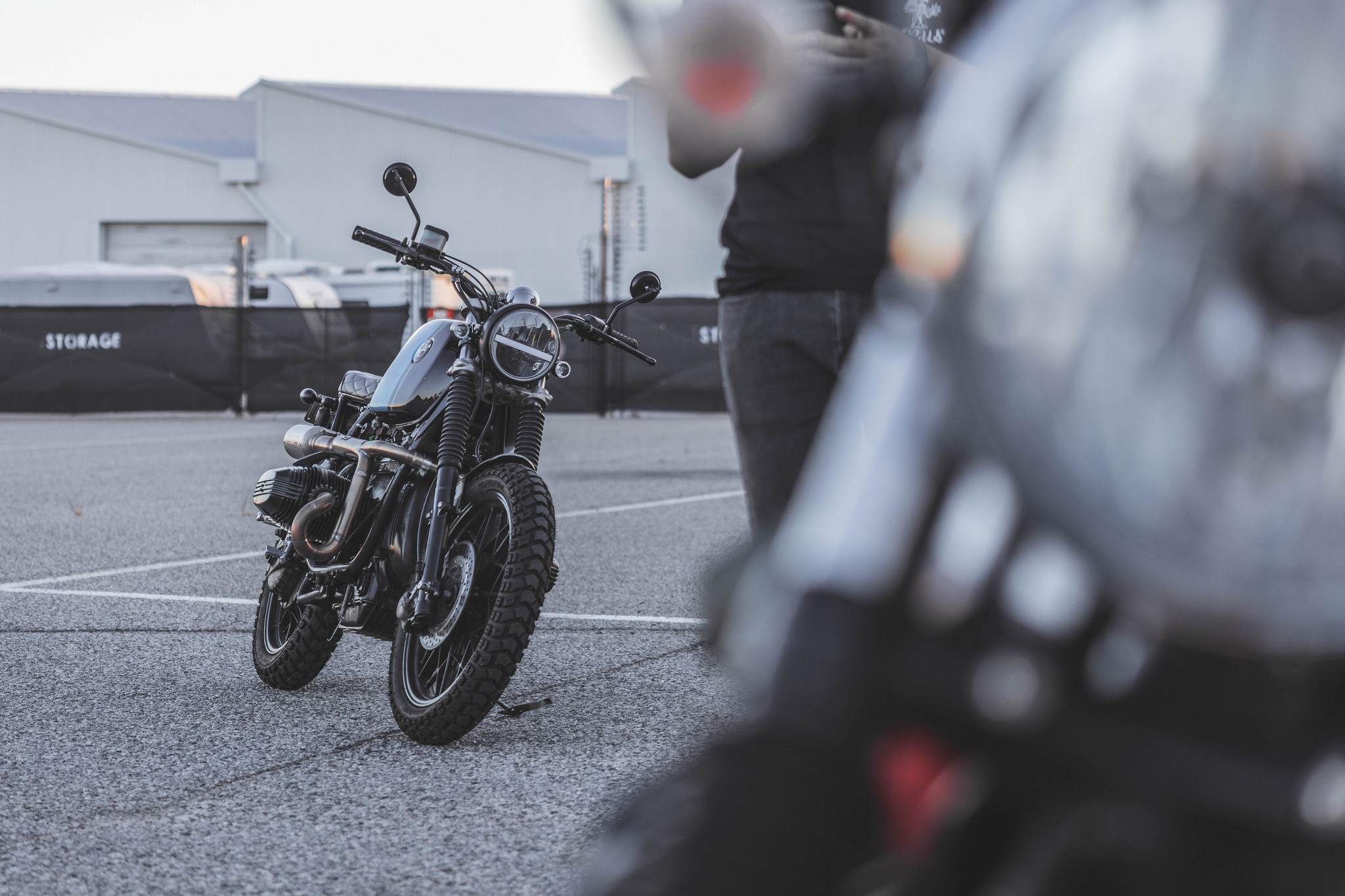 Over the years the R100S hadn't changed much but to mark the year 1980 (and to probably help garner sales) BMW had something special planned. Teaming up with the US-importer Butler & Smith, BMW produced the Exclusiv Sport. Featuring a stunning new silver and blue paint scheme, polished fork legs and final drive, the Exclusiv Sport was certainly a stunning motorcycle. Mechanically, it was the same as the models that had come before but they only produced about 30 of these special models.
One of those 30 bikes made its way to Australia and eventually into the hands of Marc Sim. Marc is no stranger to the BMW brand. He was lucky enough to grow up with BMW and even start his career working for the Bavarian marque. In Marc's own words, "it seemed to be a natural choice".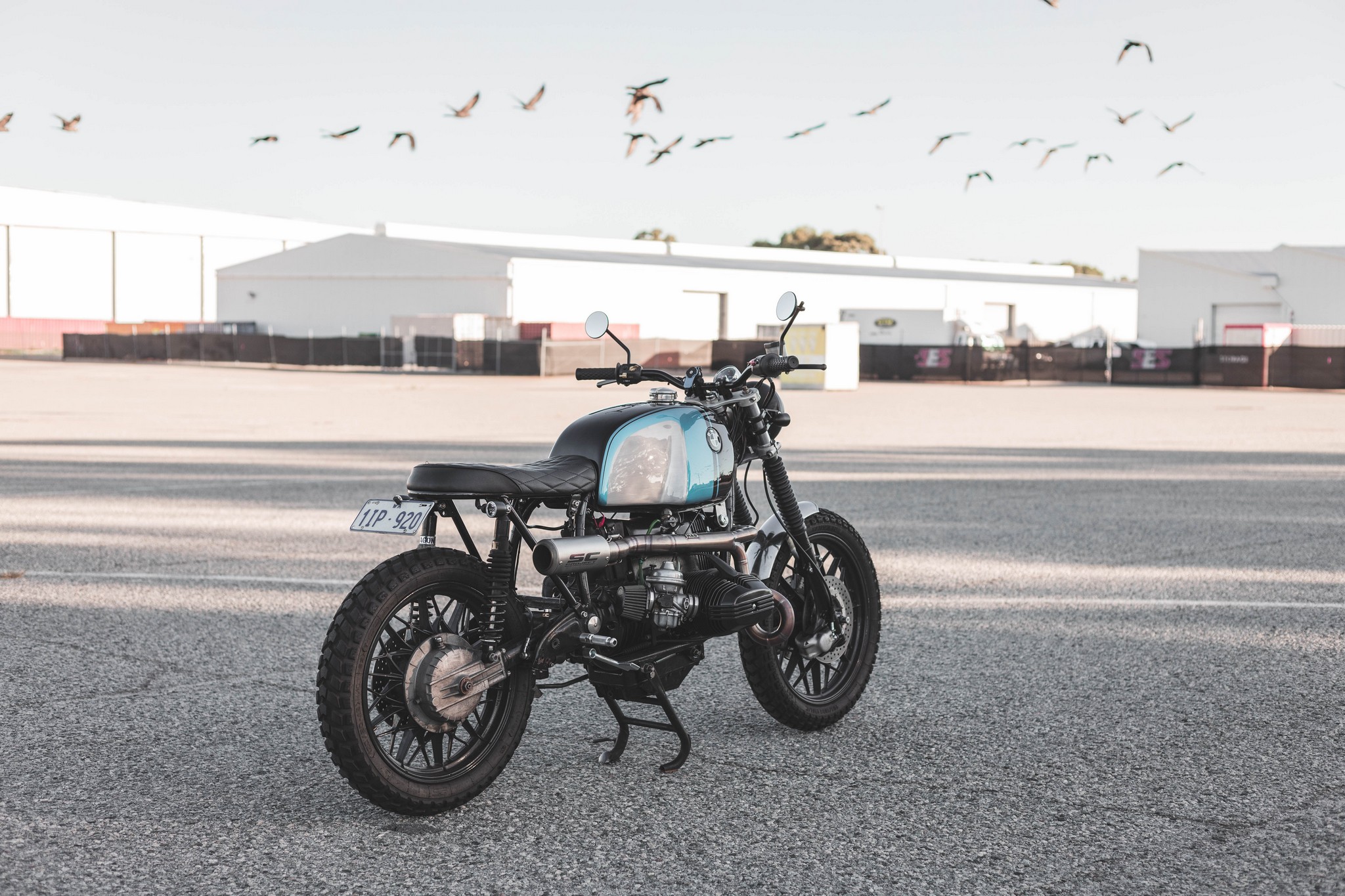 Marc very eloquently described his thought process: "I was torn between keeping it the way it was or making it my own. Thoughts of the harsh words of purists condemning me for ruining such a beautiful piece of history kept running through my mind. I've always been conscious of others' opinions and having had my previous bikes featured online I know there are compliments as well as negativity. This build, however, would be different. I decided that I would build a bike that I liked and wanted and it did not matter what others thought or said. This bike reflects my identity, my character and that's all that matters and should matter."
After riding the R100S around for a while to get a feel for the bike Marc approached Billy at Rogue Motorcycles. Marc and Billy go way back. This is, in fact, Marc's third build from Rogue.
"I chose Rogue for the build as I have a long relationship with them and they've always made me feel like I'm part of their family. I've known Billy and Silvie since they first opened up back when I was at University. Now I'm married with my own family and I've had a Rogue bike at every different milestone of my life."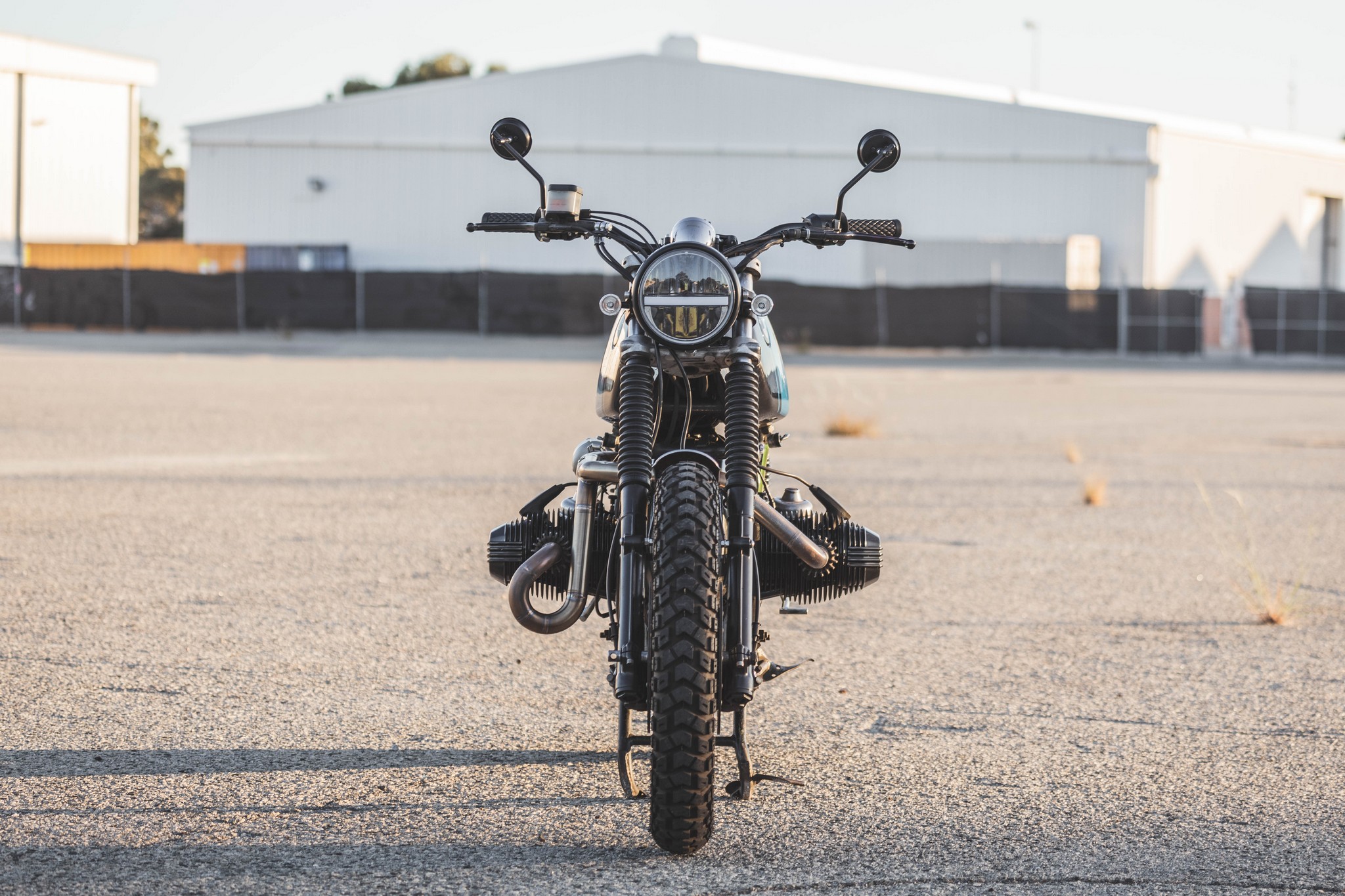 Marc strove for simplicity with this build. At the heart of all truly simple machines is unwavering reliability. This meant a trip to Munich Motorcycles in Myaree for a top-down rebuild was required. After the engine was buttoned up and running like a top it was back to Rogue for more of the custom work.
To kickstart the street scrambler vibes the wheels were powder coated black and wrapped in Heidenau K60 rubber. A short alloy front fender was fitted to keep the local Perth police happy and keep at least a little bit of moisture away from Marc's face when it rains. Fresh fork gaiters and a Daymaker Halo headlight were fitted, along with Moose Lighting indicators.
An Acewell digital speedometer feeds all the relevant information back to the rider. No street build would be complete without a Quadlock smartphone mount and Marc's bike is no different. I'm a big fan of everything Quadlock and it's great to see their products being used as intended.
The switchgear and braking components are all stock but they now wrap around black Biltwell Tracker handlebars and Biltwell Thruster TPV grips. If you haven't used these grips before they are pretty much perfect. Soft without being too chunky, they're well priced and they look great on any machine. A new top fork yoke kit from FlatRacer was bolted on after some modifications were made to fit the handlebar risers.
The exquisite paint was outsourced by Rogue after Marc chose the Estoril Blue, Carbon Black (both part of the current BMW paint catalogue), and brushed steel finish. Along with the exhaust, the tank really set this build off and stops people in the street.
Speaking of the exhaust, MAD Exhausts in the Netherlands was responsible for that after Marc selected it from their online store. The exhaust has a natural brushed stainless finish and it really pops (pun intended) against the newly blacked-out engine.
Billy at Rogue has been developing subframe kits for BMW R-Series bikes and this was a perfect chance to see how they fit. Tarozzi rear set footpegs keep Marc in control and atop the new subframe sits a svelte 1.5 length leather seat with diamond stitching. The seat was sent over from the guys at Miller Kustom Upholstery, also from the Netherlands. There are more Moose Lighting products out back – this time it's a set of their 3-in-1 indicator/brake lights.
I rode behind Marc on our way to dinner and I can verify that they are quite bright! If you're riding an old bike and don't have new shocks then you are doing yourself a major disservice. Marc did the smart thing and bolted on new Hagon shocks to keep the rear wheel planted and the ride compliant.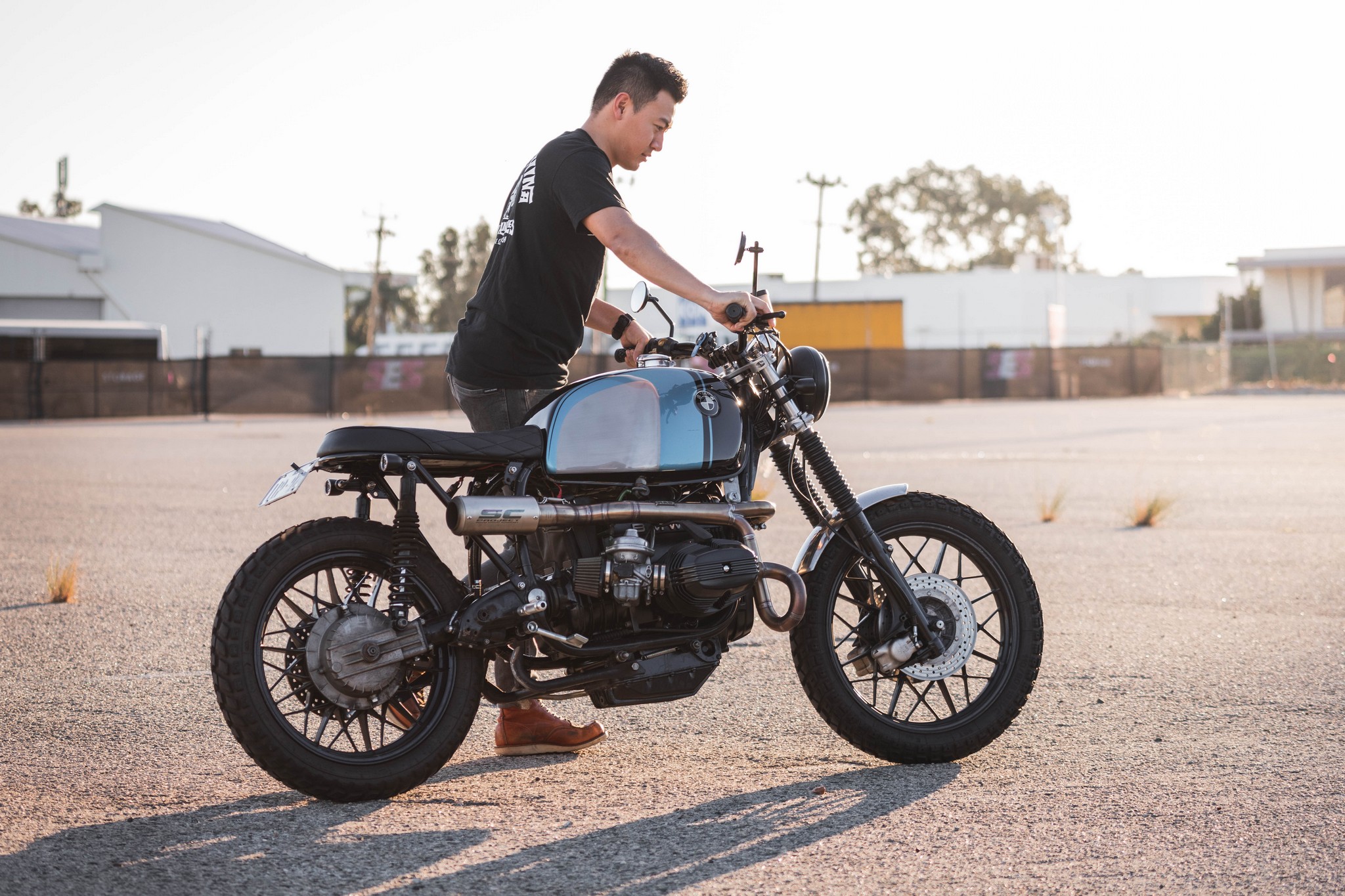 Did Rogue ace the design brief? Well, in Marc's own words…
"The idea for the build was less is more, which featured the tank and exhaust. The result was a simple build for a simple bike, its sole purpose to be ridden. I've always loved the older motorcycles for their lack of technology and their simplicity."
Looking at the result I'd say it's another successful partnership between Marc and Rogue. The quality of the finished product is a testament to their long-standing relationship. What bike will see Marc through the next chapter in his life? Perhaps a practical long-distance machine sprinkled with the Rogue style we've come to know and love? Whatever and whenever it may be, it can't come soon enough.
Photos by Ben Pilatti from @regularmoto
BMW R100S Street Scrambler Photo Gallery