Scroll to the end of the article for my Dunlop Mutant long-term review 
Let me start off by saying I am by no means a motorcycle tire expert. I'm incapable of waxing lyrical about rubber compound chemistry, heat transfer technology, or the science of tread pattern design. What I am though is a long-time rider and regular commuter. I've ridden my motorcycles rain, hail, or shine, for close to 2 decades and almost always opt for 2 wheels over 4 when I have the option.
These days I ride on a lot of different surfaces and types of roads. This is mainly due to the fact I live in a rural area about 2 hours away from the nearest capital city. This also means I do regular trips that place me in the saddle for a couple of hours at a time. So although I'm no tyre expert, I know how I like my bikes to feel on the road.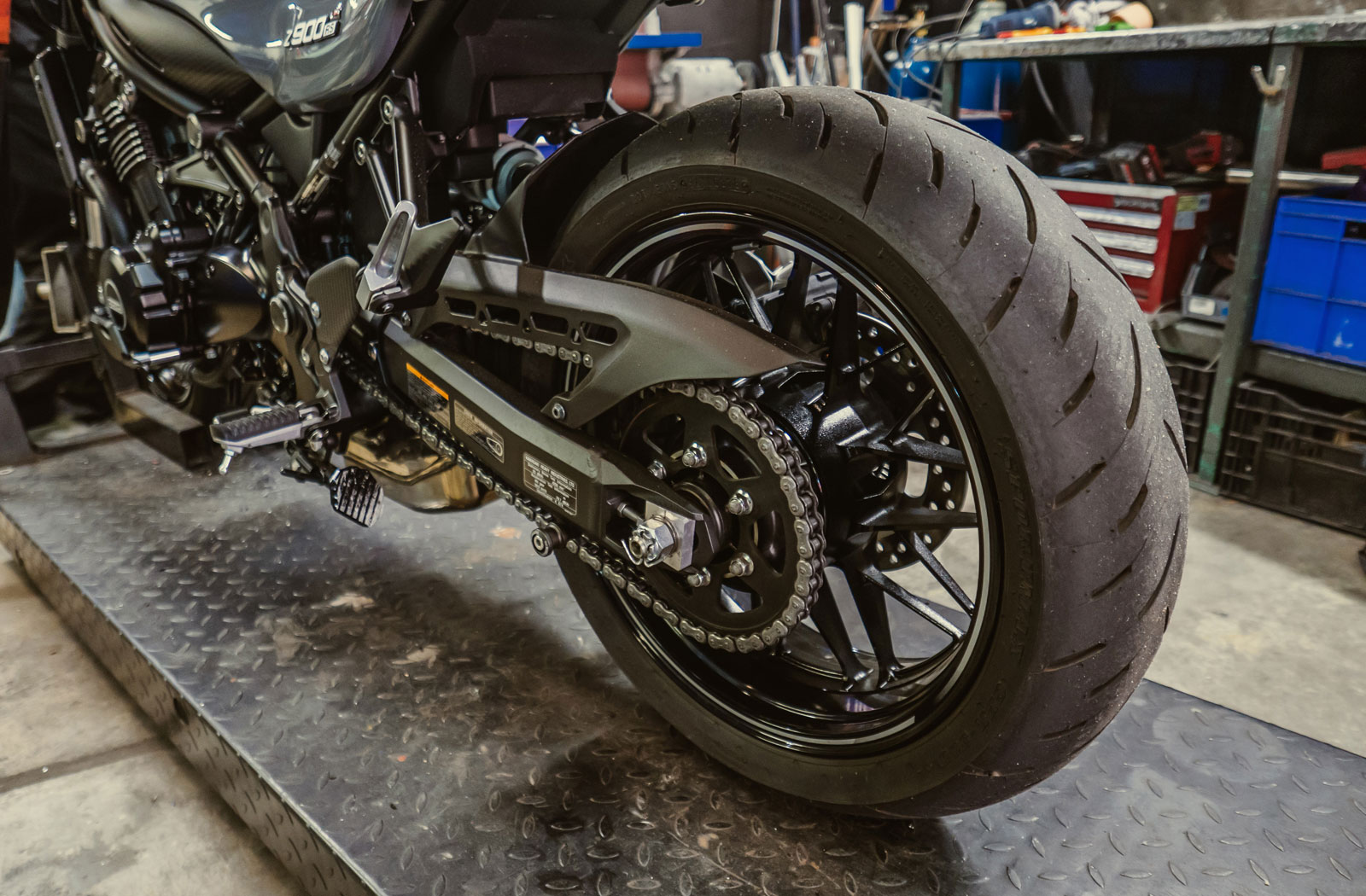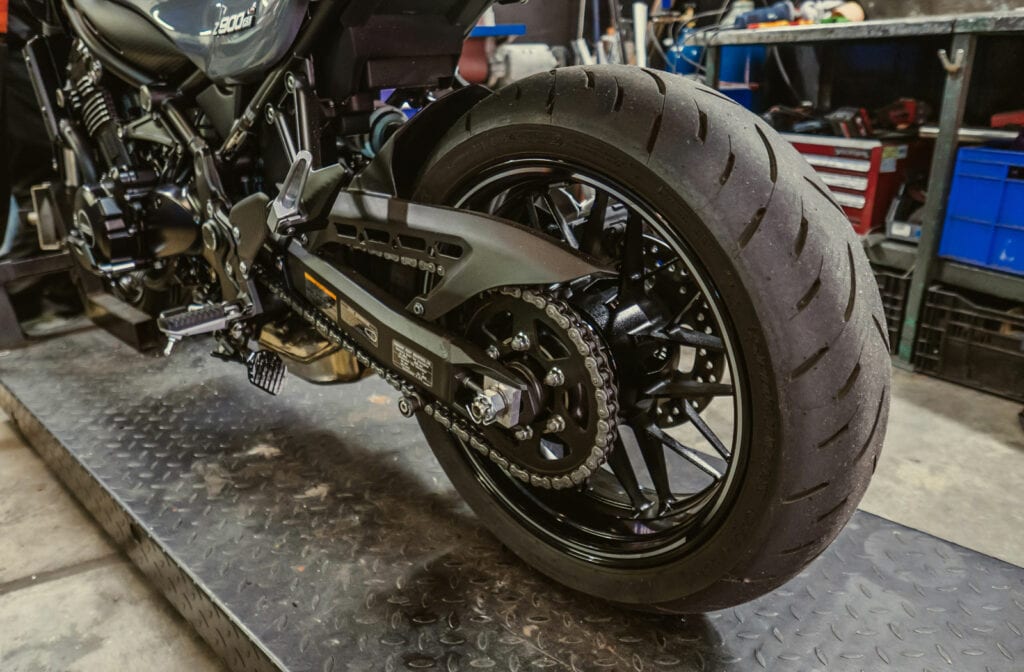 After acquiring a Kawasaki Z900RS Cafe I read a lot of other Z owner's opinions. Similar to my own judgment, most of the comments expressed satisfaction with Kawasaki's retro sports Z1 homage. There were however a couple of gripes echoed across the forums and Facebook groups. One of the most contentious was the stock Z900RS tyres.
Out of the factory the Z900RS wears Dunlop Sportmax GPR 300 tyres. The GPR 300 is pitched as a well-priced, hardwearing tyre designed for standard and sports motorcycles. As Lemmy from Revzilla put it the GPR 300 are "equivalent to or better than your motorcycles OEM tyre" and "If you're a Joe average rider and need a solid performing tyre the Sportmax GPR 300 is a great contender".
The reason Kawasaki went with the GPR 300 was obviously a financial decision. But it is also because of how they estimated most Z900RS owners would be riding their bikes. Being a retro model they assumed this was a bike that wouldn't be pushed as hard as a dedicated sports bike. This is, of course, a generalization, and where the GPR 300 falls short is when a rider expects them to stand up to more aggressive sports riding.
My issue with the Dunlop Sportmax GPR 300 was a little different though…
Part of my daily ride consists of navigating a stretch of unsealed road that leads to my home. It's only around 200m long but riding it at any speed on the GPR's was comparable to walking on ice in flip-flops. So although the GPR's were holding up just fine on sealed roads – my rides would always end with an awkward walking pace crawl to my garage.
After only 2500 km on the GPR 300s, I was well and truly ready to try something new.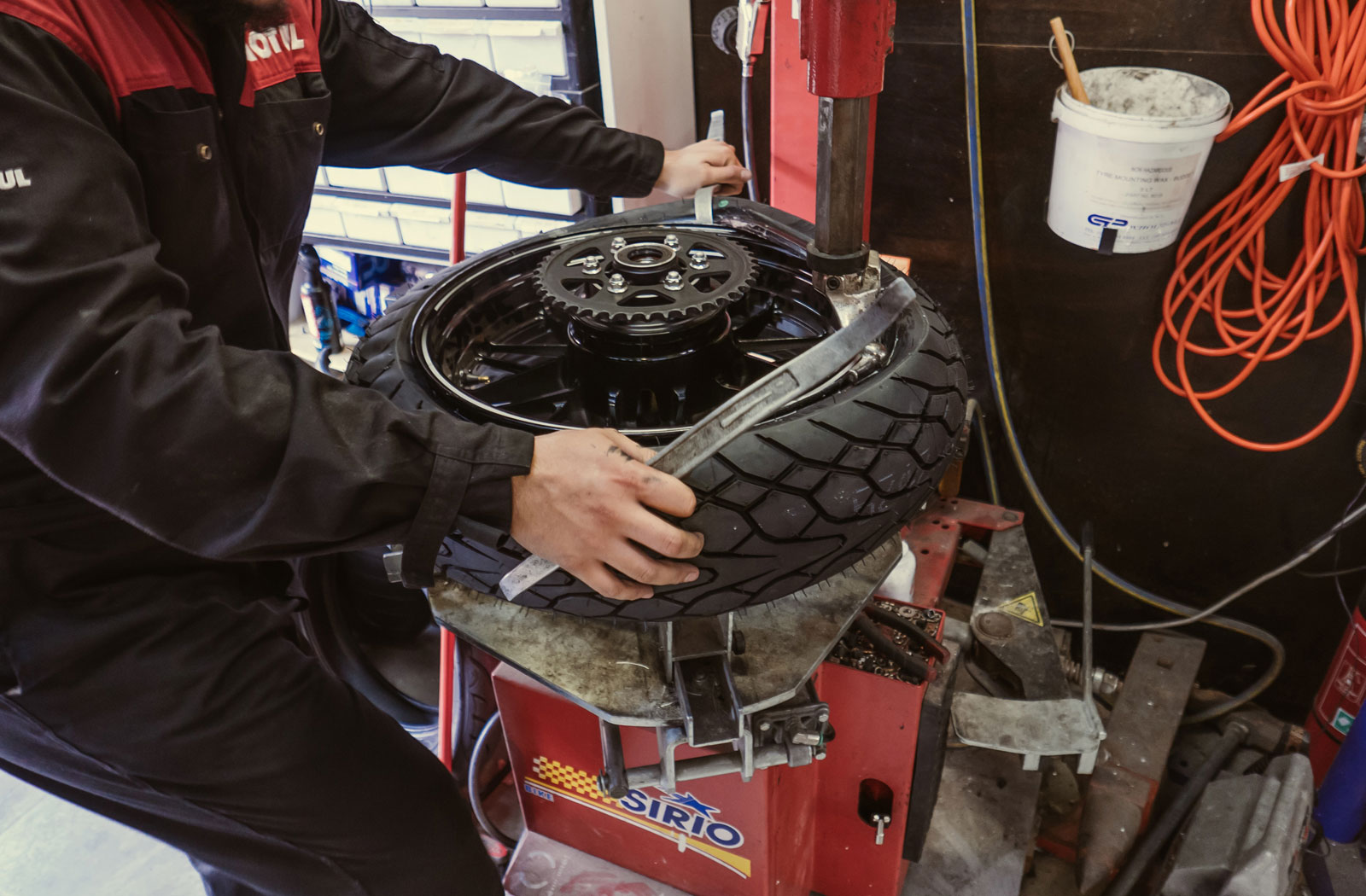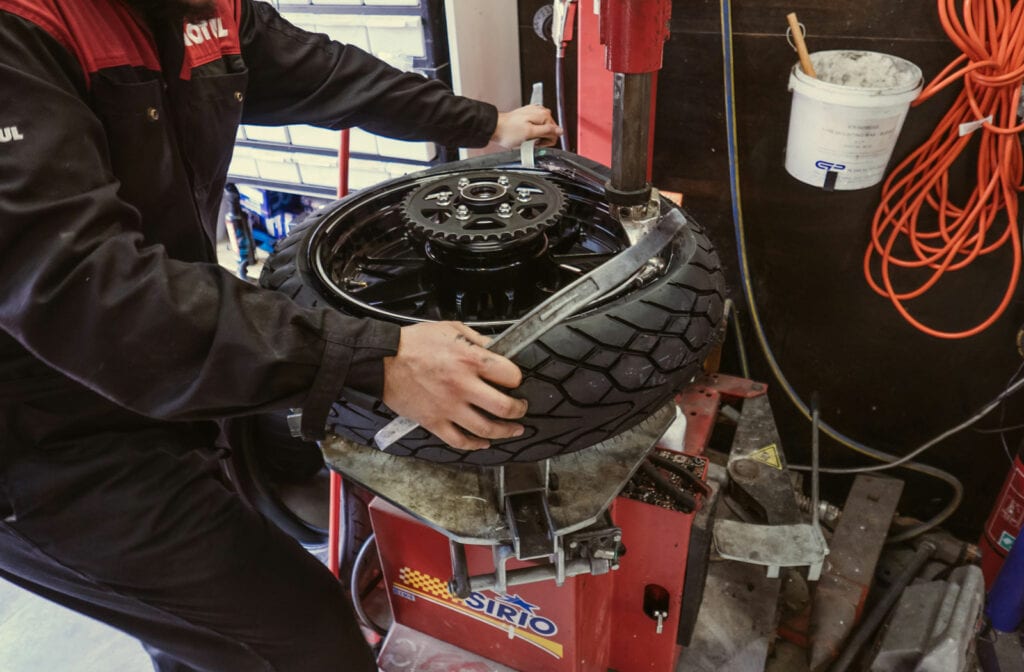 As fate would have it, I received a press release from Dunlop about their latest evolution in motorcycle tyre design, the Dunlop Mutant.
The Mutant is the first tire Dunlop has released in a new category they have coined the "Crossover Tyre" and on paper, it seemed to offer exactly what I was looking for.
What's a Crossover Tyre?
With their new Crossover tyre category, Dunlop has taken a "conquer all conditions" design approach. This means they have strived to create tires that are capable in all manner of scenarios. Whether that's the type of surface you're traveling on, the style of riding you're doing, or even the weather you're navigating. Achieving this meant combining technology from their acclaimed Hyper Sport and Touring tires and merging it with their knowledge of wet-weather racing.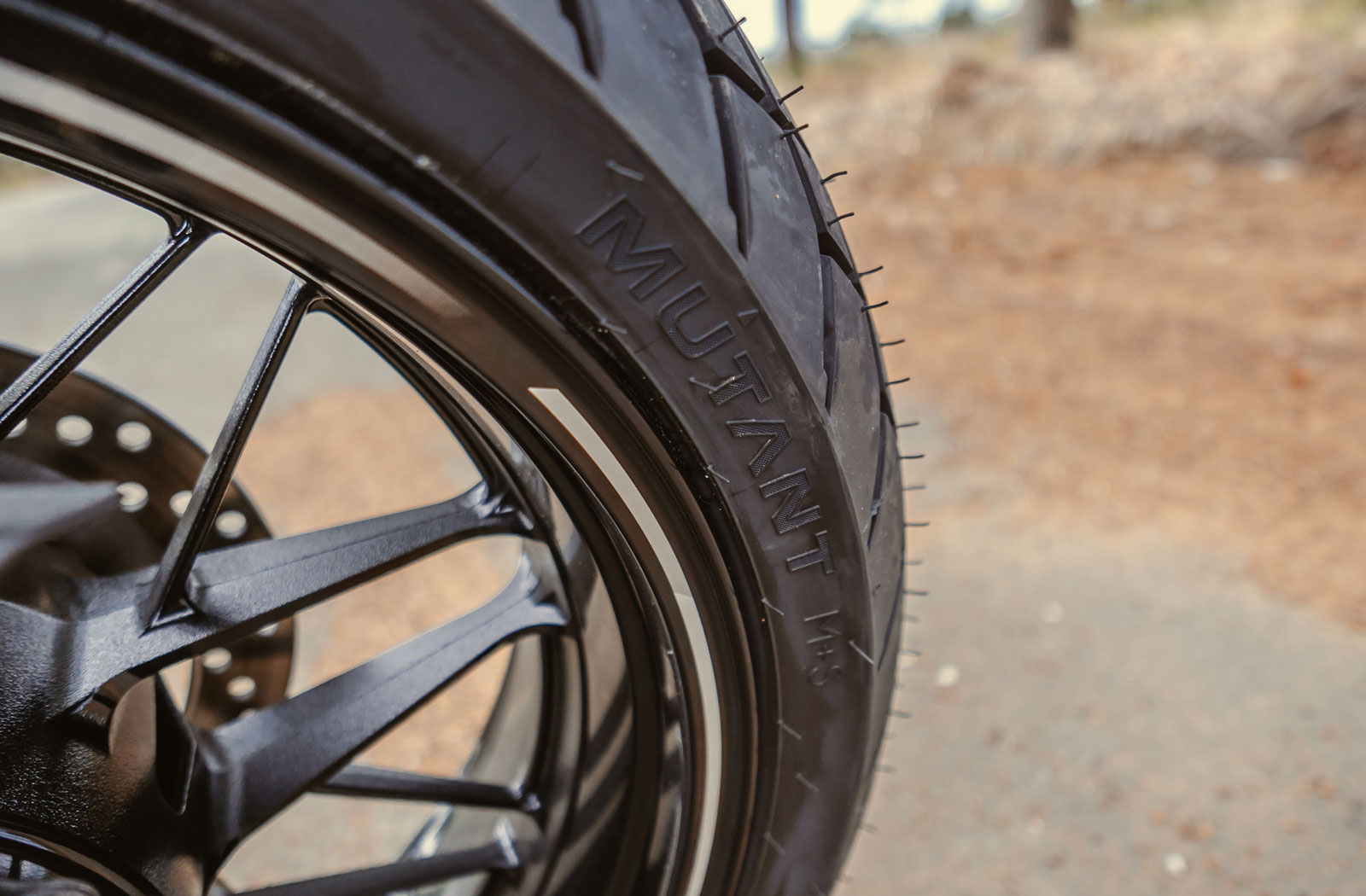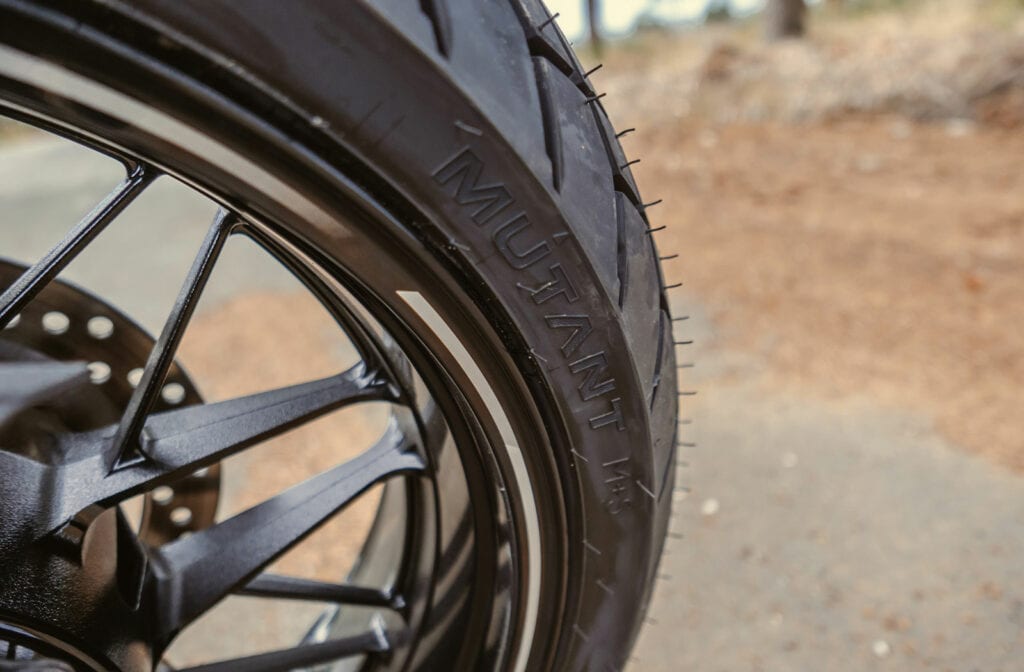 Mutant by name. Mutant by nature.
This all sounds a bit too good to be true, doesn't it? How can a tire provide a high standard of performance under all of those conditions?
For years we've been told to buy tires that are designed for a dedicated purpose – If you like to tackle the occasional trail – grab a set of dual sports. Want to scrape your knees in the corners? Get some sticky sport-oriented rubber. But in reality, most riders do all their riding on a single set of tires and expect them to perform well at all times. This is where these tires come into their own.
So how does a Dunlop Crossover tyre do it?
The first tire in the Crossover range is the appropriately named Dunlop Mutant. Dunlop says that the Mutant is the most versatile street tyre they've ever made – ideal for anyone from sport tourers to supermoto riders. They attribute this to a state-of-the-art rubber compound and a Rayon Ply Casing that promises excellent mileage and a short warm-up time. For Hypersport riders the Mutant features Dunlop's a DFF (Dynamic Front Formula) which promises to deliver excellent handling and stability characteristics. This has then been combined with a multi-tread pattern to offer increased grip in the corners.
As for their ability to tackle any weather condition, the Dunlop Mutant boasts a high surface silica area and Dunlop's 4-season technology. This, according to Dunlop, allows the tires to produce levels of grip as close to racing wets as possible.
Finally, a 90/10 tread pattern rating (pavement vs dirt) makes them suitable for light dual-sport duties.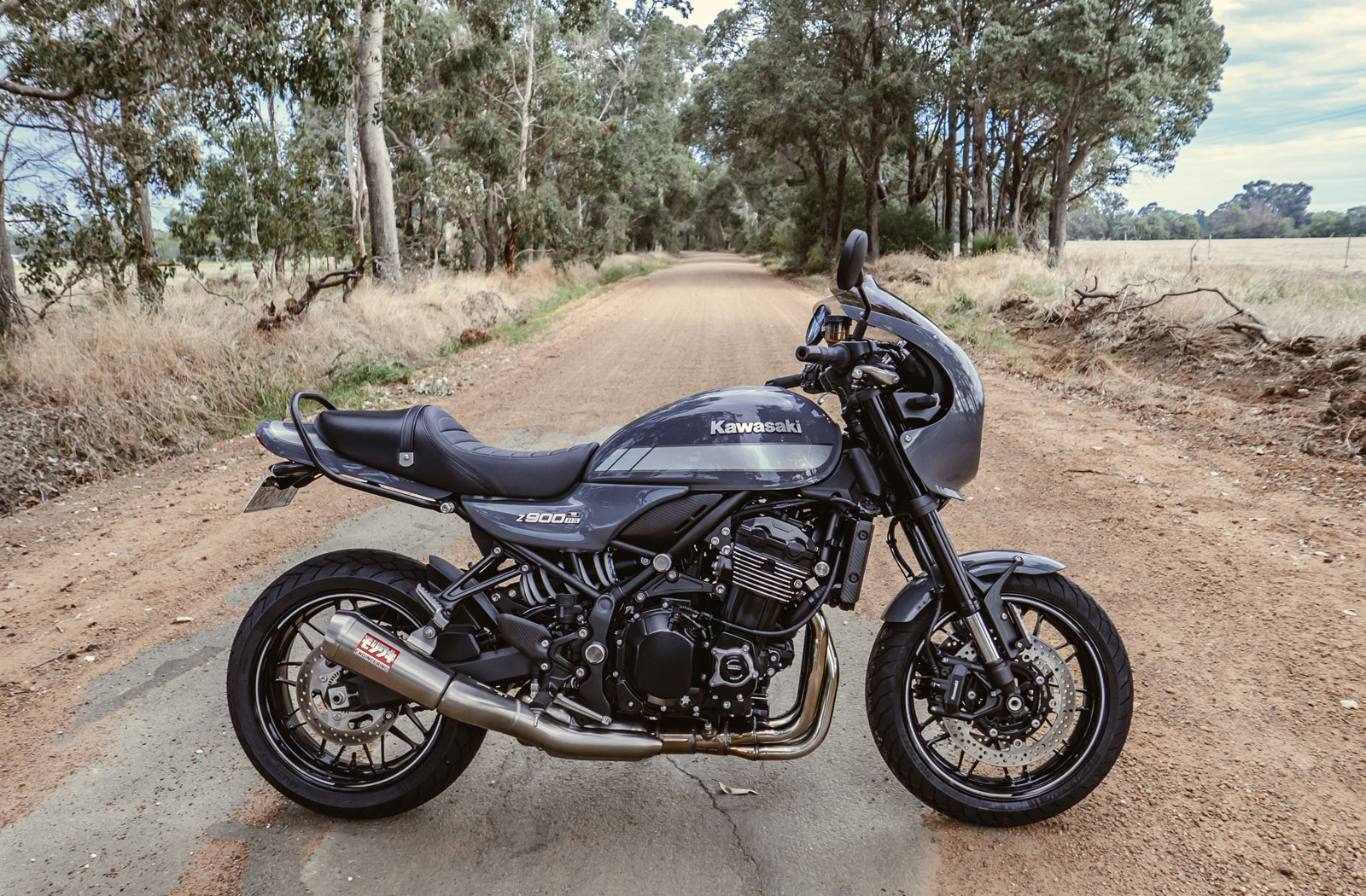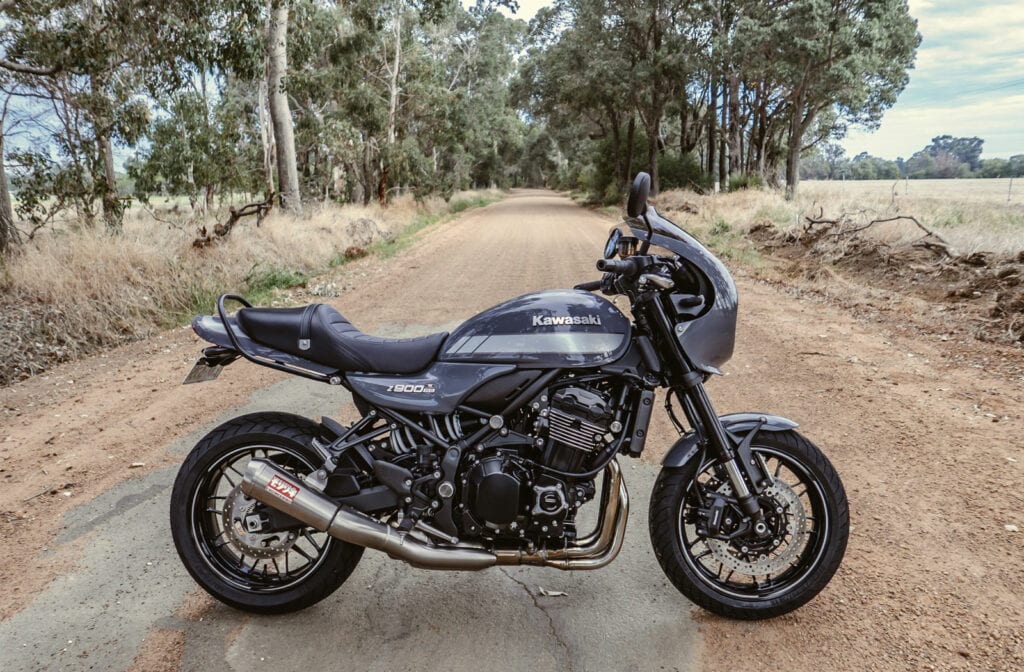 "The Mutant is what you might expect: A mutation of unique components that create one of the most versatile street tires Dunlop has ever produced." – Dunlop Tyres
Riding on the Dunlop Mutant
I had the tires installed on the Z900RS by the guys at Rogue Motorcycles in Perth, Western Australia. During the 2 hour journey home I took things easy. Driving through the city and cruising on the freeway was no different from my experience on the GPR 300. Surprisingly, despite the much more aggressive tread pattern, there was no obvious increase in noise or vibration. However, once I reached the stretch of unsealed road to my home the differences were instantly apparent.
On the gravel, the change in feel and grip between the GPR 300s and the Mutants was night and day. The bike felt more planted and manageable and a hell of a lot safer. I hardly had to shave off any speed as I crossed from one surface to the other and my cheeks were noticeably less clinched.
Finally, my rides would no longer be tainted by a bit of loose dirt. I was once again loving every aspect of my Z thanks to the Mutants. End of review…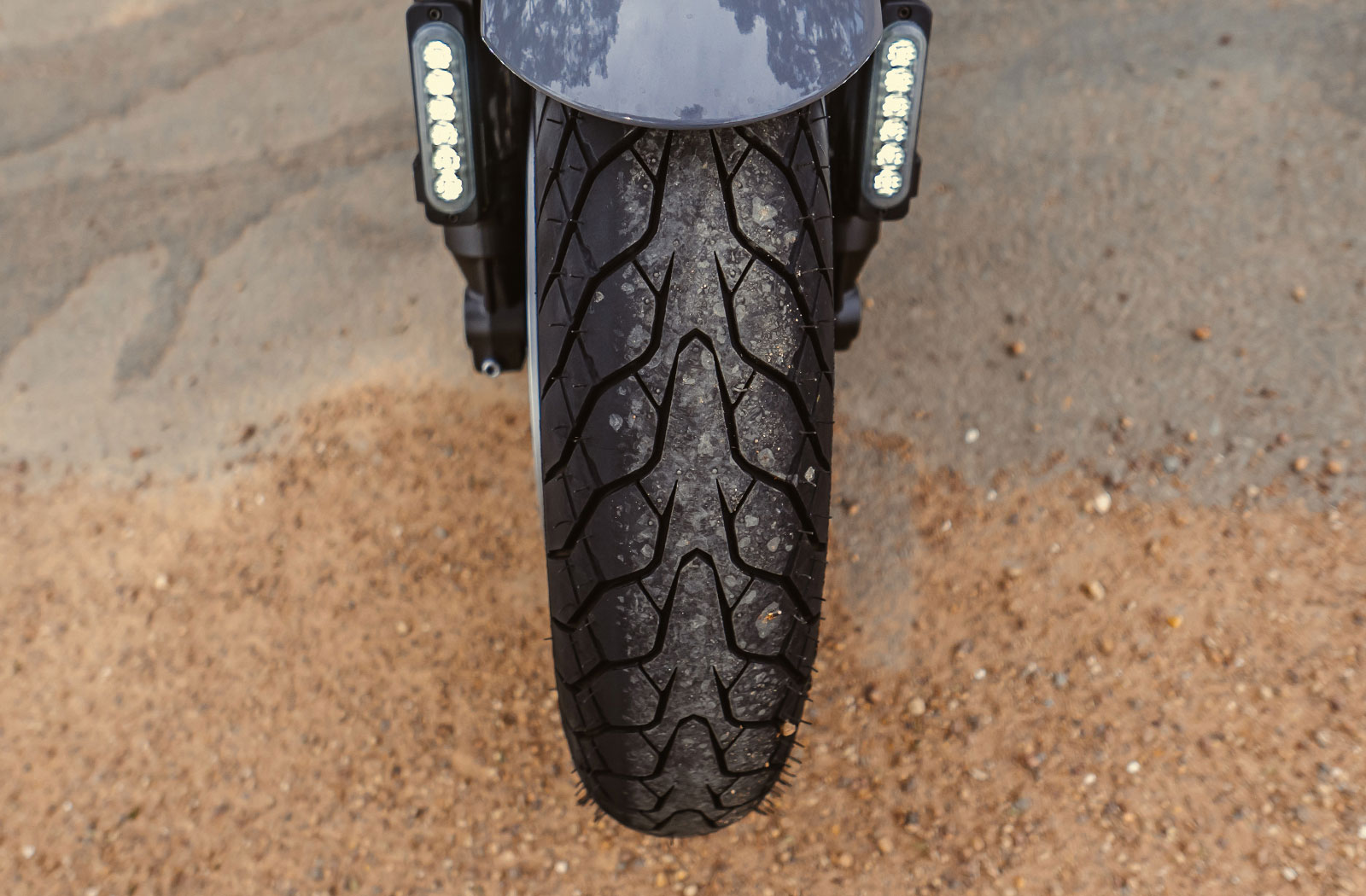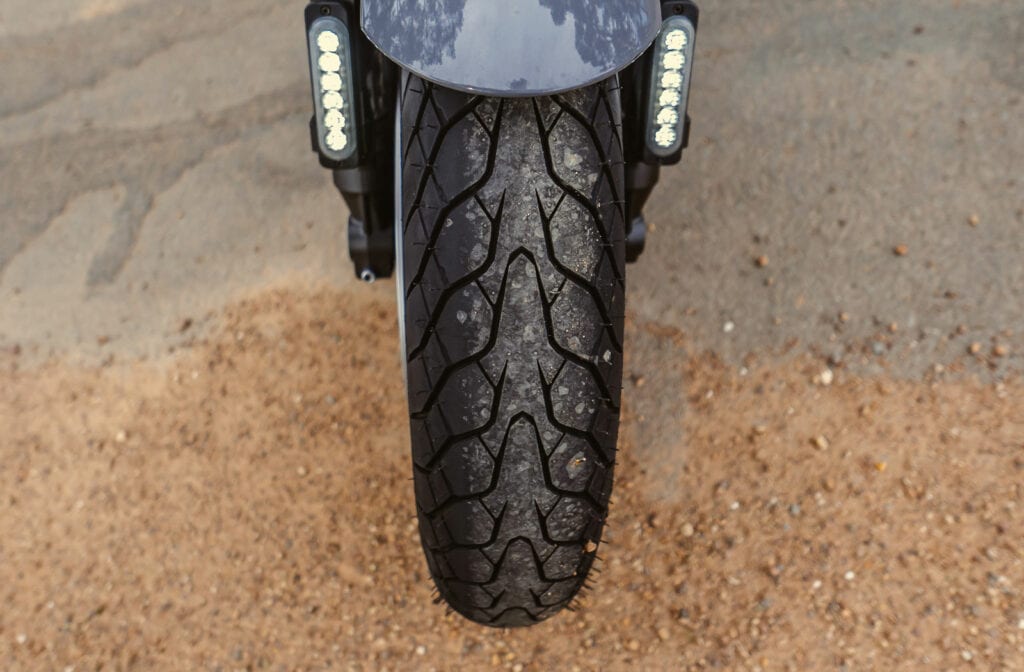 Just kidding.
Since that first ride, I've clocked up a similar amount of miles on the Dunlop Mutants as I had previously done on the GPR 300. I've gained a lot more confidence in the tyres ability and they've rewarded me with a great riding experience.
In the corners, the Mutants actually instilled more confidence than the GPR did. This is probably due to how well they tackle the bumps and uneven surfaces I encounter day to day on local country roads. They also turn in very easily and I've found myself having to work less to get around bends at a spirited pace. Side by side with the GPRs I had removed the Mutants also show minimal signs of wear. Dunlop did say they made the Mutant durable, and if they continue to wear at this rate I'm going to get some great mileage out of them.
Another key selling point in Dunlop's Mutant marketing is how fast the tires warm up. I can confirm this is also accurate. Most days, after I've come off the gravel near home I do a bit of light zig-zagging to make sure I've cleaned the bulk of the dirt off the tyres. What I noticed about the Mutants is that after this the tyres are already giving me great feedback. This has also been a welcome change over the GPR 300's on wet days. I'm yet to find the point at which the tyres let go and due to my style of riding, I doubt I will.
For those who like to push limits and want to hear the opinion of a more aggressive rider, check out the video below by BMW Master Technician, Motorcycle Racer, and Youtuber Smiffy 775. He fit a set of Mutants to his BMW GP S1000RR and tackled the Cadwell Park Circuit in the UK. Here are his thoughts on how the Dunlop Mutant performed…
"These tires have never been used on track before and certainly not on a 200bhp Superbike. Designed for the road I decided to give them a try to see if they were suitable as an Intermediate race tire, I have to say I was mega impressed with them, I wouldn`t go as far as to say they would be ideal as a race tire but overall a fantastic tire.
I pretty much did the whole day on them on a damp to drying track and the grip and feel they gave was way better than I was expecting with great longevity. Certainly a superb road/track day tire. I also have a pair fitted to my BMW R1250GSA for the road and have found them far superior to the previous tires fitted. All in all very impressed!" – Smiffy 775
Final thoughts…
For me, the strong point with these tyres is of course the ability to tackle loose surfaces and rainy roads without issue. Of course, there's a limit to the kind of "off-road" surfaces the Dunlop Mutant will handle. But if the extent of your off-road riding is tackling the odd unsealed backroad, they're the ideal companion.
On a side note, if appearance is important to you, the Mutants will add an aggressive edge to your bike's look without completely sacrificing performance (Firestone Champion Deluxe I'm looking at you).
The Dunlop Mutant tyres come in mainly 17-inch sizes with one 18 and 19 front variants. Front end widths go up to 120 and all the way up to 190 for the rear.
Available from: Revzilla / Your local Dunlop dealer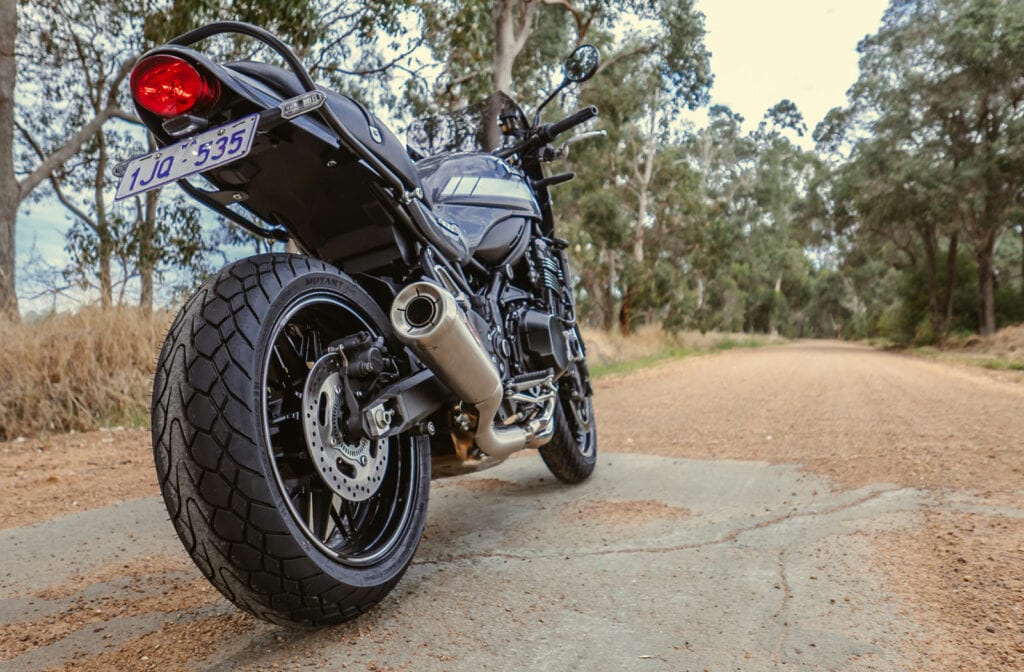 Long-Term Dunlop Mutant Review Update…
Well, it's been 14,000 km since I put a set of Mutants on my Kawasaki Z900RS Cafe and to say I've been happy with them would be an understatement. I'm getting ready to replace the tires now and will have no hesitation in getting another set of Mutants. I'm still living in a rural area and often encounter unsealed sections of roads or patches of loose debris. While I do my best to avoid them there have been times when it's been unavoidable, thankfully the Mutants have performed exceptionally well and kept me upright. But the Mutants are much more than a dirt-capable tire. In all of the conditions I've ridden, these tires have performed exceptionally well. From regular commuting to long hauls. From leisurely cruises to energetically weaving down winding roads. I've ridden 4 hours in torrential rain without any loss of traction in corners or under braking and I'm yet to find the limit of the Mutant's ample grip.
Aside from their all-purpose design, it was the look of the Mutant that attracted me most to these tires and they have not gone unnoticed. I've had many riders question me on their performance after expressing how much they like the look of them and I never grow tired of just how cool they look on this style of motorcycle. Most impressively though, I think these tires would have lasted a lot longer if it wasn't for how I ride. Because I live 3 hours from my nearest capital city I have completed many long freeway rides on the Mutants. As a result of extended hauls on relatively straight roads, the rear tire has begun to square off. If my riding was more like a regular commuter who likes to hunt down windy roads on the weekends I wouldn't be surprised if these tires could get close to 18,000 km.
Who'd have thought a dual-purpose tire could be so good? In my experience, Dunlop's claim that the Mutants offer "performance to match any condition a rider may encounter" is indusputible.