"They don't make them like they used to!" When you hear those words uttered it is generally with disdain. A declaration that the quality or performance of a product has declined. However, despite what vintage motorcycle tragics may tell you, things in the world of motorcycling have definitely improved.
Don't get me wrong, nothing appeals to me more than the idea of belting around on a vintage classic. But when it comes to reliability, handling and power – modern motorcycles are vastly superior.
This can also be said of today's cafe racers.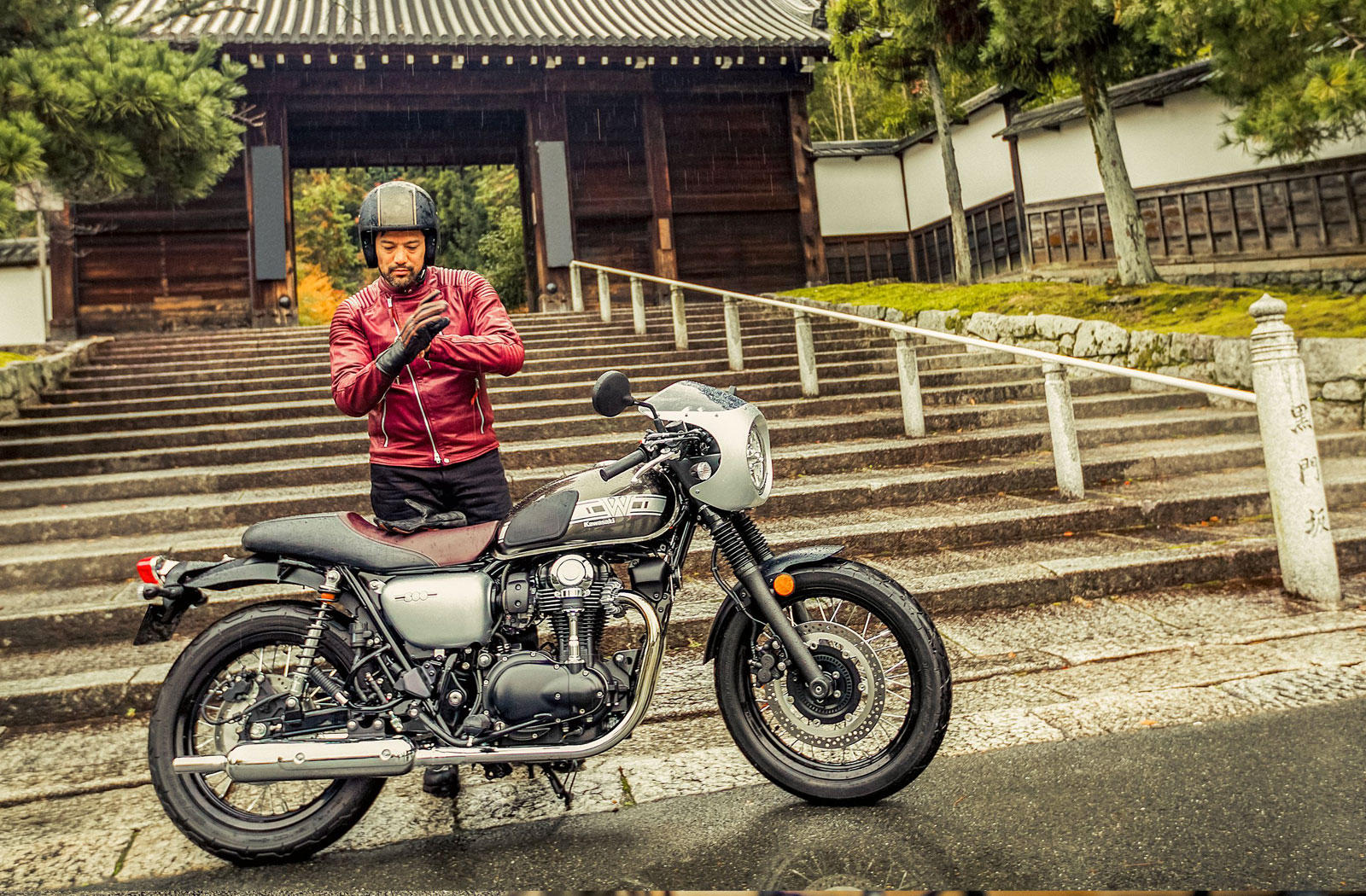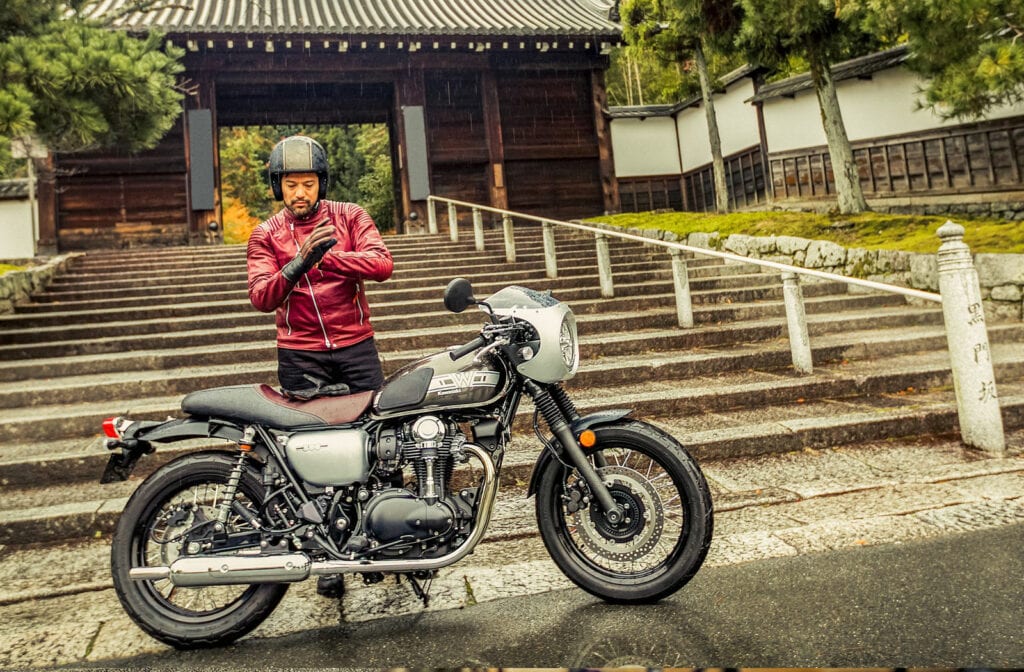 There was a time when reaching 100mph, or "the ton", was the holy grail for cafe racers. These days though, your average middleweight street bike can top 100 without breaking a sweat. And the same can be said of the bikes that today's manufacturers are touting as cafe racers.
Along with looking the part, off-the-shelf modern cafe racers offer impressive levels of performance and reliability making them an attractive alternative to often expensive and less reliable classics.
But if we were to look at these modern cafe racer interpretations with the eyes of a young, motorcycle-obsessed man in 1950s England, what would appeal to him the most? It would surely be how fast they could go. So, in the spirit of the original cafe racers, we've created this list of the Fastest Cafe Racers of 2021.
When compiling this list the rules were simple. Any motorcycle that has been described as a cafe racer by a manufacturer or the motorcycle press was considered. All bikes had to be available to purchase in 2021 and nothing with a top speed of under 100mph (160kmh) would make the cut. So here in ascending top speed order are 10 of the fastest cafe racers of 2021.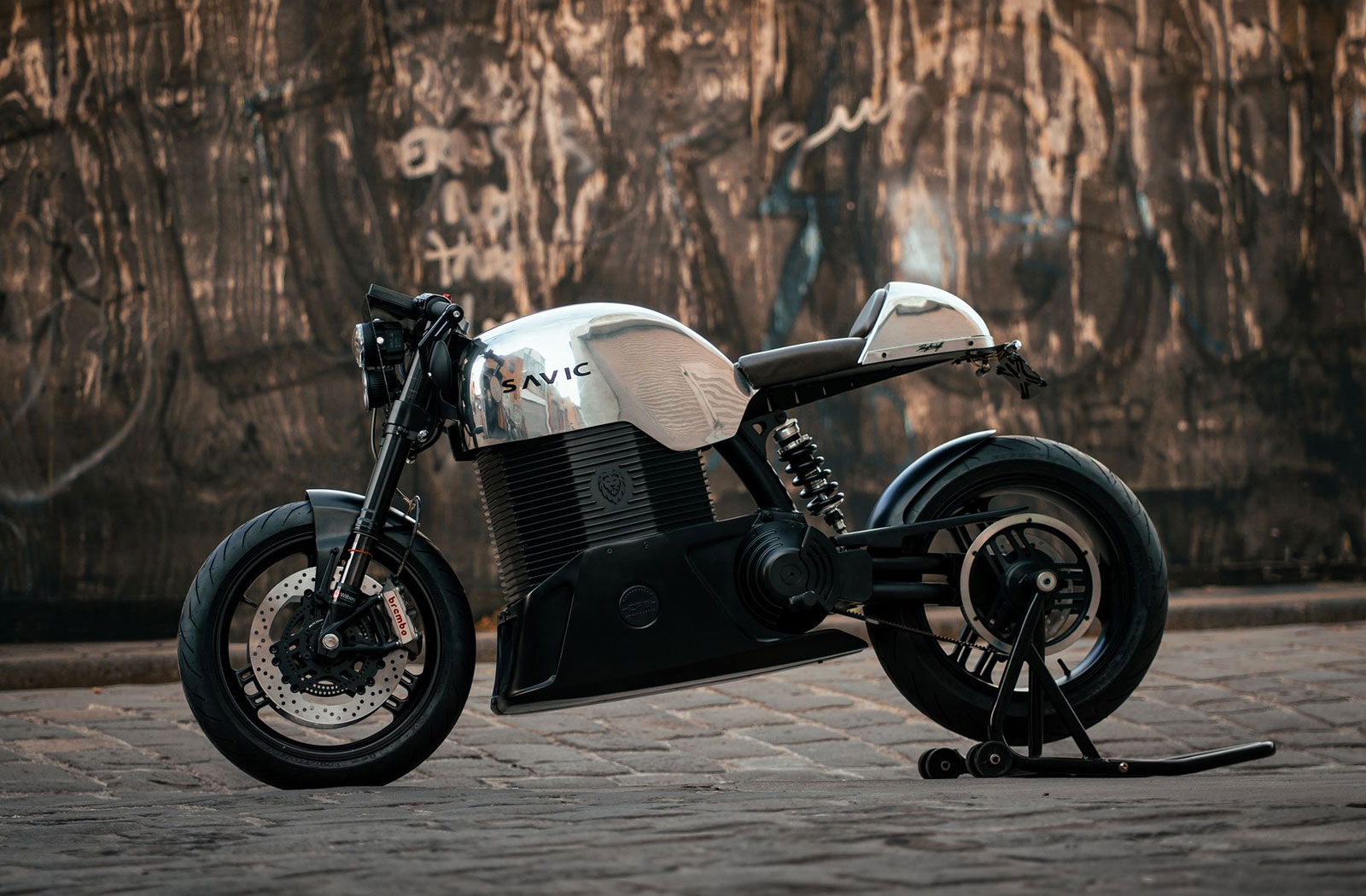 10. Savic Motors C-Series Alpha
With Savic Motorcycles, C-Series Alpha one thing is for sure – there's never been a better one. That's because this 21st-century motorcycle is the first of its kind from the Australian manufacturer.
The Savic C-series Alpha is the brainchild of Melbourne based engineer Dennis Savic. His 100% electric motorcycle is the result of a lifelong obsession with motorcycles and one of the first cafe-style electric motorcycles to hit the market.
The Savic C-Series (C for Cafe) features 3 models with the Alpha offering the highest specification. Powered by a 60kW motor it boasts a whopping 180nM of torque. It'll get you from 0-60 in 3.5 seconds and its top speed is estimated to be, you guessed it, 100mph.
Top Speed: 100mph (160kmh) / Savic Motorcycles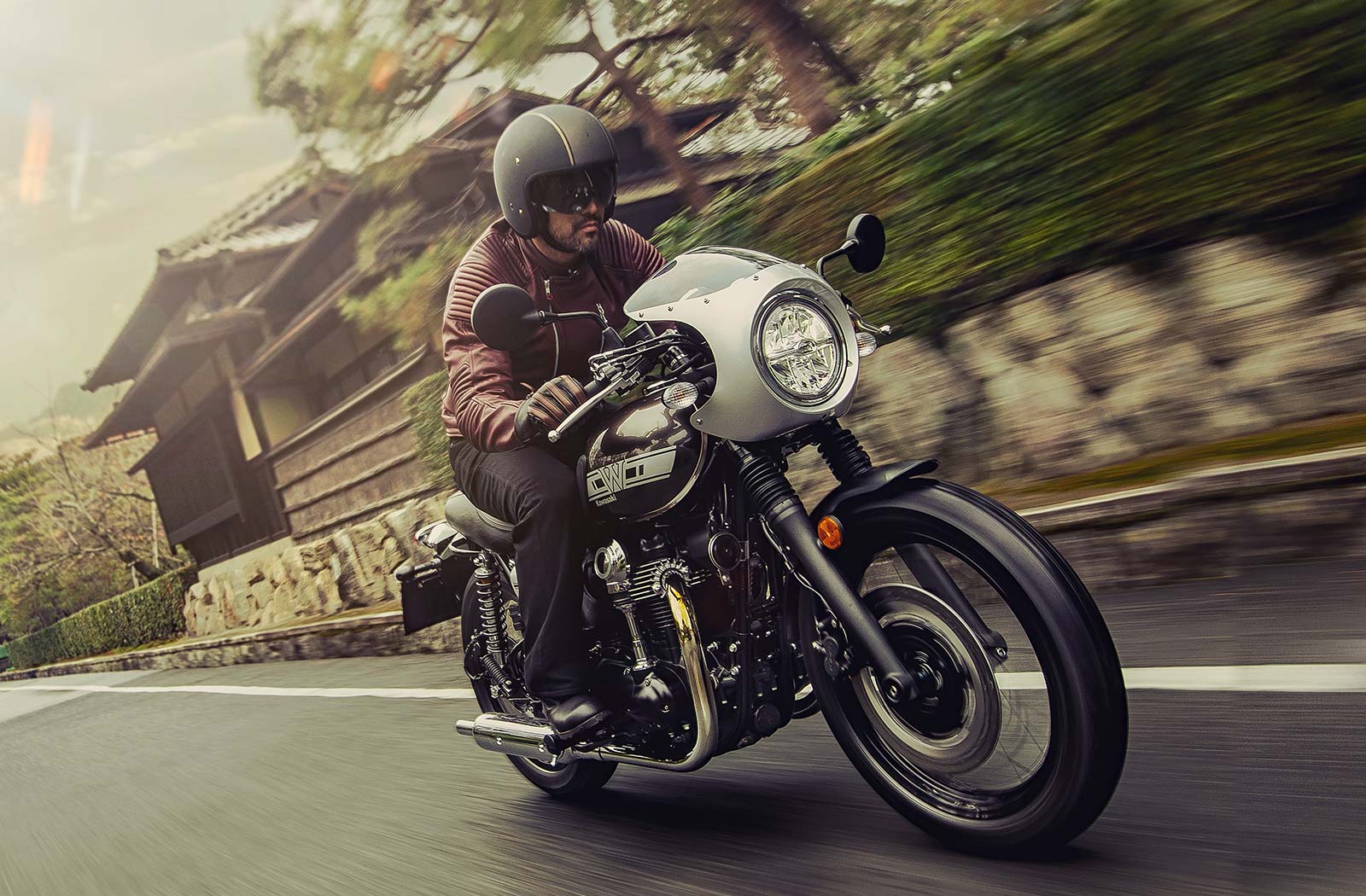 9. Kawasaki W800 Cafe
The Kawasaki W800 Cafe is one of the few motorcycles on this list that has a lineage dating back to the 1960s. When Kawasaki launched the first model in the W series, the aptly named W1, it was unapologetically influenced by motorcycles manufactured in the United Kingdom.
The W1 was based on a 650cc pre-unit vertical twin design by BSA but offered better performance and reliability. Over the decades not much has changed in the W series from an outsider's view. But dig deeper and you'll find vastly improved engineering, suspension and brakes.
The Kawasaki W800 Cafe is one of the newest additions to the W family. Based on Kawasaki's standard W800 platform it features a few aesthetic tweaks that account for its cafe racer taxonomy.
Although the connection is loose and essentially visual, the W800 Cafe is classified as a modern cafe racer. It wears a cafe racer-style seat and a retro-looking bikini fairing which make up the bulk of its design changes. The W800 cafe also features slightly lower handlebars to the standard model to create a sportier riding position.
The W800 Cafe is powered by a 773cc parallel-twin that's good for around 46hp. It has disc brakes with ABS, Kawasaki's digital fuel injection system, a 5-speed gearbox and a retro-looking modern suspension package. There's also a distinct lack of plastic and it looks every bit as cool as the 1960s models that spurred its creation.
One other thing the Kawasaki W800 Cafe has in common with the 1965 W1 is its top speed. Despite the huge age gap both the W1 and the W800 Cafe top out at 110mph.
Top Speed: 110mph (177kmh) / Kawasaki Motors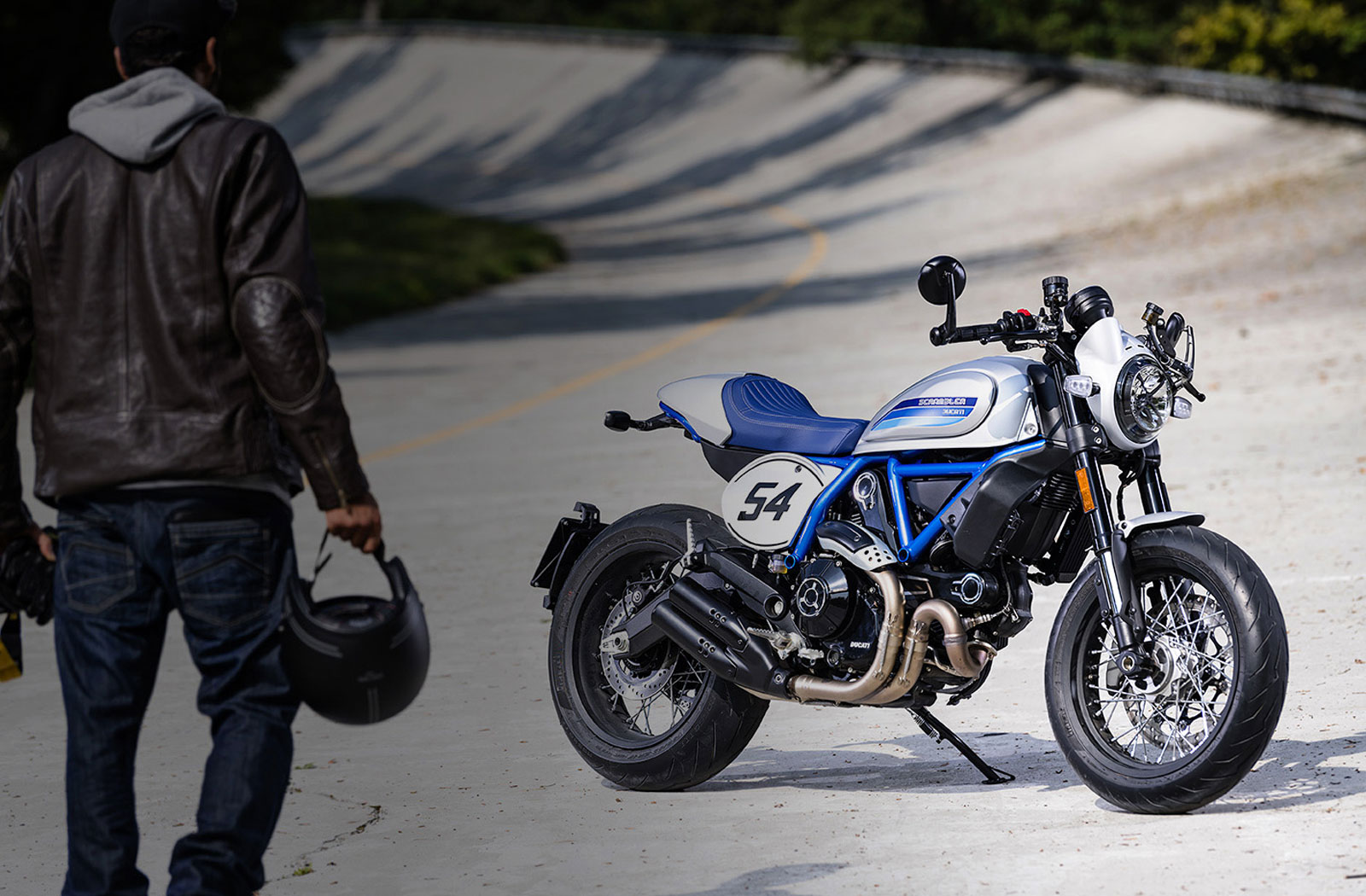 8. Ducati Scrambler Cafe Racer
Although it now features much less aggressive silver/blue livery the 2021 Ducati Scrambler Cafe Racer still has what it takes to earn itself a place on this list.
Despite the somewhat confusing Ducati Scrambler Cafe Racer moniker, everything else about this Italian motorcycle makes sense. Ducati's 803cc Scrambler platform is a fun motorcycle that encourages play. The Desmodromic L-twin produces a respectable 73hp and at less than 200kg it is very easy to pilot around urban environments. But in creating the Scrambler Cafe Racer Ducati did more than just bolt a few stereotypical accessories to the bike.
While the Scrambler Cafe Racer ticks all the cafe racer styling boxes with its clip-on bars, bar end mirrors, bikini fairing, spoked wheels and a cafe-style seat, it's the changes in geometry and rubber that make all the difference. A slightly reduced rake and trail account for a marked change in handling characteristics and when combined with a sportier riding position and grippy Pirelli Diablo Rosso III rubber things really liven up.
As for outright speed, the Scrambler Cafe Racer offers the same 125mph top speed as the rest of the Scrambler family – but you're sure to have more fun getting it there!
Top Speed: 125 mph (201kmh) / Ducati Scrambler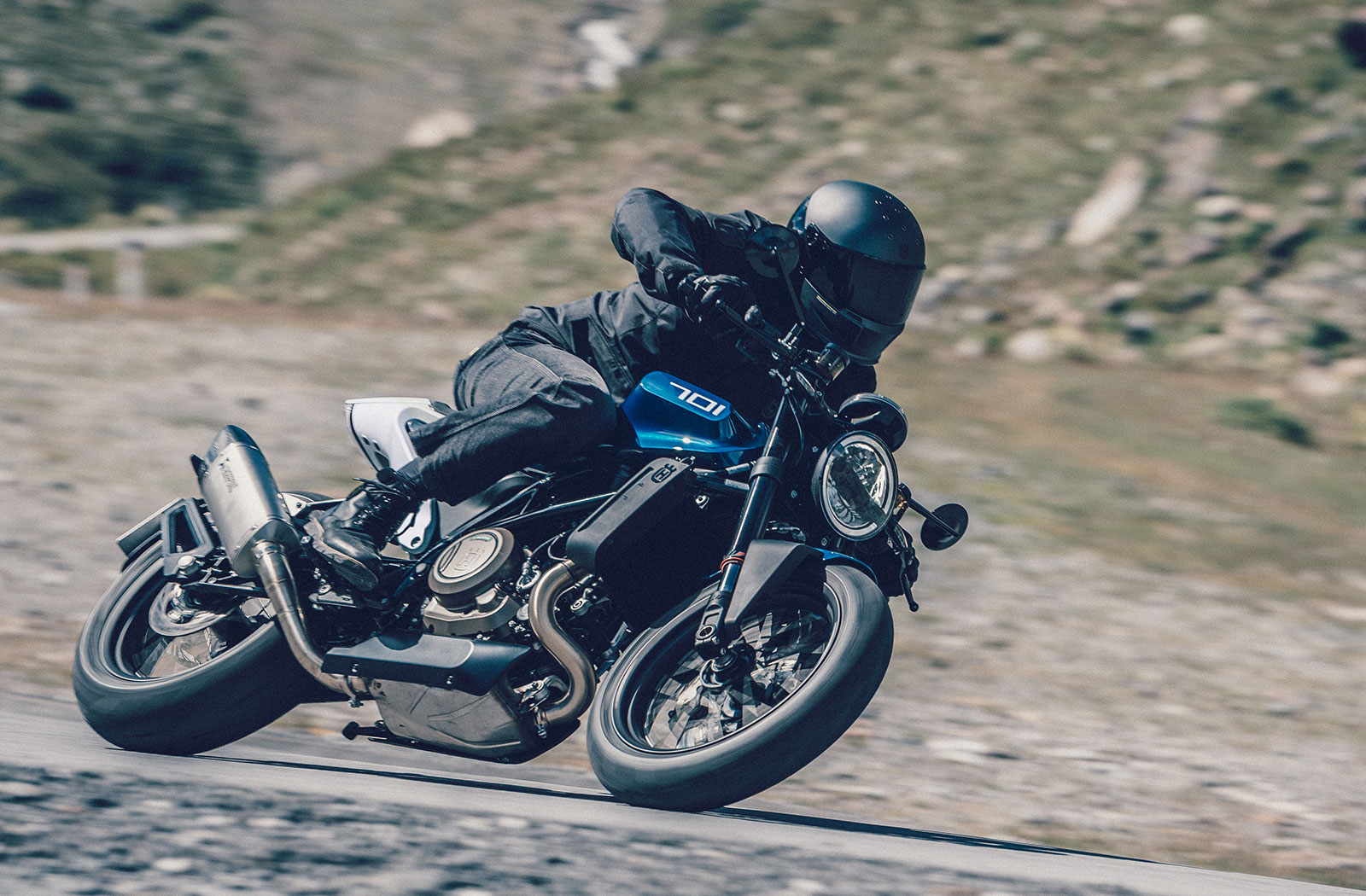 7. Husqvarna Vitpilen 701
Husqvarna's neo-cafe racer, the Vitpilen 701, is very hard to miss. Along with featuring an impressive list of specifications, although somewhat technologically basic, it looks unlike anything anyone has seen before.
Powered by a stonking 692cc single-cylinder engine, the Vitpilen 701 produces 75hp, 71nM of torque and can pilot its rider up to 125mph. Tipping the scales at a mere 157kg it's a featherweight in its capacity class and features premium suspension and brake components. Despite its futuristic looks the Vitpilen 701 is considered a cafe racer and it begs to be ridden like one.
The latest iteration of the 2021 Vitpilen 701 remains relatively unchanged compared to previous models. The biggest differences are the addition of spoked wheels as standard, CNC machined footpegs and a striking blue and white colour scheme.
Top Speed: 125 mph (201kmh) / Husqvarna Motorcycles
6. Suzuki SV650X
Having never ridden a Suzuki SV650 I can't really comment on what this bike is like to ride. If all the reviews are true though, it never fails to outperform expectations. The first SV650 hit the streets back in 1999. It was an affordable bike aimed primarily at new riders. Over the years, however, it has earned a loyal following thanks to its impressive mid-range torque, light weight, and capable handling.
The SV650X is Suzuki's cafe racer-styled variant of the evergreen SV650. It is essentially a styling exercise featuring a headlight cowl, clip-on bars and a wasp tail style black/brown tuck-and-roll seat. The 2021 edition also gets a new 'glass sparkle black' paint job and an eye-catching gold frame which certainly looks the part.
As for performance, the SV650X 645cc v-twin is estimated to be capable of 135mph. Not bad at all for an "entry-level" motorcycle.
Top Speed: 135 mph (217kmh) / Suzuki Motorcycles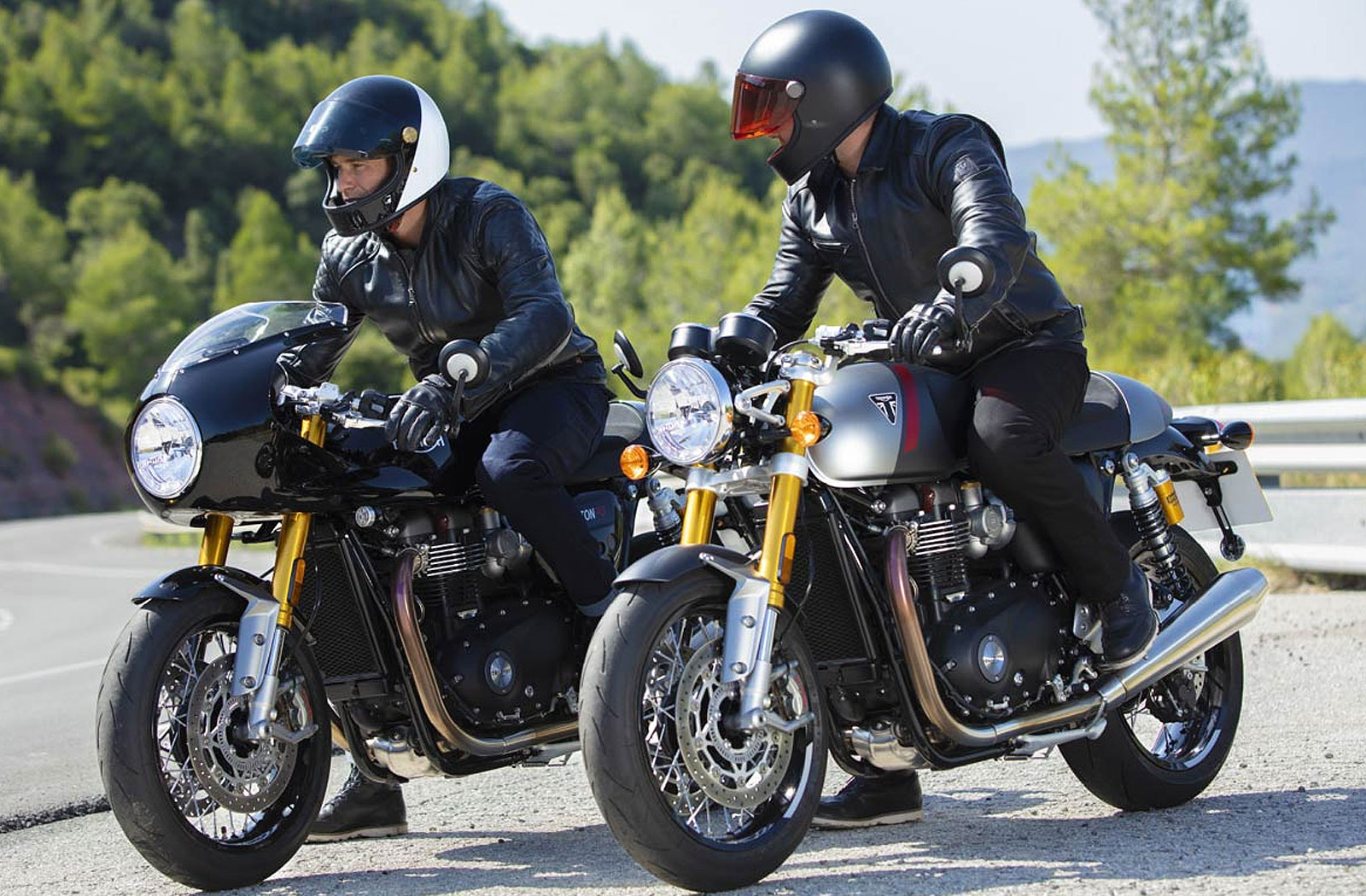 5. Triumph Thruxton RS
There was little doubt that a Triumph Modern Classic would make its way onto this list. Of all the bikes in Hinkley's latest offering, it is of course the 2021 Triumph Thruxton RS that made the cut. What was surprising though was its 5th place position on the list.
Sitting mid-way through our 10 fastest cafe racers of 2021 list the Thruxton RS has an estimated top speed of 135mph. Thanks to a healthy 112nM of torque it managed to better the Suzuki SV650X offering, but we expected more from Triumph's range-topping cafe racer.
Of course, top speed isn't everything (unless of course, you happen to be creating a list that is focused on it!) and the Thruxton RS has much more to offer in terms of riding experience and overall performance.
Powered by a 1200cc parallel twin the Triumph Thruxton RS puts out 103hp which it manages with a 6-speed gearbox. The bike wears premium suspension components from Showa and Ohlins and high spec Brembo brakes. You can choose from multiple riding modes and it comes standard with ABS and traction control. Most importantly, it is, hands down, one of the best-looking factory-built cafe racers on the market.
Top Speed: 135 mph (217kmh) / Triumph Motorcycles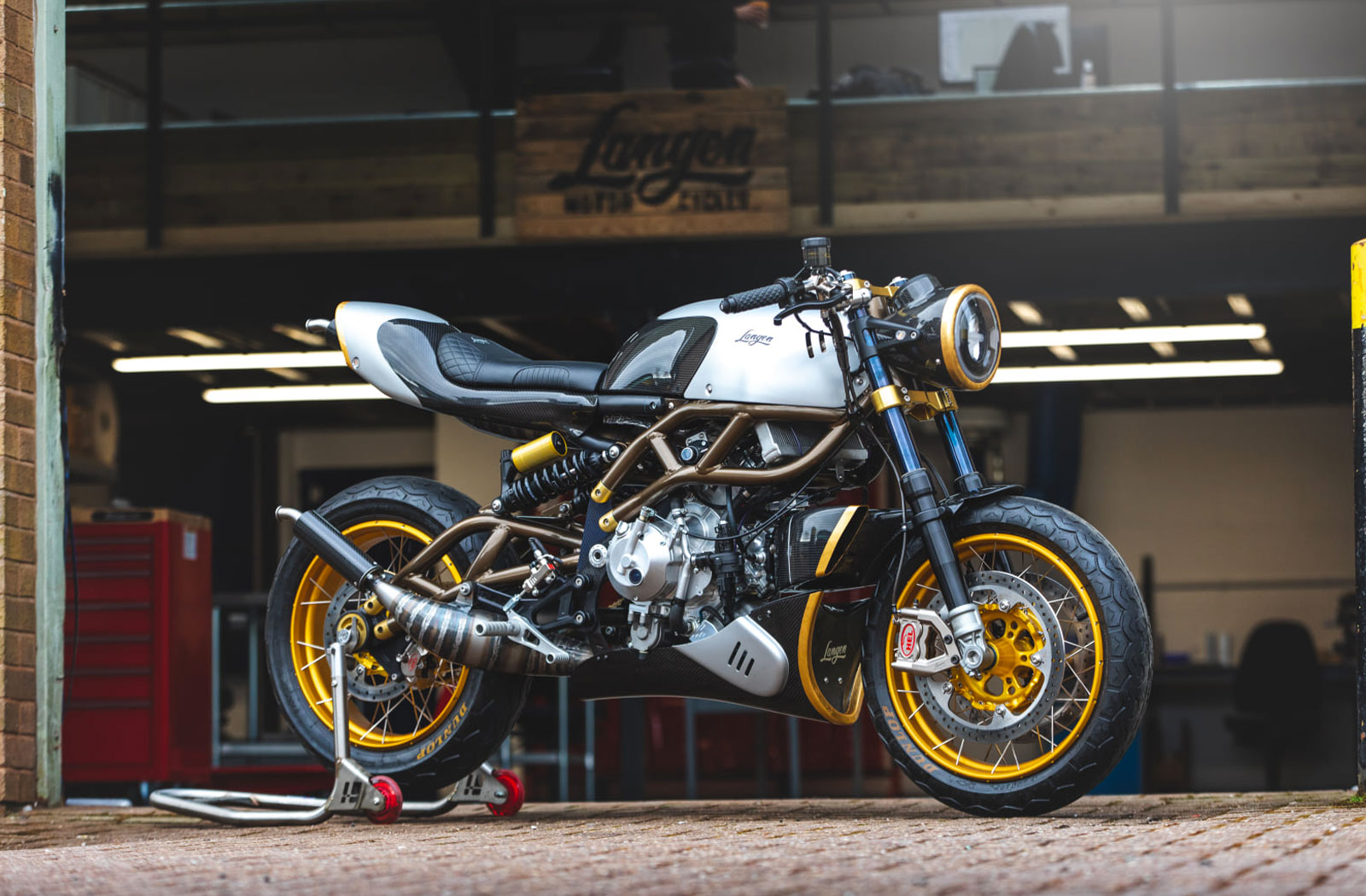 4. The Langen Two Stroke
Yes, you read that right. You can buy a street-legal two-stroke cafe racer in 2021. It is built by the British independent manufacturer Langen Motorcycles and is known simply as the Langen Two Stroke.
Thanks to a strict focus on weight saving Langen has built a motorcycle that weighs a mere 114kg. This was achieved through the ample use of aluminium, carbon fibre and premium suspension and wheel choices. The only feature that seems to go against this philosophy is the use of gold on the bike, which has been applied as gold leaf to highlight some of the bike's key design components.
Sitting within the aluminium space frame of the Langen Two Stroke is a Euro 4 emissions compliant 250cc two-stroke engine by Vins Motors. Unlike two-strokes of the past, this engine uses an oil injection system that does away with any pre-mix fuel woes. It has a red line of 10,500rpm, generates 45nM of torque and a very respectable 75bhp. Most impressive though is that it'll ring-a-ding-ding you all the way up to 140mph if you're willing to give it a try.
Top Speed: 140 mph (225kmh) / Langen Motorcycles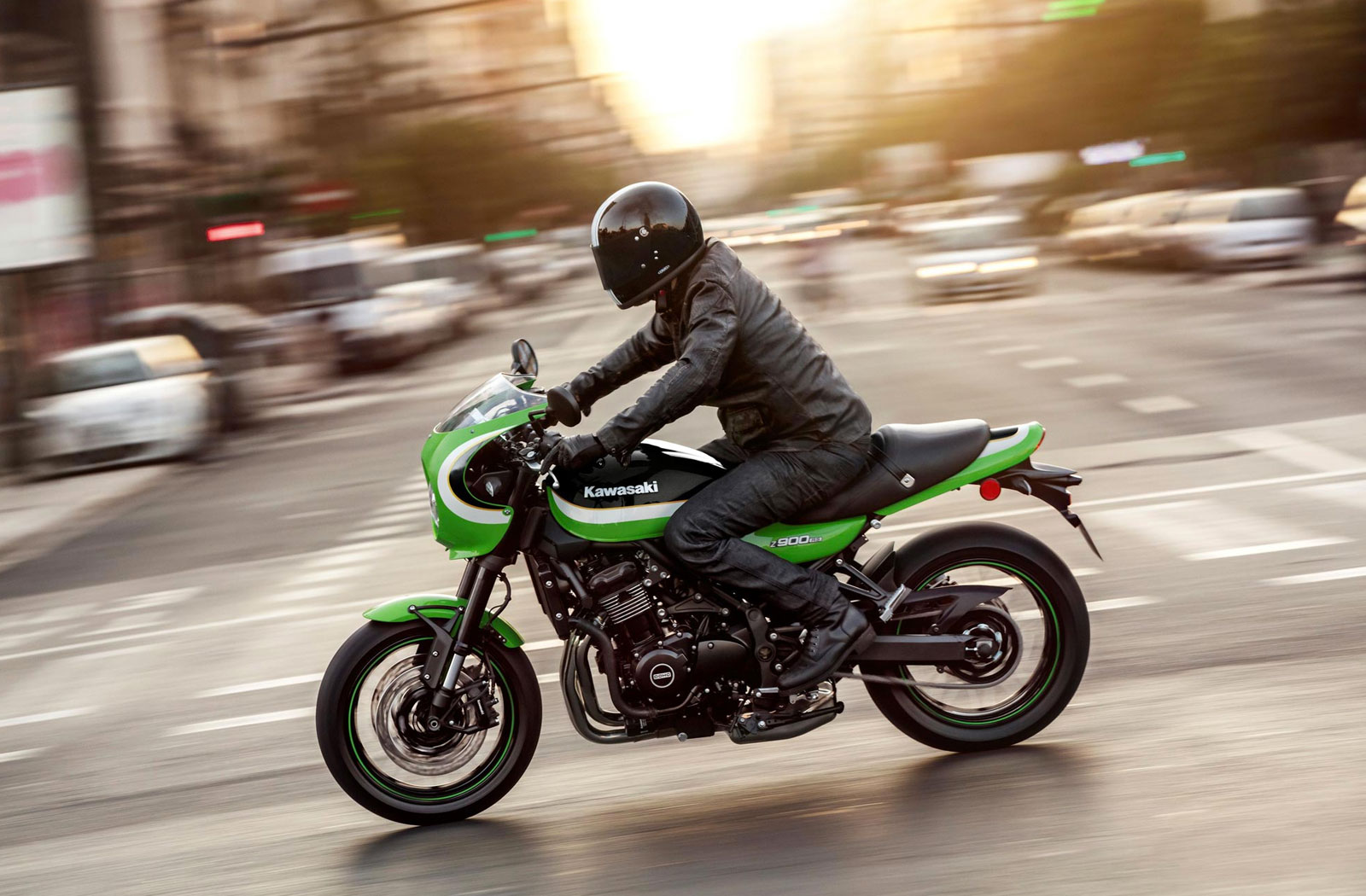 3. Kawasaki Z900RS Cafe
Things are really starting to heat up now. Sitting in 3rd position is my very own personal ride, the Kawasaki Z900RS Cafe. What a machine!
Powered by a re-tuned, aka detuned, version of the Kawasaki Z900 inline-four, the Z900RS Cafe puts out 110hp and 98.5nM of torque. This translates to a top speed of 140mph, which I'm yet to test, but I can verify how much fun riding this bike can be.
The Z900RS Cafe is fundamentally a Z900RS with a fairing on the front. The seat and handlebars are different too and aside from some unique colour schemes, they are pretty much the same bike. Those who love the original Z will undoubtedly opt for the naked version, but yours truly could never pass up on going with the cafe racer variant.
As for the rest of the Kawasaki Z900RS Cafe offering – you get twin analogue gauges connected by an LCD digital display. There are 3 levels of traction control (one of them being off) and ABS. The suspension is adjustable front and rear and there's ample braking power thanks to twin stoppers in the front and a single disc at the rear.
Top Speed: 140mph (225kmh) / Kawasaki Motors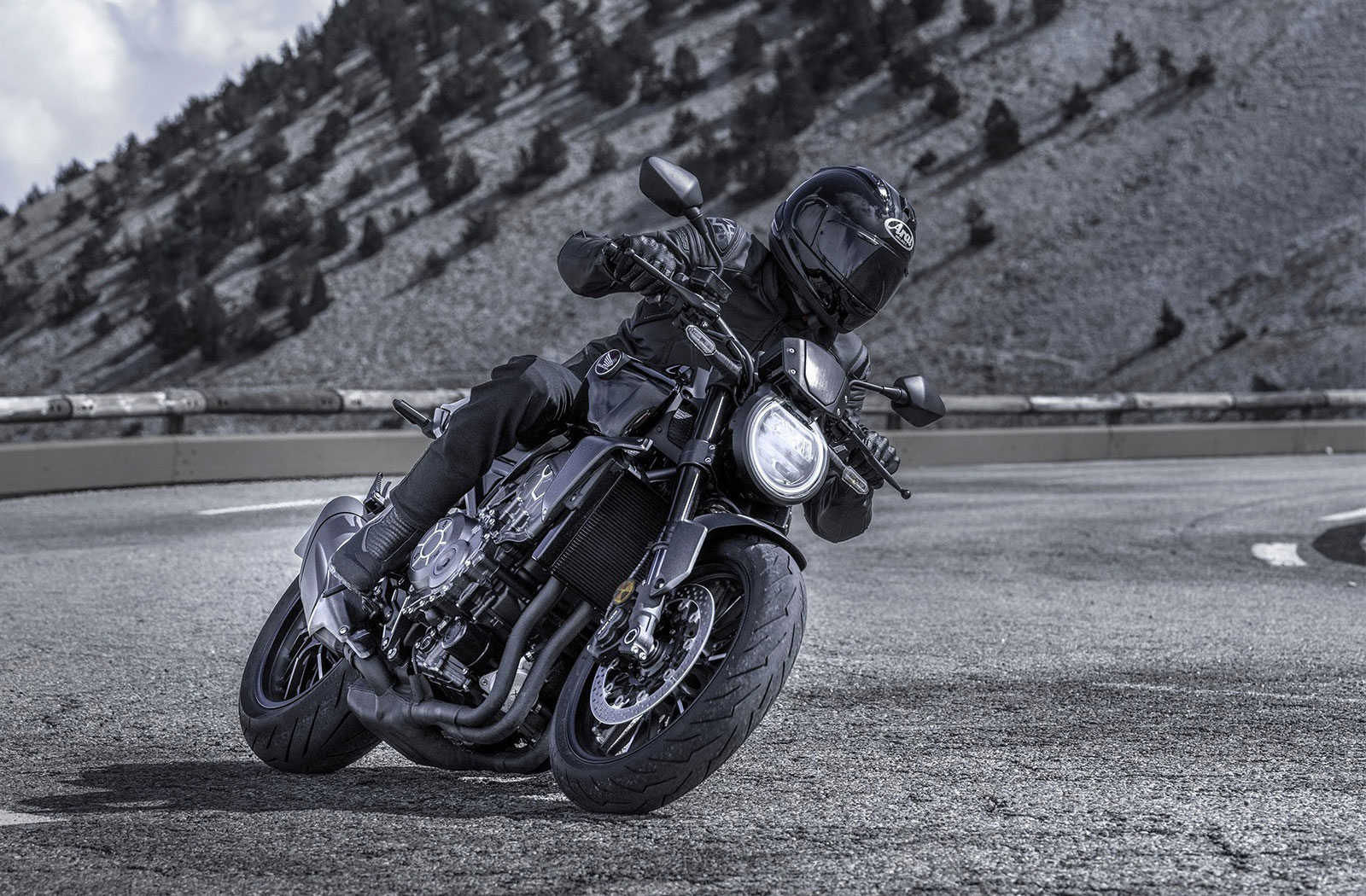 2. Honda CB1000R Neo Sports Cafe
Despite its awkwardly long name the Honda CB1000R Neo Sports Cafe is nothing to be sneezed at. With 142bhp on tap, it is one of the most powerful factory-built cafe racers on the market. Powered by a 998cc DOHC inline-four it will accelerate all the way up to 150mph before you can utter its full name…well maybe not, but you get the point.
Another questionable aspect of the Neo Sports Cafe is its connection to cafe racer style. Unlike everything else on this list, except for perhaps the Vitpilen 701, there's not much on the CB that screams retro. The bodywork is angular, the engine hard-edged and the behemoth muffler screams Euro 4 rather than classic cool. Complaints aside it is a great-looking machine and if Honda Motorcycles wants us to call it a cafe racer so be it.
Top Speed: 150mph (240kmh) / Honda Motorcycles
1. 2021 MV Agusta Rush 1000
Hold on to your hats, or should we say "hang on for dear life!" This is the 186+ mph MV Agusta Rush 1000 and it's every bit as insane as that top speed sounds.
Based on the Brutale 1000RR the Rush 1000 has been touted as having a cafe racer connection by the motorcycling press. It has also been described as being irrelevant for the road due to the sheer speed at which it can travel and a $46,000 USD price tag.
Similar to the Neo Sports Cafe, the Rush 1000 is powered by a 998cc inline-four, but unlike the Honda, it's putting out a whopping 212hp and 116.5nM. MV achieved this through the use of F1 and MotoGP-based technology.
It is, of course, not simply how much power a machine makes but how it can be applied.
The Rush 1000 lets its rider take full advantage of its power using a plethora of state-of-the-art technology. Amongst the long list of fancy tech is an 8 level traction control system, an up/down quickshifter, an anti-wheelie system and launch control. The Rush 1000 also gets the very best Brembo Sylema brakes to help quickly shave off some of that ridiculous speed.
If it's the outright speed you're after, the MV Agusta Rush 1000 can deliver.
Top Speed: 186+ mph (300+ kmh) / MV Agusta
Alternatively, if you want to hit the ton without having to sell a kidney, then anything on this list is sure to satisfy.