When an expert in form works with a master of function the results can be breathtaking. After being blown away by their stunning Honda 500 Four based cafe racer we contacted Philippe Bettant, owner operator of 'The Royal Racer' in Lyon, France to learn more about his collaboration with Jeremy of Kikishop Customs…
Great to meet you. I'm sorry I do not speak French! I hope we can still communicate ok.
Great to meet you to. No problem my daughter is translating everything for me!
Lets start by you telling us a bit about yourself, your history with bikes and your Royal Racer store
I am 54, It's now been 40 years that I've been riding motorcycles. Our Royal Racer store sells high-quality moto related fashion for men. With my good friend Pierre Bonnet we created the Royal Racer store in 2011 offering brands like Belstaff, Ruby, Davida, Lewis Leathers, Vanson, Redwing and many more. I had already dedicated 10 years to providing access to brands like these so the Royal Racer store was the next step. We aimed to supply bikers (and discerning men) with clothes that match their motorcycle and their lifestyle.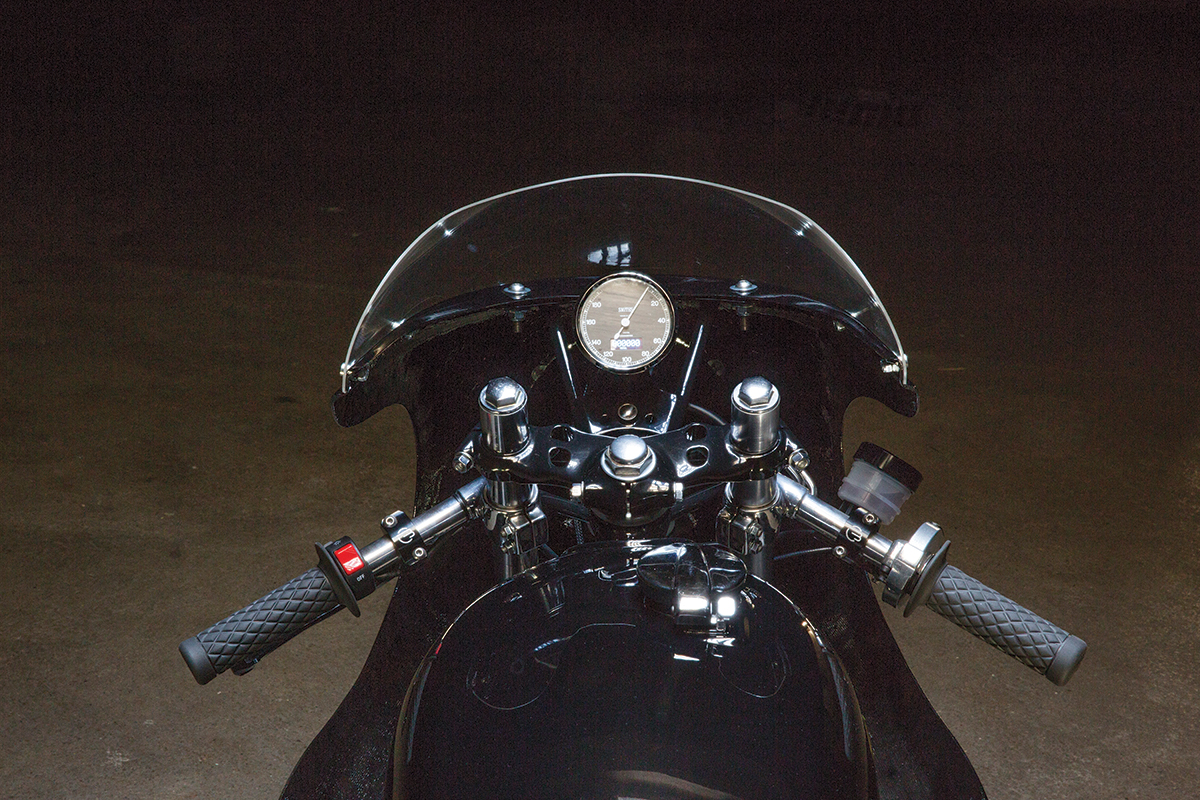 How did your collaboration with KikiShop get started?
Since the opening of Royal Racer I have been introduced to many different custom builders. Like everyone else, I was impressed by Jeremy's work on the Kikishop Suzuki, Ducati and also on a little Honda similar to this bike. When the time came for me to trust someone with my project I turned to Jeremy. His technical ability, the quality of work he demands from himself and the fact that I like him made him the obvious choice.
What was the goal with this build?
I wished for a bike that could wear our brand and that we could be proud of. A motorcycle that fit the image of The Royal Racer: vintage, but with technical features. An elegant, sober and chic machine that was both powerful and attractive. A motorbike for going out with friends or to rideat the DGR or Wheels and Waves. A statement about The Royal Racer style to the motorcycle world.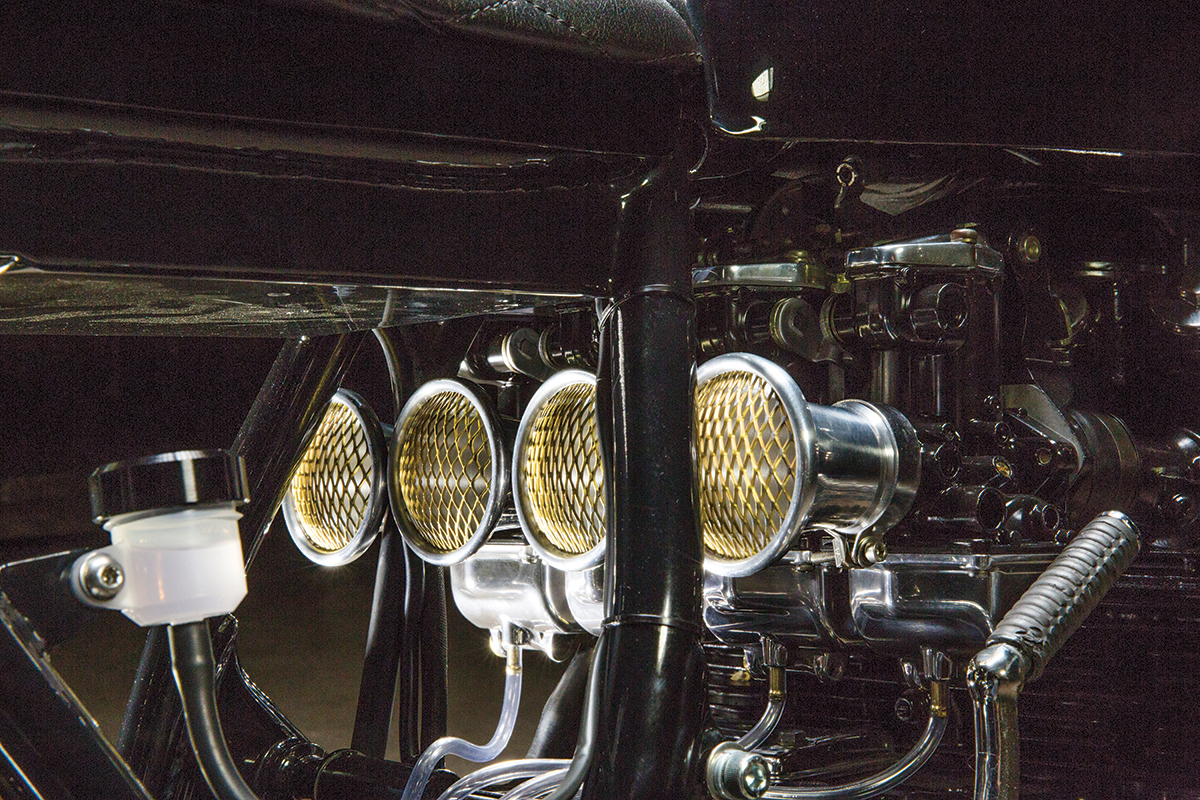 Was Jeremy the only person that helped to put the bike together?
Jeremy has some amazing contacts which enabled us to have access to the best parts. He introduced us to the people at Beringer for the bikes revolutionary brakes, Seurat3 for the rims and DD Moto Team for the Honda parts. Also Daniel Cornu for the various accessories used. They all gave us a lot of good advice, but the entire realisation of the bike was made by Jeremy at his Kikishop Custom workshop over 6 months.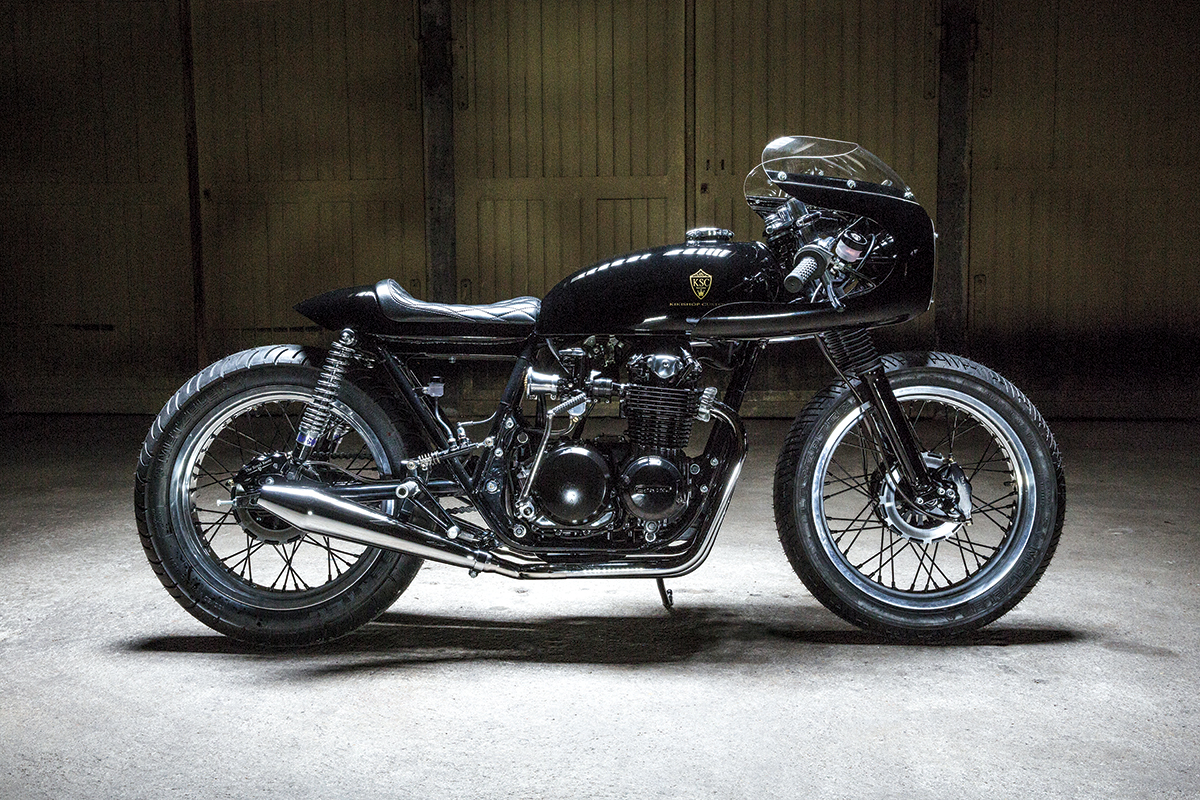 Was there a particular style or influence that shaped how the Honda came out?
Our bike was directly influenced by a 1990's 750 four prepared by Hervé, Jeremy's father. It was prepared in a seventies style with a vintage windscreen and seat. It was beautiful. After seeing that bike I wanted a motorcycle that was aesthetically close, but more compact, lighter and with a nicer looking engine than the nineties CB unit. The motorcycle we used is a Honda 500 four from 1973. It's a sharp, compact and a vintage classic.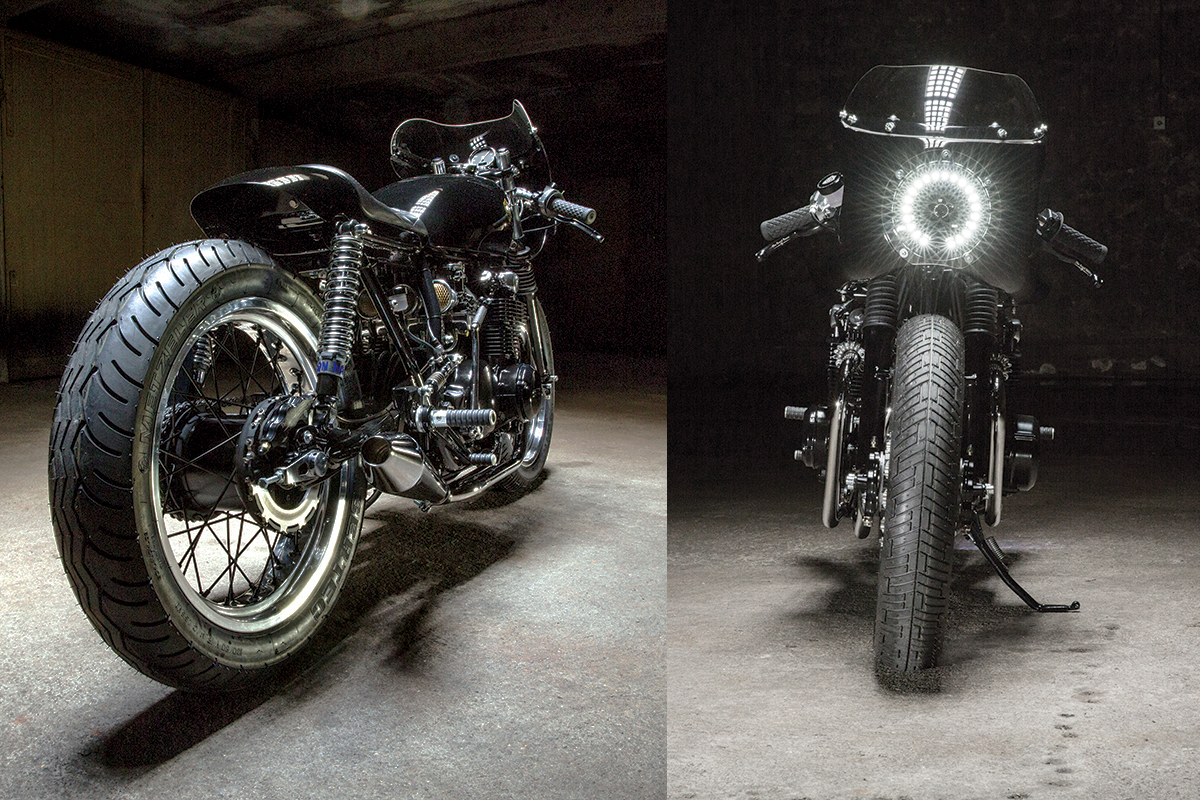 What custom work was done to the bike?
For this, we can talk to Jeremy…
Jeremy: The whole motorcycle was transformed. The frame was modified in the rear and I removed the airbox and decluttered the space where it was mounted. I added the fasteners for the fairing, speedo and headlight and modified the fiberglass fairing and windscreen to work better with my design. The tail is made of sheet steel, 1mm thick, as is the number plate bracket that also supports the taillight.
Big modifications were required to adapt the Beringer hub brake. The aluminium hub was re-drilled specially for the Beringer set up. The handlebars and controls all had to be repositioned and I reshaped the fork trees to clear the fuel tank. I also made the 2-into-1 stainless steel exhausts and a long list of other little things that went together to form this bike. Everything that has been fabricated on the motorbike was my own work. Everything I reworked, modified or made was done in order for it to be homogeneous with the bike rather than looking like an add-on; and nothing was done that didn't add to or improve how the bike handles and rides.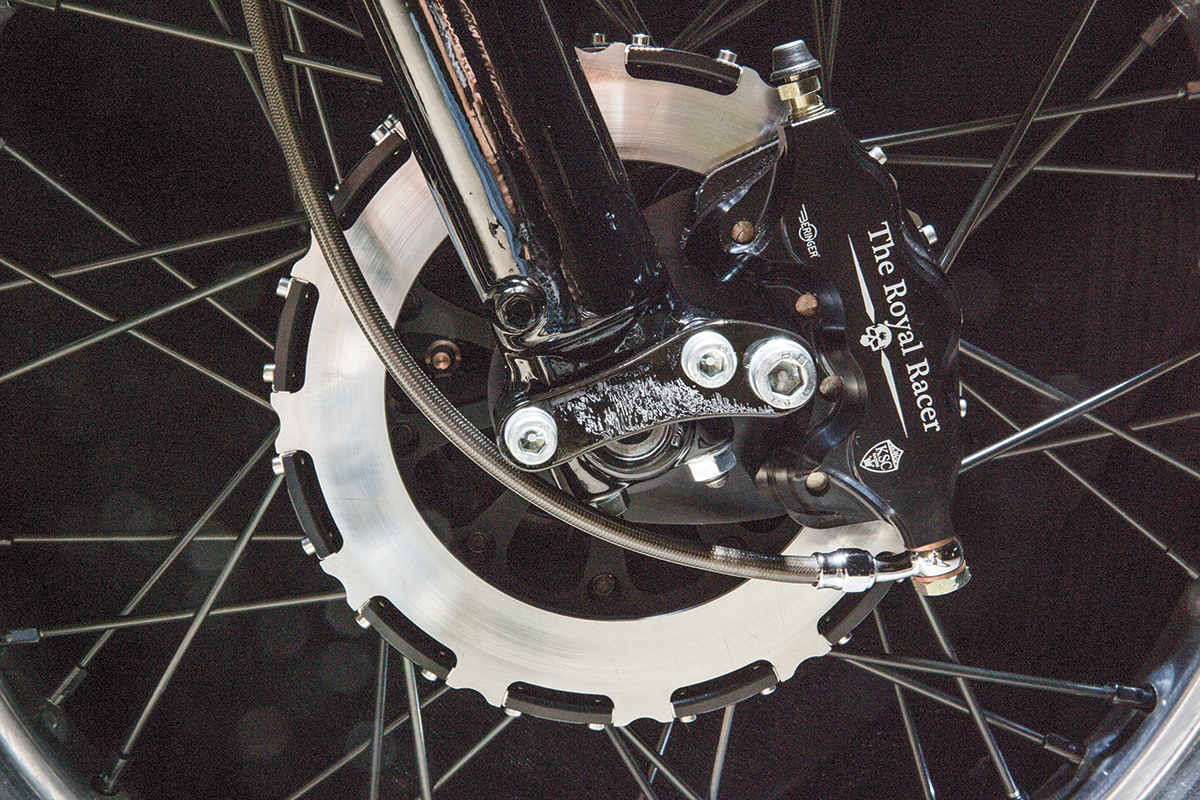 Sounds great Jeremy. Can you run us through a list of some of the other parts you utilized on this build?
Brake and Wheel hub from Beringer – Radius plus rim made to measure – Mini Lithium battery by garagevue.fr – levers and handlebar from Tomaselli – Grips from Biltwell – Smiths classic speedometer – Alloy velocity stacks handmade – Peashooter mufflers – Rearsets from Tarozzi – Hagon shocks – Seat from Aiglons
And finally Phillipe, now that the bike is finished and you've had a chance to ride, it can you tell us what you like most about it?
RR: I love everything, the design, the finish, the fabricated components. There's vintage parts I like, but also high tech components that really improve the bike. It's a real jewel!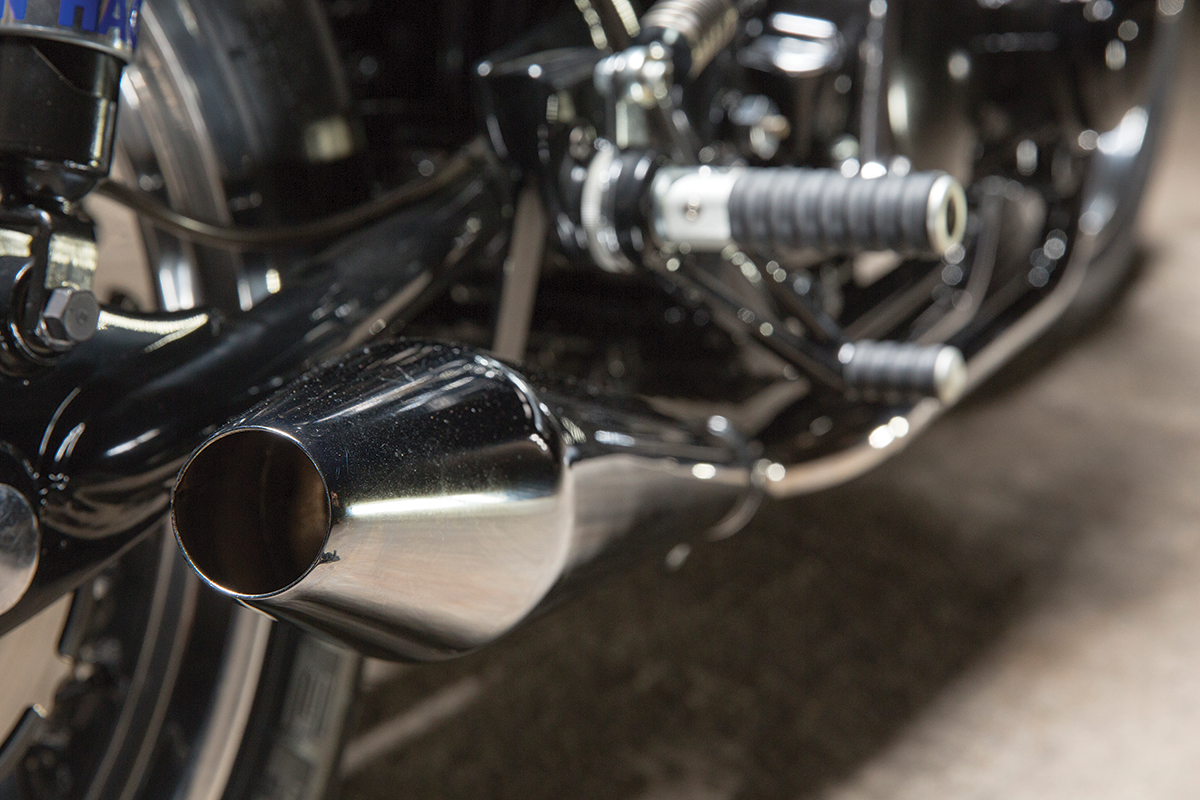 For more stories on amazing custom motorcycles like this grab yourself a copy of Tank Moto issue 10 here. It's one of the best issues to date packed with 18 awesome motorcycle focused features.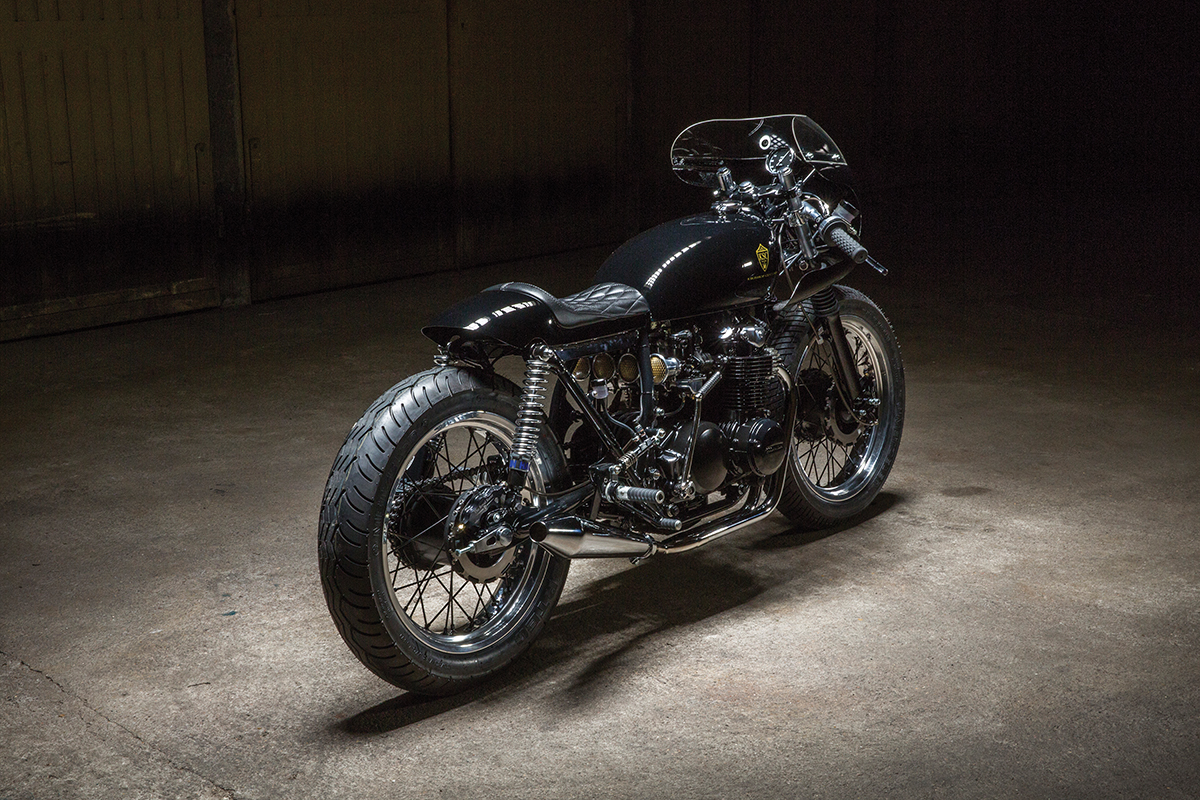 Issue 10 of <a href="http://fueltank.cc/blog/tank-moto-ten" target="_blank" rel="noopener">Tank Moto magazine</a> has just hit the shelves and we've been given the opportunity to publish this exclusive story here on Return of the Cafe Racers. This bike was a collaboration between French motorcycle apparel retailer 'The Royal Racer' and one of our favorite French builders 'Kikishop Customs'. Just like the <a href="https://www.returnofthecaferacers.com/2014/05/kikishop-customs-suzuki-gsxe.html" target="_blank" rel="noopener">Kikishop Suzuki GSXE</a> this <a href="https://www.returnofthecaferacers.com/category/honda-cafe-racer">Honda</a> CB500 is a rolling work of art adorned in top quality and highly functional modifications. Here's how the story went…