It is well and truly time to accept the fact that electric motorcycles will become commonplace in the not too distant future. Advancements in battery technology are already producing impressive performance, but it's not just the performance of these motorcycles that has piqued our attention. Due to the components used, designers are faced with unique challenges and opportunities which are producing some very interesting results.
The larger motorcycle manufacturers have been slow to adopt an electric approach, but there are many independent brands ready to beat them to the punch. Today we're taking a look at the most anticipated electric motorcycles of 2021.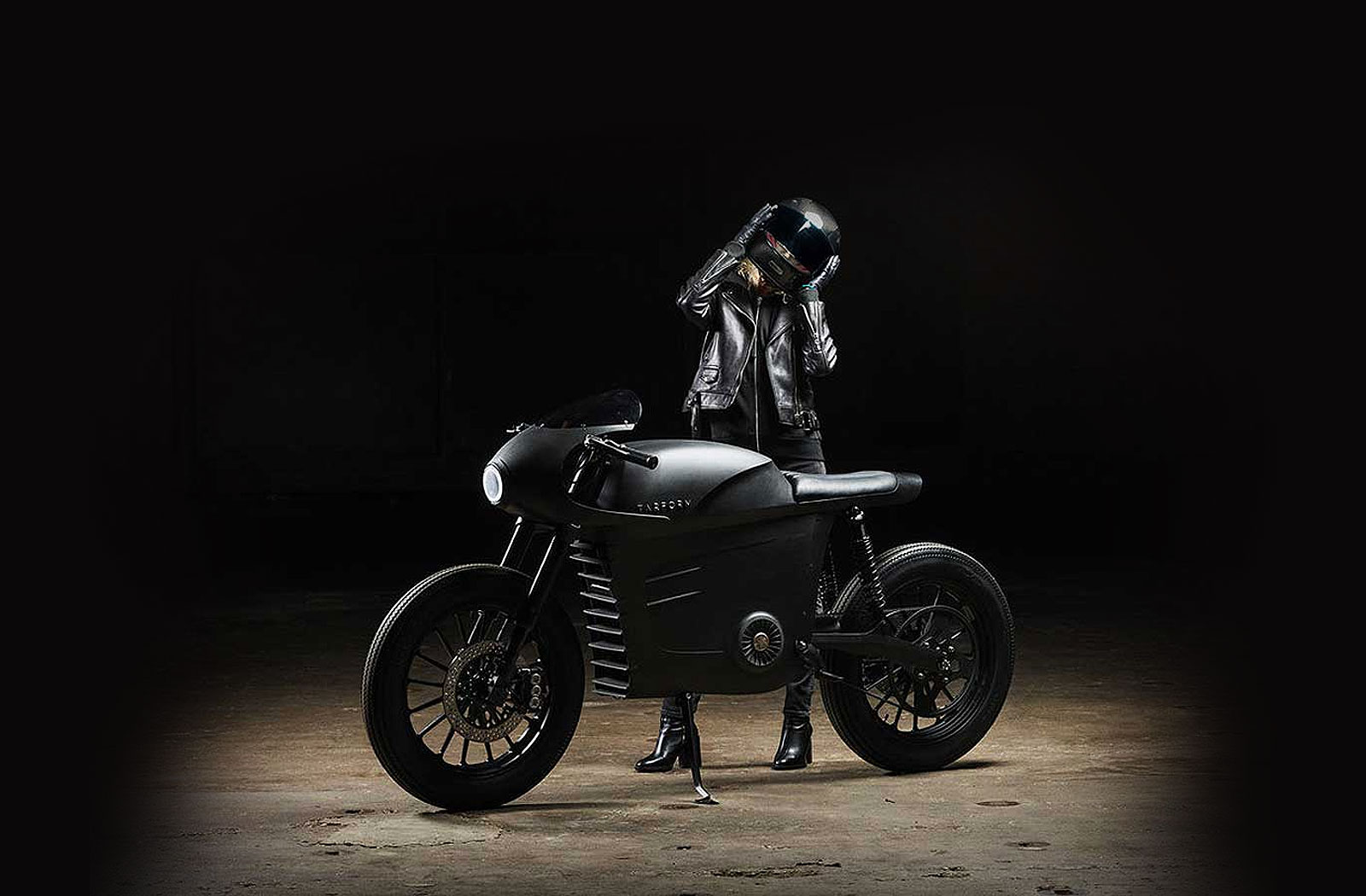 Tarform LUNA Racer Edition
Tarform Motorcycles founder Taras Kravtchouk spent 3 years developing his 'LUNA' electric motorcycle prototype. Taking a completely sustainable design approach Taras utilised the latest in biodegradable and environmentally low impact materials to create his vision of future forward two wheeled transport. What stood out most to us about the Tarform LUNA prototype was its sleek, cafe racer influenced styling. Thankfully as Tarform has moved from prototype to production the LUNA hasn't lost any of its retro charm.
At the end of 2020 Tarform began building their first series of electric motorcycles which will start rolling out of their Brooklyn facility in 2021. The production version of the LUNA is available in 2 differently styled versions which are aptly named the Scrambler Edition and Racer Edition. As their names imply each model features a look akin to either scrambler or cafe racer styling with the latter being our obvious favorite.
Aside from the bikes striking styling the LUNA boasts the latest in electric vehicle tech. Featuring 3 different rides modes the LUNA allows its user to optimise either range or performance to their liking. Using a household outlet or level 2 charger the bike can be charged to 80% capacity in only 50 minutes and a full charge can provide up to 120 miles of riding. If it's thrills you're seeking, the LUNA will launch you from 0 to 60 in around 3.8 seconds.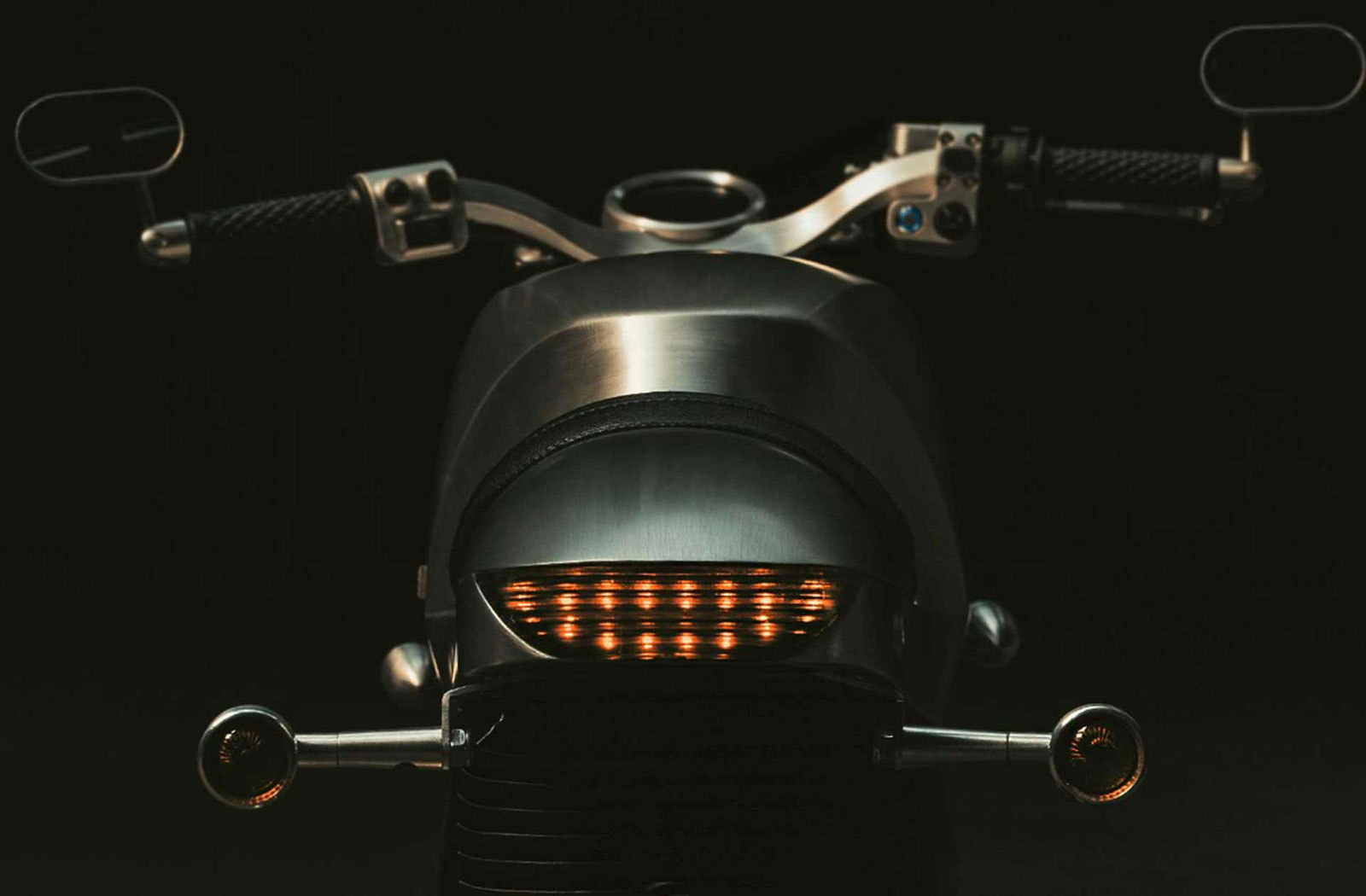 Sound is an important part of riding a motorcycle for the rider, other motorists and pedestrians. Rather than adding artificial sound effects Tarform have amplified the LUNA's innate sounds using resonators. This results in a Blade Runner style sci-fi soundtrack that's sure to put a smile on any riders face.
Tarform has also integrated safety tech we haven't seen utilised on motorcycles before into the LUNA. The bike features a rear facing camera and inbuilt radar that alerts you of traffic in blind spots using vibrations in the seat. What impresses us the most though is that although many parts of this electric motorcycle are made using modern manufacturing techniques, LUNA's alloy bodywork is all hand formed in Canada using traditional techniques.
Top speed : TBA
Charge time : 0-80% 50 mins
Range : 120 miles
Priced from : $24,000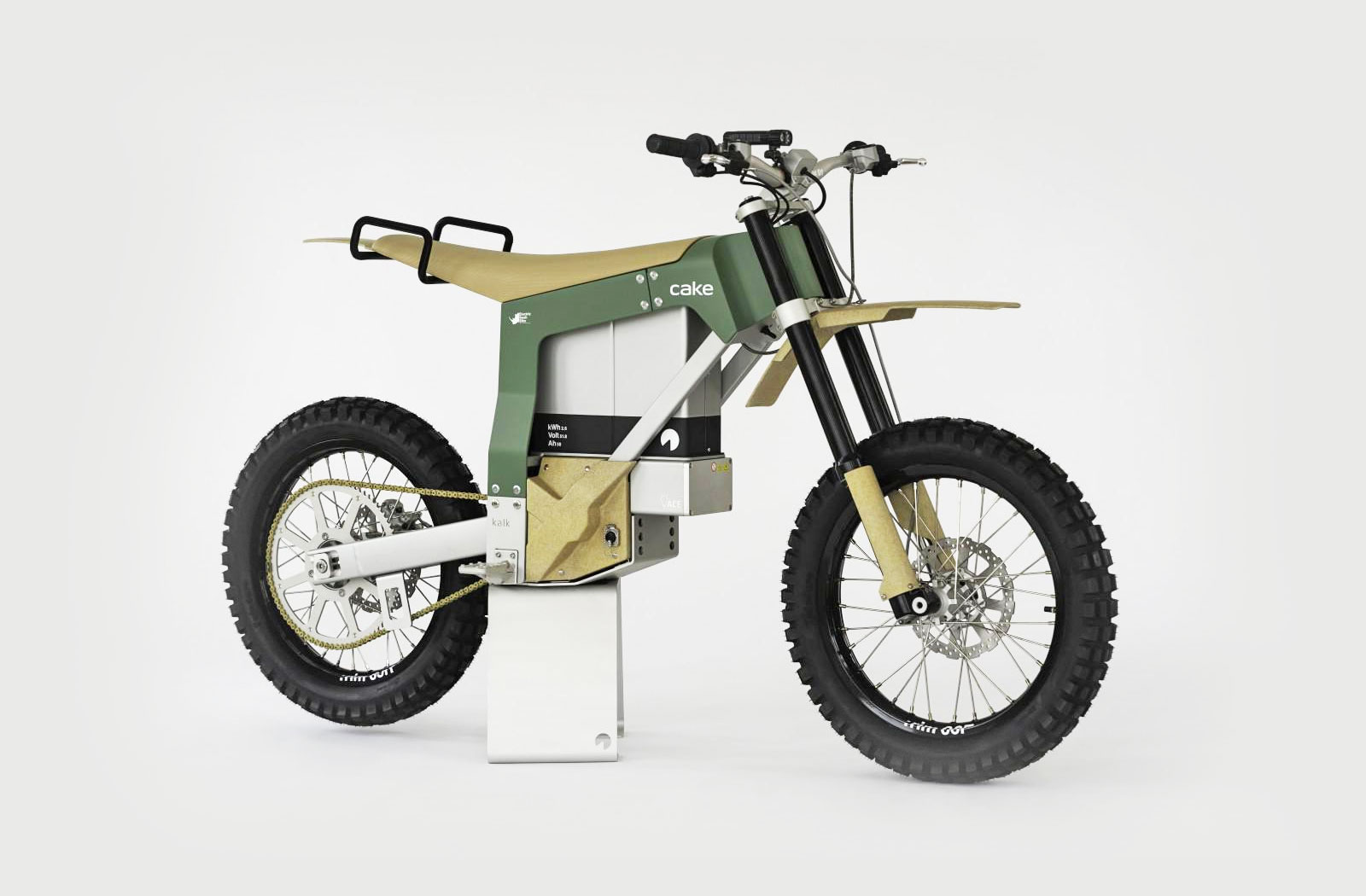 The Cake Kalk AP
Stefan Ytterborn founder of Cake Motorcycles doesn't care about your preconceived notions of motorcycle culture. At his company their goal is to create something that is, in many ways, the opposite to the stereotypes associated with riding motorcycles. Their Kalk electric motorcycle isn't loud, aggressive or macho. Instead it's been designed to be accessible, sustainable, and respectful.
The Cake Kalk has been around for a few years now and was first released as a purely off-road model. Since then they've added a street-legal offering and a few styling variations. They've also released an entirely new utility motorcycle named Ösa which they describe as a Swiss Army Knife on wheels.
The latest Kalk variant in the Cake range is the Kalk AR. It's slated for release in late 2021 and has a very specific and unique purpose. The AP in this bike's name is an acronym for Anti Poaching. Cake has joined forces with the Southern African Wildlife College to form an initiative called the "Electric Bush Bike Anti Poaching Coalition". There are obvious benefits to the use of electric motorcycles for this purpose. Making very little noise means rangers won't alert poachers to their presence or scare off the wildlife they are trying to protect. Other benefits are a substantial reduction in non-sustainable resources which are costly for both the South African government and the environment.
Differences between the standard Kalk and Kalk AP include wider off road specific tyres on 18 inch rims and extra sealing against dirt on the drivetrain and suspension. The suspension also uses lower maintenance components and the drivetrain has been optimised for torque rather than speed.
Cafe is offering philanthropists interested in supporting the initiative the opportunity to purchase a Kalk AP package. An investment of $25,000 will provide the Southern African Wildlife College with 2 anti poaching bikes and a charging station from solar company Goal Zero. As part of the purchase each supporter will also receive one specially numbered Kalk AP for themselves.
webBikeWorld has also done a comprehensive review on the Cake Kalk.
Top speed : 45 km/h
Charge time : 3 hours
Range : 3+ hours of riding
Priced from : $25,000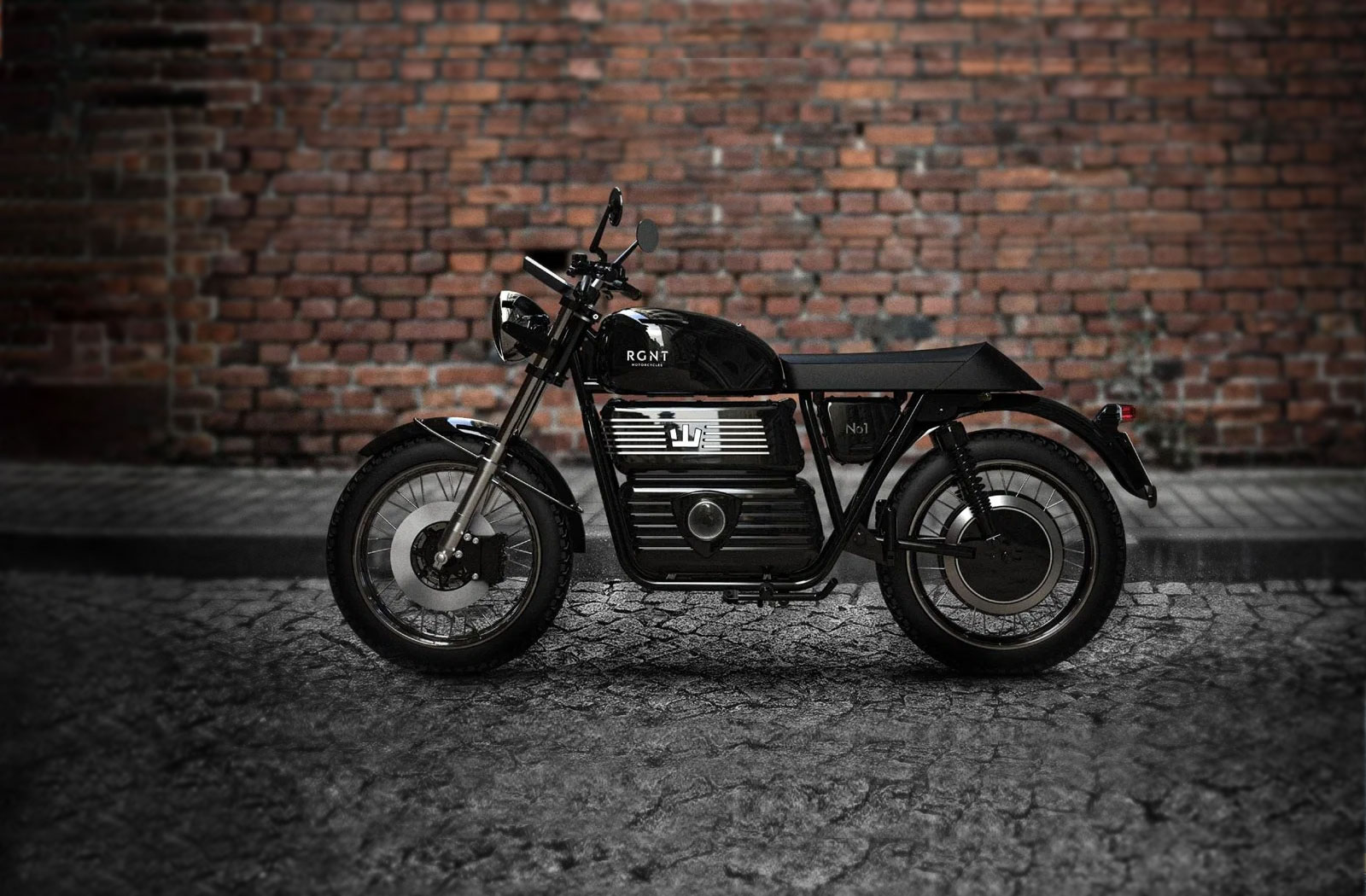 Regent Motorcycles No. 1
As Regent Motorcycles audaciously put it, "if you're into leaking fluids, clogged filters and planet-destroying, look elsewhere". Despite lacking all of those characteristics the classically styled RGNT No.1 electric motorcycle promises a pure motorcycle riding experience. Get on, push a button and simply ride.
Currently available in Sweden, Norway and most parts of Europe, Regent's modern retro approach positions the bikes with the likes of Triumph's T100…sans the fuel bill. Pitched as an urban commuter No. 1 features LED lighting by Motogadget, lightweight alloy hubs, Avon Roadrider tyres and a fully loaded weight of 165kg. Best of all the RGNT No.1 powertrain features only one moving part so there minimal ongoing maintenance.
Sitting atop the bike's triple clamp is a 7 inch LCD touch screen which is probably the least appealing aspect of the design. It does however give you access to GPS tools and cloud connectivity so you can listen to your favourite tunes as it guides you to your destination.
The RGNT No. 1 can be pre-ordered now with deliveries starting in March 2021 and the company will also be offering a Scrambler styled variant too.
Top speed : 74mph
Charge time : 6.5 hours
Range : 74 miles
Priced from : $13,500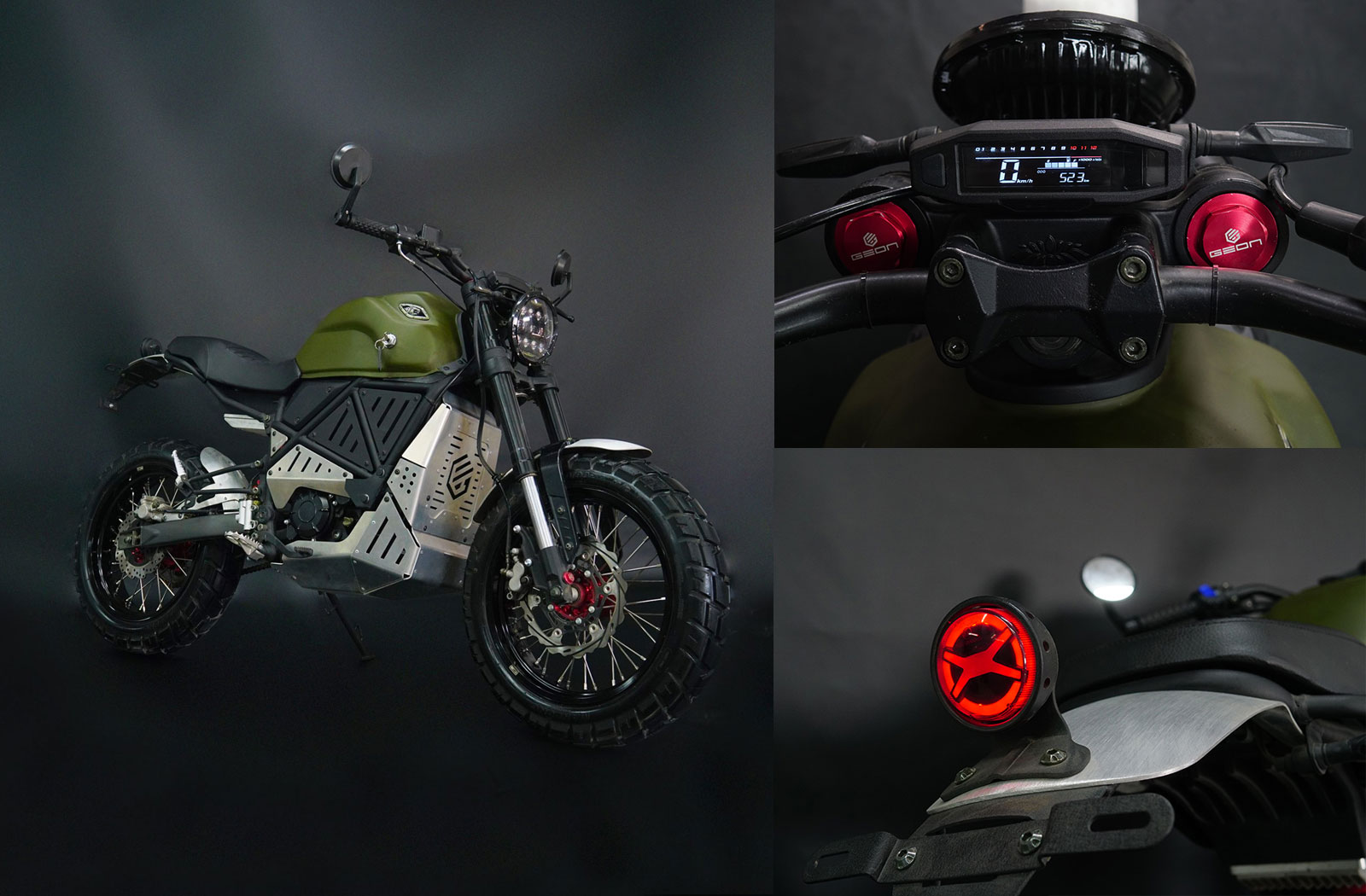 EMGO ScrAmper One
Emgo is the first certified Ukrainian company to have a development and production center for sustainable vehicles to European Standards. Currently their range offers 3 two wheeled vehicles. These include the retro styled 'Razzo' scooter, the barebones 'Flywheel' off-road scooter and the 'ScrAmper' full sized Scrambler style motorcycle. The ScrAmper is of course our pick of the bunch.
Featuring chunky dual-purpose rubber, a plethora of bash guards around the battery and engine housings and ample ground clearance this electric motorcycle looks like it means business. Unlike most production bikes we see the ScrAmper also has the look of a custom build thanks to trick components like an LED headlamp, bar end mirrors, retro tail lamp and raw alloy fenders.
The ScrAmper's 3 kW engine is limited to a top speed of 76 mph. A single charge will cover a distance of 90 miles at an average speed of 60 mph. One surprising feature of this bike is the inclusion of a traditional gearbox. While this may not appeal to new riders, seasoned riders are sure to appreciate it while they come to terms with the lack of any exhaust noise.
Top speed : 76mph
Charge time : 2 hrs
Range : 90 miles
Price from : TBA
Follow them here: WWW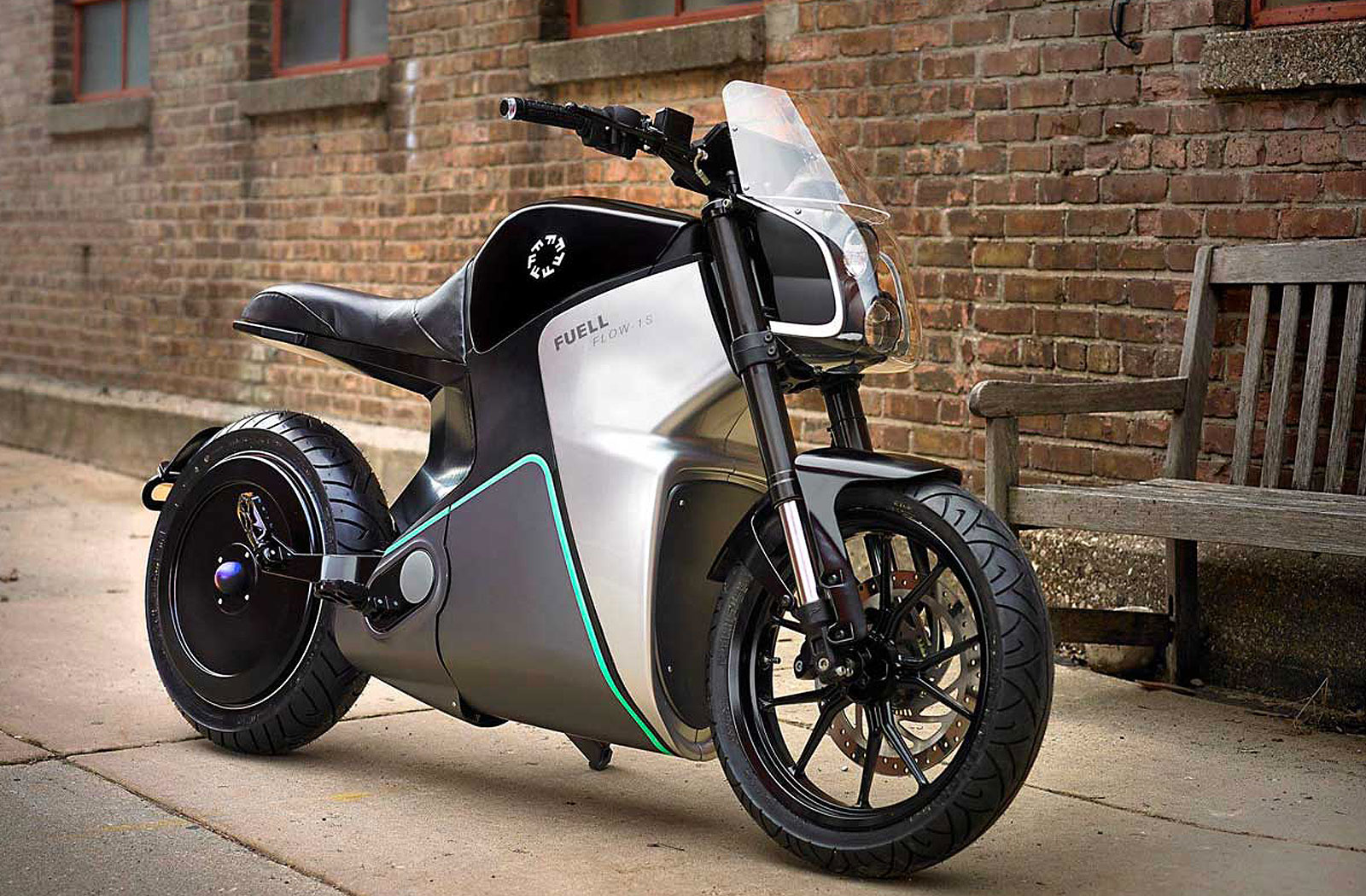 FUELL Fllow Motorcycle
AMA Hall of Fame inductee Erik Buell has been a pioneer in the motorcycle world for decades. It comes as no surprise his latest project is both innovative and performance focused, but we didn't expect it to be electric. Buell's newest venture goes by the name of Fuell and their range currently consists of an all electric bicycle aimed at commuters and a soon to be released electric motorcycle.
As with the Fuell Flluid e-bike the Fuell Fllow electric motorcycle is targeted at urban riders, but don't think that means this isn't a performance machine. Using a proprietary in wheel motor design, Buell has designed a bike capable of accelerating from 0-60 in a mere 2.7 seconds. The 35 kW engine produces an eye watering 750 Nm of torque and the 10 KwH batteries can travel up to 150 miles before requiring a charge.
Innovation has always been a term synonymous with Buell brands and there's no shortage of it here. The Fuell Fllow features advanced tech such as eTraction control, switchable riding modes and intelligent ABS. The bike also comes with safety and convenience features such as walk and reverse assist, blind side detection and front and rear collision warnings. What really makes the Fllow unique though is its future proof design.
By using a modular design approach the Fllow can be upgraded as technologies improve. This means the batteries, charger and even the engine can be upgraded as required. Also thanks to the location of the engine the bike has an impressive 50 litre storage capacity so you'll never have to carry any luggage on your back when you ride the Fllow.
Top speed : 85 mph
Charge time : 30 mins (fast charge)
Range : 150 miles
Price : $10,995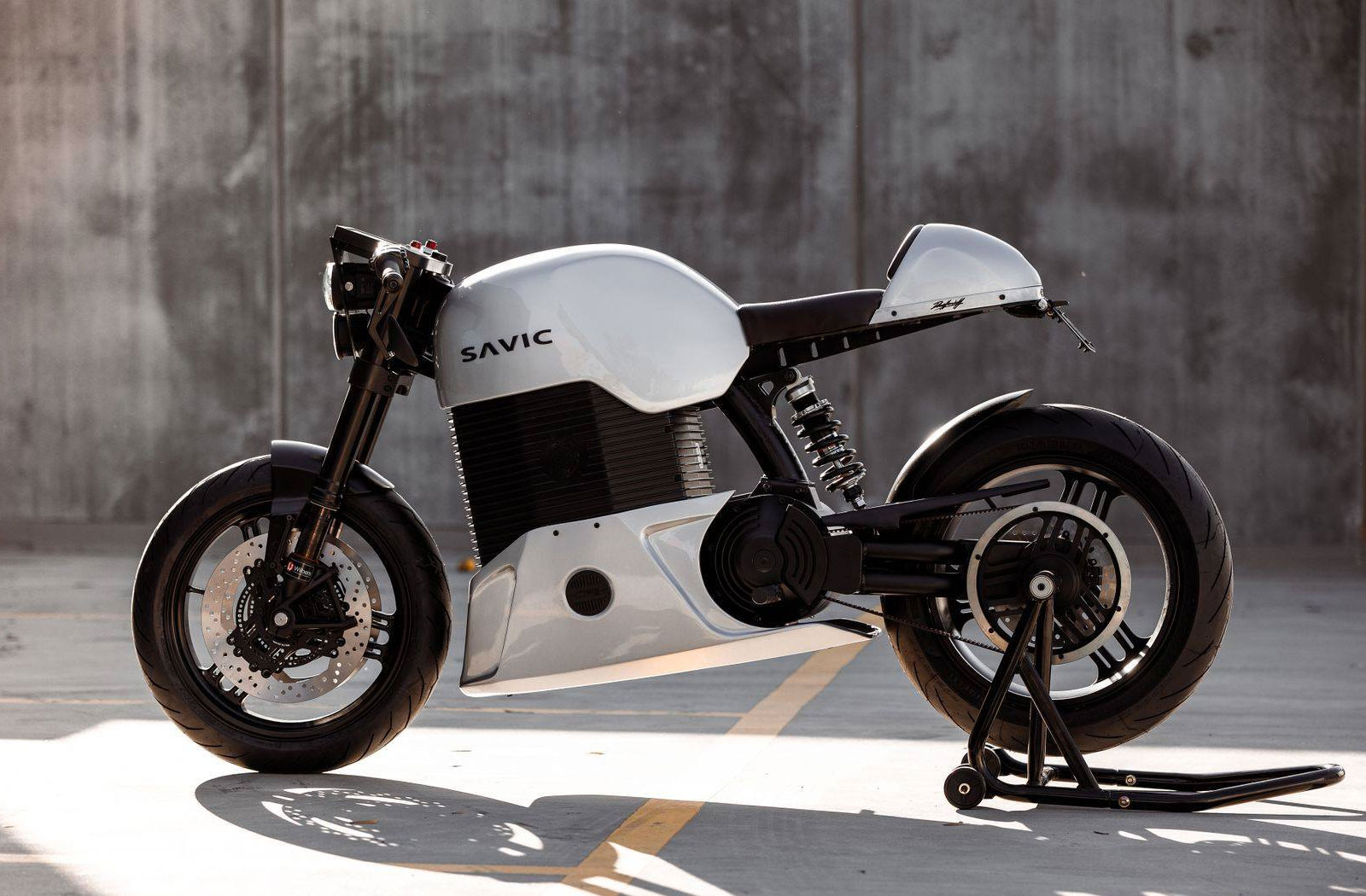 Savic Motorcycles Electric Cafe Racer
I've been singing praises about the Savic Motorcycles brand a lot lately. That's partly due to the fact they're based in the same continent as me. But geographic similarities aside, their upcoming electric cafe racer is easily one 2021's most exciting electric two wheel offerings.
Sitting at the pinnacle of the Savic range is the Alpha. The Alpha boasts 60 kW of power and 180 nM of torque. 0-60 times are estimated at 3.5 seconds and a 4 hour charge will cover 125 miles. Each model in the Savic range also boasts premium components such as brakes by Brembo, Pirelli Diablo Rosso 3 tyres, different riding modes, regenerative braking, ABS and traction control.
As Australia's first electric motorcycle company Savic are setting a whole new standard and they're off to a great start. Savic Motorcycles will be fulfilling their first pre-orders towards the end of 2021.
Top speed : TBA
Charge time : 4 hours
Range : 125 miles
Priced from : $10,100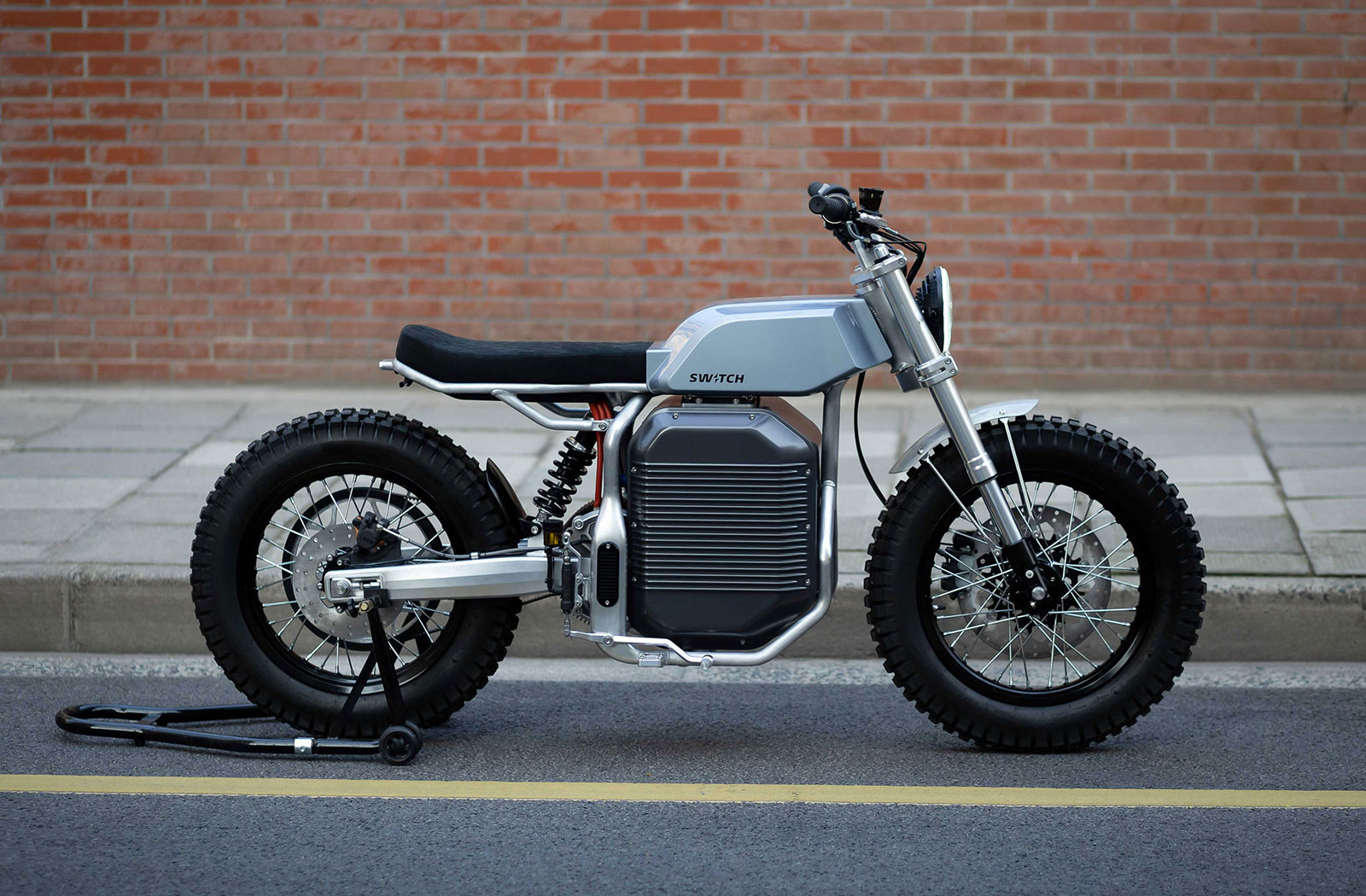 Switch Motorcycles eScrambler
Switch Motorcycles was created by a Shanghai based New Zealander by the name of Matthew Waddick. For his first electric motorcycle, the eScrambler, Matthew drew inspiration from the Trackers and Scramblers he'd seen in the custom scene. To realise his vision he teamed up with ex-Yamaha designer and Flat Track racing champion Michel Riis Eriksen.
Michel's Danish roots are evident in the eScramblers functionalistic design. The bikes proportions verge on perfection and there's absolutely zero excess. One of the pair objectives with the design was to seamlessly merge retro styling with the bike's ultra-modern components. A key factor in achieving this was the addition of a double cradle frame design.
Again there are plenty of high spec components here to drool over. The wheels feature 18-inch alloy rims by KTM. Panasonic have provided the batteries which are hooked up to a premium Mopibus controller. The ABS is from Bosch and the digital dash offers both GPS and Wifi connectivity. And all the lighting is, of course, LED powered to minimise battery drain.
As for performance the Switch eScrambler's powerful 50 kW engine is rated at 70hp and can reach speeds of 105mph. At 140kg it weighs about the same as your average 250cc. Ulike your generic 250 though the eScrambler will get you from 0-60 in an estimated 3.2 seconds and will earn you a hell of a lot more kudos.
Top speed : 105mph
Charge time : 5 hours
Range : 93 miles
Priced from : TBC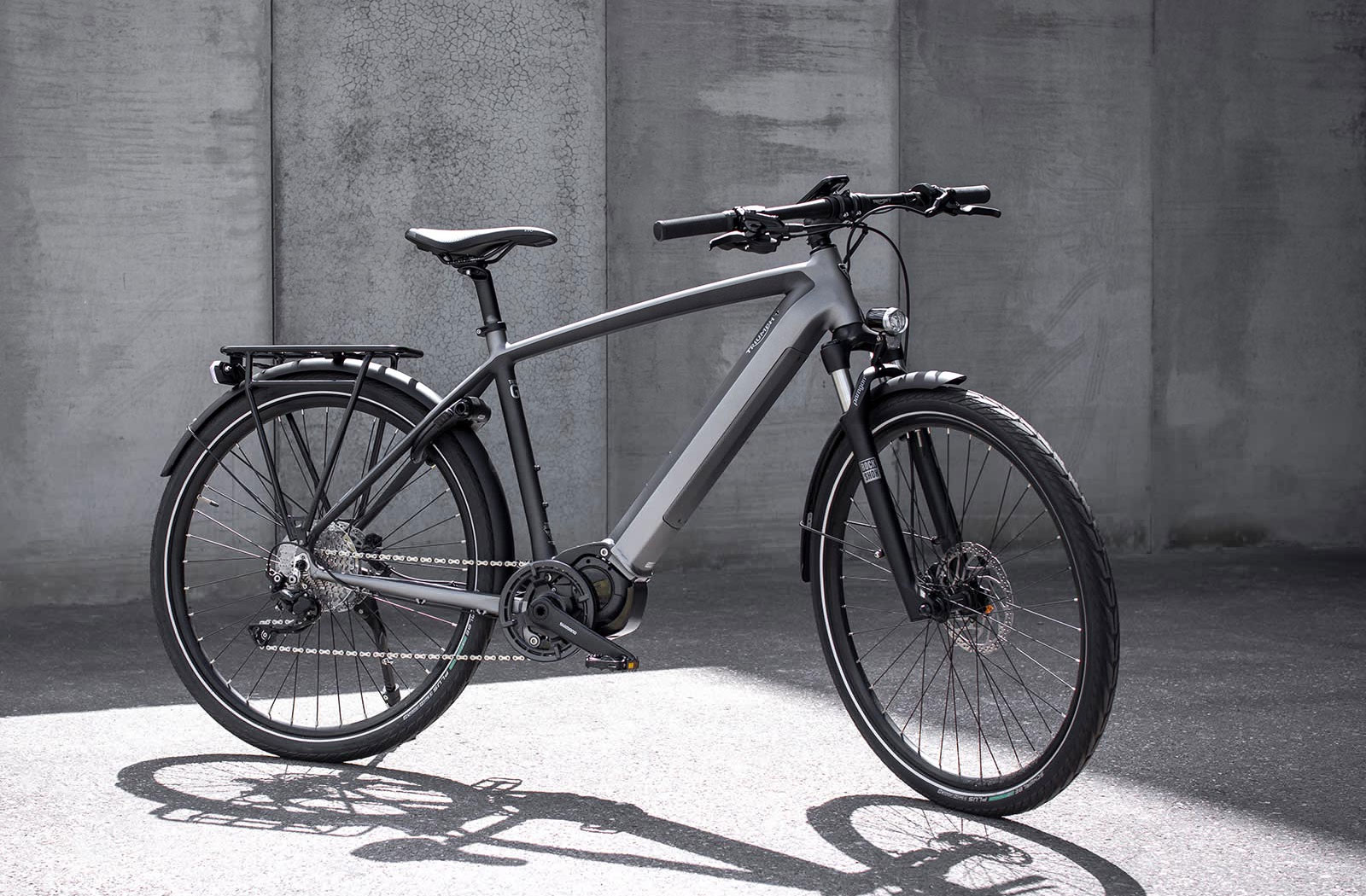 Triumph Motorcycles TE-1 Electric Motorcycle Project
Triumph Motorcycles have already shown an interest in producing electric vehicles by developing the Trekker electric bicycle. Recently however they've made it very clear they plan to add electric models to their motorcycle range too.
Through a collaboration with Innovate UK and several UK based electric technology experts Triumph Motorcycles have kickstarted the TE-1 Electric Motorcycle Project. Over the next two years their goal is to develop new electric technology and innovative integrated solutions. Their end game here though is to utilise those technologies to develop the first all electric Triumph motorcycle.
According to Nick Bloor, CEO of Triumph Motorcycle, "Project Triumph TE-1 is one part of our electric motorcycle strategy, focused on delivering what riders want and expect from their Triumph, which is the perfect balance of handling, performance and usability."
Although it may be 2 years before we see any production models it's likely we'll start seeing hints of what Triumph has in store for us during 2021. If the last few years of Triumph releases are anything to go by, you can be sure an electric Triumph motorcycle will be well worth the wait.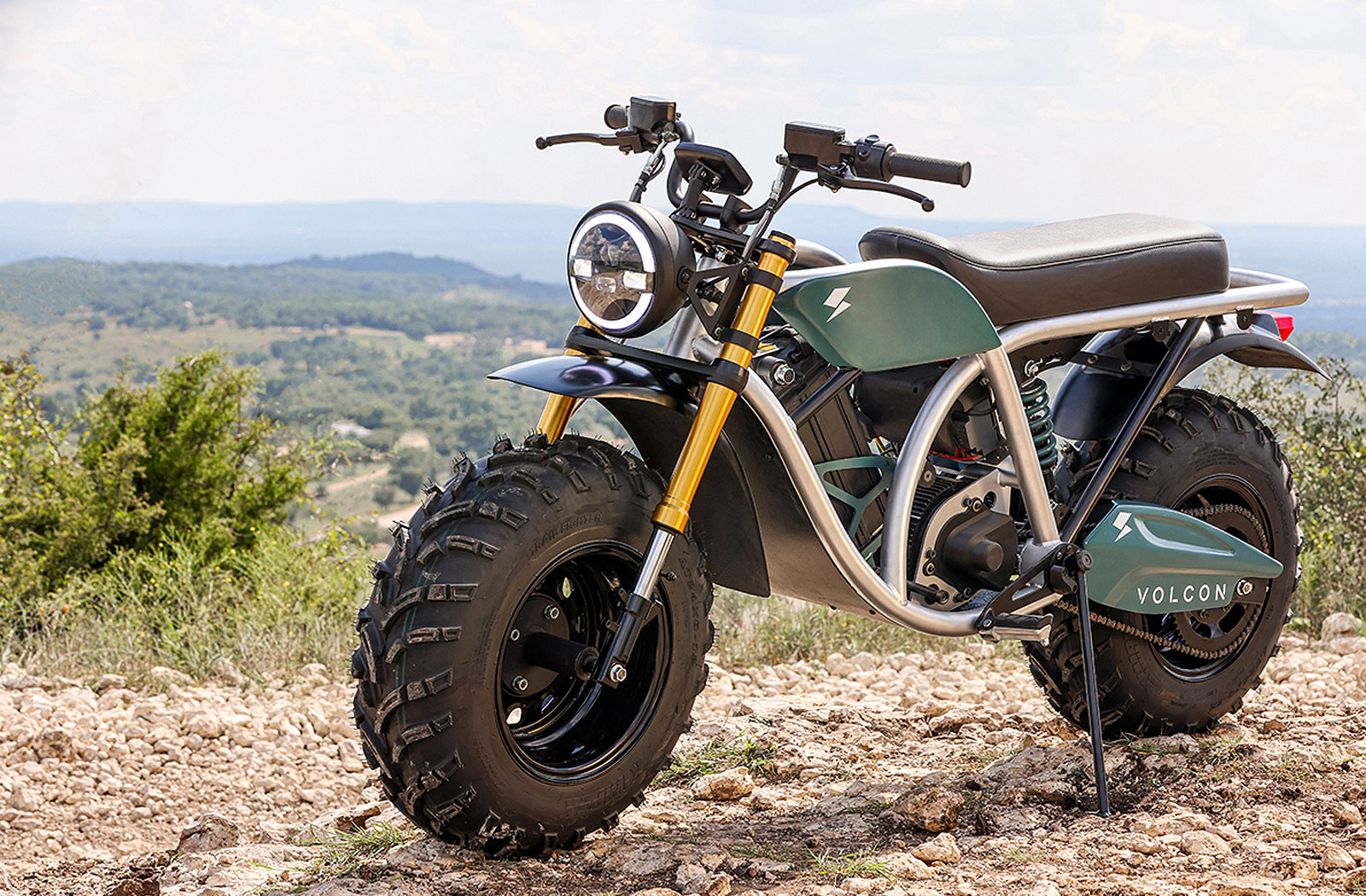 Volcon Grunt
Occasionally a manufacturer unveils a motorcycle so wild that you just know it's going to be a hoot to ride. In the world of electric motorcycles that bike is the Volcon Grunt.
The Grunt is a dedicated off road vehicle. Featuring a low seat height, huge tractor-like tyres and fist full of torque you'll have no problem tackling whatever terrain you're brave enough to tackle. Tipping the scales at less than 200 pounds and featuring no clutch or gears it's also simple to operate making it accessible to a huge market of potential new riders.
Since the Grunt is destined for off-road use Volcon has suitably optimised its components for a life in the dirt. The Grunt has an IP67 waterproof rating so it'll cross a river or stream without skipping a beat. The bike's regular maintenance schedule is also limited to tyre pressure checks and oiling the chain so even the least mechanically minded rider can work on the bike themselves.
As for performance the Grunt is good for up to 50 horsepower, 75ft/lbs of torque and a top speed of 60mph. Acceleration from 0-60 is a modest 6 seconds and it'll cover 100 miles on a single charge. Best of all, Volcon has priced the Grunt at a touch under $6000 making it the cheapest electric motorcycle on this list by a country mile. Volcon are taking reservations for the Grunt now with the first bikes slated for shipment in the summer of 2021.
Top speed : 60mph
Charge time : 2 hours
Range : 100 miles
Priced from : $5,995