On the 29th of June, 2022, on the company's sixth birthday, Curtiss Motorcycles released the documentary 'The Opposite of Death' to commemorate the launch of their flagship first production Curtiss 1 fully electric motorcycle. Made by the director of 'Oil In The Blood', Gareth Maxwell Roberts, it gives an intimate insight into a unique company and an extraordinary motorcycle. The following is the story behind the creation of the Curtiss company and their Curtiss 1 electric motorcycle.
In 1991 trial lawyer Matt Chambers closed his law firm and formed Confederate Motorcycles seeking "enlightened design through true American inspiration". A mission to finally fulfil the potential of the American V twin. He embarked on a journey that produced 1300 hand-built motorcycles the likes of which the world had not seen before. In June 2016 he felt he had reached the end of an era, having produced what he believed to be the ultimate V-twin. As he pondered his next project, he had the idea to acquire the Curtiss Motorcycles legacy brand and steer the company in an entirely new direction; Electrification.
Glenn Hammond Curtiss was a pioneer of the early motorcycle industry. He innovated, built and raced his own machines. On January 24th, 1907, he became the fastest man on earth on a motorcycle he designed and built. The only time this feat has been achieved on two wheels. He created the first American V-twin motorcycle, which went on to become the icon of American motorcycle culture. He was also credited as the founder of the American aviation industry.
Matt embarked on this new chapter with his young design protege, Jordan Cornille. As Matt explains "Jordan makes me, I'm nothing without him". Together they designed and built the award-winning prototype, the Zeus light electric vehicle.
The team was joined in 2018 by JT Nesbitt, who had previously worked with Matt at Confederate designing the highly acclaimed Wraith, dubbed "The Sexiest Motorcycle ever". Matt holds JT as a modern-day Glenn Curtiss – an innovating, pioneering inventor. As Matt states "Me and JT are like red beans and rice, when we get together it's on, it's gonna be good".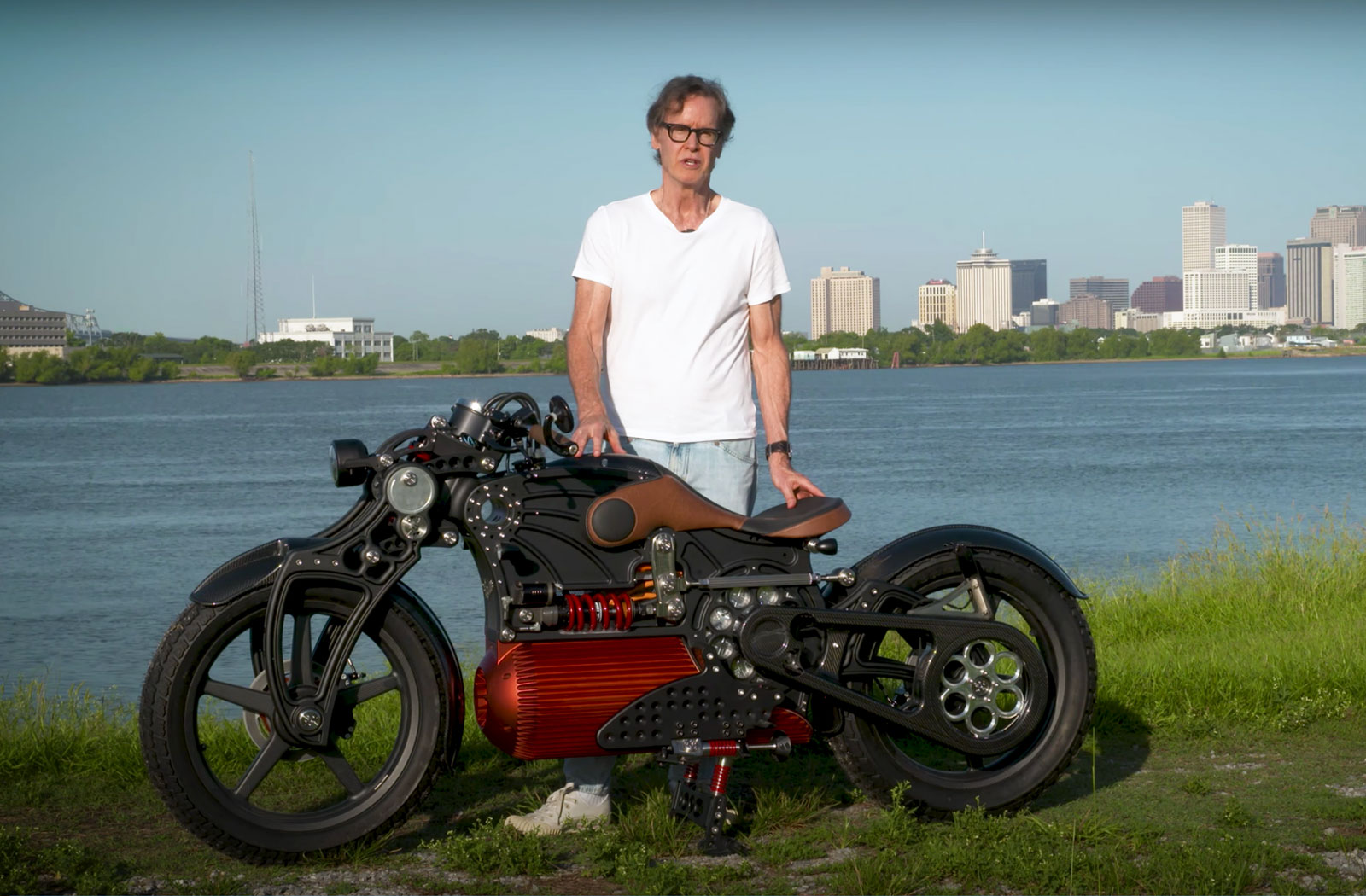 Curtiss is unorthodox and defies convention. Curtiss is not a corporation, it's a small group of visionaries, and evangelists who mix experience with youth to create and innovate. Matt has assembled a team he believes can deliver the Curtiss mission. "I'm a 'small' businessman, I don't like to have a lot of people, I like to keep it simple and have true believers on the team that love what they do with all they've got. We have the dream team"
JT was given the green light to design what has become his greatest work to date. He got busy, collaborating closely with Curtiss engineer, Vinay Valleru. As Vinay explains "because it's so small things happen really fast". In early 2022 the all-electric Curtiss 1 went into production.
The first limited edition batch of The Curtiss 1 is being built by hand by JT and Vinay in the Curtiss Design Studio in New Orleans.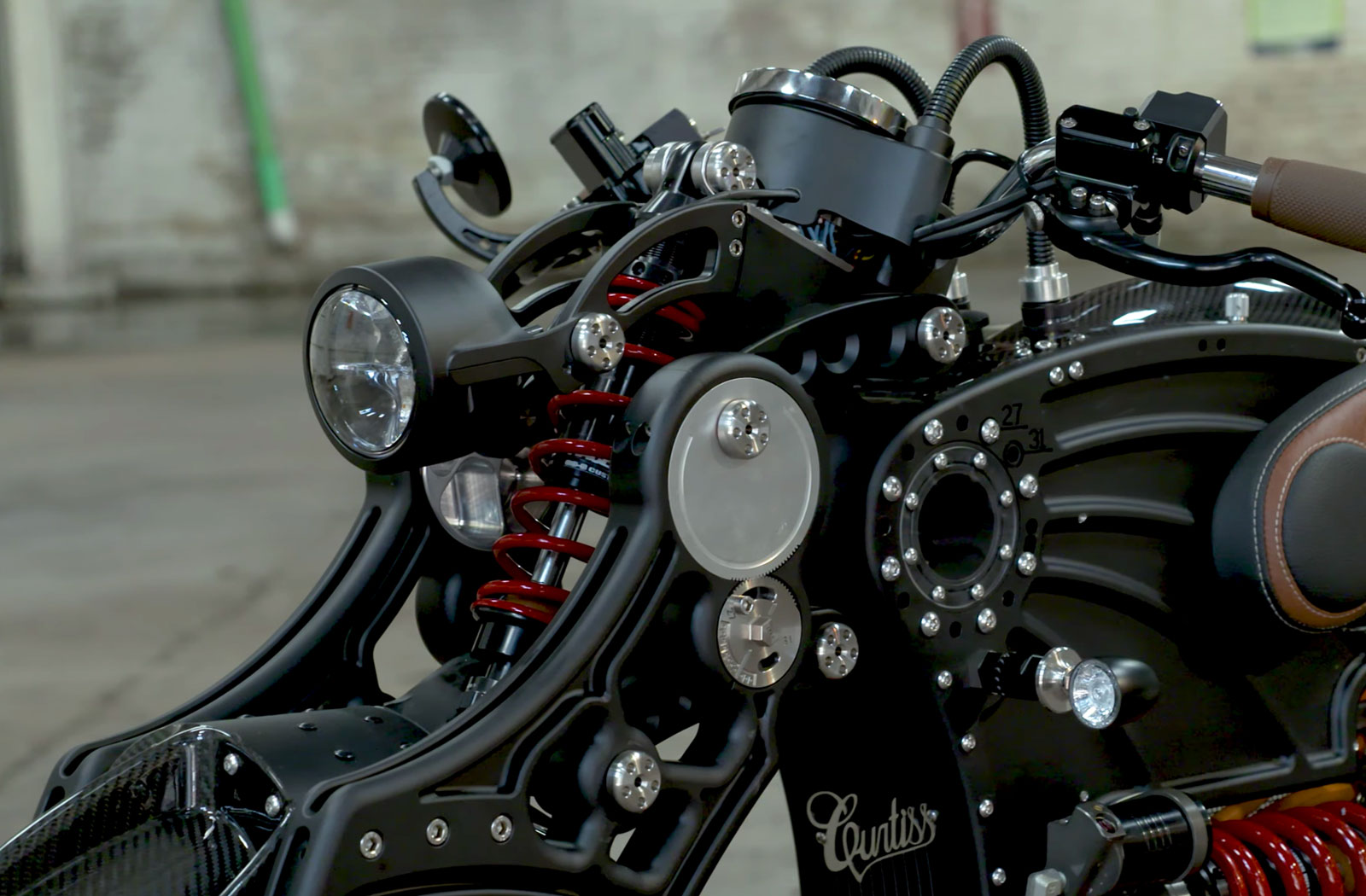 Curtiss is built on the foundation stone of innovation. Rather than just buying in off-the-shelf parts and bolting them together, JT has applied a first principle originalist ethos to imagine a motorcycle from the drawing board that innovates in every detail. Driven by a pursuit of excellence to create components and a complete system that defies compromise, JT has designed a future machine that redefines the light electric vehicle.
The patented Centered Power Axis that uses the central drive shaft as a swingarm pivot creates an unprecedented sense of balance and a fully adjustable rake and trail allow for the perfect handling and suspension set-ups for the rider. Adjustments that can be achieved by the rider in minutes with four supplied hand tools.
JT is a zealot of minimalism. Not an appliqué of style, but in terms of engineering, design and production, striving for the least amount of parts to do the most number of jobs. There are only 175 machined parts in the entire motorcycle, with over 70% of parts having more than one function.
The Curtiss 1 defies built-in obsolescence. Other companies, whilst shouting loud about their green credentials, create electric motorcycles that are destined for landfill in five to ten years. The batteries die and the machines are dead. But Curtiss has made a motorcycle that will last for generations.
They have created a modular battery system whereby the worn or obsolete cells can simply be replaced with contemporary technology, a service Curtiss offers to its clients. The bike is returned to the studio, the battery vessel removed, and the old cells pushed out and replaced with new parts. The battery is the first full-emersion system used in EVs. The cells are liquid-cooled in the finned vessel, creating an operating temperature of just 31 degrees centigrade. This also eradicates the danger of fire.
The quality of the components, from the Yasa motor to the aircraft-grade Beringer brakes, creates a level of engineering and production that will ensure the machine will last for several generations.
Matt and his team have built the motorcycle that they want. The perfect motorcycle that satisfies the desires of collectively over a hundred years of motorcycling experience. This isn't a cynical market-driven exercise.
Curtiss is driven by philosophy rather than profit margins. A set of ethics and practices guide every aspect of design, conception and production. Principles that stand in defiance of the widespread corporate cynicism that prevails in the automotive industry.
They follow the mantra of Best & Finest, using the finest components and processes in the best work they can deliver. Matt preaches a doctrine of seven simple words: "Authenticity rules, presence leads, rider bliss follows."
Curtiss culture is defined by Huey Long's quote "Every man a King'' – no one tells, no one is told. Matt has created a space where ideas are not forbidden, they're encouraged. A playground for inventions. For Matt, the key to success is to follow what you love, in the words of Lou Reed "you do what you want to".
The result is a motorcycle, The 1, that finally buries the tired old motorcycle outlaw myths, ushering in a new age of "ethereal riding". A more cerebral experience that is more zen than aggressive, encouraging the rider to relearn and rethink how they ride a motorcycle in a better way.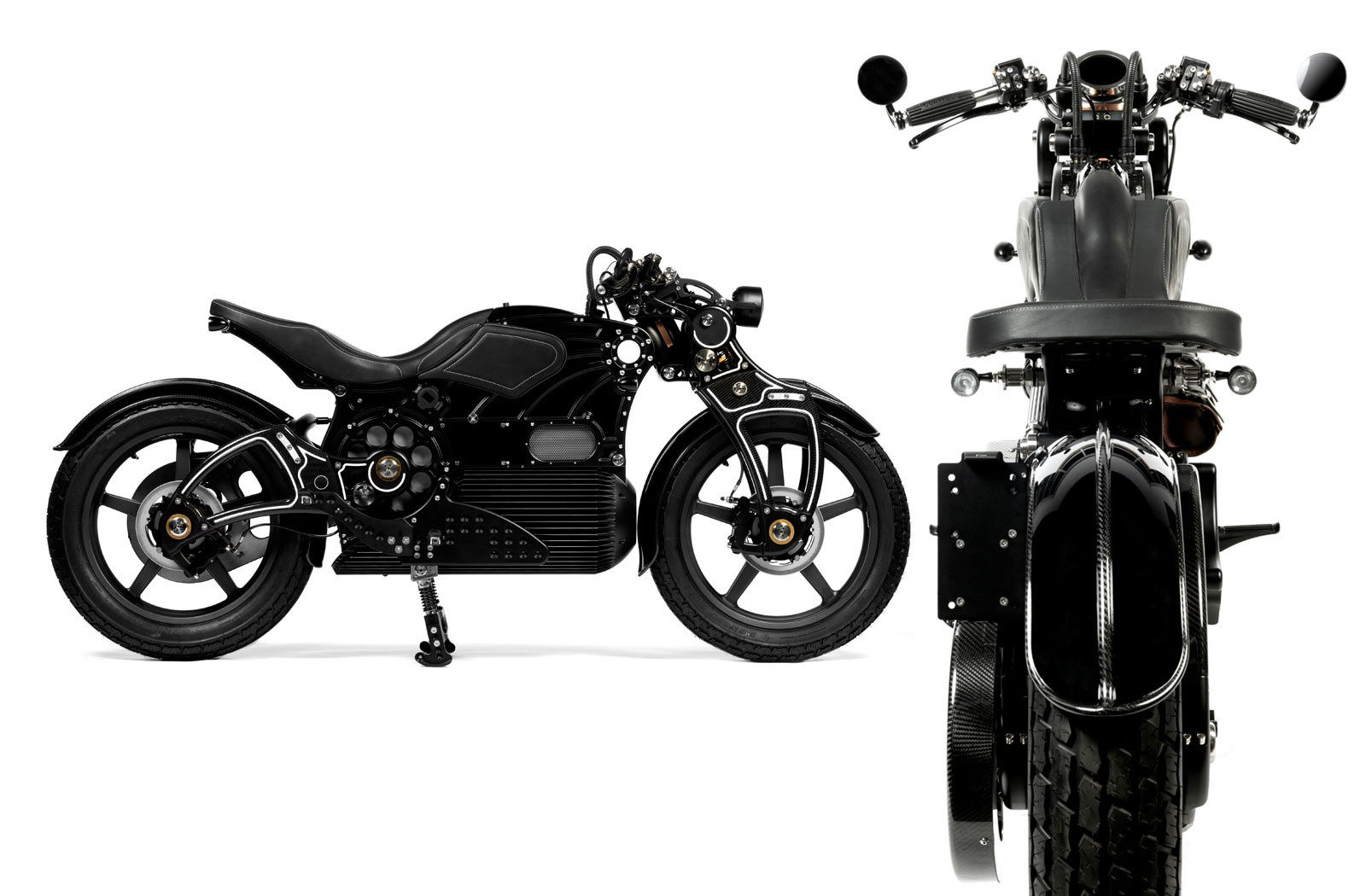 As Matt clarifies, "Being on a light electric vehicle that is sexy, beautiful, proportionate, smooth, easy, fast, fun, cool – both cool looking and cool to the touch. What does it mean to me? It means being reborn in the best way you could possibly imagine"
JT confirms, "The bike is alive, it breathes, it's so lovely, so light, so delicate. When I'm riding this motorcycle it feels like I'm riding The One." Matt agrees, "It's filled with sublime fidelity". Vinay smiles, "No one told us we couldn't, so we made the best motorcycle possible".
One Life, one bike, doing no harm, making the world a better place. The Curtiss 1.
Story courtesy of Gareth Maxwell Roberts
Curtiss Motorcycles 1 specifications
The Curtiss 1 is an electric motorcycle unlike no other. Built almost entirely from machined aluminium, titanium and carbon fibre the motorcycle weighs less than some high-end sports bikes at 193 kg (425 lb). The bike's battery is a standout of the design. Along with being future-proof, the unique battery pack sits low on the bike to configure an optimal centre of gravity. The motor, which Curtiss Motorcycles say is "the most power-dense motor in the world." has the ability to output up to 168kw of power which translates to a knuckle-whitening 217hp. Curtiss has however limited output to a very respectable 89kw (120hp) and torque to 199Nm. Whether this means a more sports-oriented Curtiss may be in the pipeline or not is yet to be revealed (but we've got our fingers crossed).
Riders of the Curtiss 1 have the ability to completely customise the motorcycle's handling to their liking. This can be done through the fully-adjustable Race Tech suspension components as well as the bike's adjustable rake and trail. This level of rider adjustability is unique to this motorcycle. The Curtiss 1 brakes are a premium offering from Beringer and the wheels are made up of 19-inch Kineo classic spoked rims and Dunlop K180 rubber. Customers are also given the option to reduce unsprung weight and in turn, further optimise handling by upgrading to carbon fibre wheels. Each Curtiss 1 electric motorcycle comes with a tool kit with everything required to adjust the suspension and to swap between either a solo or tandem seat, both of which are included with the bike purchase.
The Curtiss 1 isn't just distinctive in its design and technology. The company also offers customers a unique purchasing experience that allows unprecedented levels of customisation. From colours to textures customers are invited to personalise their Curtiss 1 to create their very own, one-of-a-kind motorcycle. Pricing for a bike from the second Curtiss 1 production run starts at $83,333 USD.
Watch the Opposite of Death documentary