Overall Summary
If you want classic looks without the stuffy, trad baggage and eye-rolling price tags that often go along with the old man moto labels, then this jacket is for you. There's a reason why the design itself has lasted the test of time. Asking why you need a jacket like this is akin to asking why you need a pair of blue jeans or a white cotton t-shirt. Believe it or not, 80 years of testing and refinement makes this a piece of gear that will outlast pretty much everything else in your moto wardrobe and look even better in 10 years' time than it does now.
Pros
Timeless, stylish, minimal looks
Fits like a glove
Well made
Armour not too bulky
Quality Sheepskin leather
Top shelf zippers
Cons
Small internal zipper pulls can be a little tricky to grab with gloves on
Sleeve pockets for elbow armour can 'catch' fingers when you put it on
All outdoor images courtesy of Machines That Dream
Pity the poor old black leather motorcycle jacket. For something that should be an anonymous piece of moto kit that simply keeps you warm and safe while riding, the sorry old thing has been elevated to a level where it's tickling at the toes of Zeus and Apollo. It's an object that's become tied to all sorts of fashion, music and societal malarky, becoming way more than the sum of its parts. To wear one in public is like taking the final test in an Oxford or Harvard course on Sociology. It's that iconic.
So let's not kid ourselves; buying one is a big deal. Almost as big a deal as buying your first bike or helmet. Some will avoid the challenge by going for bottom-shelf, textile nothingness. Others will hunt out something with all the très moderne MotoGP bells and whistles that will cost them their left gonad while simultaneously aging about as well as a pair of pink acid wash jeans. Want something that will look good while also offering decent levels of protection and not have you throwing it away in a few years' time? Then read on.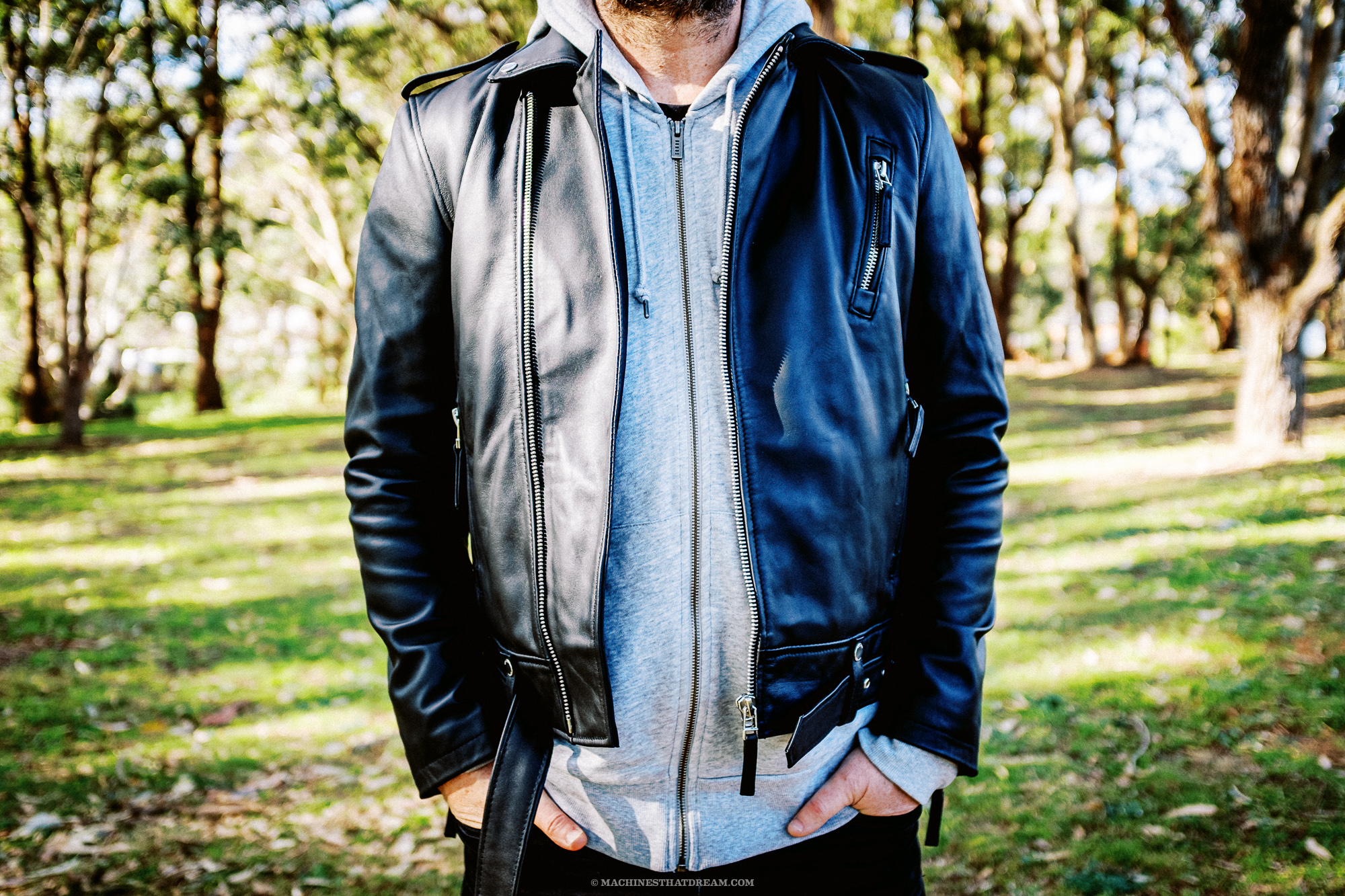 What is it, exactly?
It's a classically-styled leather jacket from Manchester-based Boda Skins. Simultaneously drawing on a whole bunch of fashion and design traditions while also seeking out a less fussy, more minimal approach to an iconic piece of kit, the company have developed this little ditty – an item they call the 'Voyager Biker,' denoting that they also make one sans approved crash protection. Replete with the classic, double-breasted front, three external pockets and two internal, it's the company's tilt at an absolute moto icon.
I won't bore you with an essay on the history of the motorcycle jacket, suffice to say that they were borrowed from WWII aircrews as post-war surplus and repurposed thanks to their well-thought-out design, intended to stave off the cold of high altitude flights and their added ability to protect from scrapes in the case of an unexpected bitumen party. Marlon Brando wore one in the 1953 movie 'The Wild One' and the rest is leather-scented, middle-finger-to-the-man, electric-guitar-smashing history.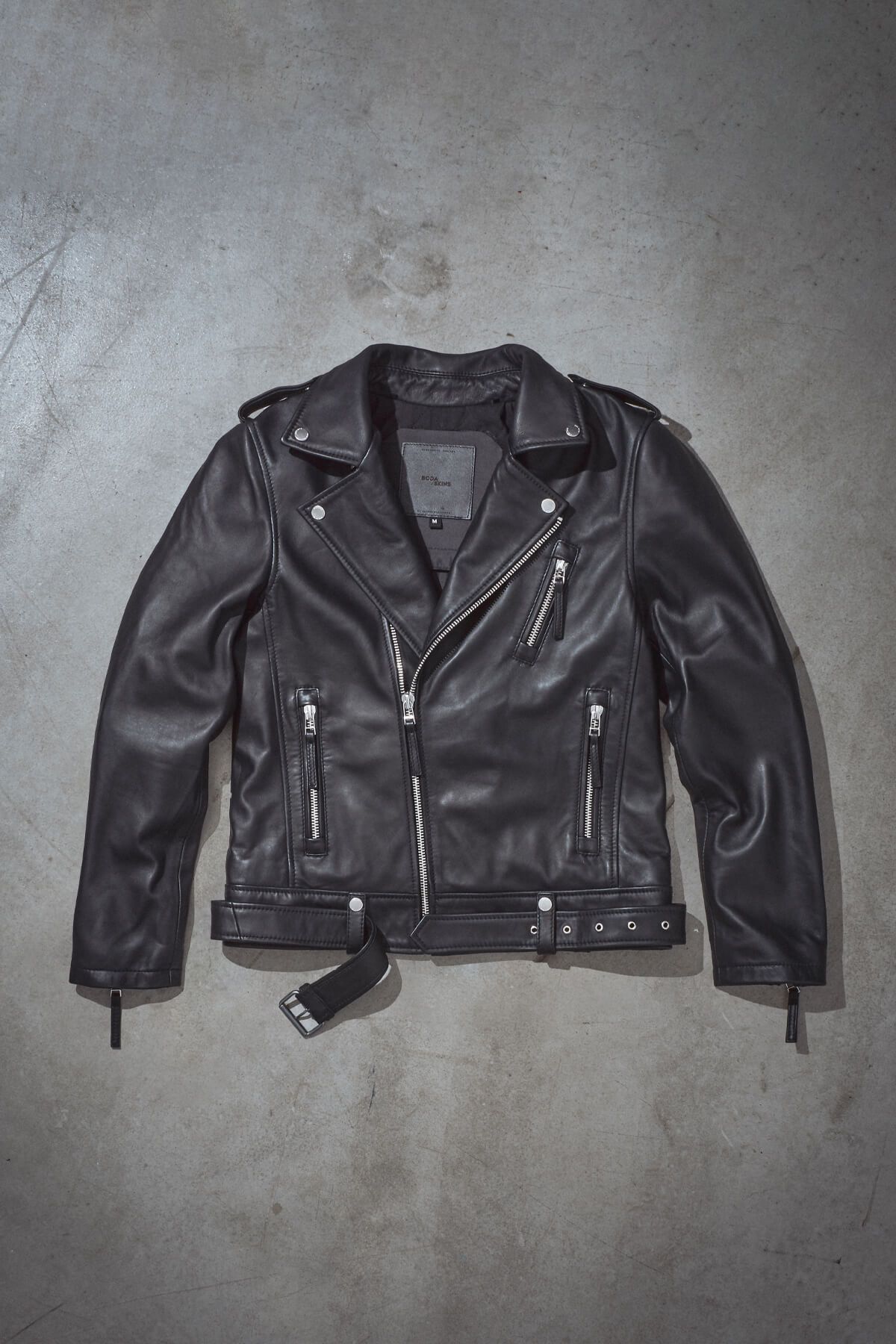 Who's Boda Skins, then?
Based in England's north and started in 2013 by the overtly British-sounding Nathan Alexander, they are a thoroughly modern company that appears to have its head screwed on the right way. With a mission statement that reads 'BE FUCKING REMARKABLE' and a goal to make 'the ultimate leather jacket', the initial kitchen-table postal business has spent the last eight years growing in leaps and bounds.
With an avowed dislike of the current fast fashion trends peddled by those who are in the business for all the wrong reasons, their 'about us' page reads like a technical manual on how to be decent. They are decidedly 'slow fashion' (i.e. buy the gear once and wear it forever) and they even have a buy-back scheme to ensure their output doesn't become an albatross around the planet's neck and a stake in the 'Leather Working Group' sustainability initiative. Oh, and they work with Metallica, so there's that.
What does it look like?
When you look up the phrase 'classic motorcycle jacket' in the imaginary Return of the Cafe Racer's World Motorcycling Encyclopedia, they have a picture of this piece of kit in there. A case in point, I walked into my local cafe after taking the outdoor photos you see here and one of the owners who knows me by name smiled and said, 'Look who it is! Marlon Brando!' In other words, the motorcycling history of this design has been burnt into most Westerners' brains. In the same way golden arches mean 'McDonald's' and loud v-twins mean Harley-Davidson, this jacket means biker rebel.
A closer inspection will reveal branded Boda Skins metalwear, impressively un-fussy details that have clearly been designed in a committed 'less is more' approach and a whole bunch of blemish-free sheepskin that has been tanned with a nice amount of sheen. There's just enough to tick the 'real leather' box while not looking too 'wet'. And let me tell you, as with a great pair of jeans or a leather wallet, I can't wait to see what it looks like in 5 years time. The patina should be truly jaw-dropping.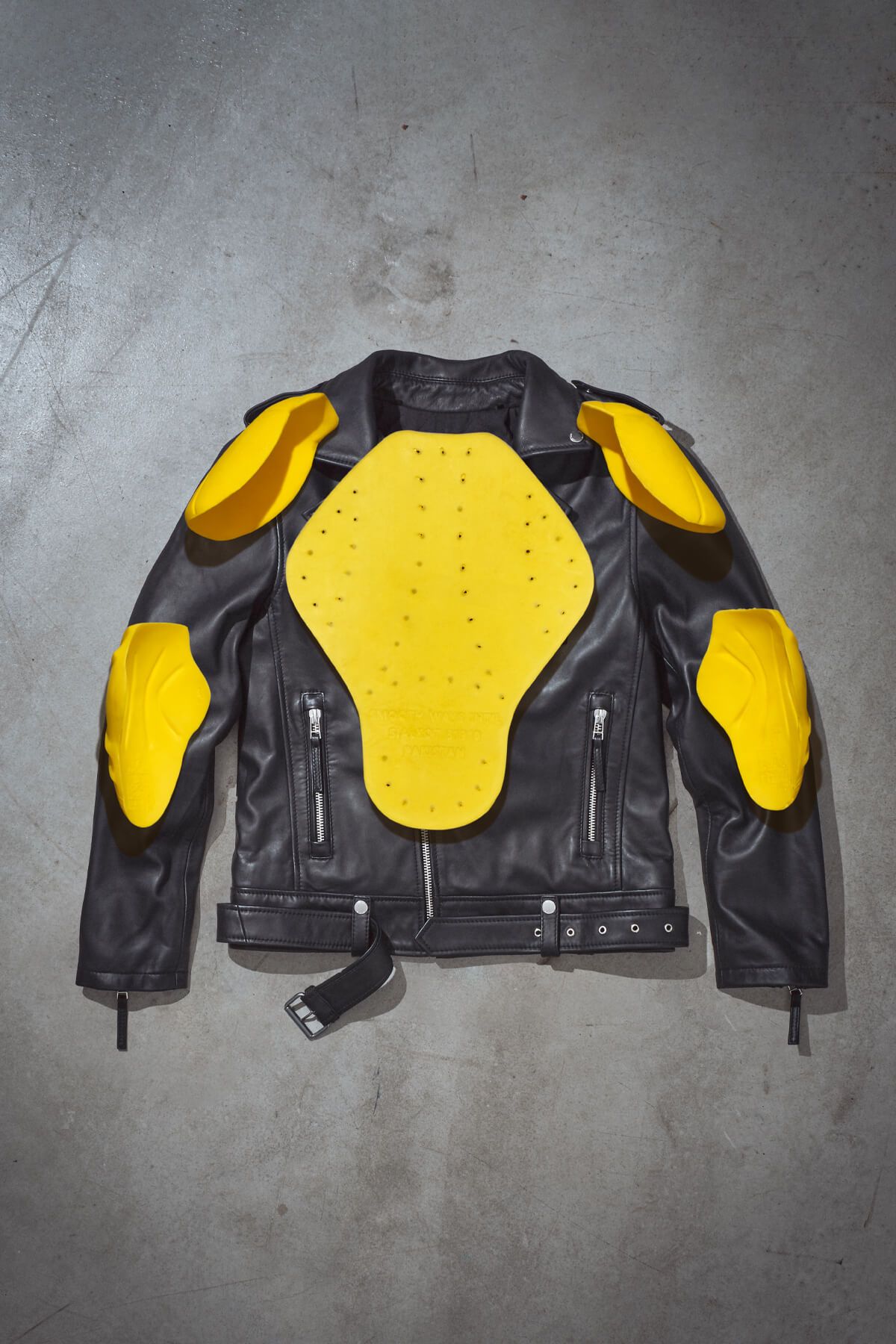 On-bike, the jacket is neither too warm nor too cold, making it most useful for Autumn and Spring riding. Of course, you have to remember that's coming from an Aussie who thinks anything below 20°C (68°F) is too cold. Your mileage may vary. And if things do get a little icy, you can always throw on some layers underneath (as I've done here with the hoodie) to keep your core a little warmer.
Wind blast was nicely dealt with and I have pretty much zero complaints about its on-road performance. Just like a good bike, it both made me comfortable and took a step back so that my mind was on the road and not on it. Cuff size allowed for both gauntlet fitment over the top or shorties underneath. I had no issue with the zip pulls flapping in the wind, and I'd suggest that if you did, you're probably riding too fast or too far for this kind of jacket. Needless to say (but I'll say it anyway), it's not something you'd attempt to cross a continent in.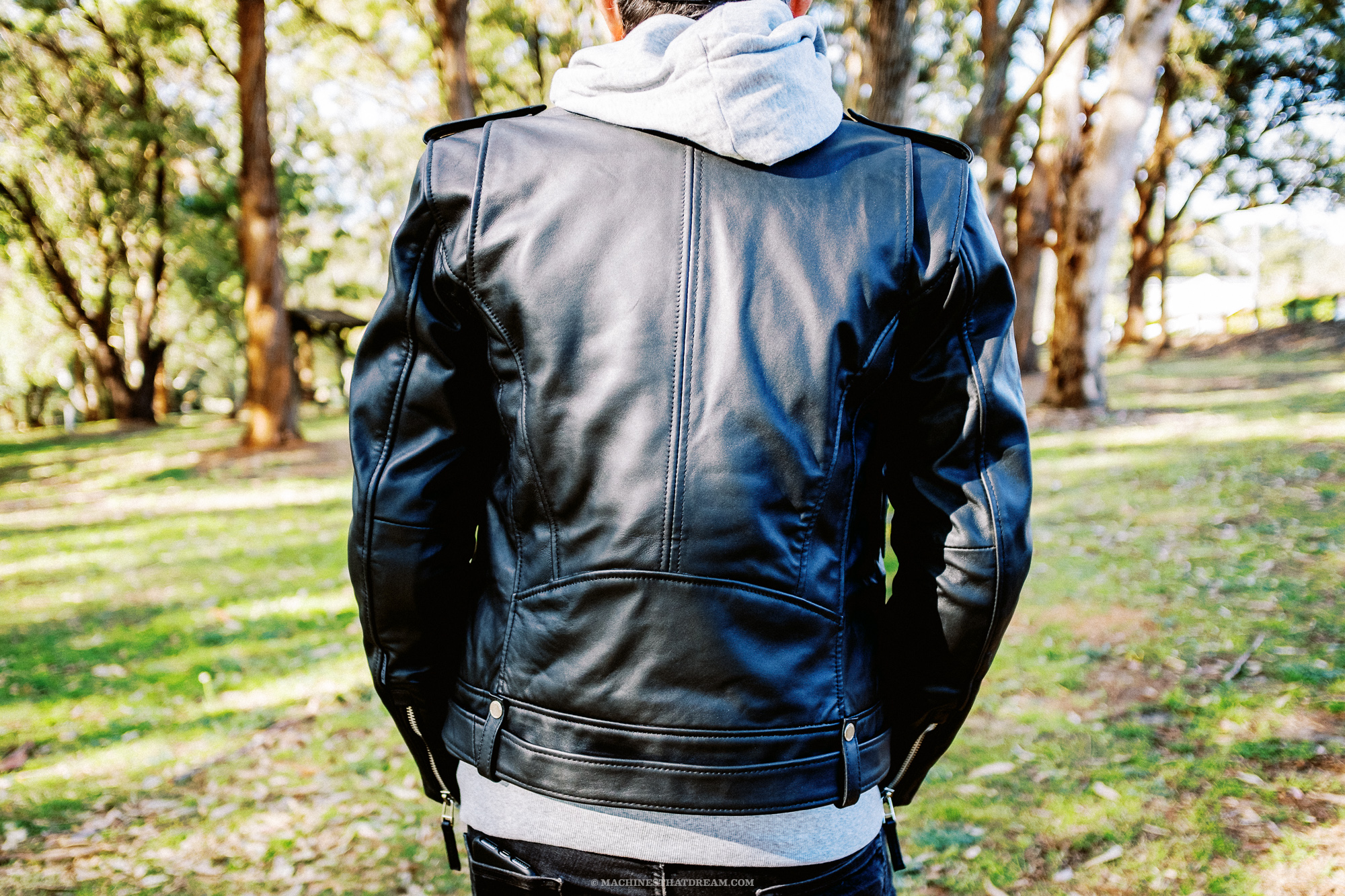 What is it made like?
The word 'sturdy' comes to mind. There's a certain lack of pretence and tool-like functionality that the jacket exudes. Like a decent pocket knife, it's clearly built to last without being needlessly over-polished or lavish. And as with all but the most premium leather wear these days, it's made in Pakistan. The more 'biased' readers may jump to conclusions here and assume that makes it somehow budget or cheap, but the fact is that Pakistan has become a leather manufacturing metropolis and most of the world's manufacturers – including the oldest and best-known Italian brands – have now based all their production there.
Going over the jacket with a fine-tooth magnifying glass reveals a few minor floors, mainly concerning the stitching and edging on the internal pocket for the back protector. Rest assured, it's strictly an anal-retentive thing that's tricky to spot and the entire thing is very well sewn together. Just make sure you don't get your hands caught in the elbow armour pouches when you're putting it on. If you're ham-fisted or just a little too eager to get geared-up and on the bike, you may manage to tear the stitching.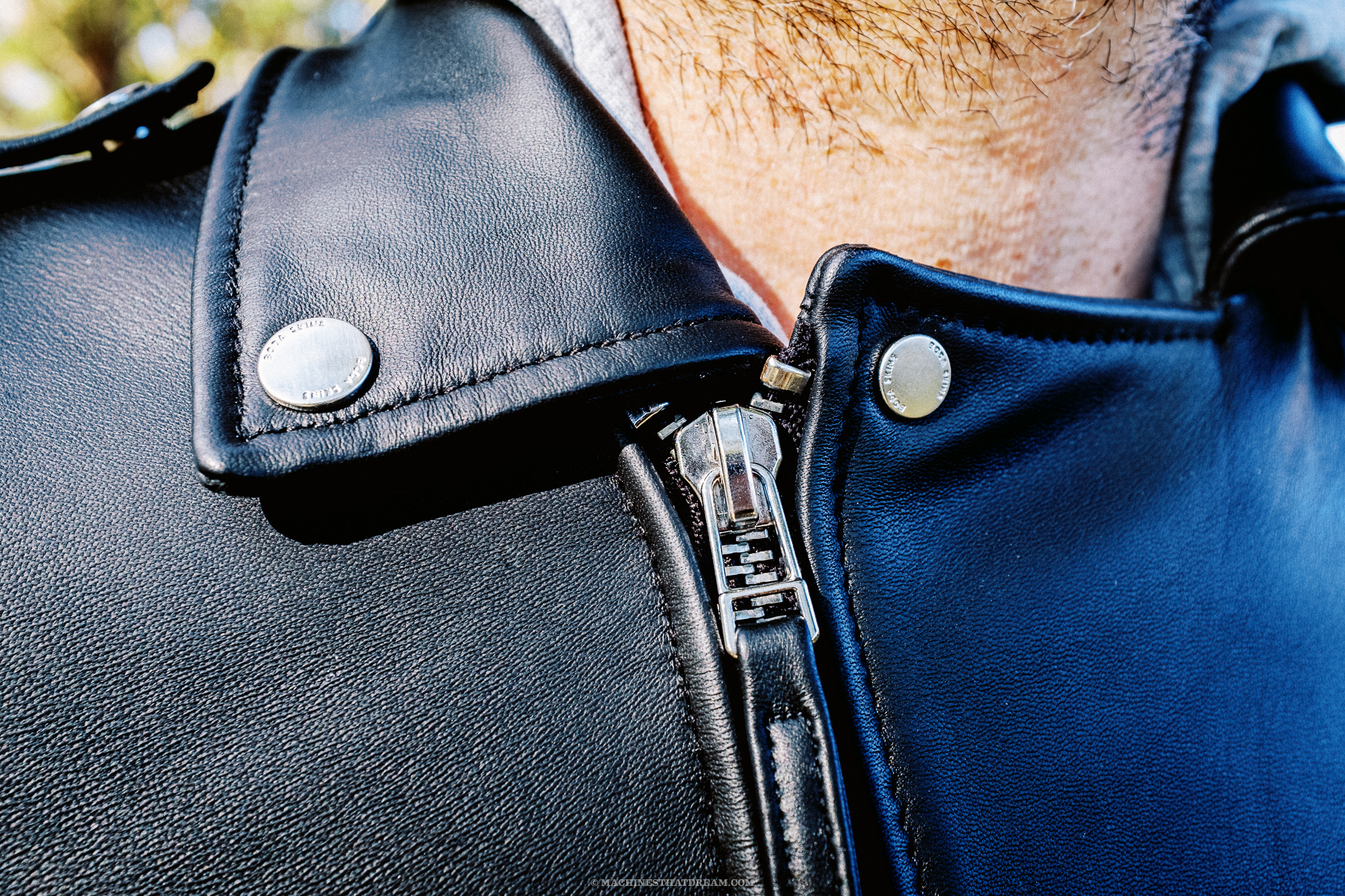 What features does it have?
Refreshingly few. Now don't take this the wrong way; in a world of explosively inflatable this and GPS charging that, it's bloody nice to have something that doesn't throw in everything and the kitchen water receptacle. Of course, what it does have is just the essentials so that you don't go without. Think six certified level, 2 polyurethane protectors, in the elbows, shoulders and back, a 1mm sheepskin outer with a quilted cotton-polyester lining, three external pockets and two internal (all with zips), brushed silver hardware and a removable belt.
I've always thought that a great gauge of how seriously (or not) a gear maker is taking their product's quality is to look at the zippers. It doesn't matter how great a jacket may look at first glance, if the thing is fitted with cheap arse, no-name zippers, they are going to shite their pants at some point and you'll either have to bin the thing or pay to have them replaced. It's happened to me before. In The Voyager's case, Boda has gone with American 'Ideal' zippers on the outside and Japanese YKK on the inside. Put simply, they are amongst the best you can get and should last a lifetime.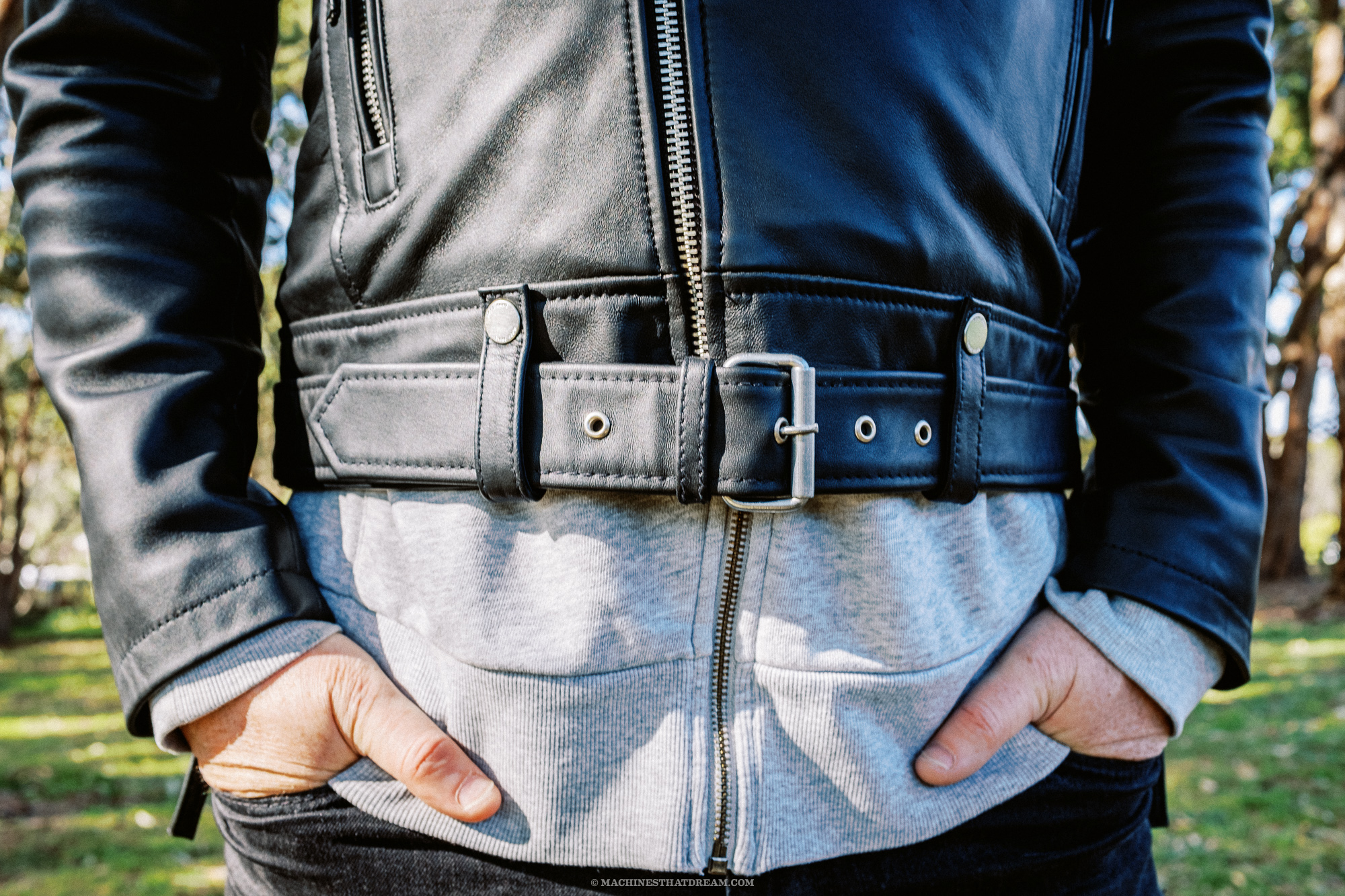 Why should I buy it?

Of course, there's no shortage of companies making jackets in this style. They each put their own little spin on the look too, so it's not like you're starved for choice here. But what you do have is a real spread of options that are mainly defined by cost. Those with bottomless pockets might opt for a handmade Schott or Lewis Leathers jacket of the same style for three times the price. And those who like the style but aren't happy with spending the coin will no doubt find plenty of less expensive, less well-made alternatives.
But for me, the Voyager jacket sits in a very attractive middle ground position where it strikes a nice balance between quality, price and looks. And as someone that reviews gear regularly, I'll let you in on a little secret. The Powers That Be will probably ask me for it to be returned. I'm already going over excuses in my head as to why that won't happen. I can't decide between, 'I sweated like a pig while wearing it,' or just a straight-up, 'I'm keeping it because it makes me look fucking remarkable.' Let me know what you think.
(PS. If you are convinced of all you've just read but still want a jacket with a little more, well, more everything, then check out Boda's 'Kay Michaels' jacket. It's like the Voyager's more fancy twin brother.)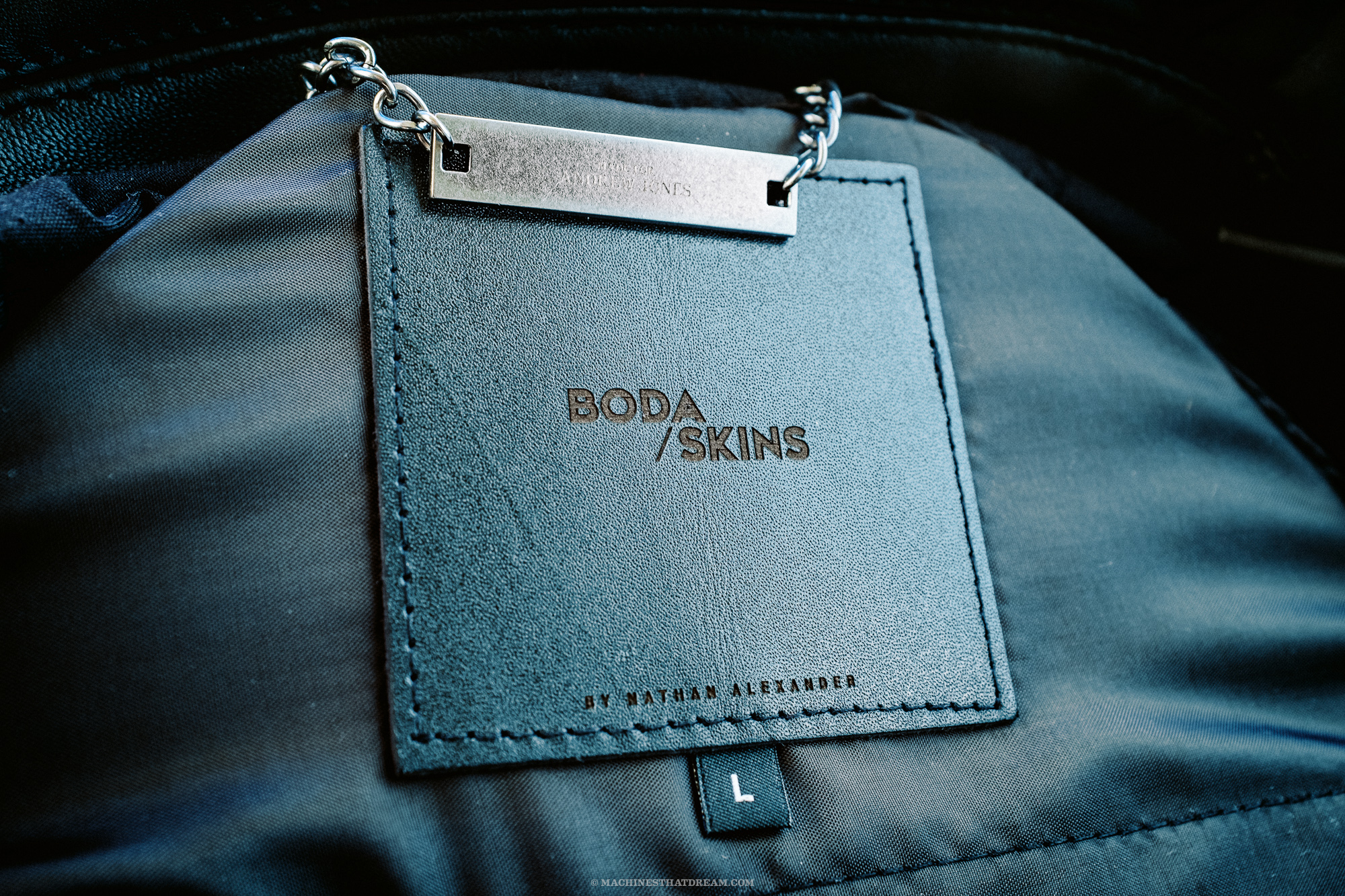 Pros
Timeless, stylish, minimal looks / Fits like a glove / Well made / Armour not too bulky / Quality leather / Top shelf zippers
Cons
Small internal zipper pulls can be a little tricky to grab with gloves on / Sleeve pockets for elbow armour can 'catch' fingers when you put it on
Important Links
Specs
Manufacturer: Boda Skins
Price (When Tested): £570
Colours: Oil Black
Sizes: XS to XXL
Review Date: August 2021