I knew this bike hit different when I stopped at a corner and a five-year-old boy riding a neon blue full suspension pushbike loudly yelled "WOOOOOOAH, ARE YOU RIDING A MOTORCYCLE?!".
His enthusiasm for the bike was not unexpected, but that he focused totally on the bike and not the fact that I was also ferrying a 15 lb Shih Tzu on my back was remarkable. Max may have been offended by the incidental shun, but that interaction cemented in me that this bike just hits different.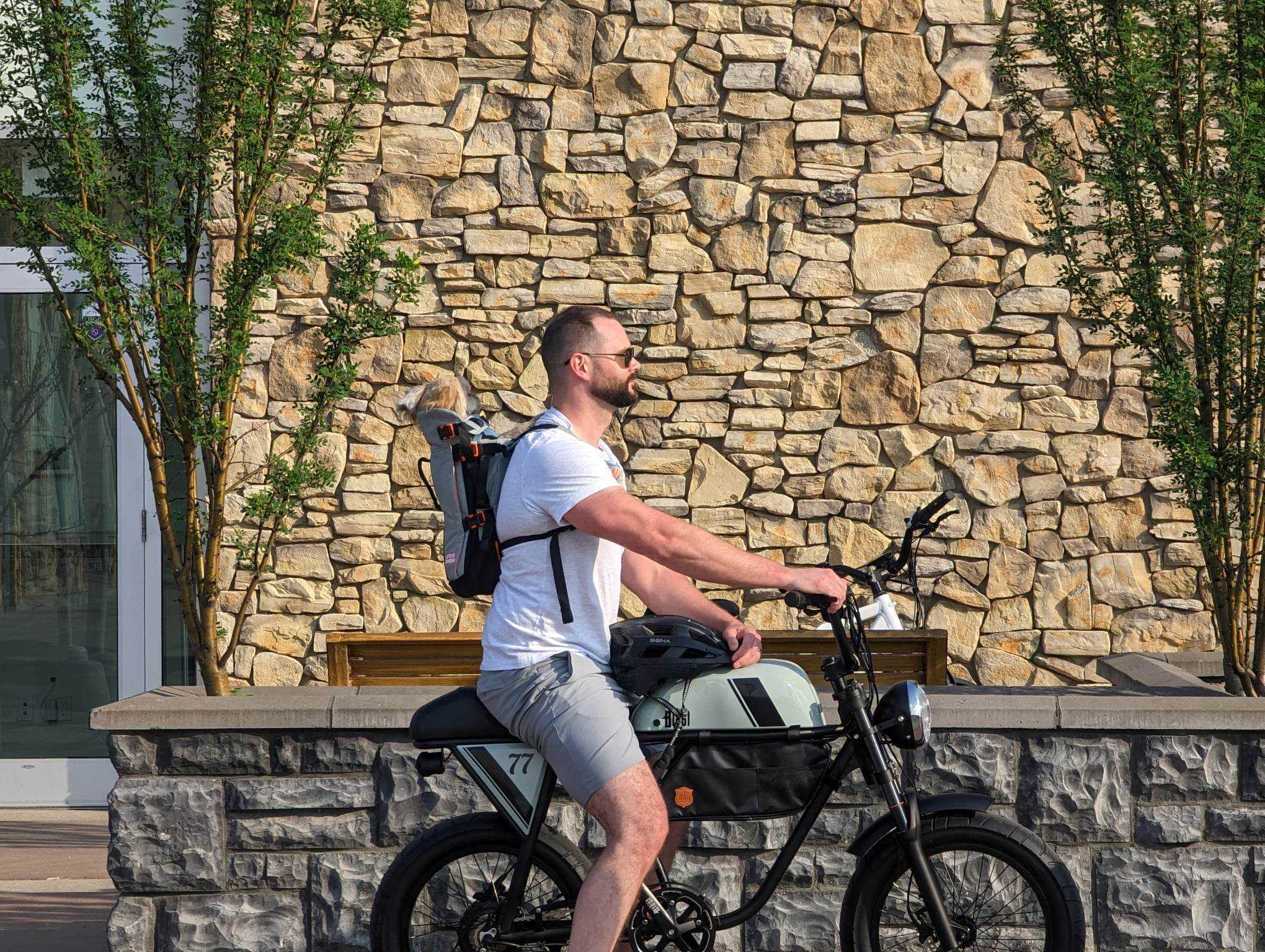 As I toured downtown Calgary with the Outsider 4.0, that interaction was one of many from interested onlookers and, presumably, future riders of all sorts. While photographing the Outsider, I must have had a half-dozen people ask me if it was for sale, how much it was worth, and if it was as fun to ride as it looked, to which I replied: "yes, it's for sale, it's about $2,400 USD, and it's exactly as much fun as you think it is".
Words & Photography: Cameron Martel // Models: Max the Shih Tzu, Bryce McDermid, myself (sorry)
Michael Blast loaned us this ebike for a week for the purposes of this review. I'd like to thank Ebikes Calgary for facilitating the loan. Return of the Cafe Racers does not have a financial relationship with Michael Blast or Ebikes Calgary.
Michael Blast Outsider 4.0 Specifications
MSRP:

$2,399 USD

Where to Buy:

MichaelBlast.com

(Global),

CalgaryEbikes.ca

(Canada).

Warranty:

One year

Top Speed:

22 mph / 35 kph

Range:

Estimated 50 miles (80 km),

assuming you pedal and do not rely too heavily on the throttle

Bike Weight:

50 lbs (22.7 kg)

Weight Capacity:

260 lbs (118 kg)

Motor:

Bafang 750-watt hub

PAS:

Cadence, 5 settings

Brakes:

Taiwan Star Union hydraulic brakes with 180 mm rotors

Gearing:

Shimano Altus 7-speed

Battery:

48V 14.5 Ah

Wheels:

20" x 4" spoked wheels
The Michael Blast Outsider 4.0 is considered a class 2 electric bike.
It's About Being Seen Riding the Bike as Much as it is Riding the Bike
That the Outsider 4.0 directly calls to mind motorcycles of yesteryear and modern cafe racers is not an accident. Michael Blast's lineup is tailored toward vintage motorcycle and cafe racer enthusiasts. It oozes the same personality, charm, and frankly, the type of good looks that we love about cafe racer motorcycles.
Notably, it also feels like riding a cafe racer from the cockpit. The speedo and display are on the left bars, along with the throttle, with the Shimano shifter on the right. It's easy to ride, but it does have a larger turning radius than a typical bike due to the ergonomics of the form factor and forks.
Practically speaking, if you're wanting to purchase an ebike like this that you want to perform well as a bike, there are probably better options for that use case. Riding the Outsider isn't uncomfortable, but due to its form factor, it won't be as comfortable as a dedicated commuter or cruiser bike. There is a bit of a compromise in that respect, but in the 30-ish km I put on it in a single afternoon ride, I never found it uncomfortable (and I'm 6'2" for reference).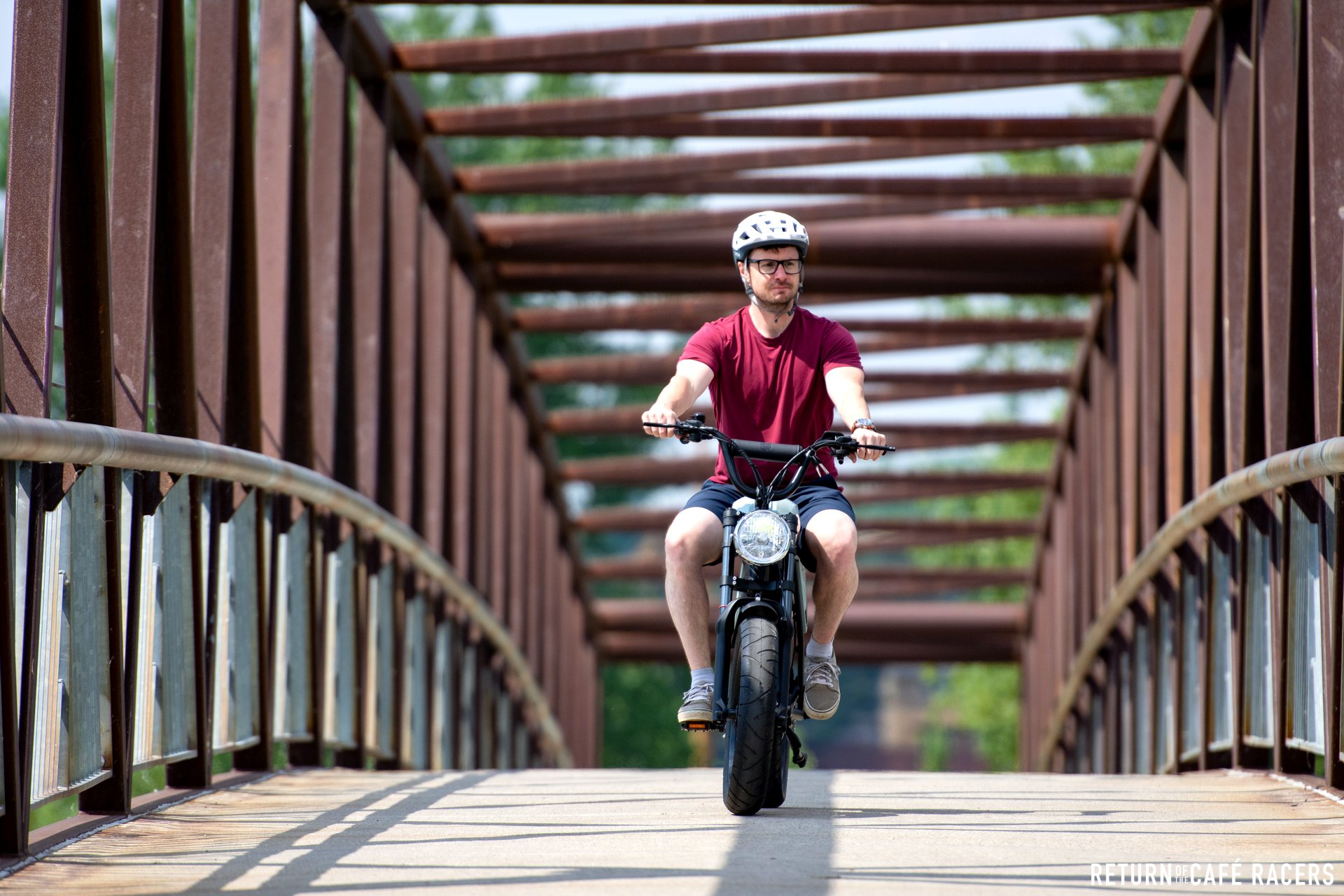 This bike isn't meant to go off-road in any respect, but keep it to the pavement or groomed trails and it's quite enjoyable to ride. It can be downright spritely when you crank the pedal-assist to level 3+, and the throttle will pretty easily get you to 30 kph in 20-30 seconds. It took me up more than one hill and got me to the peak without feeling gassed.
Part of what makes The Outsider enjoyable is that the pedal assist function is intelligently integrated. It doesn't snap on like many cadence-sensor electric bikes do. Power is smooth and comfortable, and given that the motor makes around 75 Nm of torque, it's got plenty of juice to scoot around just fine.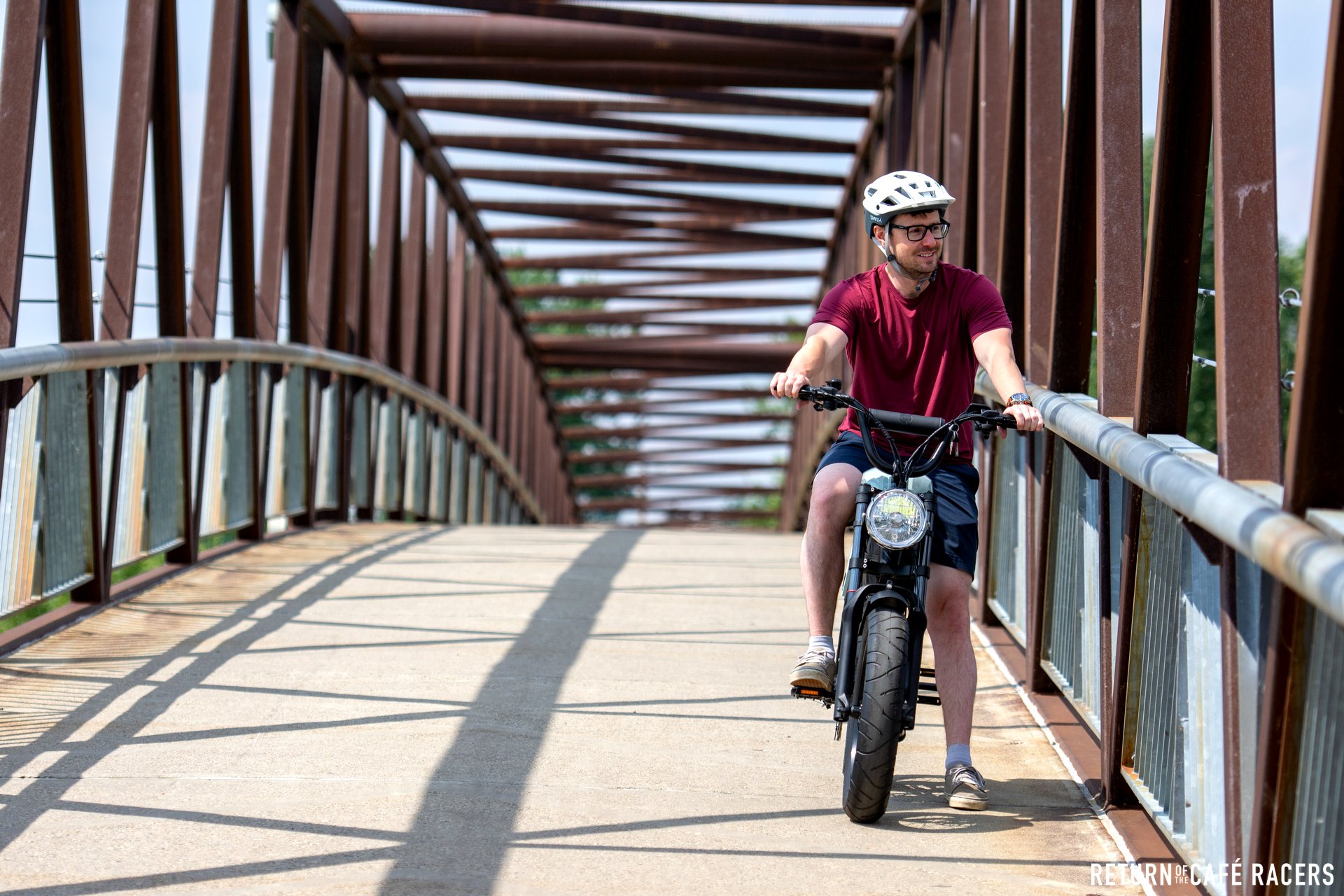 Whether you plan to ride it like a bike, or scoot around on it via throttle only, the Outsider is more than happy to oblige you.
Build Quality & Components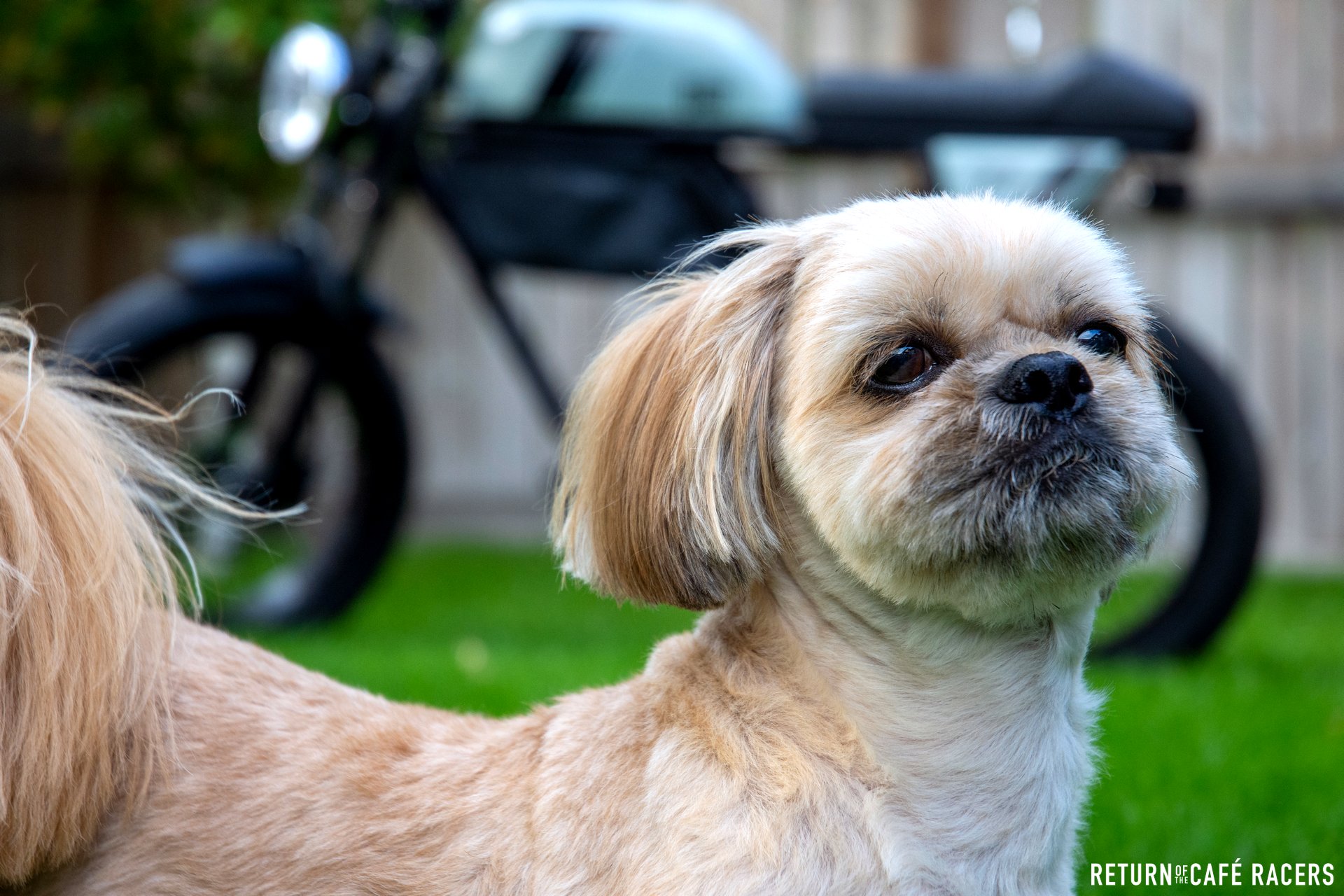 Max and I spent an afternoon in the backyard taking some detail shots of the Outsider and its components. On the whole, the bike is built pretty well. It also uses standard components and is easily serviceable should you want to replace the shifter, cassette, etc. It weighs 50 lbs, which is about average for electric bikes; much of that is due to the 10 lb 14.5 Ah battery (which takes roughly 5 hours to charge with the included charger).
Handlebars, Display, & Shifting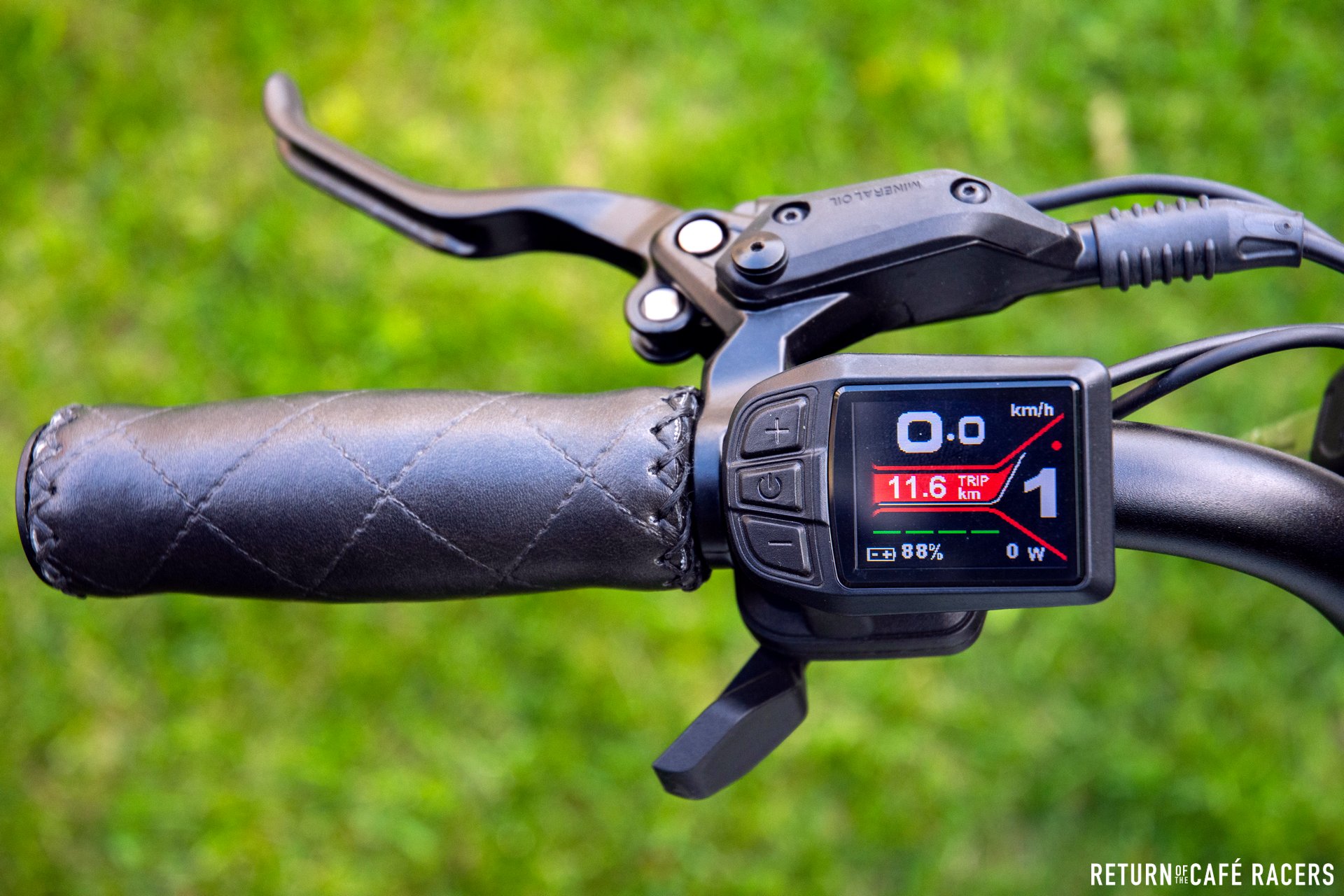 The left handlebars have both the display and the thumb throttle. This configuration is both functional and comfortable; the throttle can be used to provide partial power (many ebikes are all or nothing when it comes to power delivery), and the position of the throttle is easy to access and manipulate.
The display is excellent: clear, easy to read, and styled to match the Michael Blast brand. I like that it shows how much power the engine provides at any given time, as well as the battery readout as a percentage vs. bar. You can adjust some settings in the menu via the input buttons on the left.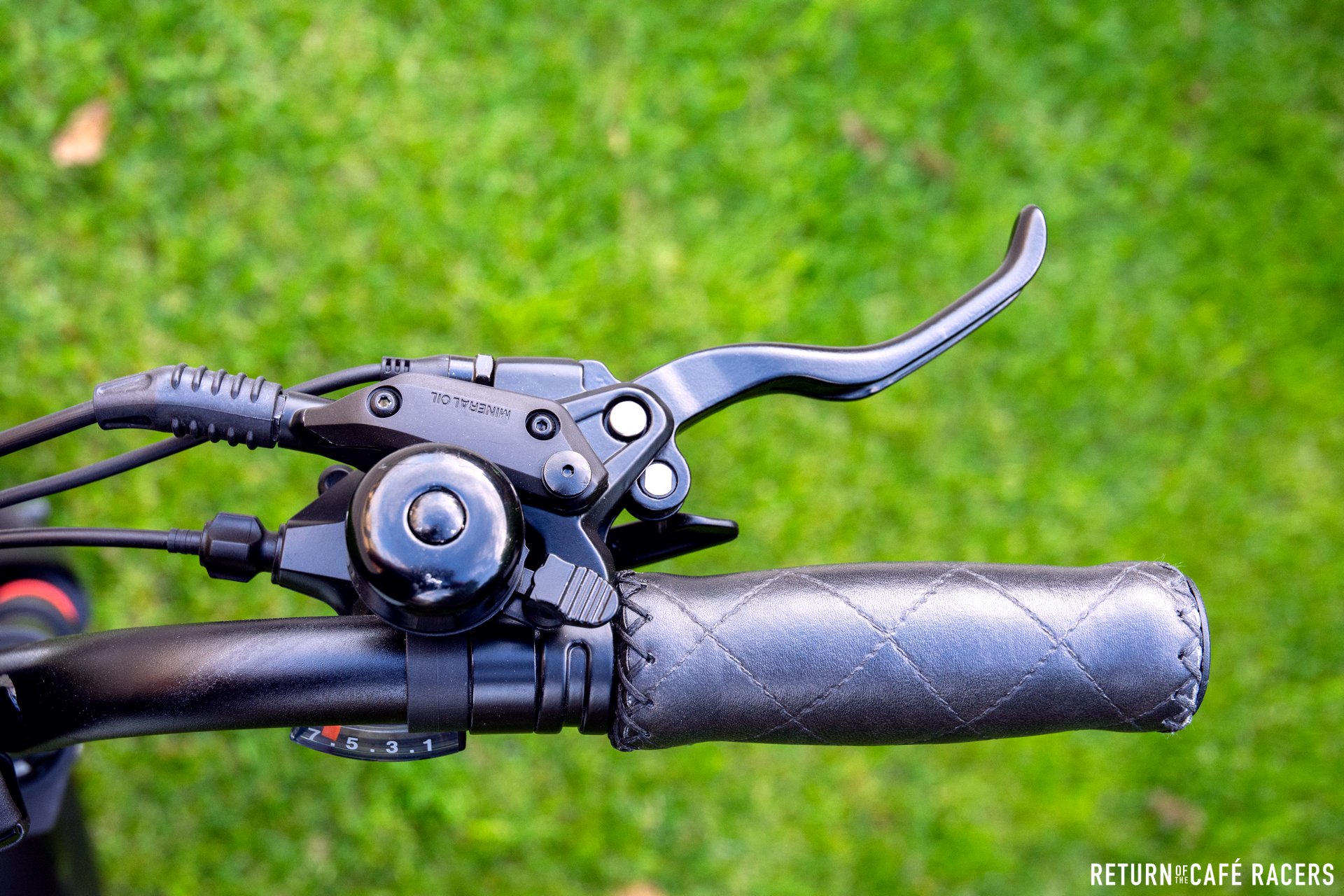 The right bars have the bell, shifter, and rear brake. Again, the layout here is comfortable and easy to manipulate. 
No complaints here.
Brakes
Using hydraulic disc brakes on the Outsider is a real treat, especially compared to other affordable ebikes that use conventional mechanical brakes. The stopping power is quite good and more than sufficient for the totally sane speeds that you will be hitting on this bike.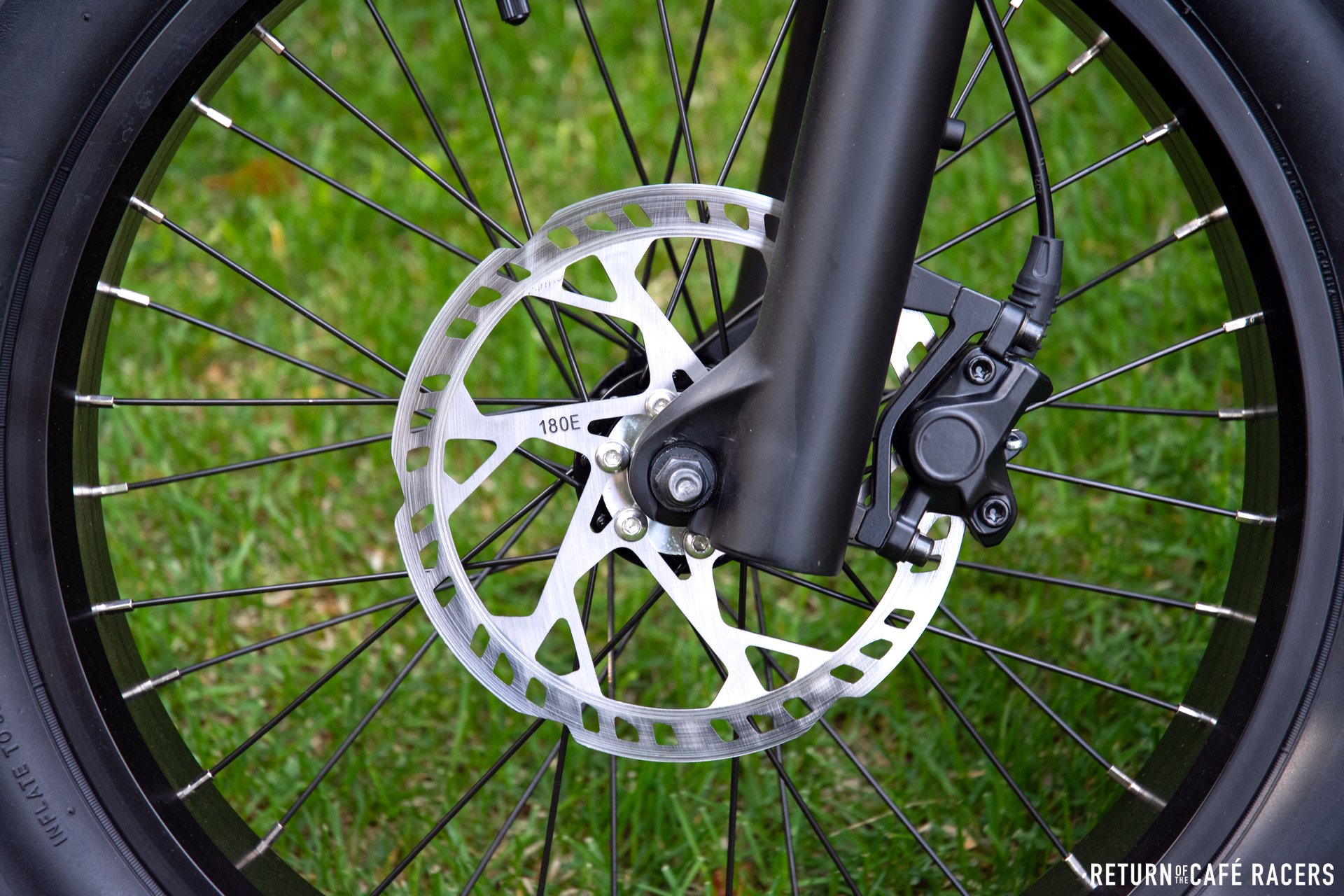 Michael Blast uses 180 mm brake discs and two-piston brake calipers for the front. Braking feels strong and punchy: you can lock up the tires on demand if you wish, and the bike is very capable of bringing you to a rapid stop from 30 kph.
Given that this bike is not meant to ride the trails or scream downhill (it's not an electric mountain bike, after all), the configuration is sufficient for its intended use.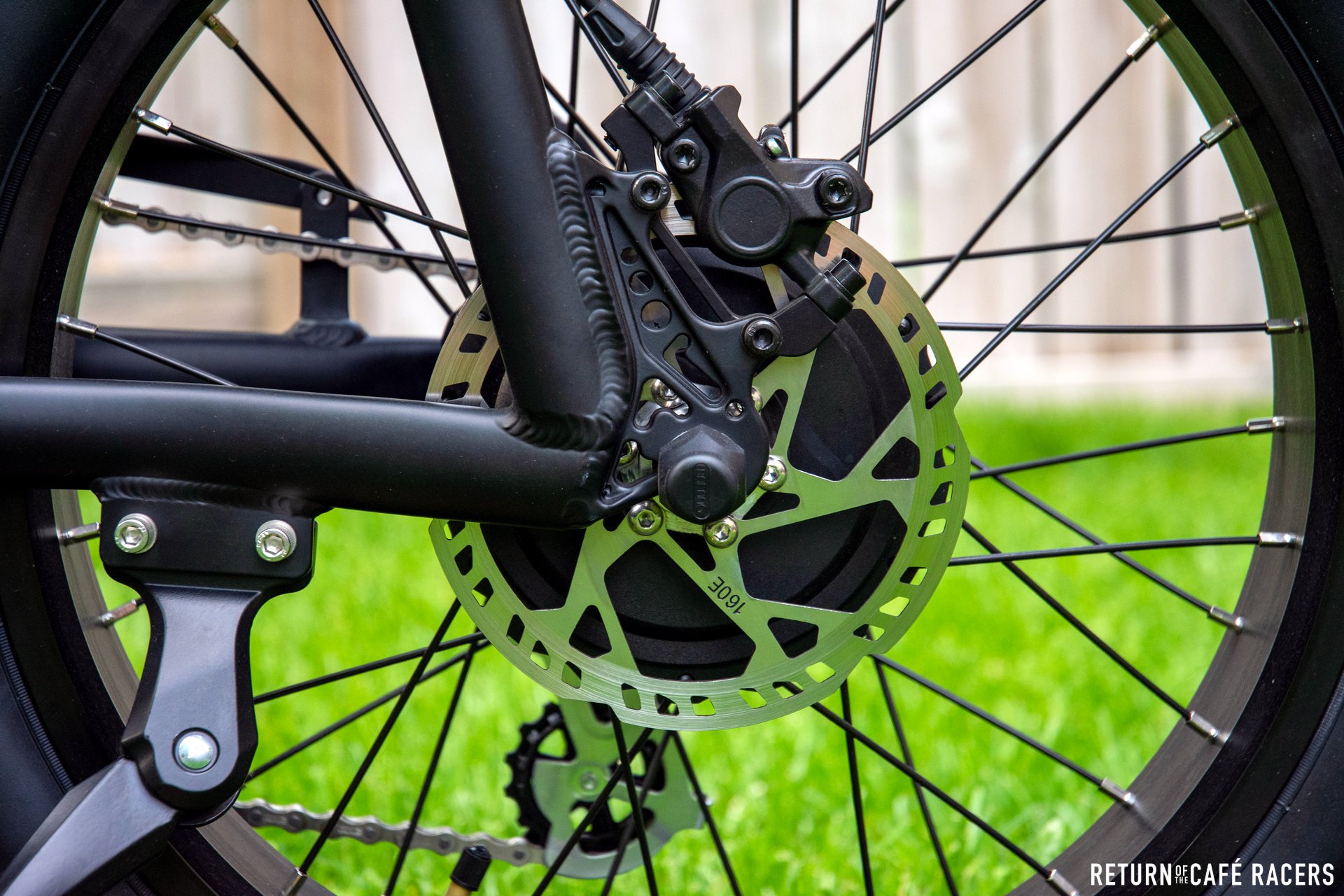 The rear brakes are similar and use two-piston calipers, though they've gone with 160 mm rotors in the rear. I'd have preferred to see 180 mm, but the use case matters here. Assuming you ride the Outsider where it's meant to be ridden (paved pathways/roads, groomed gravel trails, boardwalks, etc.), you won't have any performance issues with the brakes.
Front Suspension Forks
The front forks aren't anything special. They are coil forks with adjustable compression and lockout functions with 60 mm of travel. These are not high-end specifications, but you also don't need high-end forks for where the Outsider is meant to be ridden.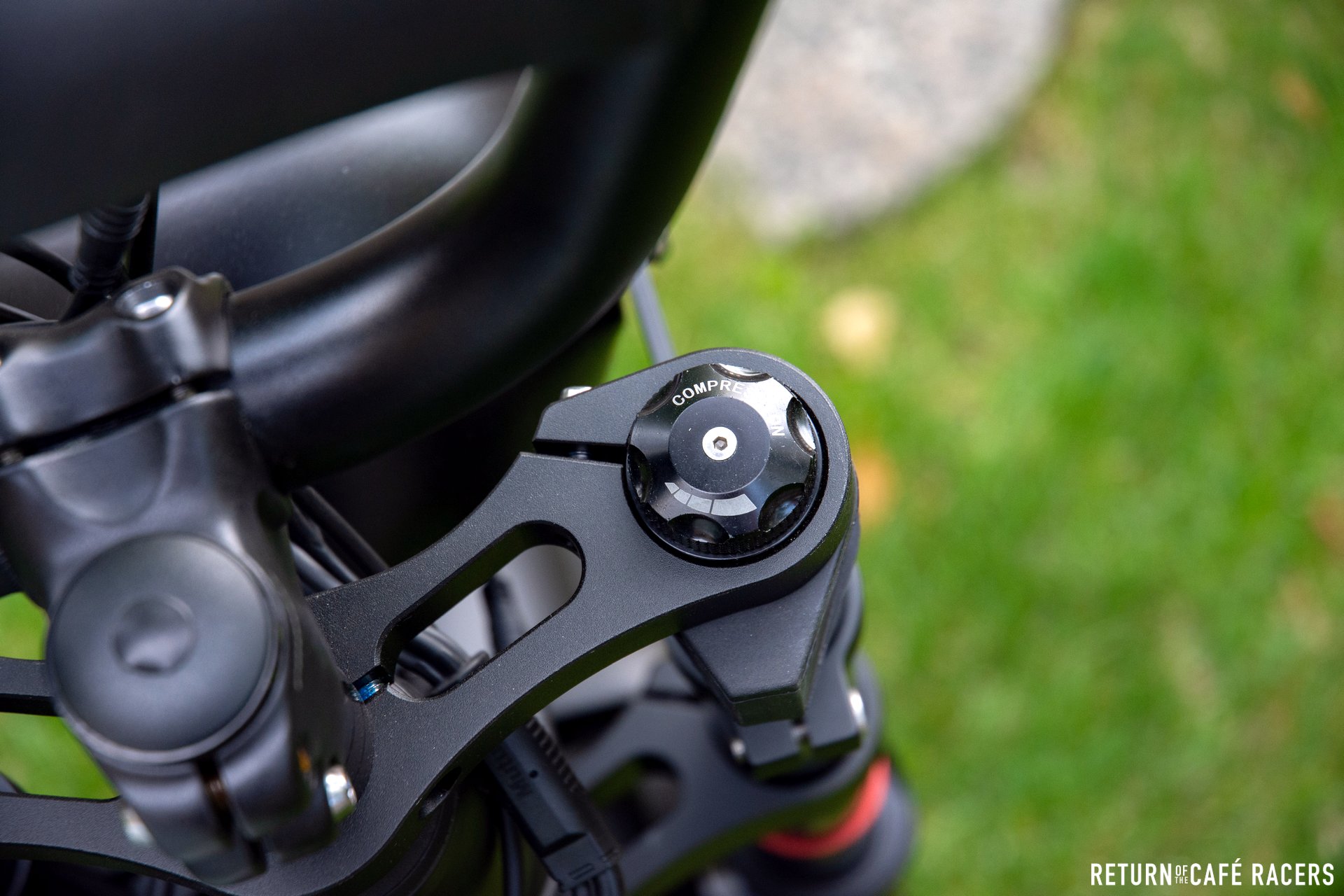 I've put roughly 70 km on the bike since I took it on loan and have found the ride quite comfortable. Of course, while we'd all love to see high-end forks on all the bikes we ride, the fact is that we don't want to pay for said high-end forks, especially on bikes like this where the benefit for the intended use case is marginal at best. 
These forks are good enough as long as you aren't hooning this bike off-road or riding like a maniac on singletracks.
Paint & Graphics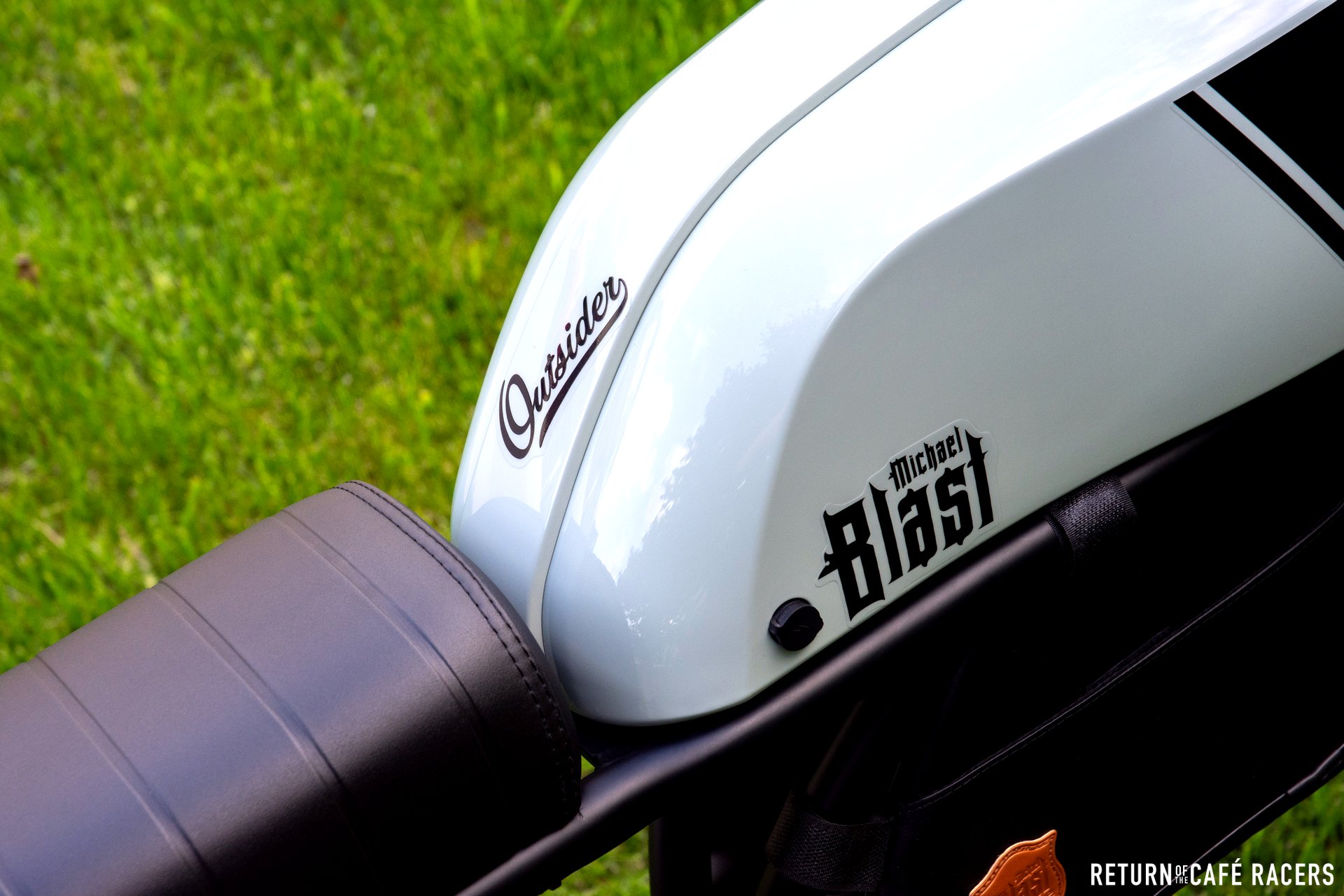 You can get The Outsider in multiple colorways. Options beyond the black/grey I'm rocking here: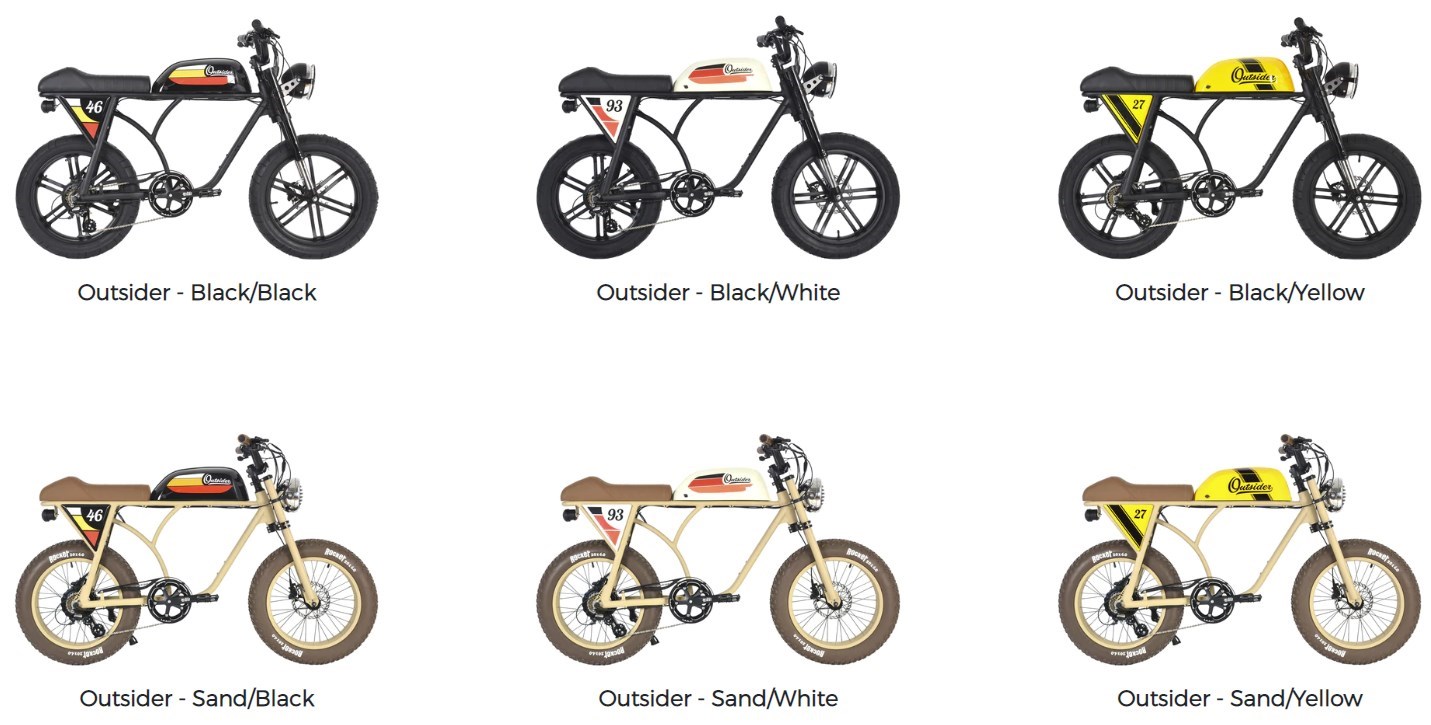 My preference is the black and grey colorway, but there's something for everyone here.
Notably, the graphics are applied decals and not paintwork. This could be a positive or negative thing, depending on your view. These decals are easy enough to remove and replace should you want to, but when you're up close, you can tell that they are decals and not painted on. That's about the only downside.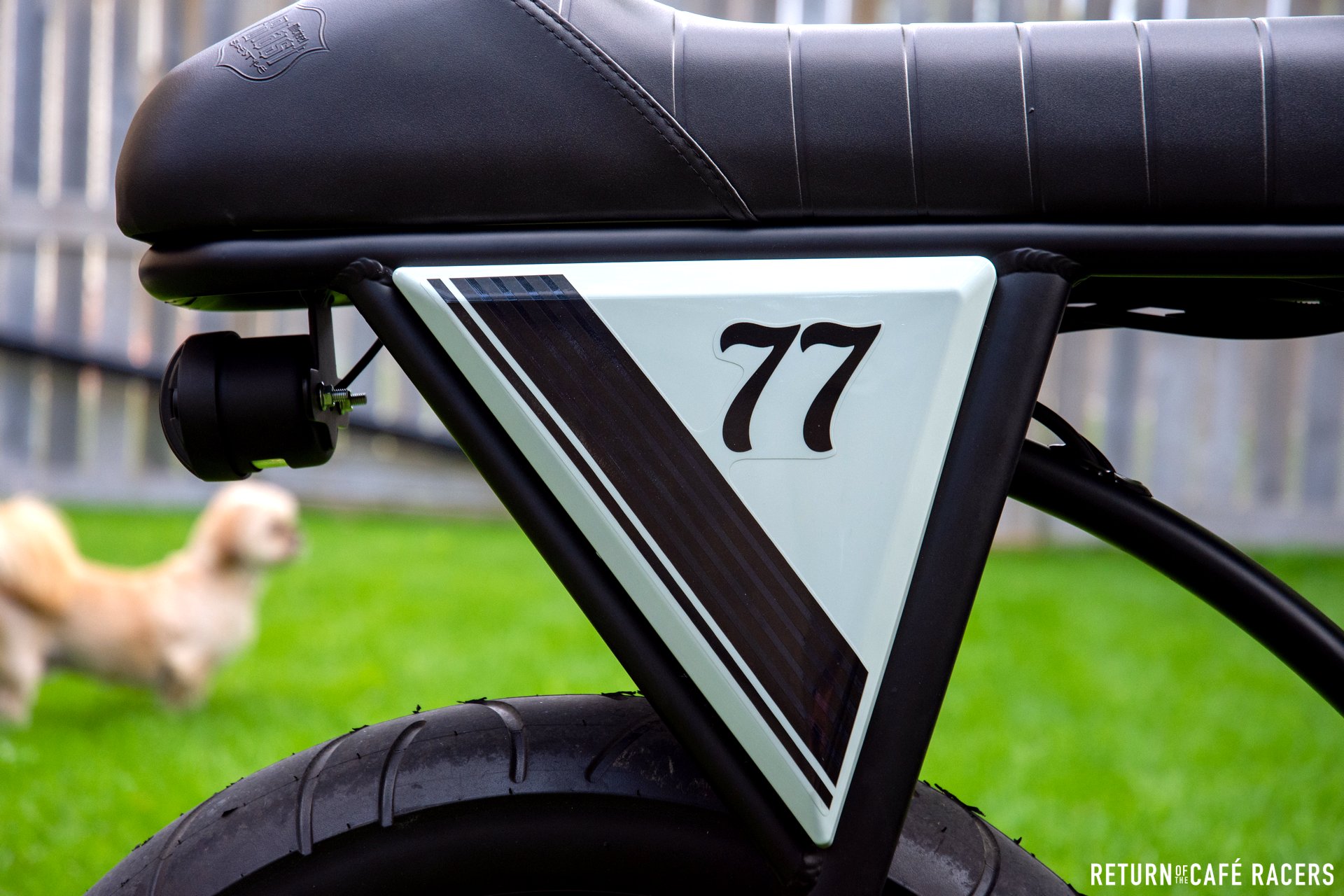 Decals vs. paintwork aside, I like the look the graphics bring to the bike. It's very vintage-esque and perfectly suits the Outsider's theme. I'm not sure where they came up with the number 77 for this bike (or 27, 93, etc. for others), but I'm happy to rock #77 while I scoot around.
Conclusion: If You Want a Cafe Racer eBike That Lends You Its Personality, You've Found It in The Outsider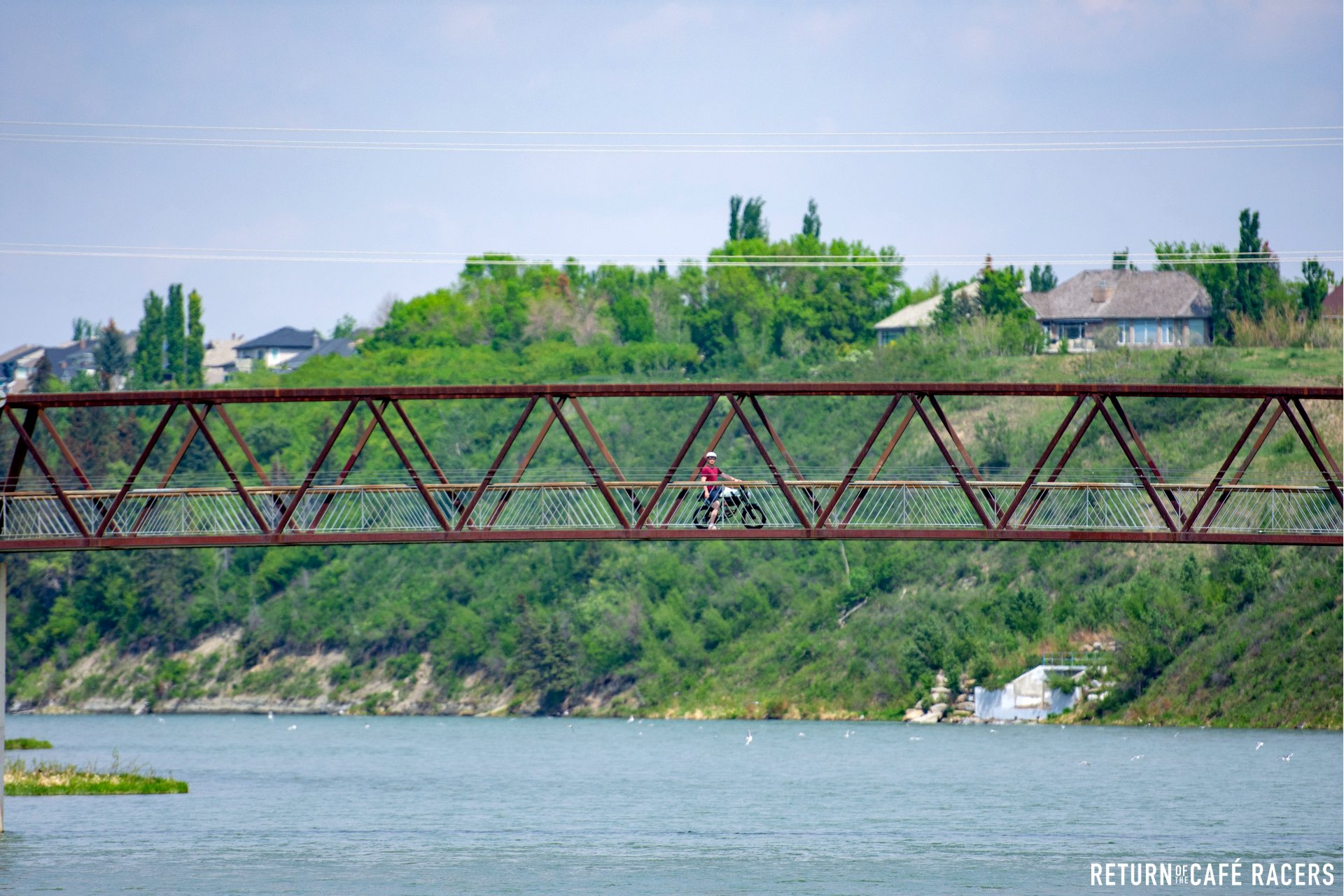 Very few things today come with a heavy dose of the wow factor. The Outsider 4.0 is one of the things that brings that in spades. People love it, it turns heads, and it's enjoyable to ride. In that respect, the Outsider doesn't ask its owner to make many concessions or compromises. Buy it, build it, and enjoy the ride.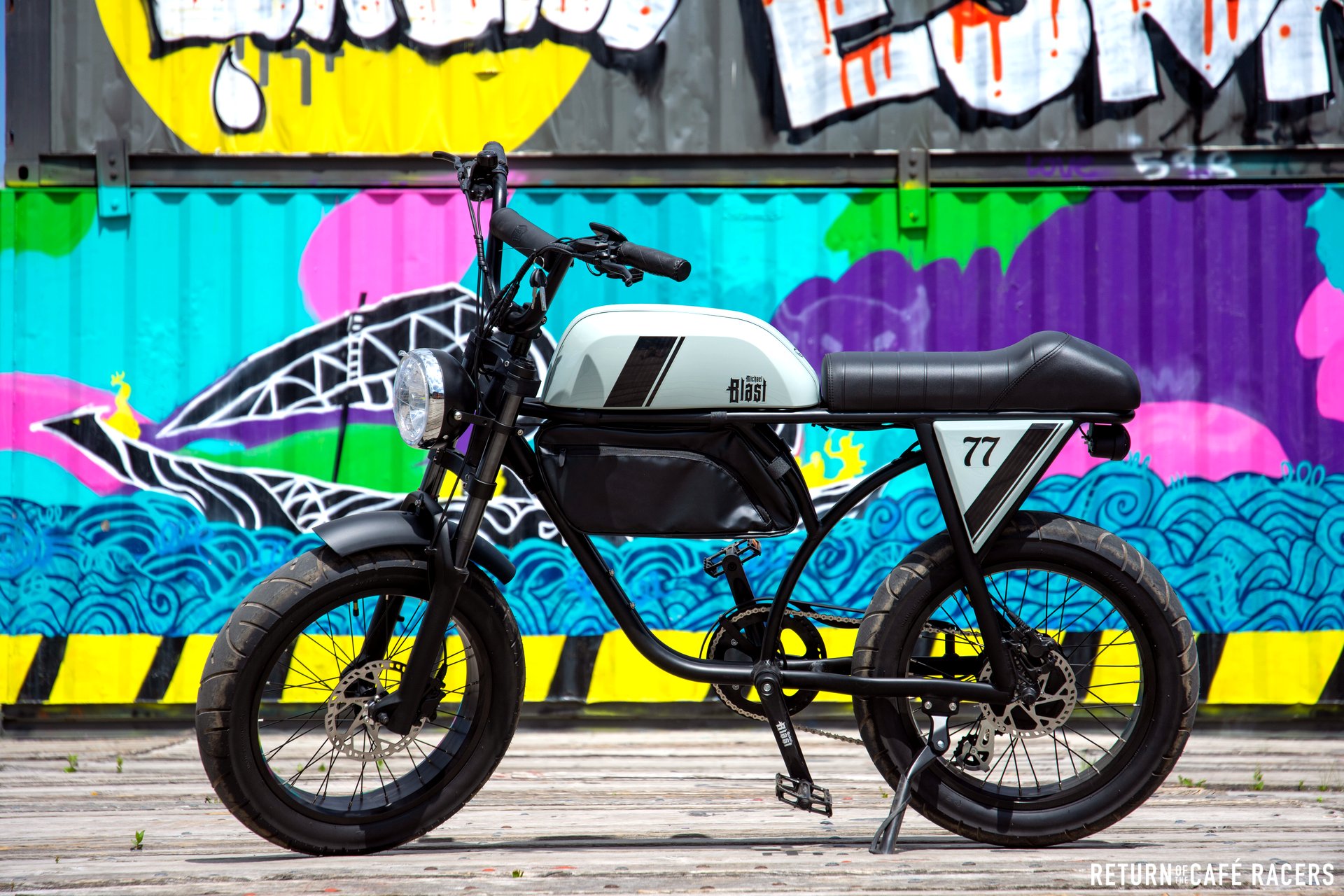 The Outsider is most at home in the urban jungle, talking you up as you pound the pavement and pedal your way from venue to venue. It can accelerate you along on throttle alone, though any moderate-sized hill or larger will require some pedal power to complete the climb.
Many would nod if you rolled up to your local brewery, cafe, or lounge with this bike, and getting there would be fun, too.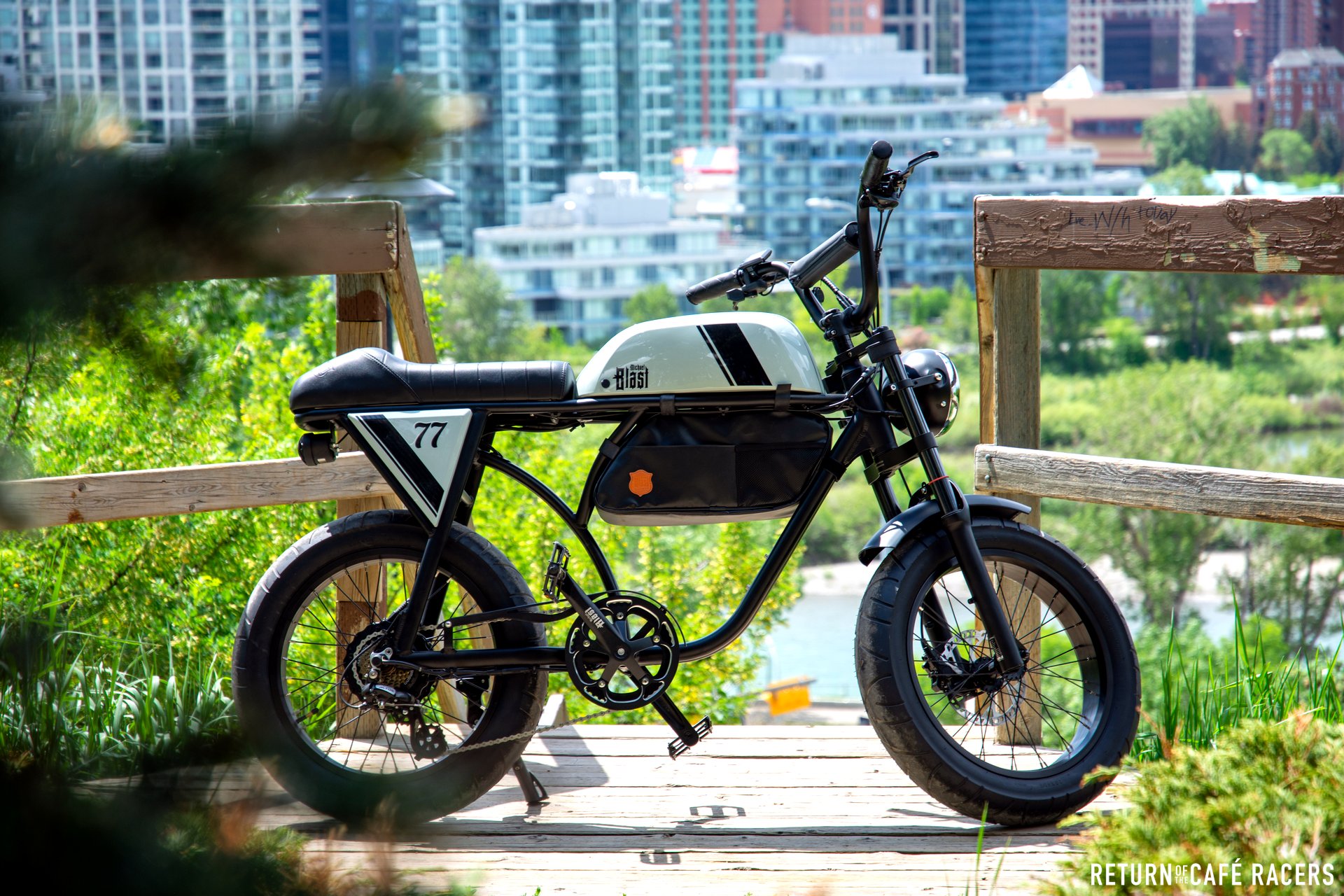 There isn't much else to say. I had a blast on this thing.
The Outsider is as much fun to photograph and talk about as it is to ride. It looks awesome and will act as a conversation piece for anyone in your life who appreciates things made to look cool and be fun. The part of me that thinks Barry Weiss has great style also thinks that Barry would like this bike. And could you blame him?
Review Conclusion
The Michael Blast Outsider 4.0 is a charming electric bike that earns fans wherever it rides. It sparks the same type of excitement and passion that cafe racers bring to motorcycles. That it's a treat to ride just happens to be a bonus.
Pros
Gorgeous good looks
Comfortable seat
Color LCD display
Pedal assist feels good
Cons
Awkward to pedal if you're on the taller side
Larger turning radius than a typical bike