You meet the nicest people building motorcycles. A few years back Luke Ray of Fuel Magazine and I took a trip to Bandung in Indonesia. After attending the Kustomfest show in Jogjakarta it became apparent that the West Javanese city was a hive of custom culture and home to many talented builders and workshops. So, after doing a bit of research, I put together a shortlist of potential motorcycle workshops to visit and started reaching out to them online.
I'd seen the work of White Collar Bikes at the Kustomfest show. Their motorcycles were some of the most impressive on display adorned in CNC milled parts, carbon fibre components, and hand-formed aluminium bodywork. Knowing they were based in Bandung I reached out to them first and to my surprise received a timely reply. What I didn't realize at the time was that White Collar Bike wasn't a workshop employing a large team of workers, which from the quality and complexity of their builds seemed to be the case. It was, in fact, the work of one man named Ram Ram and his workshop was at his home where he employed just a couple of staff to help build his meticulous custom motorcycles. Regardless of this Ram Ram welcomed us with open arms and we set a date to pay his home workshop a visit.
Weeks later when we arrived at Ram's home we learned that White Collar Bikes was Ram's side project and it had been gaining him much more attention than he'd anticipated. Ram works as a product designer and building custom motorcycles had always been a hobby. Now just a few short years later White Collar Bikes had become one of the country's most internationally recognized custom workshops.
Earlier this year in the lead up to Kustomfest 2017 I contacted Ram to see if he was going to be attending the show. Sadly he couldn't make it along, but he did have some surprising news, one of his latest builds, a custom Benelli BN 600R was going to be at the show.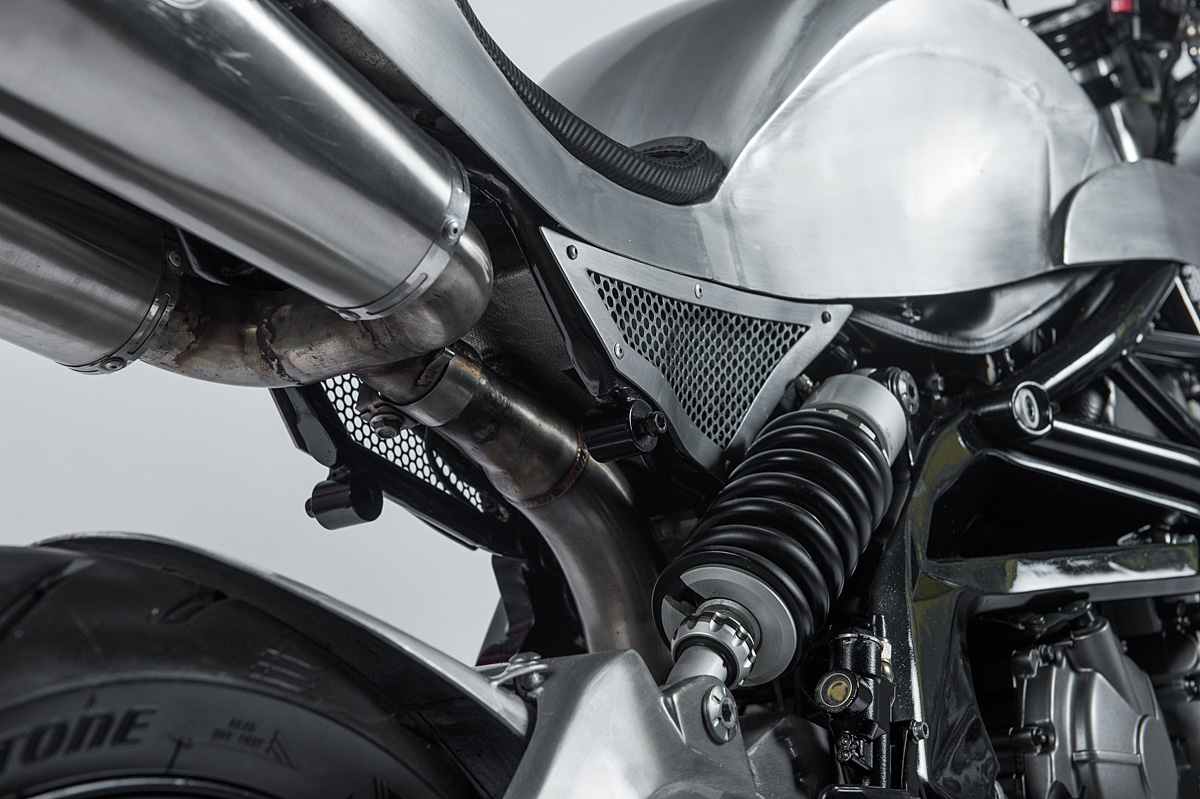 The 2017 Kustomfest show was, as always, amazing. The event and quality of the custom motorcycles it showcases get better every year and 2017 was no exception. As a special guest, I had the privilege of judging the best cafe racer category and it was no easy feat. Thanks to events like Kustomfest Indonesian workshops have been striving to improve their capabilities and it was evident in the quality of this year's contestants. There were some incredible builds featuring everything from handmade frames and bodywork to custom engine builds, but it was White Collar Bikes Benelli that really struck a chord with me.
As far as fit and finish go the bodywork on the Benelli was so well made it looked as though it could have just rolled out of a factory. Despite the fact that the bike's frame and engine were relatively untouched Ram's monocoque design was 100% original and in the end, I had to award it with my first prize* selection in the café racer category. After the show, I spoke with Ram about his approach when building this bike.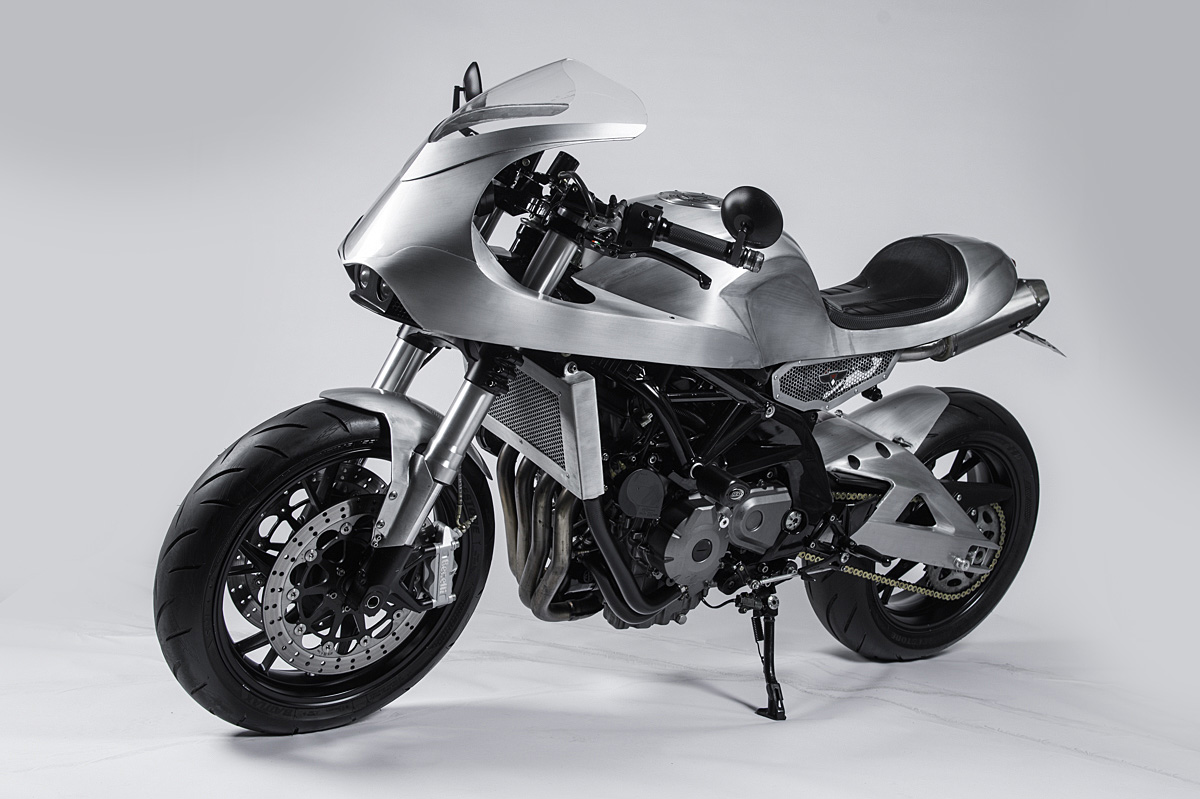 As it turns out the Benelli made up one half of a two-bike build that was developed by White Collar Bikes. After a friend told him that he wanted a project that would help him bond with his son Ram offered to help. An idea had been kicking around in his head for some time and the father-son project was the perfect opportunity to put it into effect. "The concept was old school and new school. Old for the father and new for the boy," says Ram. "Together we choose a 1985 GSX750 for the father and the 2014 Benelli 600 for the boy."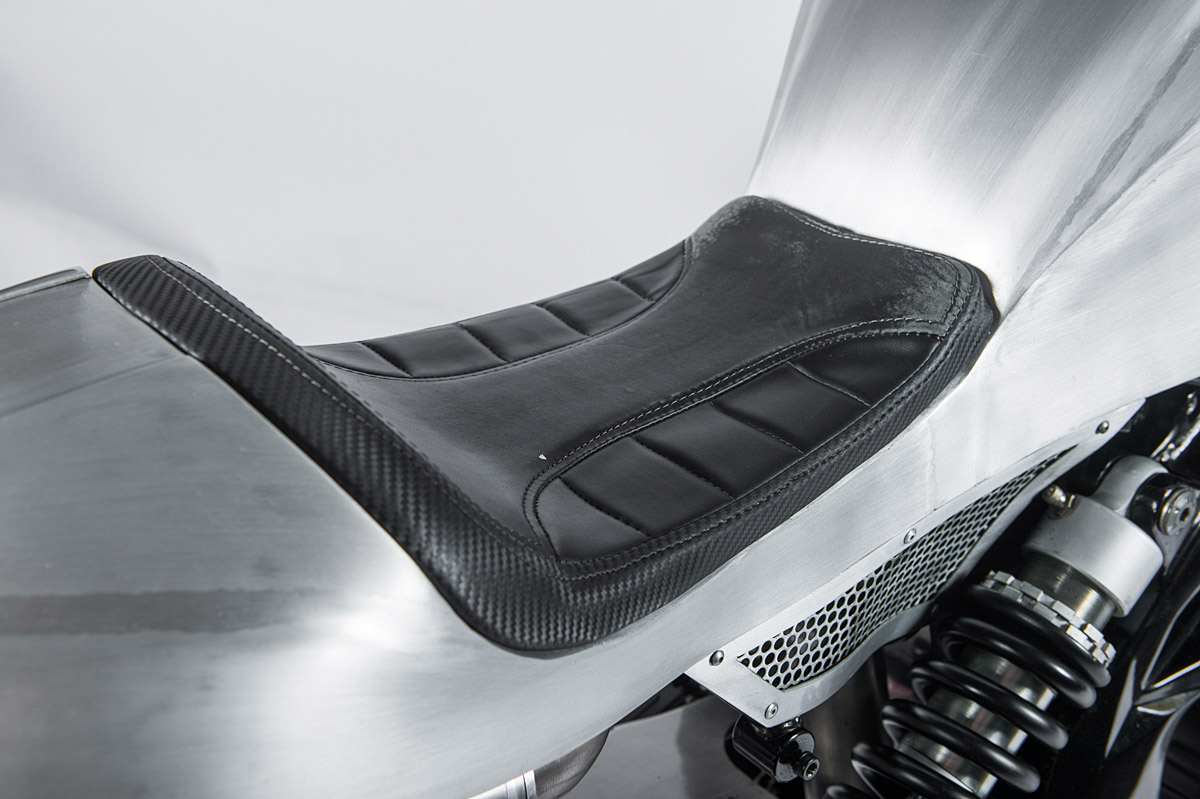 Once the donors had been sourced the Benelli build took around 3 months to complete after an initial 1 month of clay modelling and concept development. The Benelli's wheels, suspension, and engine were left untouched, but the factory bodywork was completely removed to make way for their new components. Once the clay model was complete the arduous task of recreating it in aluminium began. Flat sheets of aluminium were hammered, rolled, trimmed and welded to form the monocoque body and its snug-fitting front cowl.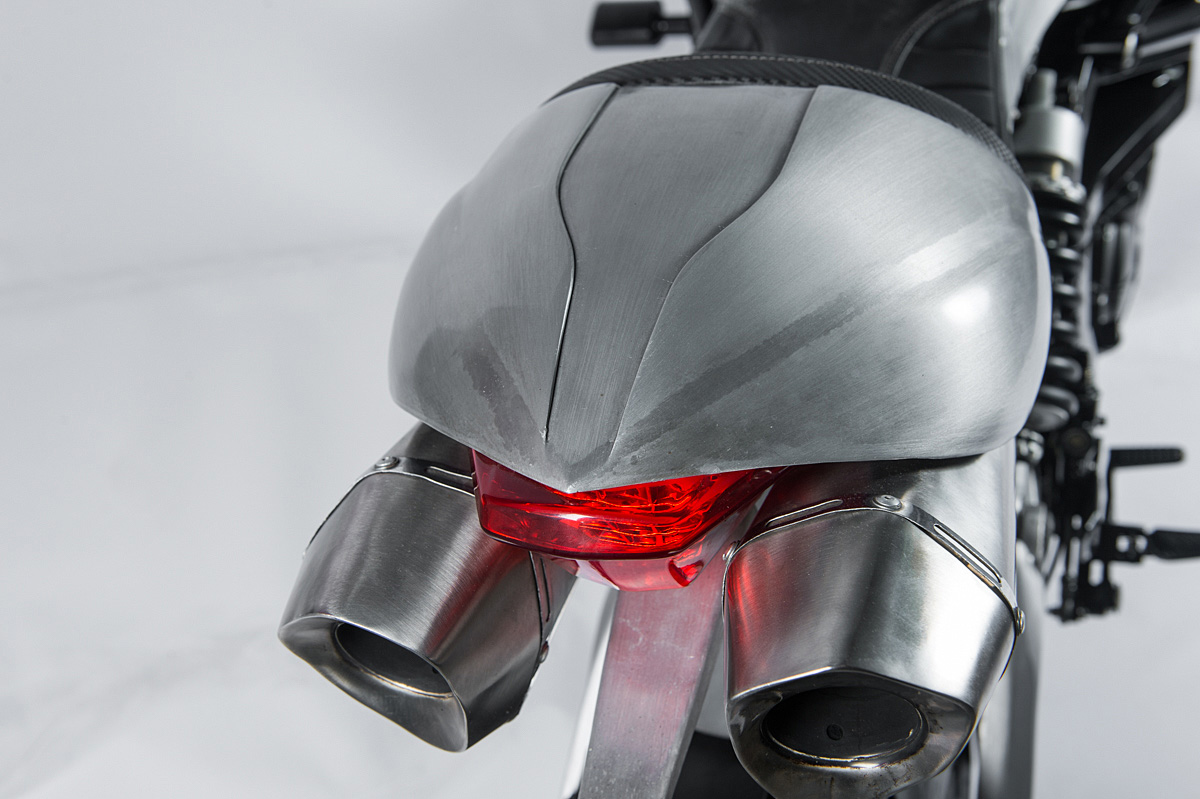 With the Benelli's handmade alloy bodywork being the focus of the build Ram chose to give it a brushed raw finish rather than concealing it beneath paint. To match the finish of the new bodywork the Benelli's swingarm was stripped of its paint and also brushed smooth. Beneath the tail are a pair of stainless steel WCB mufflers proudly wearing WCB winged shield emblems and the factory mono-shock had its spring finished in black. Finally, the only performance modification made to the bike, a set of Brembo brakes, were also been stripped back to bare metal to complete the bike's silver and black theme.
"This is by far the sportiest café racer I've ever built," admits Ram, but we're sure it won't be long before his Benelli is surpassed by yet another outstanding White Collar Bike build.