When I first met Ram Ram Januar at his home in Bandung, Indonesia he told me that he started his custom workshop, White Collar Bike, after making a bet with his wife. The pair challenged one another to launch a new business and see whose brand could gain the most international attention and success. His wife worked in textiles and started a fashion label, Ram, a product designer, started a custom motorcycle workshop. Unfortunately, I don't know who ended up winning that bet, but I do know that Ram turned what was essentially a hobby into an incredibly proficient and wildly creative workshop.
White Collar Bike only builds only a handful of bikes each year. Some are design exercises that use custom bodywork to transform the appearance of a standard motorcycle. Some feature one-off CNC machined components and retrofit performance parts. But every once in a while he takes things to the next level. This bike is an example of exactly that.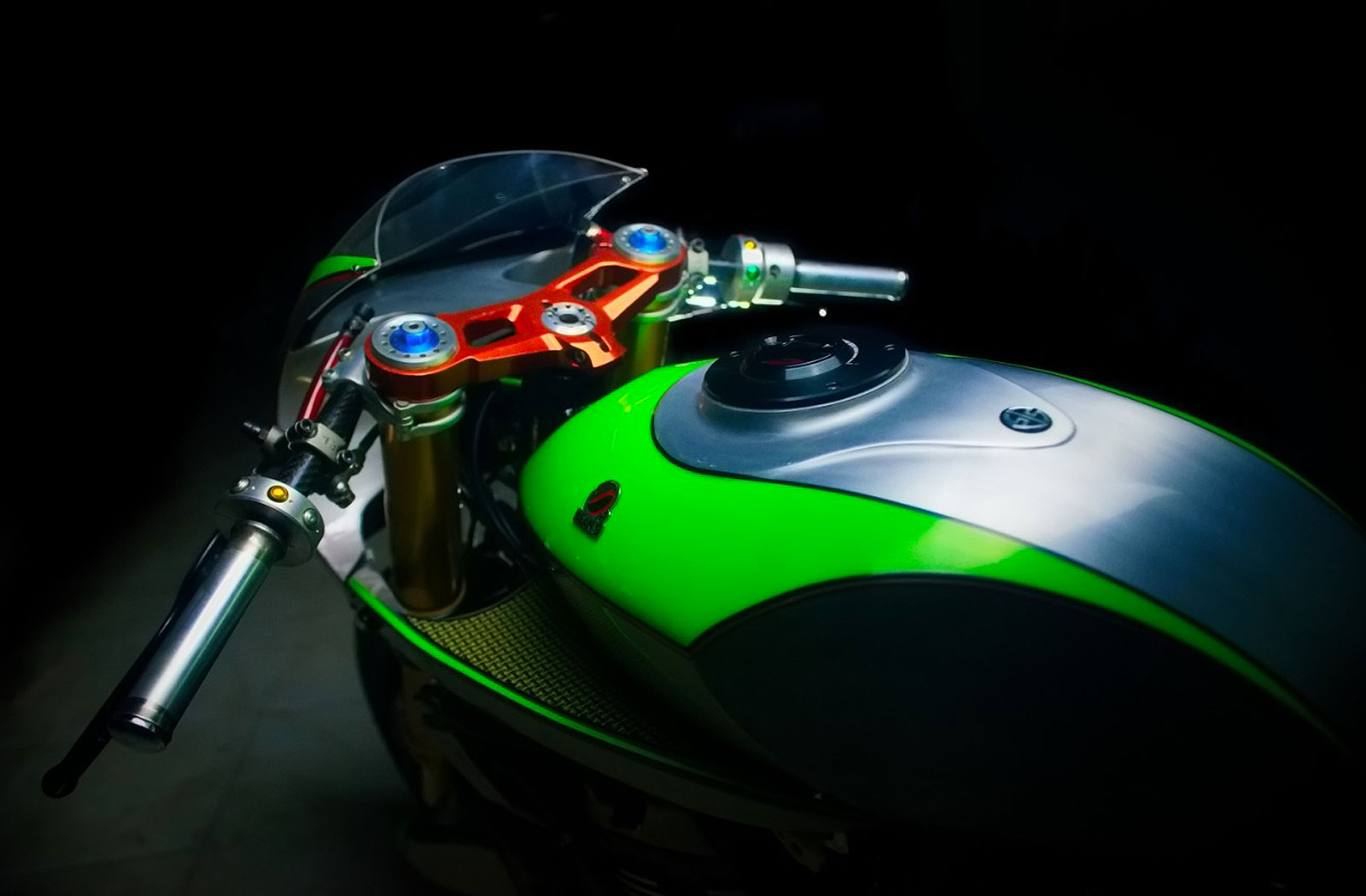 The bike, which Ram has deemed and badged as"Bean's" (after the owner's coffee shop), is a ground-up build that started with nothing more than an engine.
"I believe the engine was sourced from Craig's List or eBay," says Ram. "It came from a wrecked 2018 Kawasaki Vulcan 650. It was the perfect donor because it's a small engine and very light. It's the perfect size for a small cafe racer and for an Indonesian rider. We are not tall guys!"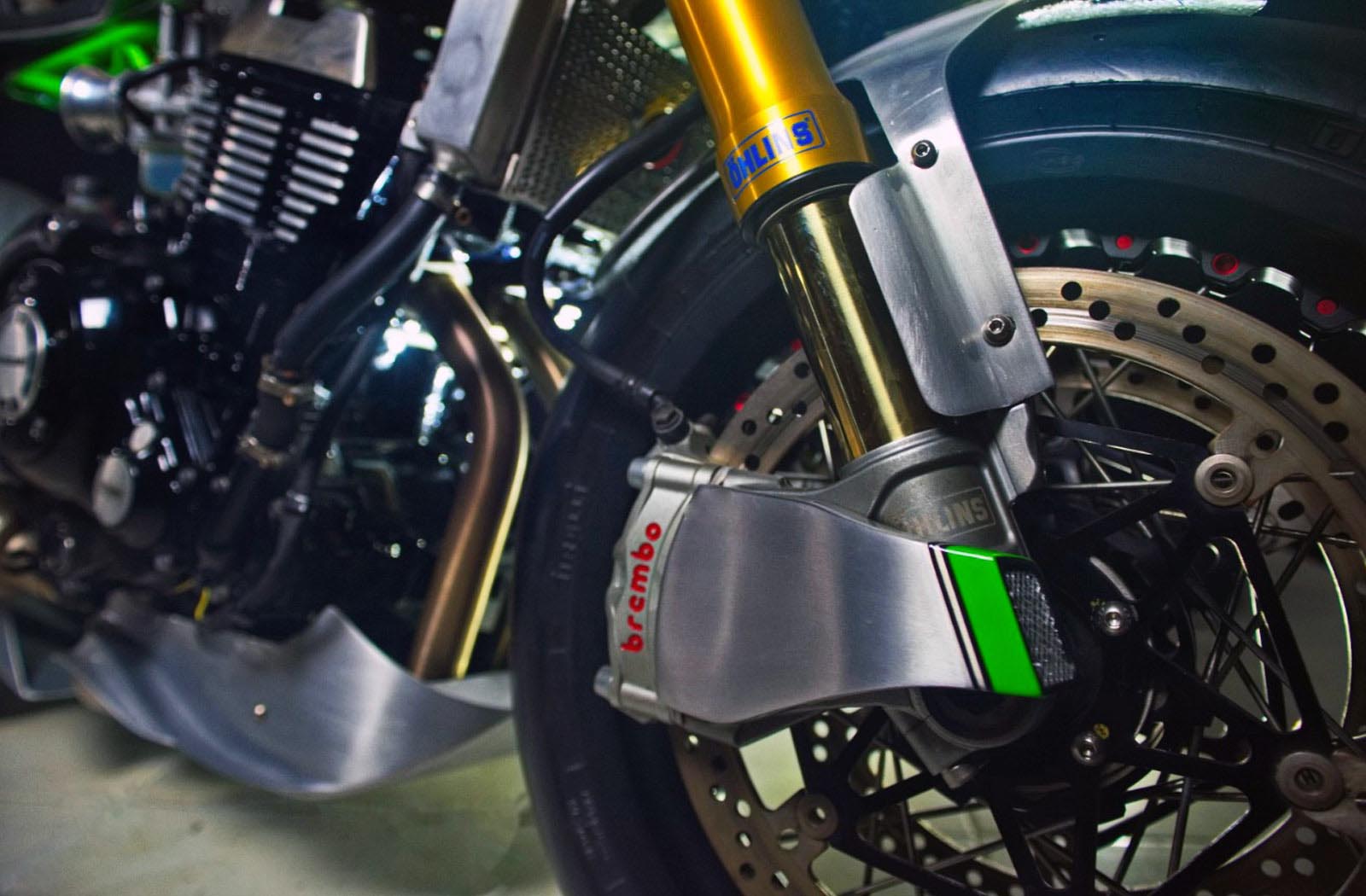 In standard guise, the Vulcan 650 is a Harley-esque cruiser. However, rather than running a Harley style v-twin setup, the Vulcan's 649cc powerplant is arranged in a parallel configuration. Although, as Ram explained, the engine choice came down purely to size, the orientation of this engine also made it more conducive to the style of bike Ram set out to build.
Ram's design process begins with preliminary sketches. With this bike, because there wasn't a chassis to work on, he also made clay and 3D models to get the proportions right. His goal was to create a totally unique White Collar sports bike shod is his workshop's trademark aluminium bodywork and dripping with high-end performance parts.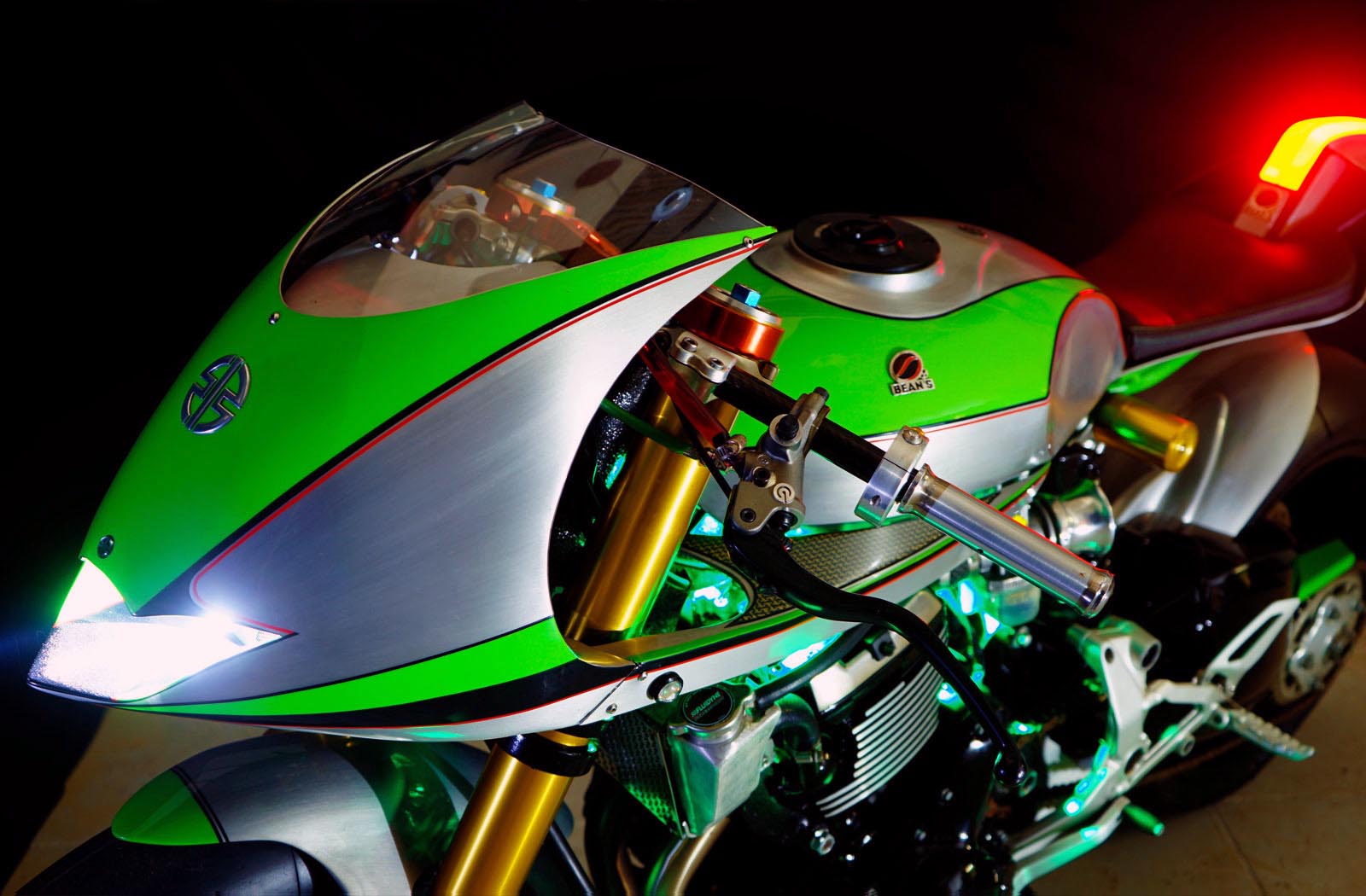 Luckily finding the right parts was a fairly straightforward process. A close friend of Ram's, who has a warehouse full of components, supplied many of the parts used to piece the Bean's bike together.
Starting with the front end suspension, it's an Öhlins set-up that was salvaged from a Ducati Panigale. In the rear is an 848 single-sided swingarm supported by an Ohlins monoshock. As for stopping power, that comes via a comprehensive Brembo system that was again sourced from a Ducati. Bean's also rolls on a set of aftermarket wheels by Kineo but beyond those parts, most everything else has been built by While Collar Bike from scratch.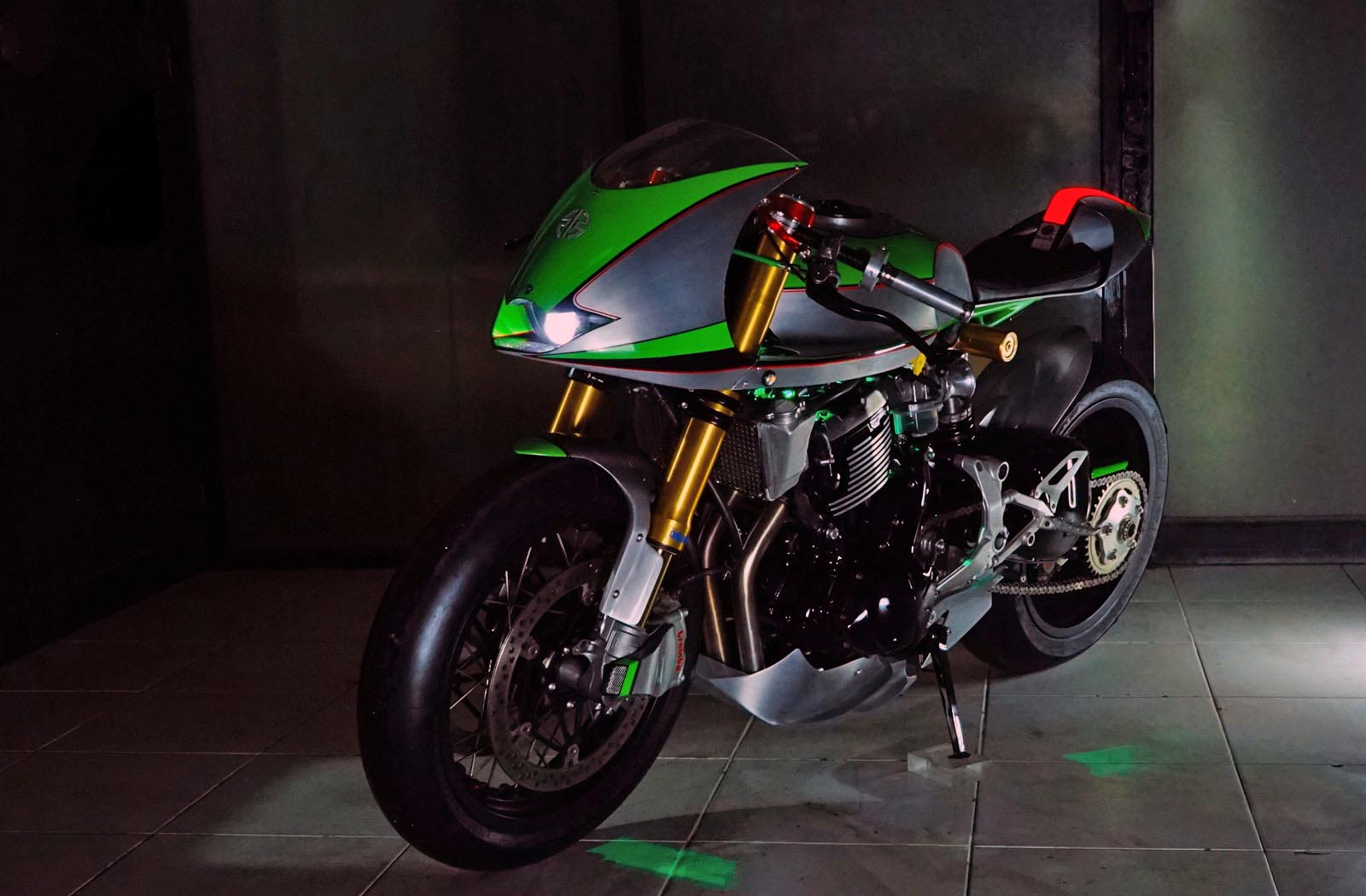 To bring the suspension and engine together Ram designed a one-off chassis. With the engine acting as a stressed member the main chassis is made from 8mm steel plate. Ram cut the individual pieces using a plasma cutter before welding them together to form a single rigid structure. To support the tail he then built a separate subframe that utilises a trellis design.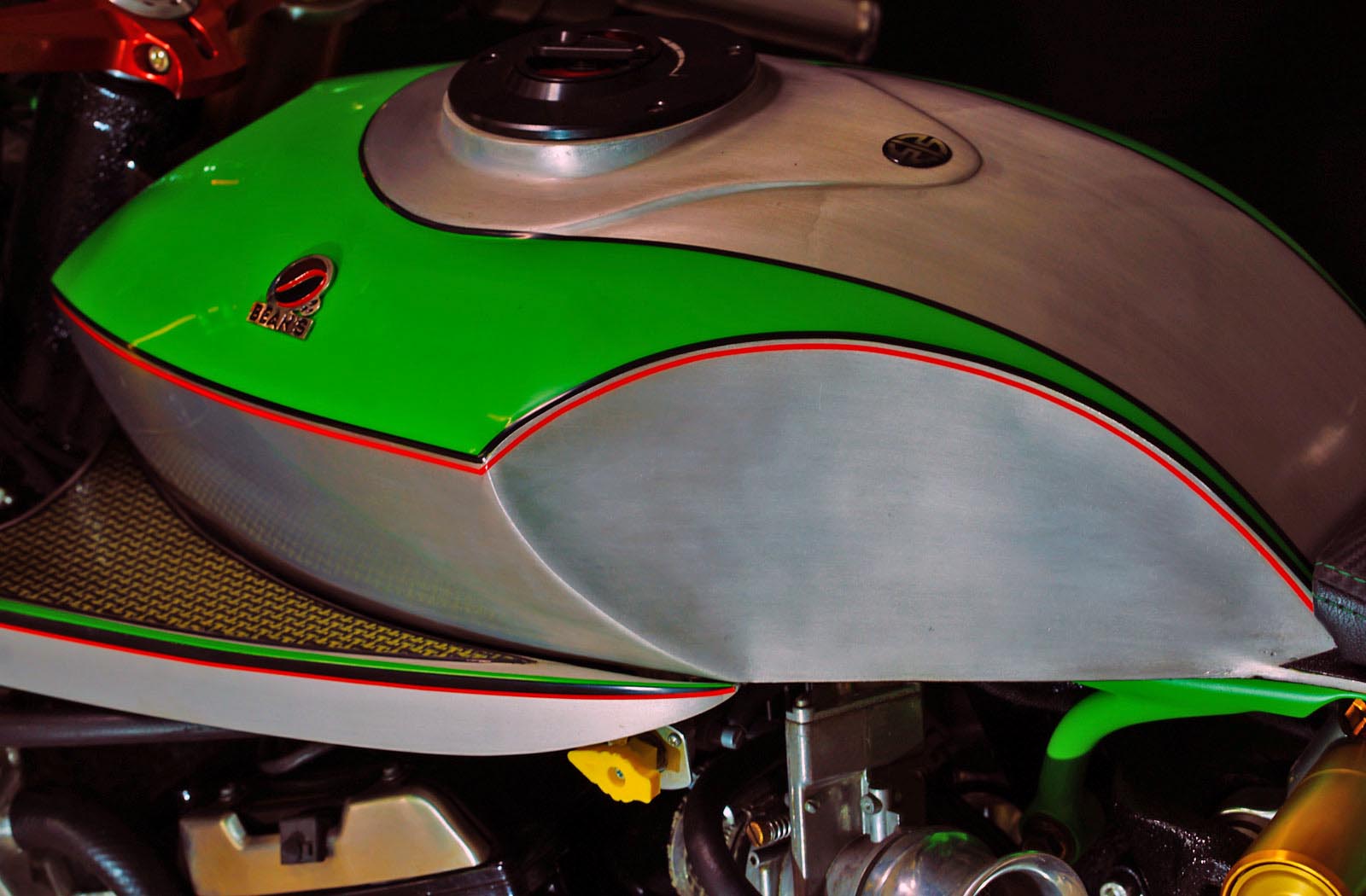 The bodywork of this unique bike is completely bespoke. Ram says the idea to build a bike with this look has been forming in his head since 2017. The design wasn't influenced by anything other than his own imagination although he does confess the paintwork has an air of Kawasaki ZX-10RR about it.
"I'm using 3mm aluminium sheet which is rolled on an English Wheel and beat the hell out of it using wooden and rubber hammers," jokes Ram. The aggressive angular lines and level bone line give 'Bean's' the look of a modern race bike. To back up this look Ram wanted the bike to perform. One way to achieve that with a small engine was to keep the weight down, which is where aluminium excels. Ram has also used a spattering of custom made carbon fibre inserts to tighten up the fit and finish.
The lighting is another unique aspect of this project. Recessed into the front fairing is an LED headlight and the turn signals are flush mounted to the bodywork. It's the taillight that's a real stand out though. Running down the centre of the tail unit are two 30mm pieces of solid acrylic. These have been shaped by hand to form an integral part of the unit and are lit up by an array of LEDs hidden beneath.
Due to the bike's small proportions managing the rest of the electrics proved challenging. Available real estate for components was hard to find so Ram had to be creative. One such challenge was where to locate the battery which has ended up inside the front fairing. A Motogadget M.unit Blue powers the motorcycle and is also hidden from sight with the remaining electrical components beneath the carbon fibre panels on the sides of the fairing.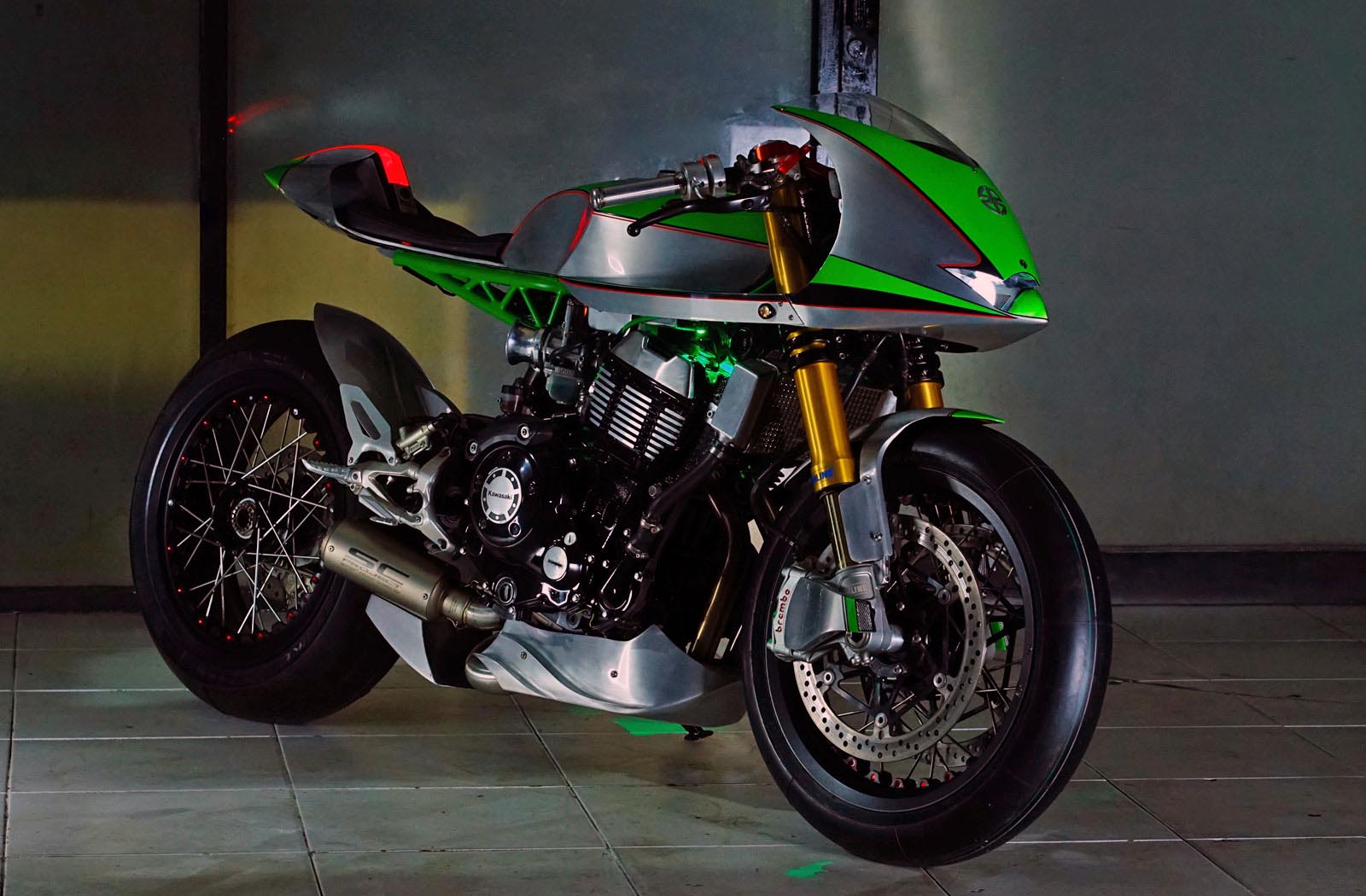 The space challenges didn't end with the wiring. Ram also had to design his own cooling system for the Vulcan powerplant. For this, he put together a custom aluminium radiator that is tucked in between the fork legs and engine, but housing its coolant required some more creative thinking.
Located beneath the engine and just in front of the rear wheel is an airscoop. Close inspection reveals a couple of hoses that run into the structure. Within that compartment is the coolant reservoir. Filling the reservoir is done via a cap on the left of the tank and it holds precisely enough fluid to perform its task correctly.
Although the engine used in this project may not be the most spirited motor around, Ram hasn't overlooked its performance. The 649cc motor used in the Vulcan produces 60hp. The same engine was originally found in the Kawasaki ER-6N where it was outputting a much more respectable 71hp. So Ram knew more power was available, it was just a matter of unlocking it.
To do this he took on the arduous task of converting the engine from an injection setup to carburettors. After dispensing with the Efi system and all of its associated electronic gadgetry, he and his team retrofit a pair of flat slide racing carburettors to the engine using custom intakes. With more air and fuel entering the equation the power figure was headed in the right direction but to complete the mods the engine had to exhale freely too.  The 2 headers of the resulting stainless steel system converge under the engine. They then coil around inside the belly pan to achieve the desired length before exiting on the right through a single SC-Project muffler.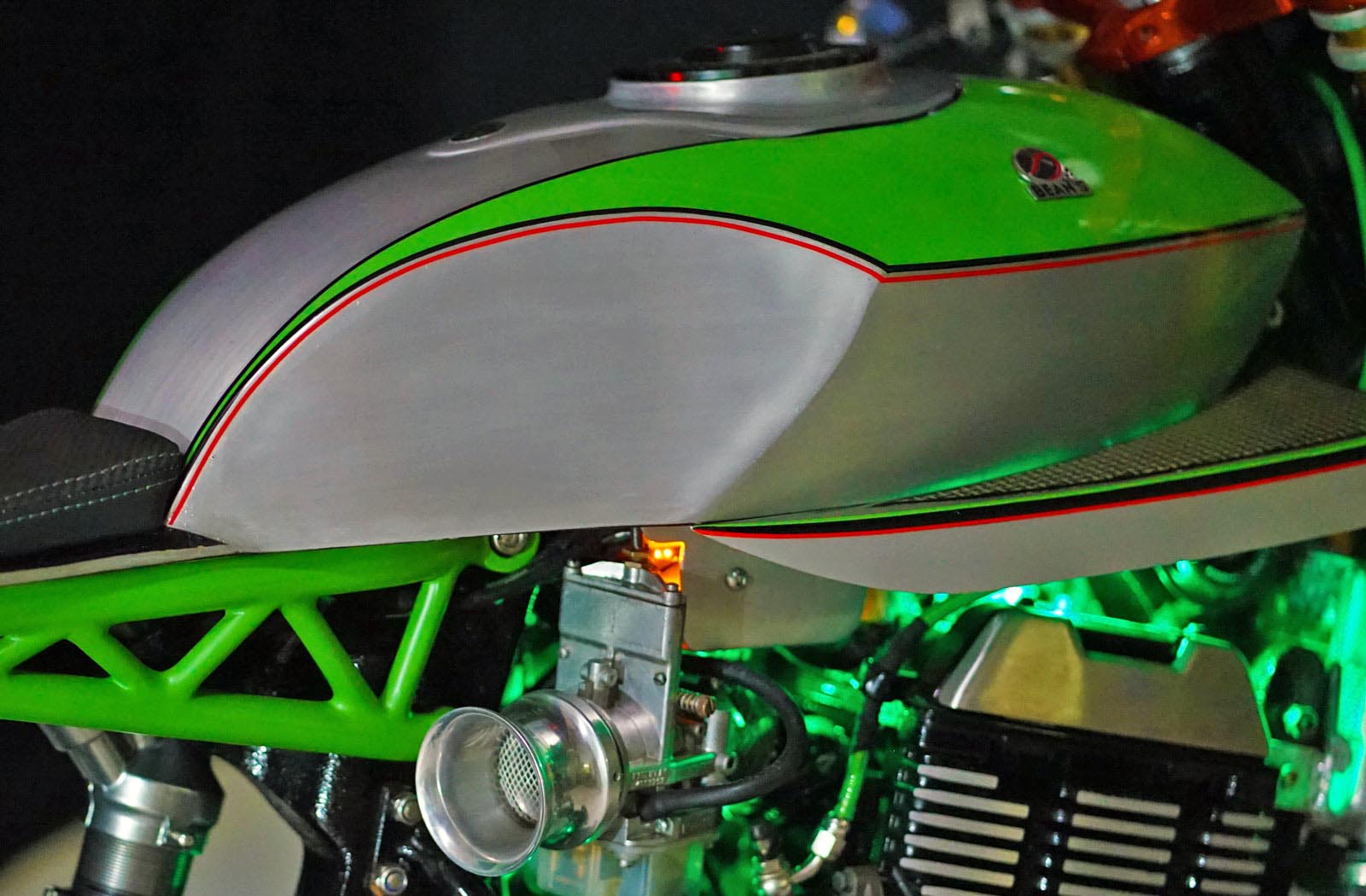 Not surprisingly this extensive build didn't come together overnight. Ram says the engine was first purchased 5 years ago and the build has been going for at least 3. Obviously, we were all in the throes of a global pandemic during that time too which definitely didn't make things any easier.
The Bean's bike is yet another example of why White Collar Bikes is one of my favourite workshops from the Emerald of the Equator. Now that the bike is finished it'll be making its way to the USA where its owner is sure to put it on display at his cafe. I can't think of a better reason to go grab a coffee.