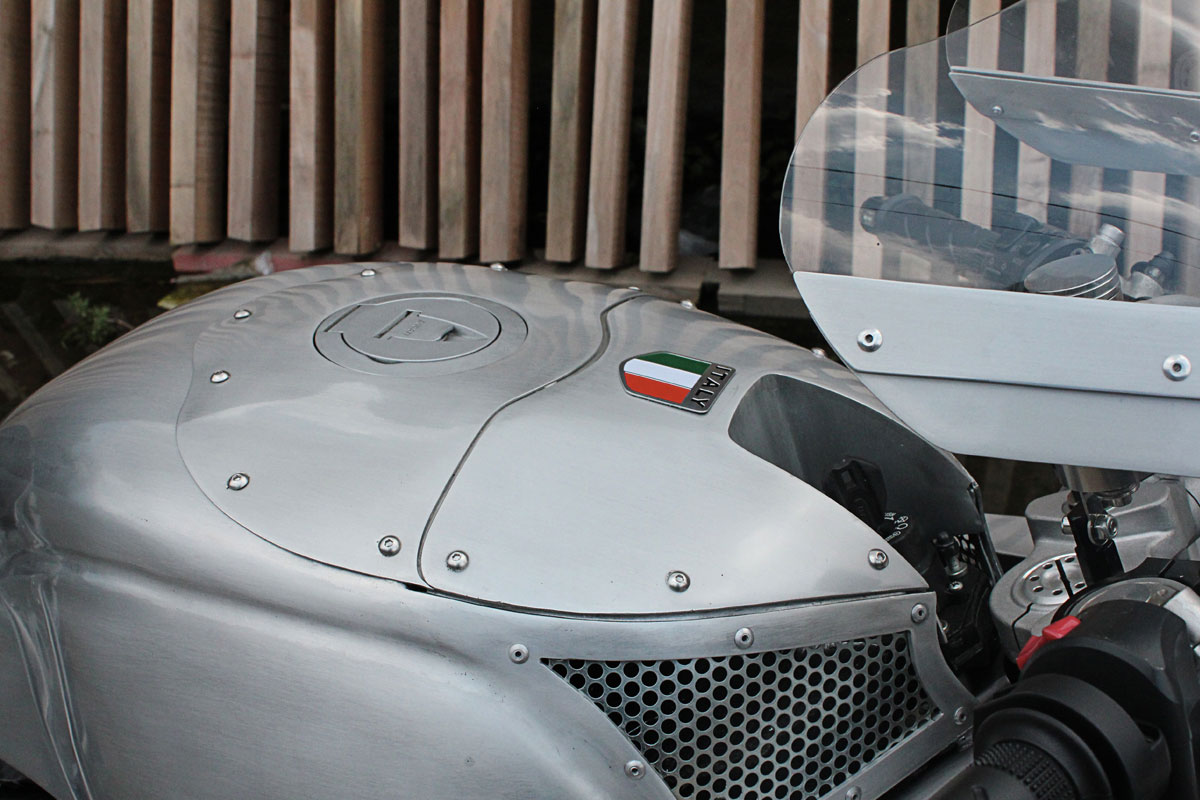 The Monster started out as a 2012 example of the Italian naked twin. Ram started the build for no other purpose than to create something he could sell to fund the next project, this didn't mean he'd be cutting any corners, though.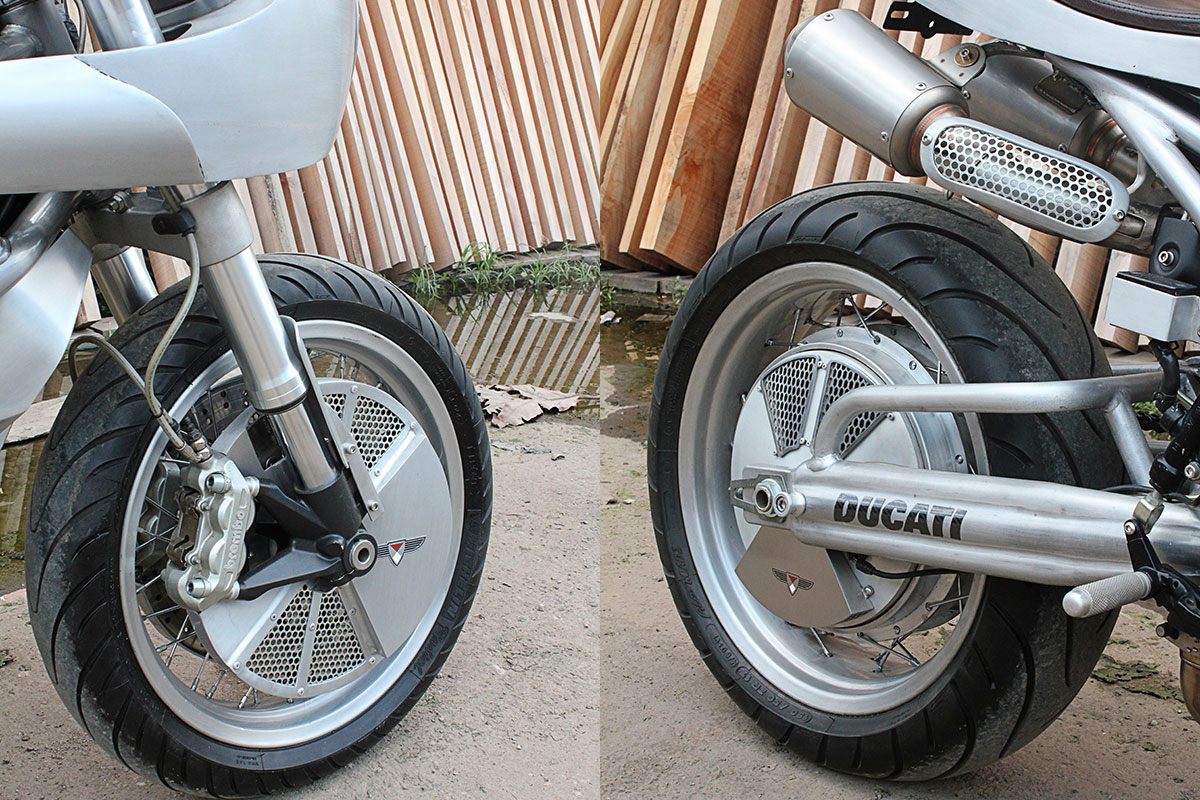 To begin with, they stripped the iconic Ducati red paint from the Monster's trellis frame before covering it in clear coat to prevent corrosion. A new swingarm was then fabricated using different diameter aluminium tube bent and welded together for strength. Seeking a more classically styled finish that wouldn't sacrifice performance, Ram designed and machined a custom rear hub. The hub, which has the look of a Fontana drum brake, cheekily disguises a set of internal disc brakes. To match the rear he then also fabricated a pair of rotor covers for the front discs. Ram says this unique design has been met with some rather polarising opinions. Some people bad mouth them and label them as fakes, while others respect his thinking behind them.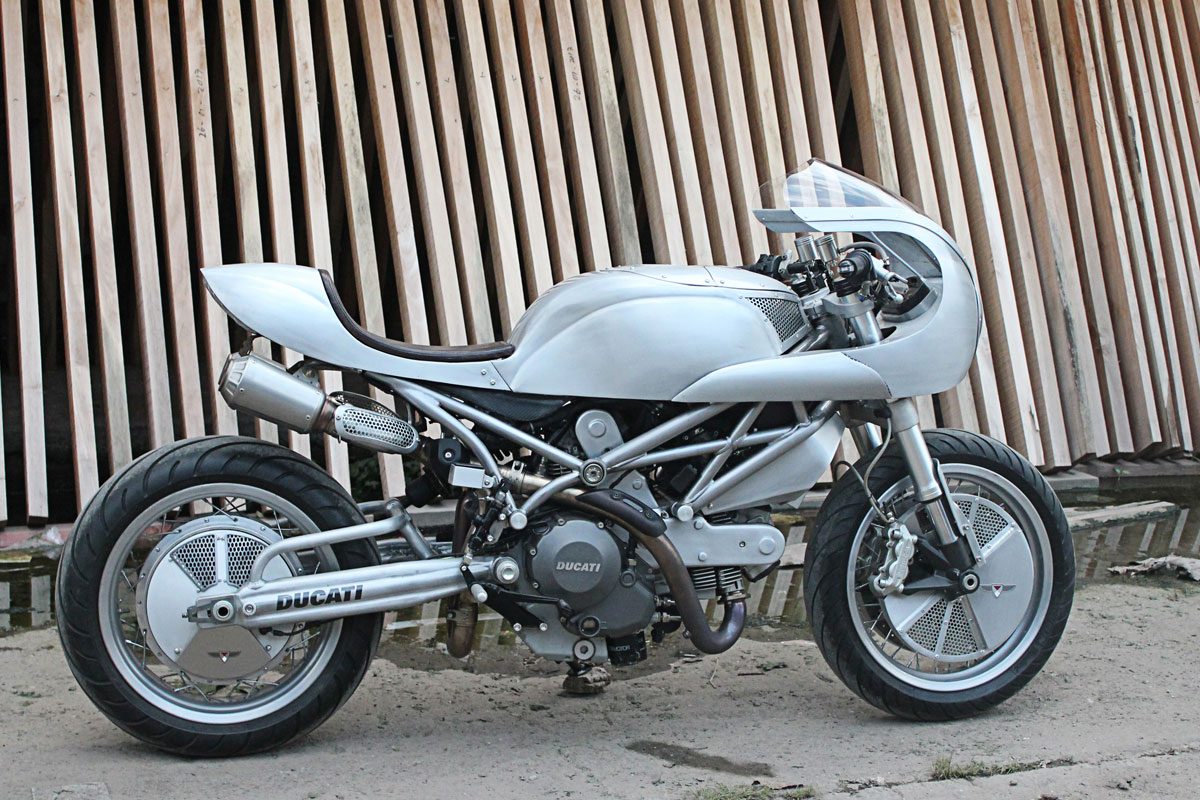 All of the Monster's new bodywork was made using traditional metal shaping techniques. With little more than wooden hammers, sand bags and an English wheel they coerced flat sheets of aluminium into curved panels. Ram says the trickiest part to complete was the fuel tank due to fuel pump being so close to the exhausts. With aluminium being such a good conductor of heat it was important to allow as much air as possible to flow between the panels and the engine. Vents in the front fairing and fuel tank improve airflow and a special heatproof lining covers the internal surfaces of the bodywork.
Aluminium details like the heat shields on the exhaust, the fluid reservoirs and the brushed engine cases complete the Ducati's all alloy look. Drilled mesh accents mimic the vents on Ram's custom drum hubs and at the rear is a LED tail light that shines through a vertical grill in the bike's wasp-like tail.
During our interview, Ram was quick to point out parts of the bike that weren't finished as well as he'd like, but you'd be hard pressed to pick them. This bike's front fairing, for instance, is a prototype that he says is a little rough around the edges. If that one's rough we can't wait to see the finished product!
I'm always amazed by the modesty of some of the builders whose incredible bikes grace these pages. A couple of years ago on a trip to Indonesia, I visited the home of Ram Ram Januar, the man behind 'White Collar Bike'. Ram is an industrial product designer with a soft spot for motorcycles, but his workshop is only a part-time pursuit. Despite this, the motorcycles he and his small team create out of his home workshop are enough to make any two-wheeled enthusiast go weak at the knees. This aluminum clad Ducati Monster 795 is, of course, no exception and it's one of the latest projects to hit the roads of Bandung.