As efficient as automation is has been responsible for the death of many age-old skills. In the world of aftermarket motorcycle parts, this definitely rings true. Finding someone who can fabricate a part from scratch for your cafe racer project can be very difficult. Worse still, when you do find someone capable the cost can often be outside of what most people have budgeted for. The good news is that there are still a few companies who offer low volume, handmade parts at very reasonable prices. Markus Pintzinger's Thailand based Omega Racer store is such a place.
Ex-pat Markus started Omega Racer after building his own SR400 cafe racer several years ago. Today he offers custom parts for a wide range of models from Yamaha, Kawasaki, Honda, Triumph and more. Today we hear from Markus about one of their latest bespoke builds, an alloy-bodied Triumph Bonneville cafe racer.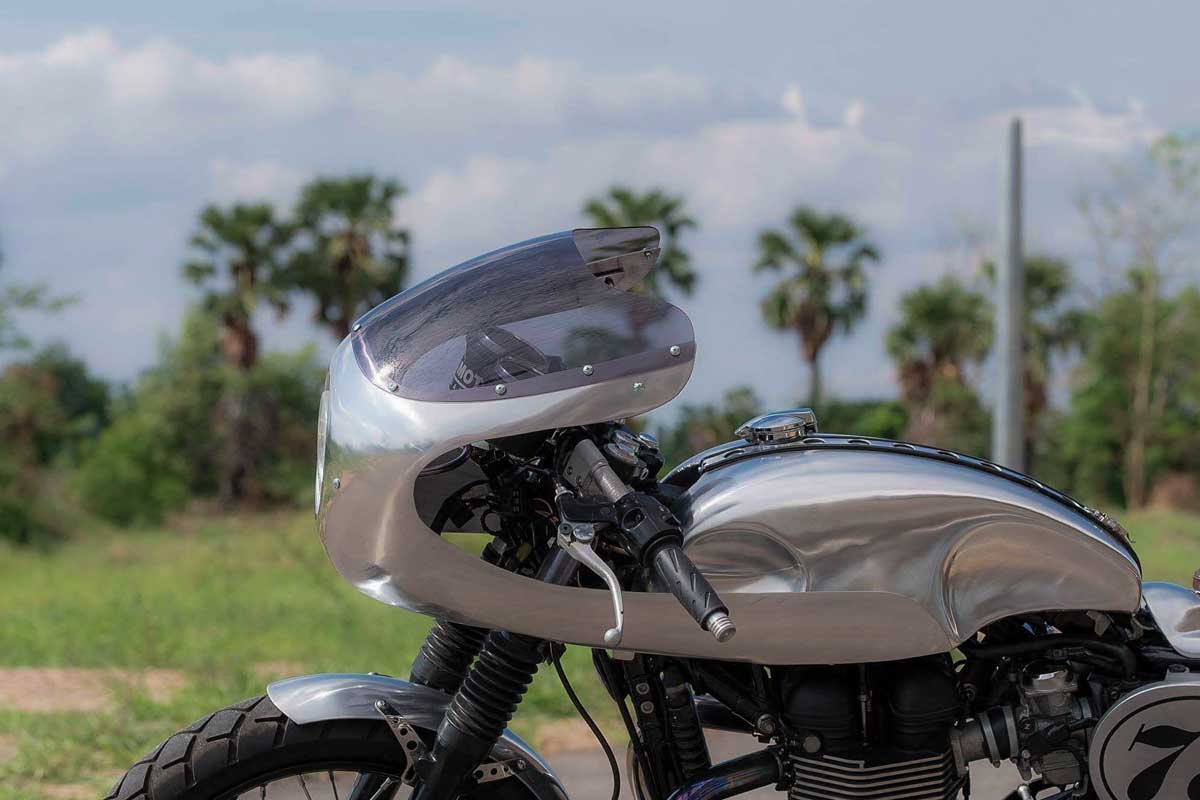 "This motorcycle or I should say the parts on this motorcycle, were originally made for one of our customers. He contacted us because he wanted to radically change his 2014 Triumph Bonneville but didn't want to alter the frame in any way. He was relieved, as up to that point all he had found were mass-produced parts or prohibitively expensive custom parts.
For the following couple of weeks, we worked closely with him and the aluminium wizards we have at our disposal. We involved him in the design process to make sure the parts would come out exactly how he'd envisaged. The goal was to create a cafe racer that would stand out from the crowd, but most importantly would reflect our customer's own style.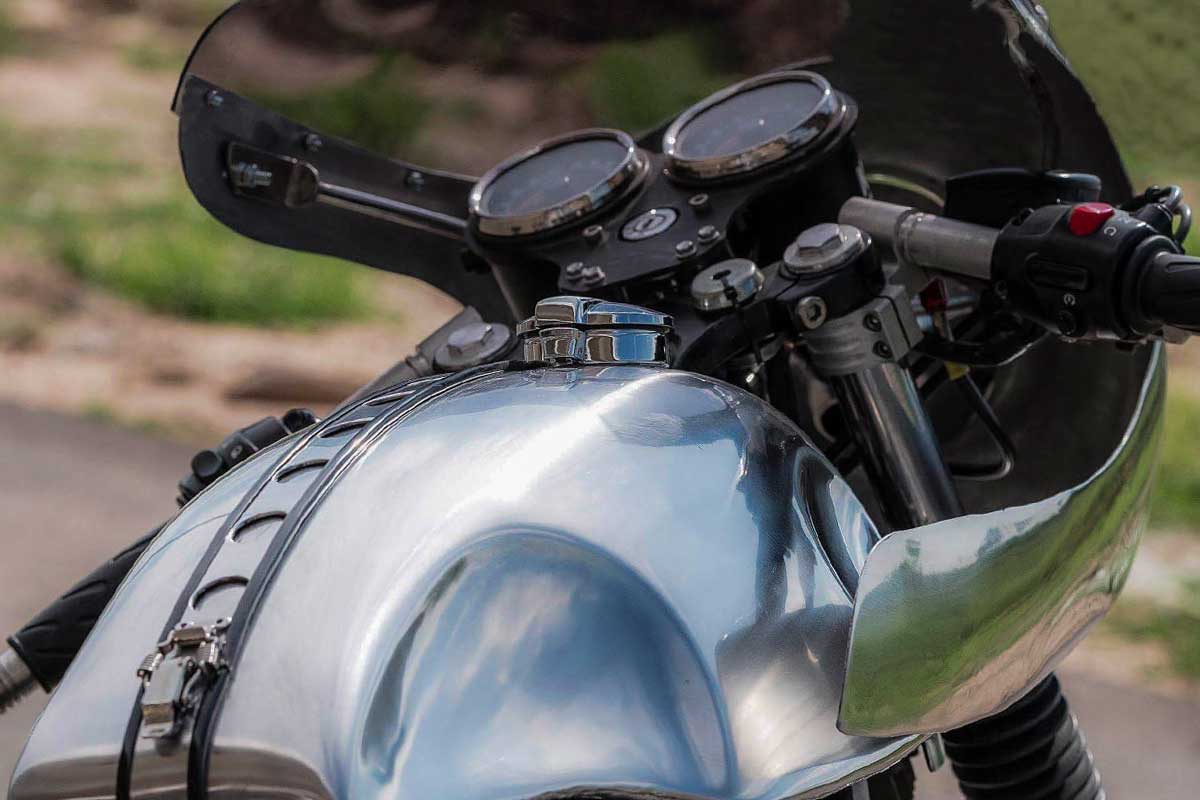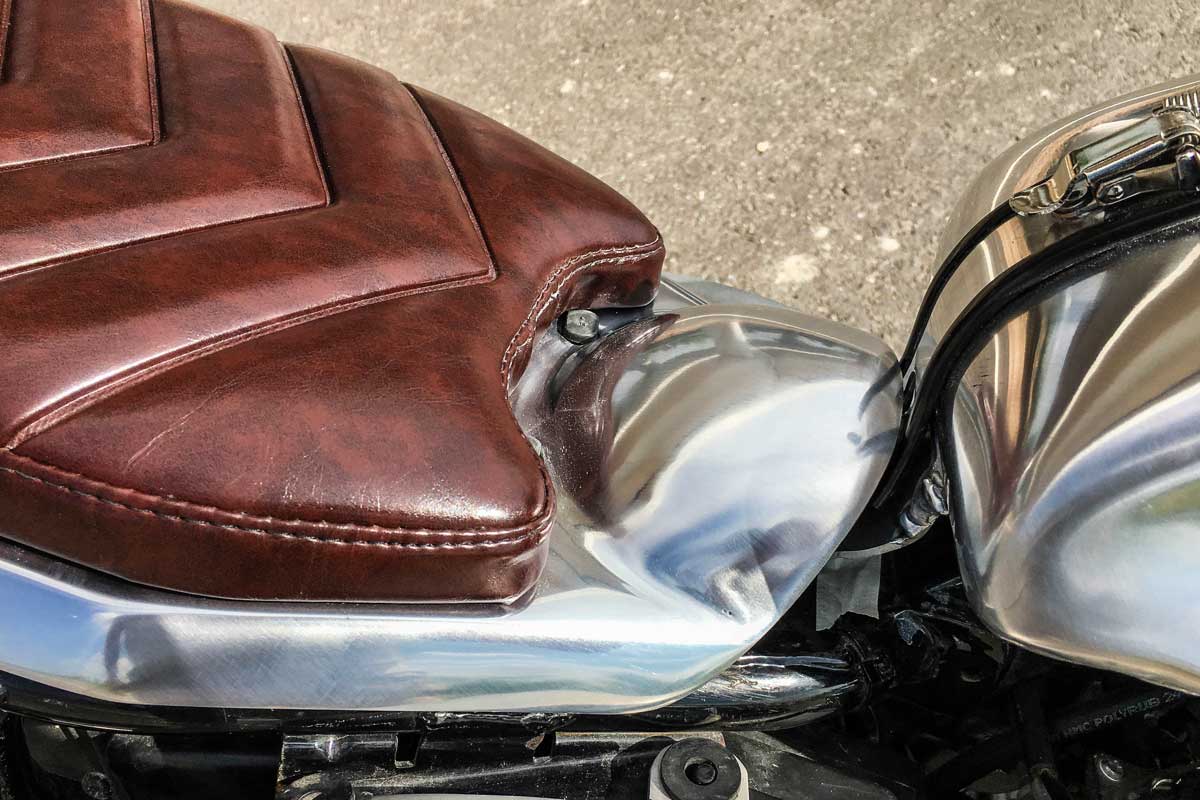 An Omega Racer 'Mugello' fuel tank takes pride of position atop the Bonneville frame. It has the appearance of being held in place with a stainless steel and leather tank strap, like those found on original cafe racers. But in actual fact, the strap doesn't serve any real purpose, apart from adding a bit of classic style to the build. The seat cowl is another handmade aluminium element. It fits snuggly over the unmolested frame and is complemented by a bespoke seat pan. For the covering of the seat our customer went for a chevron style stitch pattern on a mottled brown leather that is a real highlight of this build.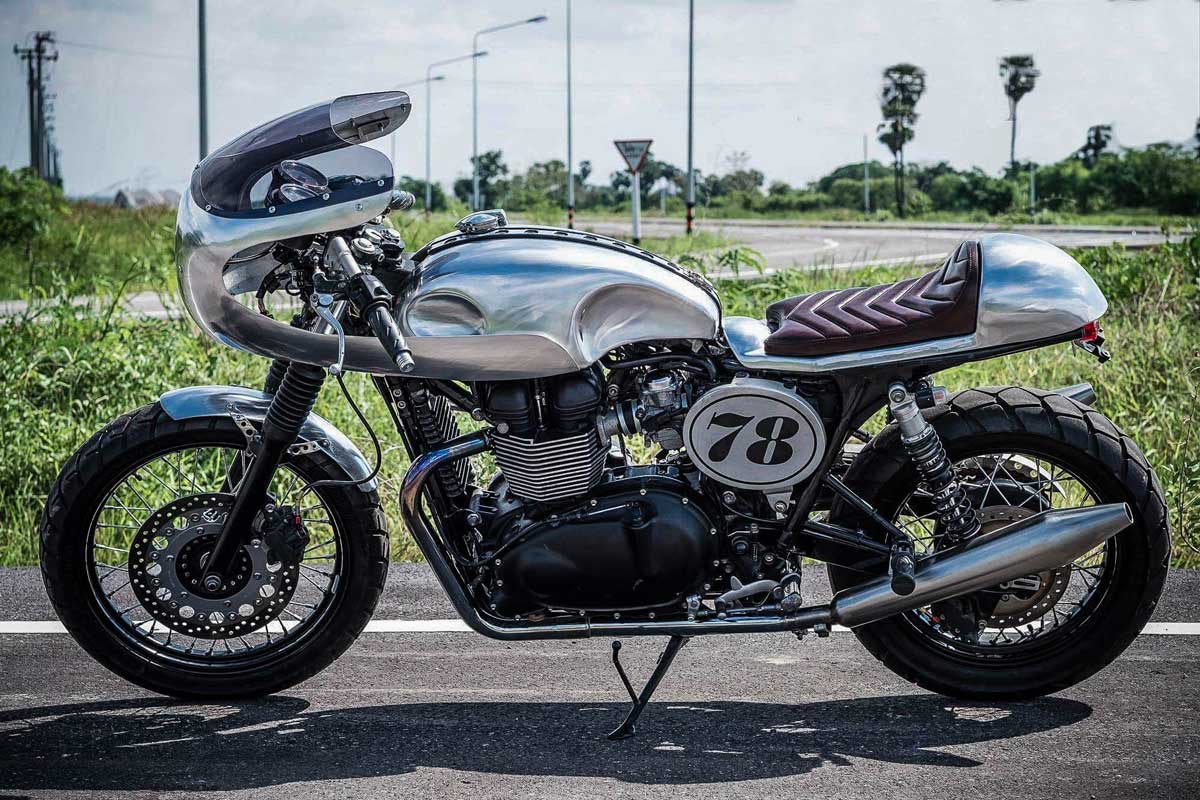 Another highlight is the Bonneville's sleek race fairing. It takes many hours of hammering aluminium sheets to get to this stage. But the result is definitely worth the effort. This is the kind of handmade workmanship we at Omega Racer take pride in offering our customers. To finish the bike's uncompromised cafe racer look, our customer chose to add a pair of oval side panels to replace the staid factory items. These were also formed from aluminium and finished with a 78 race number at his request. He also added a pair of Omega Racer Triumph Bonneville header pipes with classic reverse cone mufflers.
As a rule, we test fit all our custom parts before they are shipped around the world to our customers. Usually, it's a quick mockup inside the workshop. With this Triumph Bonneville cafe racer project, we felt that we had to go the extra mile and do a proper photoshoot. Our customer was over the moon with the outcome and other Bonneville owners have obviously been impressed too. Since completing this bike 4 other Bonnieville aficionados have ordered ones just like it!"
---
SPECIAL OFFER FOR OUR READERS.
Get a 10% discount in the Omega Racer store before June 11th.
Simply enter the code returntoomega during check out and save.
---