The 1200CC Triumph Speed Twin is the newest addition to Hinkley's Modern Classic range. So far we've seen very few of them customised, but thanks to a special collaboration, that's all about to change. Designer Krzysztof Szews (Kris) of Man & Machines Design and Philipp Ludwig of Kraftstoffschmiede have joined forces to create a new custom workshop by the name of Rennstall Moto. Together they are building one-off bikes for customers, but their first Rennstall build is much more than a single serving project. The pair have combined their expansive skillset to create a special cafe racer kit that will allow Speed Twin owners to modify their bikes themselves.
Kris and Phil first teamed up back in 2019 to take part in the European Sultans of Sprint race series. Together they created a wild BMW R 1250 RS drag racer that took out first place honours in the events Factory Class series. "After we successfully built BMW Achilles for the Sultans of Sprint 2019, we realized we work very well together," says Kris. But, why choose the Triumph Speed Twin for this new project? "We feel the Speed Twin has huge potential in terms of customizing. It's a very nice blank canvas since it is neutral, not too classic, not too modern, just perfect for adding tons of character in whichever direction."
Here's Kris with more details about the Rennstall Moto Triumph Speed Twin cafe racer bodykit…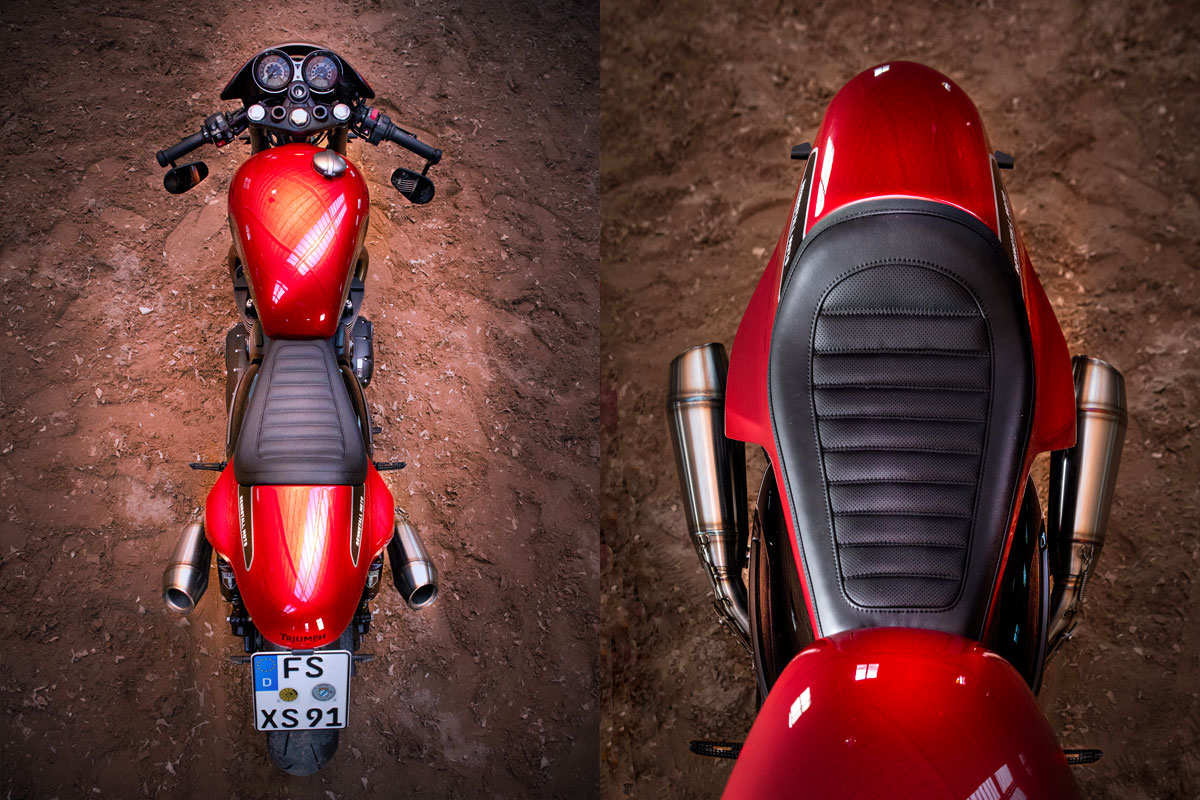 What is the Speed Twin cafe racer kit all about?
"When we started developing the parts, we already had series production in mind, therefore straight away carefully designed and engineered everything for a variety of possible manufacturing techniques, so we wouldn't be limited later. Most importantly the kit had to be modular, so all parts work independent of each other and the customer ultimately decides how many components of the kit he wants to buy. For example, the front fairing works with the standard handlebars and stock headlight position. Yet we will offer a set of clip-ons and a lowering kit for the headlight and instruments for the perfect stance.
Further, the kit had to be simple to fit and require no changes to the frame. Basically a visually effective yet easy fix package. We will offer the body parts primed and ready for paint and are planning to offer a painted version in one of the original three Speed Twin colours as an option later on."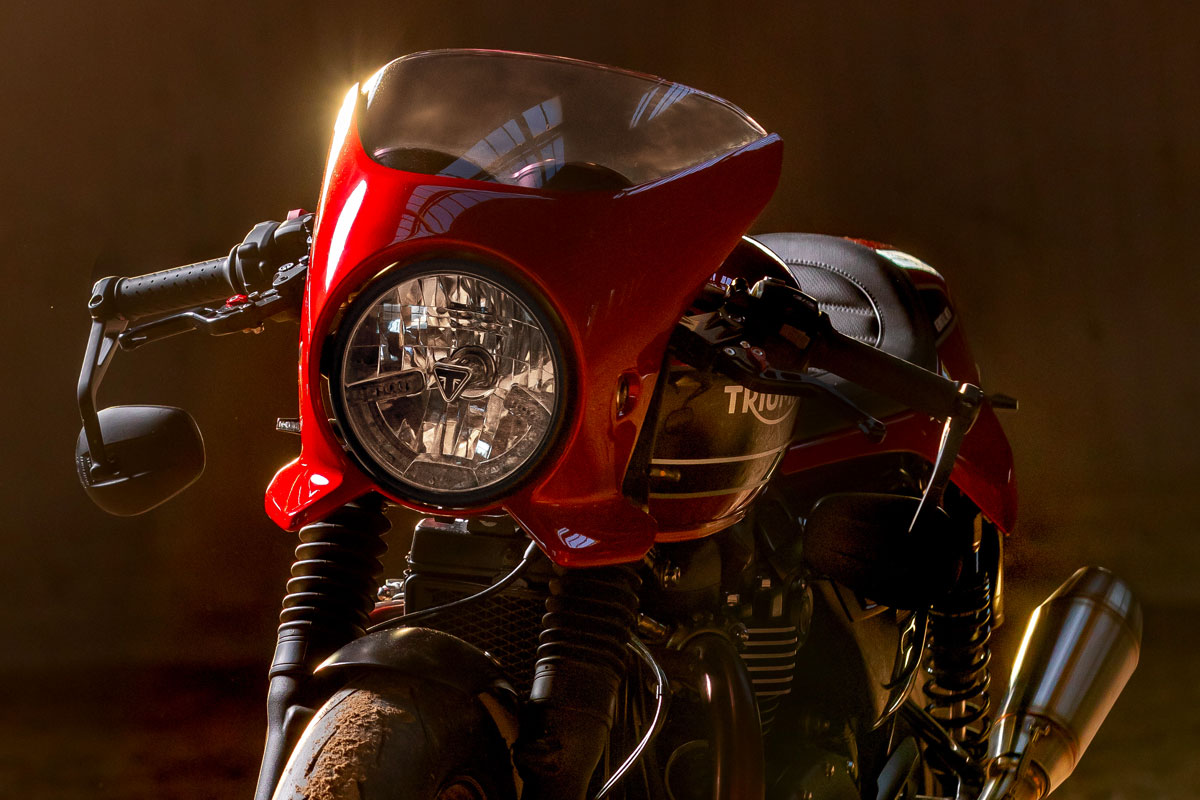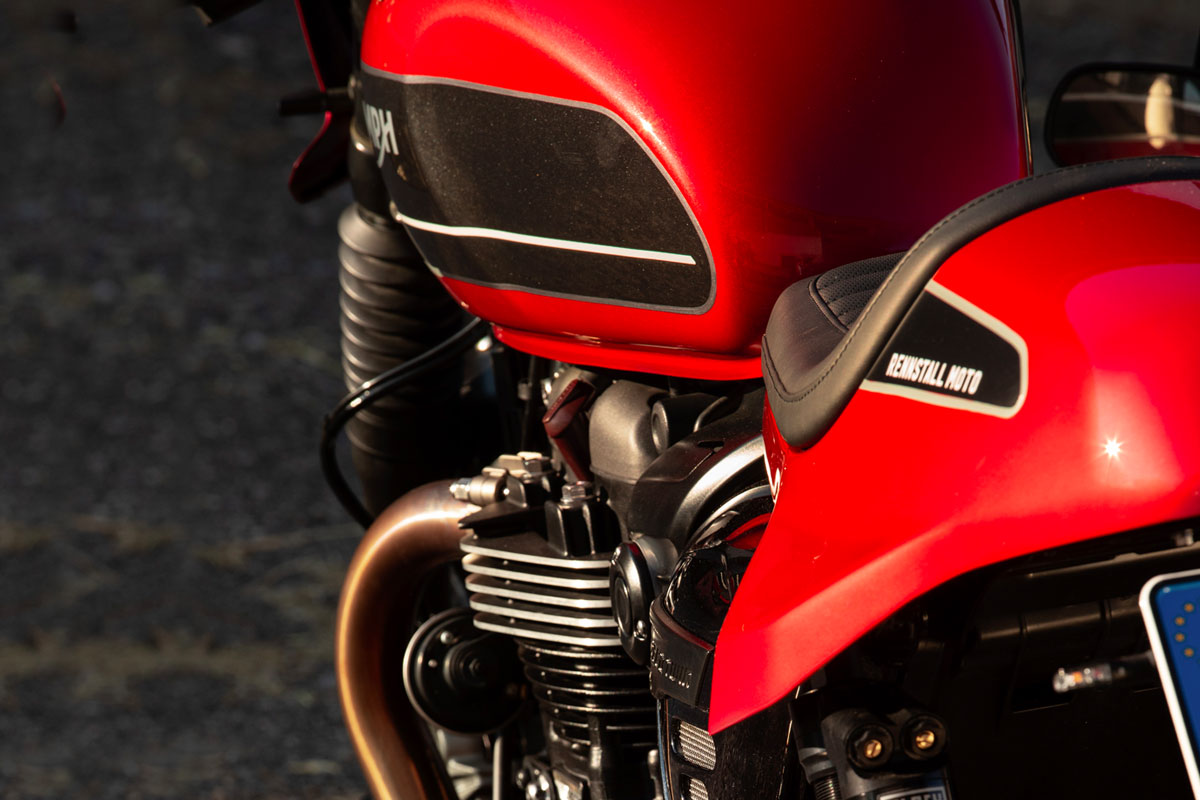 How was the Rennstall Speed Twin kit developed?
"A full 3D scan of our 2019 Triumph Speed Twin allowed us to do a virtual design. We then worked through the modelling and engineering process with our partner Muniq Design. It took about 6 months from finished design sketch to a rolling prototype. The concept bike is a prototype and its fairings are 3D printed for testing, which we did on a race track for two days. For the production parts, we are planning fibreglass to begin with but will also look into a lighter carbon fibre version.
It wasn't easy to get this done in times of Corona. Many web meetings, sending screenshots and sketches back and forth made it all a bit long-winded. Under different circumstances, the project would've been done in spring and production parts ready for the 2020 riding season."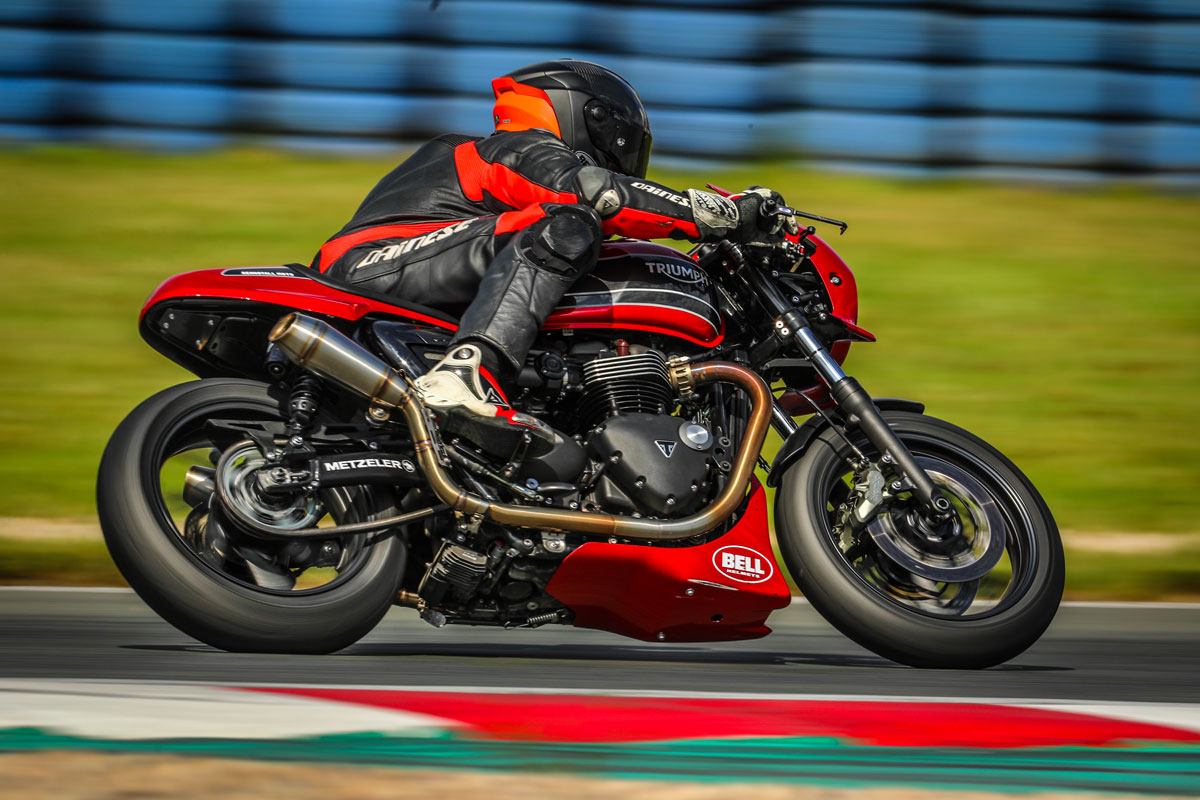 Can you walk us through each of the components and your thinking behind them?
"The monoposto cafe racer tail section with its winged design hides the aesthetically unappealing top ends of standard suspension components. No cutting of the frame is necessary to fit this part. It sits on a laser-cut aluminium plate with milled mounting components for super simple fitment. It installs similar to the stock seat on any motorcycle. It simply slides forward towards the tank and fixes in place with two bolts at the back of the frame. The custom upholstered seat itself is removable from the tail and on our demo bike is finished in partly smooth, partly perforated black leatherette. The tail is designed to fit without having to get rid of the stock tail light and fender. We did, however, install Rizoma Leggera tail light/indicators for a super puristic look. The front blinkers are also Rizoma Leggera.
We think the stock Triumph Speed Twin "looks up" towards the sky. Our front fairing has a deliberate shark nose which gives the bike a more planted and aggressive look. On the demo bike the windscreen is CNC milled from a clear block of PMMA, UV covered and tinted. The production part will be an E homologated screen.
Our headlight/instruments lowering kit uses shortened fork sleeves. We removed 3cm from the bottom and took another 1cm off the top. This then allowed us to fit a set of clip-ons which were modified to carry over the stock controls and heated grips. The levers have been swapped for black ones and the instrument are lowered using carbon fibre spacers.
The belly pan features a large air inlet for optimum airflow to the cat and the additional side slots feed air to the cooler hose. It mounts to the frame at the bottom and to the cooler via a laser-cut aluminium bracket."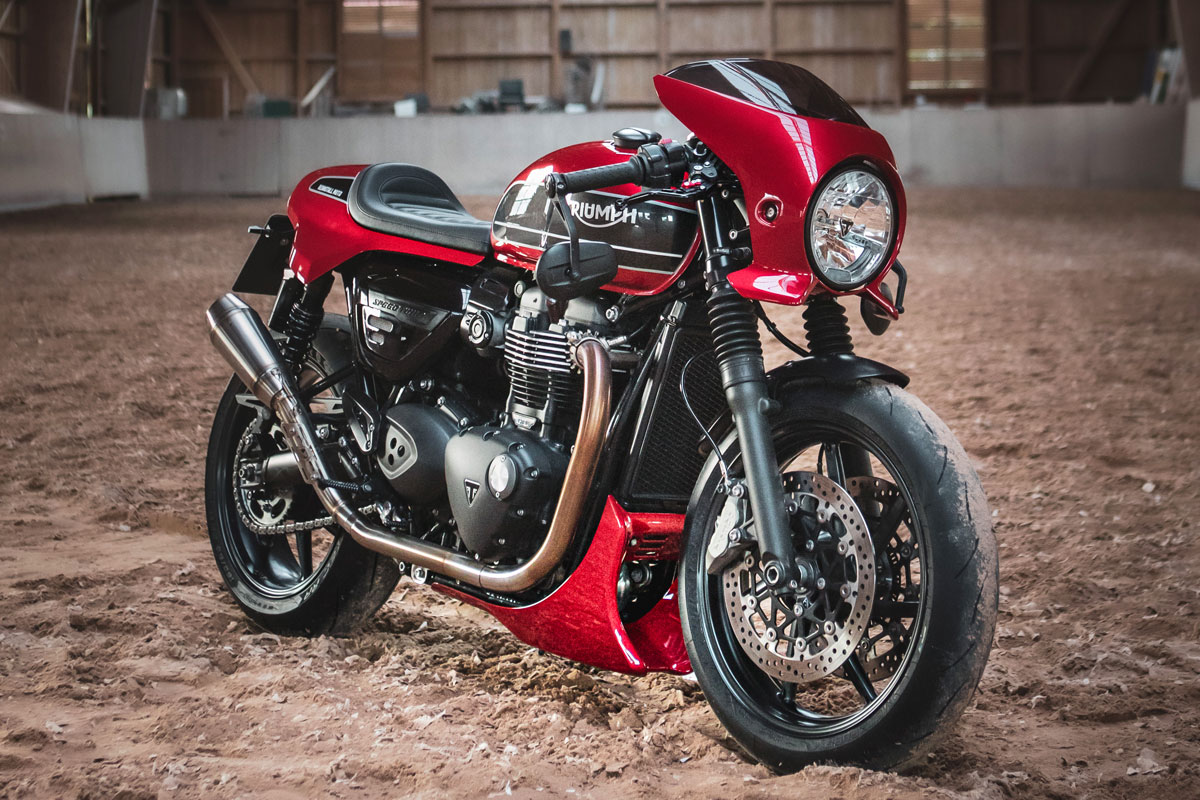 What exhaust did you use on the demo bike?
"The exhaust was designed by us and built by Hattech. The headers from the cylinders to the linkage below the footrest are the stock items. The upswept extensions and silencers are new. Hattech will be releasing a production series with this system and will add a few more header and silencer options to choose from. Our version deletes the passenger footrest, which isn't a problem because of the monoposto seat. All versions will be homologated to 95dB and come with removable dB-killers."
How about the bikes suspension?
"We teamed up with Touratech who are typically known for their offroad suspension components. They are moving into the custom bike market with their Black T range. We used their top of the line rear shocks and cartridges then adjusted the setup to perfection at the race track."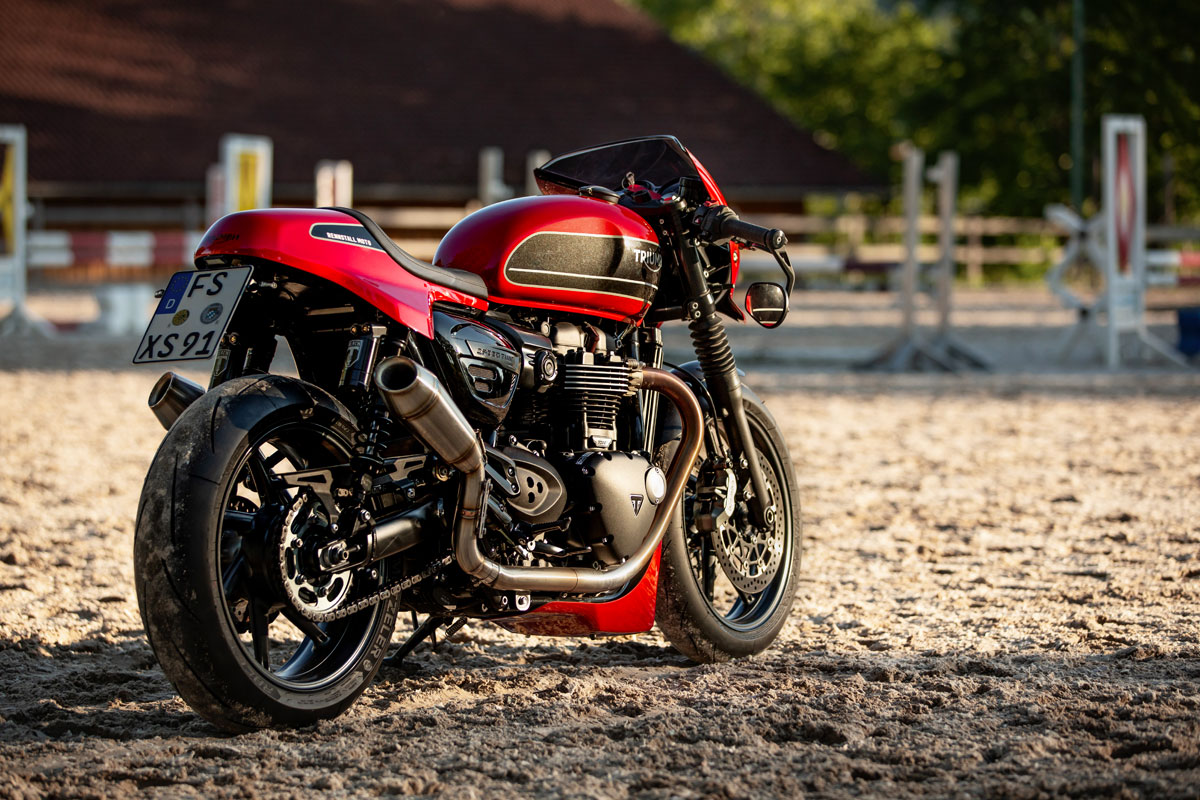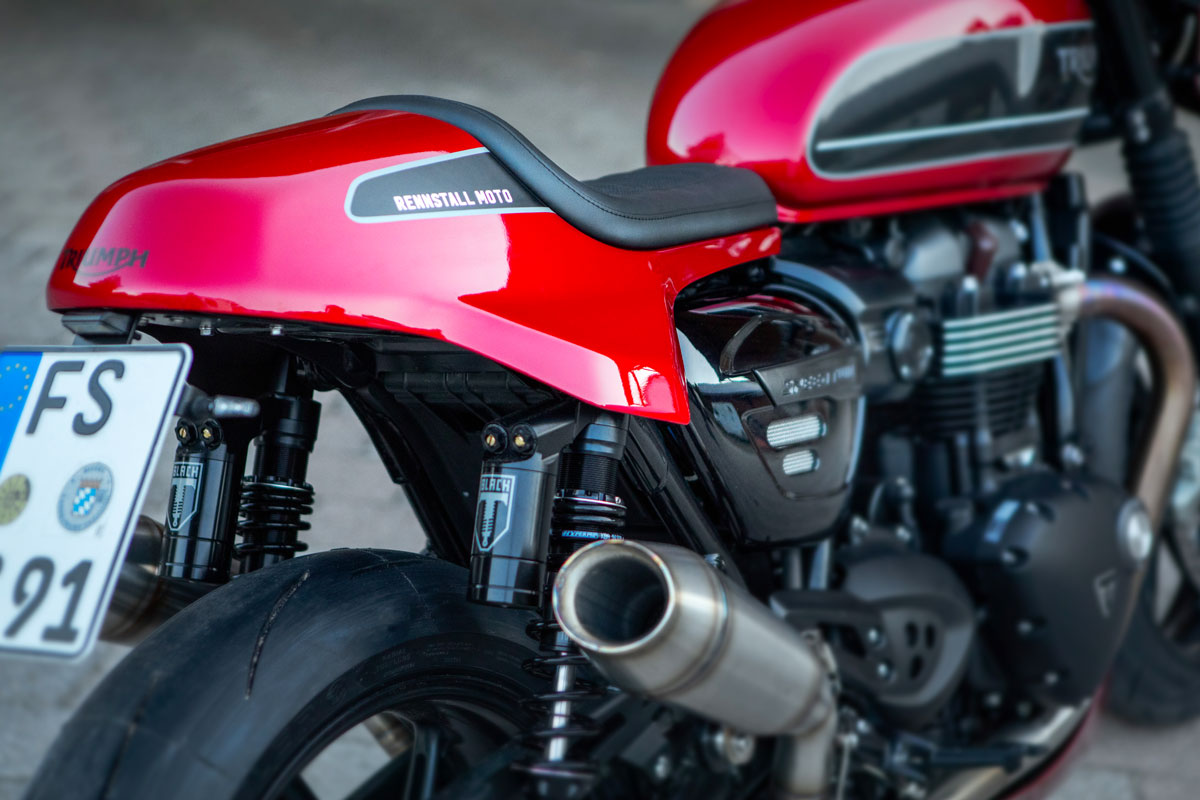 Are there other modifications that make this bike different to a stock Speed Twin?
"Yes. A whole lot of black. From the levers to the headlight brackets, fuel filler cap, footrests, foot controls, boot protector, EFI cover, Speed Twin badge, swing arm and finally the front fender. Our bike is also rolling on Metzeler Racetec RRs and is running a Classicbike Raisch "Heck Weck" tail tidy kit.
---
Interestingly, some components of the Rennstall Speed Twin kit, such as the front fairing and belly pan can also fit other models is Triumphs water-cooled Modern Classic range.  A high number of requests for a similarly styled tail for the Triumph Thruxton R has also lead to Kris and Phil developing that product too.
The Rennstall Moto website is now taking orders for those who are keen to get their hands on the first Speed Twin cafe racer kits to be released. The kit will consist of a front fairing complete with a tinted windscreen. A set of clip-on handlebars that combine with a lowering kit for the headlight and instruments. And the plug & play cafe racer tail section and belly pan. As Kris explained each of these components can be installed independently, but if it were us, we'd opt for the complete Rennstall cafe racer makeover.
Photography by Marco Lindenbeck  /  Track shot by MO Motorrad Magazin