Yamaha have added some stunning custom builds to their Yardbuilt series of custom bikes this year. This cast alloy air cleaner by LowRide was the perfect way to dress up this motorcycles EFI carburettor, giving the 2014 Yamaha XV950 a truly retro look.
Kruz Co. Cycles proved you can achieve a lot with very little with their awesome Triumph Daytona build. If there was an award for best workshop branding on a bike these guy's would be a top contender. Subtle, slick and super cool!
The Busch & Busch hand crafted approach to everything they do adds countless hours to each of their builds, but the results are amazing. The Harley Davidson LandSpeed Racer is the perfect example of the quality of work they do. All of it's alloy bodywork from the front fairing to the tail was shaped by hand then polished by the brothers to a mirror finish.
Tan and cream. Not a colour scheme most would choose for their motorcycle, but Jerikan's R80 came out looking great. Satin paint, brushed alloy and tastefully tooled leather. It might not be something for everyone, but everyone seemed to like it…including me.
Sustainability is a hot topic all around the globe and the Vibrations boys are doing their bit by building bikes using old signs and drums. It was only a few weeks ago when their 'Recycled' Honda CB750 appeared on the site and it's one of the most visually spectacular bikes I've seen this year.
Another product of Yamaha's Yardbuilt series. The "Rhapsody in Blue" is based on the latest XJR1300 is the work of Brooklyn based Keino Cycles. The bike features loads of interesting modifications, but it's the stoplight that I like the most. Taken from a vintage MG car the entire tail section was designed to house it.
After first appearing in Tank Moto magazine Bandit9's Honda Eve graced the pixels of Return of the Cafe Racers. Looking like something out of the 80's smash hit sci-fi "Flight of the Navigator" it's the most extreme transformation of a Honda Cub you'll have ever seen. It's polished single piece body is a work of art and the use of brass to add some colour to an otherwise entierly silver bike is outstanding.
Who'd have thought you could make a good looking bike from a brick?! Larry Romestant took BMW's K1200RS mixed it up with some MV Augusta parts and polished and painted everything till it was better than new. This thing is so clean you could eat of it…just don't leave any crumbs behind!
Benjie's been on the Cafe Racer scene longer than this sites been running and let me tell you that's a long time! It's always a pleasure to feature one of his builds and his Triumph Thruxton Steampunk Racer was well and truly worthy of a mention. The bikes covered in stunning hand formed alloy bodywork, but it's that front fairing that really blew me away.
BMW's marketing department nailed it when they invited some of Japan's top custom builders to have a crack at modifying their R Nine T. Cherry's Company went for an aggressive looking, full faired "Highway Fighter" and nailed it. This beauty got over 12,000 likes on the Return of the Cafe Racers facebook page and it's easy to see why. The bikes big fat front end is balanced out by it's super skinny behind and the photo of Kaichiroh Kurosu smoking up the rear tyre was the icing on the cake!
Inspired by Japanese workshop AnBu the 'Arcanum' SR500 was the work of Australian workshop Addiction Customs. It was a favourite of mine from the Throttle Roll show in Sydney and was another bike I featured in Tank Moto magazine. Love everything about this bike from the off center headlight to the feathered pinstripe paint job.
I might be biased because I spent countless hours working on this bike, but I really think it turned out great. The Kustom Kommune K1 is covered in cool bits of fabrication and trick custom parts, but it's the pipes that really blow everyone away. Twisting and turning stainless steel bends that loop around the engine and out through the frame…and they sound pretty bloody cool too!
It's not often I feature a custom motorcycle that doesn't get ridden. The JVLT 014 motorbike is an exercise in design aimed to blend a motorcycle with current furniture design trends. Although it's never going to be ridden on the road it's interesting to see these materials and minimal design techniques applied to a mass produced 2 wheeled form of transport.
I've seen some killer paint jobs before, but this Heinz Baked Beans inspired logo and colour scheme is one of the best. Anything that looks this cool and makes you giggle has to be good. Matt Black Customs have a great approach to custom bike building and don't take themselves too seriously…which makes for a nice change.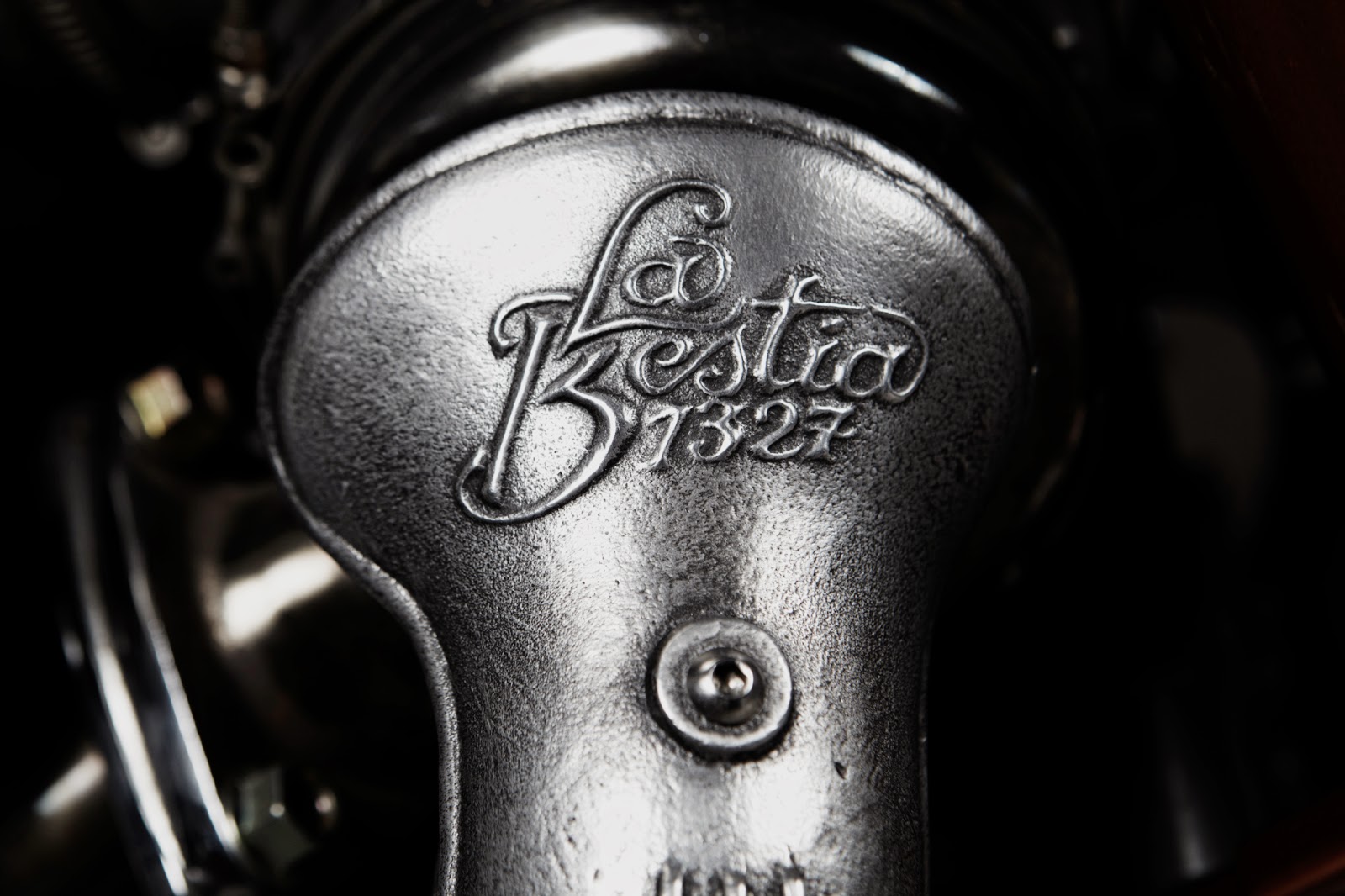 Last, but certainly not least, is Valtoron's "La Bestia" or "The Beast". A Kawasaki Z1000r drag bike dressed in alloy bodywork that the Delgado brothers sand cast themselves in their own foundry. Check out the cool custom script emblems and the integration of a bracket for the turbo gauge on the fuel tank. AMAZING!