Everyone needs a hobby. German-born Holger Breuer found his back in 2004 when he built his first custom motorcycle. Since that project, Holger was built an impressive 30+ custom bikes. What's equally impressive is that building bikes remains his hobby despite now taking commissions for builds. His full-time career as a mechanic and as a dedicated family man come first, so bike building is limited to his spare time. BMWs make up a large part of Holger's collection, but in amongst them are a few Japanese marques, such as this Honda CB900F Bold d'Or cafe racer.
This bike belongs to a friend and former customer of Holgers. Together they rebuilt the Bol d'Or over a two and a half year period. That's a very long time in Holgers usual terms, but he wanted his mate to be hands-on during the whole process. After acquiring their Honda CB900F donor the pair had originally planned on sticking with the factory chassis until a unique opportunity presented itself. Holger was given the chance to purchase a performance frame from the late 80s made by a small race outfit by the name of Jung. Similar to Rau and Bimota, Jung built race-proven frames for Japanese inline fours. Knowing this would result in an altogether better handling bike, Holger wasted no time making the purchase.
With the Jung chassis ready to go, Holger extracted the inline-four from its inferior Honda frame. While it was on the bench it was treated to a full overhaul that saw power increased from 95 to 110bhp. For reliability, the ignition system was replaced with a digital version and the stock carbs swapped with Mikunis. Tuning these inline fours can be a difficult task so to make life easier they constructed a custom airbox from carbon fibre. Holger also converted the clutch to a wet system for smoother changes.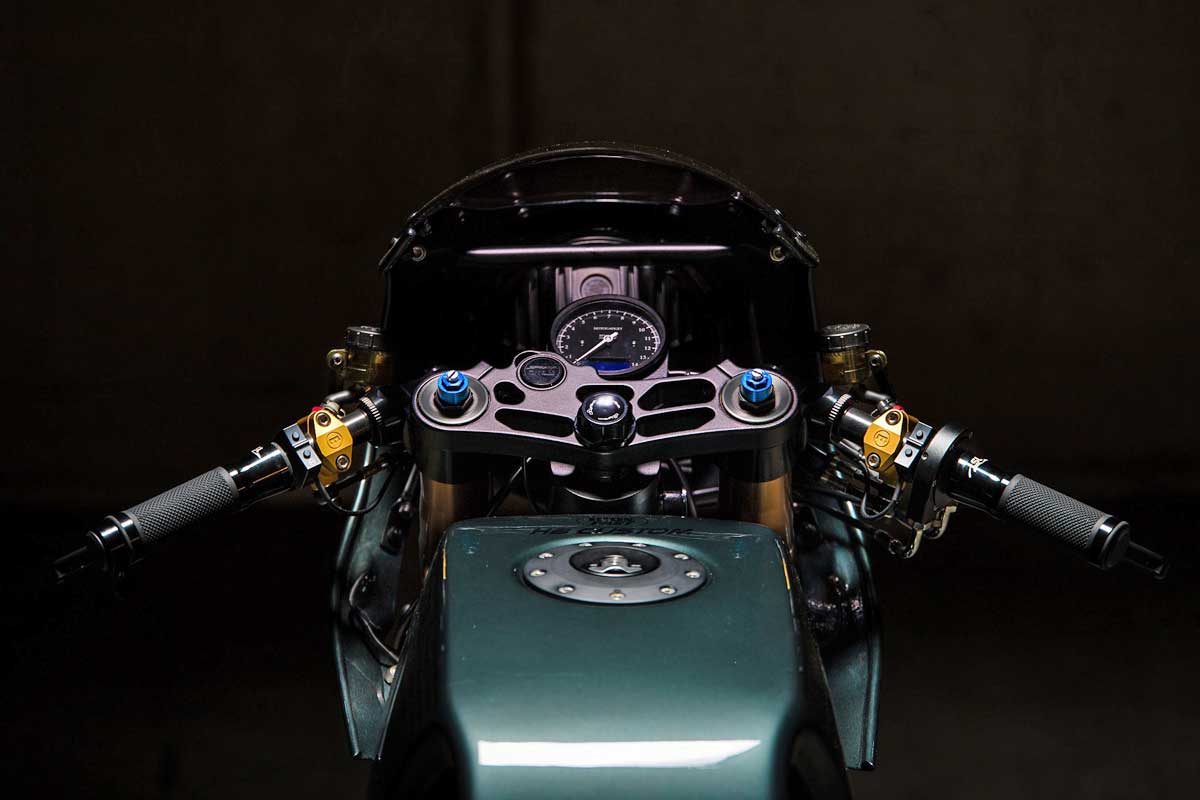 To ensure the bikes suspension was up to spec they went with a modern setup. The front end is of Suzuki GSXR heritage while the rear mono-shock is a custom Wilbers item. The choice of tyre was another careful consideration that resulted in the fitment of Pirelli's track-proven Diabola Supercorsa rubber. Once the frame was rolling the engine was installed and a custom exhaust laid out. The new 4-into-1 system has a similar look to the early Honda CB400 Four exhaust. The 4 headers snake their way around the frame and engine before merging to vent through a single aftermarket muffler.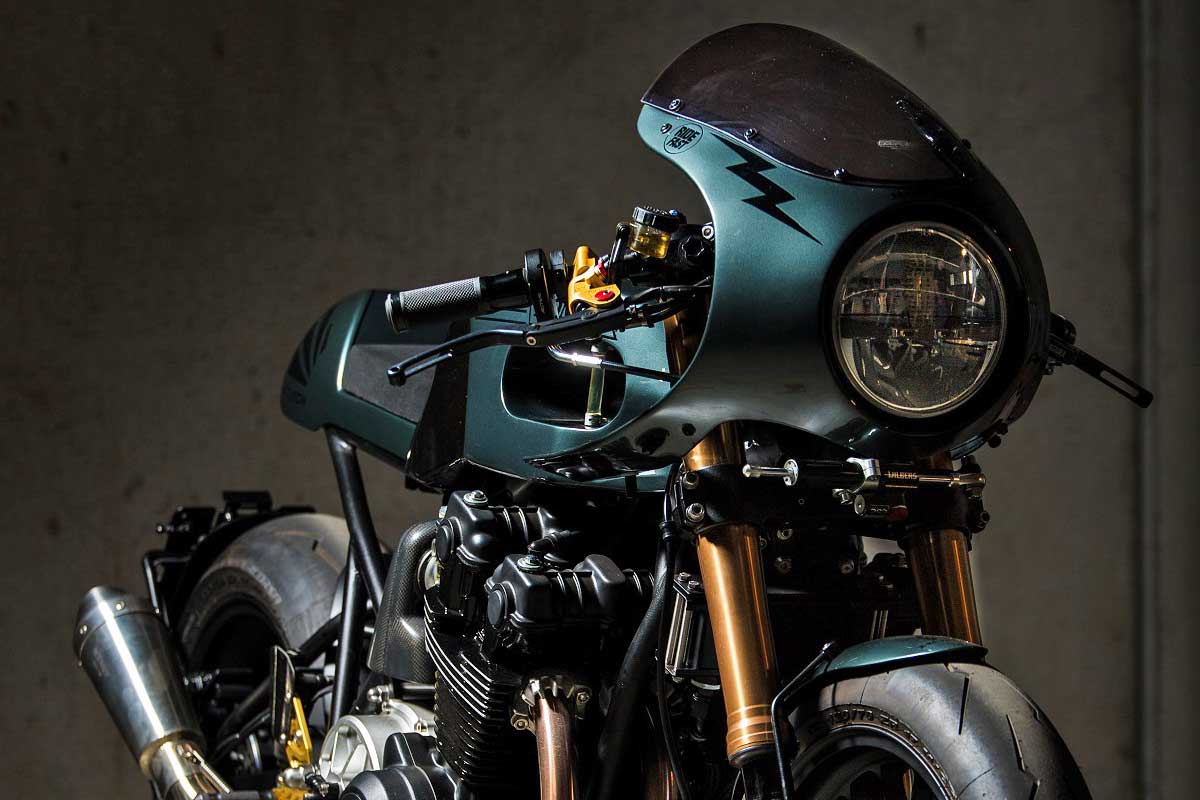 As for this cafe racers bodywork, it was all painstakingly shaped by hand. The Fuel tank, front fairing and tail unit all started out as flat aluminium sheet. Their design uses a balanced mix of modern and classic styling with some trick touches to make it really unique. The right side of the tank, for instance, features a cavity that contains a fuel level sight and the hornet style tail has integrated LED lighting. Other modern touches can be found throughout the rest of the bike too. The bars and footpegs are modern sports bike spec, there's a wheel hugger rather than a standard tail plate and the levers are fully adjustable Magura components. The single dial under the windscreen is a Motogadget unit along with all of the bikes wiring. A Motogadget M-Unit controls electrical functions and you'll find a keyless M.lock ignition recessed into the top clamp.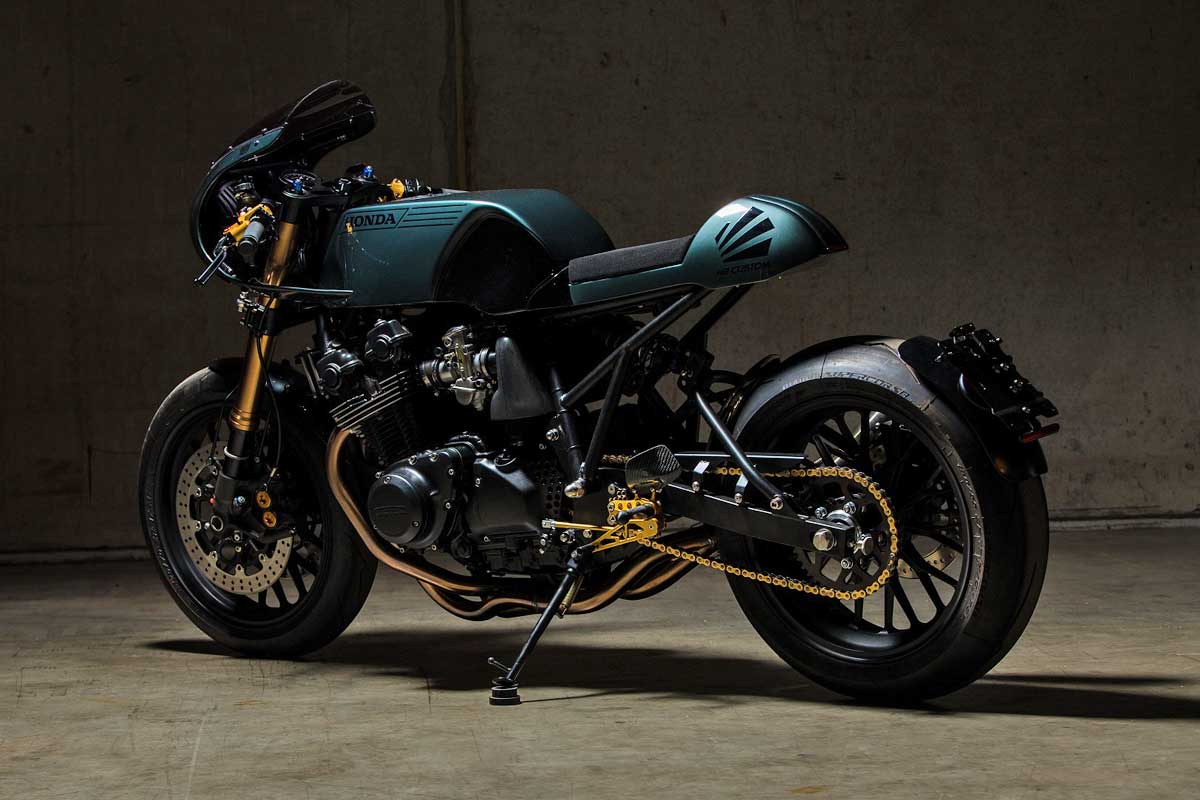 When we asked Holger what the most challenging aspect of the build was he stated two things. The first was ensuring that the finished bike could pass strict German TÜV laws to be registered for the street. The second was agreeing on a paint scheme. In the end, Holger's green and gold concept with black details came out on top, and we certainly approve. In its completed state there's very little evidence of the original Honda CB900F to be seen. According to Holger, the same goes for the riding experience it delivers, which is much more like a modern sports bike than a relic of the late eighties.
With custom motorcycles of this calibre rolling out of this "hobby builders" garage, it makes us wonder if he ever gets any sleep. Looking at this cafe racer I think it's safe to assume he doesn't!