We knew that this Honda project would be a challenge for us. When we received the motorcycle it was almost completely disassembled. Our customer, who works in the Swiss banking sector, but was born in Germany, acquired the bike some time ago and had never ridden it. So many parts were missing there wasn't even a fuel tap or a chain amongst the pieces. Thankfully we discovered that the little Honda was mechanically sound once we started putting it all back together.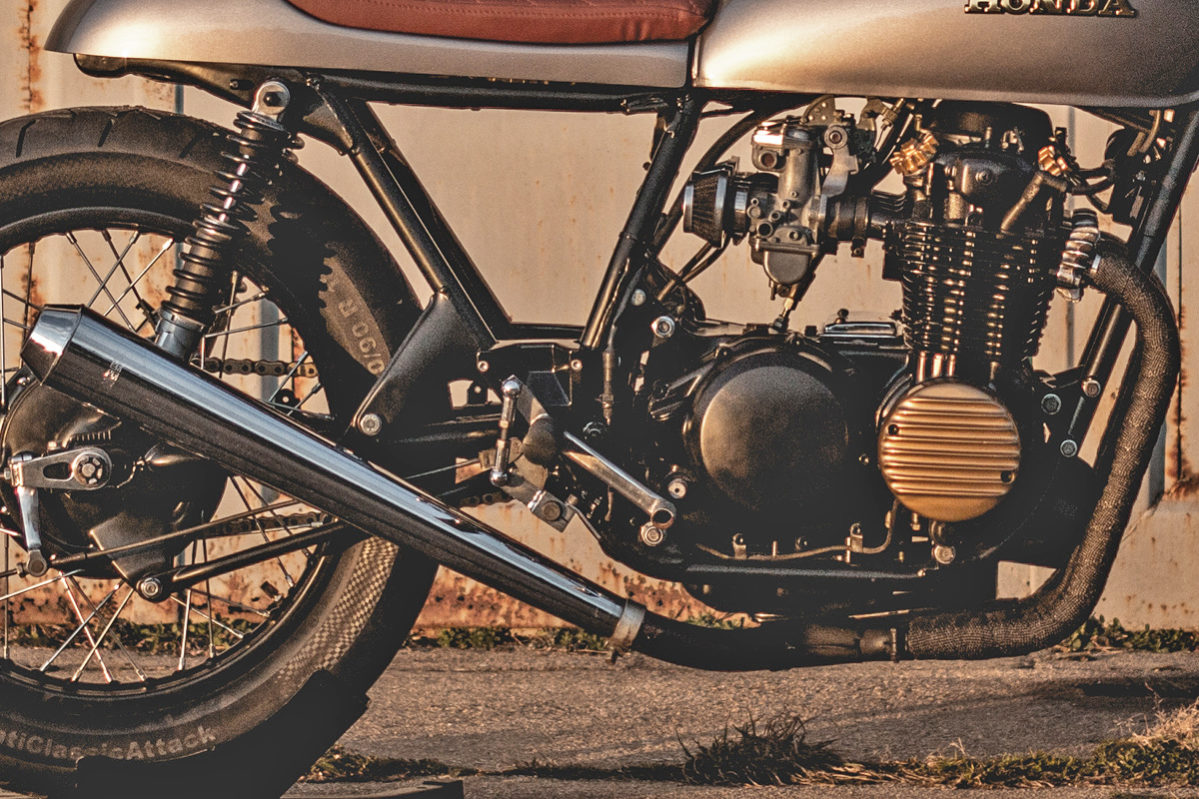 We envisioned the CB500 to be a classic racer with all of the traditional café racer style elements such as a low and slightly forward stance, distinct straight lines, clip-ons and a classic seat cowl. Upgraded brakes for a better bite and functional tires were also planned as essential ingredients. The concept and planning phase was a real pleasure with our laid-back client. My brother did a rendering for the Honda like we always do for each bike. We like our builds to look like they could have come from a factory rather than a shed workshop and he captured it perfectly with this design.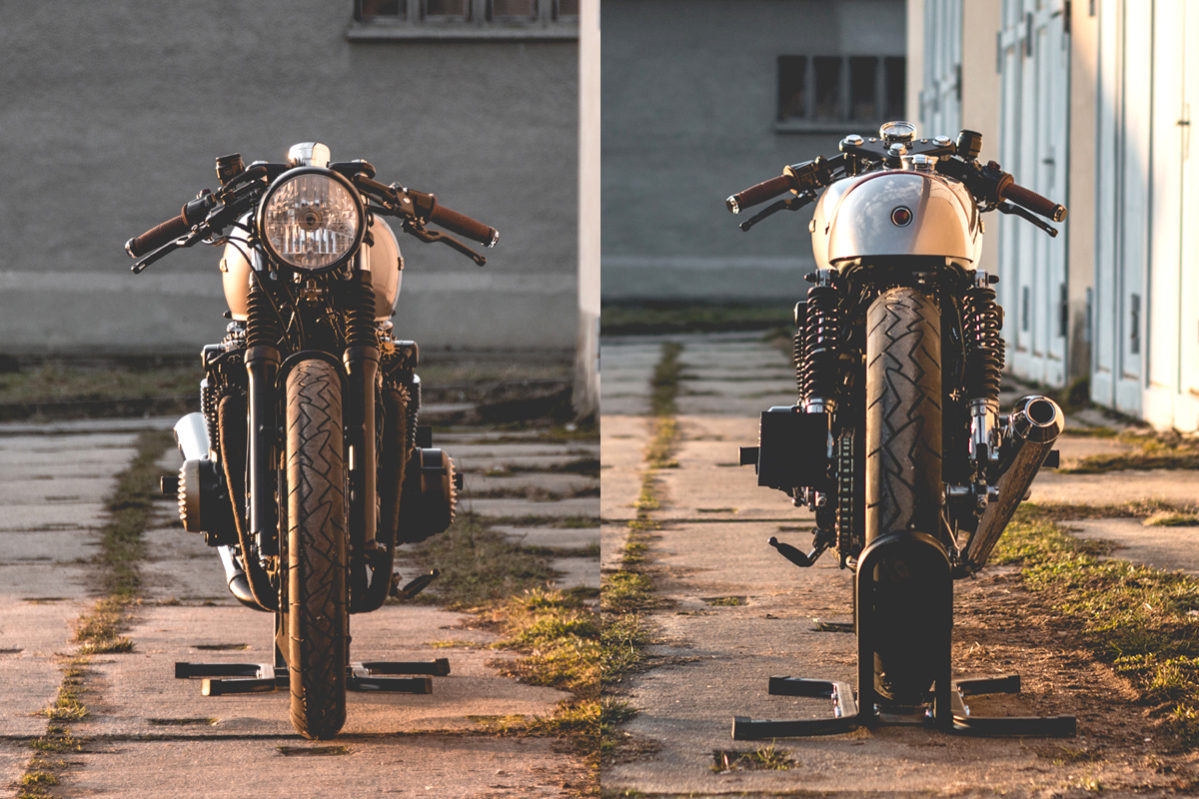 We decided to keep the 4-into-1 exhaust and installed rearset footpegs to suit the low, forward riding position we were aiming for. The ancient front brake set up had to go so we swapped it for a newer double disc setup from a CB400N. This upgrade also included adapting the CB400N forks, triple trees and the installation of fork boots to add some visual weight to the front end. Together with Fehling clip-ons, refurbished handlebar switches, new Probrake levers, an LSL brake fluid reservoir and the Acewell chrome speedometer the front end received plenty of modern upgrades. We also chose a classic six-and-a-half-inch headlight to emphasize the front end from all angles.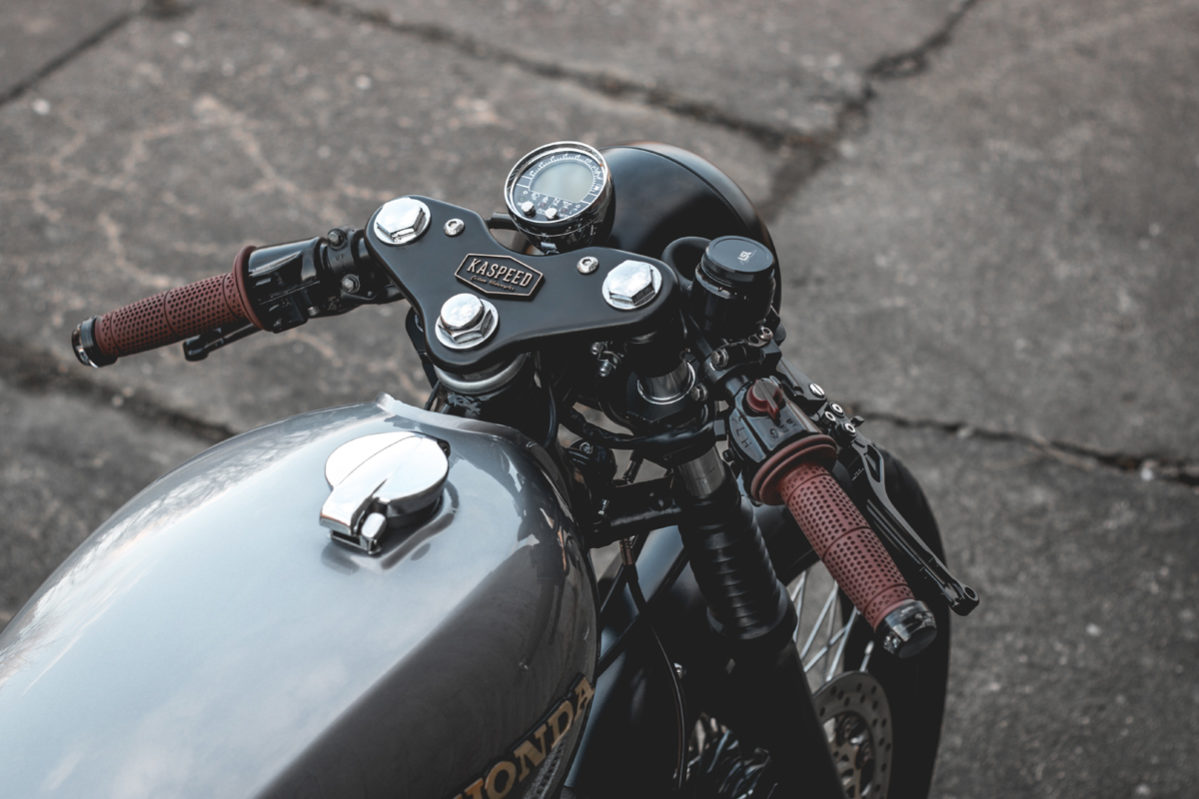 On the rear end of the bike, we have been very restricted with frame modifications. Only minor changes could be done in order to legally register the Honda in Switzerland. We managed to clean out the frame triangle completely. After the whole frame was de-tabbed, we customized an aftermarket seat cowl to fit over the unmodified subframe. We also lifted the back of the gas tank by an inch and aligned the seat to it to create a perfectly straight bone line, which, in our opinion, is a must-have for a cafe racer styled motorcycle. The custom seat was the perfect accompaniment that features a beautiful diamond stitch pattern. Light brown genuine leather and a stitched logo were used by a local upholsterer and we found matching brown rubber grips. The rear end is finished off with an LED tail light integrated into the cowl for a super clean and unique finish.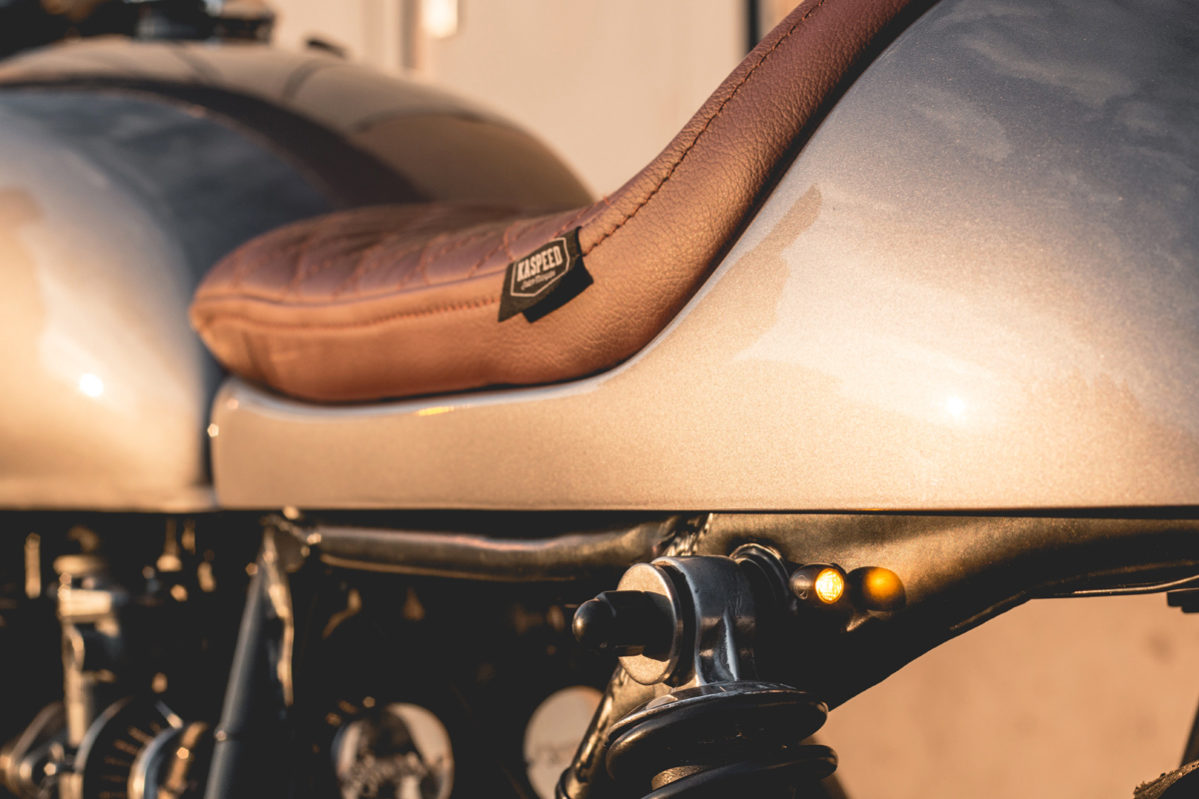 In terms of color, we wanted to go with a very typical monochrome scheme. The idea behind this was to keep the paint simple, letting the shapes speak. We also incorporated our customer's request to integrate some gold details such as the chain. The engine was painted black while adding golden touches like the case covers and valve caps. All other black parts and the frame were powder coated with a matte finish. The gas tank and seat cowl received a stylish 'Silver Tempest' paint scheme taken from Bentleys color range and we added a custom-made Honda gold and black badge. We do all the paintwork professionally in-house since I am a trained automotive refinisher. We also added a 3D printed KASPEED logo to the top clamp.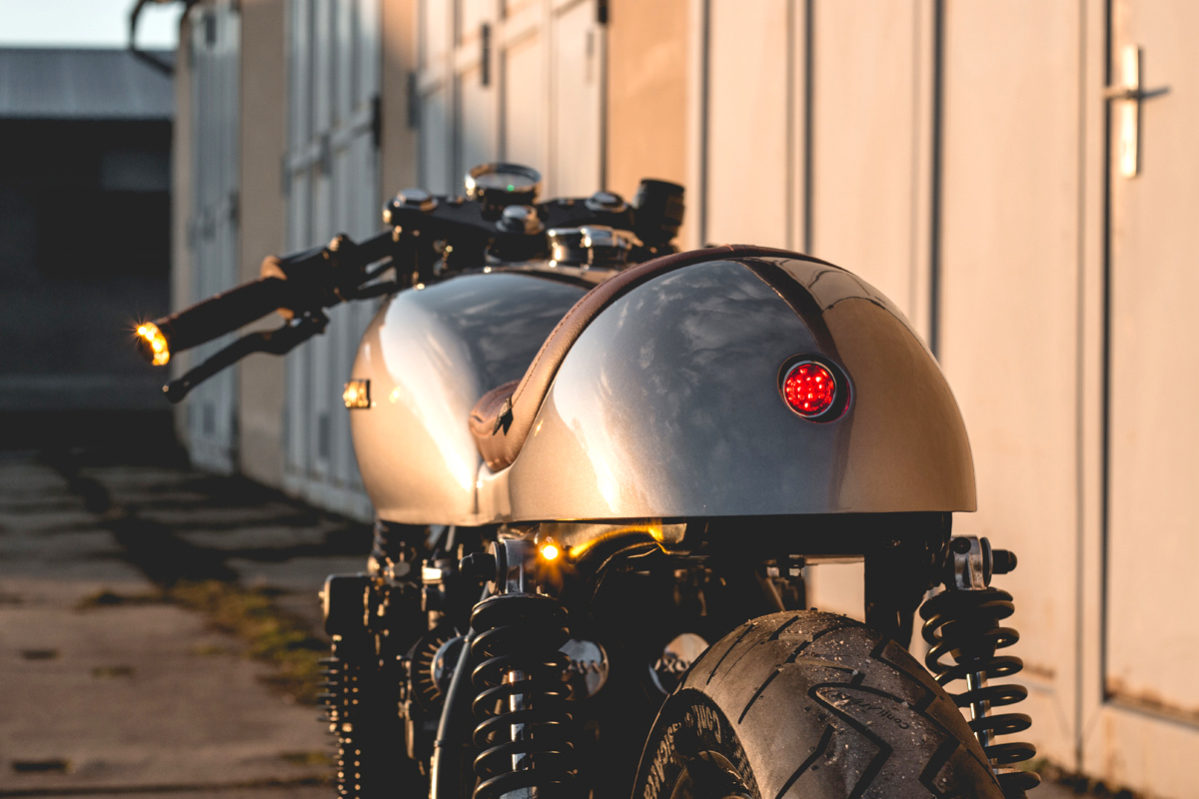 During the rebuild, we also refurbished all of the worn parts and integrated new electronic components. We hid everything under the seat along with a lightweight lithium-ion battery. Motogadget m.blaze handlebar blinkers were installed for the front and Kellerman Atto Dark for the rear, which is arguably the smallest certified indicators on the market right now. The wheels were laced with new stainless spokes and blacked out rims. They are wearing Continental Classic Attack tires, which are handmade in Germany for classic bikes and offer great handling. The four Keihin carbs have also been ultrasonically cleaned, restored, and re-jetted to suit the pod filters and exhaust. These changes have the bike running nice and smooth and it even sounds quite impressive.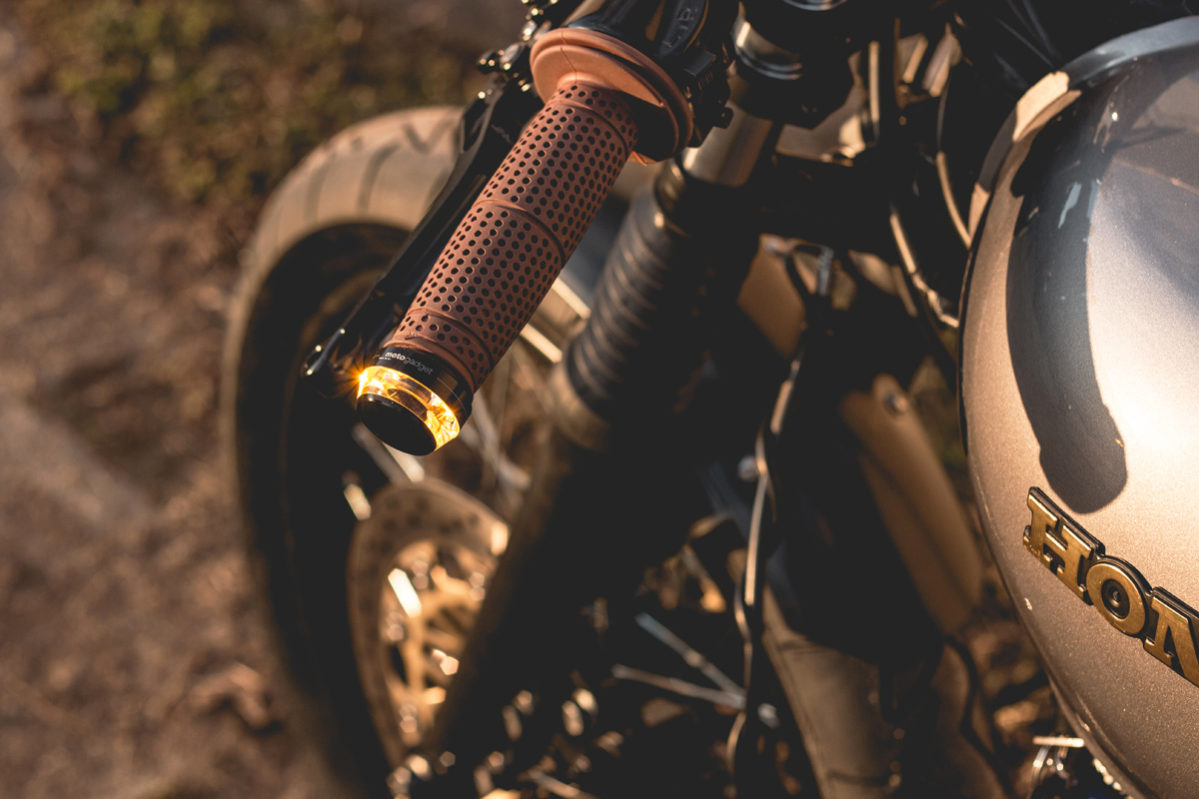 Our future plan is to produce this bike as a very limited series, where we involve our customers in deciding on some of the details. So, stay tuned for more Honda builds coming from us soon!

My name is Jimmy Dressel and together with my twin brother Mick and our dad Karsten we build bikes in our workshop, Kaspeed Custom Motorcycles. We reside in the state of Saxony in Germany. My dad's passion for motorcycles started in the 1970s but lay dormant during our younger years until the day my brother and I finally got our motorcycle licenses. This is now the fourth bike we have all built together under our Kaspeed Moto brand. The bike started its life back in 1976 as a Honda CB500 inline four and over the last 6 months we transformed it into this Kaspeed Café Racer.