Up until he was 24 Pierluigi Intini's experience on two wheels was limited to 50cc scooters. In 2007 he began a love affair with his first motorcycle, a 1974 Honda CB 500 Four K1. After using it to learn to ride he started a lengthy restoration project to return the bike to its original condition. But things didn't end there. Some 13 years later he's wrapped up the third incarnation of his CB500 Four and his love for the bike continues to grow stronger.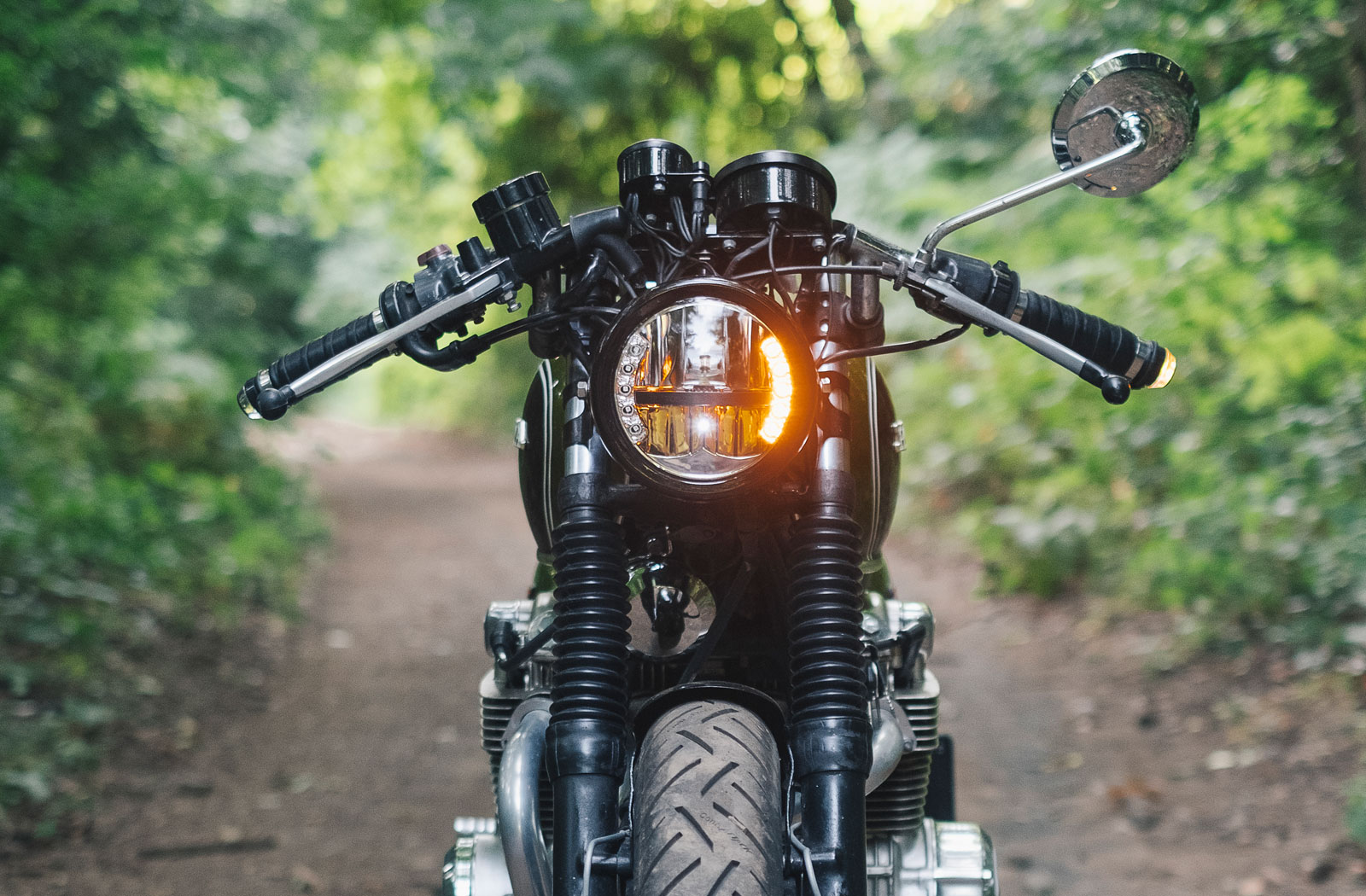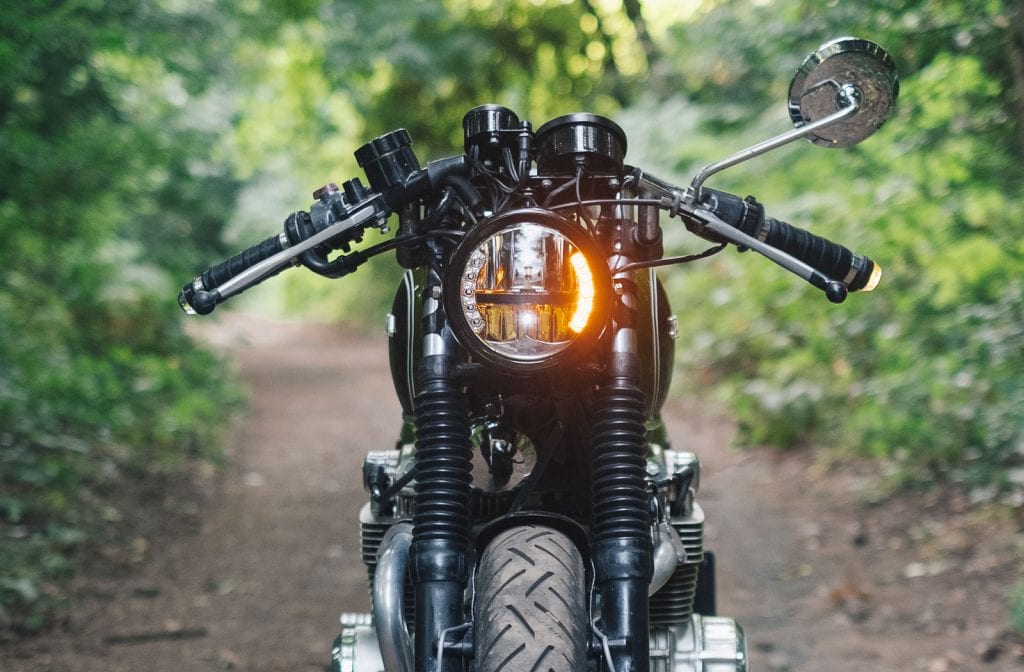 Restoring the CB500 Four was Pierluigi's first time working on a motorcycle and a task that tested his patience and ability. After months of hard work, he completed the build and registered the bike in Rome as a 'historical interest' vehicle. But, as I said, the story of this Honda CB500 Four and Pierluigi doesn't end there. Pierluigi was now officially bitten by the motorcycle bug and the Honda was about to become a big part of his life.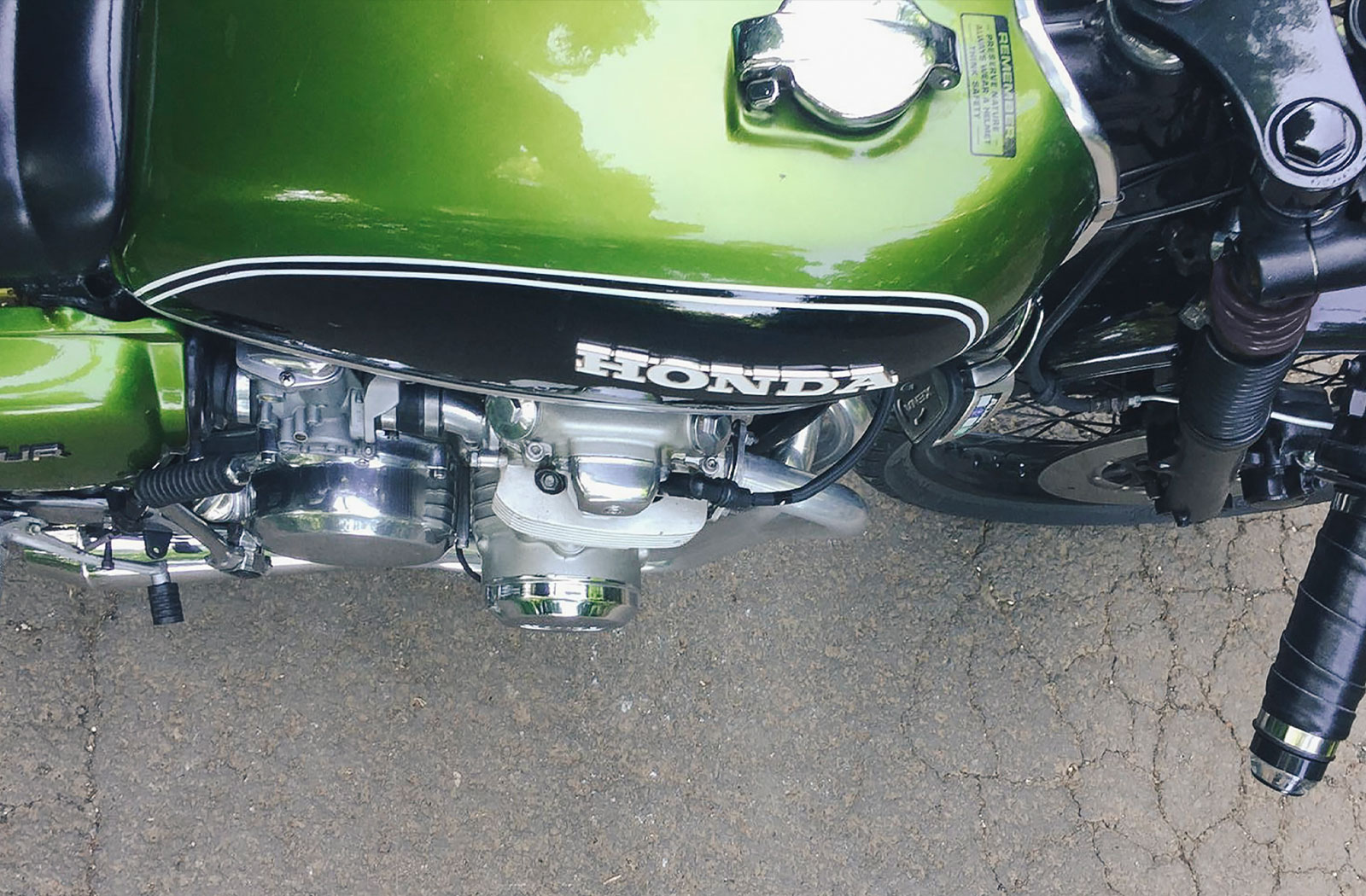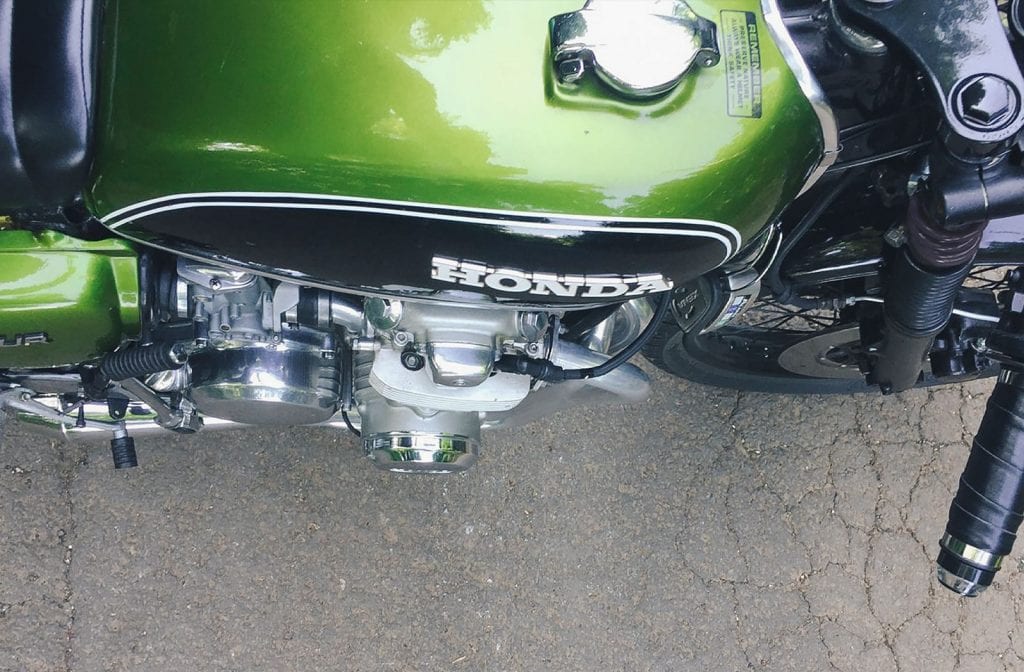 "As I proceed with the restoration I realized that I was fascinated by Cafe Racers and the old modified track versions of my bike," Pierluigi recalls. "When I started looking for a motorcycle, the Italian movie 'Romanzo Criminale' had just been released. It tells the story of the famous 'Banda della Magliana', a Roman criminal organization. In this movie, you can see Honda Four, Kawasaki Z, Yamaha XT. I think that's where my love for cafe racers came from." So from then on, Pierluigi wanted a Café racer.
Turning his restored CB500 Four into a cafe racer was a relatively straight forward affair. First, he installed a set of period-correct Tommaselli clip-on bars. Next came a set of custom made rear-set footpegs by a craftsman in northern Italy that would work with the stock exhaust. An original Giuliari saddle with an iconic wasps tail hump at the rear wrapped up the cafe transformation and the Pierluigi began riding it…and ride it he did!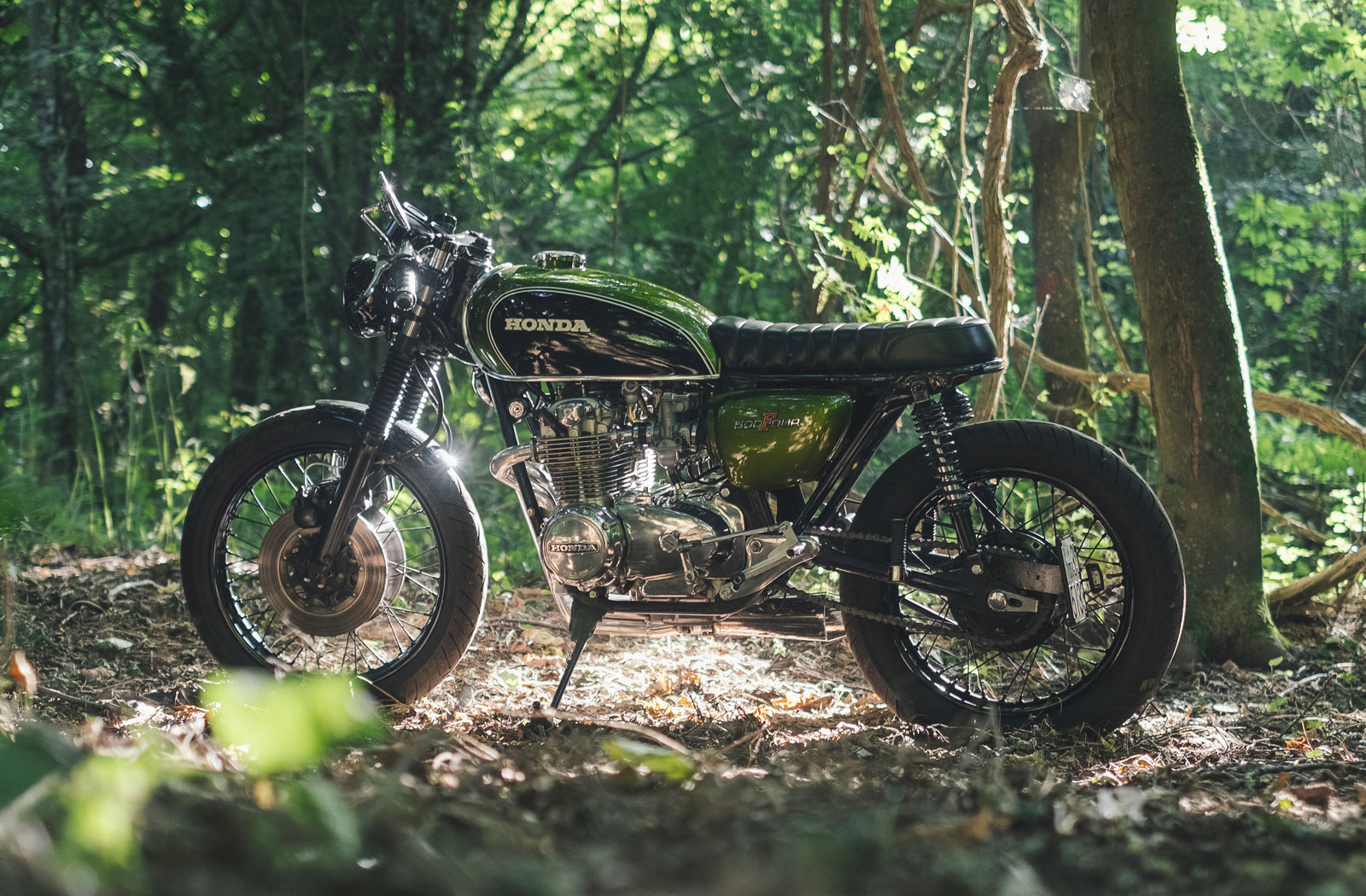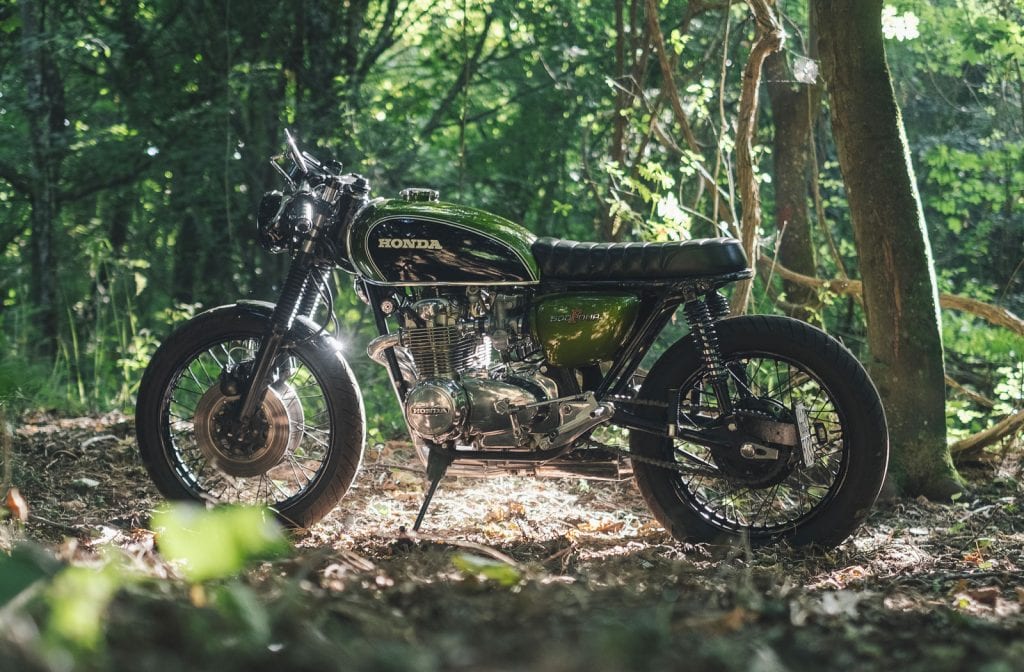 Every day and every season, rain, hail or shine the CB500 Four transported Pierluigi where ever he wanted to go. From a 50km daily commute in Rome to a 3-month working holiday in southern Italy (Sorrento) and even to Copenhagen for 2 years where the pair lived while Pierluigi ran a cocktail bar. And all the time sporting its distinctive "Roma" license plate.
During this time though Pierluigi invested little time in maintaining the bike. So during those years of dedicated service, the CB suffered breakdowns, a broken clutch and accelerator cable or two, it endured overnight stays at strangers homes and blew two engines. Thankfully Pierluigi realised the error of his ways. And so he hatched a plan for the bike's 3rd manifestation.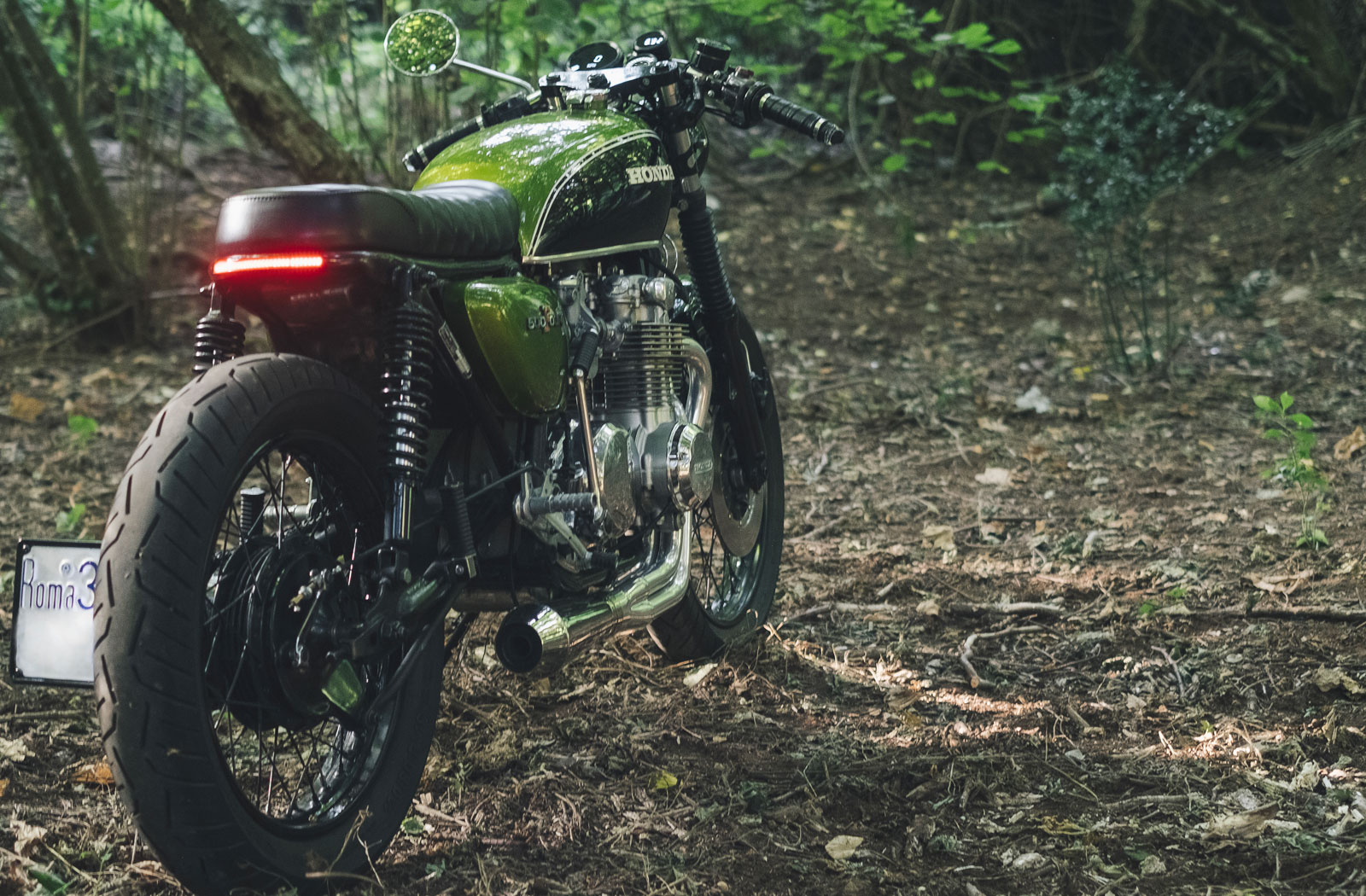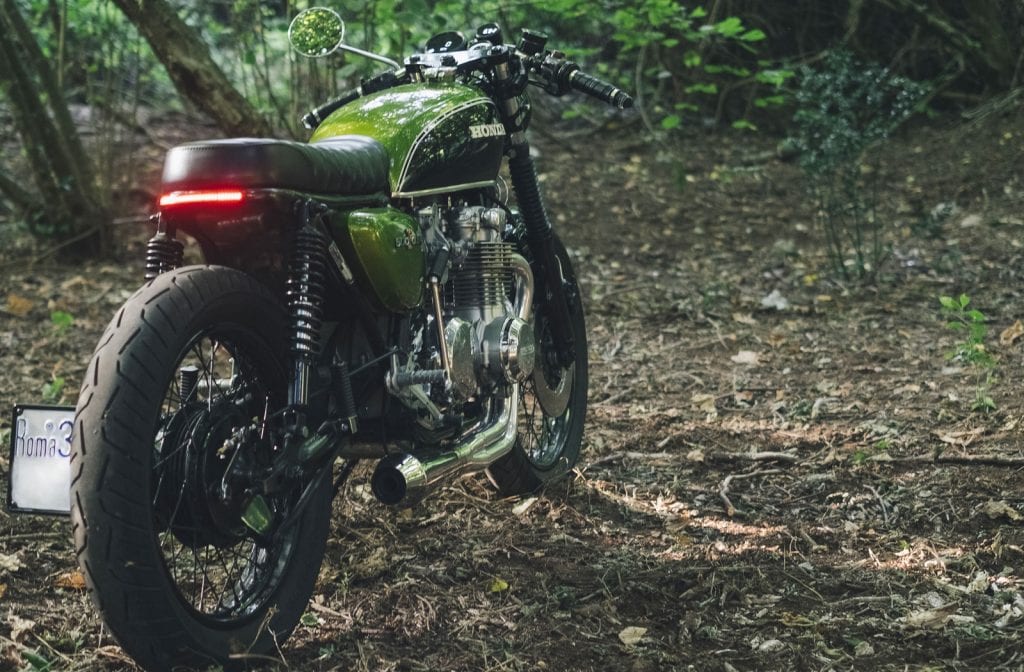 In 2018 the third rebuild began. Pierluigi's knowledge of his CB500 Four and classic Honda's had grown exponentially so he put it to use devising a detailed build plan. This time round he wanted to do a Brat style build, or by his definition a "Modern Brat". A bike that had a classic look yet ran modern accessories and systems that would guarantee hassle-free operation for years to come.
So the CB had its subframe chopped and closed using a custom hoop with integrated LED taillights. A new, taller tuck and roll bench seat came next and the clip-on bars were raised to improve comfort on longer rides. More LED lighting was installed to complete the modern lighting set up and a whole new set of digital gauges went into the cockpit.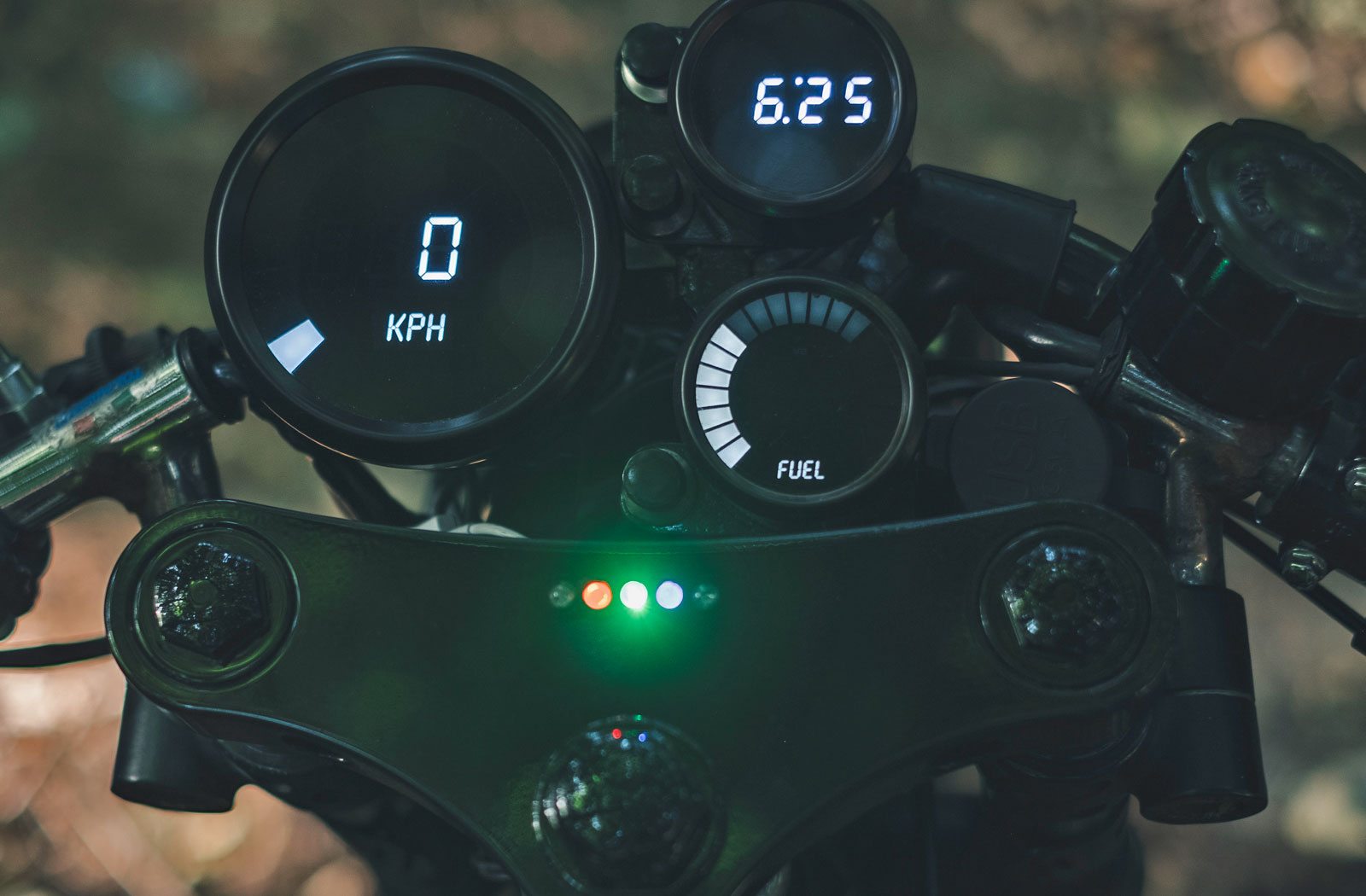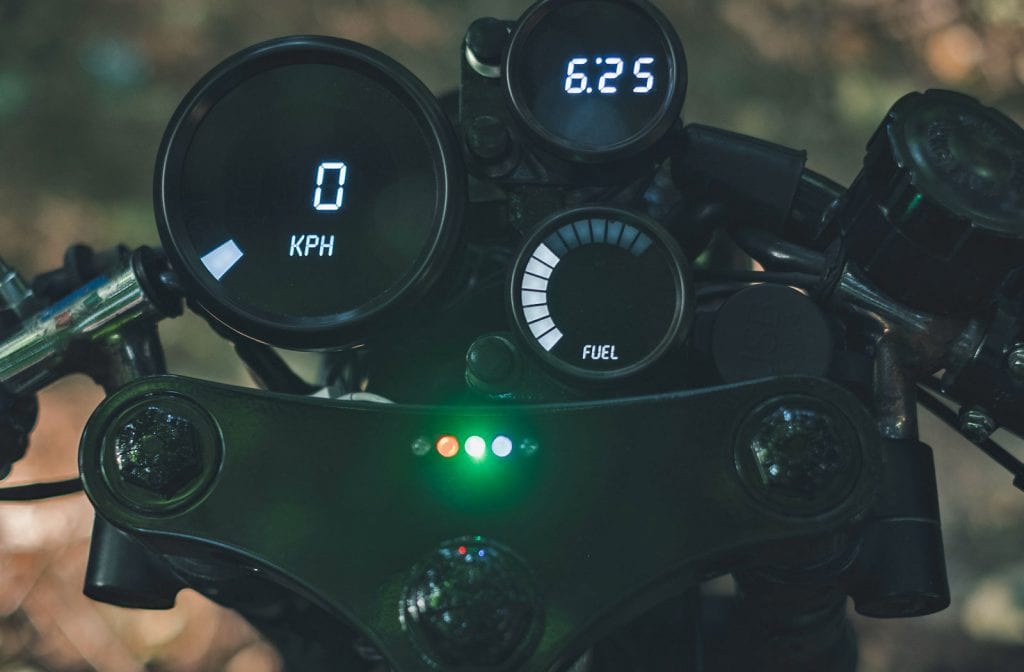 During the 18 month build, Pierluigi left no stone unturned. The engine was completely disassembled, bored and fit with OEM pistons before a fresh coat of high temp paint. Next, he overhauled the carbs and rejected them to suit a 4-into-1 'Carpy's Cafe Racer' Silver Cerakote Sidewinder exhaust system. A Daytona Electronic Ignition replaces the tired old points setup and a single mini megaton short silencer caps off the custom headers. A 16 tooth sprocket and quick action throttle pep up the acceleration of the bike and the centre stand was removed to drop non-essential weight.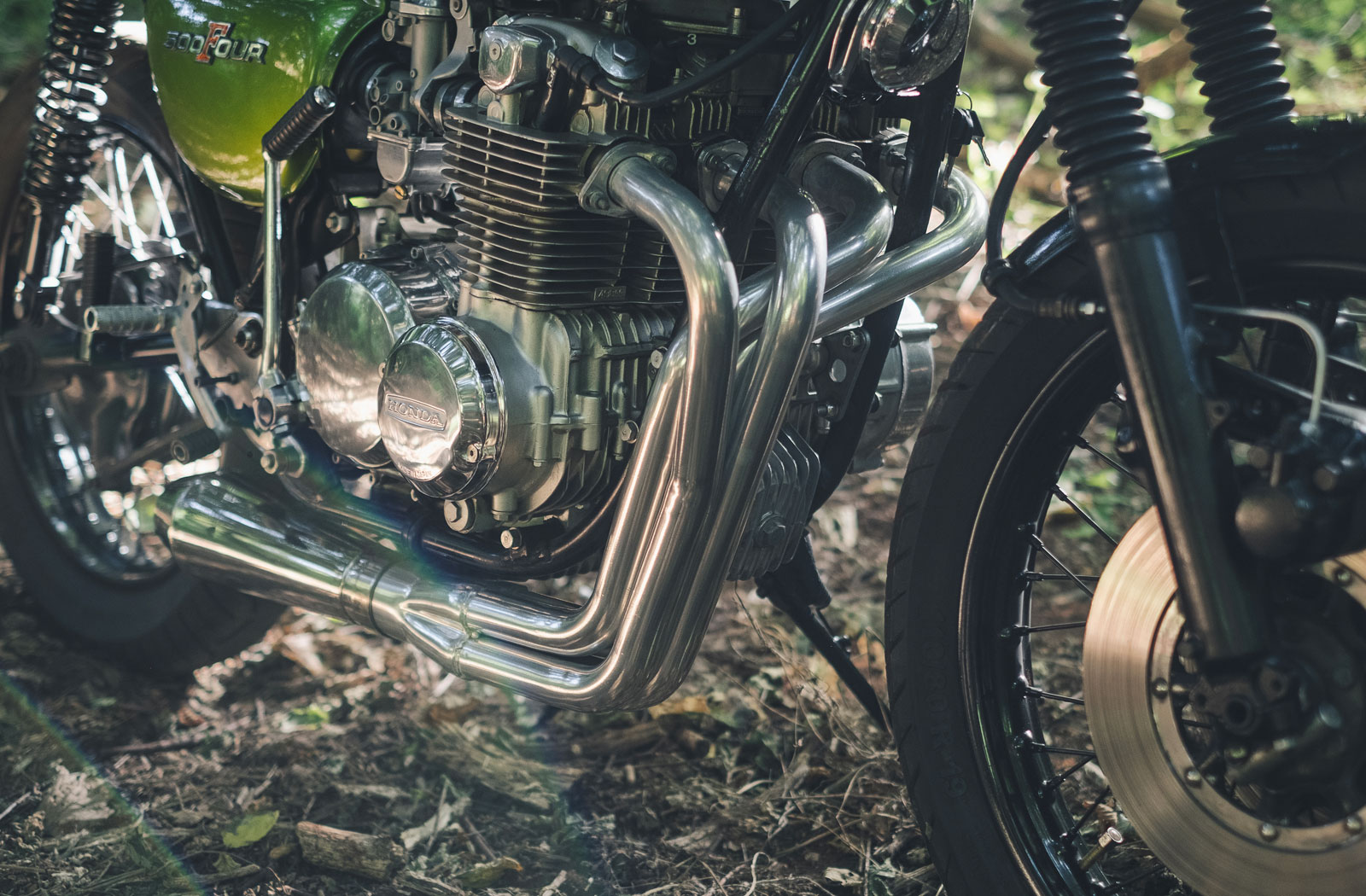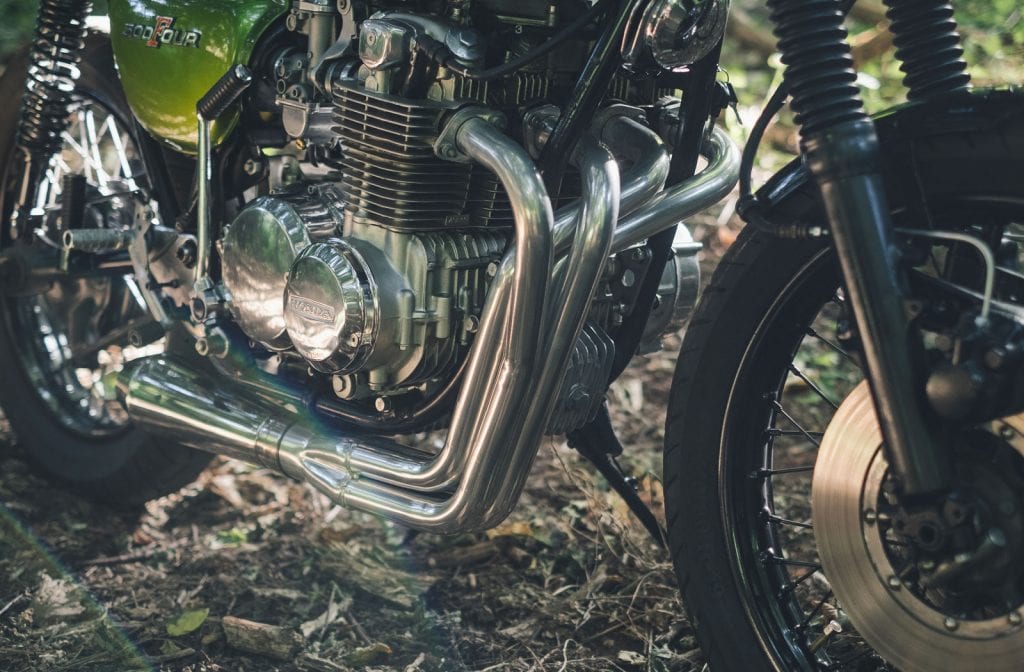 Cognito Moto provided the Honda's new triple clamp set up complete with warning lights. The forks themselves are 45mm taller to match the aftermarket shocks which are 45mm taller too. There's a second disc on the front to step up brake performance and  Continental ContiRoadAttack 3 Sport Touring tyres take the Honda's handling to the next level. All new stainless hardware and bracketry hold everything in place and there's a USB charging point to keep his phone charged on long journeys.
Many of the tasks completed during the extensive rebuild were funded by selling the original parts Pierluigi had sourced for the bike all those years ago. Amongst the new purchases was the classic Honda CB500 Four green tinware that perfectly suits the build.
46 years after it first hit the street this Honda CB500 Four Cafe Brat certainly has some tales to tell, but its story isn't over yet. Pierluigi's appreciation of the legendary 500 Four continues to grow after 13 years of ownership and it's clear they have many more adventures ahead of them.
Photography by Simone Galli.