My name is Ryan Despres, I'm 31 years old and live in Alberta, Canada. I work as a Helicopter pilot and photographer and my hobbies include motorcycles, woodworking and anything with 2 wheels.
My passion for motorcycles began when I was 13 years old. My father bought me a 1997 Yamaha RT 100 as a graduation gift from middle school. After my dad saw me having all the fun he quickly bought himself a Yamaha TT-R 125 to join in. We rode the dirtbikes for a few seasons and then upgraded to a Honda CR 125 and CR 85 (he was short so the CR 85 was the best size for him).
Eventually, we started to look around for some street bikes so we could take our adventures to the roads. My dad managed to find a great deal on a 1977 Honda CB 550 and a 1975 Honda CB 360. The 550 needed a little work but the 360 was in amazing shape. Both my parents managed to get out on the Hondas and every now and then, once I got my motorcycle license, I was allowed to hop on the 550.
The Hondas quickly became too small so my parents bought two Yamaha V-stars to ride around on. They kept the old Hondas though, putting them to the side of the garage. This was around the same time I was able to buy my first bike, a 2001 Honda VLX 600. Inevitably, I tore the whole thing apart and got my first taste of modifying motorcycles.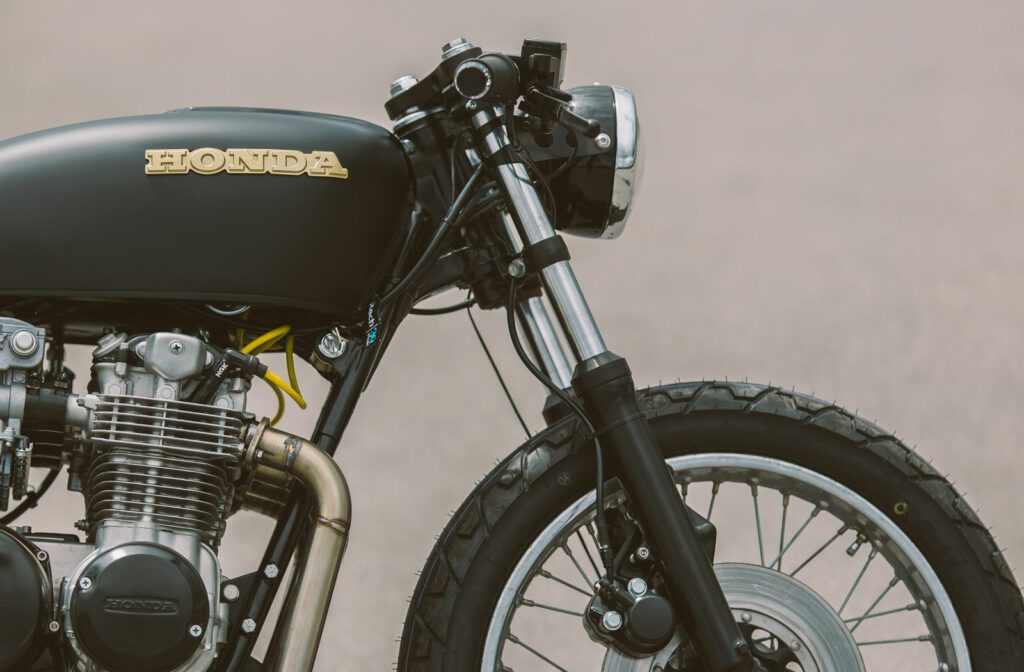 I had the Honda VLX for one year until I was making enough money to buy my first Harley Davidson. At 24 years old I bought a 2015 Street bob. My dad drove me 3 hours to pick it up from the Harley dealer. What I remember most about that trip was him obsessing over a beautiful 2014 Harley Davidson Softail Deluxe CVO. I was signing all my paperwork and could see him in the showroom just eyeing this thing up. Sure enough, my dad had to one-up me and ended up buying that bike at the same time I got mine. We both walked out of there with our first Harleys.
Ever since that day my dad and I got out as much as we could on the Harleys and rode together all over North America – from Arizona to the Florida keys. Eventually, my dad decided we should start modifying the old 1977 Honda CB 550 Four K sitting in his garage and turn it into something awesome. It was my job to do the labour and he would help financially and get his hands dirty whenever he could.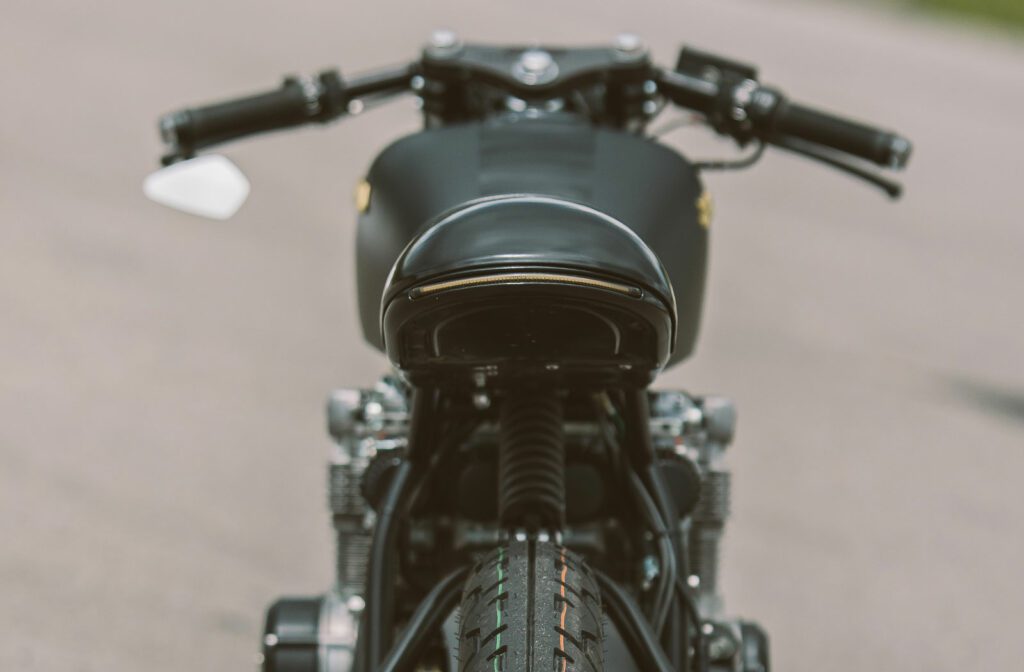 We managed to tear the bike completely apart right down to the frame. I knew the style I wanted to go for so I took nearly everything off the bike. I wanted it black, sleek, smooth and modern. I sourced a few ideas online and took inspiration from multiple bikes.
It was tough to work on the bike since I was moving around so much at the time. I never had a real workshop to work in. I was always working in small garages with sub-par tools just picking away at it when I could. Eventually, I managed to get the frame welded and had most of the parts ready. But I was looking to move west to Alberta to start a new career as a helicopter pilot. I thought this might be a good time to ask my dad to come with me and we could ride the Harleys across Canada. He was just as excited about the trip as I was.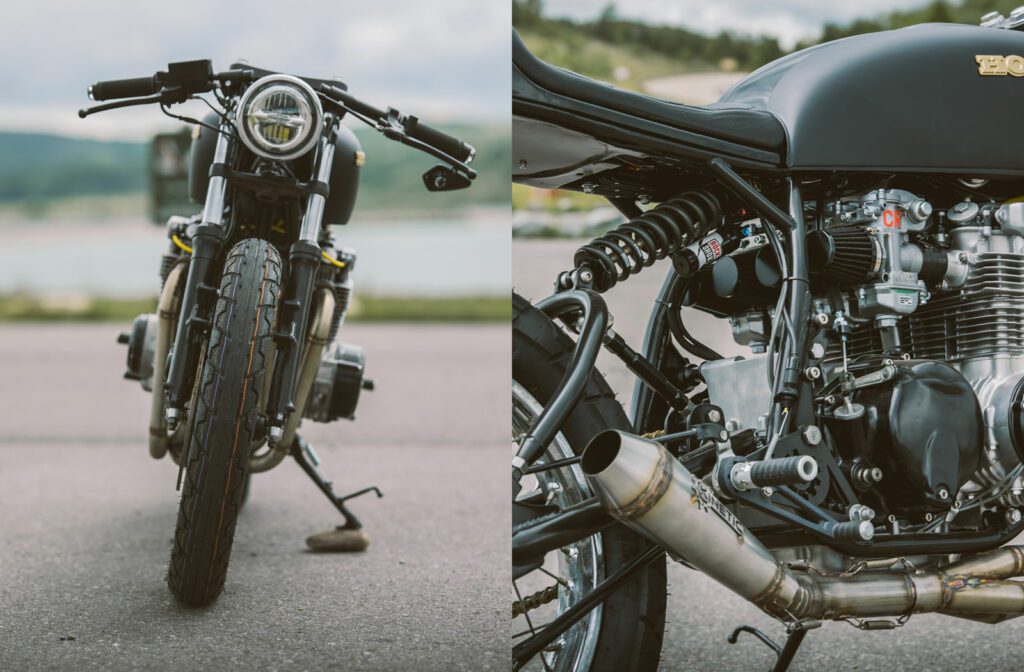 On August 21st 2016 he and I hopped on the Harleys and rode 4000km across Canada together. The trip was by far the best motorcycle trip I have ever been on and I'll never forget it.
In August 2019 my Dad was diagnosed with stage 4 lung cancer. He, unfortunately, lost his license shortly after and ended up gifting his Harley to me for my wedding in September of that year. Shortly after my wedding in November 2019, we lost my dad to cancer. A few months after he passed I knew I wanted to put the gas on our Honda CB 550 build to get it finished.
The only thing stock on the bike now is the motor, gas tank, forks and rims.
The rear of the bike was removed and replaced with a swing arm kit from Kinetic Motorcycles. The rear shock is a Rock Shox Vivid RC2 mountain bike shock with a 500lb spring. I went with this setup because I couldn't find anything that had the look I was after. For the front triple tree, I went with a Cognito Moto triple clamp wearing a Motogadget Motoscope Mini for that clean modern look. The rear cowl is from Cognito Moto too and so was the rear frame loop. My seat was custom made by a shop in Calgary.
I forget where I bought the clip-on bars, but they are 1-inch in diameter. The mirror is a single Motogadget mo.View Blade. The headlight is from Drag Specialties. The rearsets for the bike are also from Kinetic and the foot-pegs and levers are, once again, from Cognito Moto.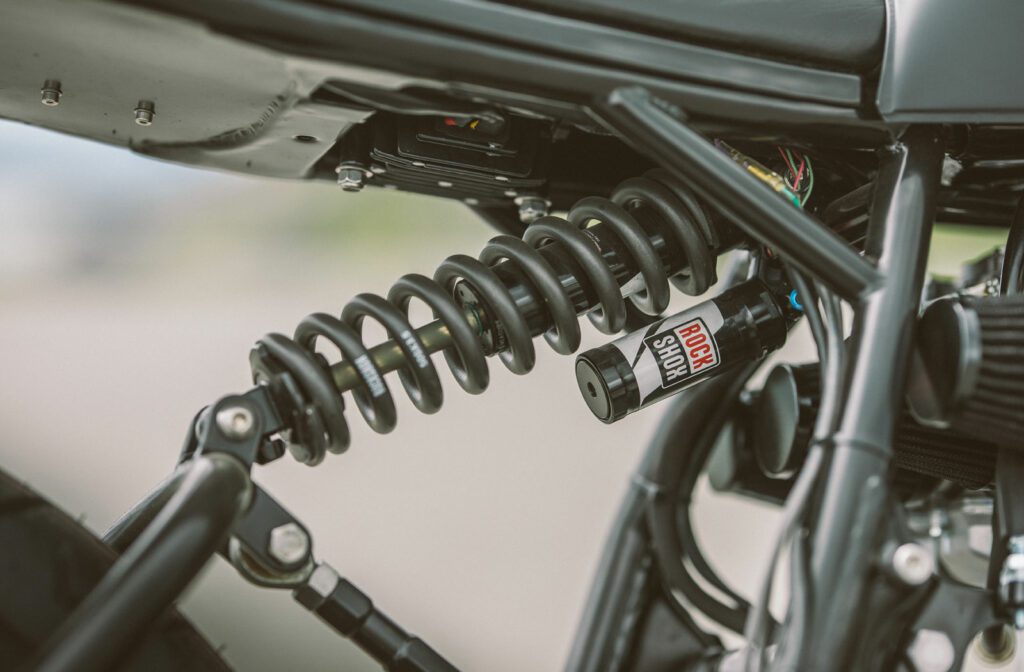 None of the parts purchased for the bike was the perfect fit. Mostly everything had to be modified and have custom mounting brackets made. This includes the exhaust which is by Kinetic motorcycles. It was far from perfect so I added some bespoke stainless brackets to get it to sit right.
The carbs for the bike are Keihin CR26 Roundslide Specials fitted with K&N pod filters. The batteries, which are hidden under the seat, are 2 lithium antigravity 4 cell batteries. I chose these because they are nice and small and could be easily hidden.
I didn't know much about electrics so I took the bike to a local shop in Calgary. They helped me install a Motogadget m.Unit. All the original electrical wiring was removed completely so the bike had to be totally rewired. Along with the Motogadget m.Unit, I installed m.Blaze Disk turn signals mounted on the bar ends. The rear brake light is a led strip recessed into the frame loop.  The same shop also helped source some parts and vapour blasted the motor to have it look much cleaner.
The CB550 Four's performance compared to before is night and day. It was a long time ago when I rode it stock, but the sound and handling are amazing. I haven't pushed the bike to any limits yet as I'm still in the testing phase and it's still being broken in after the rebuild.
Finally, after about 6 years of off and on work the bike is complete. The majority of the work was done in the last 12 months. This summer was the first time firing it up and testing how everything works. The Honda is finally complete and looks great, and it's in honour of my dad, Lionel Despres.
Special thanks to Ryan Despres for sharing the story of this special build.