It's been a long time since drinks, but one of our favorite backyard builders, Steven Wilson is back! It comes as no surprise that Steven has come to us with yet another Honda Cafe Racer build, but there's a lot that's unexpected about this bike. Being orthodox wasn't something that crossed Steven's mind with this one, and while the end result may raise a few eyebrows we wholeheartedly approve of the outcome.
"I wanted to resurrect an old motorcycle and create a new one that had modern handling, advanced electronics, and a distinct retro appearance," says Steven. "A bike that was light and nimble for cruising around town and most importantly, lots of fun to ride. My goal was to be completely different from my previous builds by trying to take my creativity to a new level."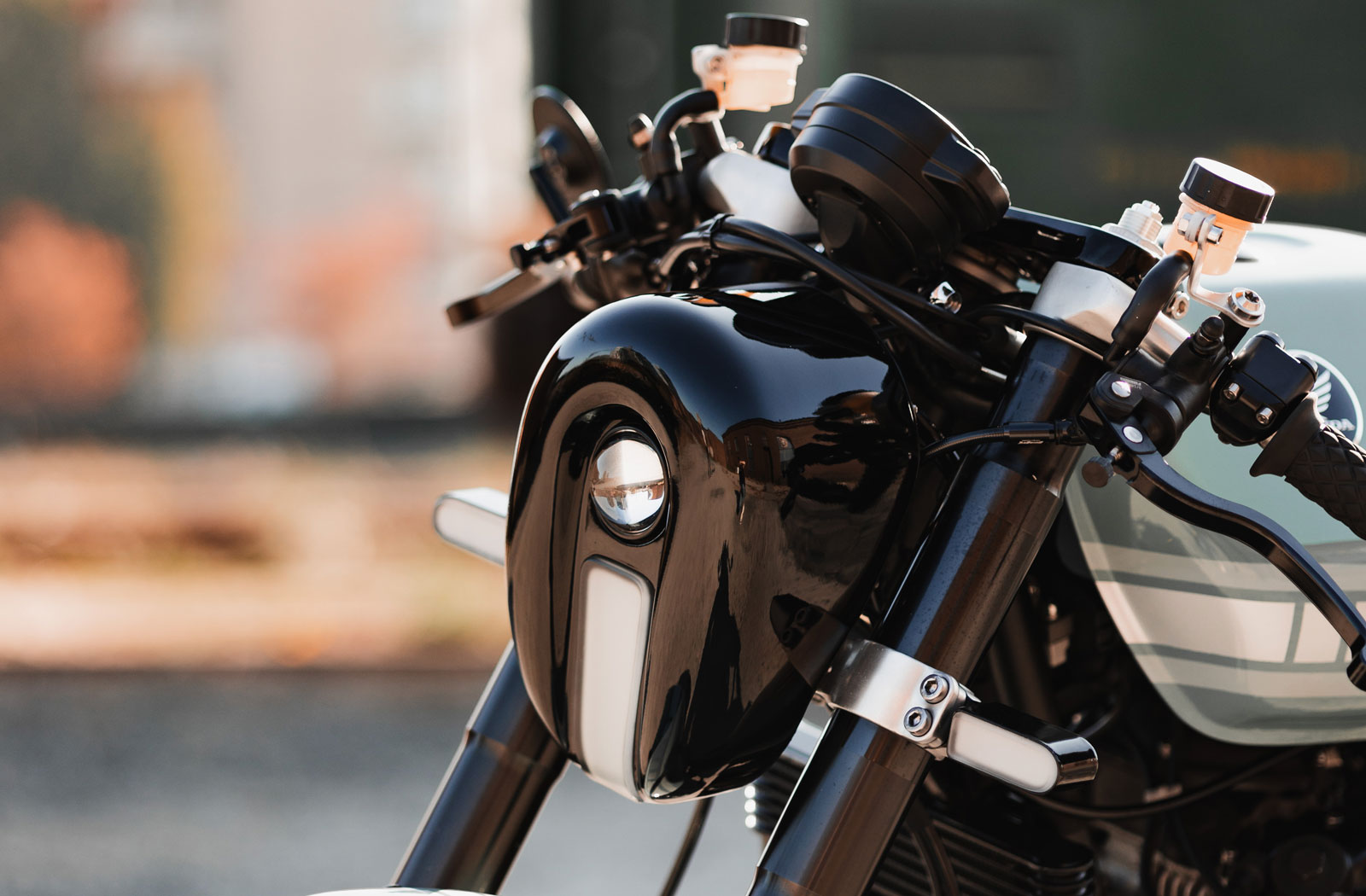 Steven purchased the '73 Honda CB500 K2 from Jim Hannah who ran Victoria Motorcycle Salvage in Victoria British Columbia.  Jim was forced to close his 33-year-old business after being evicted from the building. At 62 years old Jim decided to shut shop and sold off his inventory. Steven planned to return when his Honda project was done to show Jim the result. Sadly Jim passed away soon afterward closing the business so in his honor Steven named the bike Hannah.
To kick the build off Steven went to town on the Honda's frame. "I removed the rear section and replaced it with a newly fabricated part," he says. "This modification was done to create a more open and spacious sensation, improving the proportions of the bike by enhancing the distance between the tire and the seat. The new section ensured a harmonious alignment between the frame and the tank, which, in my opinion, greatly improved the bike's visual appeal."
Once the fab work was finished, Steven stripped the frame to bare metal and had it powder coated using a textured satin black to contrast with the gloss finish he planned for the engine.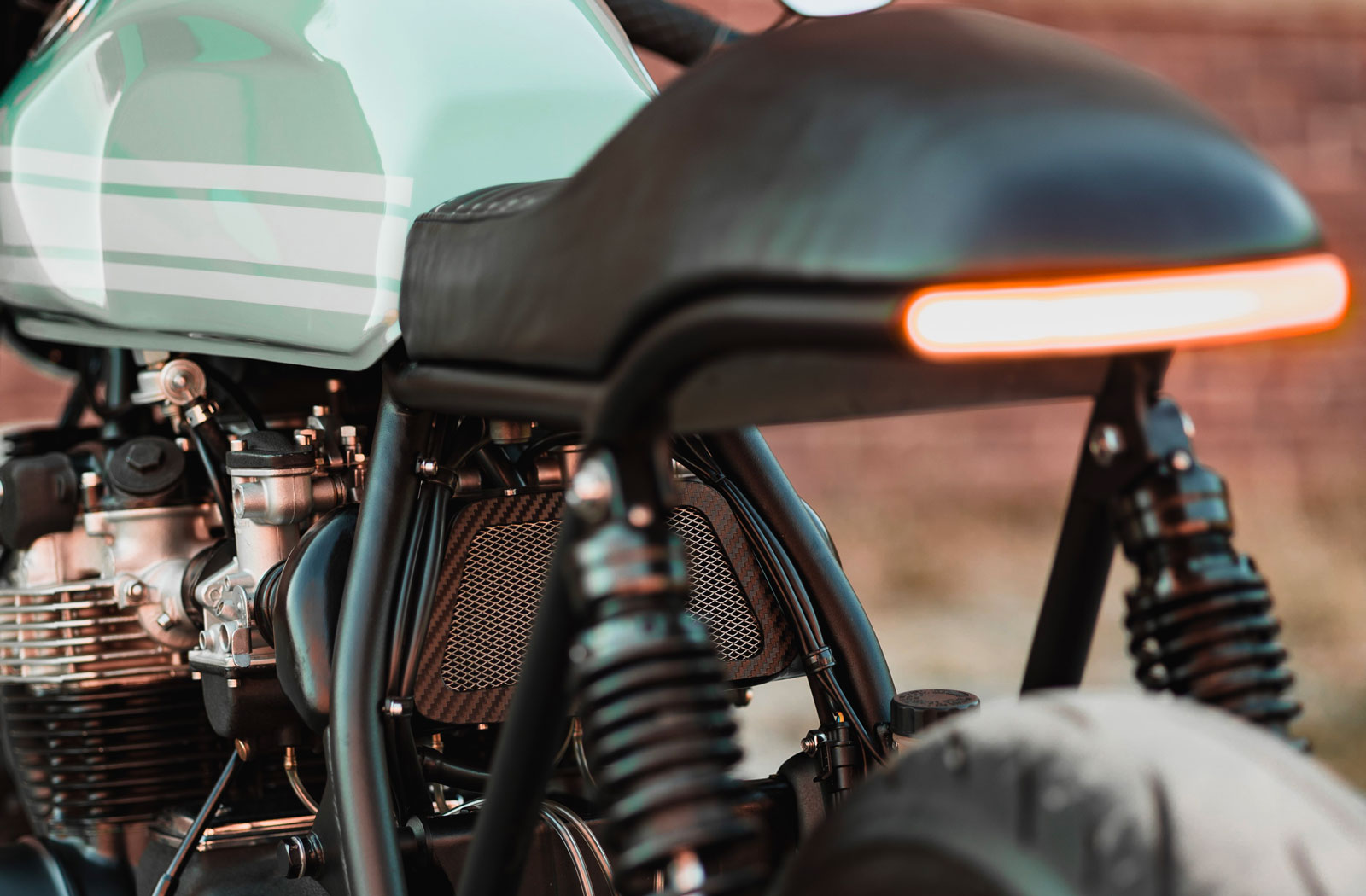 Next came the suspension and wheels which turned out to be the most challenging part of the build. He wanted a thoroughly modern setup but he soon found out those kinds of changes weren't so common with a CB500.
"My vision was marrying a set of Yamaha R1 forks and triple tree to the CB500 frame. I couldn't find a bearing kit that would bring the two together. So, I had to search through countless websites to find bearing sizes I could work with. Then with a little grinding of the frame and minor sanding of the Yamaha steering stem, I made it work," he says. "The next challenge was fitting a spoked wheel with dual discs and modern tire size to the Yamaha front end. I eventually discovered that a Harley Narrow Glide dual disc front hub had the correct spacing but I had to go searching to find bearings again. Eventually, I found that bearings from a Ford Fiesta gearbox were the correct size to work. I anticipated that finding wheel-bearing seals would be just as tough, but All Balls Racing has a great fitment chart where I was able to find the right sized seals for my application."
After verifying he could achieve his goals with the wheels and forks Steven pulled the trigger on a set of spoked BSR rims to suit the Harley hub. While he waited for them to arrive he rebuilt the R1 forks to have them performing like new. When the rims arrived he laced and trued them and set them up to be tubeless using 3M sealant tape. The rims were then wrapped in Bridgestone Battlax Hypersport S22R rubber with a 120 up front and a 150 in the rear. The addition of an offset front sprocket from Cognito Moto and a custom spacer for the rear sprocket kept the chain running true.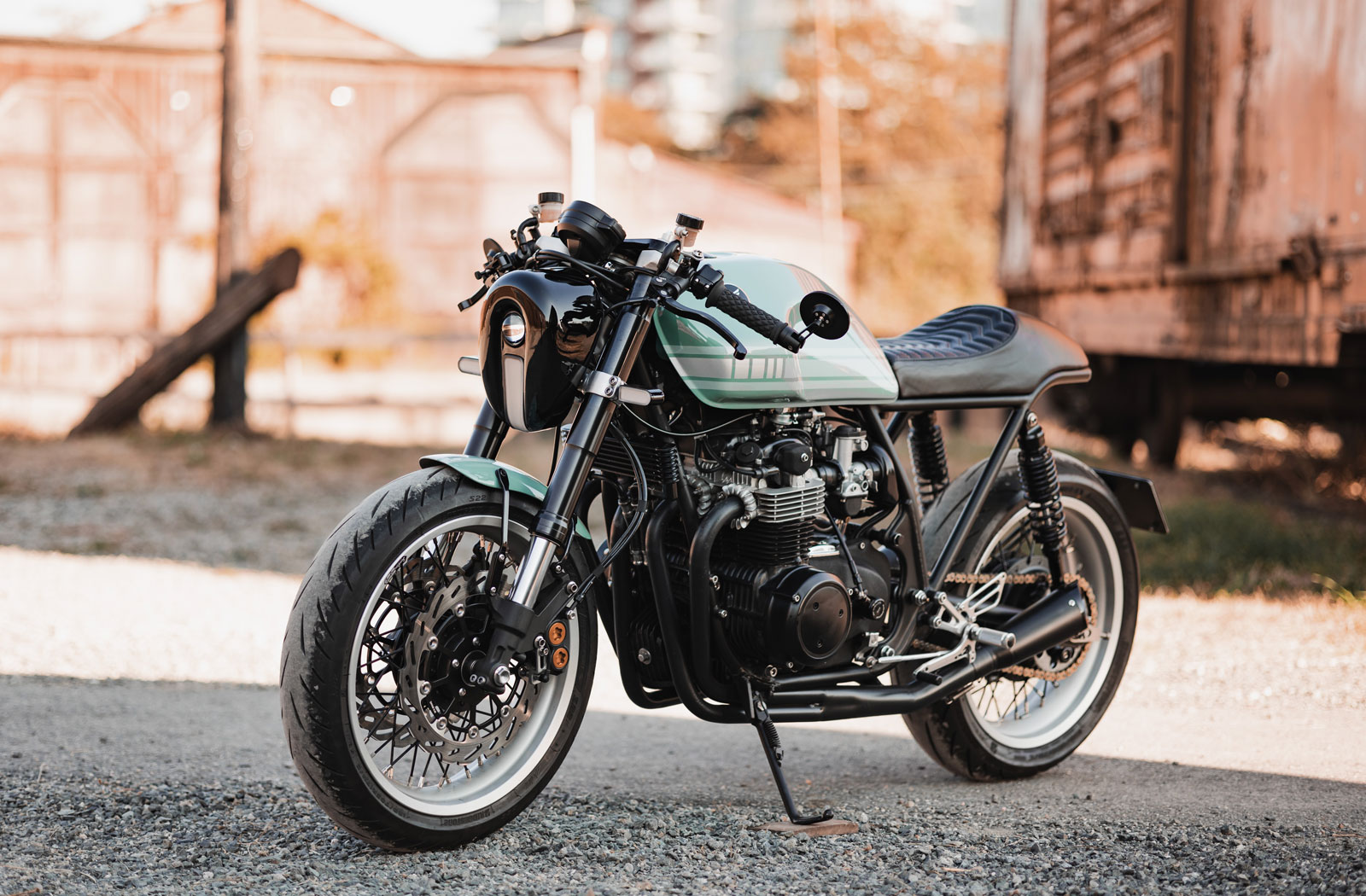 Next came the engine, and while Steven never expected knuckle-whitening performance, he wanted to create a somewhat spirited and reliable runabout.
"The original engine underwent a thorough rebuild. I also modernized the stock ignition system using parts from 4into1. The top end was completely rebuilt. After honing the cylinders it received new pistons, rings, gaskets, and seals. I ported and polished the head and reseated the valves too," he says. "I swapped out the original cam for a CB650 version with the hope of increasing midrange torque. I installed a CB650 primary chain tensioner to help eliminate the noise at idle as well. These engines were always lacking in cooling fin surface area, unlike its big brother the CB750, so I added the CB650 oil cooler and used the larger CB650 sump pan to increase the oil capacity and improve cooling."
To wrap up the power improvements, Steven has added a custom set of 4-into-2 headers and a slash-cut muffler finished in black. The airbox has also been opened up and fitted with a Uni filter to allow the engine to breathe more freely. Modifications were also made to convert the clutch and the rear brake actuator to hydraulic alternatives.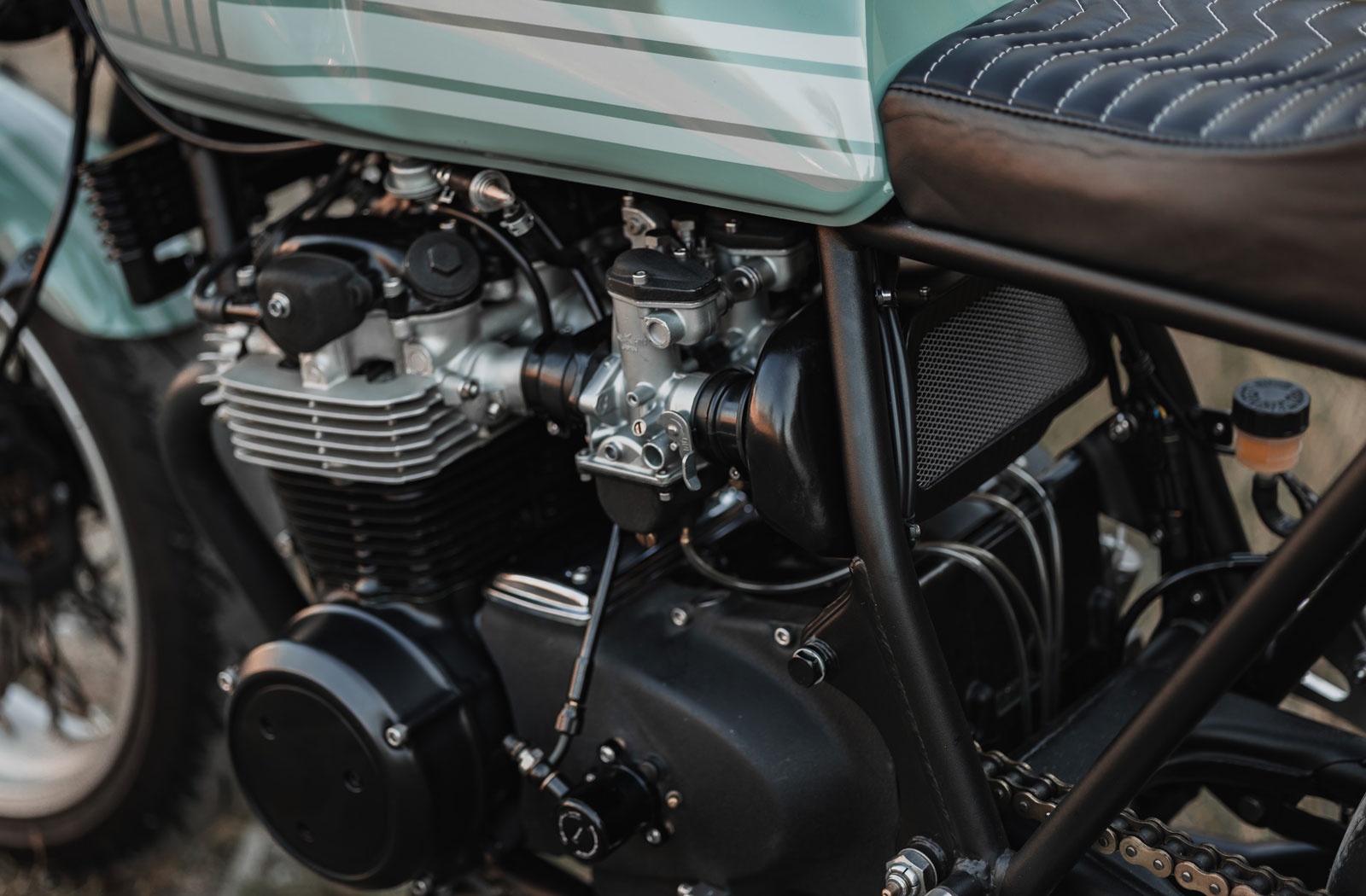 To achieve the modern retro aesthetic he was after, Steven moved away from the Hondas factory bodywork. The bike now wears an aftermarket fuel tank with cafe-style knee dents and a sleek silhouette. The tank has also been customized with a flush mount filler and a sensor to relay the fuel level to the new KOSO gauge. To complete the look Steven's finished the tinware in a striking "tormented teal" scheme with modern-looking silver speed block stripes.
The wasp's tail-style seat and hump is a one-off based on a pan Steven made by hand. The pan was wrapped in leather by a talented local upholsterer and beneath it, you'll find the electrics.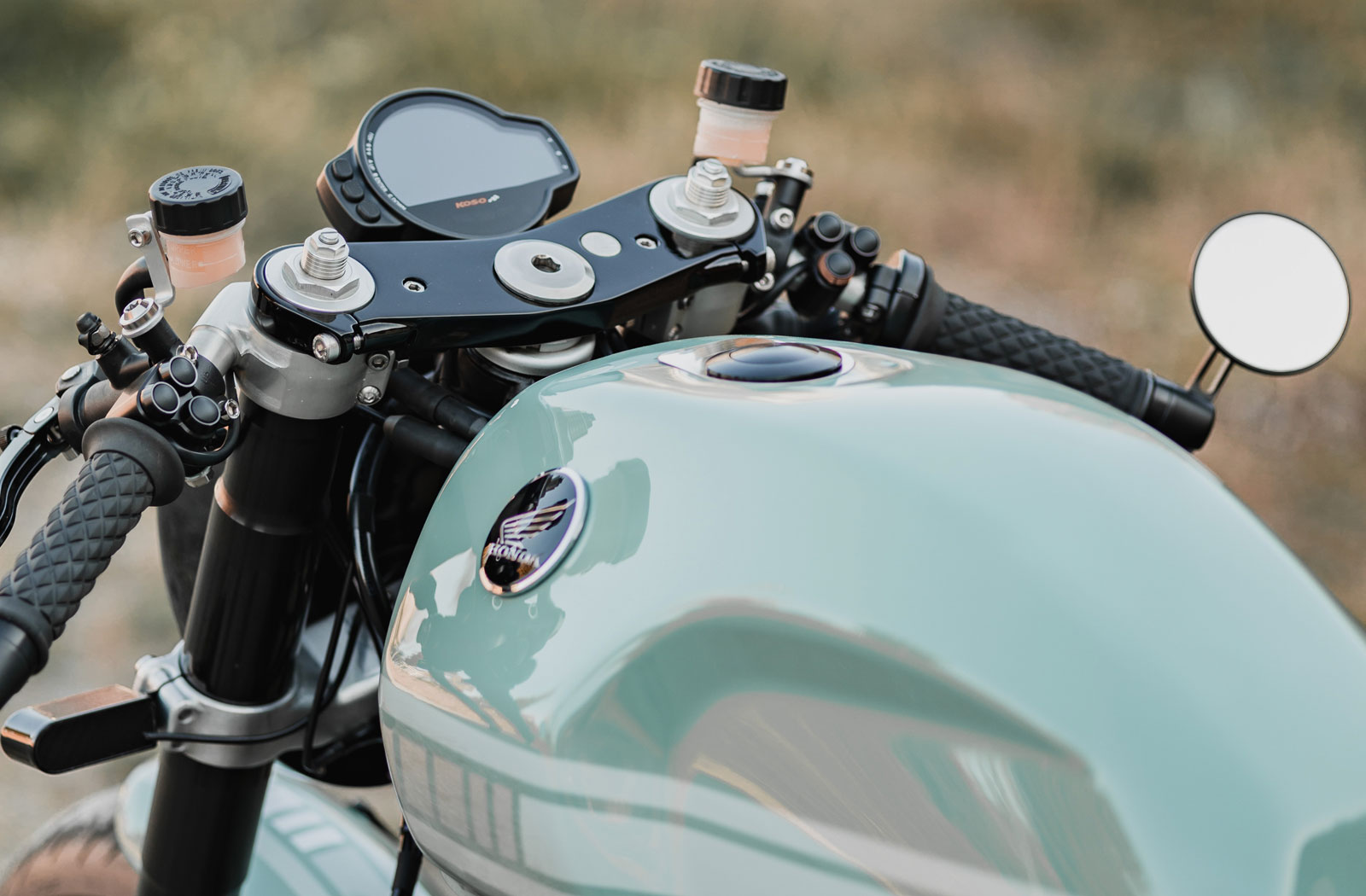 Speaking of electrics, you won't find any 50-year-old wires on this CB500. Steven has upgraded everything using a new loom and Motogadget M-unit kit from Revival Cycles. A Rick's Motorsport Electrics reg/rec and lithium battery complete the modernized electrics. Push-button switches on the clip-on bars follow suit and that Koso gauge looks right at home above the R1 triple clamp.
"The bike's lighting is entirely customized. Every aspect, from the projector-style front headlight, daytime running lights, and turn signals to the dual-function rear taillight integrated into the frame. It was all purposefully designed and crafted by me with a vision in mind." says Steven. "While photos may not fully capture its brilliance, prolonged gazing at the DTRL or brake light can be rather intense for your eyes!"
As for how the bike rides, Steven says, "It is so much fun! It is easy to flip from one side to the other when going through tight twisty corners. The front brakes are amazing, and this bike can stop on a dime. You won't win any top-speed contests or drag races, but it'll pull strongly to the redline. I think that's what makes it so much fun because you have all the joy of hearing the engine screaming as you put it through its paces, without getting into the trouble that would be inherent with a more powerful bike."
As far as CB500s go, this bike is unlike any we've seen before. It won't be to everyone's taste, but building custom motorcycles isn't about pleasing the masses. It's about building what you want, and Steven's achieved precisely that.