I will be the first to admit I'm hopelessly nostalgic. So when I come across a story of a father and son working together on a custom build I'm instantly interested…especially when the result is as cool as this tidy little CB350 Cafe Racer. After working on car projects for years with his Dad, Blake and his "old man" decided to apply their skills to a two wheeled project. This is the story of how one forgotten Honda found a new lease of life in the hands of two generations of custom builders.
"I first got into bikes about 5 years ago after moving from New Zealand to Melbourne. Me and my old man have done up a few cars together, but never an old bike. Liking Cafe Racer styled bikes I bought an '85 GB400 TT added a few personal touches such as clip ons, bar end mirrors and a megaphone exhaust. The desire to build another bike from scratch started there and with my Dad relocating to Melbourne we decided to give it a go."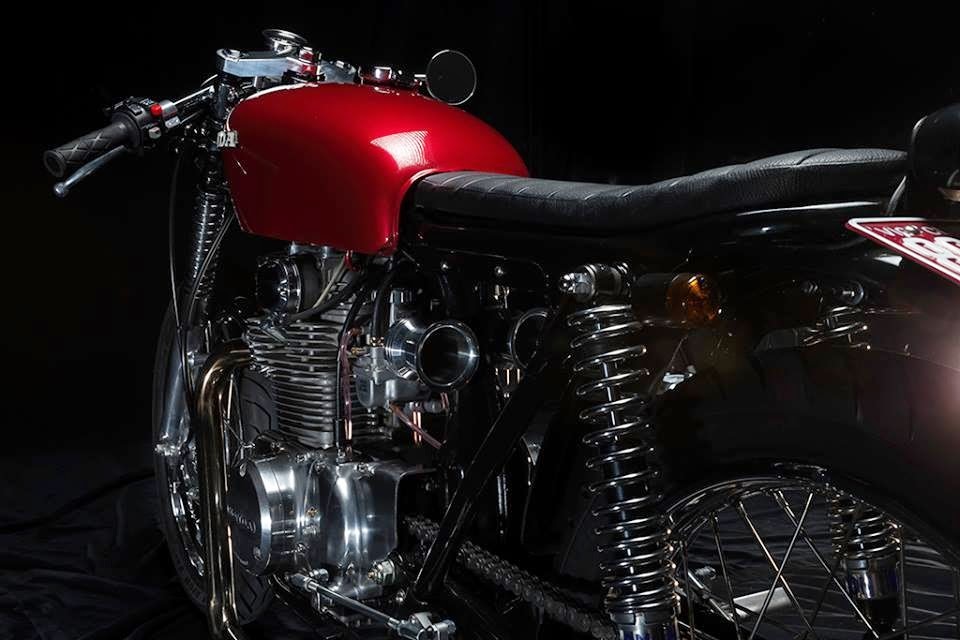 "Soon afterwards a '71 Honda CB350 came up for sale in Sydney, so we traveled 9 hours over night from Melbourne to Sydney in the Hi-Ace van I use for work. We bought it off the old guy that was selling it and loaded it up out of his garage where it had been sitting for over 30 years. The bike was mostly all there and amazingly it still turned over! We got it home and started stripping it down to the bare frame.
Dad had restored cars over the years, but never motorcycles. We cut the rear end off and welded in a custom rear hoop with a slight upward kick in it, making sure it moulded in with the rest of the frame. We had all the parts zinc plated and chromed and all the tired old alloy parts were polished to a mirror finish. We then painted the frame ourselves using a two-pack black and prepared the tank before it was painted in metallic red by our local painter. The wheels were re-spoked to new rims and we had the wrapped in fresh Avon rubber."
"Next we refreshed the motor with new rings, cam chain tensioners, gaskets, etc and replaced the rusty bolts with a stainless steel kit. We decided to remove the starter motor altogether and completely re-wired the bike. All the electrics were then tucked up under the seat including a gel battery by my old man. We cut down the original front guard and used it to fabricate a both the front and rear guards. We custom fit the rear sets and made a brake lamp switch mount. Discrete indicators, new clip ons, cables and levers and rear shocks are Hagon all went on the bike. The freshly polished front and rear hubs were then reconditioned with new bearings and brake shoes."
"Brand new Mikuni carbs with velocity stacks and a custom built polished stainless steel exhaust to clear the rear sets completed the look and our performance modifications. After a search online we found a guy overseas who made us a billet alloy top clamp to suit the old external spring forks, it is a masterpiece of craftsmanship. Finally we fabricated a seat pan and had a local upholsterer trim it in black leather.
Now the bike runs awesome, is a blast to ride and it receives a lot of attention out on the streets of Melbourne."