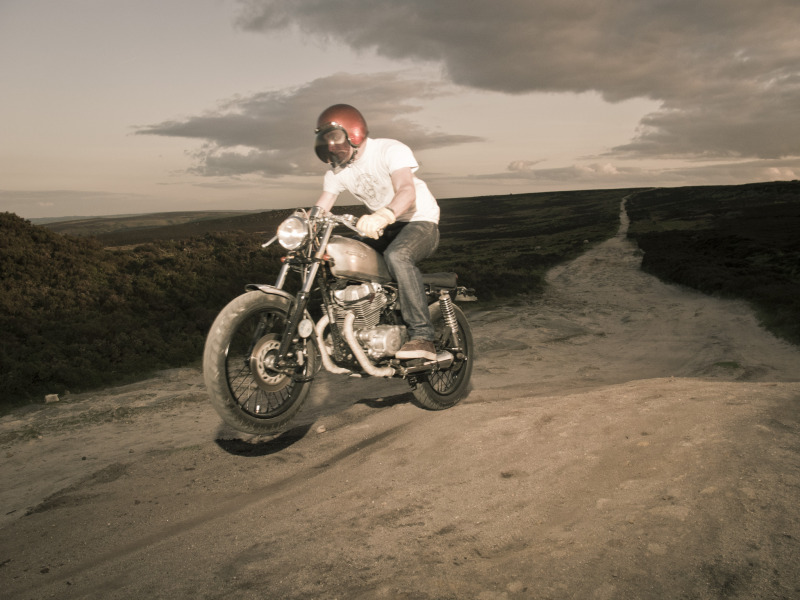 We are pleased to showcase another set of readers rides for the month of October. Amazing garage built Cafe Racers from around the globe sent in by the latest generation of backyard builders.
As we continue to receive more projects we are beginning to see a trend in the choice of motorcycles used as a Cafe Racer project base. Hondas rank high on the list with CB's of all sizes and the often controversial CX making a frequent appearance. We've seen a handful of classics as to be expected but the cheaper Japanese bikes are leading the way as availability is obviously also becoming a real issue with the older makes. Guzzi's and BMW's are also common contributions which helps to add some European spice to the mix. So here's the creme de la creme from our ever growing inbox. We hope you enjoy reading about them as much as we have.
Azahar Honda CB400:
Straight out of Kuala Lumpur comes a Honda CB400 Vtec spec 1 built using limited resources and with the help of every garage builders best friend, eBay.
Azhar has chopped the bikes chasis and fitted a custom made fiberglass seat and side panels. The rear lamp was from a Honda C70 and cost a measly $10. Clip ons were very hard to come by but a set were finally acquired from a Honda CBR600 for $100.  No funds remained for a professional paint job so Azahar took to the Honda with a can of black spray and a roll of yellow vinyl tape.
Richards Honda CD250u:
"In 2008 I rode my 89 Honda CD250 from London to the French alps with my snowboard on the side. On my return, I started learning about fixing, modifying and chopping bits off. The bike was a real rat but with a plenty of good looks. I stripped it down in September 2010 and cleaned it up as best I could, rebuilding the wiring loom and fixing my bodges. This is it now – perfect for blasts round the Peak District in the UK."










Xs-Rated by James:
A 1978 XS400. This bike by James is still a work in progress but we like where it's heading. Mods to date include upside down mx bars, cone intake pods, ducktail seat, LED indicators and chrome headlight mounts. Clip ons, a new headlight and speedo are still on the list and we're sure he won't be stopping there.




Bums to Bonneville by Jaeson:
"I call it a CB450 but it's life started out as a 77CB400T. I found it out in an alleyway down from my grandmothers house back five years ago. From that alley it has turned from scrap metal into cafe racer, and soon, a Bonneville speed trial bike. I have been to Bonneville with it once already and am currently trying my hand at a documentary on the trip. No idea what I'm getting into, but then I said the same thing when I found it. I hope you enjoy my clip."
Cant wait to see Jaeson's next attempt…hopefully next time he can do a run that will get an official registration!