We all know Kentucky Fried Chicken. It's second only to McDonald's for making Americans fat and scaring farm animals globally. But do you know the story of Colonel Sanders? Without being too long-winded about it, he spent his whole life trying to catch a break only to be almost broke and living off social security at the age of 64 after his latest restaurant failed.
So in 1955, in a last-ditch effort to get his idea off the ground, Sanders began sleeping in his car and going door-to-door, cooking chicken in take-away joints and offering to sell his secret spices in franchise deals. And hey presto—less than 10 years later, Harland David Sanders was sitting at his kitchen table with a cheque for almost twenty million dollars in his warm, chicken-scented hands.
The moral of the story is simple; Yamaha's SR is delicious when deep-fried. Actually, no. The real moral of the story is that fame is fickle and it can take a lifetime for something with true potential to be fully realised.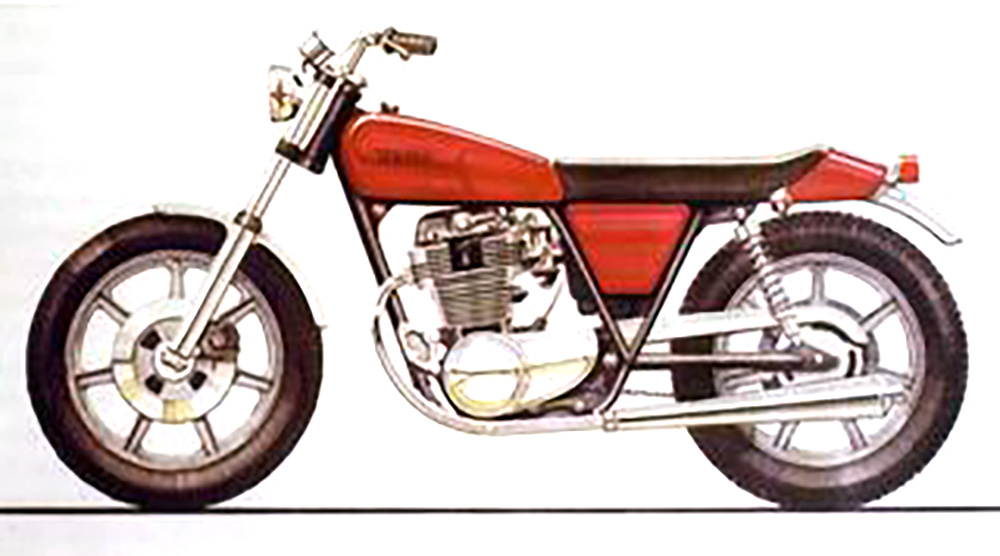 Atsushi Ishiyama San's original sketch for the SR. Image via Yamaha Japan.
Easy Does It: the Origins of the Yamaha SR Series
It was the mid 1970s in Japan, and Yamaha's design team were—unbeknownst to themselves—about to make history with more than one of their new designs. With the XT500 and the SR400/500 gracing their busy drafting boards, designer Atsushi Ishiyama (who went on to pen the V-Max and the MT-01 designs) and his team were clearly on to a good thing.
Presented to dealers in  prototype form in 1975, the designs hung their hats on the dual principles of ease of use and the 'Universal Japanese Motorcycle' ethos that transformed the sport in the late 60s and early 70s.
The SR's country cousin, the XT500. Image via Yamaha Japan.
Of course, the XT500 was the first model in the family to make it big; four short years later, it would win the '79 Paris-Dakar rally and then back this up again in 1980. But while all this fame and fortune was befalling it's siblings, the poor old SR would spend the next 20 years just grinding away and doing it's own thing to little applause, much like Harland Sanders 30 years before.
But also like the Colonel, we now know that in all this boring reliability and simple mechanics there was a diamond in the rough just waiting to be dug up and polished. Or fried, as the case may be.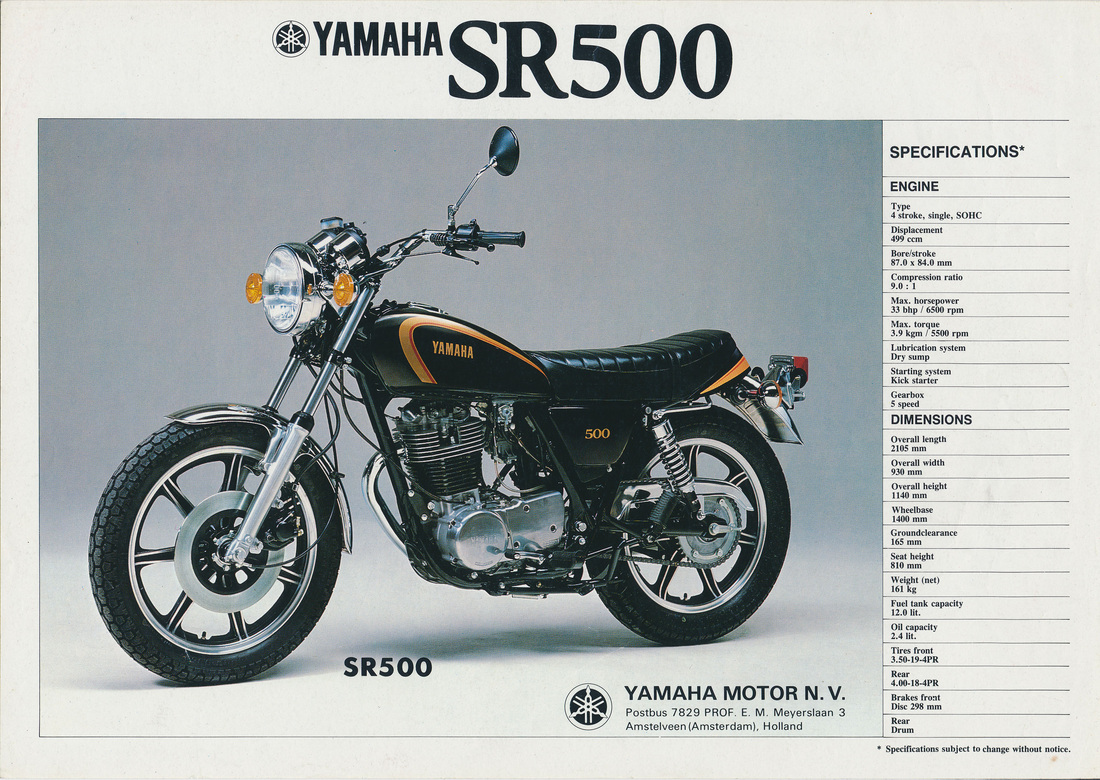 An original SR500 brochure from Yamaha Holland.
Yamaha SR Motorcycles: From London to Tokyo
It's now the 21st Century, and the streets of Tokyo and Yokohama are buzzing with the sound of single cylinder Yamaha engines. Those with a keen eye may notice that the vehicles creating these sounds bear little resemblance to the bikes that emerged from the factory two decades before.
Cheap to purchase on the secondhand market and a no-brainer to modify, crafty Japanese customisers craving cooler looks without spending a fortune locked their sights on Yamaha's wallflower single. Soon, anyone in Japan would be able to buy custom parts and fit them to their vanilla SRs, turning them into cafe racers intended to resemble the archetypal custom bike style invented in North London in the late 1950s.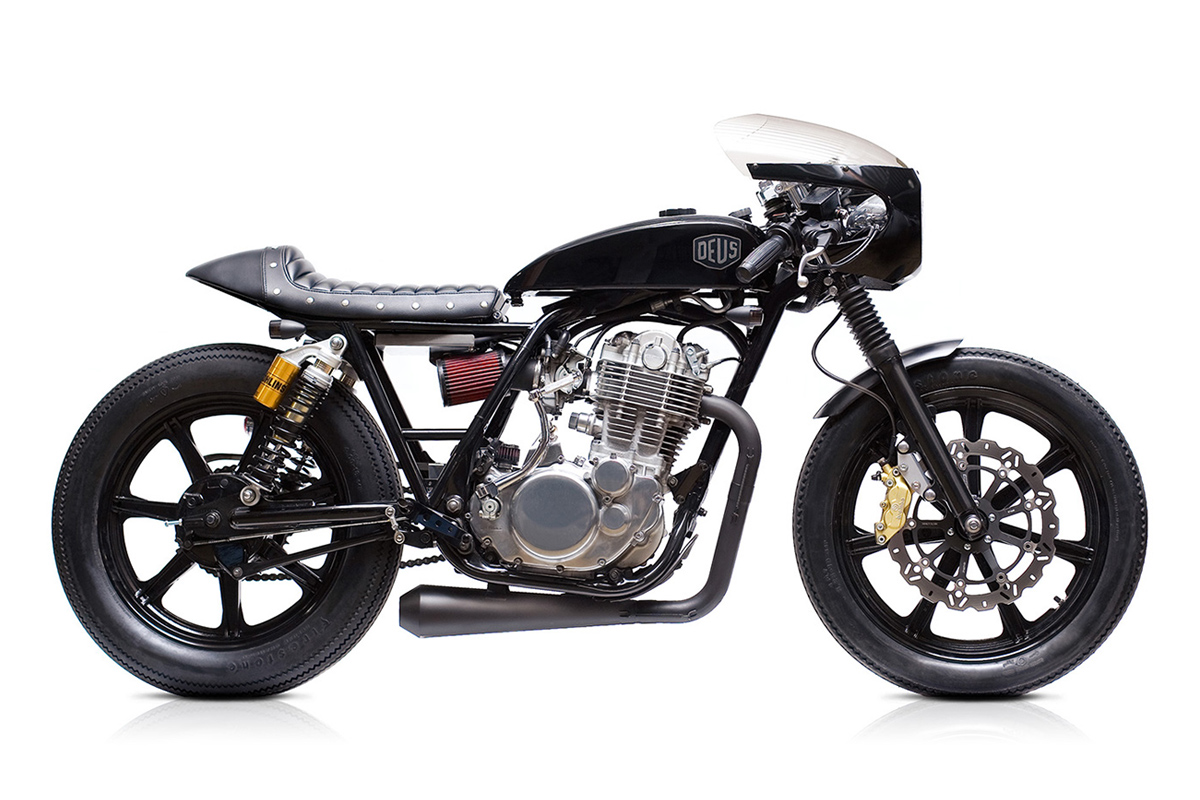 The bike that launched a million customs. The famous Deus 'Grievous Angel' SR borrowed heavily from ideas seen on the streets of Japan. Image via Deus ex Machina.
Unlike some of Japan's more wacky creations, this revival of a once-popular moto genre would also find popularity outside of the country—and that's putting it incredibly mildly.
These reimagined Yamahas would strike a deafening chord with an entire generation of riders globally who were looking for a bike that didn't make them look like a wanna-be MotoGP racer or a Sturgis tragic. The fact that they were cheap and DIY-able only made the whole package more attractive.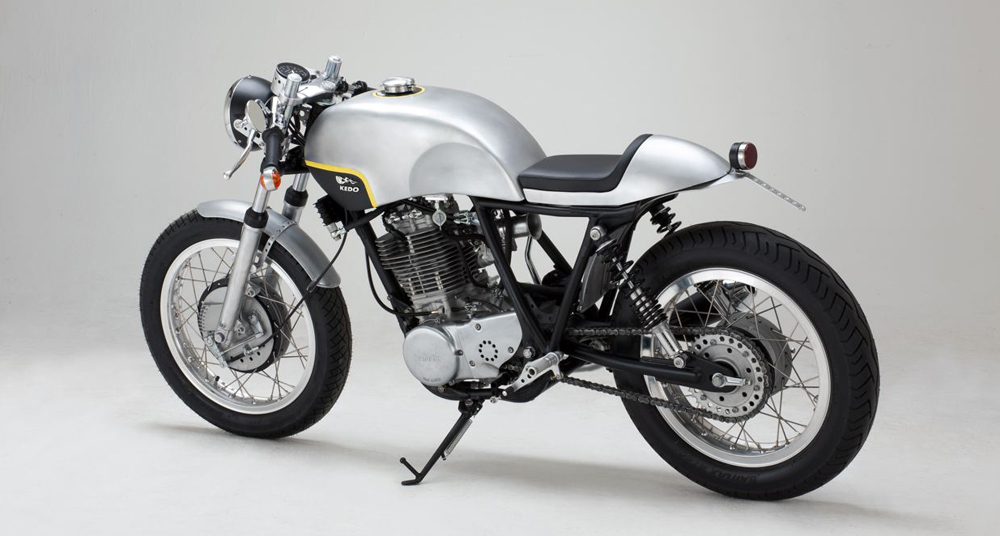 Germany's Kaffeemaschine even had a go. Image via Kaffeemaschine.
Not a Norton: Comparisons to Yamaha SR Custom Motorcycles
Egged on by the internet boom of the 2000s and the appearance of custom bike blogs like BikeExif and Pipeburn, classifieds were now on fire with next gen riders frantically trying to get their hands on SR Yamahas.
With the bike's original focus on ease of use and reliability still intact, they weren't going to freak out new riders, either. No, there's not a world of difference between the looks of a cafe's SRs and, say, a 1970s Norton Commando, but most people will realise that it's chalk and cheese when it comes to ease of operation, reliability, and mechanical repairs.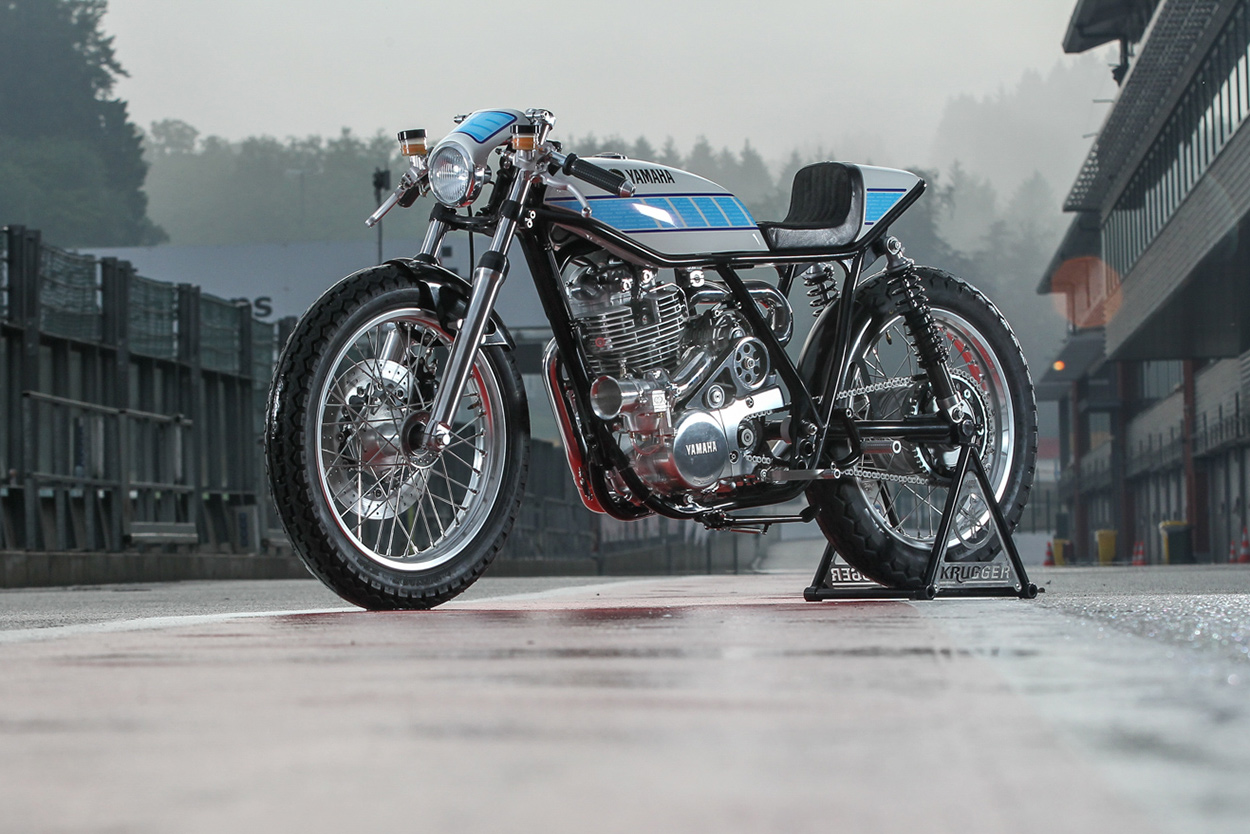 Is there anything the SR can't do? Image via krugger.net.
After a few years, this trend's continued strength had the bike's original manufacturers sitting up and taking notice as well.
Allowing for a few years of R&D, BMW and Yamaha both saw the writing on the wall and started selling models to tempt people away from the old SRs and towards something with the looks and customisable options of the old thumper without the need to own tools and understand how a kickstarter works.
No SR; No Ducati Scrambler Cafe. Image via Ducati.
Follow the Leader: Bikes Inspired by the Yamaha SR Series
By late 2016, hands-off cafe racers could now get themselves a BMW R nineT, a Yamaha XSR900/700, A Ducati Scrambler Cafe, a Triumph Thruxton or Street Twin/Cup, a Moto Guzzi V7 II, a Kawasaki W800, or a Honda CB1100RS. Deep breath.
And surprise, surprise: these bikes all came with varying degrees of cool custom bits and bobs just like the SR—only this time, they were available right off the showroom floor. How's that for influence? The SR said "jump", and the world's motor manufacturers said "how damn high do you want us?"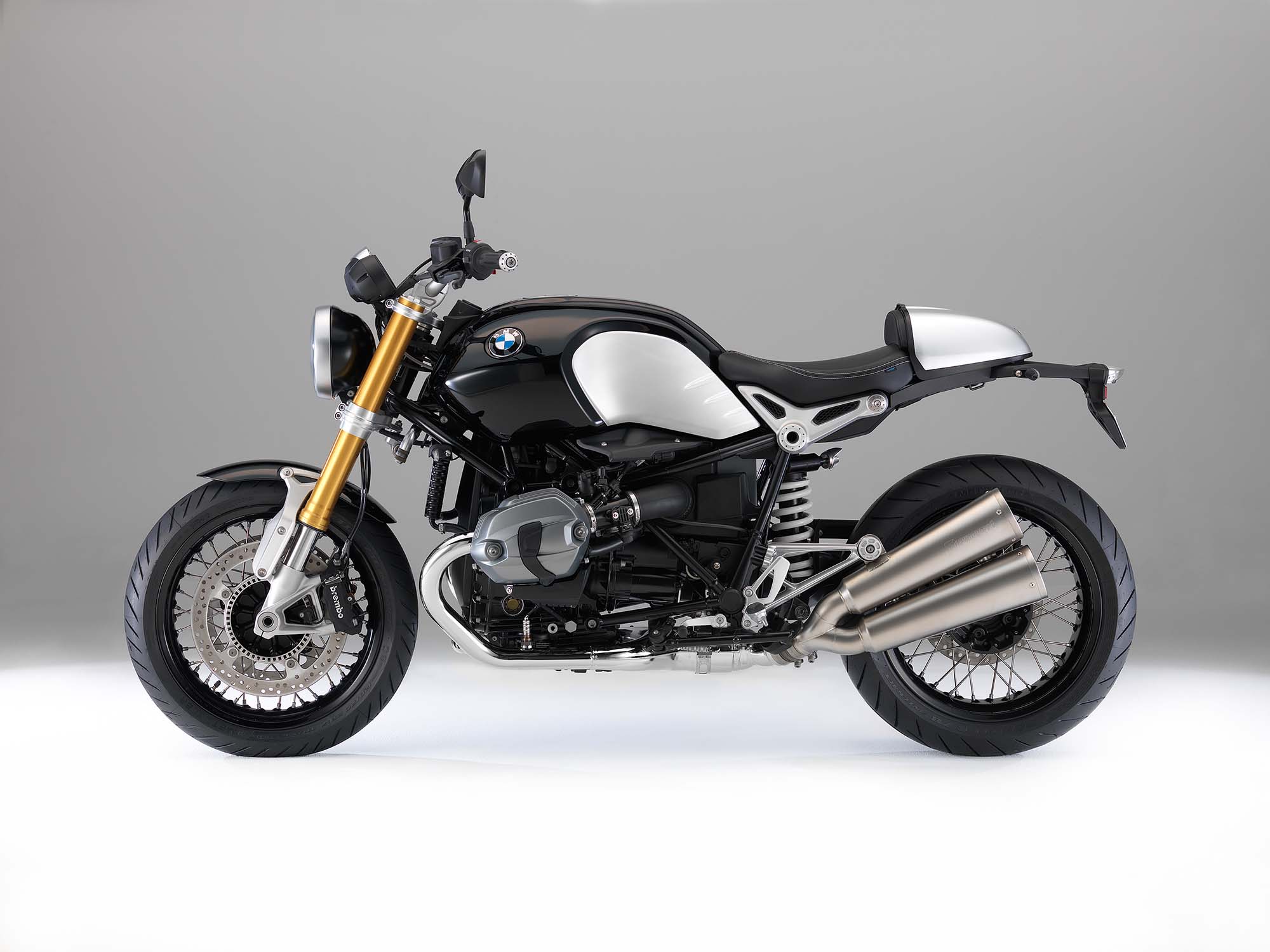 No SR, No BMW R nineT. Image via BMW.
Ever-vigilant for new trends, the cafe racer phenomena had clearly rung alarm bells in all but the most conservative of manufacturers (yes Suzuki, I'm talking about you) telling them very loudly and clearly that the big new trend was here. Hell, I'd put money on the fact that even Harley's Livewire would have never been made without it.
2021's 'Final Edition' SR400. Image via Yamaha.
From little things, big things grow—and from a few Japanese bikers who yearned for the cool bikes of the 1950s grew a whole new genre of bikes, plus a reinvigorated bunch of manufacturers who were wondering what to do as they watch the sales of sportsbikes plummet earthwards faster than a dropped Harley Road Glide.
And all this was thanks to Yamaha's very late-blooming legend, the SR. Now if you'll excuse me, I'm off to eat some fried chicken.