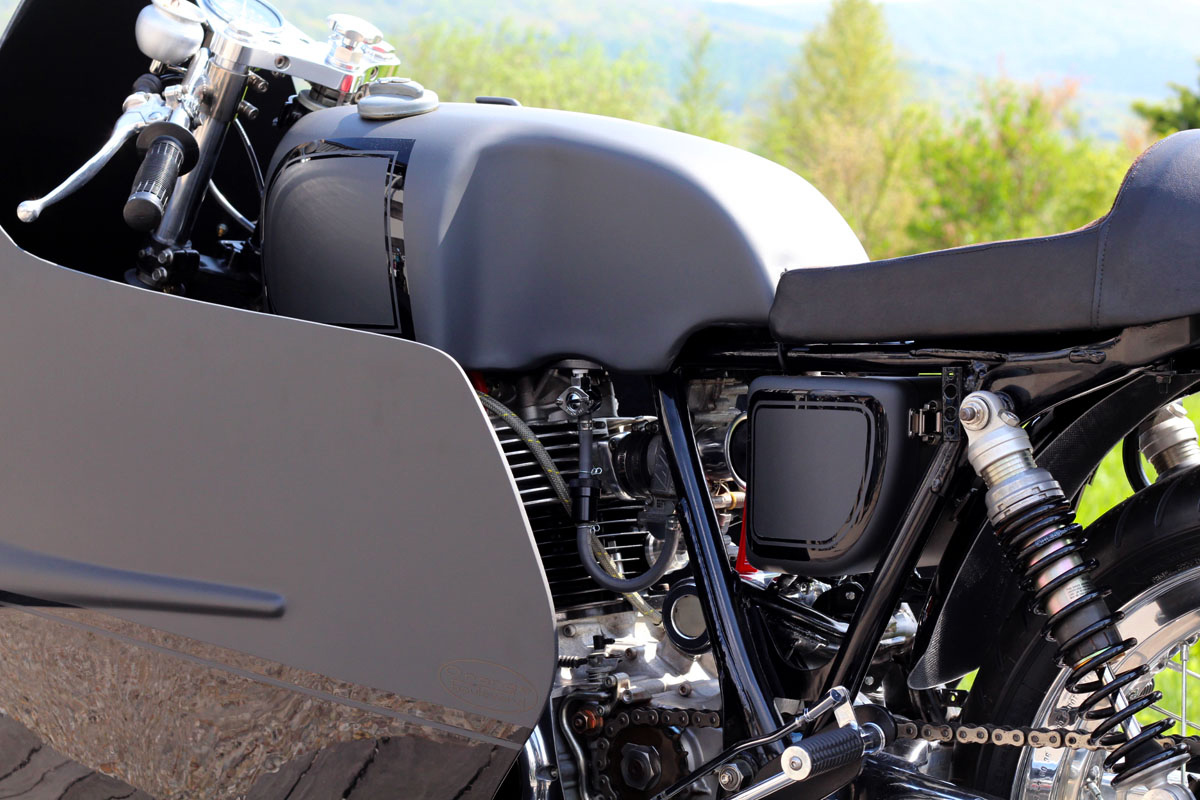 To commemorate a milestone in their workshops history Japans Orange Boulevard took inspiration from the dustbin era to build a fully faired custom of their own. Orange Boulevard, who specializes in engine performance and exhaust parts for Yamaha SR400s and 500s, unveiled the bike recently during the celebration by lake Yamanaka near Mount Fuji, 100km southwest of Tokyo.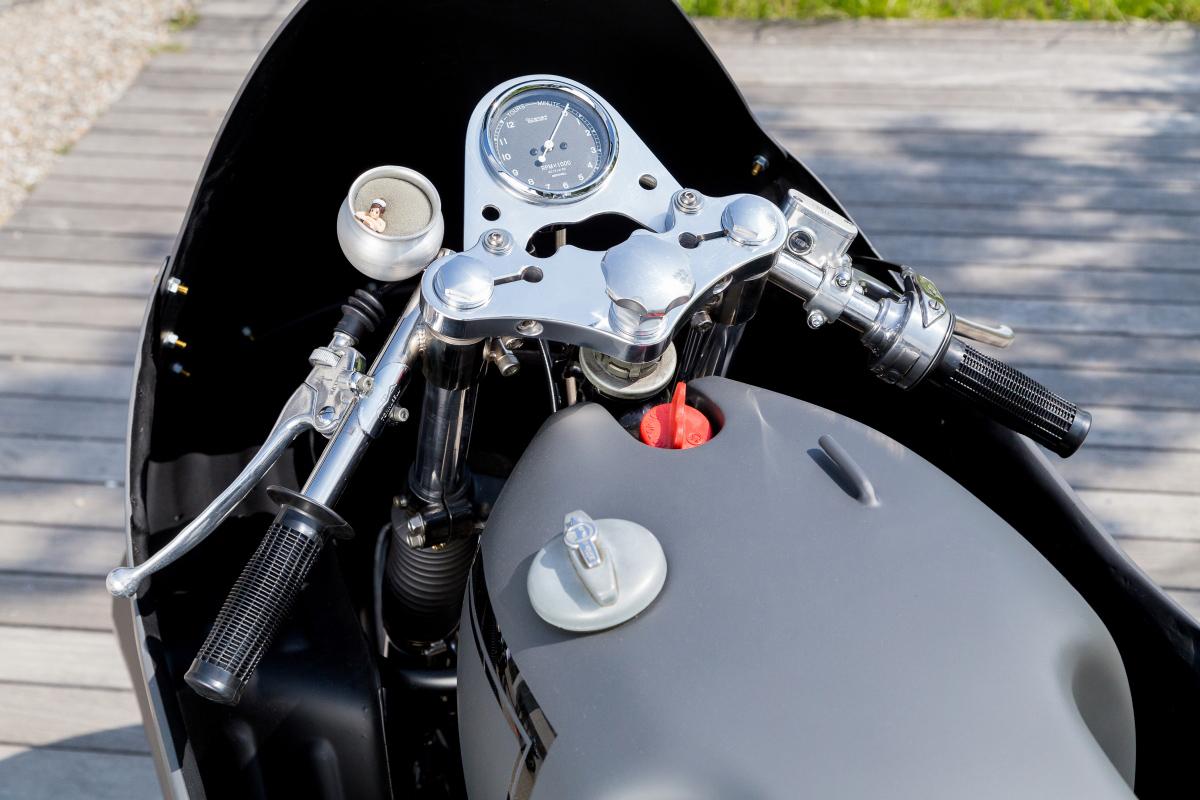 The bikes enormous fiberglass fairing is an aftermarket reproduction part that Orange Boulevard has reshaped to suit the Yamaha's proportions. The entire front end and two-thirds of the bikes sides are encased by the fairing that is held in place using a series of custom made brackets that hang off the frame. Beneath the fairing the front wheel still wears its fender and the side panels have been positioned to allow its rider to tuck in for optimum drag reduction. Since the SR relies on airflow for cooling a pair of vents have been built into its sides that direct air onto the cylinder head. To continue the classic racer vibe across the rest of the bike Orange Boulevard have replaced the factory tank with an AJS styled unit complete with period correct knee dents and mounted a Norton Manx style racing seat to the subframe.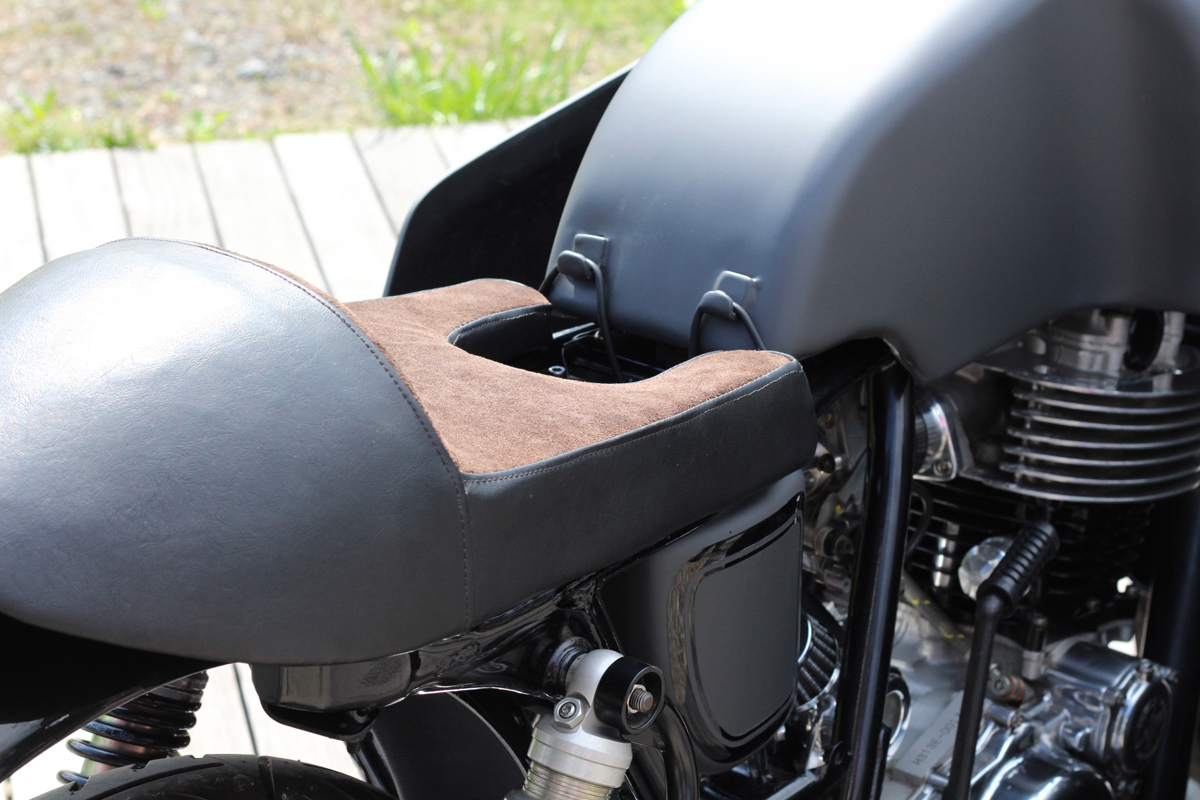 While the dustbin fairing may be this bikes most striking feature the build goes well beyond looks alone. Beneath the fairing is a totally revised engine and suspension set up that adds performance characteristics worthy of this SRs race-bred aesthetics. Starting at the rear end the suspension has been upgraded with the fitment of Ohlins classically styled adjustable shocks. To help shave a few pounds off the bike an aluminum swingarm from Over Racing holds the rear wheel in place and both the front and rear hubs are now laced to lightweight Akront alloy rims.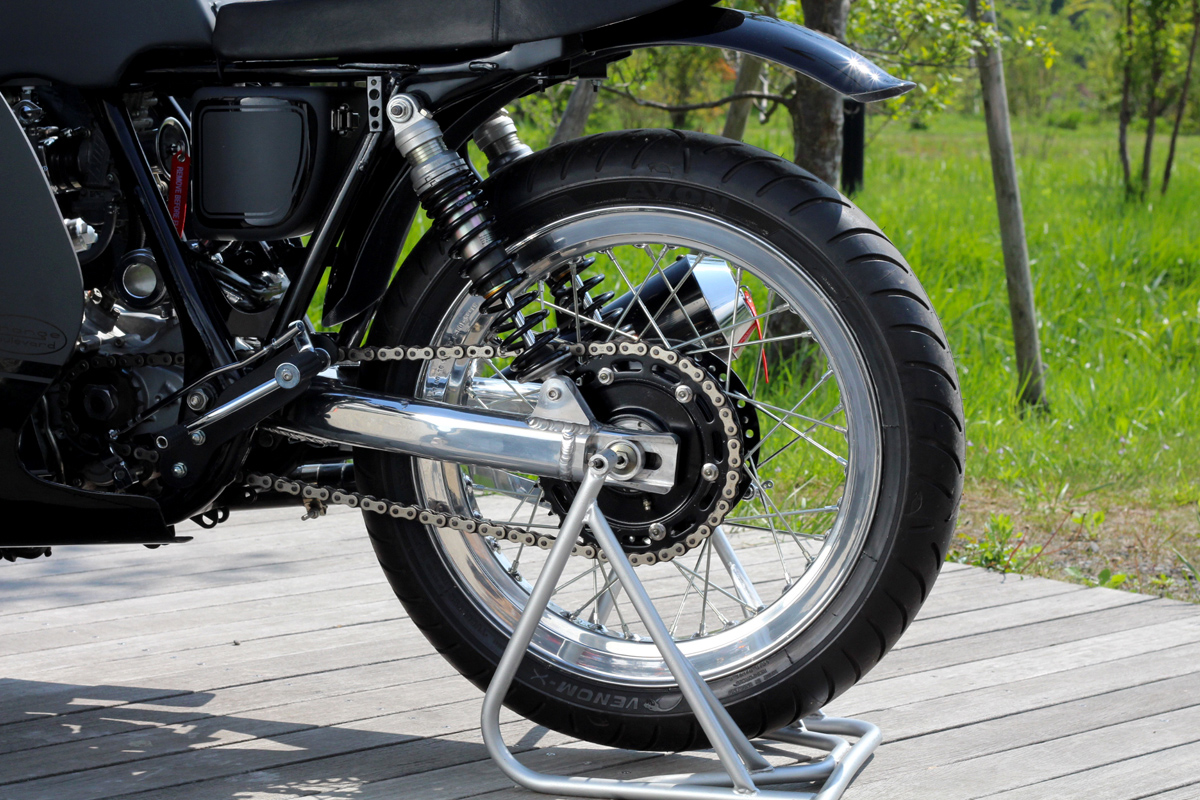 When it came to engine performance Orange Boulevard gave the thumper a full overhaul using parts from their own catalog. The engines top end has been upgraded using a 534cc top end and Wiseco performance piston. Conscious of the airflow restrictions special attention has been given to keeping operating temperatures in check. The new cylinder bears larger fins and there's an Orange Boulevard twin oil line kit for improved oil flow. To give the engine plenty of pull a heavy flywheel kit boosts torque while an FCR 39mm racing carb feeds it plenty of fuel. To round it all off there's a VPSS exhaust system finished in gloss black.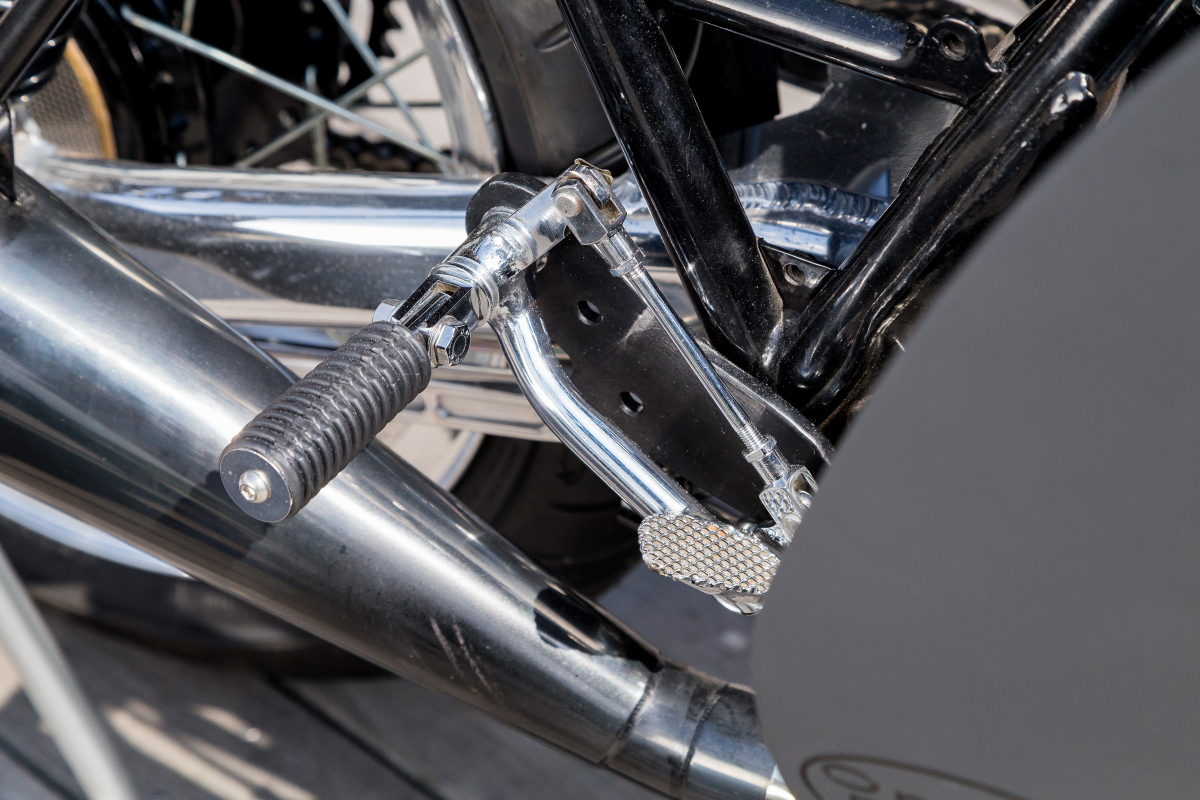 Looking at the rest of the bike you won't find anything that doesn't serve a distinct purpose. The cockpit has been reduced to a single, centrally mounted tachometer on a simplified alloy top clamp. Since this bikes destined for track days the switch blocks are gone and there no need for any lighting. A set of Chuckbox clip-on bars wear Tomaselli levers and the ignition has been relocated to sit in the oil filler seat gap. Brooklands rear sets place the rider's feet just inside the edges of the fairing and the tire choice is a track ready tread pattern from Avon.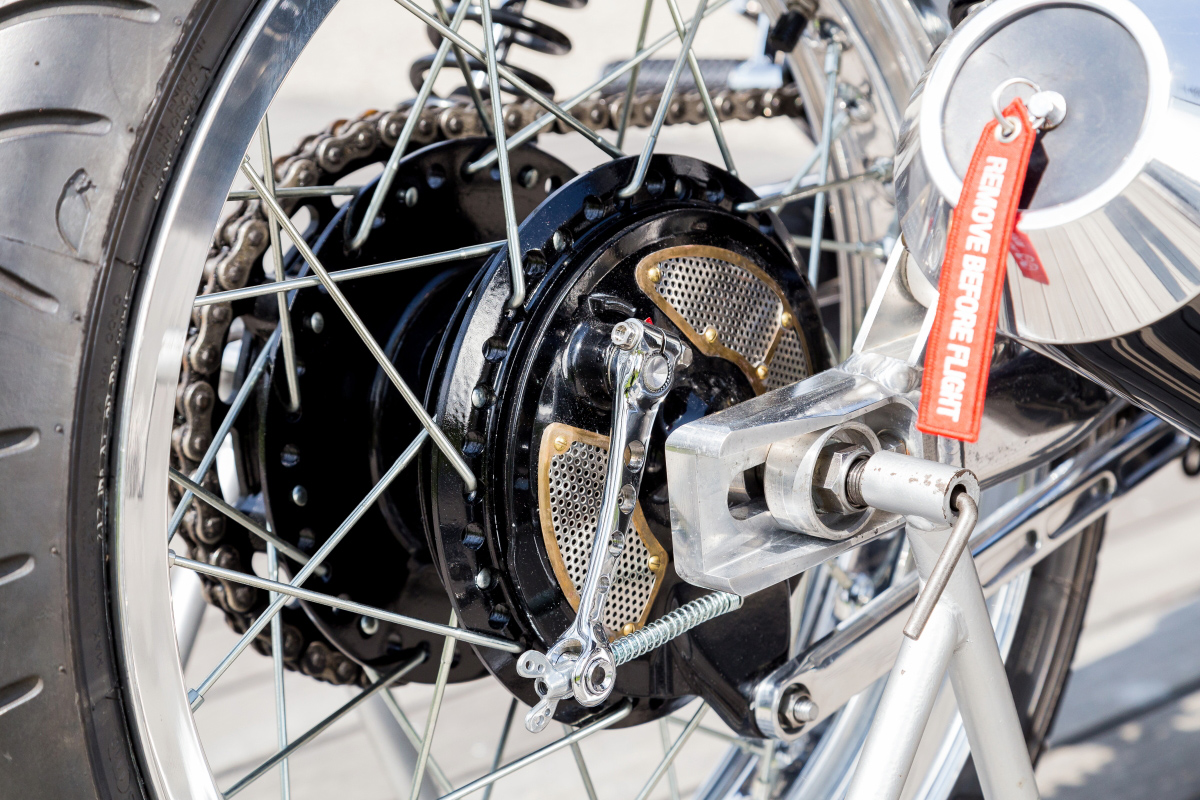 Finished using a stealthy black on black paint scheme the Orange Boulevard Yamaha SR400 looks like something of the set of a Batman film. It probably sounds like a bat out of hell too so this SR is sure to turn some heads at the next classic track meet in Tokyo.
Photography by Nobuaki Ogawa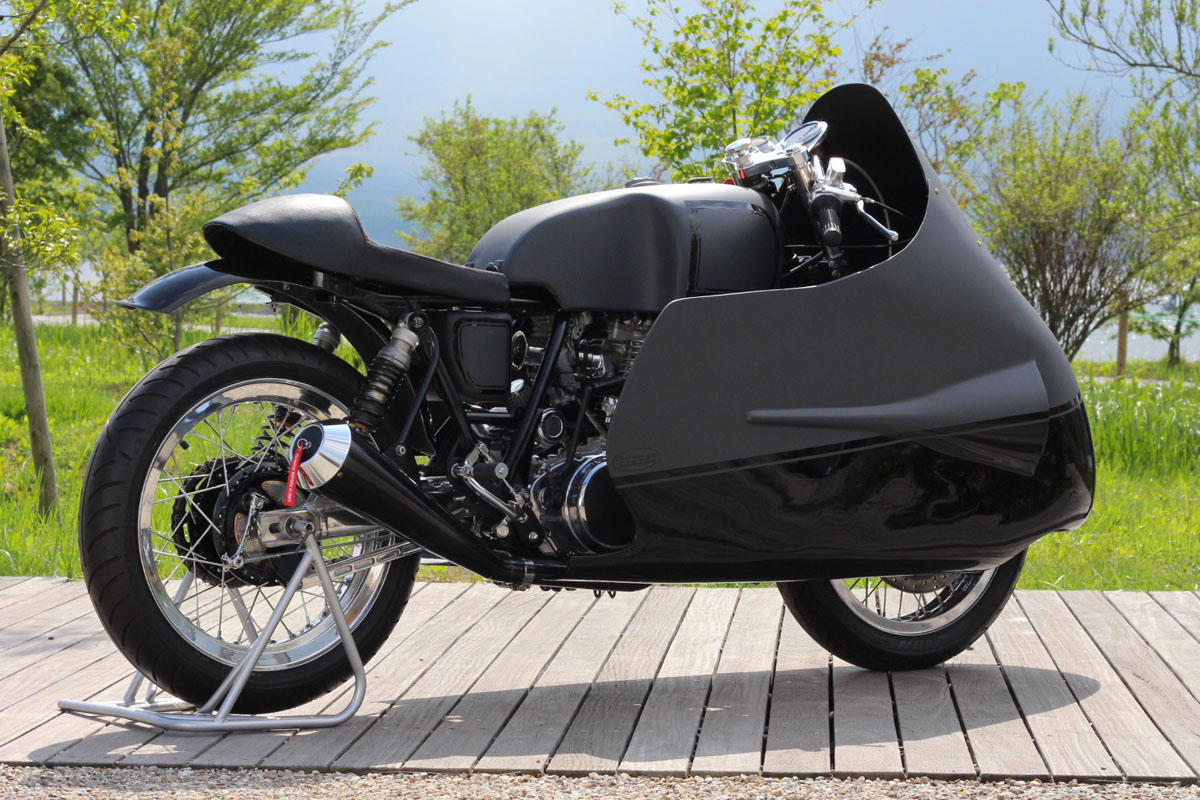 In motorsport, race teams are always looking for new ways to improve lap times. Back in the fifties when motorcycles were almost all naked teams began experimenting with aerodynamics. Inspired by the nose cones of aircraft they built fairings that cocooned almost two-thirds of the motorcycle and its rider. These outlandish fairings were referred to as dustbins and they proved to be very effective. A dustbin fairing could make a significant difference to a motorcycles straight line speed, but due to some of their pitfalls, they were banned from mainstream racing by the International Motorcycling Federation in 1958.