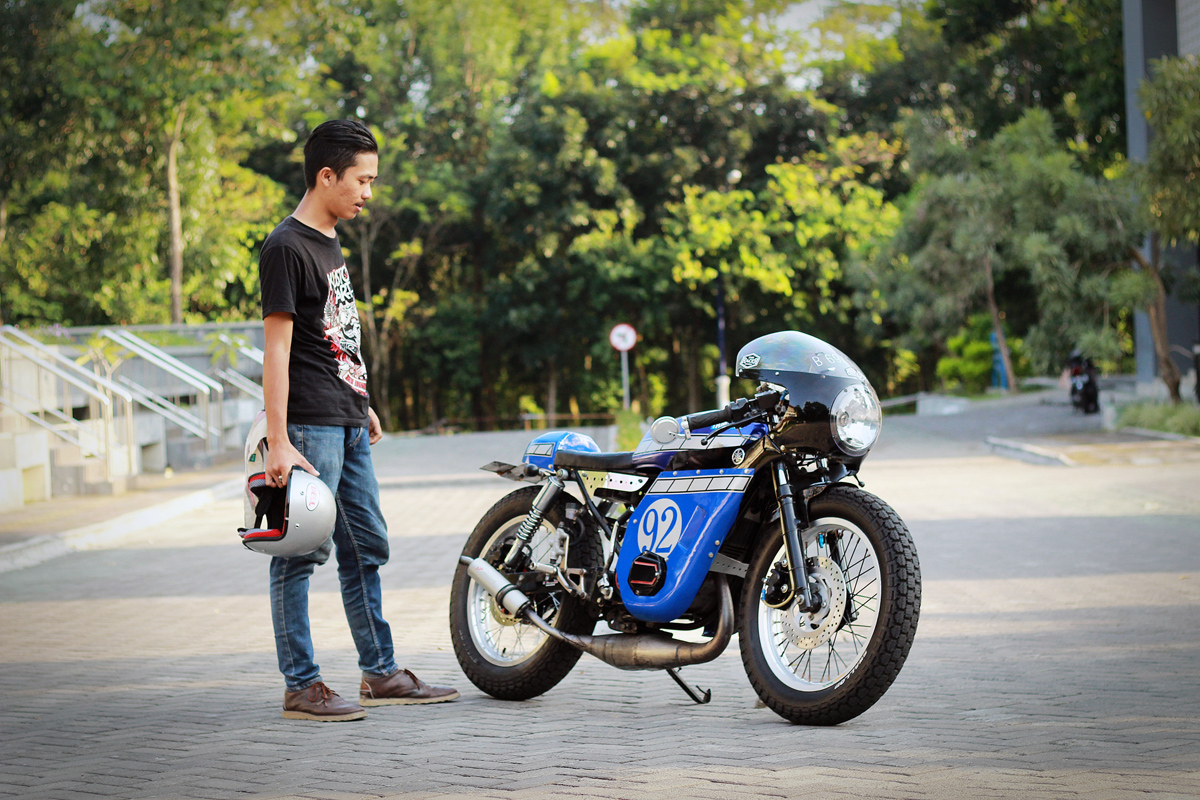 "My name is Teguh Setiawan. I'm a 23 years old and studying at a university in Yogyakarta, Indonesia. In 2012 I began to notice more custom motorcycles on the streets, and after attending "KustomFest" I started falling in love with the custom motorcycle scene and especially cafe racer styled bikes. After owning a Honda GL100 cafe racer for a few years I became dissatisfied with its performance and the shape of the bike. So in March 2015 I bought a stock '04 Yamaha RX K135, commonly called the Yamaha RX King in my country. This bike is famous for its reputation as a reliable machine, but because of government regulations on air emissions oil-burners like this have been discontinued. So I decided to call this project "Long Live The King".
"The process began with using reference images to develop my concept. Photos of bikes like the classic Yamaha TZ and Honda RC with their full fairings really appealed to me. So I began sketching ideas and cutting shapes out of cardboard to see how they would look on the bike. The first thing I did next was to remove the engine and wiring loom so I could then cut off the rear subframe. With the help of a friend who could weld we created the new subframe out of 3/4 inch pipe to position me in the perfect riding position. The engine was rebuilt to stock specifications and powder coated at my friend's workshop.
The most challenging task was finding the new gas tank, because I did not have the skills to make one. I looked for a suitable tank at a few custom shops, but still could not find a suitable one. I was losing hope when I finally found an aftermarket tank made for a classic Suzuki a100. It was sleek and long and with a few small adjustments it sat nicely on the frame."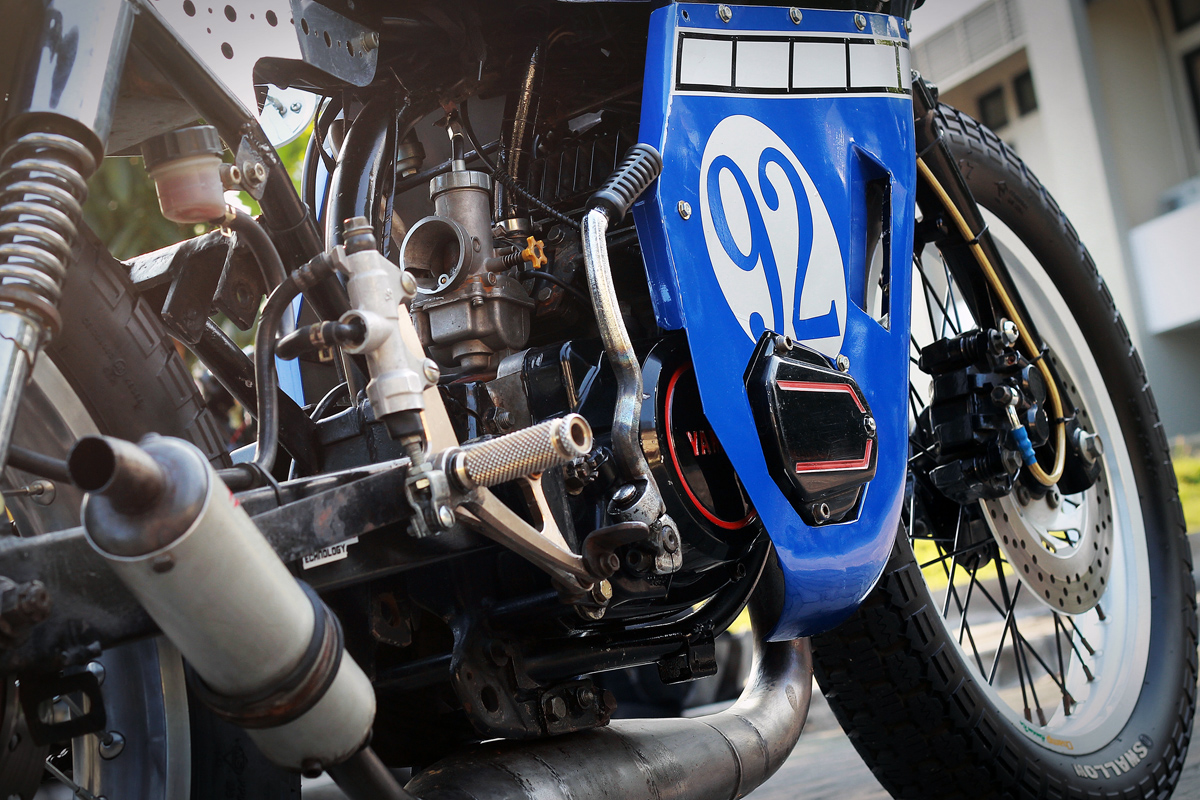 "I cut sheets of 0.8 mm galvanised plate to match my cardboard fairing template. This was another challenge for me because I then had to make a perfect curve using my makeshift tools rather than an English wheel. Thankfully when it was finally done I had a satisfactory result.
The aftermarket parts shopping list started with a Renthal tachometer, which I mounted in front of my custom triple clamp. The riding position was revised by fitting Ride It clip-on bars and a set of custom mounted rear-set foot pegs from Yoshimura. I used the original front and rear hub with polished Champ rims wearing Swallow S212 tyres. The front end is stock, but in the rear I switched the brake with a Nissin aftermarket disc brake and classic looking shocks."
"All the wiring was put below the gas tank and there's a custom battery box hidden below the seat. I also made the tail removable to expose more of the seat so I can still take a passenger on the bike.
When it came time to paint I chose a black and blue Yamaha scheme with the classic Yamaha racing livery. After the paint was done I added a lucky number 92 on both sides of the fairing, which is the year I was born."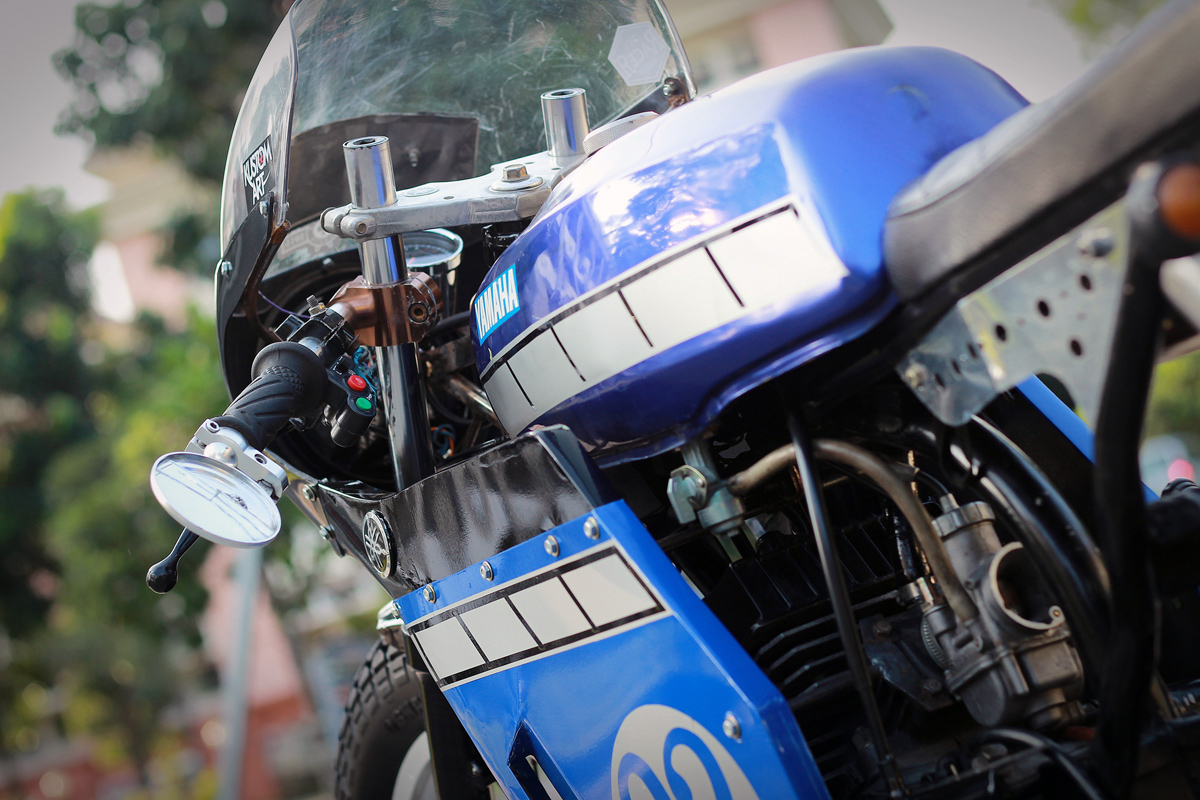 "The real trick with this build was to keep the quality high, even though my budget was low. I built this bike by myself from the beginning. I do not have a custom garage or workshop and was only armed with makeshift tools at my boarding house garage. It took me a long time because of financial constraints, limited tools and skills, but slowly it started looking like my concept could become a reality. After about 10 months of hard work the project was complete, although there are still some minor things that need to be tweaked."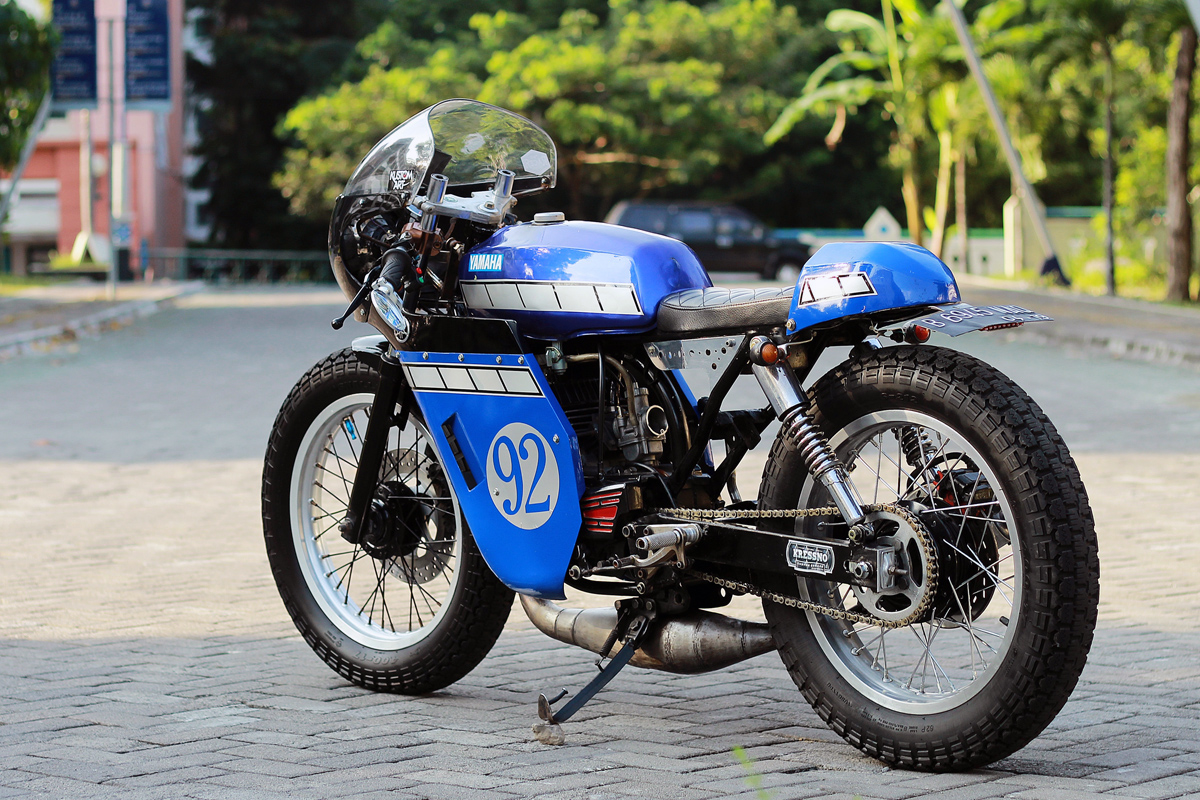 I love the Indonesian custom motorcycle scene. It's full of passionate young builders who aren't afraid to give anything a go. It's common to see young guys building their own bodywork from scratch or jumping head first into a complete engine rebuild that they've never attempted before. There's a real can-do attitude that's evolved because of the environment in which they find themselves and it's producing some great young talent. Today's feature is the story of an engineering student who built his own cafe racer from scratch with little knowledge or funds at his disposal. This is his two-stroke
Yamaha
RX K135 cafe racer and the following is his inspiring story…