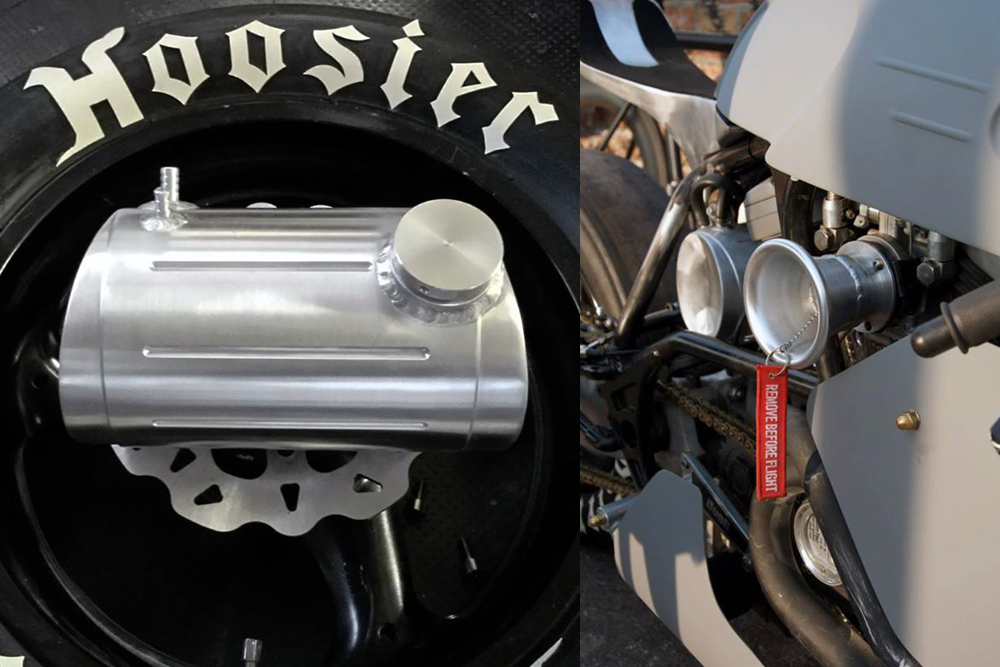 Cherry Salt started out life as a '99 Buell M2 Cyclone that had undergone a few performance "tweaks" during it's lifetime. Although the Buell's frame and engine set up didn't offer up the easiest base for a build of this kind, Plan B owner Christian Moretti saw the bikes potential and was prepared to invest the time and effort to achieve the desired result. "I was deeply in love with the Lucky Cat's SprintBeemer, so I started wondering if it would be possible to build something good enough to race against it."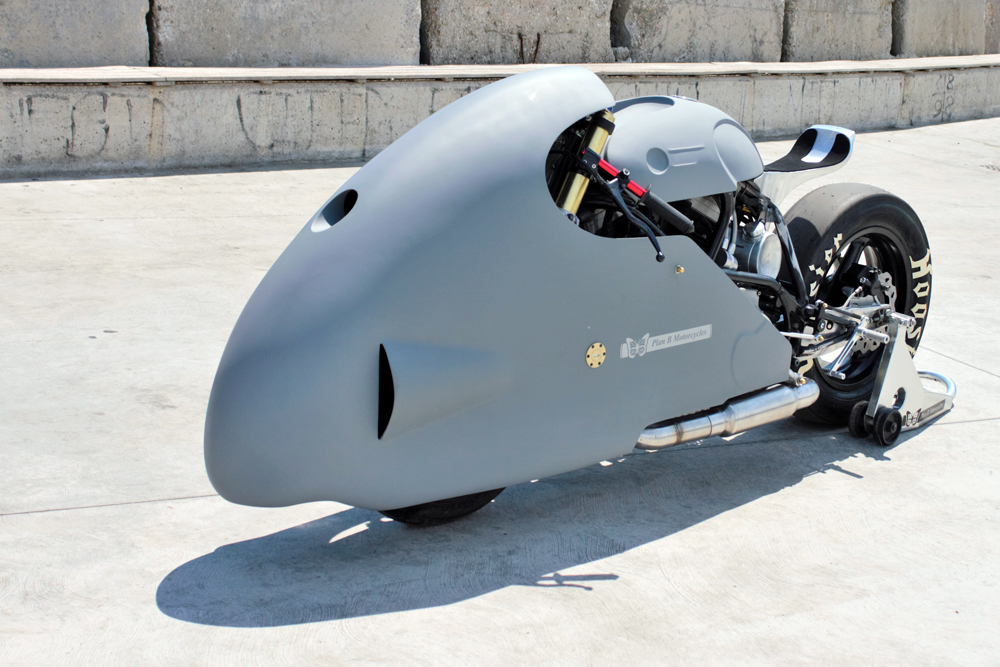 With the Lucky Cat Sprintbeemer sucking down nitrous oxide Christian needed to look at ways of getting the most out of the Buells 1203cc, 93bhp (stock) engine. Reducing weight was the top priority so Aluminium was used to fabricate the bikes custom fuel tank. Sitting low on the frame the tank has a 12 litre capacity and features a large top recess and a narrow profile to allow its rider to tuck in around it to reduce wind resistance.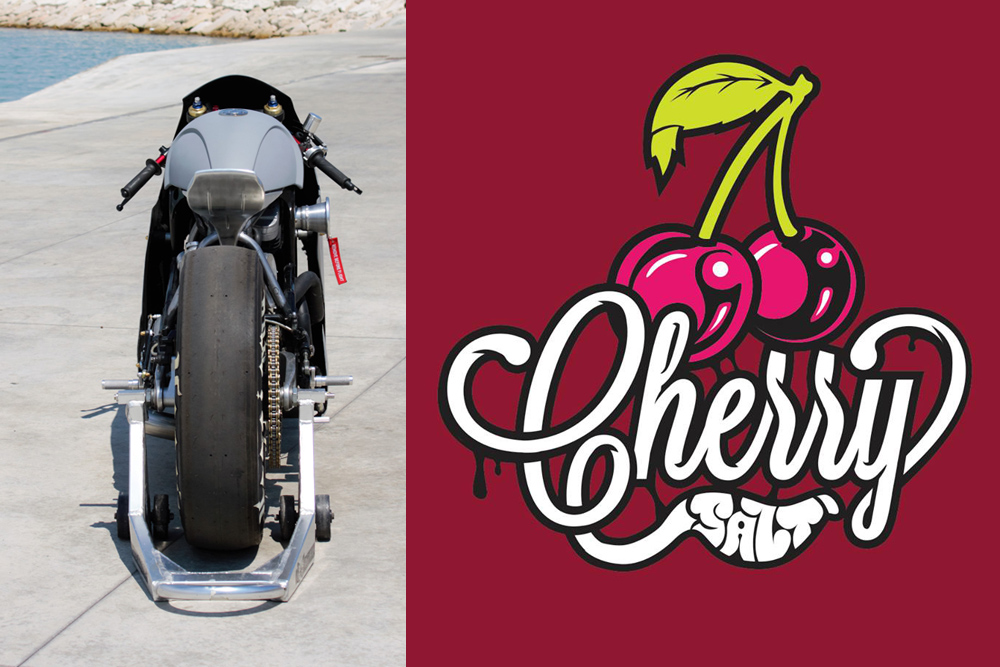 The seat is also constructed from aluminium using a monocoque design that removes the need for a subframe, thus reducing overall weight even further. Other custom alloy components include a large velocity stack on the single carb and a new oil tank that has been shaped to accommodate the rider's knees.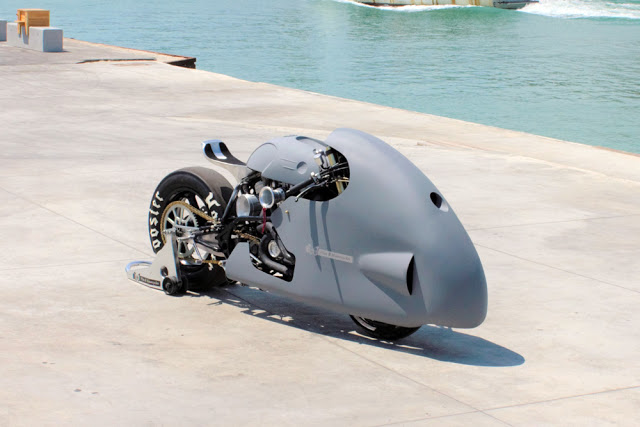 Hidden beneath the fairing you'll find a set of Suzuki GSX-R forks wearing 4 pot radial calipers with ample twin 320mm floating discs. It's almost too much braking power for a straight line racer, but there's a valid reason for it. As Christian explained "The quite unusual inverted Buell monoshock setup left me enough room to add a trick suspension system that's quite elaborate, but easy at the same time. An electric actuator changes the position of the monoshock letting you decide, with the flick of a switch, the overall height of the bike. This changes the center of mass, the rake angle and the trail at the front. So you can have it slammed down for racing on the straight, or rise it up for some corners on the road." As for cornering that's not really this bikes main concern, it's grip that's a priority. To limit traction loss Christian has fit a "big fat slick" tire from drag greats Hoosier on the back wheel adding plenty of additional grip and loads of visual attitude.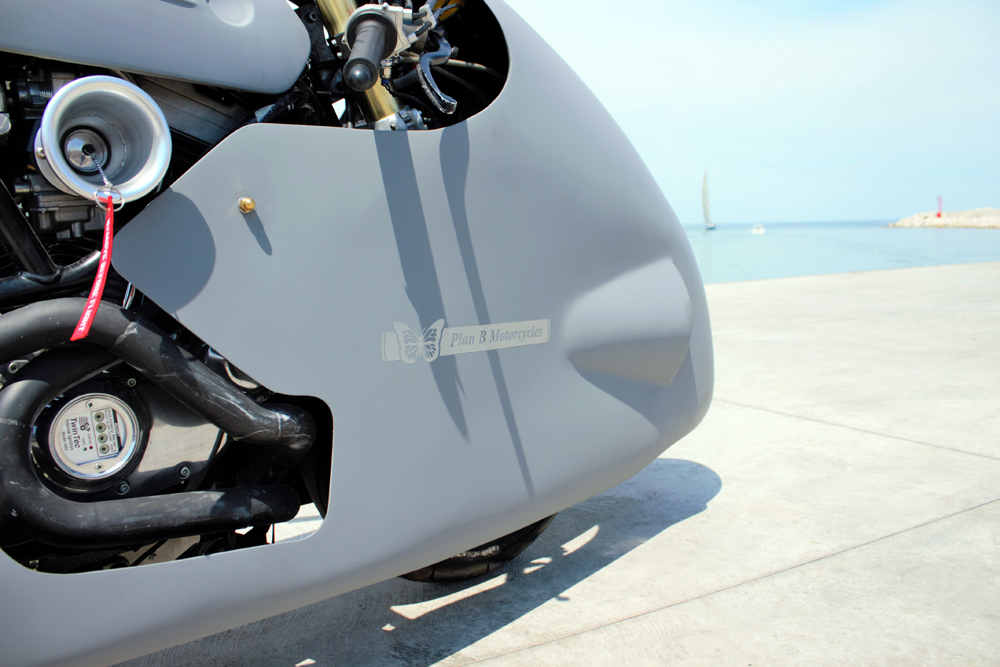 So what does it take to race against a lucky cat? How about an angry dog?
"Fitting a "universal" dustbin style fairing to the Buell was the huge challenge. I started working on the fiberglass fairing by cutting, stretching and slimming it down. I then redesigned the front upper section from scratch shaping it to resemble a Bull Terriers head…yes, it will be a true cats vs dogs race!"
Ladies and Gentlemen I believe we have ourselves a worthy challenger! Be sure to keep an eye on the Glemseck 101 Facebook page for the results of the Lucky Cat Sprintbeemer vs the Plan B Motorcycles Cherry Salt. I'm excited!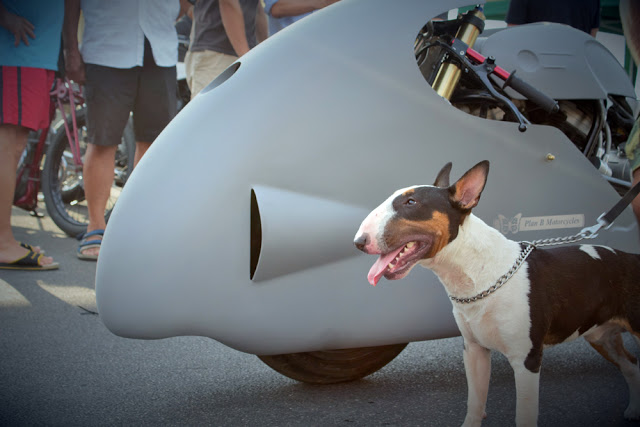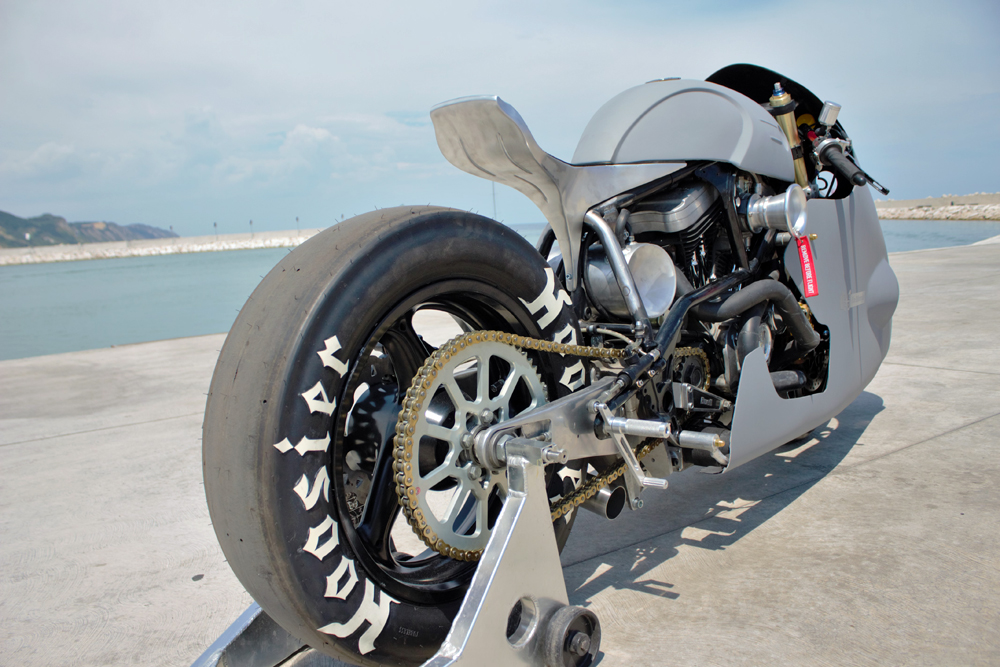 The 2015 Glemseck 101 is coming! As with previous years the event, which has been hailed as one of the biggest custom and classic motorcycle gatherings in Europe, is taking place on September 4th, 5th and 6th in Leonberg, Germany and it's going to be huge. This years 1/8th mile 'Sprint' race competitors are starting to surface around the web and although it's not quite complete, I couldn't wait any longer to feature this beast of a bike from Italian workshop Plan B Motorcycles. Inspired by the Lucky Cat Garage Sprintbeemer and determined to give them a run for their money this is the Buell M2 "Cherry Salt".