On average, the custom motorcycles we feature here are presented by the builder. But for this article, we're doing things a little differently. This cafe'd Buell Lightning is the work of Kyohey Sugimoto who runs the workshop Berrybads MC in Japan, but today we're talking to Momo, the owner of the bike.
Momo is a female rider who lives in the Kansai region of Japan. Around 6 months ago she acquired a 1996 Buell Lightning S1. It was a serious power upgrade from her beloved Honda Shadow 400 but the Buell lacked the classic appeal of the Honda. So to fix this she commissioned Kyohey to transform the 1200cc v-twin into a timeless cafe racer with plenty of power on tap.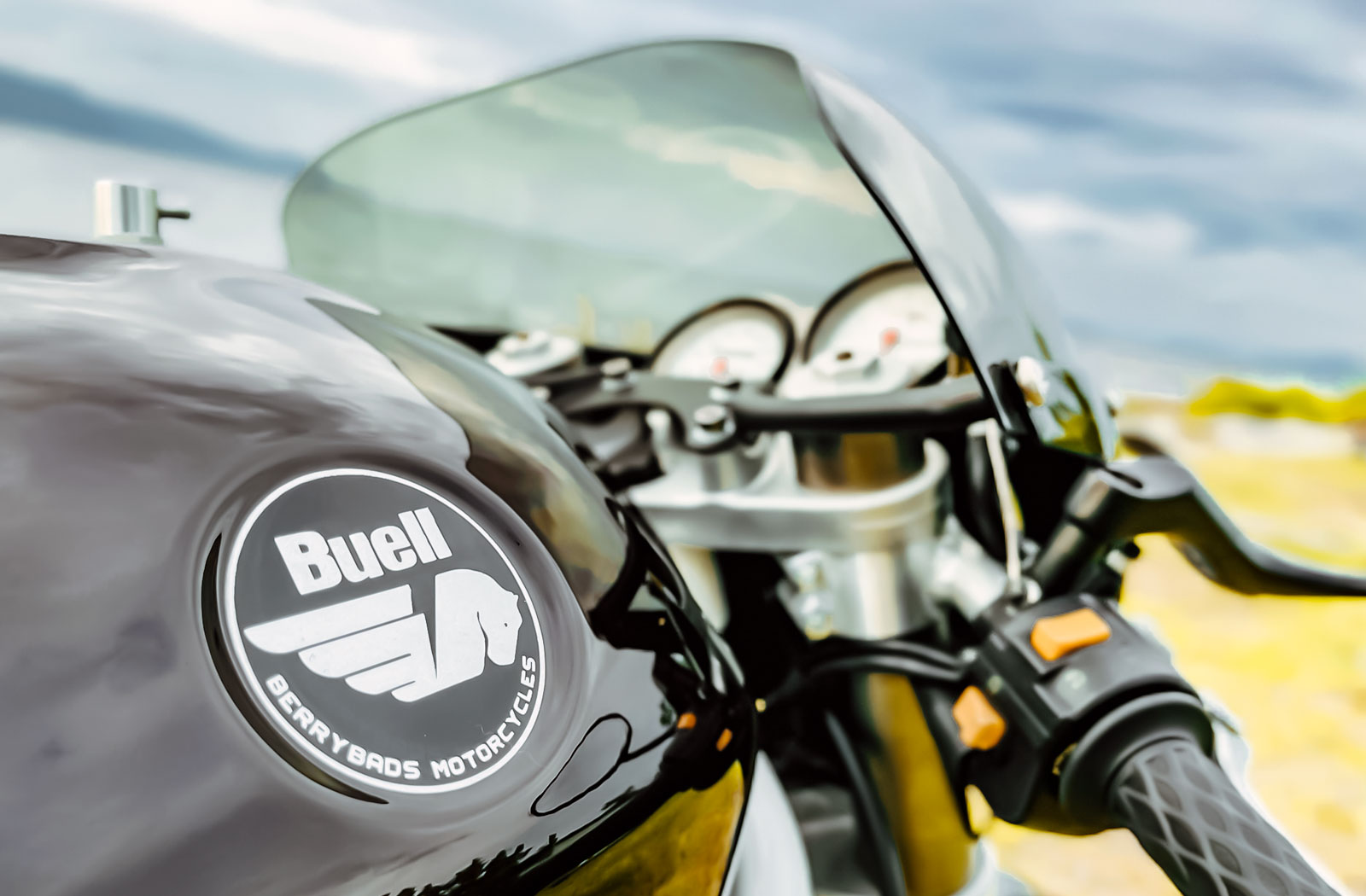 When the American built Buell Lightning S1 was released it was met with much enthusiasm. Its sports-focused design put any concerns about the brand's merger with Harley Davidson and a move away from sportbikes to rest. But it wasn't without its flaws. The biggest complaints were about comfort and the obnoxiously huge air intake hanging off the side of the v-twin, but there were plenty of things to love about the Lightning.
In standard dress, a '96 Buell Lightning looks somewhat like a more angular version of a Ducati Monster of the same era. The Lightning's bone line is low and level, it wears a small windscreen and is powered by a 1203cc Harley Davidson Sportster v-twin outputting 86 hp and 78 lbs of torque. The Lightning also featured Buell's unique underslung monoshock rear suspension.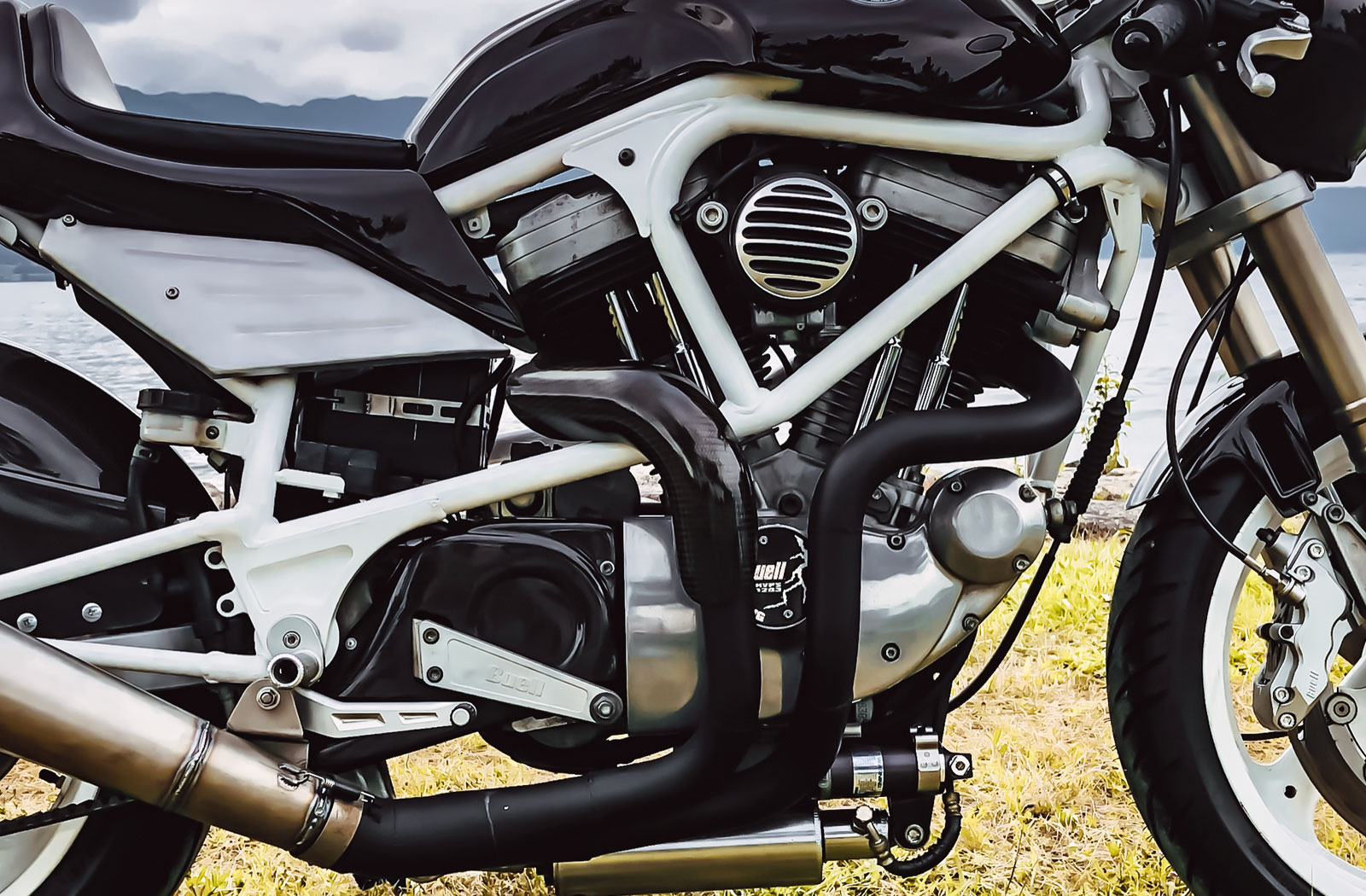 Thanks to Berrybads MC, Momo's Lightning looks very little like Eric Buell's original vision. The bike's cafe racer styling has been made possible mostly in part to a complete overhaul of the bodywork. In the rear, the bike now wears a modified Honda 125 race bike seat and cowl. The fibreglass unit further enhances the bone line of the Lightning and adds a wasps tail style hump at the rear. This sets the bike up expressly for solo riding but the original seat wasn't exactly pillion appropriate anyway. At the pointy end, Kyohey has mounted a universal bikini cowl with a tinted screen, classic round headlight and a plexiglass bubble over the nose. And the whole assembly has been installed using hand fabricated bracketry. The most unexpected modification however is what Kyohey has done with the fuel tank.
In place of the Lightning's angular fuel cell, Kyohey has installed a BMW R9T aluminium tank. Getting it to sit on the rails of the Buell's tubular steel chassis was no walk in the park though. The BMW tank has been heavily modified with a large section of the lower half completely removed. The resulting design is low and lean and adds a touch of retro style thanks to the knee dents and smooth curves.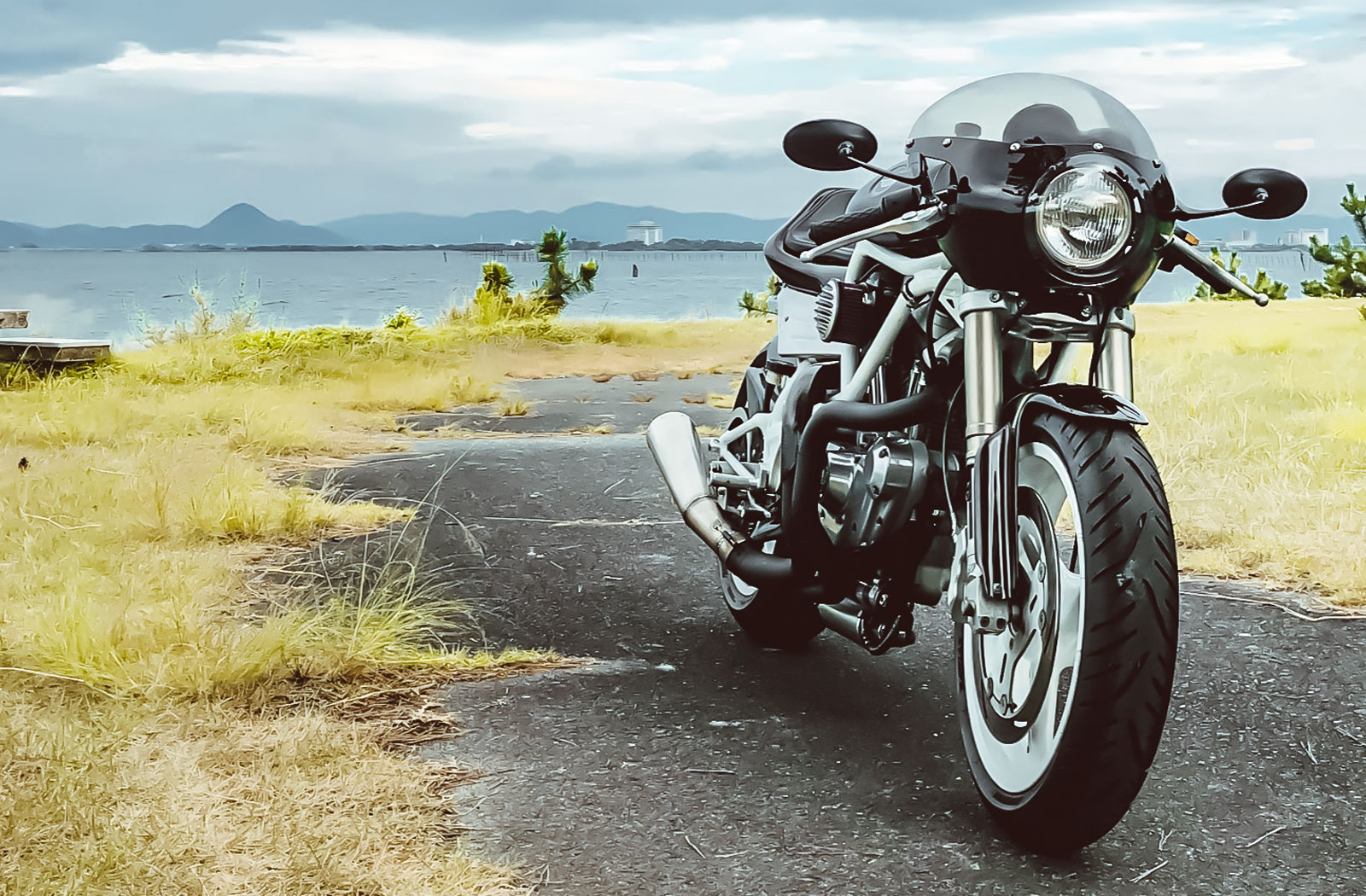 Beyond the bodywork, there's no shortage of other custom modifications that make this Buell Lightning S1 truly unique. Hanging off the v-twin you'll spy a custom exhaust system sporting a titanium megaphone muffler. There's also an aftermarket air cleaner which when combined with the exhaust and a retune are sure to have unleashed some extra horses. A pair of alloy clip-on handlebars have been added to complement the bikini fairing and further enhance the cafe styling. Most importantly Kyohey has made the bike more rider-friendly for Momo by lowering both the front and rear suspension by 1.5 inches.
As for Momo and her take on this Buell cafe racer project here's what she had to say…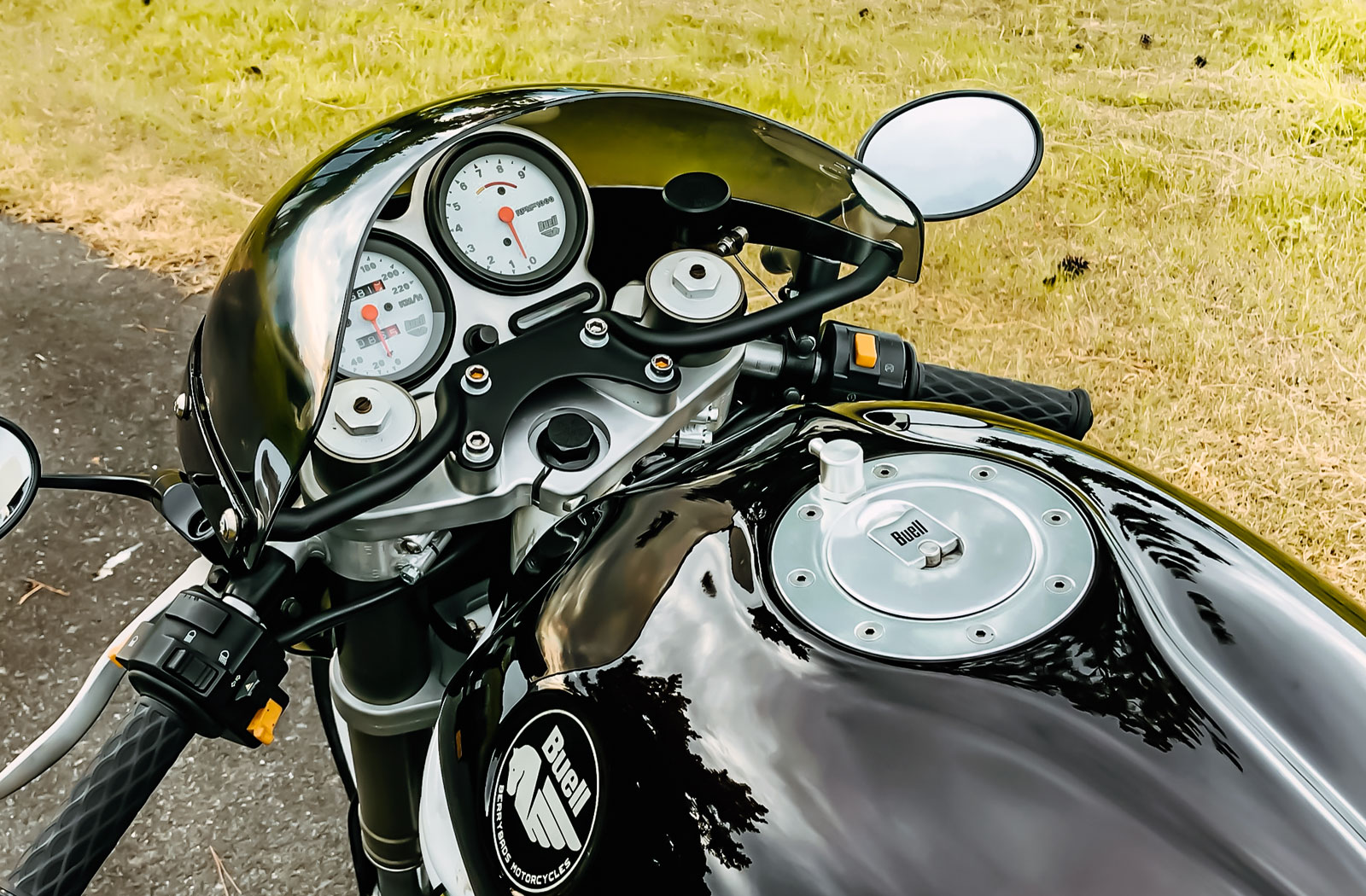 Please share your history with motorcycles with us.
My first motorcycle was a Honda Shadow 400. I fell in love with that bike at first sight when I spotted it at a dealership. During the following six years I met a lot of friends who also rode the Shadow 400 and we travelled to many places together. My Shadow is like a daughter to me!
I've always admired cafe racer style and have thought many times that I would like to ride one someday. Then I met my current motorcycle and everything aligned.
Why did you choose a Buell as the basis for your cafe racer?
At first, I was looking for a regular bike to change into the cafe racer style. After I found the Buell I thought it was a very interesting bike. I decided to use it for this project because I wanted to make it a cafe racer that was different from others.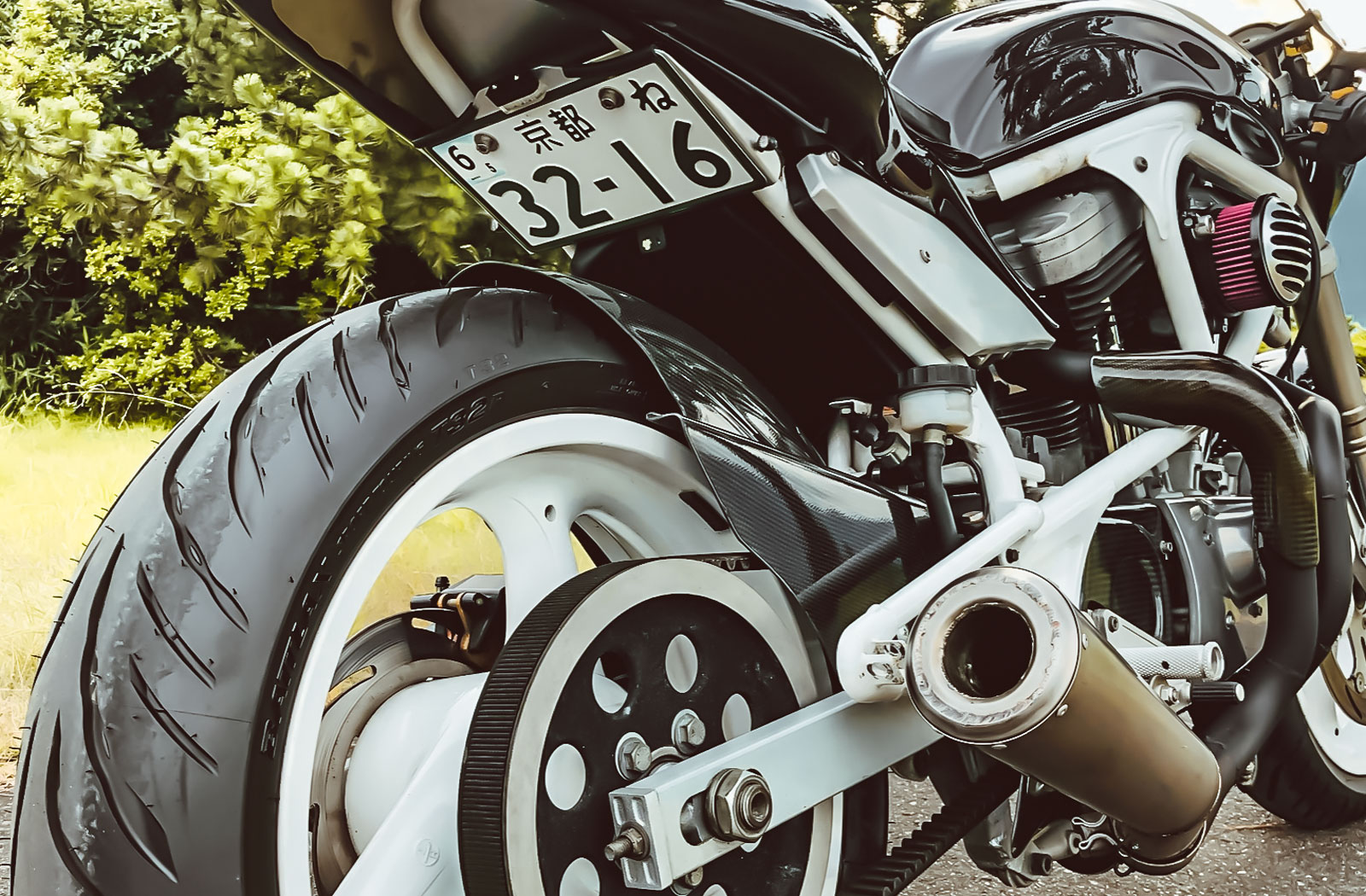 What made you decide to have your bike modified by Berrybads MC?
I got to know Berrybads through the introduction of an acquaintance. My Buell was also originally purchased from Berrybads so it all made sense.
When I visited Berrybads, I saw a lot of custom bikes in the workshop. I have longed for a cafe racer motorcycle since I was a student, so I chose that style. I thought that this person would make my ideal cafe racer, so I asked Kyohey and he agreed to take on the project.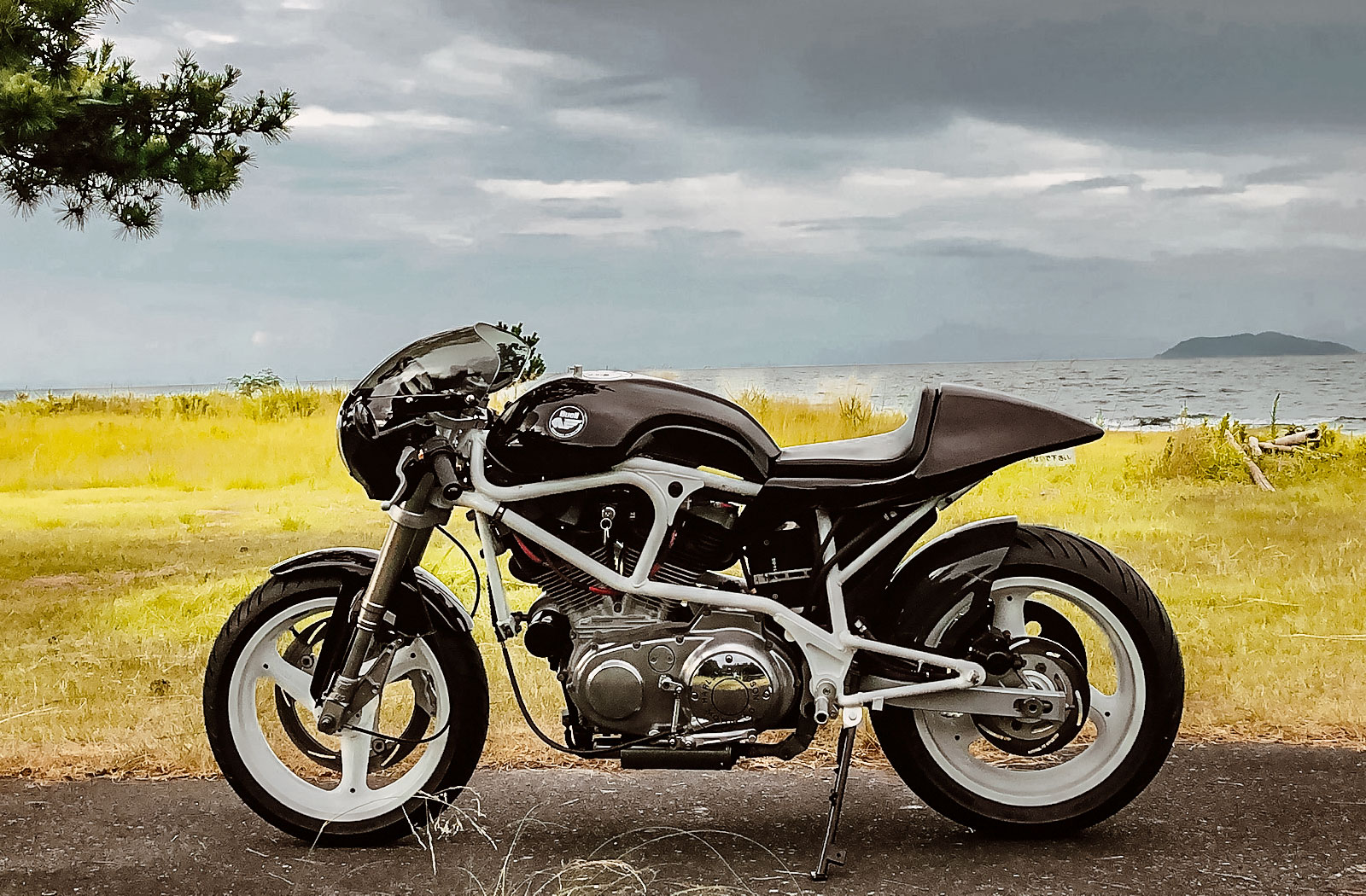 Did you have any special requests for the build?
I like motorcycles with curves, so I asked Kyohey to make my Buell sexy. To achieve this he ended up building a one of a kind fuel tank and muffler. There was a lot of cutting and welding of the BMW R nineT tank to get it to fit. As part of the install Kyohey has relocated the fuel tank filler. Kyohey also cut the genuine muffler away and made the new one from scratch. To get the cafe racer look we changed the handlebars to clip ons and to suit my small size the bike has been lowered.
What is your impression of the bike now compared to before it was modified?
It's the best! But this custom work is still only the first stage. I plan to make my Buell even cooler and sexier.