Studies have shown that hardiness is the reason why certain people thrive in the face of adversity. When presented with a difficult or unpleasant situation individuals who are hardy possess the ability to turn stressful circumstances from potential disasters to growth opportunities. The creation of this motorcycle named the MMC SR1 is a real-world example of how one man turned the worst news of his life into something remarkable.
French father and son duo Michel and Jimmy Messina share similar careers as well as a passion for vintage motorcycles and hot rods. in 2019 Jimmy, who is trained as a mechanical engineer and an experienced race mechanic, received news that turned his world upside down. It was the kind of news that for many would shatter dreams and consume them with fear. But rather than accepting the hand he was dealt, Jimmy opted to push beyond his limits to create a one-of-a-kind custom motorcycle with the support of his reassuring father.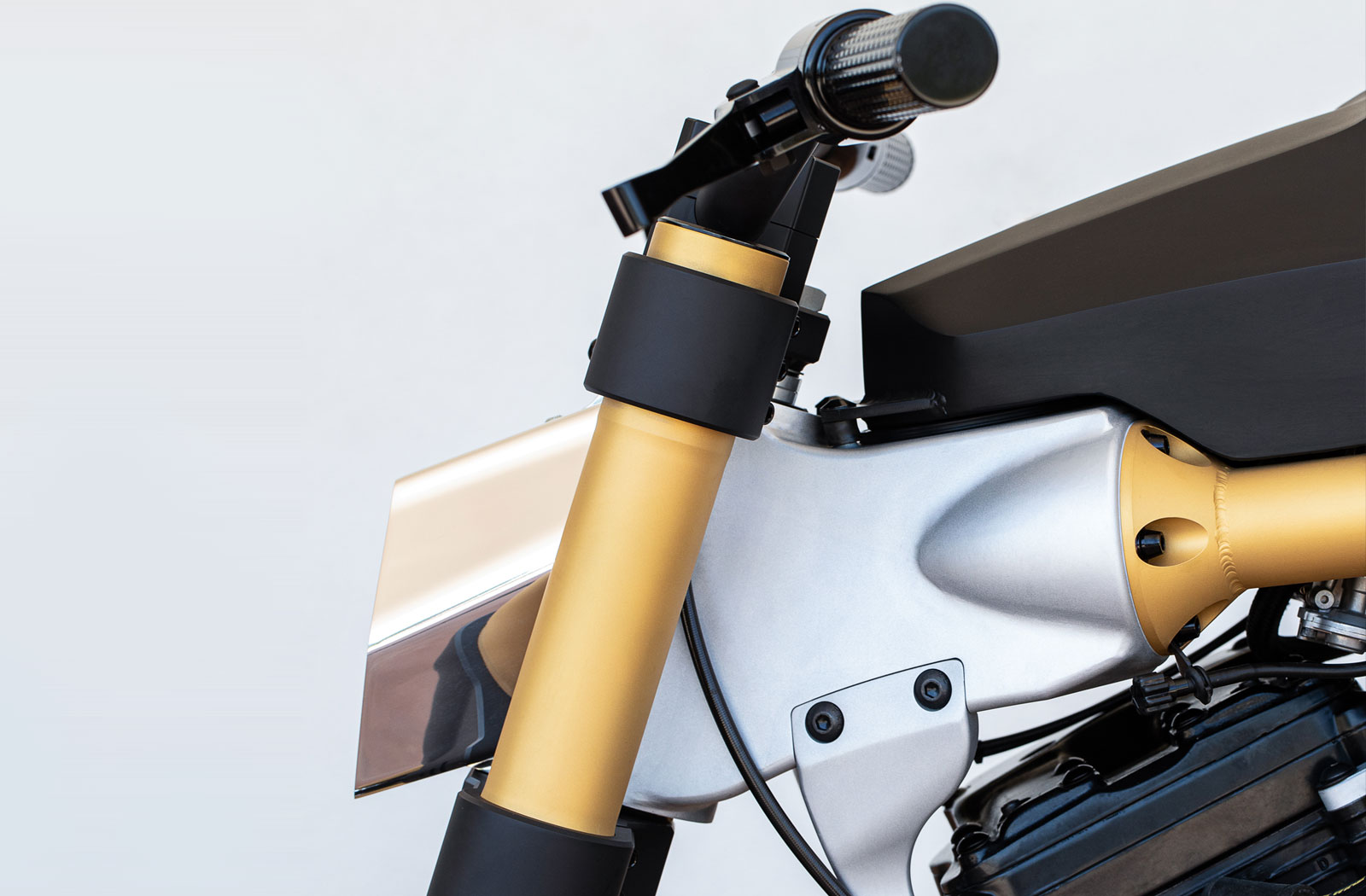 "Three years ago my son Jimmy was diagnosed with lung cancer and had to stop working," says Michel. "Initially I just wanted to do a father and son project by putting a Harley engine inside a Voxan frame. So I went ahead and bought the frame and a Buell S1 engine. However my concept posed many challenges, so Jimmy suggested he design and build a new frame from scratch."
As ideas bounced back and forth and a design began to take shape things started to get serious. "After his diagnosis, Jimmy had to leave his job because of the constraints of his chemo treatment. So this project became part of his fight against cancer. Our main goal became the development of a prototype with the aim of manufacturing a small series of bikes in the USA, and in a way, live the American Dream." Michel explains.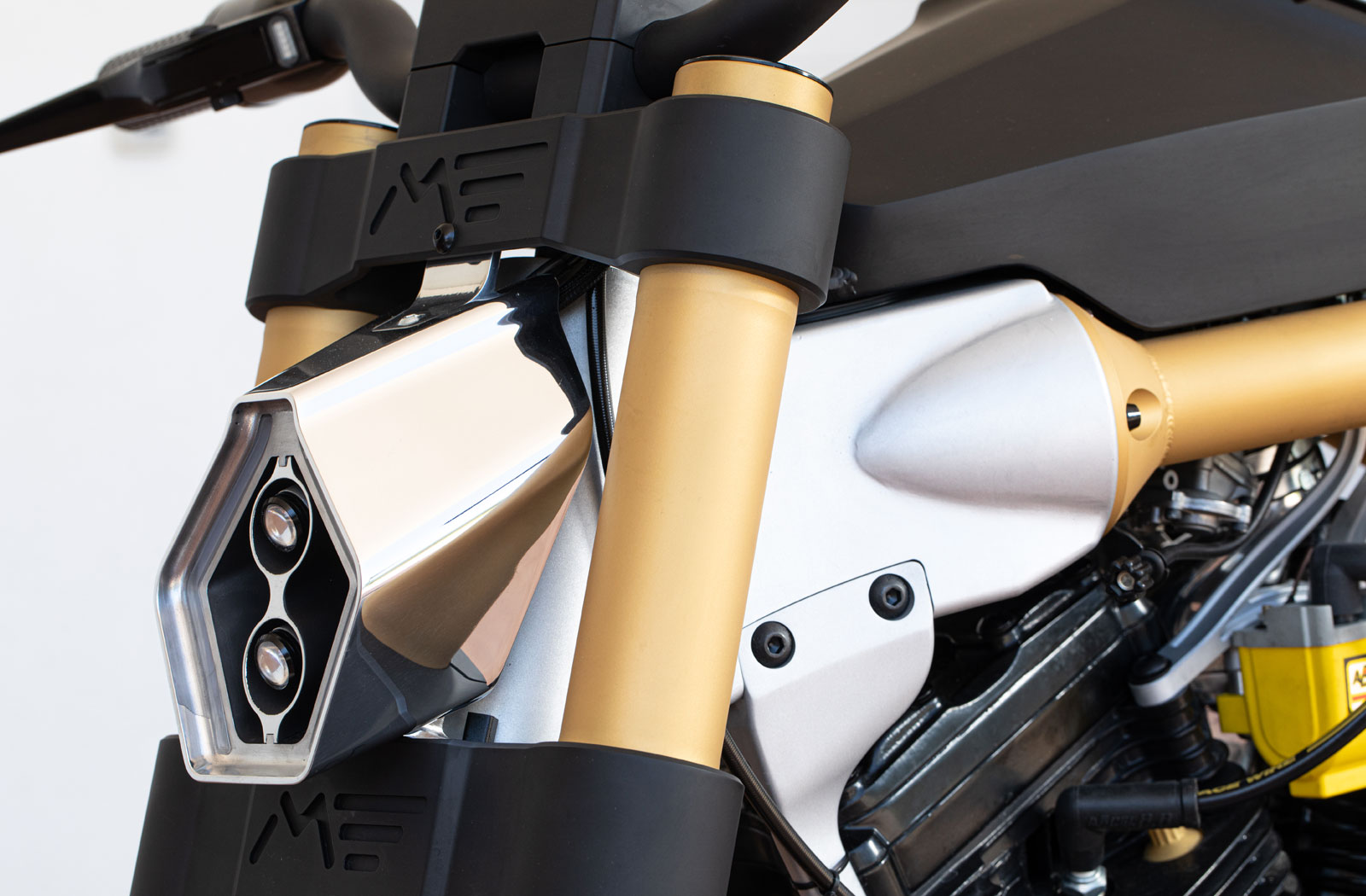 So Jimmy and Michel formed the company 'RD (Ride Different) Kustom & Design' and hatched a plan to present the finished bike at some of Europe's most prestigious motorcycle events. But first came the exceedingly difficult task of turning their vision into a working motorcyle.
"We brainstormed to define the concept and came up with a naked roadster whose main characteristics are a tubular frame with aluminium front and rear blocks supporting a v-twin engine."
After deciding the best approach was to build the chassis from scratch Jimmy kicked things off by making a photogrammetric scan of the engine in their garage using a cell phone. He then designed and engineered each of the parts of the bike by modelling them in Solidworks 3D and prototyping them using a 3D printer. Along with achieving the right look Jimmy carefully considered the function of each component and in many cases designed parts that would perform multiple functions.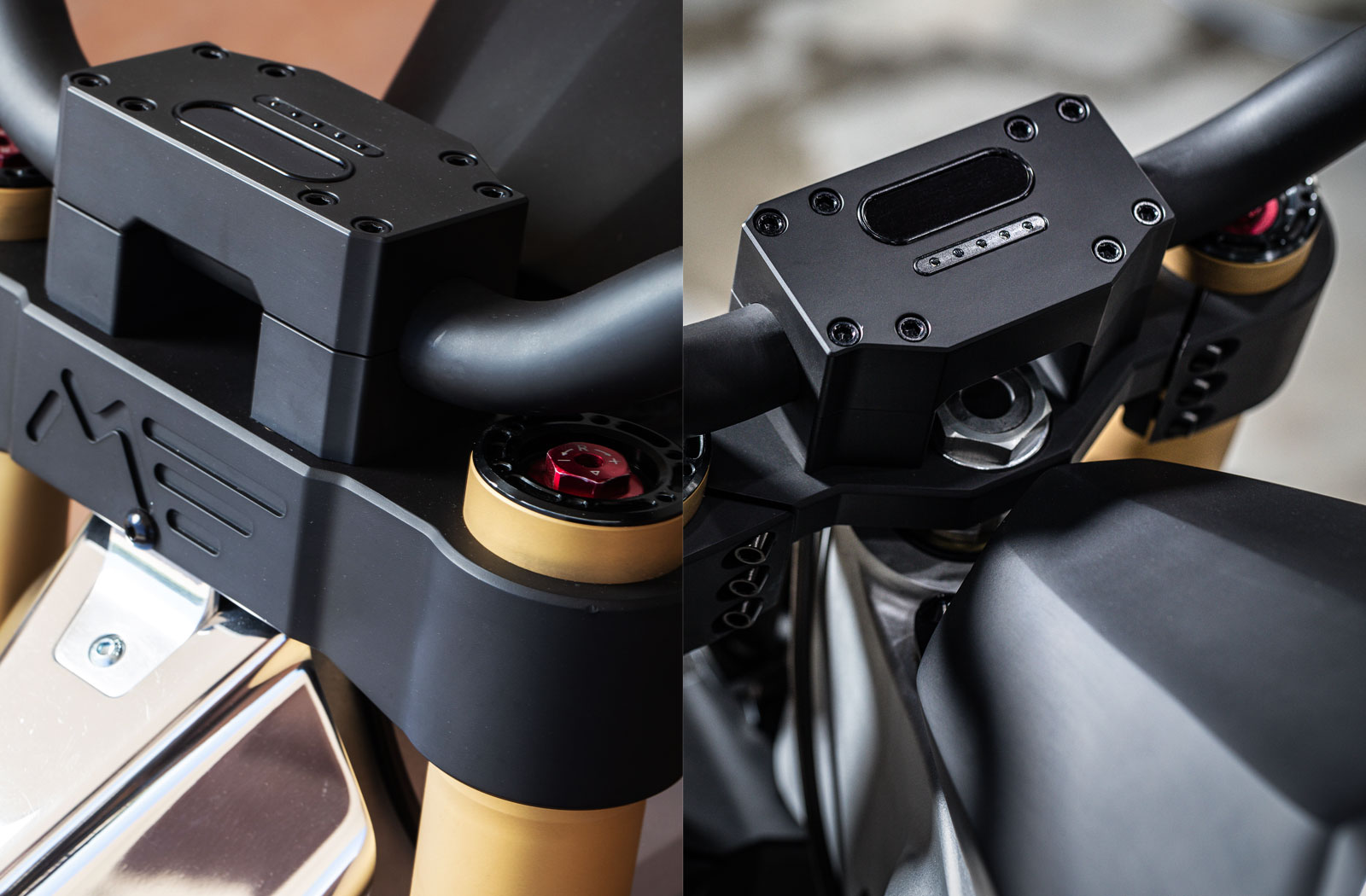 For the frame itself, Jimmy took inspiration from the bikes produced by Voxan Motors and Buell by designing a stressed member style chassis. He developed a design that used ultra-lightweight and strong aircraft-grade aluminium with a tubular twin backbone and front and rear "blocks" that secured directly to the Buell motor.
To realise his designs Jimmy and Michel teamed up with a local CNC machinist who had a 5-axis machine at their disposal since this was the only way his designs could be realised without resorting to expensive casting techniques.
Jimmy's aluminium 'front block' secures to the top of the front cylinder of the v-twin and forms the neck of the chassis. It also doubles as the intake, directing air up into the airbox sitting in the front half of the fuel tank. As for the rear block, along with supporting the back of the engine, it functions as the oil tank, shock mount and swingarm pivot point.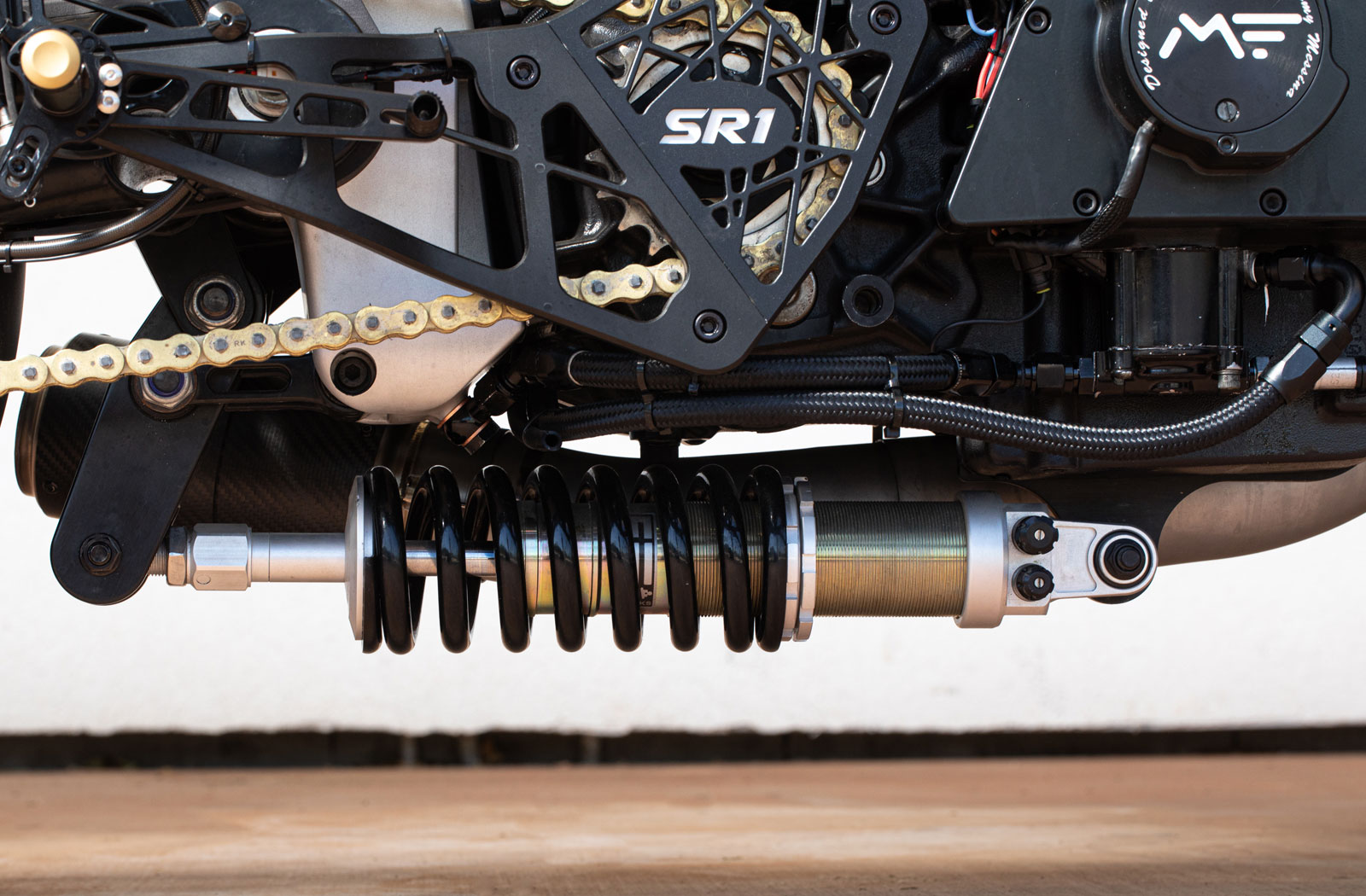 The backbone of the frame is aluminium too, shaped from 7075 tubes before having mounting plates welded to each end. The front end is held in place by a set of CNC triple trees and the single-sided swingarm and rear axel are all one-off alloy items too.
"The frame is very rigid," explains Michel. "The bike gets into the curves easily and keeps a perfect trajectory. It's very responsive!"
For the front-end brake and suspension, Jimmy secured parts from a Ducati 1198 donor. The setup includes the 1198 forks, twin Brembo brake assembly and a Marchesini 17-inch wheel. The rear wheel is of 1098 Marchesini lineage too, designed to suit a single-sided swingarm setup and it wears more Brembo hardware.
As for the rear shock, Jimmy created a setup similar to Buell's innovative underslung, reverse-oriented mono-shock. Working together with French suspension manufacturer EMC they designed a custom shock that functions using a linkage system of Jimmy's own design.
The use of aluminium continued with the construction of the all-alloy bodywork. Sitting atop the broad backbone of the frame is an airbox/fuel tank combo that's been hand fabricated by Cedric from CRM. The wasp-like tail unit is another handmade part and it features winglet-style spoilers on either side of the saddle. Despite the svelte proportions of the tail unit and subframe, Jimmy managed to stash the bike's battery and Motogadget M.Unit electronics controller within it along with some integrated rear-end lighting.
Other handmade parts on the RD Kustoms SR1 include the diamond-shaped headlight assembly which houses a pair of LED lamps. The foot controls and their mounting hardware are all bespoke as is the carbon front fender and the brackets that support it. In fact, according to Michel, Jimmy "Designed and engineered everything around the engine aside from some nuts and bolts.", which anyone would agree is no mean feat.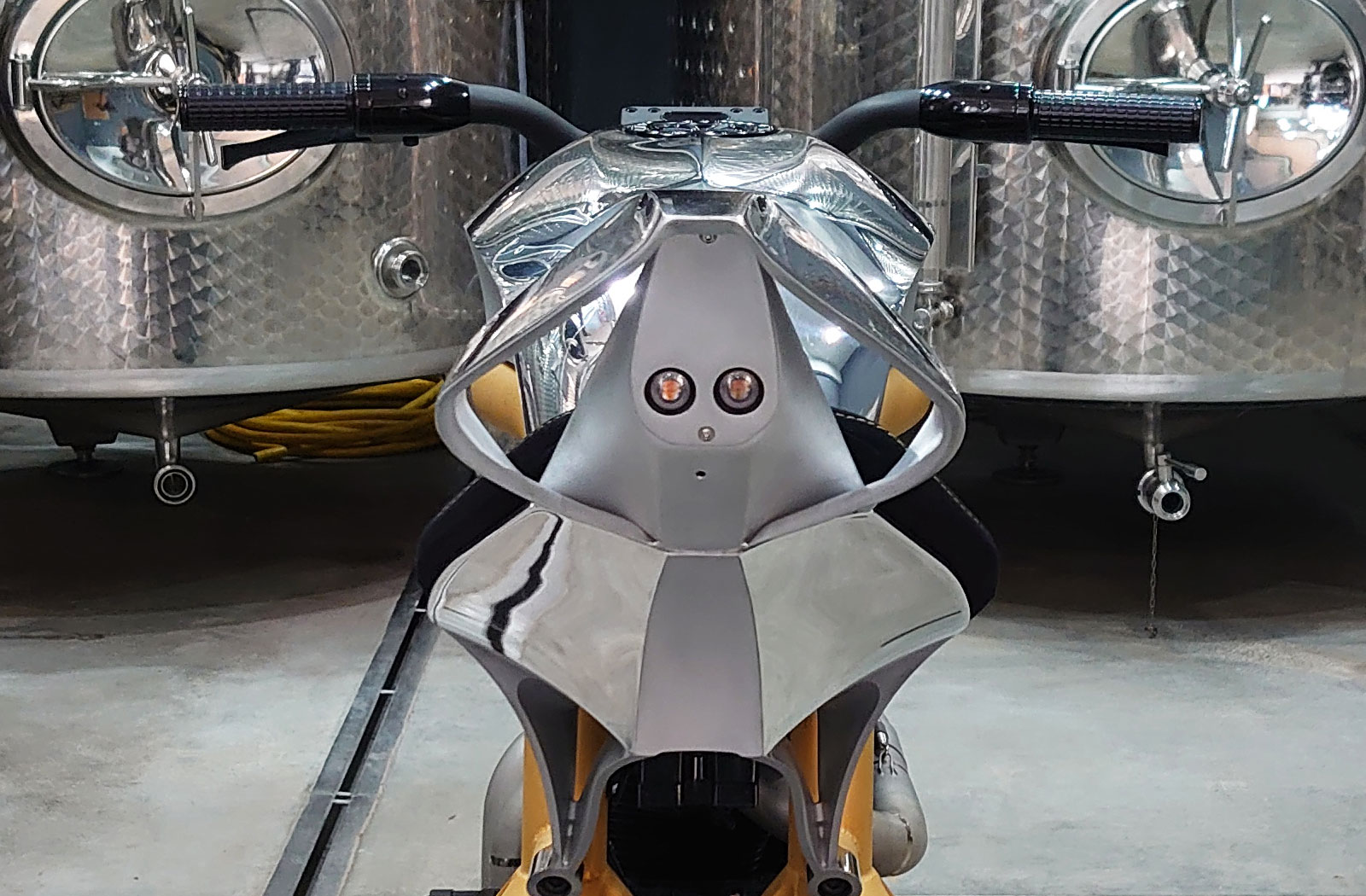 The Buell S1 Lightning 1203cc v-twin was good for 101 bhp and 90 Nm of torque, but it sat in a bike that weighed north of 200 kg wet. In comparison, this v-twin is nestled within a lightweight, primarily aluminium motorcycle, so those power figures start to look a lot more interesting. Knowing this Jimmy limited the engine upgrades to some intake and exhaust tweaks.
The intakes are now fed by a pair of 39mm Keihin FCR carbs wearing hi-flow filters and housed within the custom-made airbox. For the exhaust, Jimmy opted for a custom 2-into-1 set of headers that exhale via an SC Project muffler. For a reliable spark, he then installed an Accel Supercoil and tasked an Evolution Industries primary belt drive with getting the power to the rear wheel.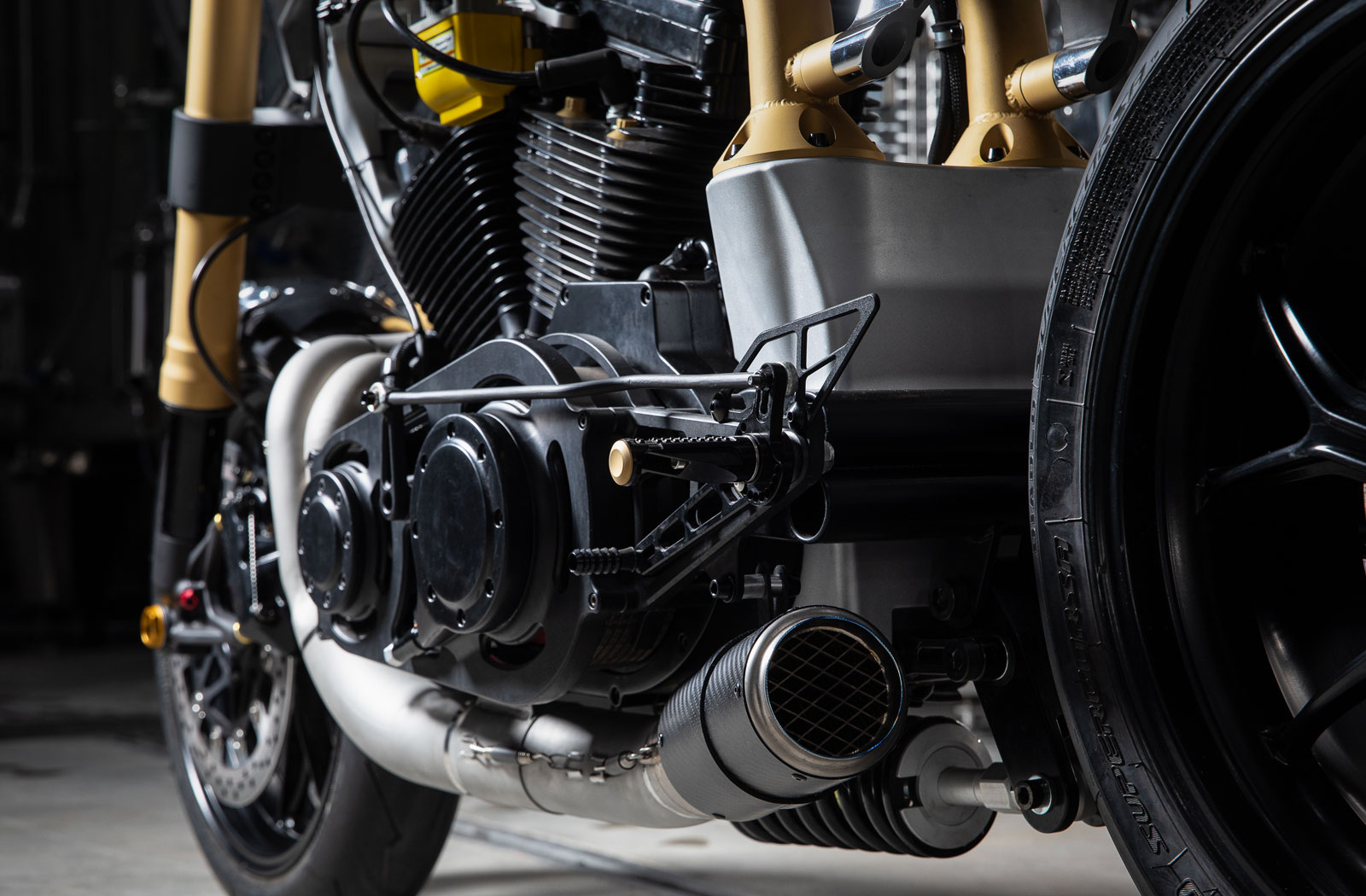 The finished result here speaks for itself, but to put the RD Kustoms SR1 to the ultimate test, Jimmy and Michel took the bike to one of the most prestigious v-twin build offs in Europe, the AMD European Bike Building Championships.
"The motorcycle was unveiled in Italy for the finale of the AMD European motorcycle championships," says Michel. "Jimmy's bike won the 'Best of Show' amongst 70 other motorcycles built by professional workshops. The win also earned him an invitation to the World finale in 2023."
As if that wasn't enough Jimmy has already got to work on a second, even more ambitious RD Kustoms build. This time he plans to also build the engine of the bike which will be a truly impressive feat. That bike is slated to make its debut at the Verona Motor Bike Expo in January of 2023 then the pair will head to the USA to show their bikes off at Daytona Bike Week.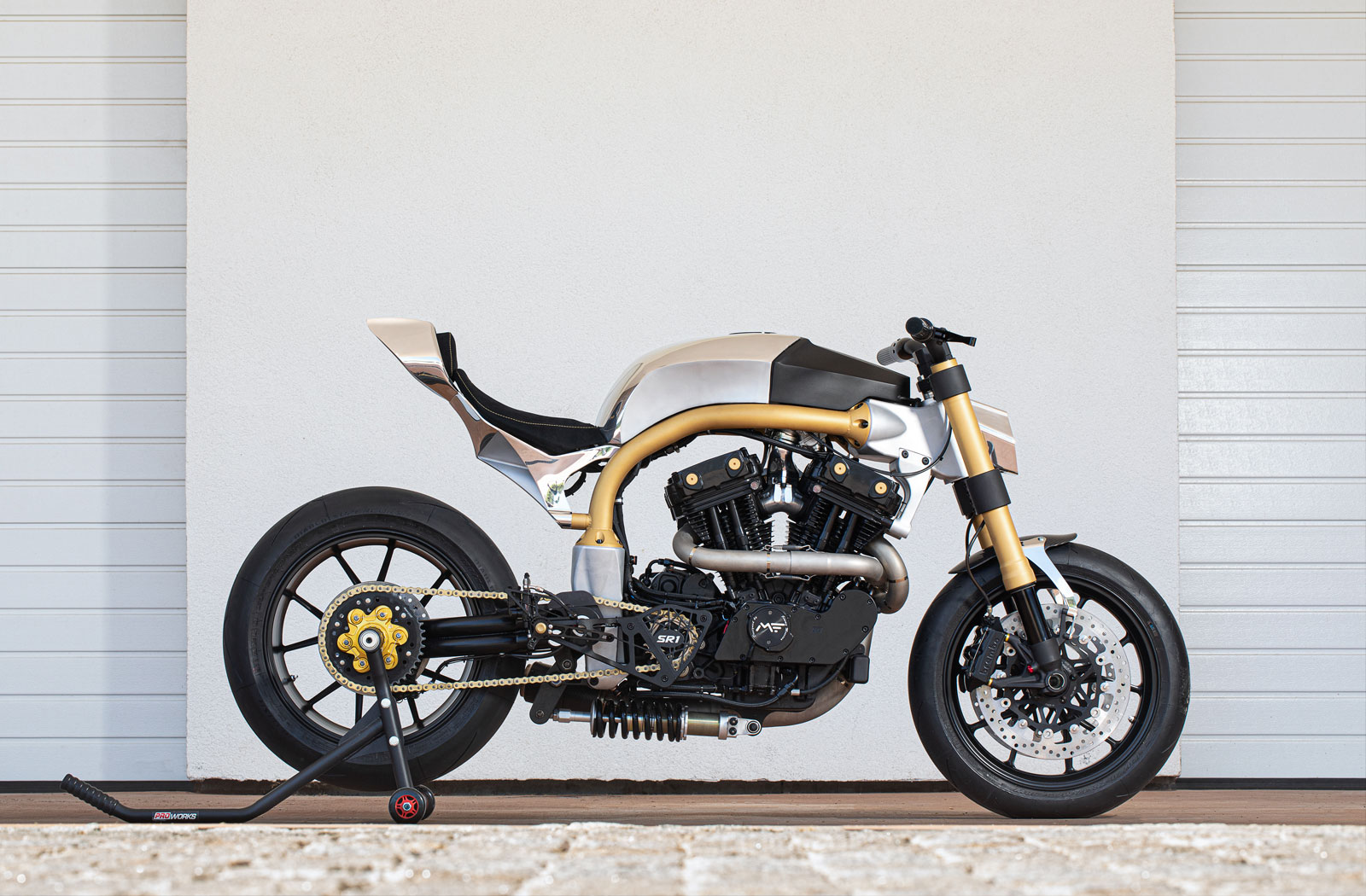 In closing Michel says that "This build gave me the possibility to work with my son, offering him a chance to start his business, RD Kustoms. Although some periods were very difficult because of the side effects of his treatment, he managed to design, engineer and build 100% of this bike on his own. And it all took place in the family garage just as the Harley-Davidson founders did in 1903. I hope that my son's dream of becoming a recognized builder and engineer will come true and will help him in his continued fight against cancer."
We sincerely hope so too.