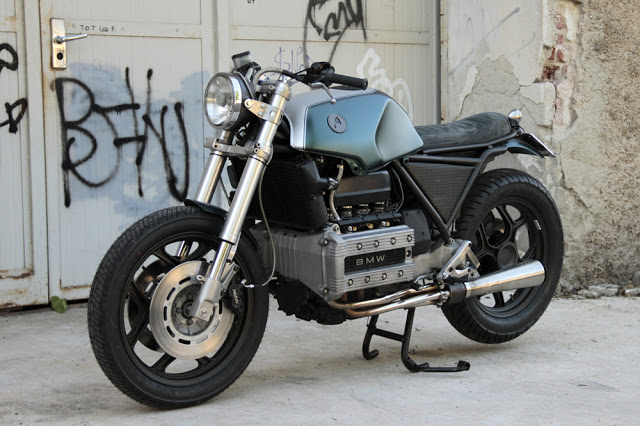 BMW's K100 Sports Tourer is a motorcycle that few people would consider when planning a custom build. Despite it's 1000cc, 4 cylinder motor delivering an impressive 90bhp and a top speed of close to a ton and a half, it's 240kg bulk make it somewhat of a behemoth. For Frank of Moto Sumisura though the opportunity to modify this beast of a bike was a challenge he welcomed with open arms. Moto Sumisura has developed a knack for transforming BMW's less desirable models (such as the Moto Sumisura Tatanka BMW K75) into the kind of bikes you wish you held the keys to.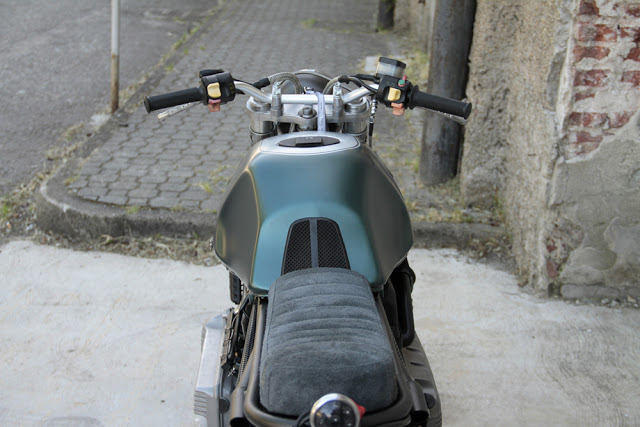 The 'Tatanka 100' was created with 2 basic goals, responsive handling and a refined finish. To do this the BMW was first going to need to go on a serious diet which began with the disposal of it's factory fairings and bodywork. With the K100's engine working as a stressed member there wasn't a lot of room for modification of the frame but Frank still managed to save some weight by slicing off the rear loop and welding on his own. Made from a lighter gauge steel it was designed to replace the entire tail section and accommodates the custom made, suede covered seat, the stop light and also secures the rear guard in place.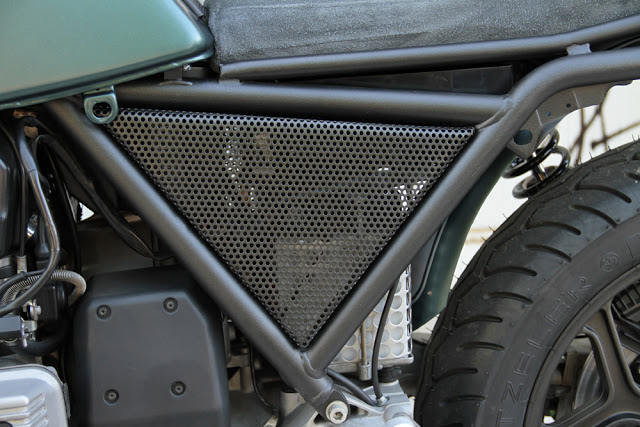 re·fined – Adjective
Elegant and cultured in appearance, manner, or taste.It's a term your likely to hear when referring to the K100's 4 wheeled cousins but not often used in reference to motorcycles. So how did Frank go about creating his 'refined' Tatanka? Muted tones, clean lines and symmetrical forms. The original K100 tank and (trimmed) fenders were given a coat of satin, metallic green with silver detailing while the frame and rims were coated in a subtle metallic gun metal grey. Cables that couldn't be concealed were replaced with braided lines and routed in almost perfect symmetry of each other. Concealing less attractive areas of the bike was done using textured mesh rather than solid panels, keep the frame open to reduce the bulky bikes visual mass.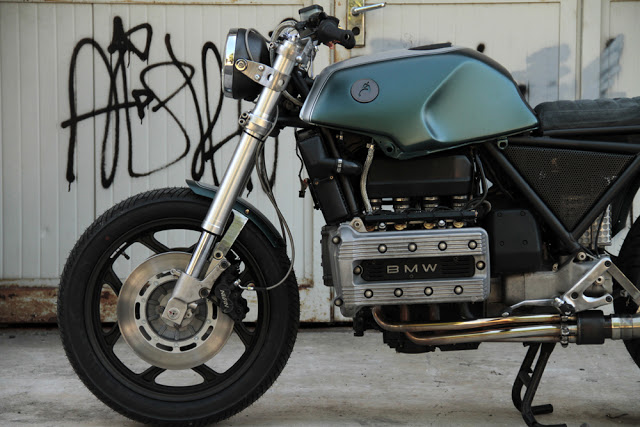 Further handling improvements were achieved by swapping the factory front end with higher performing inverted forks and 4 piston Nissin brakes. A SuperTrapp exhaust unlocks some more horses from the inline 4 and some fresh rubber readied it for the road. So, just as Frank had planned his K100 Tatanka is going to turn corners just as fast as it will be turning heads.