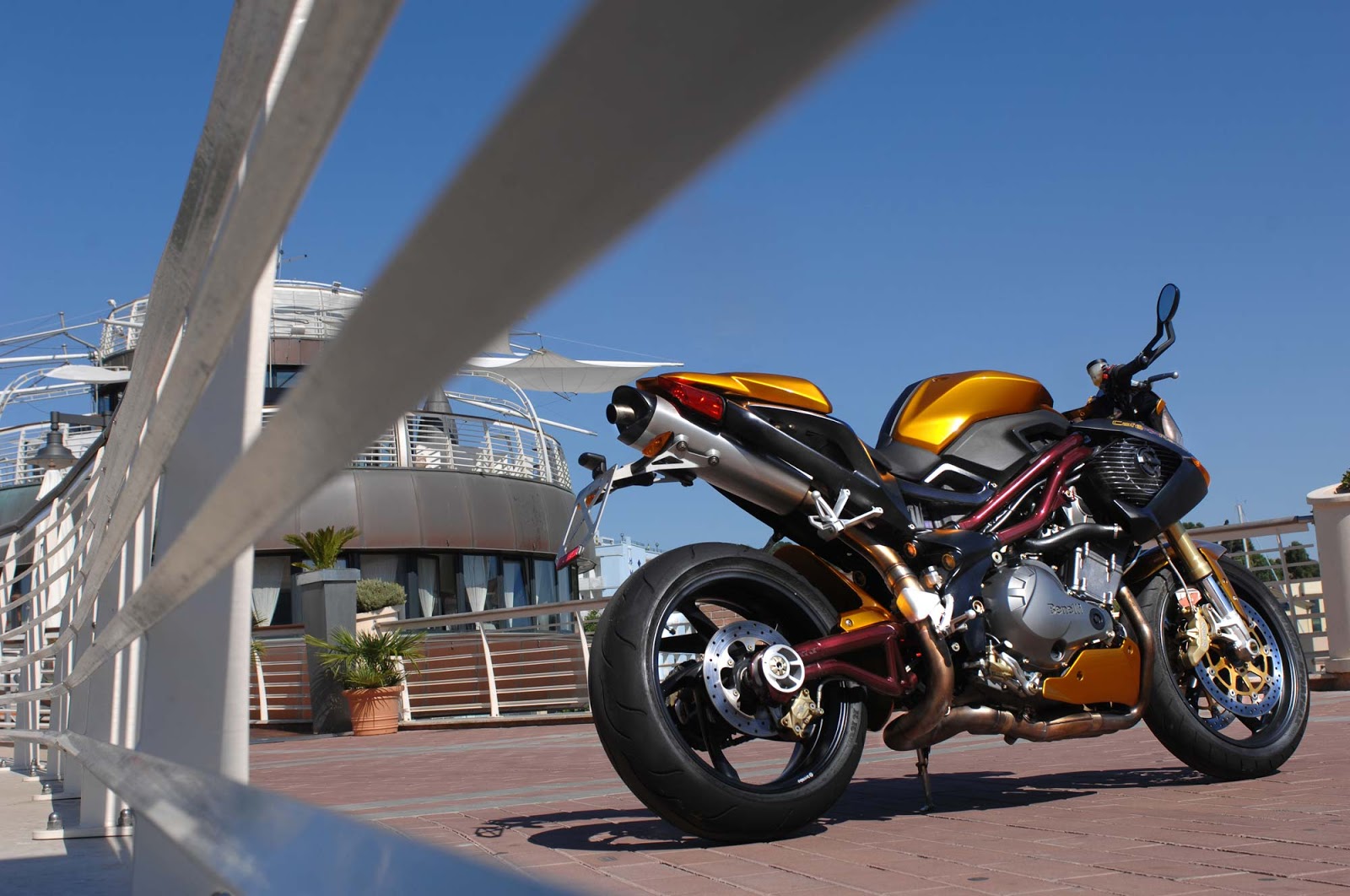 The companies actual beginning came about when a widowed mother invested her families equity into their garage business in an effort to keep her 6 sons employed. The company started off producing their own parts and servicing cars and motorbikes. Eventually, they began producing their own 98cc engine and years later went on to manufacturer their own motorcycles. One son even managed to take out 4 Italian championships riding their machine and European popularity rapidly grew. At the end of the '60s, Benelli motorcycles were starting to feel the same pinch many UK manufacturers were with the influx of bikes from Japan. Sales dropped due to their single-cylinder designs losing popularity to the new overhead cam, electric starter bikes from the east and the companies future looked grim. After several changes of ownership and attempts to secure a share of the motorcycle market, Benelli bikes made an impact on the 2 wheel market with their Tornado 900 (released in 1995) and the companies future now seems to be set in stone.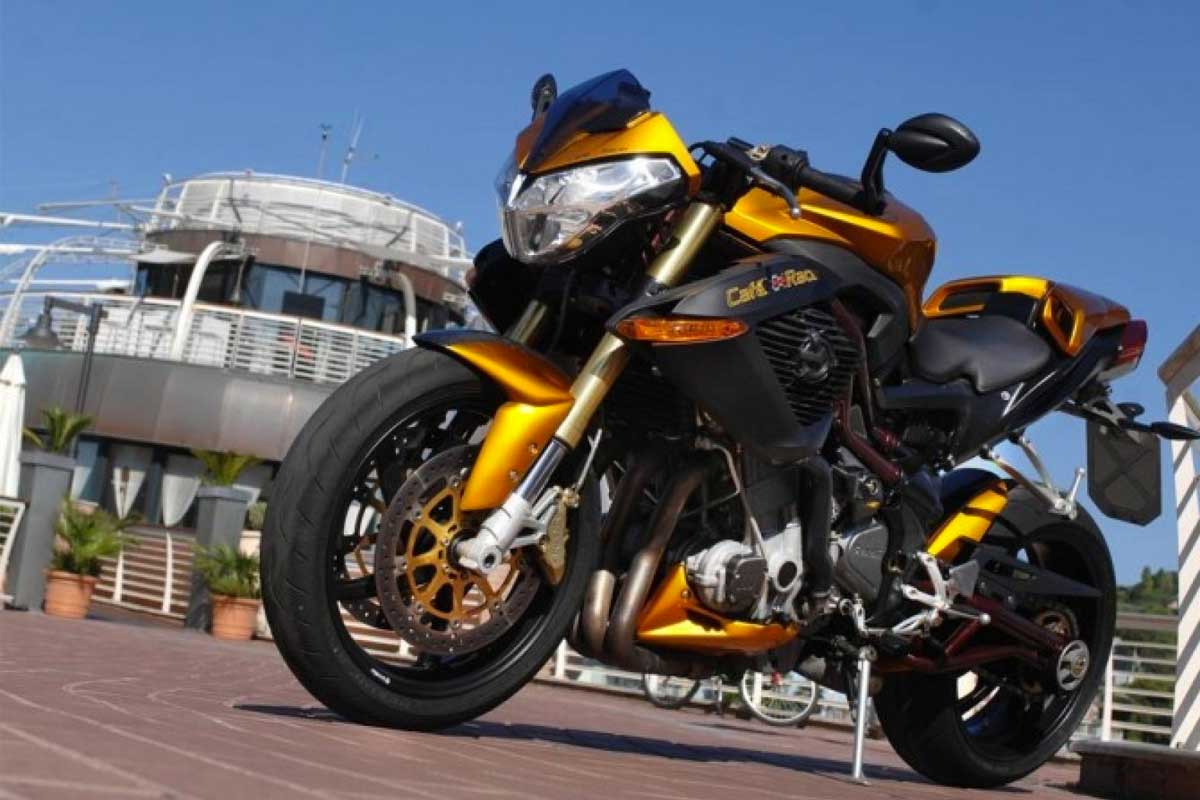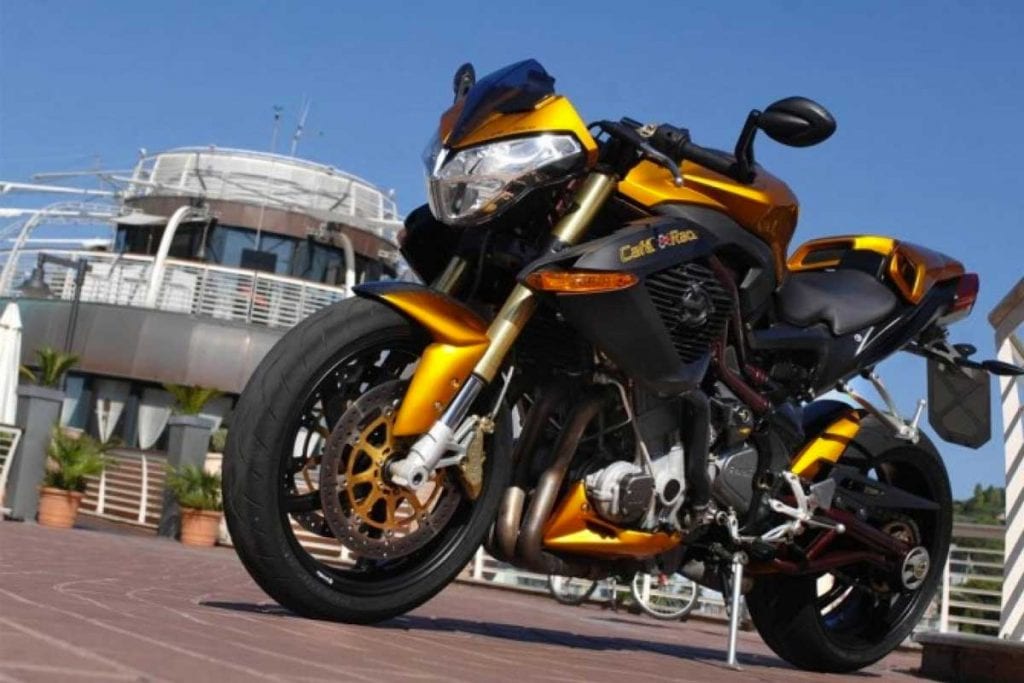 The TNT Cafe Racer 1130 isn't your average Cafe Racer. There's pretty much no classic styling and if it wasn't for the big sticker proclaiming "Cafe Racer" on the side fairings you wouldn't even consider it to be one. So what is it about this bike that made them give it that name? Well, style-wise you'll find a set of low clip-on handlebars with Cafe signature style bar end mirrors. The frame has been highlighted with a deep metallic wine red and the gold body panels create brilliant visual highlights….maybe a bit too bold for your typical Cafe Racer but this ain't no typical bike. Beyond these points, you're not going to find much more in the way of classic Cafe styling. The bikes ride is totally customisable with fully adjustable front forks and rear shocks and even has an electric footpeg control system (just in case one of your legs is longer than the other).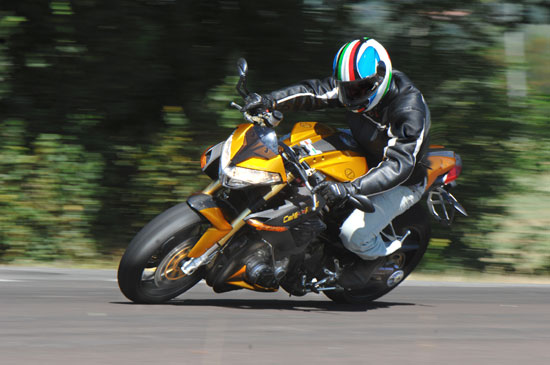 The rims are made of forged aluminium alloy and the body features several carbon fibre components to reduce the bikes overall weight (199kg). Breaking is optimised by a high-performance Brembo system to slow you down when the 101kw, 4 strokes, 3 cylinder, 1130cc engine starts to get the better of your rational side and the little "windscreen" on the front supplies you with enormous amounts of "aerodynamic protection".
The Benelli TNT Cafe Racer 1130 doesn't sound much like your hybrid Cafe Racer but it has a unique feature hidden up its sleeve which will allow you to get that cheesy I'm going fast now grin we all occasionally desire. This is done by placing a little button on the dash that when pressed allows you to switch between free power and controlled power. The free power setting gives you access to the engines torque meaning when you feel like it's time to have some fun it's just the push of a button away while the controlled power setting is best for when you have a passenger who might not be as thrilled by your up on one manoeuvres or knee grating cornering as you are…oh and that setting saves you fuel too.
So all up sure the Benelli TNT Cafe Racer 1130 has some classic Cafe styling but it's no Ducati Sport 1000. The Benelli is a bike based more on the spirit of the Cafe Racer and has been designed to give you the ride experience that the rockers in the '50s toiled to achieve as well as still functioning as a fully efficient everyday commuter. It may not be everyone's kettle of fish but it definitely has its place in the modern Cafe Racer market.
With all the classic style bikes on the market it was only a matter of time before someone decided to produce a modern Cafe Racer and the Benelli TNT 1130 is exactly that. Benelli motorcycles have been building motorcycles since 1921 and if you visit their Australian website you will be introduced to the brand with this bold, proud statement "Benelli motorcycles, inspired by café-racer/streetfighter bikes – for all of those people who love a thrilling ride and like to make different choices, who share one dream and love motorcycles more than anything". If that hasn't stirred up a little bit of excitement in your pants you may want to check that your heart is still beating.