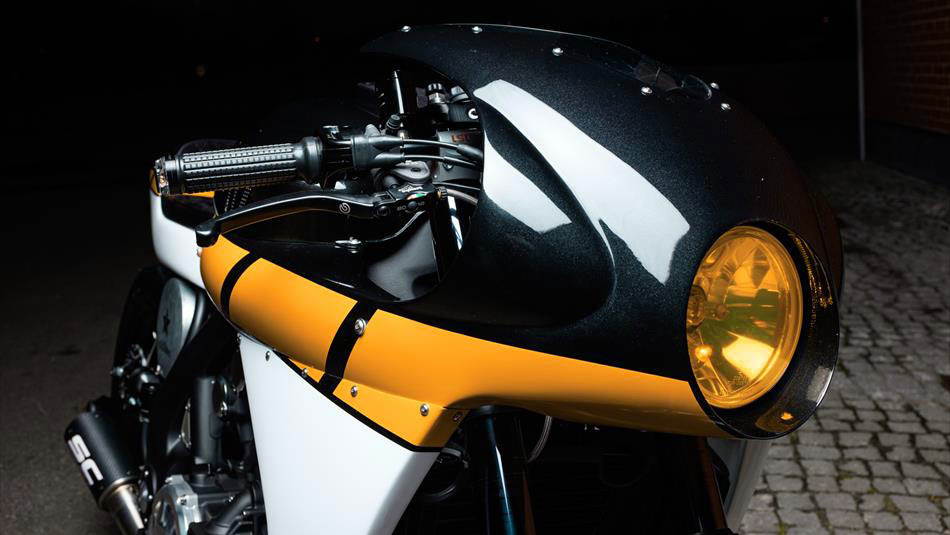 With 200bhp on tap and an astounding 2.5 second 0-60mph time, the Vmax V4 engine is well suited to dragstrip antics. A quick search on Youtube will reveal modified versions of the Vmax recording sub 9 second 1/4 mile times, but with their 'CS-07 Gasoline' build it roCKS!bikes wanted to drop some weight and move away from the cruiser aesthetic. For this they created a much sportier, streamlined, monocoque style body.
Hand shaped from sheet metal the bodywork the false fuel tank conceals the bikes airbox which is force fed directly from between the fork legs and through grilled vents in the tanks side wall. The original fuel tank, which was housed beneath the seat has been replaced by a smaller, aluminium barrel that holds enough fuel for a couple of high speed runs. And a completely rebuilt subframe does away with the cruiser style rear end.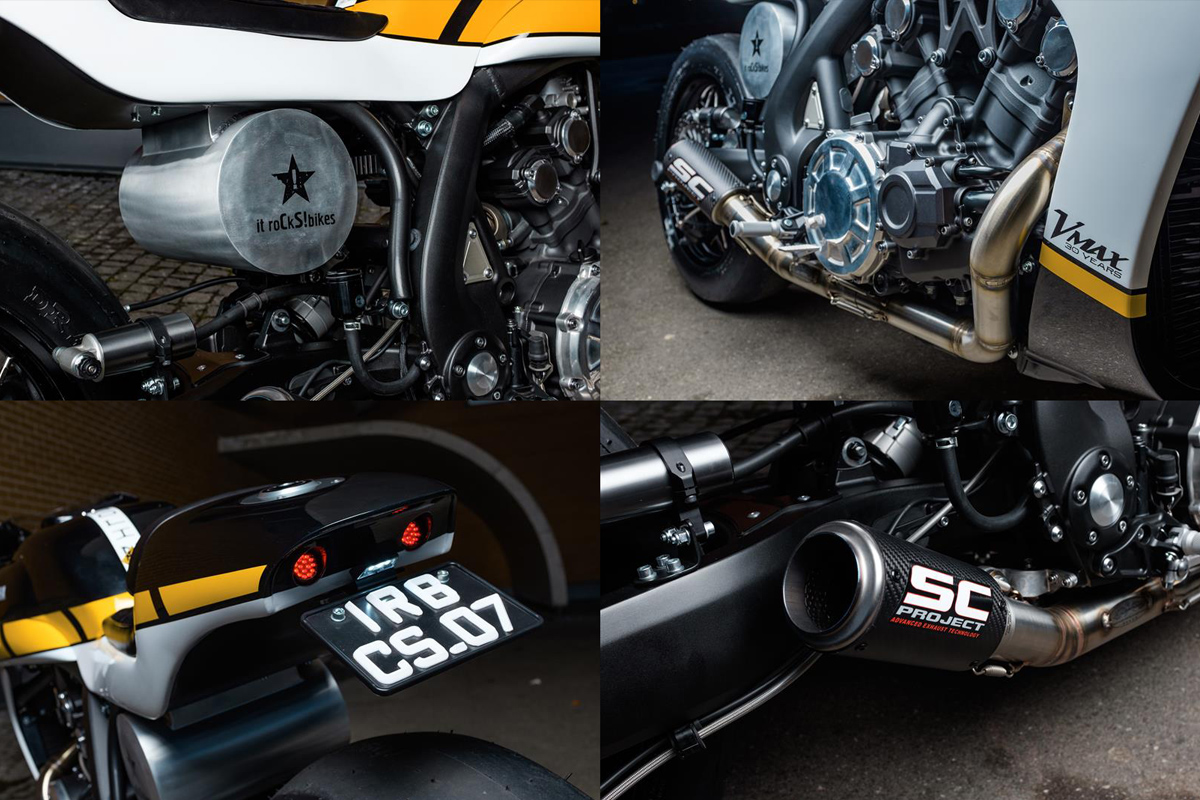 To suitably prepare the bike for 1/4 mile action Alexandre and Osvaldo of it roCKS!bikes put together a custom wheel configuration. Up front there's a spoked 3.5 x 18 inch rim wrapped in Bridgestone Battlax rubber. In the rear is another 18, but this one's wearing a drag strip ready 6.0 Dunlop Mickey Thompson slick. To position the rider correctly for straight line, chin on the tank madness there's a set of clip on bars and rear set footpegs from LSL. Surprisingly the bike still sports all the electrics and lighting needed for legal street use. On the end of the bars you'll find M-Blaze indicators and in the tail are 3 function LED running/brake/indicator lights.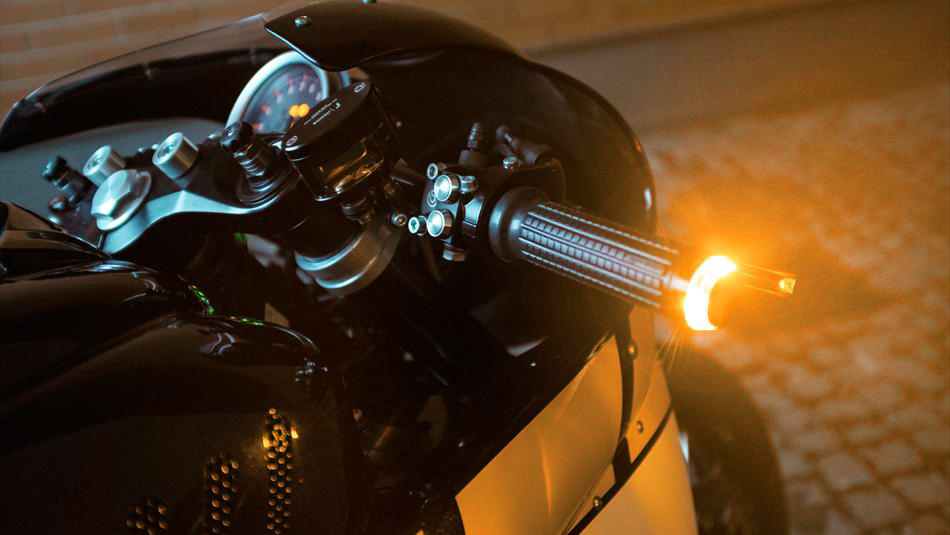 To free up some additional horses there's a custom made, free flowing 4-into-2 set of stainless headers. The carbon fibre silencers do little to subdue the bikes roar, but they do look great, and K&N filters beneath the false fuel tank suck in as much air as they can get. Then when the end of the blacktop is fast approaching Brembo gear helps to slow the beast down.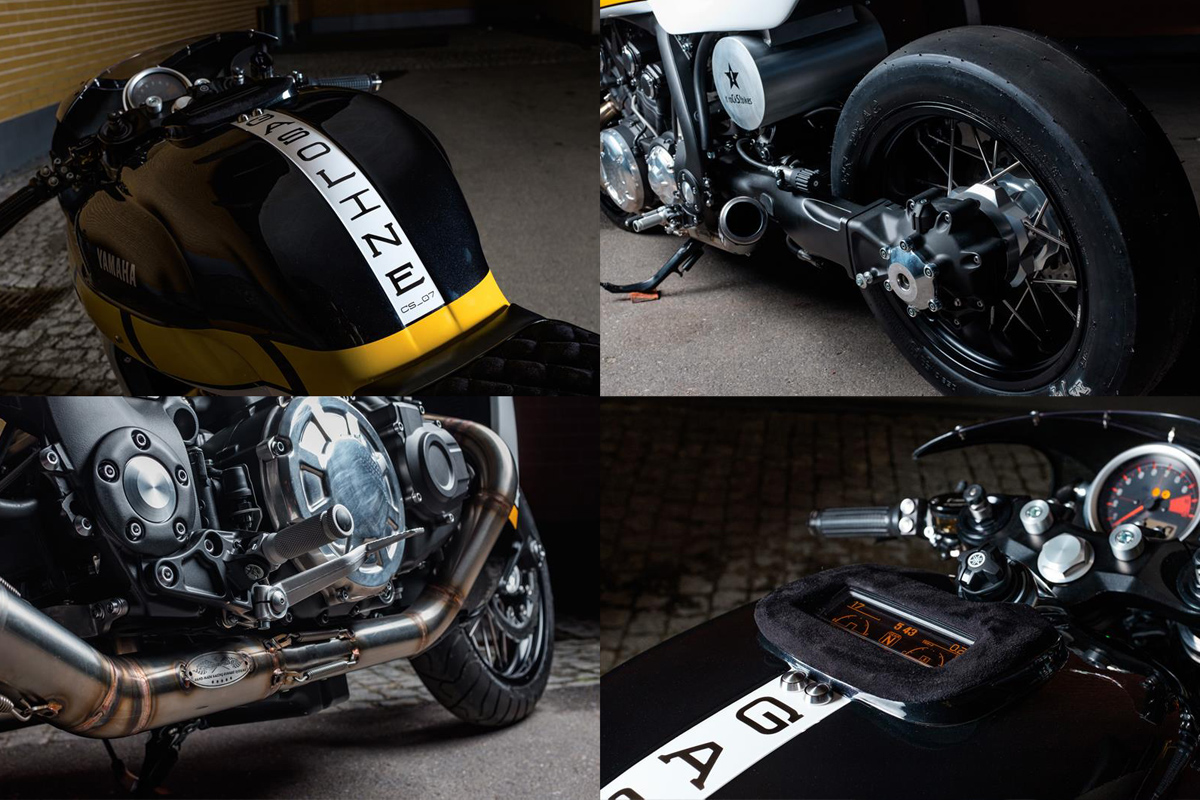 As a nod to Yamaha's 60 years of production the it roCKS!bikes crew applied the striking black, white and yellow paint scheme to the CS-07 Gasoline. We've already seen a few of the previous Yamaha Yardbuilt bikes tearing up the tarmac at Wheels and Waves, but the prospect of seeing the CS-07 do the same has me particularly excited.
it roCKS!bikes         Yamaha Yardbuilt
Photography: Manuel Portugal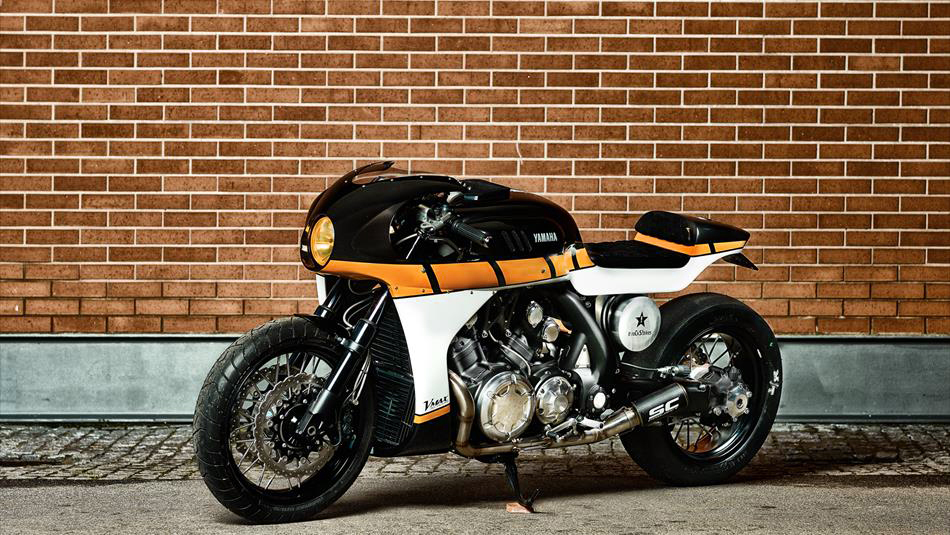 The <a href="https://www.returnofthecaferacers.com/category/yamaha-motorcycle-cafe-racer/">Yamaha</a> Yardbuilt saga continues with yet another wildly customised Vmax. As Yamaha so eloquently puts it "The monocoque masters from Portugal are back" and this time those crazy kids at it roCKS!bikes have truly outdone themselves. The it roCKS!bikes 'CS-07 Gasoline' Vmax transforms Yamaha's brutish 1679cc cruiser into a road going 1/4 mile weapon.