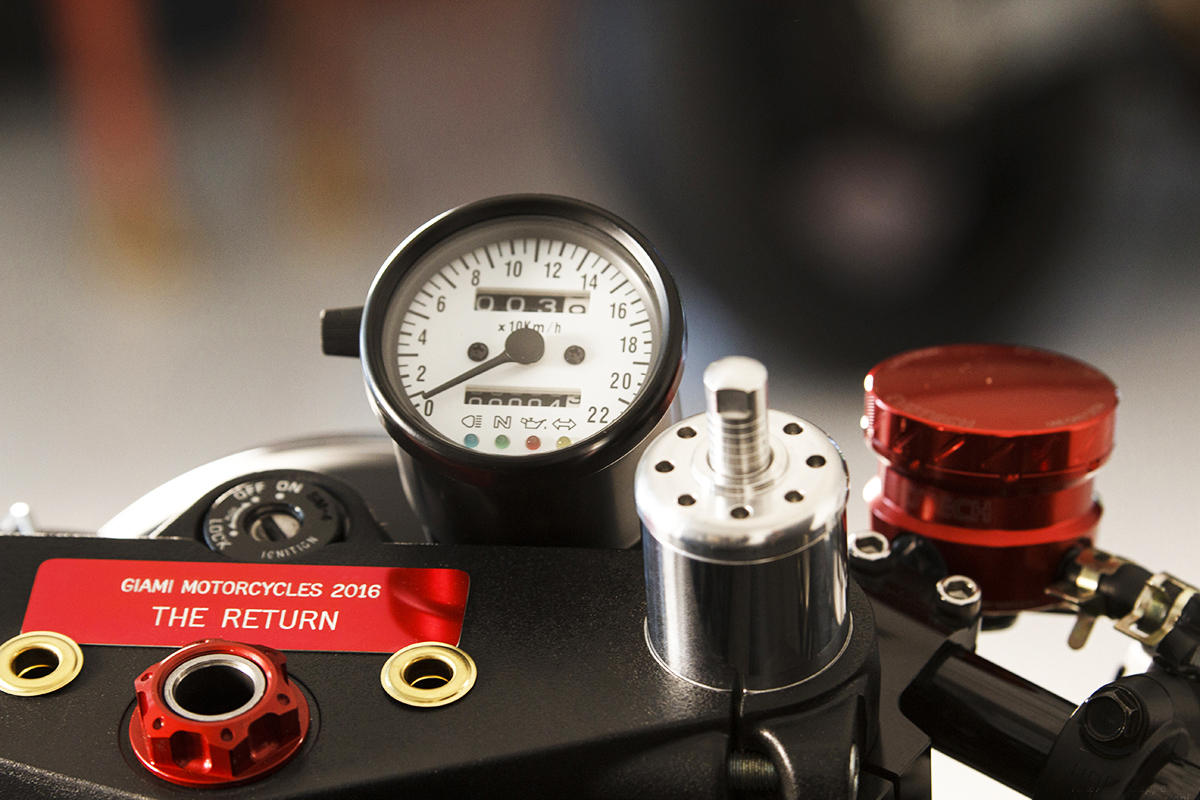 "The bike is a 1997 400cc Suzuki Inazuma imported from Japan, perhaps unique in Italy!" says Cosimo. "I bought it in 2013 because I wanted to build a special motorcycle for our 10th anniversary. It was to be dedicated to the rider Barry Sheene, the date of his death, March 10th 2003, coincides with the opening date of Gia.Mi Racing (now Giami Motorcycles) … then my accident put that plan on hold."
Two years of recovery passed before Cosimo was ready to revisit his Inazuma project. His 10th-anniversary concept was, unfortunately, a distant memory so instead he chose to embrace the cafe racer spirit by focusing on improving the bikes performance.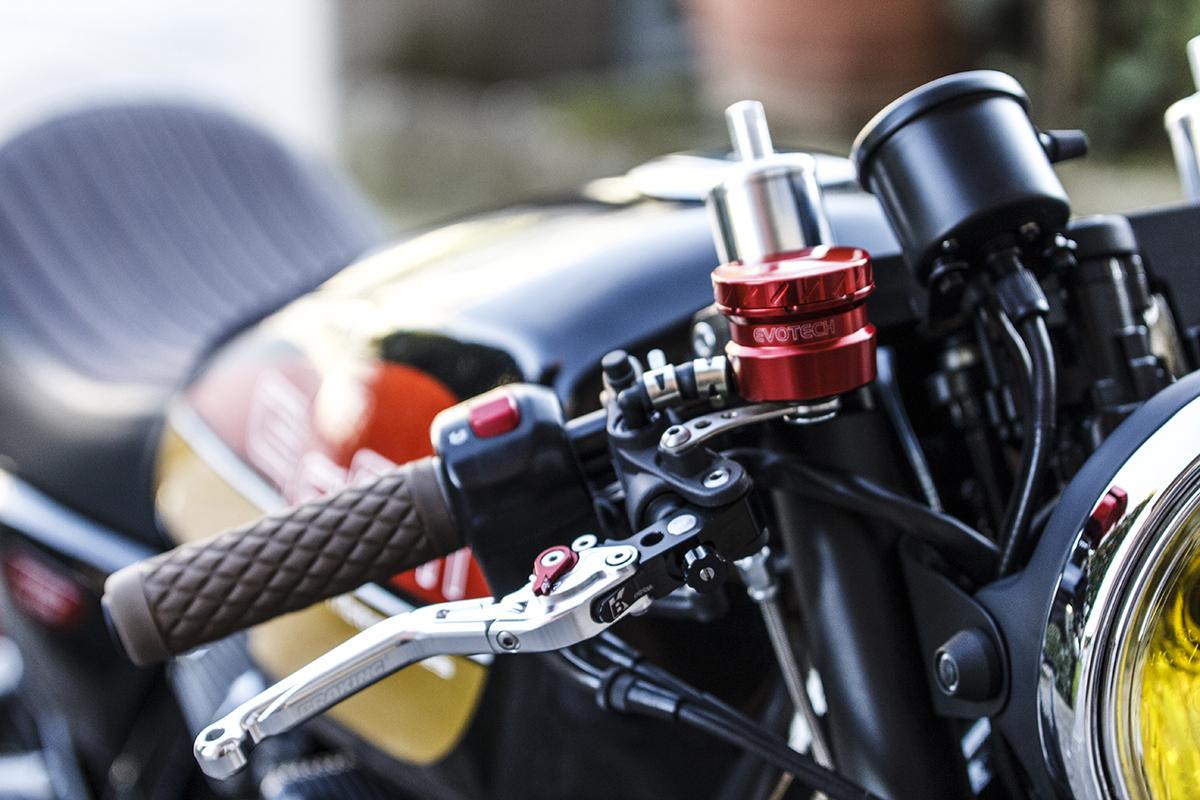 After tearing the Inazuma down Cosimo began the build by determining which of the original parts on the bike could stay and which to replace. As handling improvements were paramount the suspension and brake systems were upgraded first. A set of custom CNC milled triple clamps allowed the fitment of Ohlins telescopic forks to the front of the bike and a matching pair of shocks went on the rear. A taller shock length was chosen to help level the bike's frame and create a level bone line along the length of the bike. Brembo brakes were then installed to a set of lightweight cast wheels along with braided brake lines, wave rotors and aftermarket reservoirs. Then, to remove any chance of unsavoury front end wobbles, a Bitubo steering damper was installed.
To eke more power out of the bikes modest 400cc powerplant Cosimo then fabricated a custom stainless exhaust system wearing an Italian made Gianelli muffler and installed a set of bigger jets into the factory carbs.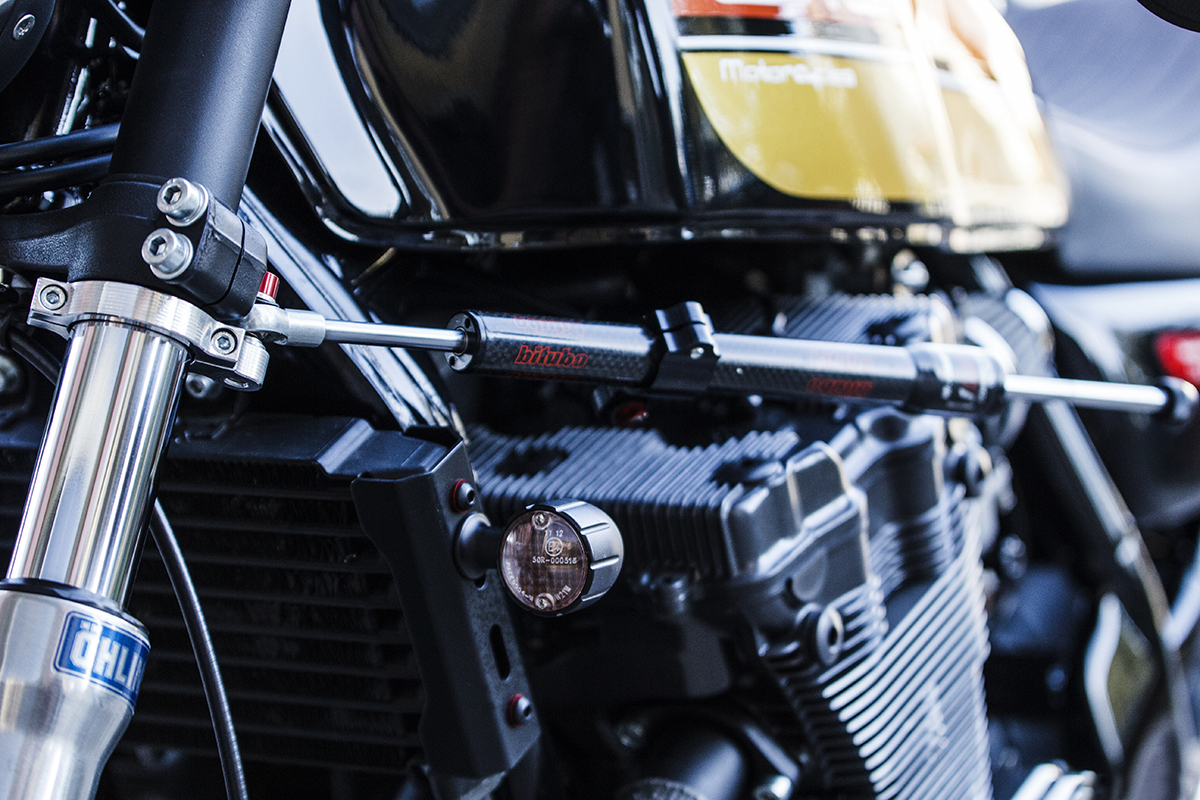 When I asked where the inspiration for his Inazuma cafe racer came from, Cosimo quoted renaissance artist Michelangelo saying "The sculpture was already inside the stone." Of course, nothing is ever as simple as just unbolting a few parts here and there and the Inazuma was no exception.
First off the Suzuki's frame needed some coaxing to accept a new tail. After sketching out his idea a new subframe was welded in place and the new seat was shaped from neoprene foam. Wanting a more aggressive and classic looking fuel tank for the project meant sourcing a second hand one from a '70s bike, but fitting it to the double cradle frame took some serious effort. Not being one to shy away from a challenge Cosimo persisted with the tank, rebuilding its entire underbelly to accommodate the frame. Inspired by classic Honda Fours he then built a set of stainless headlight ears that slide over the fork tubes and position the Lucas 7 inch headlight in close to the neck of the frame. Clip on handlebars and rear set footpegs create the appropriate rider stance and a single, offset speedometer keeps the cockpit clean.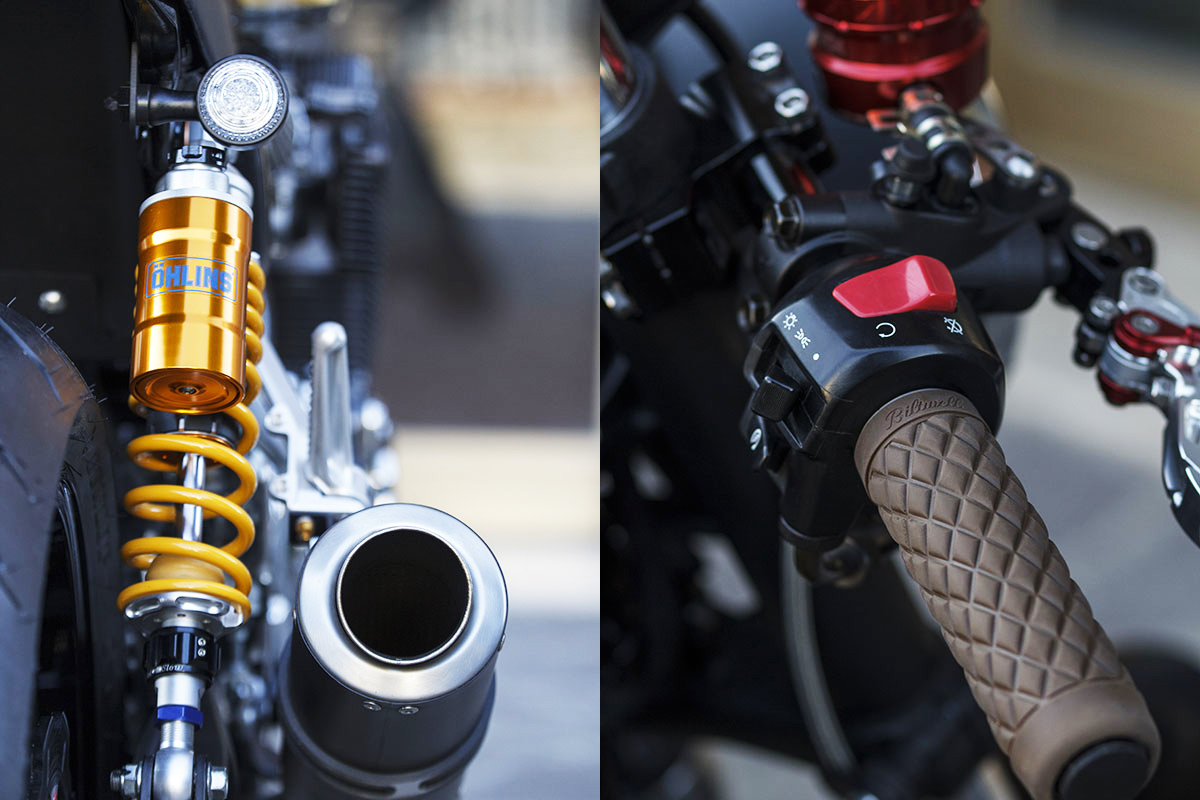 For a man that's been off the tools for over 2 years, Cosimo certainly doesn't seem to have lost his ability to build a beautiful bike. Now that he's back we're hoping to see many more great builds from his GiaMi Motorcycles workshop for years to come.
Safe riding everyone.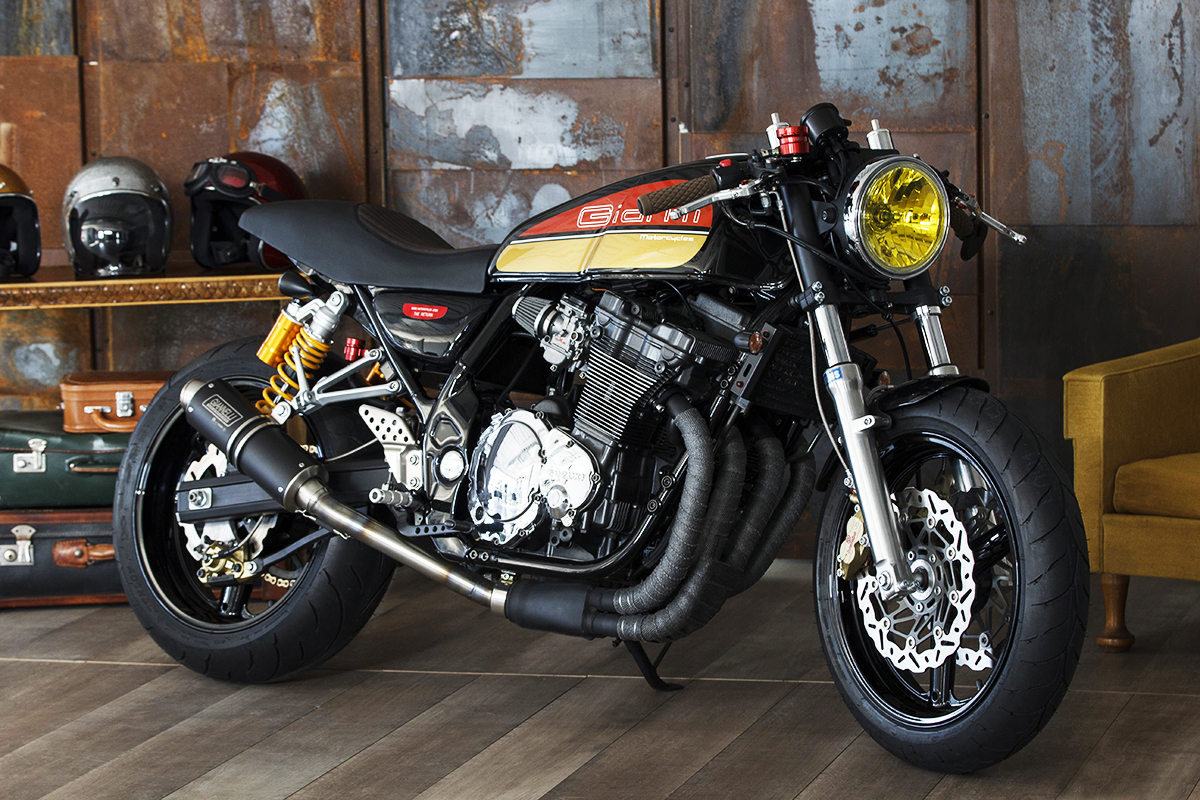 It's been a few years since I've heard from Cosimo at GiaMi Motorcycles in Italy. After being involved in a serious motorcycle accident on his Kawasaki ER6N cafe racer in 2013, he began a difficult healing process and his time in the workshop was reduced to a minimum. It was a long road to recovery, but thankfully he's now back on the tools and is once again building great looking custom motorcycles. To mark his return to custom building Cosimo has put together a Suzuki Inazuma based cafe racer he's rightfully named "The Return".