If Benelli's TNT 1130 and Kawasaki's 650 Ninja had a romantic interlude this could well be the result. Based on a Kawasaki ER6N (the Ninjas naked brother) this Cafe Racer build by Gia Mi Racing in Italia is what a modern day Cafe Racer is all about.which just so happened to be my first reaction. However after hearing Gia Mi team member Cosimo explain the approach he took with the build there's no denying this bike was built in true Ton Up style.
After receiving the bike from an owner who had only clocked up 3500kms in its saddle, Cosimo quickly realised the potential of Kawasaki's naked Ninja. An aesthetic upgrade was a no brainer but with a well planned set of performance upgrades Cosimo was confident the bike could turn corners just as well as it could heads.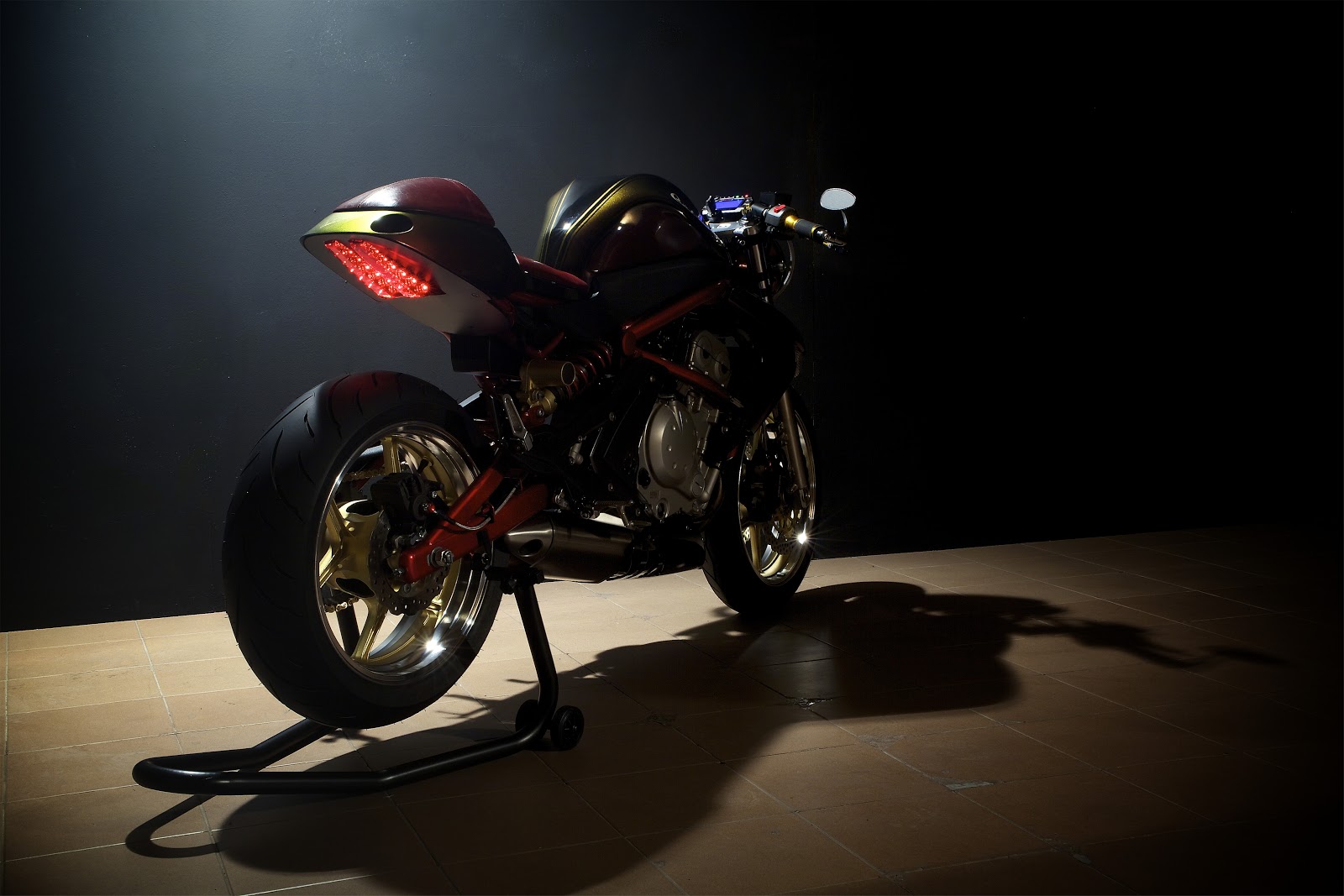 The bike was stripped back to the chassis and Cosimo began piecing together performance parts to improve upon Kawasaki's original ER6N design. Handling upgrades came in the form of a set of ZXR636R adjustable forks which were modified to suit the stock trees and the shock from a Honda CBR RR went on the rear. A set of lightweight Ninja 636 wheels were then added to the bike before adjustments to the frame were made to help balance weight distribution.
To add some Cafe Racer styling to the bike an entirely new tail section made from aluminium with integrated signal lights was fabricated in house and a 7 inch headlight was fit to the front end. A full respray in chameleon gold/copper with red and gold anodised detailing give the bike a distinctly modern. With the bike now weighing considerably less, the 71hp of the four stroke twin was delivering the performance Osimo was after so the only modification made was swapping the airbox for a K&N filter. Decals boldly stating Cafe Racer on the bikes tank are a nod to the history and style that influenced the build but as with any mould breaker this bike is sure to stir up some mixed opinions from the Cafe crowd.