As promised here's a follow-up to our recent feature from Sydney's Sp9ine workshop. While Edi was slaving away on his CB900 cafe racer build this motorcycle was patiently awaiting its turn. Purchased on a whim after seeing it for sale on a street verge, the motorcycle started out its life as a 1982 Suzuki GS650 Katana. As with the CB900 Edi had an idea of how he wanted this bike to turn out from the start, but unlike his CB900 "lathe funder" he had bigger plans for the Katana. Rather than building another bike to raise funds for expanding his tool collection this build was more about skills development and a way of evolving Sp9ine's design offering.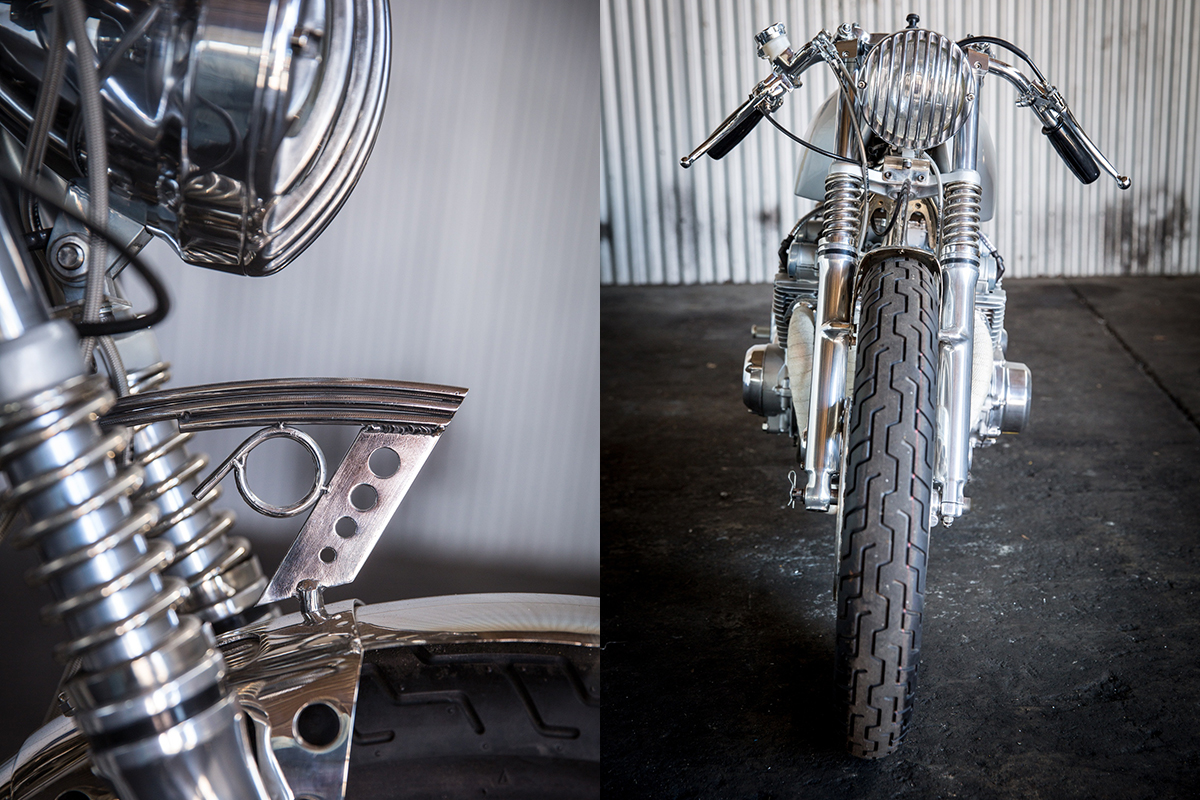 "This was also a running bike and a bargain purchase," says Edi. "Once again a full tear down, tab removal and frame cut were first up. The factory welds were also cleaned and some additional bracing welded onto the frame." The Katana's swingarm was also given a facelift to get it looking as clean as the rest of the frame and a new front guard was put together complete with an even more elaborate fender ornament than Edi's CB900 cafe racer.
From there he turned his attention to the Katana's front suspension. Seeking a more vintage aesthetic for the build Edi tried his hand at spring fabrication using 6mm steel rod. After several attempts and the creation of a specialized tool to get the job done he had the springs fitting right. "The front forks were lowered internally by 85mm and I modified them to work using the exterior spring setup. The new rear shocks are also lower than stock to get the bike sitting how I wanted. It's now very low, almost toy like."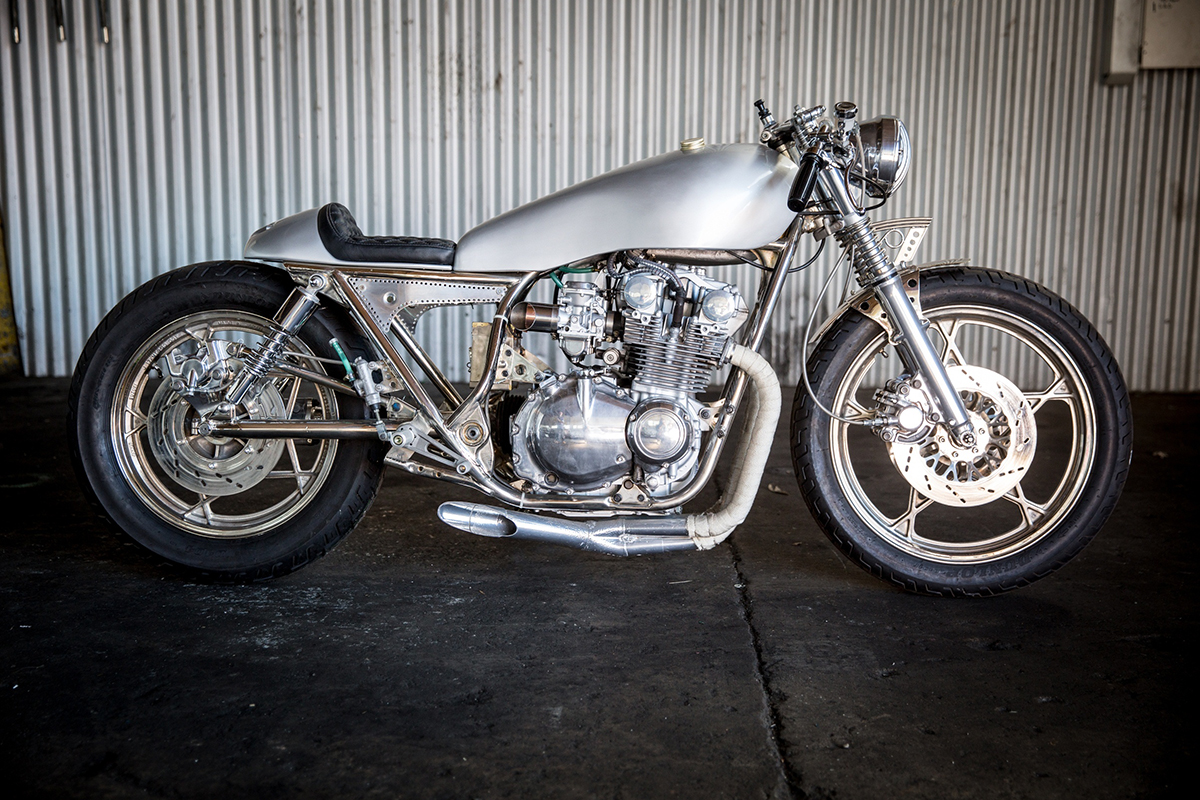 The bikes new fork springs, rims, modified frame and swingarm then all went off to a local electroplater to be nickel plated. During the following, frustrating 3 months it took for the parts to be nickel plated Edi focused on fabricating his own bodywork from scratch. "I found it extremely liberating to make my own tank and cowl." He says. "Not having to compromise my design to fit an OEM tank made a huge difference to what could be achieved." The new tank and tail were designed to bring the rider's body closer to the motorcycle and have been designed to follow the lines of the frame rather than perch on top of it. Once completed the fiberglass was primed and painted using 2K metallic silver and a custom seat was upholstered to suit the rear cowl. All of the Katana's aluminum engine and body components were then polished to a mirror finish to match.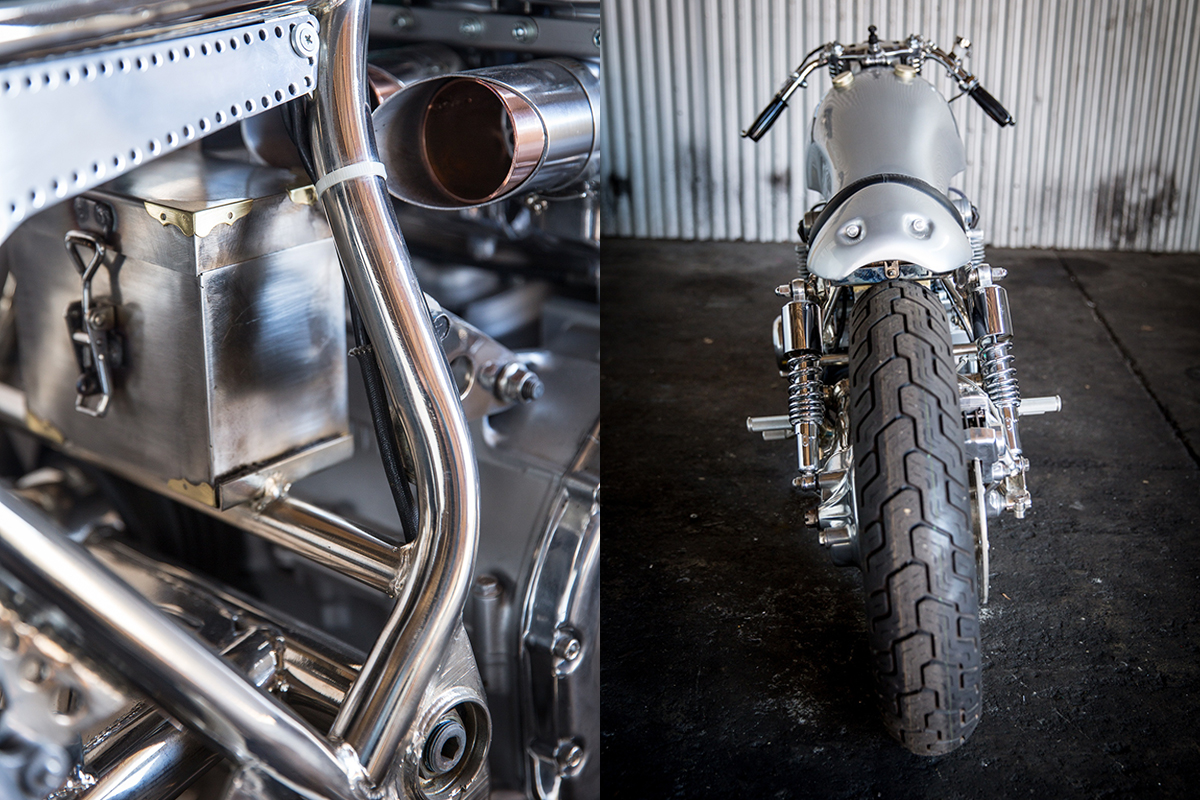 With the stock filter setup and airbag gone the carbs were fit with handmade velocity stacks wearing internal copper sleeves and the original exhaust was swapped out with a 4-into-1 system that Edi slash cut and ceramic coated. When the frame finally returned from the platers everything went together smoothly and a new wiring harness was put together to ensure everything would function as it should.
According to Edi, his custom Katana has opened up a world of opportunities for his future projects. Confident he can create bodywork from scratch he'll no longer be relying on OEM parts to suit his needs. There's probably a clever proverb I could insert here about oysters, but instead, I think it's best to just look forward to seeing what he has instore for us next.