For one Belgian based motorcycle enthusiast, the JPS racing livery was the epitome of cool. Like many of us though, the notion of owning an original JPS vehicle was an unachievable dream. So when Michiel van Son set out to rebuild a late seventies Suzuki GS750 he looked to that iconic Lotus for inspiration.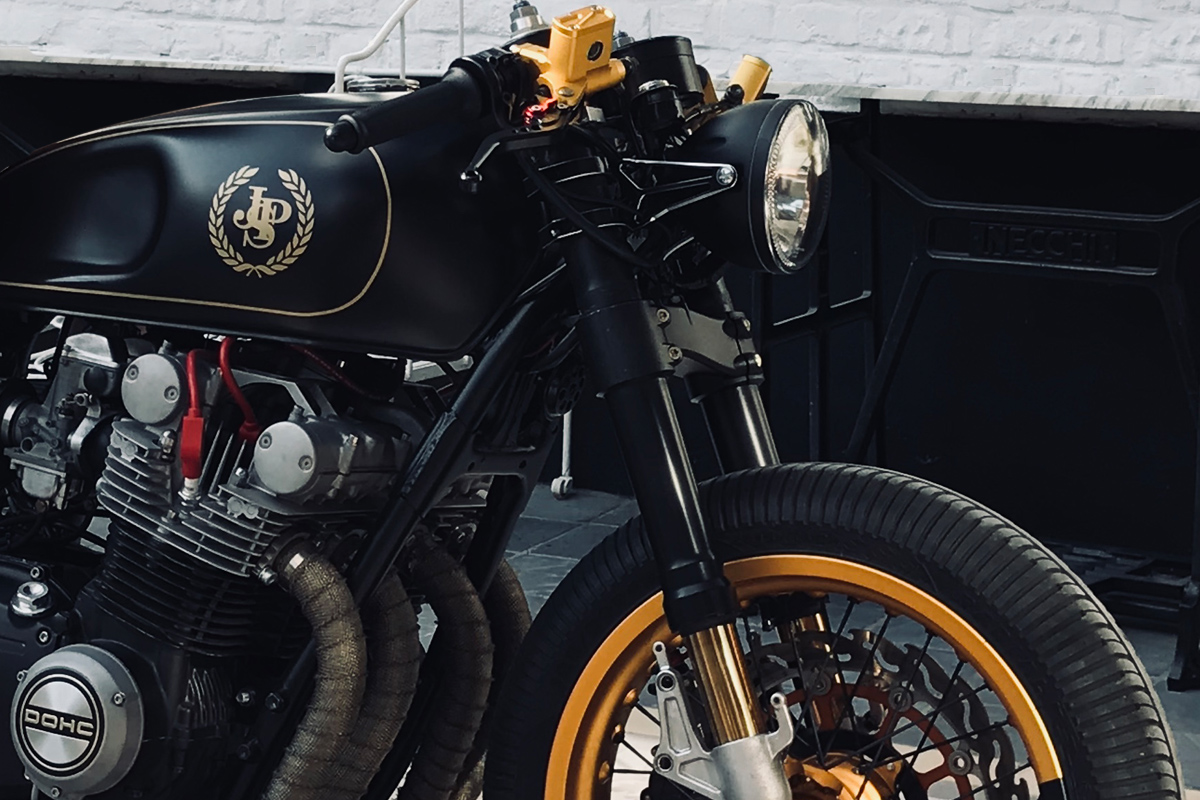 The freelance cinematographer's experience with motorcycles began at the age of sixteen. Starting out on a Honda Dax and slowly working his way up to bigger bikes it wasn't long before Michiel's creative talent was being applied to his bikes. With the idea of a JPS inspired build already floating around in his head Michiel purchased a '77 Suzuki GS750.
Before the build had even begun Michiel started searching for parts that would fit his black and gold theme. Chosen for its handling improvements and appropriate color scheme he purchased a Ducati 848 set of upside down forks. To allow the fitment of wider rubber he opted for a set of 50/50 gold black Alpina Supermotard spoked rims. For the rear suspension, he sourced gold canister aftermarket shocks and even found a set of gold anodized aftermarket reservoirs to adorn his bike's handlebars.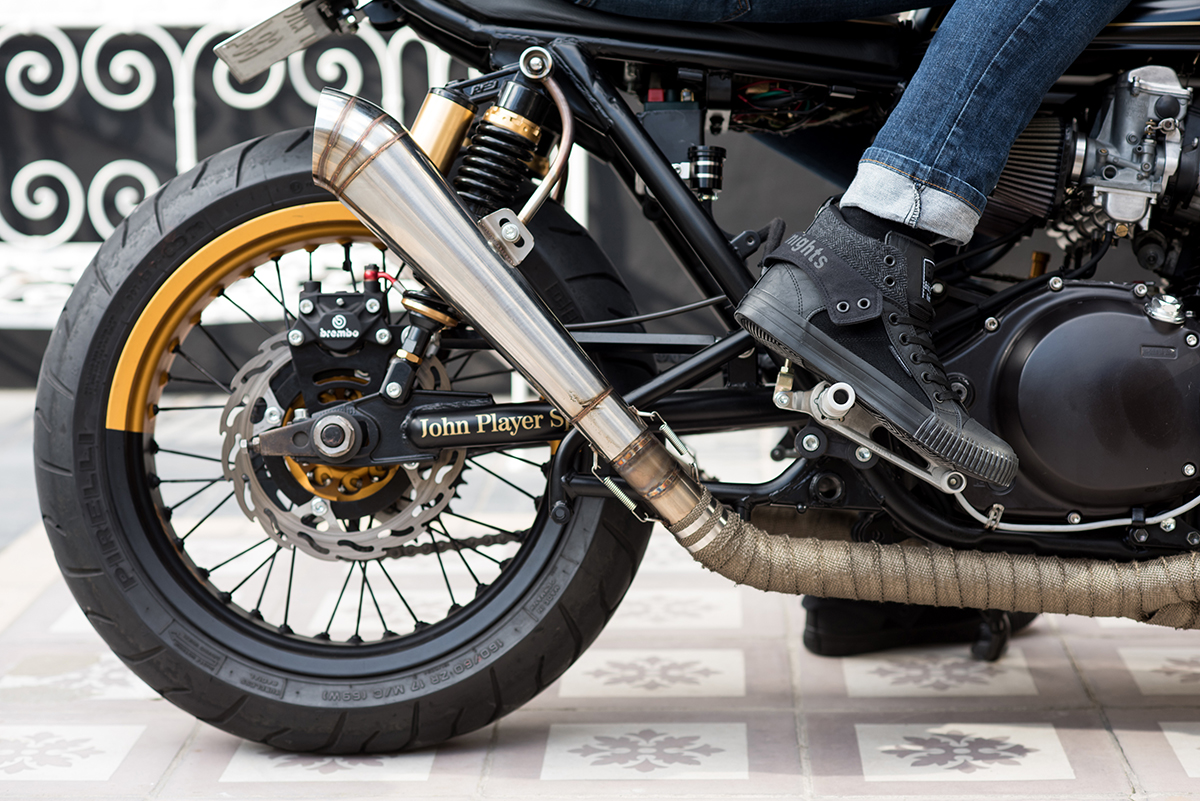 According to Michiel the fitment of the Ducati forks to the Suzuki frame was the most challenging aspect of the build. In order to avoid modifying the frame, a custom steering stem had to be milled and pressed into the Ducati triple tree to make it fit. Then, to stop his clip-on handlebars from hitting the tank, the steering angle had to be reduced. With the forks in place, the Alpina wheels were mounted along with a set of Brembo calipers and gold detail racing rotors. To ensure everything had the fit and finish of a Formula 1 car Michiel also replaced every visibly worn nut and bolt and even installed a completely new wiring harness.
For the bodywork, Michiel decided the best course of action was to dispatch the bikes factory plastics. After trimming the notoriously long GS750 subframe down he created a new loop with a slight kick at the end which Michiel says "prevents me from slipping off during hard acceleration!". Believe it or not, the bikes slick looking fuel tank is actually a revision of the factory unit. After clearing out some internal surface rust indents were added by cutting identical pieces from each side of the tank then flipping them and welding them into the opposite side.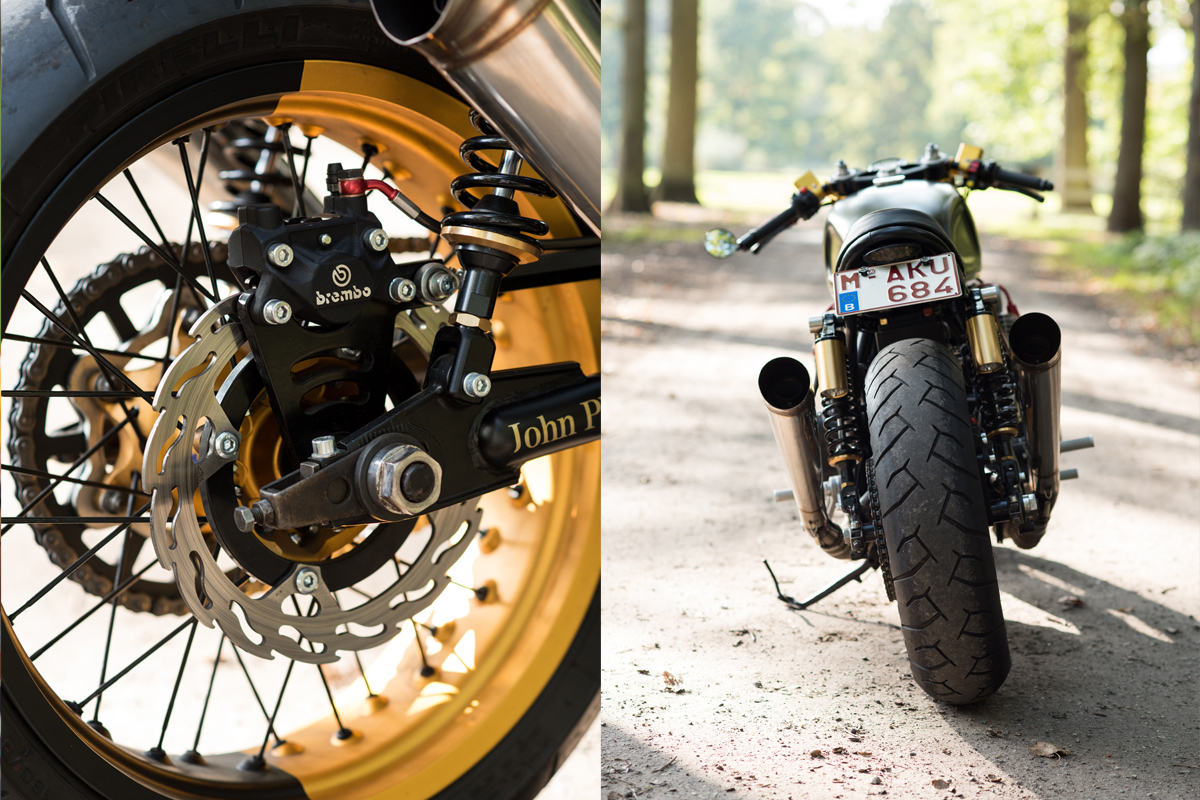 Since his Suzuki would be wearing race-bred livery Michiel wanted to ensure the Suzuki could perform appropriately. Starting with the engine he separated the cases for what was probably the first time in the bikes 40 year life. The internals were then completely overhauled with new bearings and gaskets, but the biggest improvement in performance came from the fitment of a set of Wiseco 844cc pistons. To feed the thirstier cylinders the stock carbs were refurbished and re-jetted and fit with K&N oval filters. During the overhaul, a Dyna ignition system was also added along with matching coils. The final go fast ingredient, a custom 4-into-2 exhaust system was fabricated and fit with GP silencers. Michiel says that the resulting boost in power was a pleasant surprise, he's still running the engine in but thanks to its low center of gravity, rear set Tarozzi footpegs and wide rubber it has no issues tackling challenging corners at speed.
Once he was happy that construction was complete Michel began applying his John Player Special Lotus inspired paint scheme. A custom seat was upholstered in black leather with gold details that fit the bikes modified subframe. The engines bottom end was treated to a coat of satin black paint and the bikes frame, swingarm and tank followed suit. A gold JPS wreath emblem and matching pinstripe were then applied to the fuel tank as the finishing touch for this highly desirable, homage to British racing history.
To see more of his work you can follow Michele Van Son on Instagram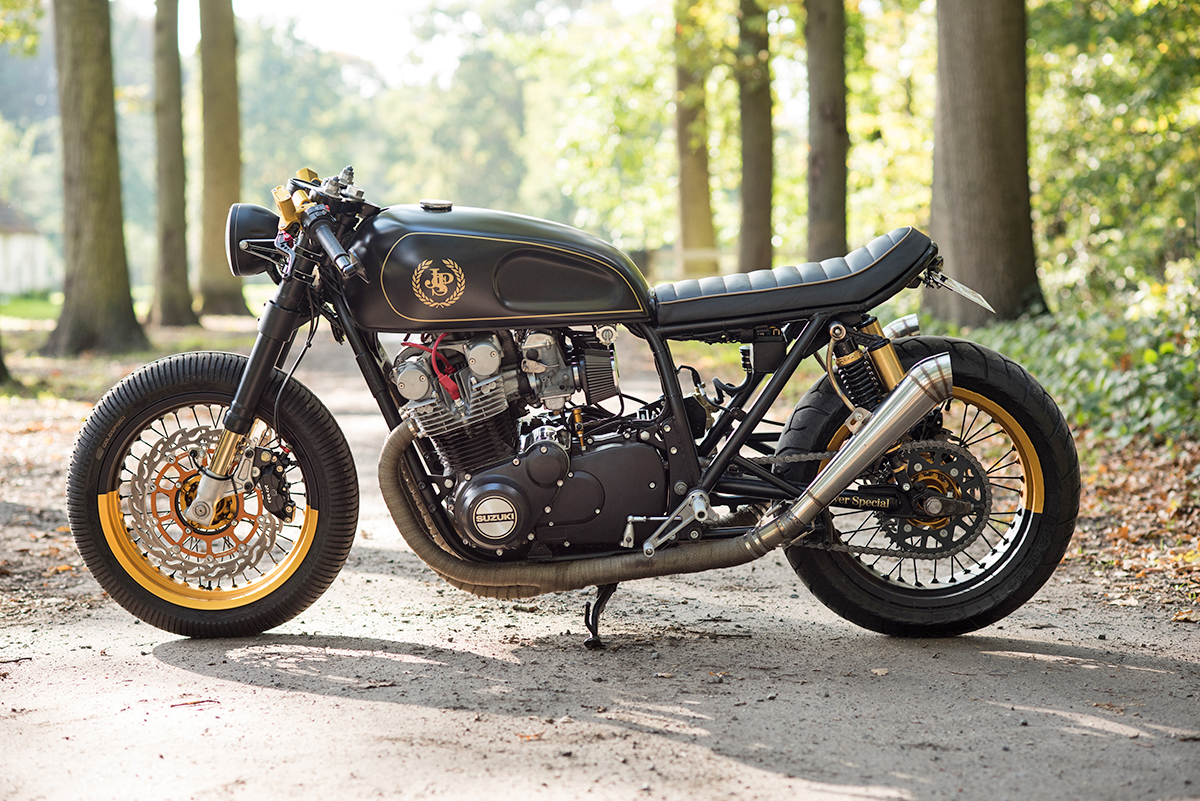 In the world of Formula 1 racing, no one has ever looked as stylish on the track as the 1970's Lotus John Player Special team. A liberal coat of black paint and gold JPS livery went together to create a look as iconic in racing as Nike's swoosh is to sneakers. In fact, the JPS colorway was so loved that after being sponsored by the brand both BMW and Norton went on to produce special edition, consumer vehicles that bore a JPS inspired scheme. Looking good wasn't all the JPS team did though. With the tobacco companies backing Lotus, BMW and Norton all enjoyed many successes on the track further adding to the brand's massive impact as an automotive racing sponsor.