Want a brand new Cafe Racer straight out of the factory? Surprisingly not many motorcycle manufacturers are producing Cafe Racer styled bike and out of the few that did, some have already ceased production (i.e. Ducati's Sport Classics). Luckily there are other companies out there who have recognized the huge rise in Cafe Racer popularity and have done something about it.

Cleveland CycleWerks are not only producing a brand new Cafe racer, they are selling an incredibly affordable one the retails for under $3,200USD!! The "Misfit" is a 250cc Cafe Racer designed for entry level riders/builders who want a bike that rides and handles well and can be easily maintained in your home garage.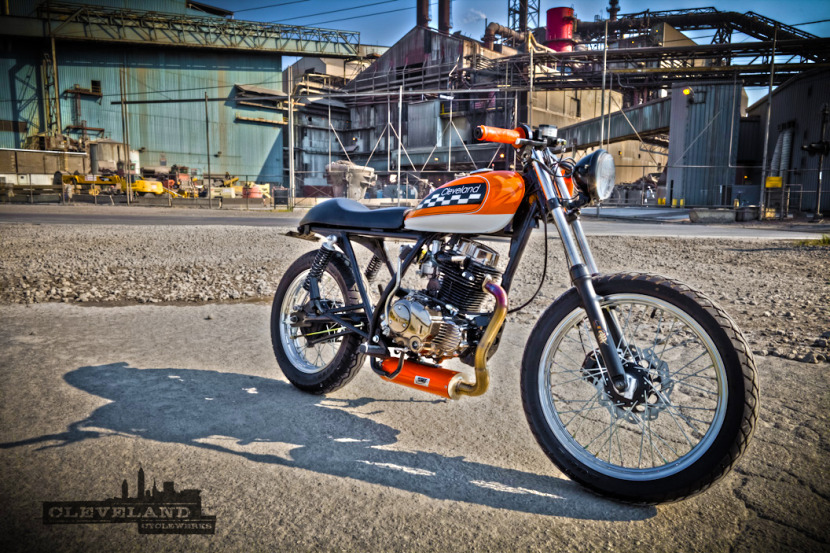 A CCW customers modified Misfit
"The Misfit has a DOM main tube that mates up to a boxed section that supports the counter-balanced motor, the large front boxed section adds a great deal of rigidity to the frame and the motor acts as a stressed member. The rear swing arm is a boxed section swing arm for rigidity. The rear shocks have remote reservoir, and the rear springs come with pre-load adjuster to adjust for proper sag. The inverted forks do a nice job of absorbing the bumps, while still keeping the ride sporty. The rear cowl removes for 2 up riding when needed. There is a center stand for those times when parking is tight, or the bike needs some maintenance. The large front and rear slide style brakes stop this light (under 300lbs) bike very quickly."
So all up it sounds like a great little package for the new rider, seasoned riders however may not agree. With a power output of 14bhp and a top speed of 75mph the legendary ton seems to be way out of sight. The guys at CCW have thought about this though and have a range of parts available to make the ton achievable on the Misfit; and if you're heading down hill with a back wind you could even add another 10mph on top of it!
The suspension set up on the Misfit has been getting plenty of praise since the bike first emerged. A pair of inverted forks and rear shocks with remote reservoirs create a set up that you won't find on many motorcycles that cost twice as much! This sort of attention to performance and rider comfort is what will ultimately see Cleveland CycleWerks standing the test of time. For $3200 could you name a better bike to buy?
CCW also produce an affordable Bobber they call the "Heist" (customised version pictured above). It's another very well executed build that's proving to be very popular.