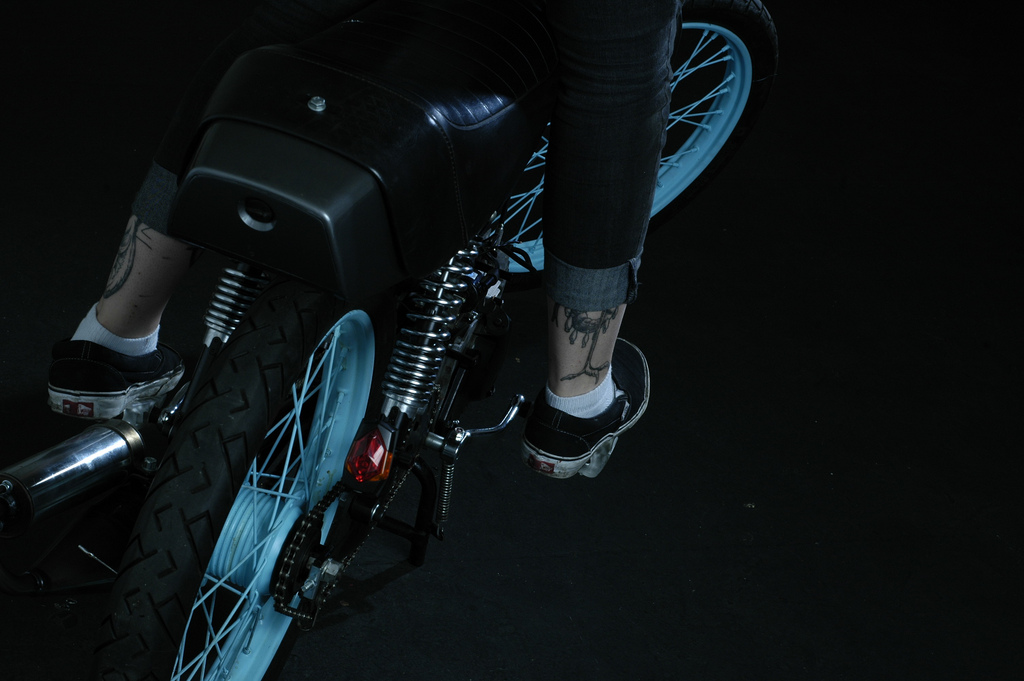 "I tore it all apart and labeled everything. The tank, headlight and trunk plastics all went off to get painted. I went to a local hardware store (Tacoma Screw) and bought replacements for every bolt on the bike. To get the bike sitting lower for my 5'1″ frame I replaced the stock forks with shorter Puch forks, replaced the rear shocks with 280mm Tomos shocks (stock size was 340mm) and had to snip off the rear fender tab (I don't ride in the rain anymore, ha)."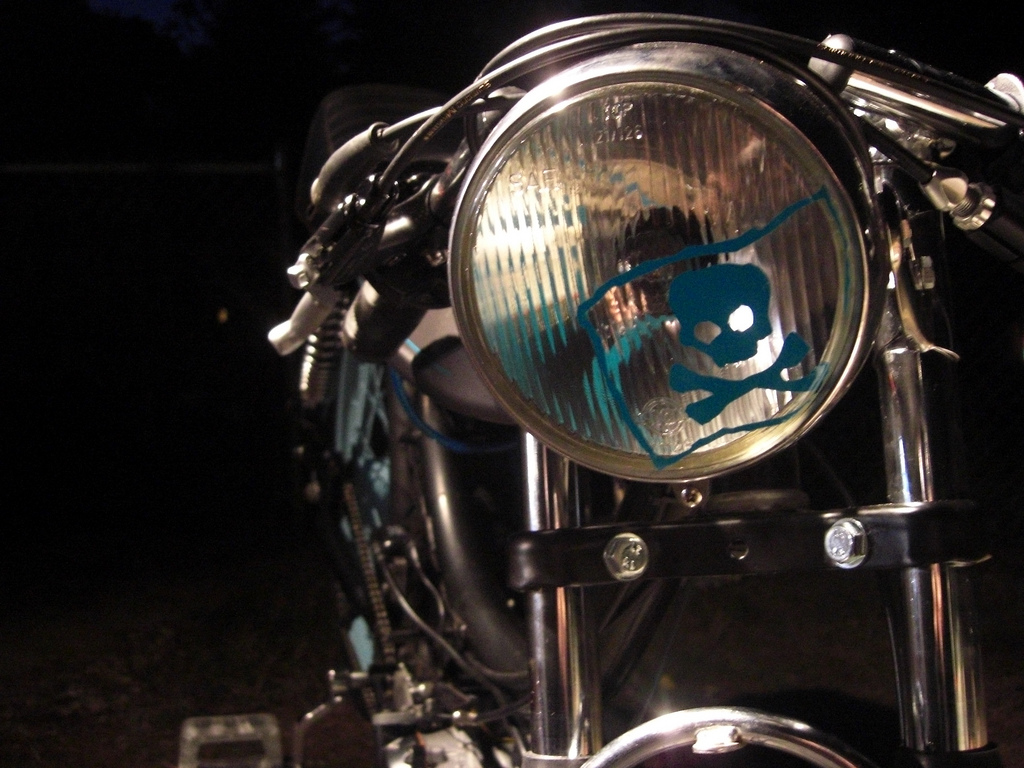 "I replaced the handle bars with some nice clip on bars and some comfy BMX grips. Got new pedals arms and some transparent/glow-in-the-dark BMX pedals. For the controls I bought new throttle, clutch and brake cables and new bicycle levers. I replaced the warped spoke wheels with some straight wheels I had painted aqua and put some new tires on them. When the tank came back from the painter a friend made up some custom teal decals for the tank, trunk plastics and headlight (The headlight sticker is the logo for The Mosquito Fleet in Seattle, WA, a local moped gang I'm a member of.)."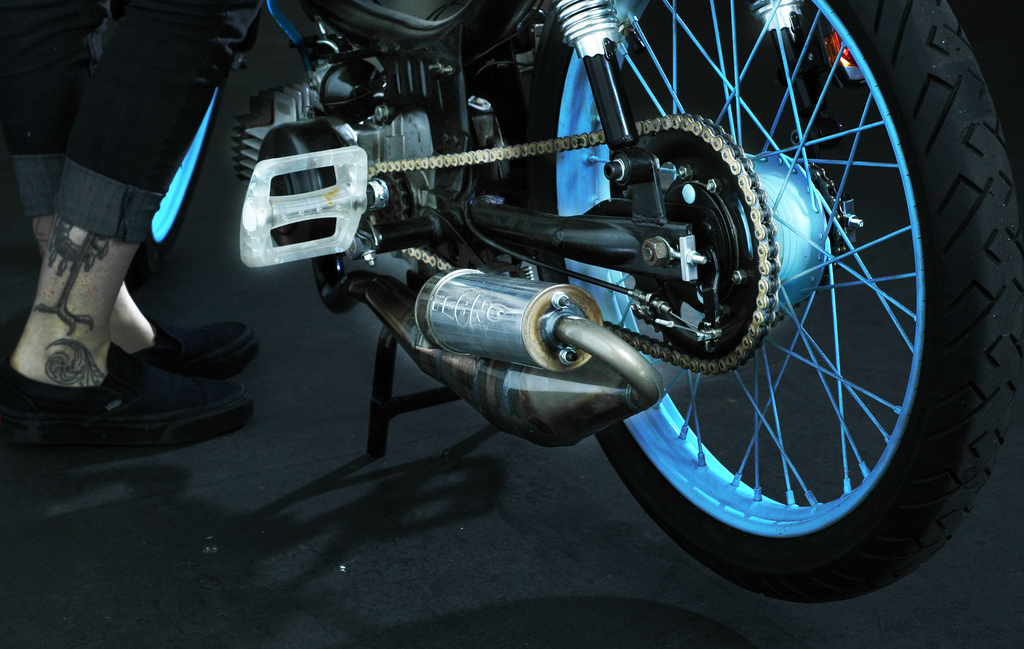 Sullivan also completed work on the engine internals which included an upgraded 70cc K-Star cylinder kit, a new clutch with Paz springs and an Estoril exhaust with a small (16mm) Dellorto carburetor purchased from Treats HQ and 1977 Mopeds. She also simplified the mopeds electrics (how much simpler could they possibly get!?) and the list goes on. The only part of the Puch Moped that didn't get modified was the original seat and the frame which was resprayed in black.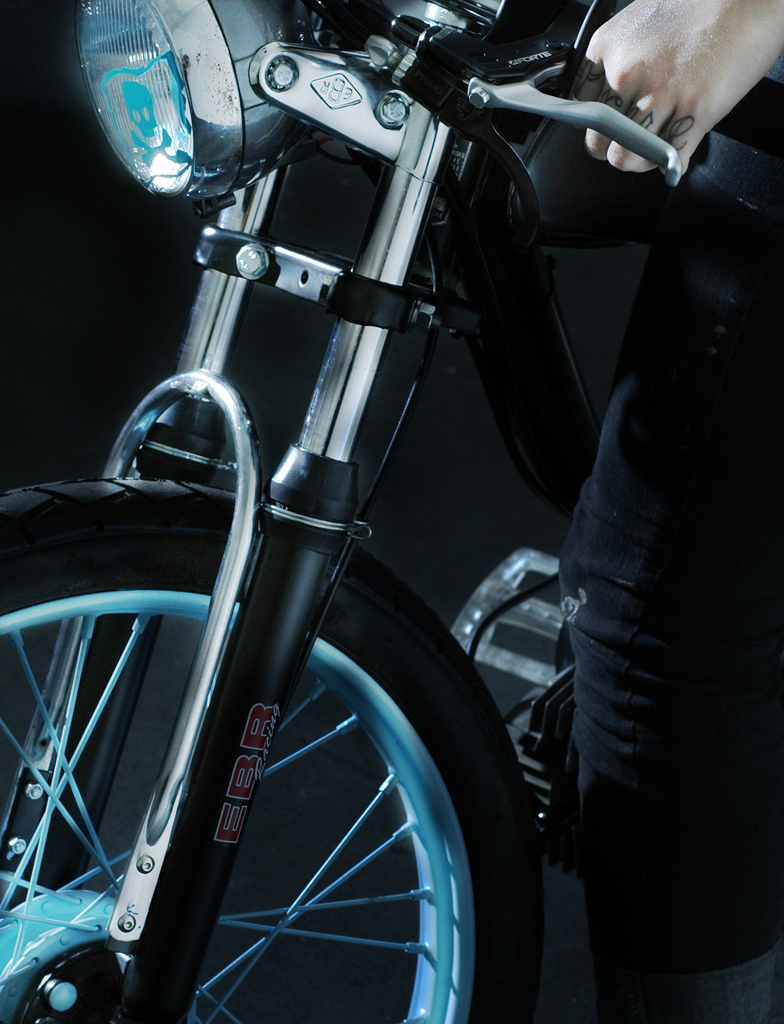 Of course, just like every custom builder, there's more to come for this bike. Powder coated, aqua blue, 5 spoke rims are at the top of the list along with more mild upgrades to really set this moped apart from the rest.
 With a top speed of around 45mph, it's not going to break the ton anytime soon, but I'm sure that it turns just as many heads as a Norvin would cruising the streets of Seattle with Sullivan in the saddle.