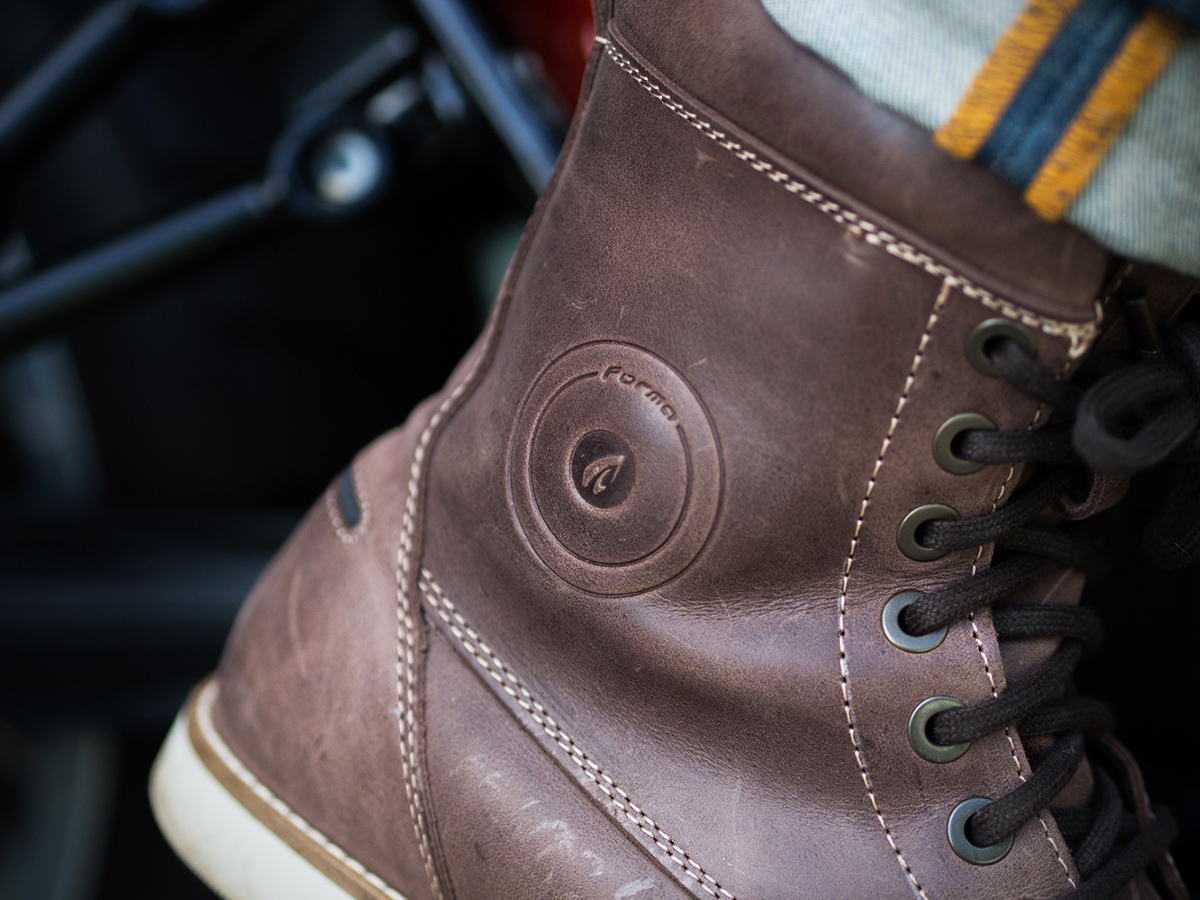 In my signature footwear colour scheme of brown leather, the Forma Naxos boots are certainly very lovely to look at, but are they lovely to wear? I've had motorcycle footwear that doesn't look like motorcycle footwear before and to tell you the truth, I was so scarred by how uncomfortable and kind of lame they were that I ended up giving them away to a mate. When I saw that the Naxos boots featured a traditional lace-up front with a side entry zip I was even more concerned as my previous experience with this set up did absolutely nothing to improve ease of use.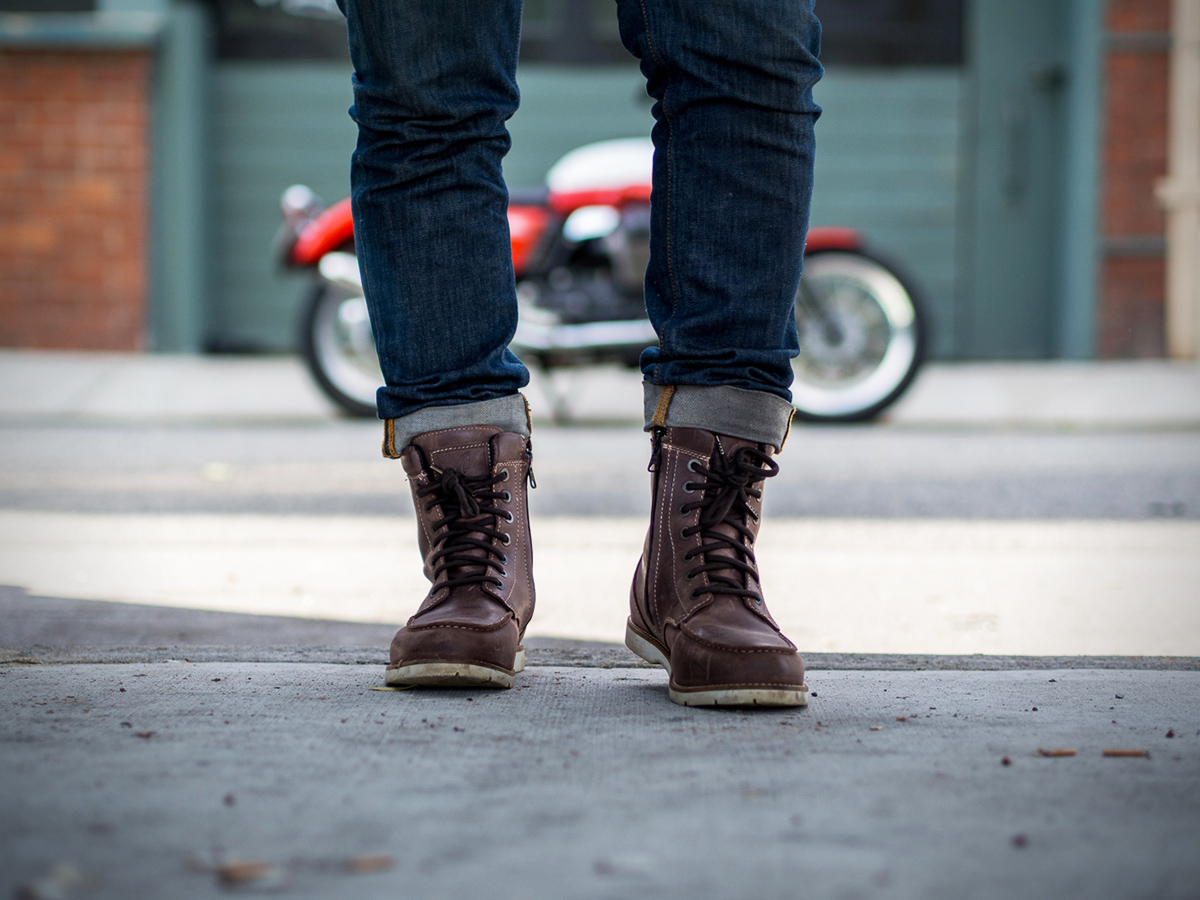 The Naxos boots have a full genuine leather upper with a slick waterproof and breathable Drytex membrane liner. While the waterproofing is a welcome feature for a bike boot, it's the reinforced toe box, heel cup and both medial and lateral ankle protection that impressed me the most. The Naxos boots also have a reinforced sole which was so stiff compared to normal boots that it made me question how practical the boots were for anything other than riding. I know it's all in the name of safety, but golly gosh it takes some getting used to! A saving grace is that the zip closure works really, really well. No matter how tight you do the laces up you'll still be able to unzip them and flick them off in a few seconds. To put them on you just grab the leather loop on the back, slip them on and zip them up.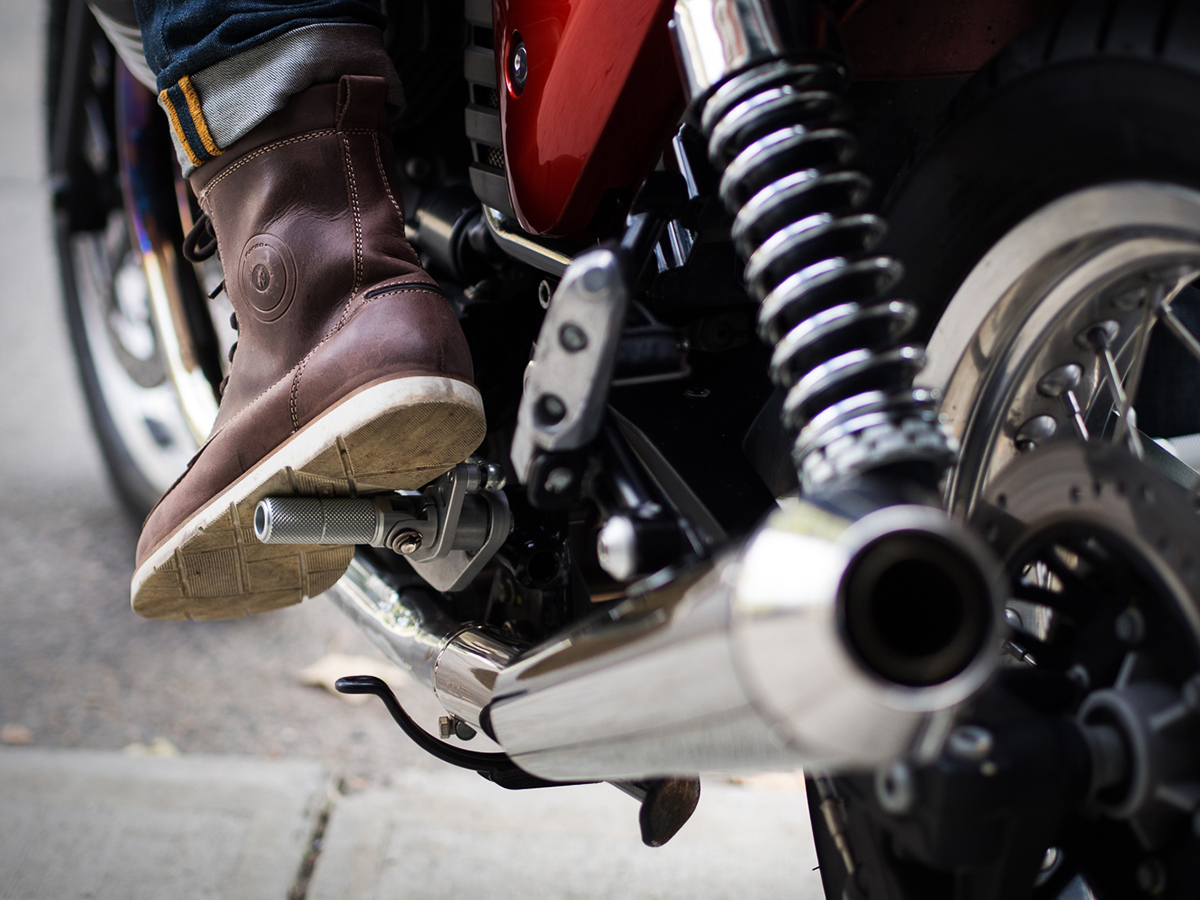 Although the sole was very stiff at first it has been breaking in gradually. You'll never get the same flex in the Naxos sole as a standard rubber sole, but I'm sure for many riders sacrificing a bit of movement for a lot of safety isn't a bad thing. The lack of flex became especially evident when using the boots on a bike with rear-set footpegs. If you have standard mid or forward controls you'll have no worries, but if you have rear sets (like me) it's best to either adjust your shift lever up a bit or really, really break these boots in before you take them out on the bike. I've had a few rides now with these boots on and they're getting better every time.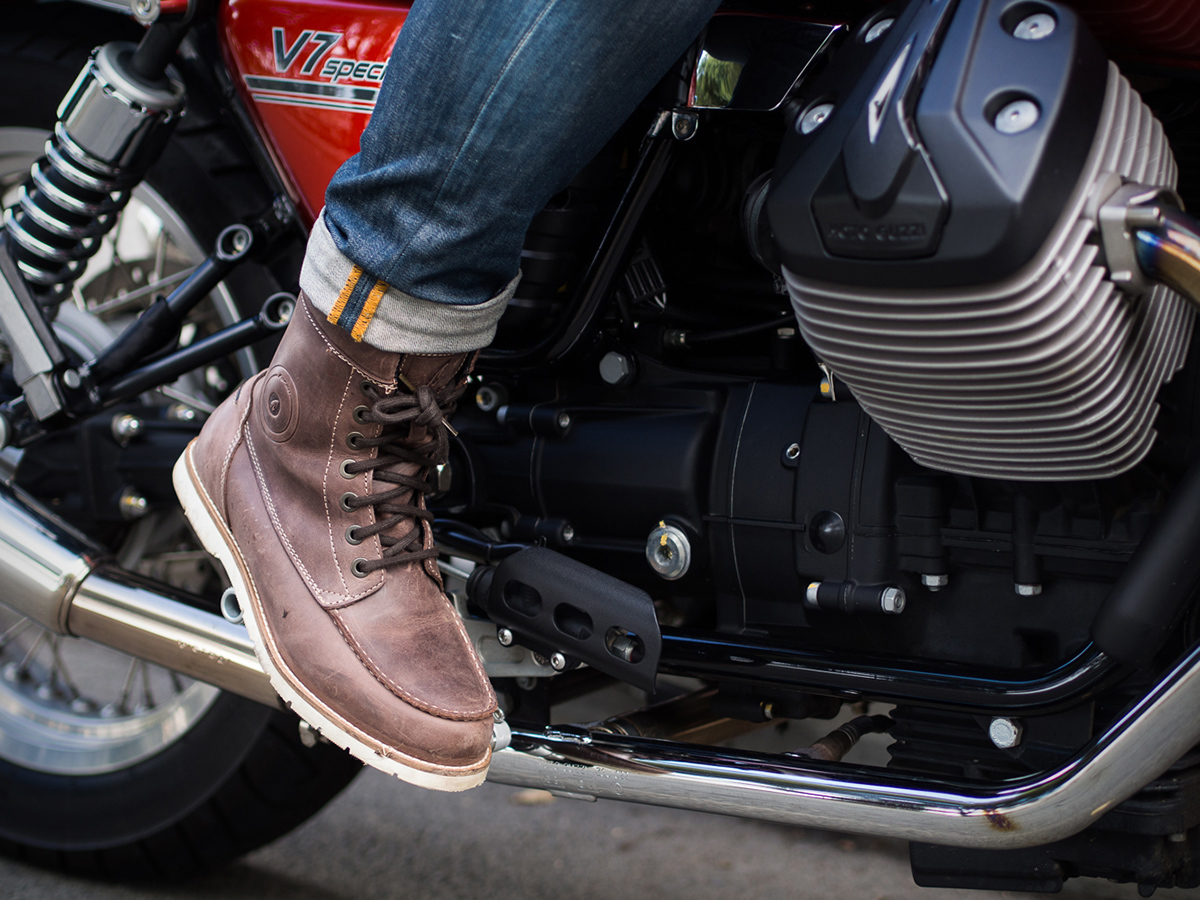 If you're wondering how these boots would fair off the bike, I've been traipsing across sandy beaches, through wet bushland and stepping smartly in and out of trendy cafes all week. The boots have kept me warm, dry, hip and comfortable the whole time. They are a bit chunky up top, but once again that's where the boots function slightly oversteps their form.
I did my homework (and you should too) when choosing a size. I went with my standard size and they fit like a glove. I have small, hobbit-like feet that are quite wide so my toes tend to push into the sides of the boots, but as I learnt with my ol' faithful's, the leather will quickly stretch and you'll love them even more. The inner sole is anti-bacterial and is very comfortable and the laces are nice and solid.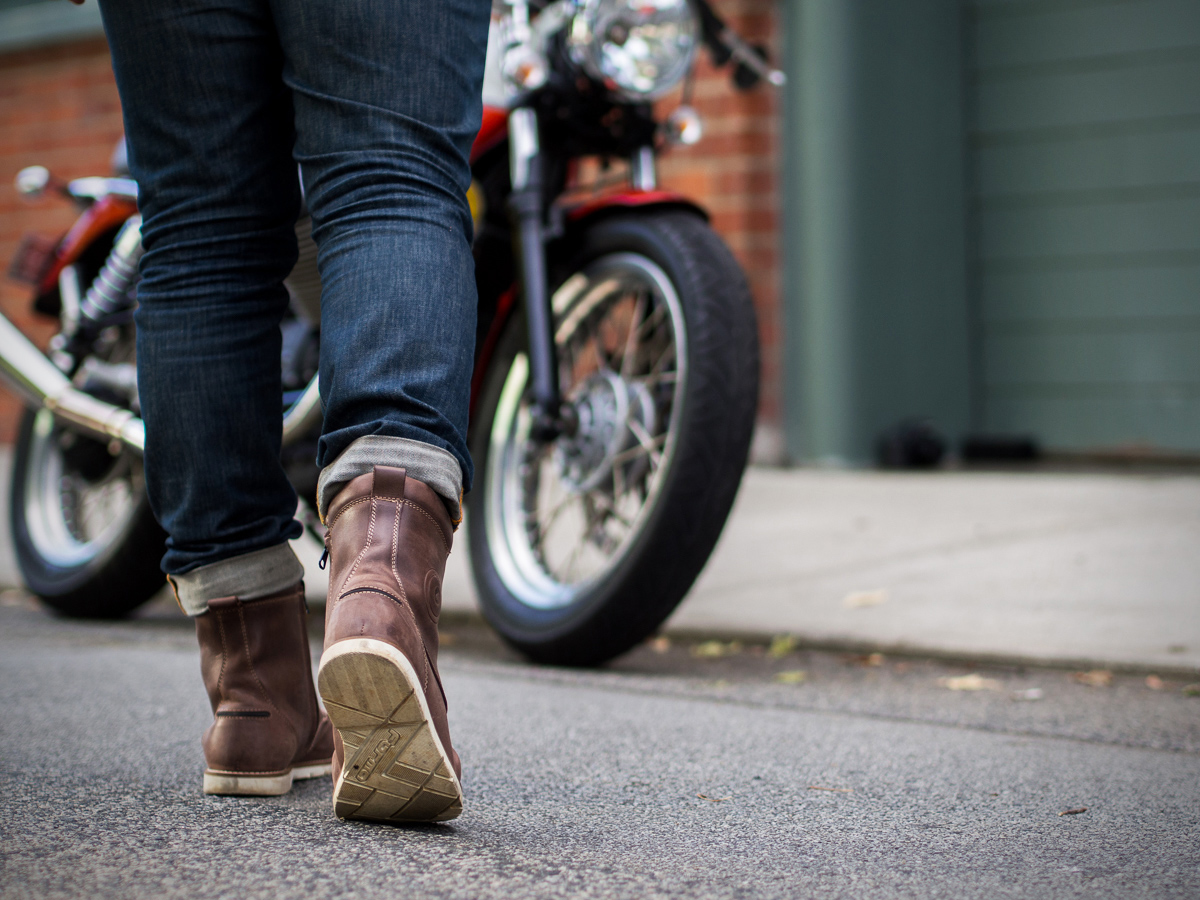 What do I like most about the Forma Naxos boot? Probably the styling. What do I like least about them? The reinforced sole, but I it's growing on me the more I wear them. Would I recommend them to you lot? In a nutshell, yes. Especially to those of you who don't have rear set foot pegs.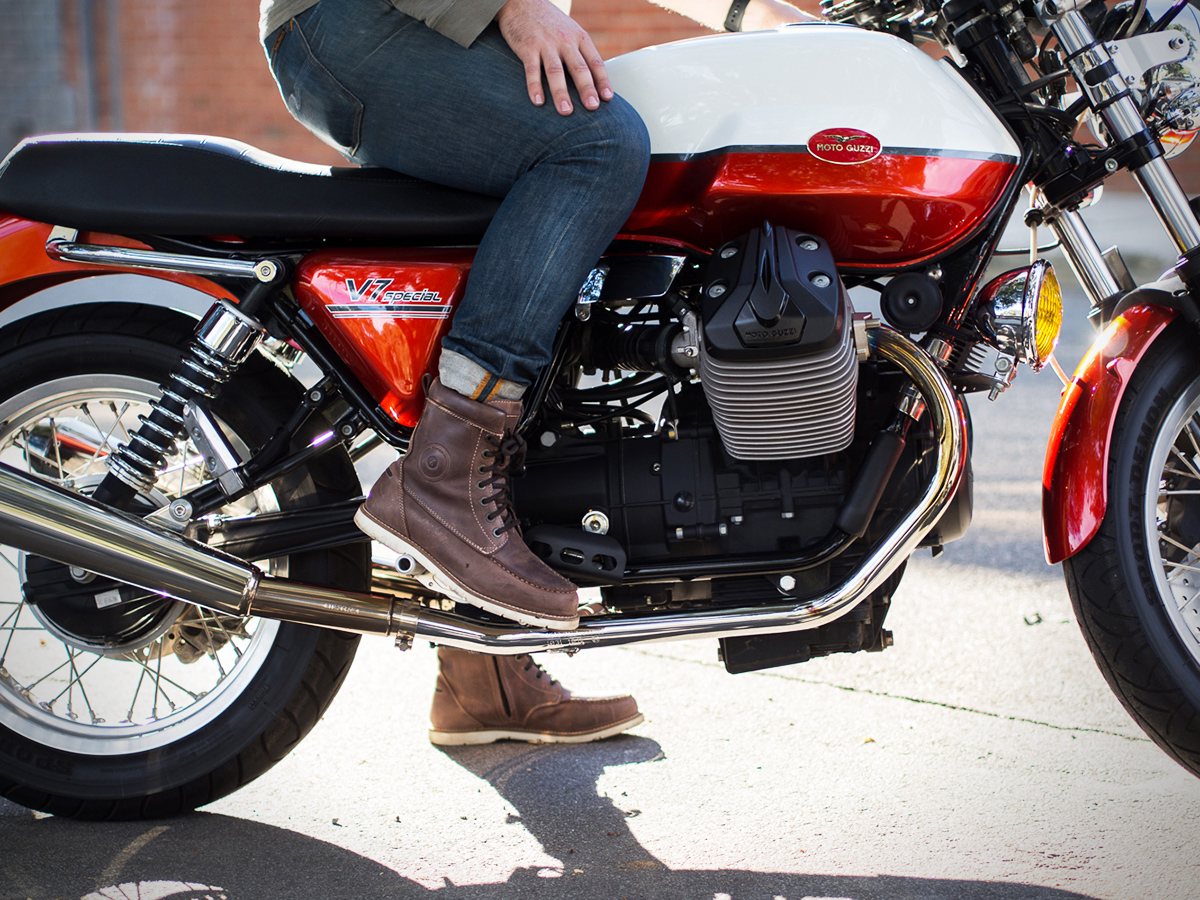 A few years ago I got my first pair of really good
motorcycle boots
for a trip I was taking overseas. They were 6-inch, moc-toe leather with standard laces and a great anti-slip rubber sole. I had no idea this would be the start of a new love affair with an inanimate object. I wore those boots every damn day and rode thousands of kilometres in them until I literally wore holes through the soles and the stitching came undone at the toe. I tossed around the idea of replacing them but at the last minute I had my ol' faithful's re-soled and stitched and now they're good, if not better, than new. Now I am officially one of those old people who say shit like, "you can't beat a good pair of boots". And you know what? It's true. So when I was given the opportunity to review a pair of Forma Naxos riding boots for the website, I was a little dubious of how they would compare with my beloved boots.