When a customer brought his '76 Moto Guzzi Le Mans 850 to Czech workshop 'Gas & Oil Motorcycles' they were honoured to have the opportunity to work on such an iconic Italian marque. The aptly named '12 Royal' is the twelfth build from O&G workshop and they described the experience as a brush with royalty. This is no crushed purple velvet and gold plated chariot though. It's a pure Le Mans cafe racer built with one clear purpose… to be ridden.
Oil & Gas workshop founder Matěj Sysel opened his workshop back in 2014. He found it impossible to extend his love of motorcycles to modern bikes that fell victim to strict emissions laws and marketing focused design. With the goal of keeping old motorcycles alive, he and his team have amassed a portfolio of around 20 custom builds, but the Guzzi holds a special place in their hearts.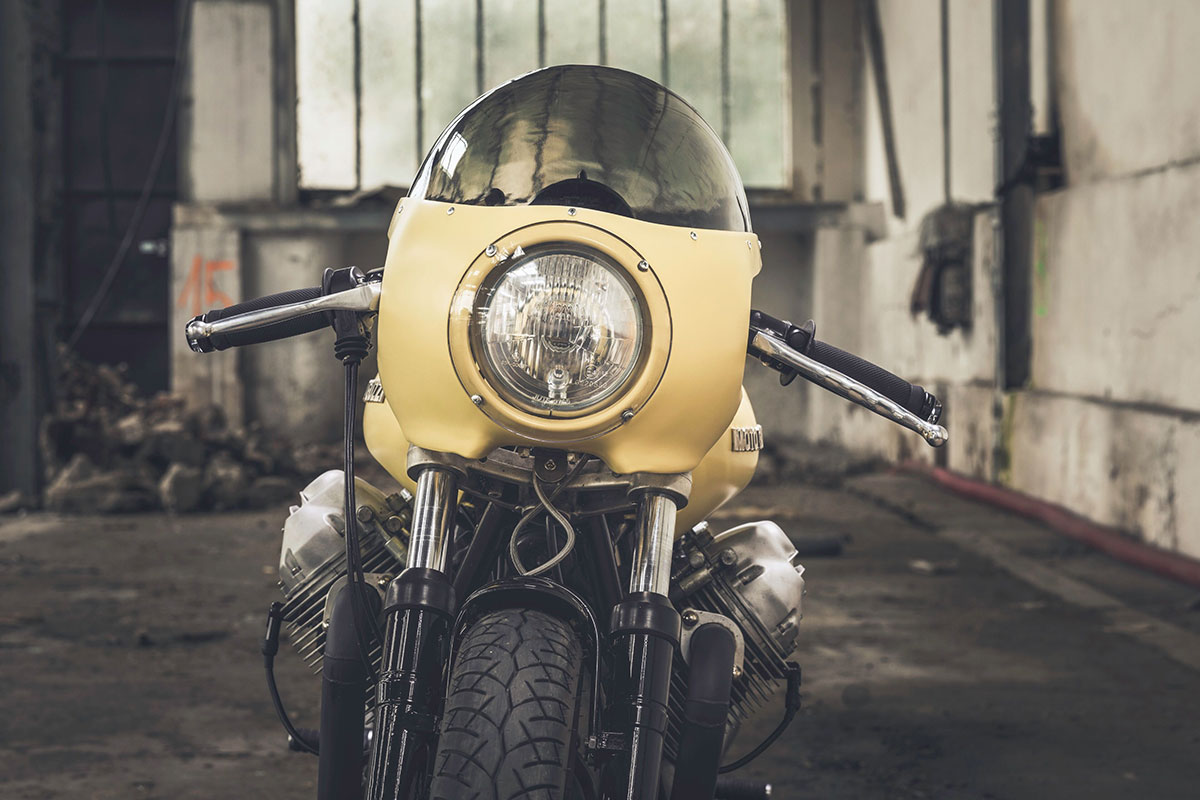 What inspired the build of your Moto Guzzi?
The project GO. 12 Royal started like most of our projects. One day a new customer turned up at our workshop doors with a specific request. He wanted an Italian motorcycle with exceptional Cafe Racer look, so we accepted his challenge. I came up with a few sketches and our team started working on the project.
What was your inspiration for the build?
The '76 Moto Guzzi Le Mans already has a great old school look. We simply wanted to apply Cafe Racer styling to it. I found my inspiration in a few vintage magazines from the 70s. I wanted our Le Mans cafe racer to look authentic. At the same time, I wanted to bring some modern details so I have been watching what other workshops have been doing with their Italian motorcycles.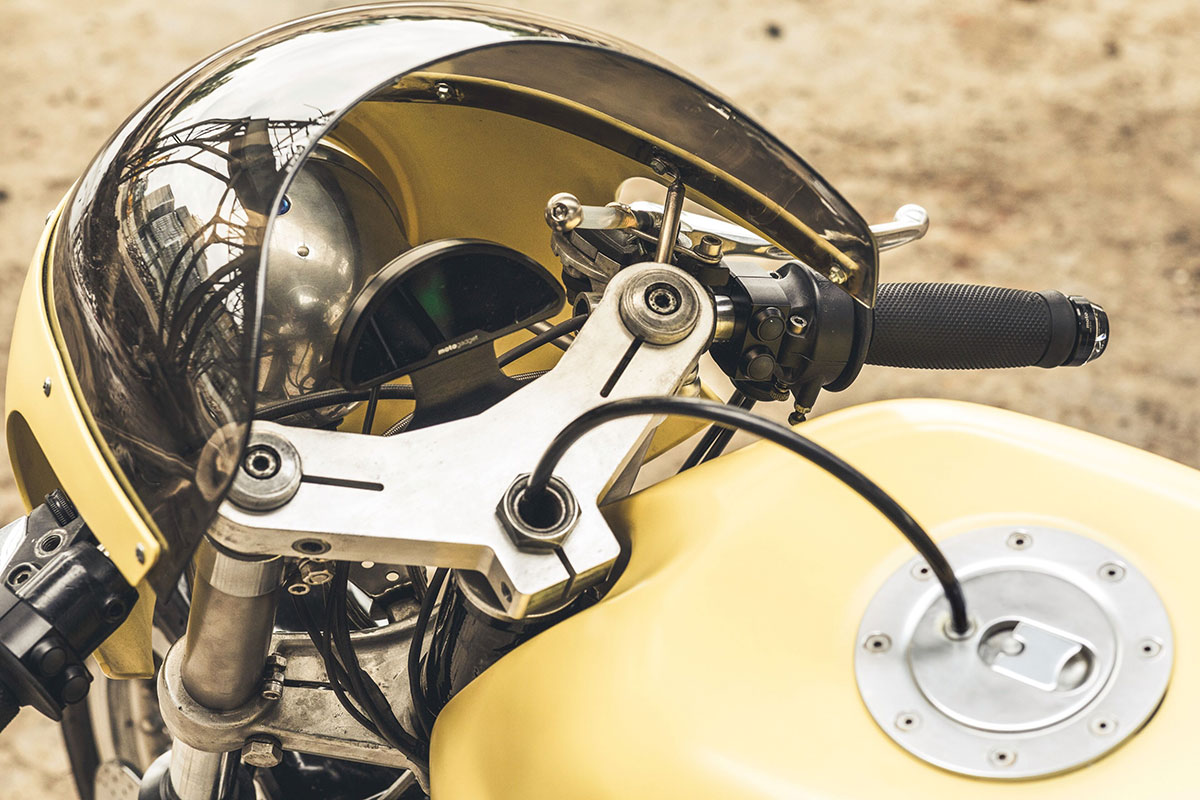 Walk us through the build process.
Even though we were happy that we had a nice donor the Moto Guzzi was not in great condition. We started the project by overhauling the Le Mans 850cc engine. After a complete rebuild, it was running great, but we decided a slight increase in capacity to 1000ccm would really improve things. After the engine, we moved on to the rest of the build. We got rid of all non-essential parts to achieve the lightest construction possible. During this procedure, we also decided to install rear lights into the subframe. This proved to be very challenging. We stuck to our plan though because we wanted the bike to have a light, clean racer aesthetic. The same goal was achieved at the front end by using a set of Motogadget M.blaze bar end indicators.
We opted to use aluminium where ever possible to keep it light. The original gas tank was already made of aluminium so that set the scene for the build. The alloy top clamp is custom and was milled on a CNC. We used the same approach for the new exhaust clamps. The front fairing is an aftermarket fibreglass unit that required some minor customisation. We also had to build our own mounting hardware from stainless steel to fit it.
One of the modern parts on this machine is the Motogadget MotoScope Pro dash. It's a clean and modest system that looks infinitely better than the original, bulky Guzzi gauges. The clean cockpit is complemented with Motogadget M.switch controls, Biltwell grips and a Domino style throttle. We then fabricated a brand new set of exhaust pipes which we capped off with a pair of Supertrapp mufflers. We like the unorthodox combination of Italian Cafe Racer and Flat Track styling.
When it came to choosing a colour we wanted something that was modest and not too expressive. We didn't want to detract from the forms and shapes of the classic Italian design. All up the project took one whole year to finish and the bike now gets ridden regularly.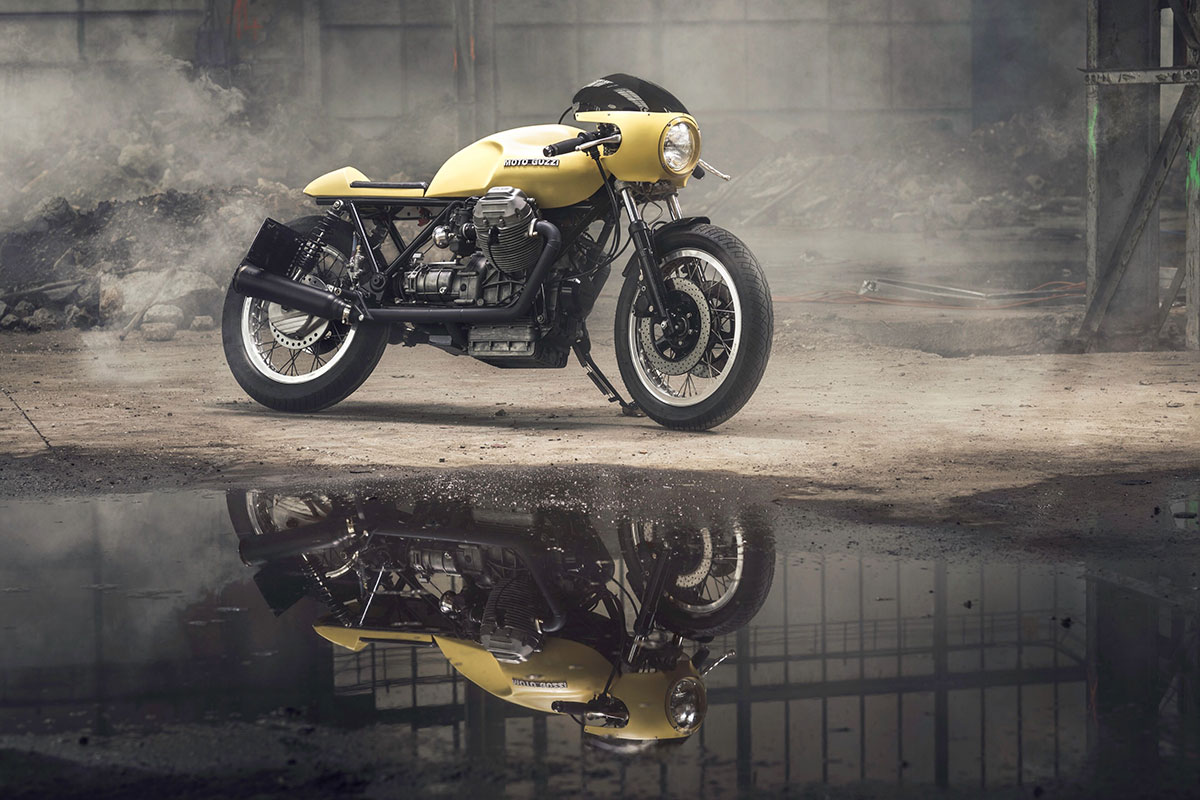 What was the most challenging part of the build?
The biggest challenge was the aluminium seat and rear cowl. Creating the radius at the rear was really difficult and eventually, we had to invite a friend to the workshop who specialises in aluminium work. The hard work definitely paid off.
What's your personal impression of the finished bike?
I am really happy with how our Moto Guzzi Le Mans cafe racer turned out. What I love the most is it's low-profile. It has a calm but strong and authentic appearance. There are some really nice details but nothing too flashy or polished like you see on many modern Cafe Racer projects. At the end of the day, it is a Cafe Racer, customised for best performance and built to be ridden!
Photography by Ondřej Ždichyne |  Special thanks to Pipeburn.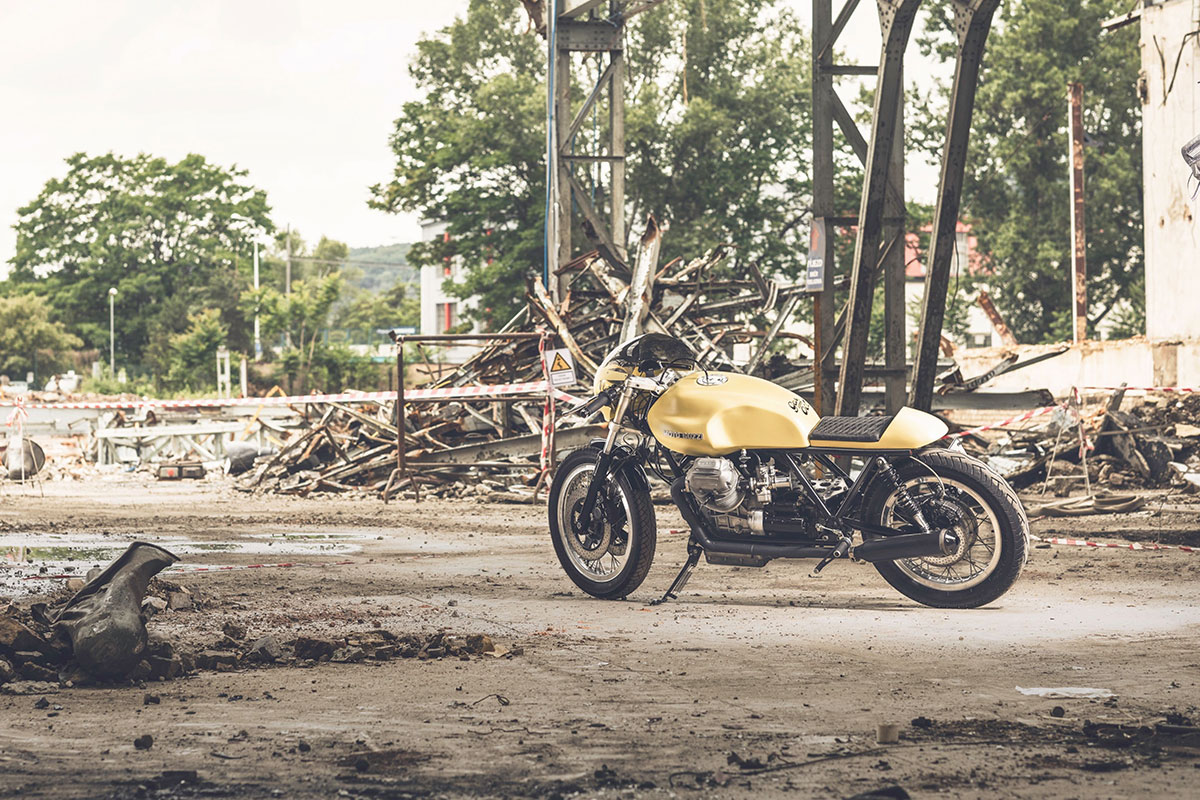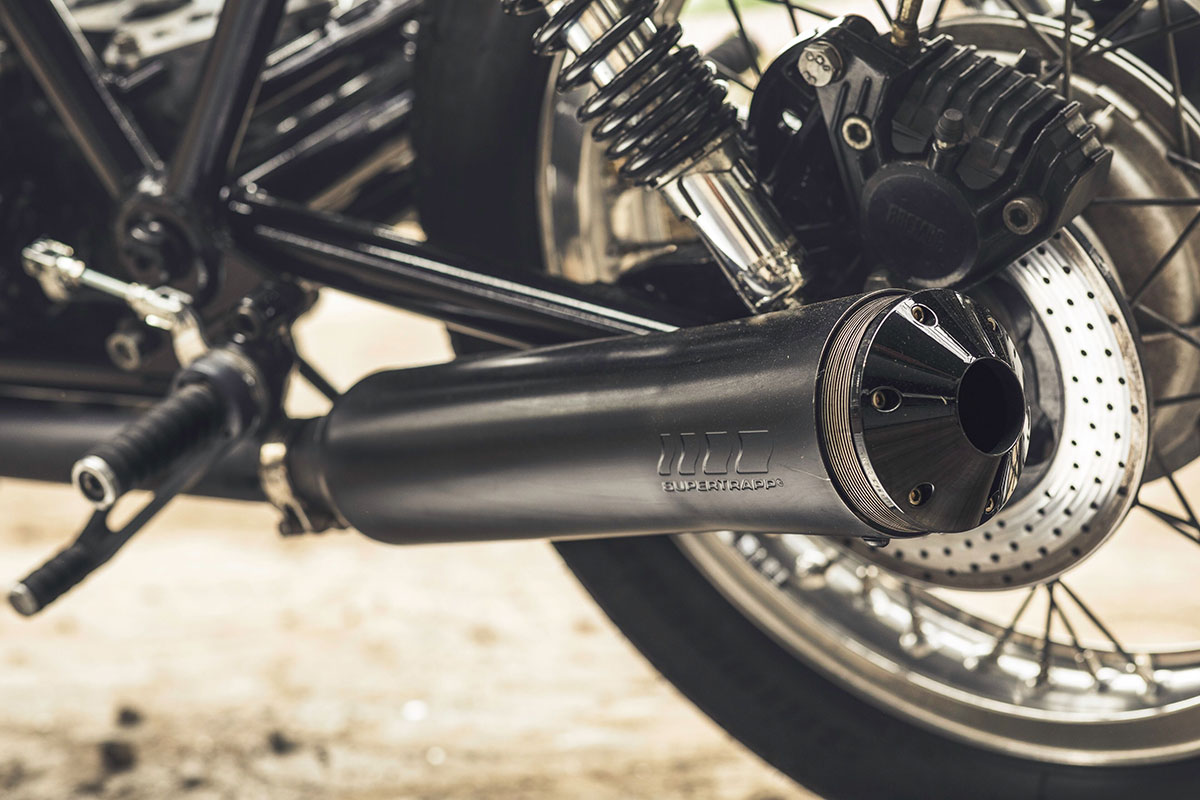 Custom Parts Check List
| | |
| --- | --- |
| Component | Specification |
| Bodywork | Aluminium tail and seat pan, trimmed fender, modified bikini front fairing, original fuel tank scalloped |
| Frame | Custom subframe, Fork rebuild, Koni shocks, Tarozzi rear-set footpegs, clip-on handlebars |
| Engine | Dell'Orto 40mm carbs, 1000cc upgrade kit, Supertrapp exhaust, |
| Electrical | Motogadget Motoscope Pro speedometer, M.Blaze bar end indicators, M.Switch controls, Custom loom, |
| Lighting | Motogadget M.Blaze bar end indicators, LED brake and turn signals (built into subframe) |
| Wheels & Tyres | Bridgestone Batalax |