A Moto Guzzi Le Mans cafe racer is enough to make any Guzzisti go weak at the knees. When Guzzi first introduced the Le Mans in 1976 the bike bore many stereotypical cafe racer characteristics. It wore clip-on handlebars and a bikini nose fairing and was, at its core, a sports bike.
In later years Moto Guzzi took a slightly less aggressive approach with the Le Mans morphing it into a more laid back, yet still very capable, sports tourer. So, no matter what generation of Moto Guzzi Le Mans you happen to be working with, a cafe racer conversion makes perfect sense.
German custom motorcycle builder Michael Hammer, aka Hammer Kraftrad, is well aware of the Moto Guzzi Le Mans history. He's also an advocate of cafe racer style. So given the opportunity, he will always gravitate towards a cafe build when a Le Mans comes his way. But this time around, creating a Le Mans cafe racer wasn't his initial objective.
"I got this Le Mans 3 from Karl. A customer that became a good friend over the years," says Michael. "It is the second bike I've customized for him."
Surprisingly, the pair weren't initially thinking a complete custom build was the direction they'd take. The donor was a solid running bike and in very reasonable condition. So instead they opted to make it a cut above the rest with some mild custom work. However, soon after the project began things took a whole new direction.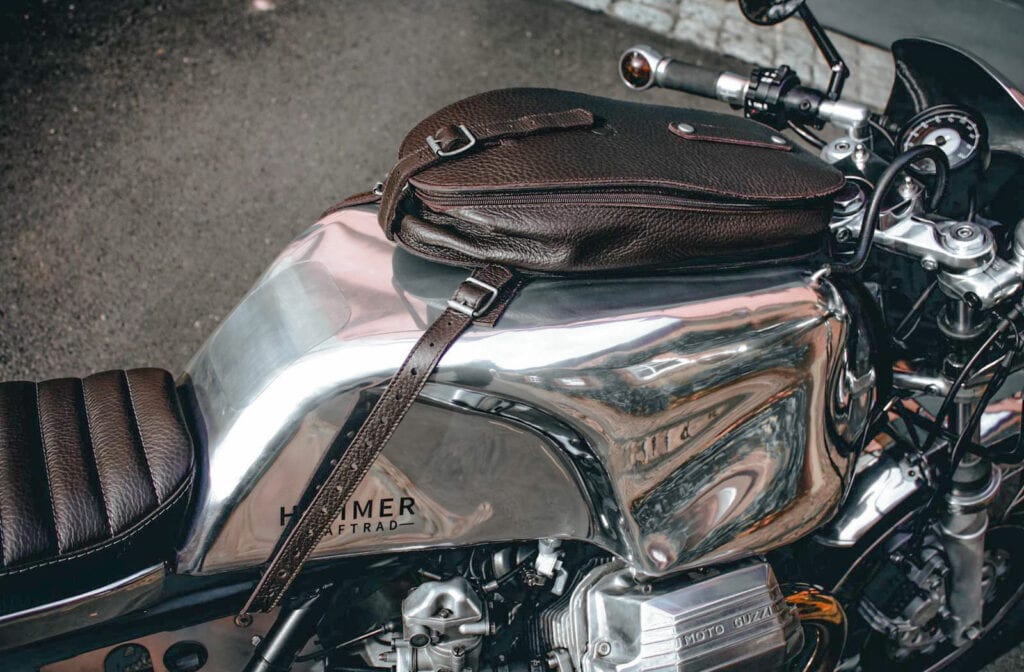 After a surprise visit from Karl, Michael was left with a very interesting fuel tank that changed everything. Karl had found himself an aluminium race item from German racing outfit WBO. Since WBO no longer produce tanks and the fact that it looked stunning on the Le Mans frame, it was a must-have addition to the project. The only problem was, in order for it to look right at home, the rest of the Guzzi would need to follow suit.
"The tank really made it clear that the direction for this bike was a cafe racer. It had to be flat and slim, minimalistic and with a good sound." – Michael Hammer.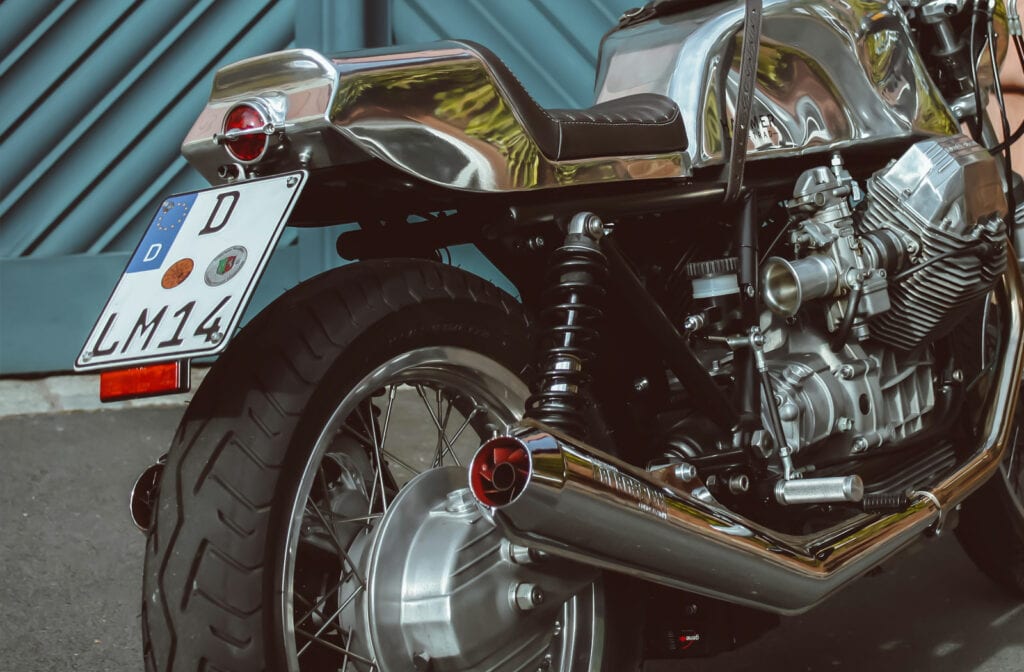 Another planning session with Karl resulted in the go-ahead on a multitude of other modifications. Starting with the Le Mans cast wheels, Michael traded them for a set of classic
spoked units.
To unlock some additional power from the 844cc V-twin he then installed a custom exhaust. The new system blends components from
 Mistral and Lafranconi
Competizione. As for the intake, the tuned carbs breathe freely through alloy velocity stacks.
As for the bodywork, there's no sign of any original Le Mans 3 equipment anywhere. In their place are one-off handmade components artfully shaped by Michael's talented hands. Up front there's an all-alloy bikini fairing that's reminiscent of Guzzi's original 1976 Le Mans unit. Directly beneath it, a custom fender hovers over the front wheel; held in place by a polished alloy fork brace. In the rear is more hand-beaten alloy forming the seat base and tail unit. Recessed into the tail is a retro brake light and license plate mount for holding the enormous German license plate in place.
As for how Michael feels about the results he says – "Luckily I own a Guzzi myself because I kind of fell in love with this bike while working on it. Otherwise, I would have found it hard to give it back!" We're sure Karl is glad of that too since he now gets to cruise around on what will undoubtedly be the best looking
Moto Guzzi
Le Mans in his neighbourhood.