Hugo Eccles is co-founder and design director of Untitled Motorcycles (UMC). With workshops in San Francisco and London, UMC designs and builds custom motorcycles for individual clients and in partnership with manufacturers. Last time we heard from Hugo he'd just unveiled the incredible UMC Zero XP custom electric motorcycle which took the custom world by storm. Along with designing and building bikes with the UMC team, he's just opened a  custom motorcycle exhibition titled  MOTO MMXX. The show is located at San Francisco's Museum of Craft and Design and will run until Jan 3rd, 2021. We recently caught up with Hugo to learn more about MOTO MMXX and to get some insights into what it's all about.

What events led up to you creating your own custom motorcycle exhibition?
In 2017 my Moto Guzzi 'Supernaturale' build beat 500 other entrants to win the overall Design and Style Award at the Quail Motorcycle Concours D'elegance. During the event, I struck up a conversation with JoAnn Edwards, executive director of the San Francisco Museum of Craft and Design. She mentioned that she'd always wanted to put on a motorcycle exhibition – inspired by the hugely successful 1998 'Art of the Motorcycle' exhibition at the Guggenheim – and asked if I'd be interested in curating and designing it. 
How long does an exhibition like this take to create?
JoAnn and I started hatching plans in 2017 but we had to wait for an opening in the museum's schedule. Our planning didn't start in earnest until mid-2019 with an anticipated opening nine months later in May 2020. The global pandemic inevitably changed those plans and, after a number of delays, MOTO MMXX opened this October. The exhibition occupies the whole of the museum's 3,700 sqft (344 m2) gallery space. It's open now and runs through to January 2021.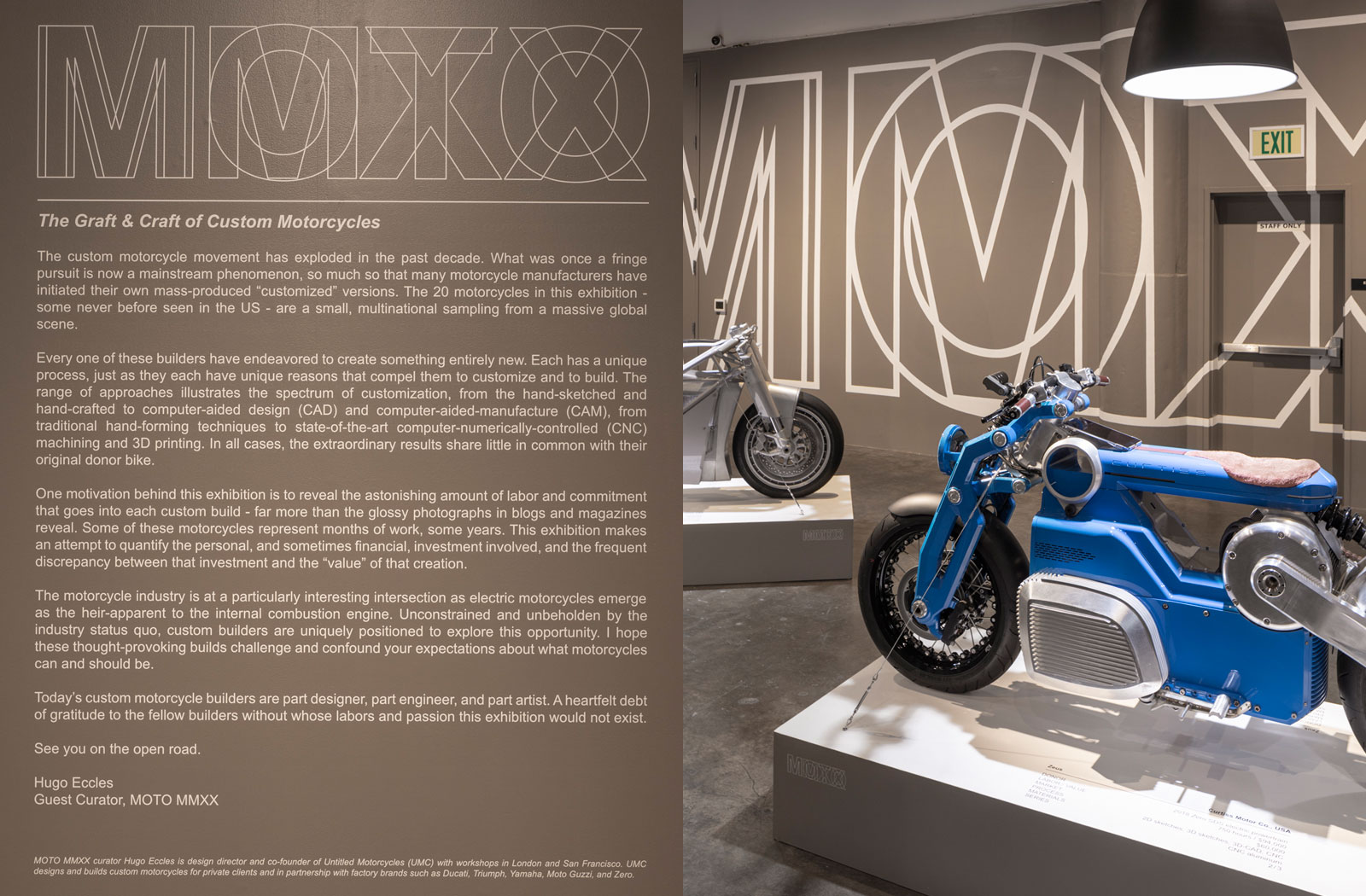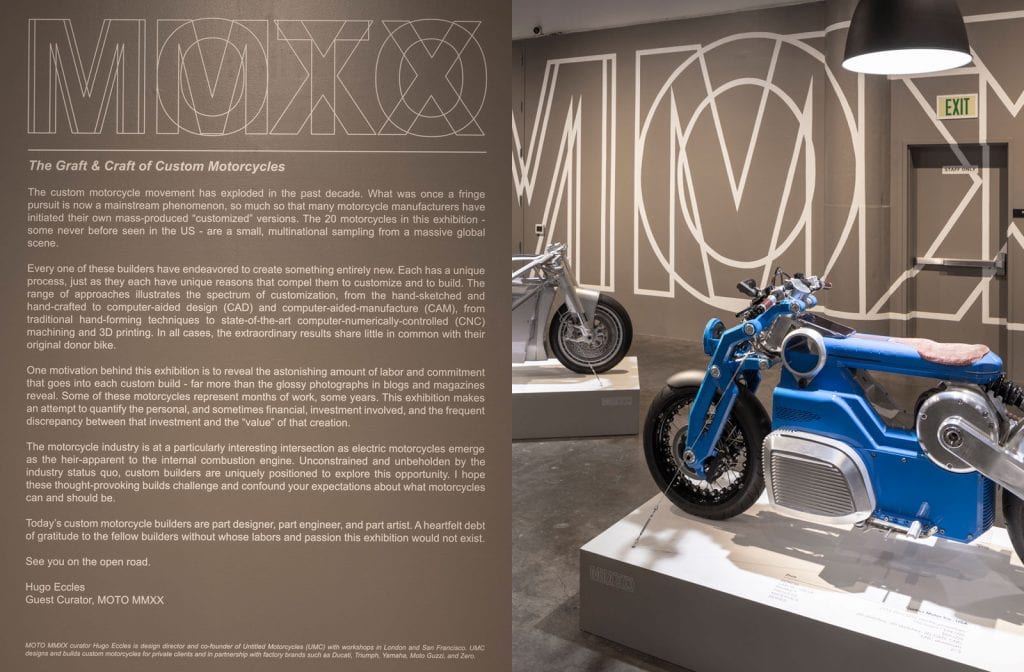 What makes this motorcycle exhibition unique?
MOTO MMXX is the first major exhibition I'm aware of that's curated by a motorcycle builder. Because of my design and motorcycle background, I was able to approach the exhibition from a different perspective. A typical exhibition deals with just the finished product but MOTO MMXX brings an added dimension to the work and lifts the curtain to a behind-the-scenes world that I thought visitors would be interested in. When you walk into the gallery each motorcycle is presented under a spotlight with a flatscreen displaying process photos and videos, and a description of the background story: how long it took to build, and so on.
My goal was to give people a glimpse into, and an appreciation of, the reality of conceiving, designing, and building custom motorcycles. Unique creations like these are often criticised for being "expensive" which belies the huge amount of time it takes to build custom motorcycles. There's an enormous development cost involved, but whereas mass manufacturers like Yamaha or Honda can amortise that cost across thousands or even millions of motorcycles, small-scale builders can't. With each motorcycle, I've listed the true cost of the build versus its "market value." In MOTO MMXX we have in excess of $1.1M worth of motorcycles, representing over 14 years' of labour, equivalent to an incredible $5.9M of human capital.

How many motorcycles are on display at MOTO MMXX?
The exhibition is designed to appeal to everyone from motorcycle enthusiasts to those just interested in design and craft in general. There are 20 bikes in the show, organized into four groups: classic, contemporary, engineering, and electric. The exhibition begins with recognisable motorcycle types with a focus on more traditional handcraft. As visitors go deeper into the gallery, the emphasis slowly evolves towards design and form and, finally, the possibilities and opportunities of electric motorcycles. 
Many of the motorcycles may be familiar to avid readers of motorcycle blogs but I chose machines that would also appeal to the merely curious. Visitors can see the bikes up close and personal, and really appreciate the details. Some of the motorcycles have never been exhibited in the USA before, including builds from Germany, Poland and Singapore. Most are unique one-offs – literally the only example in the world – and cannot be seen anywhere else but at MOTO MMXX. Other builds are limited editions, like Cherry Co.'s 'Highway Fighter' from Japan, one of which is owned by Brad Pitt (not our one, unfortunately!), or the ETT Industries electric motorcycle that was developed to promote Paramount's Fast & Furious 8 film.

I'm not based in San Francisco or the United States. How can I see the exhibition?
One thing that I'm very excited about is that MOTO MMXX is viewable in virtual 360°. I originally suggested creating a virtual experience to the museum when it looked unlikely that we'd be able to open the physical exhibition for a while. Generally, museum industry dogma is that virtual versions of a physical exhibition cannibalise ticket sales but, in fact, quite the opposite has proved to be true: people see the virtual 360° online and the experience convinces them to visit in person. Also, our audience is no longer limited by timezone or geography: literally, anyone, anywhere in the world, can visit the exhibition. Another benefit is that the virtual 360° will be online indefinitely and will live on beyond the physical exhibition.

MOTO MMXX is described as showcasing 'the best contemporary examples' of custom motorcycles. What was your selection process for finding bikes that fit that bill?
One of the initial criteria was that the motorcycles had to be truly "customised" i.e. unrecognisable from their original donor, or built from the ground up. Beyond that, the selection process was pretty subjective, based on builders that I admire and respect, motorcycles that I wanted to see in person, and examples of craft that could withstand close scrutiny. I like things that confound expectations and I chose a selection of motorcycles that push the boundaries of what a "motorcycle" is and challenge preconceptions. A great example is Joey Ruiter's 'No-Moto' which he built especially for MOTO MMXX. It doesn't look like anything you'd associate with a motorcycle.
As much as possible, I wanted the exhibition to be international. I contacted around 120 builders from all around the world, slowly narrowing the selection down to 20. It was important to me to have a broad spectrum of builders from well-known professionals like Walt Siegl and Jens vom Brauck to less well-known newcomers, and have their diverse stories and backgrounds represented. Although over 80% of the builds come from American workshops, MOTO MMXX includes builders of 12 different nationalities (including myself who's a Brit working in the USA).

Do you think more builders are adopting a contemporary approach with their designs?
In the wider builder community, it's interesting to see builders adopting contemporary techniques and processes, mixing modern tools and techniques with the more traditional crafts. It's not unusual to see hand-formed metal parts alongside 3D-printed polymer components, and I think that juxtaposition is fascinating. MOTO MMXX displays the whole gamut of styles and techniques from builders Shinya Kimura and Cristian Sosa who work directly with the metal, without any preliminary sketches or plans, to the likes of Mike Mayberry who created the 47 Ronin motorcycles with a planned-design approach using 3D-CAD and a budget of $2.7M. They all have their place, and I'd hate to see any of the wide range of processes and perspectives disappear.

Photograph by Aaron Brimhall
Do you think custom builds like these are capturing the attention or even influencing mainstream manufacturers?
The custom motorcycle movement has exploded in the past decade, and what was once a fringe pursuit is now a mainstream phenomenon with many motorcycle manufacturers initiating their own mass-produced "customised" versions. Exploring new territory inevitably upsets the status quo, so most of the incumbent manufacturers aren't willing to take that risk. It's my hope that the thought-provoking builds in the exhibition will challenge and expand visitors' – and manufacturers' – perspective on what motorcycles can and should be.
I suppose it's an occupational hazard, but I've been thinking a lot about the future of the motorcycle industry. I wonder about the direction it's headed, and who will be the ones to steer it there. The motorcycle industry is at a particularly interesting intersection as electric motorcycles emerge as the heir-apparent to the internal combustion engine. When the original iPhone launched 14 years ago, nobody could have anticipated that a phone from a company with no telecoms experience was about to change the world so dramatically. Fourteen years forward from now is 2034 – a time when many analysts predict that autonomous electric vehicles will be the predominant mode of transport. Unconstrained and unbeholden by the industry status quo, custom builders are uniquely positioned to explore this opportunity.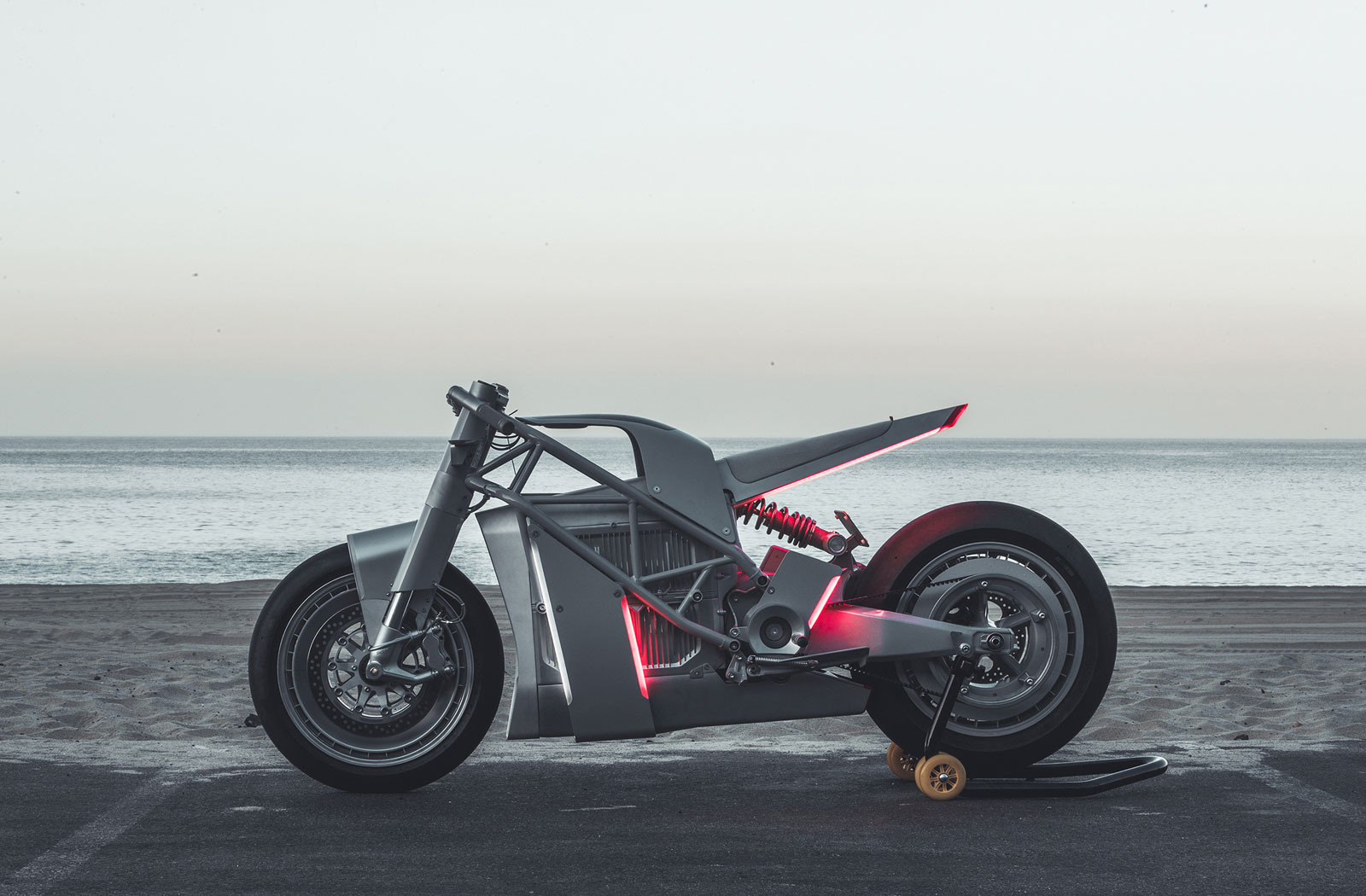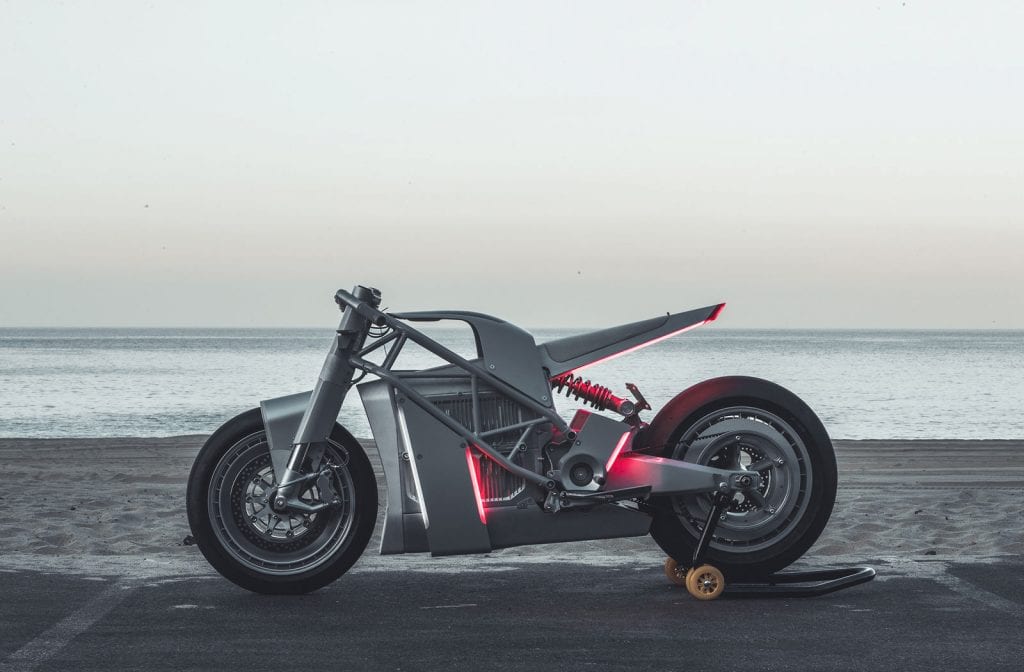 How do you apply a future-forward approach to the work you do?
The XP Zero is probably the most future-forward project so far. From an industrial design perspective, the motorcycle category is still, style-wise, pretty conventional. This is especially true when it comes to the design challenge of electric motorcycles. The XP was a unique opportunity to re-examine and reimagine what the design language of the motorcycle could be when no longer constrained by the limitations of a combustion engine. The project was almost entirely conceived and designed in 3D-CAD and the majority of the panels are computer-machined before being hand-assembled. This method allows replacement parts to be ordered at the press of a button, providing an unprecedented level of both customisation and reproducibility for our customers. 
Although the XP Zero is often described as "futuristic" it was actually conceived as a present-day motorcycle from a parallel 2020 where vehicles had always been electric: not a future reality but, rather, an alternate reality. It sounds fantastical but, in fact, at the turn of the 20th century, this alternate reality was not far from being our reality. In 1900, 38% of American cars were electric (twice as many as combustion), and fifteen years later, Henry Ford and Thomas Edison were collaborating on plans to manufacture electric automobiles (one of Ford's experimental EVs actually used a Model T frame). Unfortunately, that never came to be and, a century later, we find ourselves in our current predicament. I don't know if the future is electric, but I think we can say with almost certainty that it isn't gasoline.

What can we expect to see from you and the Untitled Motorcycles team next?
In our San Francisco workshop, I'm building a number of XP Zeroes for clients, possibly a race version for a team in Canada, and working on a number of other electric projects with Energica and Harley-Davidson. Alongside that, I'm building a next-gen Hyper Scrambler II for a client in Belgium that incorporates improvements accumulated over thousands of miles in the saddle of the original Hyper Scrambler. 2020 is our 10-year anniversary and we've decided to delay the celebrations until 2021 so we can enjoy them in person with friends and clients. There's a lot to look forward to.
---
MOTO MMXX is now open to visitors until 3rd January 2021. You can also visit a virtual 360° version of the exhibition here. 
Image courtesy of Henrik Kam

Featured Motorcycles at MOTO MMXX:
Madhouse Motors – Devil's Advocate
Ronin Motorworks – Hazama Mitsuoki
Cherry's Company – Highway Fighter
Watkins Motorworks – M001
Untitled Motorcycles – XP Zero
HugeMoto – Zero SM
Curtiss Motorcycles – Zeus
Suicide Machine Co. – Alloy 750
Combat Motors – B-120 Wraith
Sosa Metalworks – Chankla Veloz
DesmoBIBU – FrankenBlast
ETT Industries – H1L (Fast & The Furious)
Chabott Engineering – Il Drago
J.Ruiter – NO_MOTO
Walt Siegl Motorcycles – PACT
Untitled Motorcycles – Supernaturale