It takes a lot of courage to dare to be different. For our latest 'Chop Talk' Progressive Insurance collaboration, we hear from J. Shia of Madhouse Motors. At her Boston based workshop, J. Shia specialises in antique motorcycle maintenance and restoration. It would seem though that when she has spare time on her hands she struggles to keep her creativity at bay. This bike, for example, a '57 Royal Enfield Indian, was her entry into the 2019 Handbuilt Show where it raised eyebrows and drew crowds all weekend.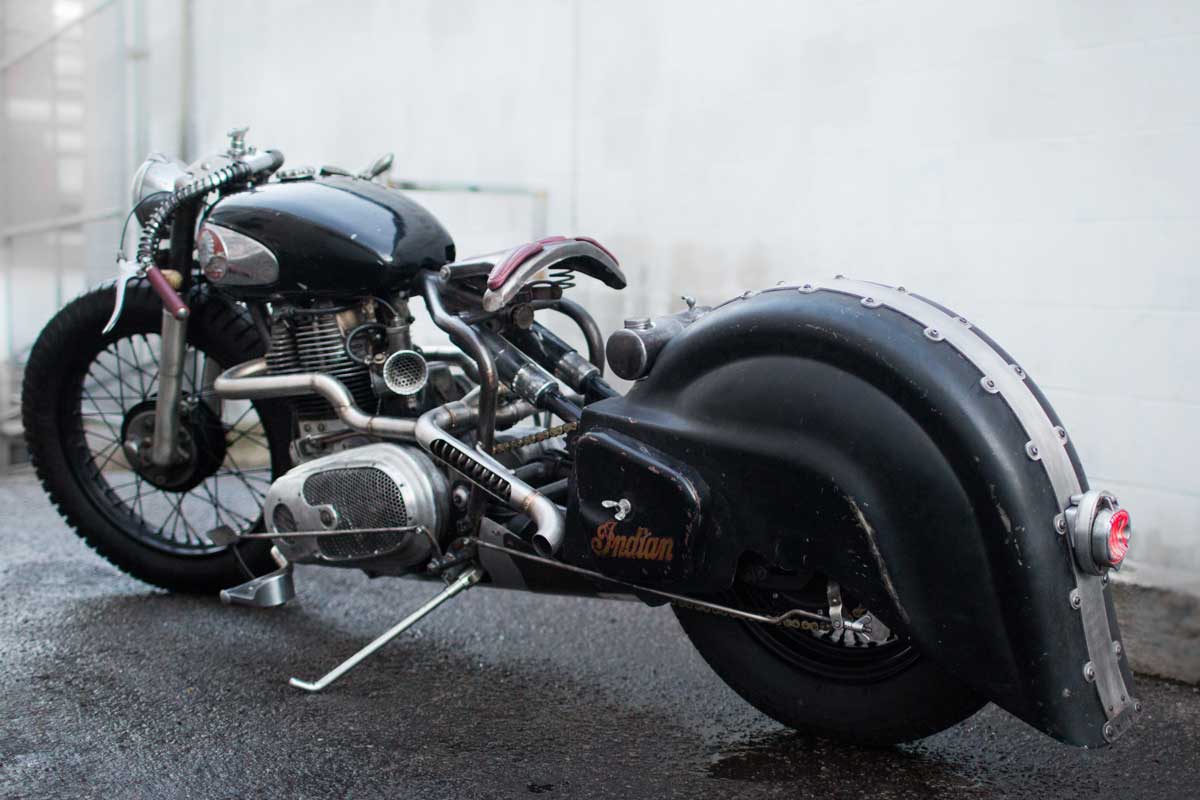 The "Devil's Advocate" started out as a run down 700cc Royal Enfield Indian, which is a rather obscure motorcycle in itself. After Indian Motorcycles closed their doors in 1953 the brand was purchased by English motorcycle retailer Brock House Engineering. To keep up with the demand for Indian branded motorcycles they began rebadging Royal Enfields. Then to stay true to Indian's naming tradition they gave each bike American-esque names like 'Apache' and 'Trailblazer' which were both 700cc twins like this bike.
After a couple of years of building customer requests, J. Shia decided it was time to build another bike for herself using the Enfield as a base. A bike that "functioned unconventionally" and reflected her own style. The following is her story of how this unique ride came to be…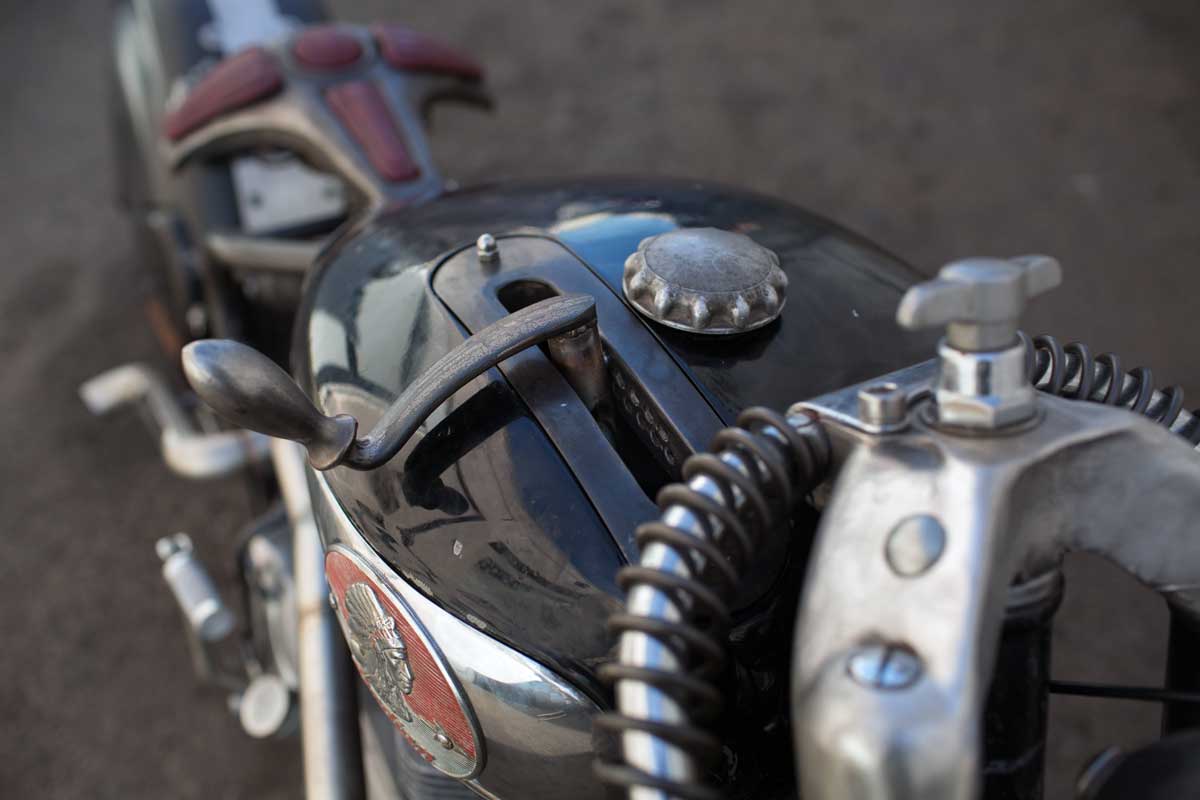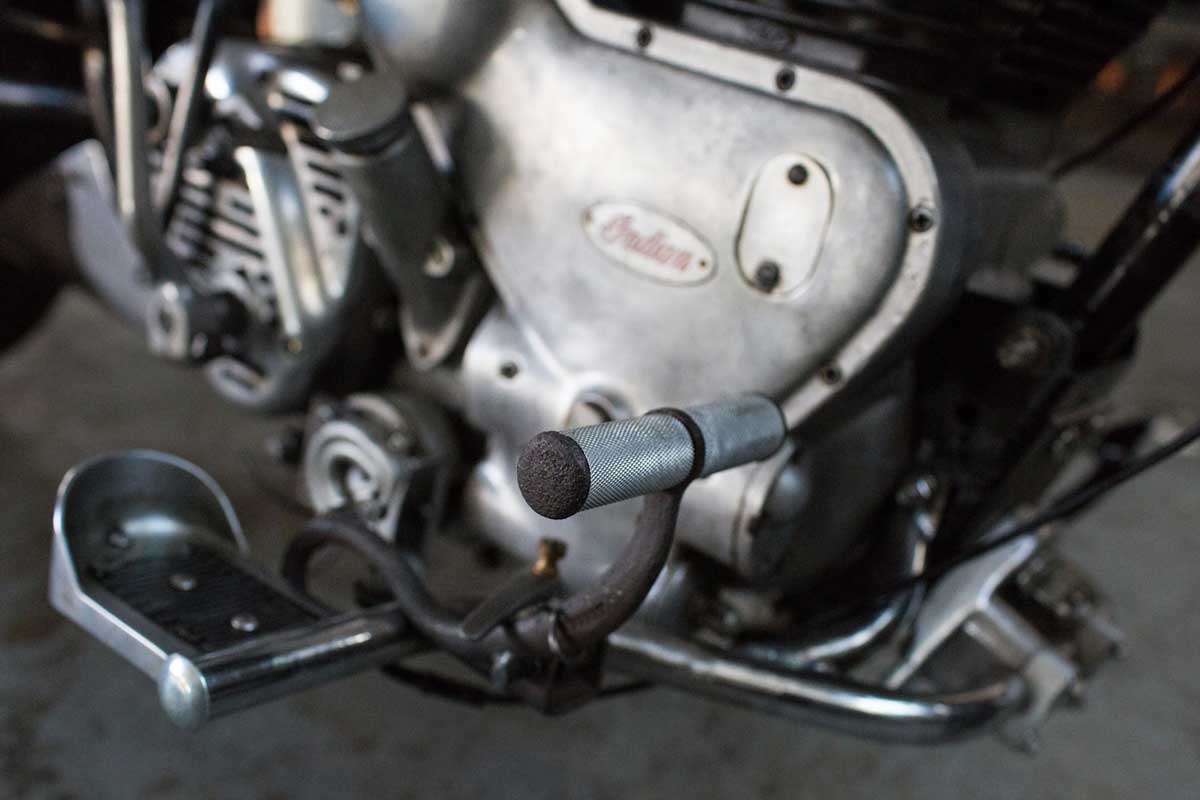 "I own Madhouse Motors in Boston, Massachusetts where we specialize in antique restoration, general maintenance, fabrication, and the occasional custom build. This bike is a 1957 Royal Enfield Indian with a foot throttle and an internal tank shift. I think what really inspired me with this project was the concept I had of building a series of bikes that function in an abnormal way. Sort of like a dysfunctional family.
The bike I had done before this was a BSA A65 that started with a pull start. With this bike being its predecessor, I was brainstorming what I could do to push the norms of how these machines typically operate. I decided to take a shot at a foot throttle, so a lot of the bike's vibe and energy revolve around it functioning that way."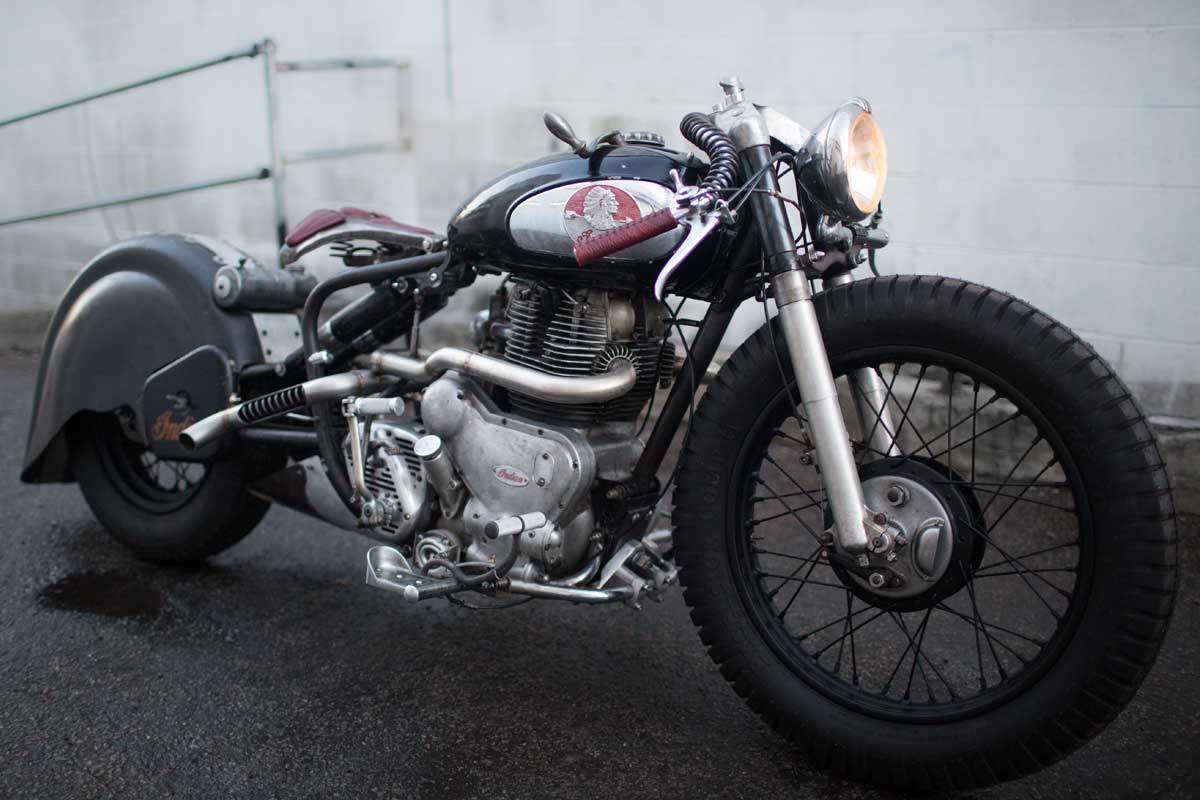 "I think what often gets overlooked when seeing the bike from afar, and even in photographs, is that there's a lot of small details. Funny little things that we threw in, like the tail light which is an egg slicer with an LED installed. We used an old shoe fitting device for the footrests and the tank shifter was from an old lathe. The headlight is an old police light that we cut down and the seat's from a little red wagon. Those are the kinds of small details that were thrown in just for fun.
I think in total the bike took me eight months to complete. I took a big break in the middle of it just to give myself some space to think and to slow the whole process down. I'm not totally sure what I'm going to be doing with it after the Revival Cycles Hand Built Show. I'd like to display the whole series at some point together. Having it at the Hand Built Show with so many amazing builders was awesome. It's unbelievably humbling."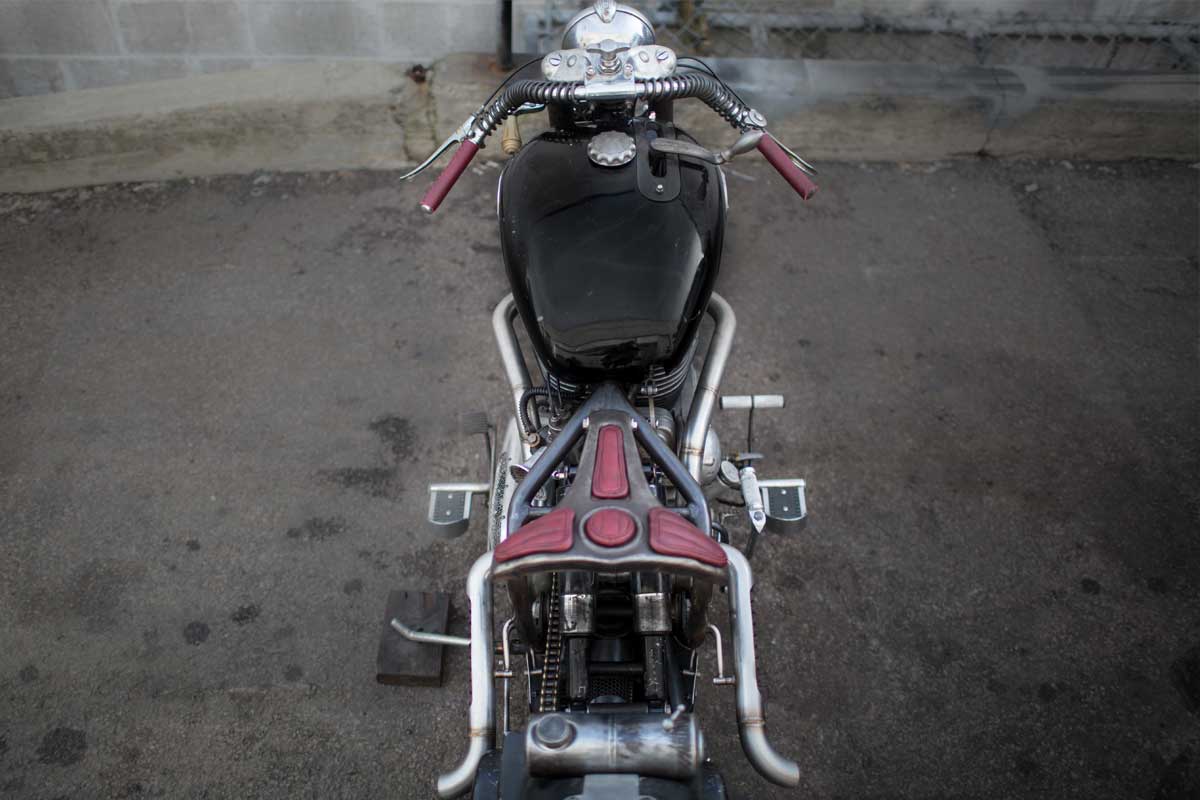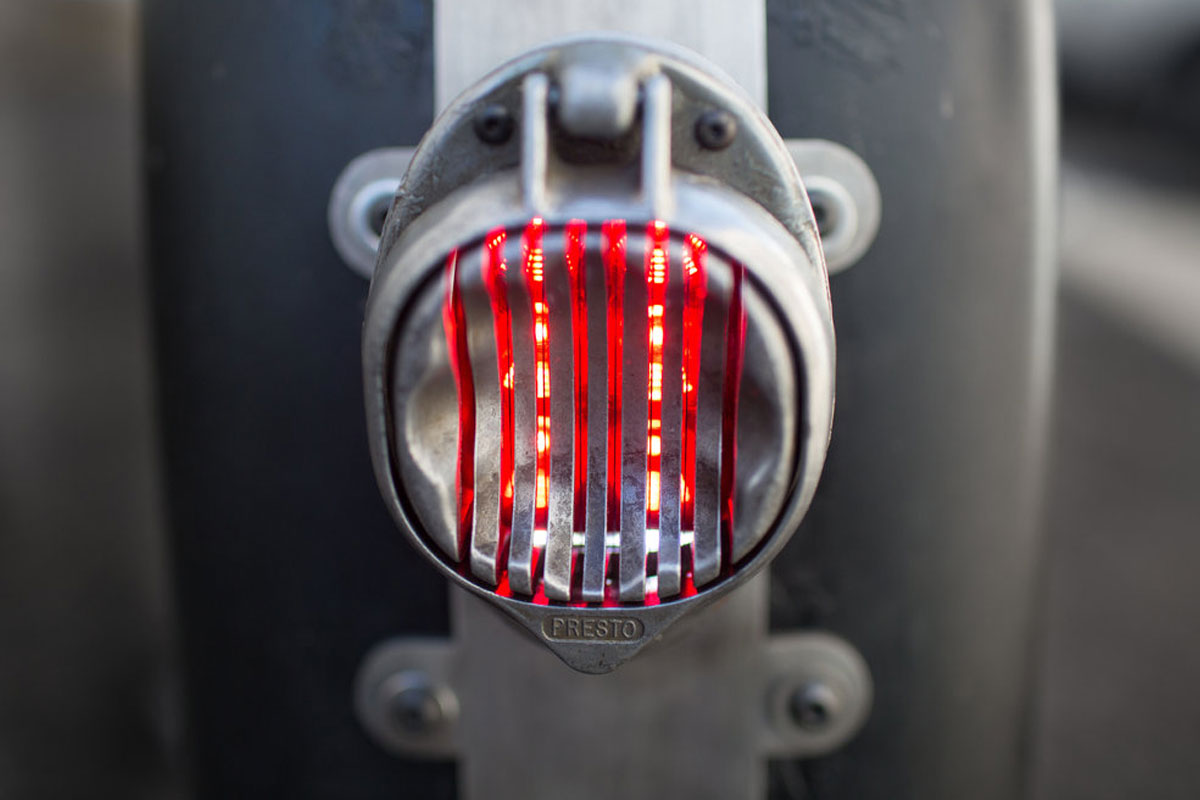 Along with everything J. Shia mentioned her Royal Enfield Indian also features a plethora of one-off fabricated parts. The rear end, for instance, has been stretched and attached via a pair of centre-mounted shocks. The front end was shortened to level its stance and the exhaust is clearly bespoke. J. Shia also rebuilt the engines top end and transmission to ensure any questions as to whether it can be ridden or not could be put to rest.
In the weird and wonderful world of custom motorcycles, J. Shia's Royal Enfield Indian sits firmly in the former category. I think it's safe to assume that she wouldn't want it any other way.
Special thanks to Progressive Insurance / Photos by Gretchen Devine and Stephen Canino