The Katze is finally out of the Tasche. BMW Motorrad has unveiled its highly anticipated R18 concept. As we all suspected they dropped that massive new 1800cc boxer twin into a cruiser platform and it's a stunning blend of modern engineering and classic BMW styling. The lead up to the release of the R18 has also been rather exciting. Back when BMW was developing the R Nine T they worked closely with workshops to create pre-production customs. After the obvious success of that bike, they took a similar approach with the new R18.
Late last year I was in Yokohama when Custom Works Zon unveiled 'Departed', the very first custom bike to feature the R18 engine. After that BMW set their sights on a US-based project for which they teamed up with Alan Stulberg and the crew at Revival Cycles. Coined the 'Birdcage' BMW R18 this bike was exhibited for the first time at Revival's own Handbuilt show in Austin last month. Today we bring you the story of the build in Alan's own words thanks to the Progressive Insurance 'Chop Talk' series.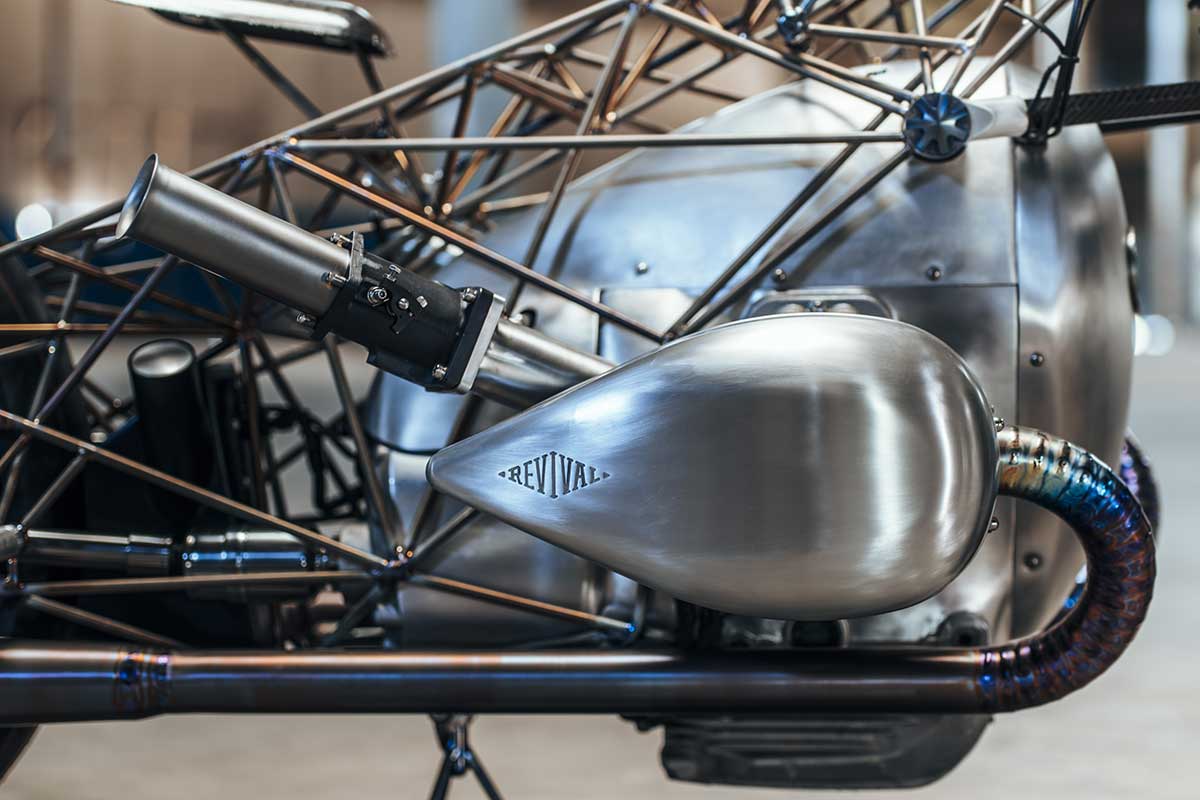 "We have built a custom BMW prototype I'm calling the Revival Birdcage BMW." says Alan. "The project began when BMW provided us with this rather large engine and drivetrain. The inspiration for the bike came from the Henne racing BMW of the 1930s and 40s. We had already built a bike 3 or 4 years ago inspired by that bike, and I think that's the reason we ultimately ended up getting this project from BMW.  They wanted us to build a newer, updated, more kind of crazy version of that same bike. So this project was definitely inspired by the Henne land speed racer from the 30s.
I hope that when people see this thing, they notice the titanium frame that you're able to look through to see the engine and drivetrain. Even though the design of the frame and suspension is complex and visually there's a lot going on you can look straight through it. I think that the idea was to make people really look hard at the engine and put it on display."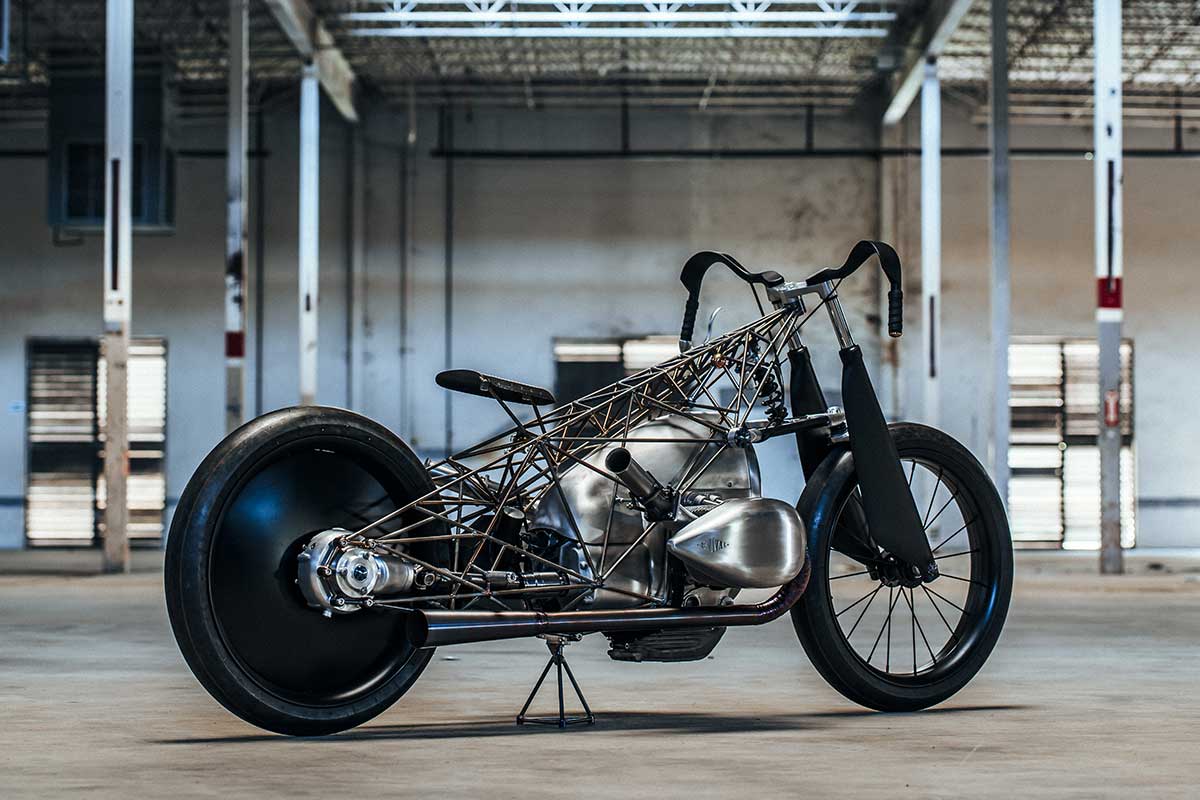 "This build has been in the works for about three years. Between 6 to 12 months were spent drawing and sketching ideas of what we might do. The physical bike only started to take shape about three months ago then the actual build probably only five weeks ago. So after all that planning, it was built in only five or six weeks.
The goal for the bike after the hand-built show is to go land speed racing at Bonneville, at the dry lake bed in California, and beyond. It'll probably be a land speed bike more than a drag bike. But who knows, maybe it will end up being a drag bike. You can see that it's got all the makings of a race bike."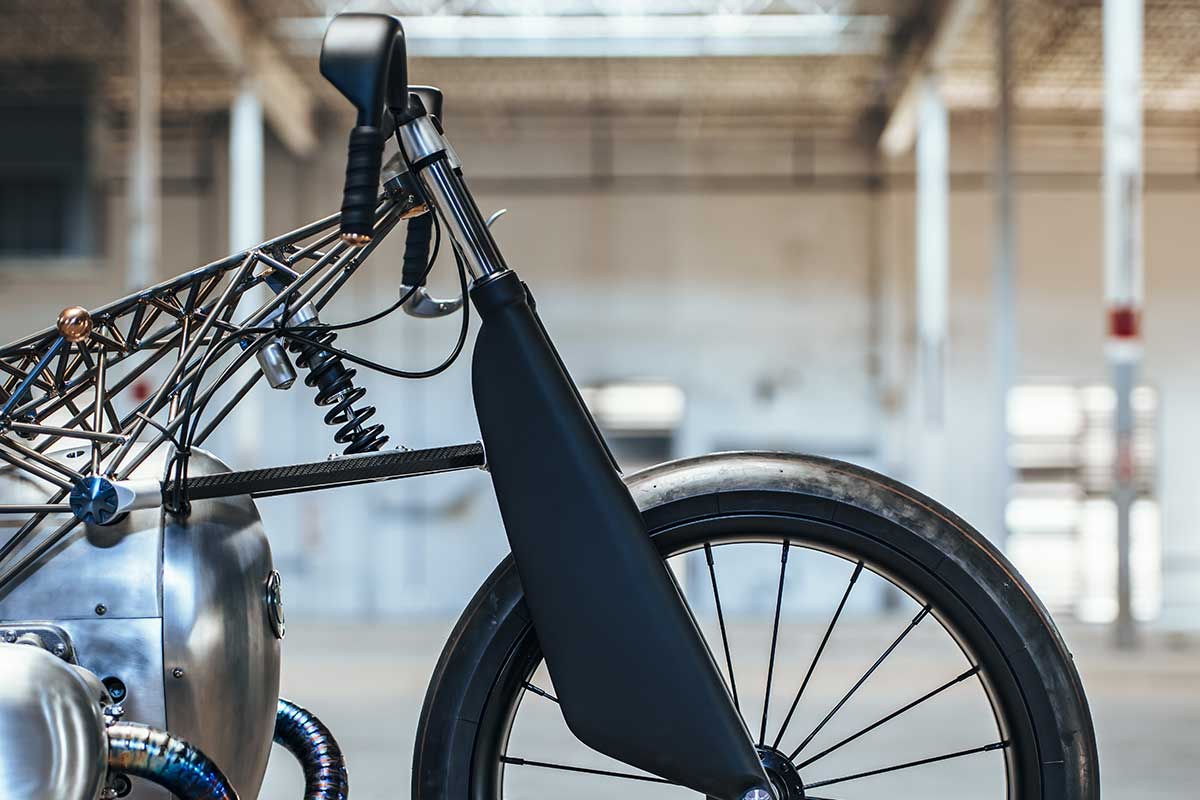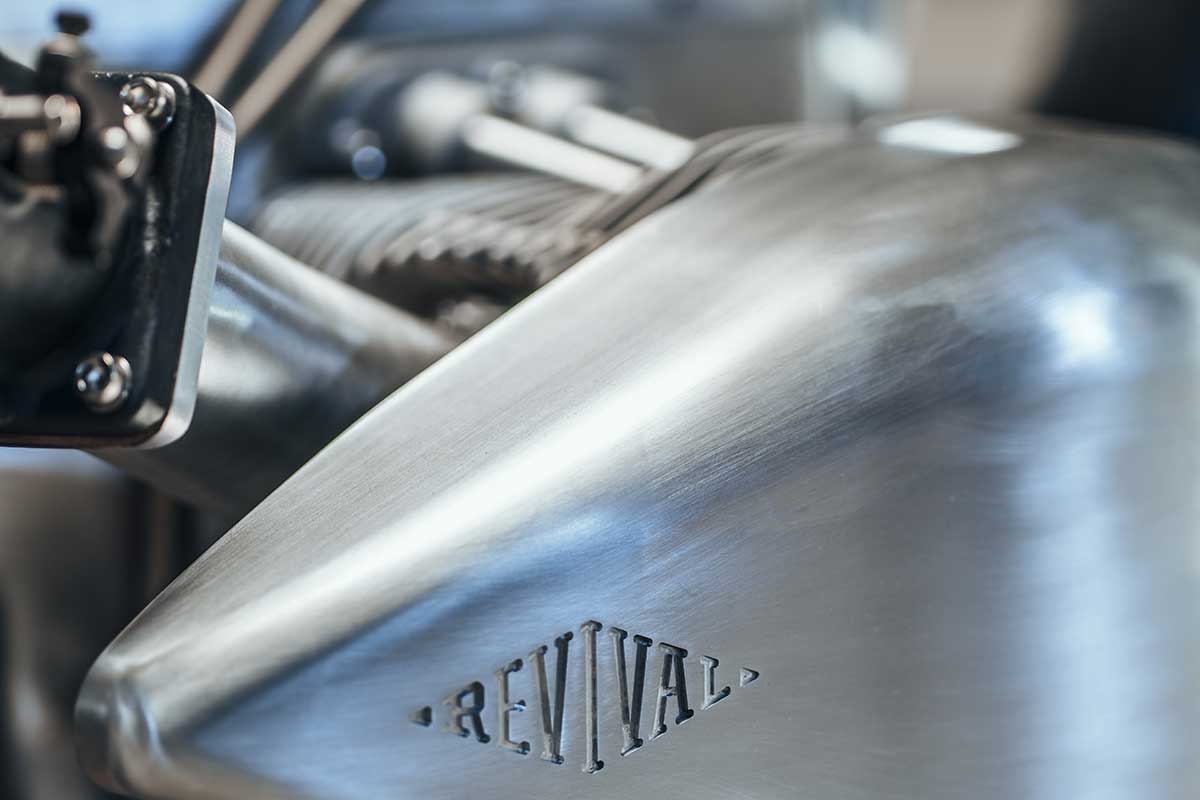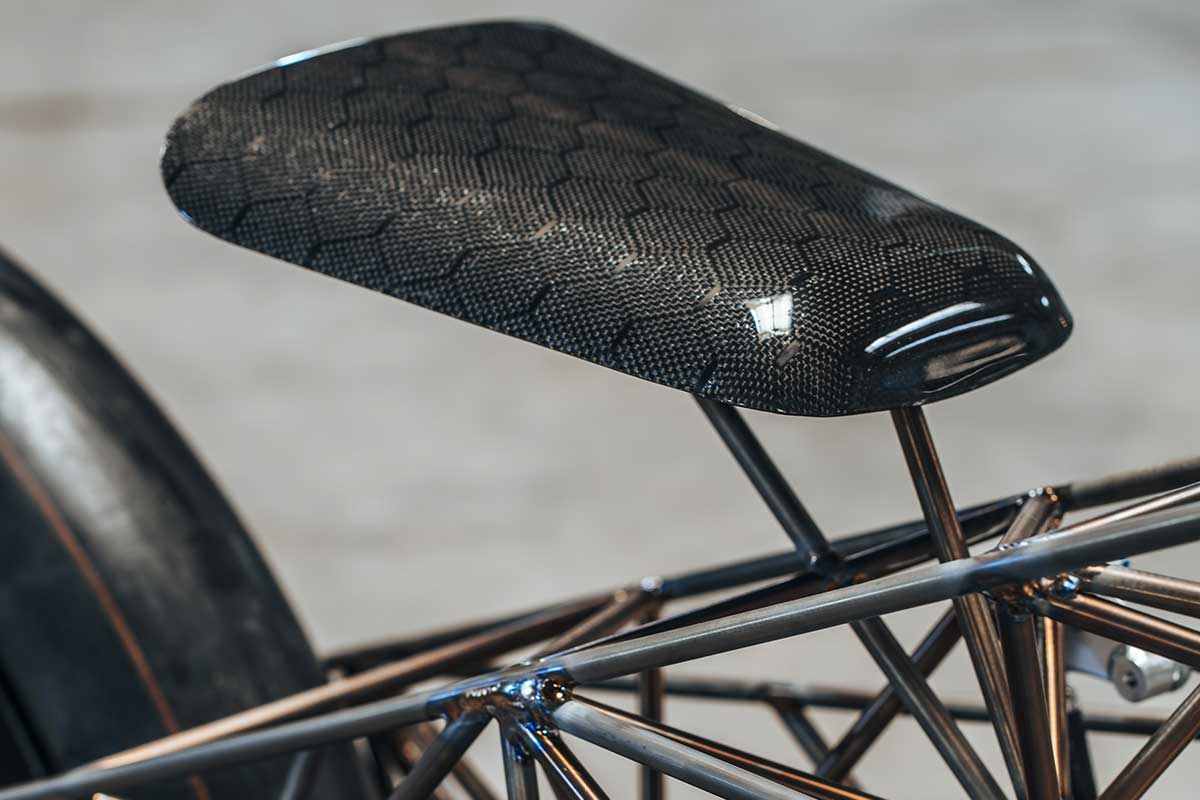 "As with all custom builds, we have attempted to try something new. This time it was a material choice, titanium. For those who have not worked with or even held titanium, it's an amazing alloy. It is both extremely lightweight and extremely strong. I wanted to use the thinnest material we could and titanium was the right choice. I had also always been infatuated with the birdcage framed racecars that Maserati and Porsche famously built in the late '50s and early '60s. Thus I chose to go full 'birdcage' and build what I believe to be one of or perhaps the only birdcage-framed motorcycles ever built. With 138 carefully cut, coped and welded in frame members it took a LOT of time to complete!"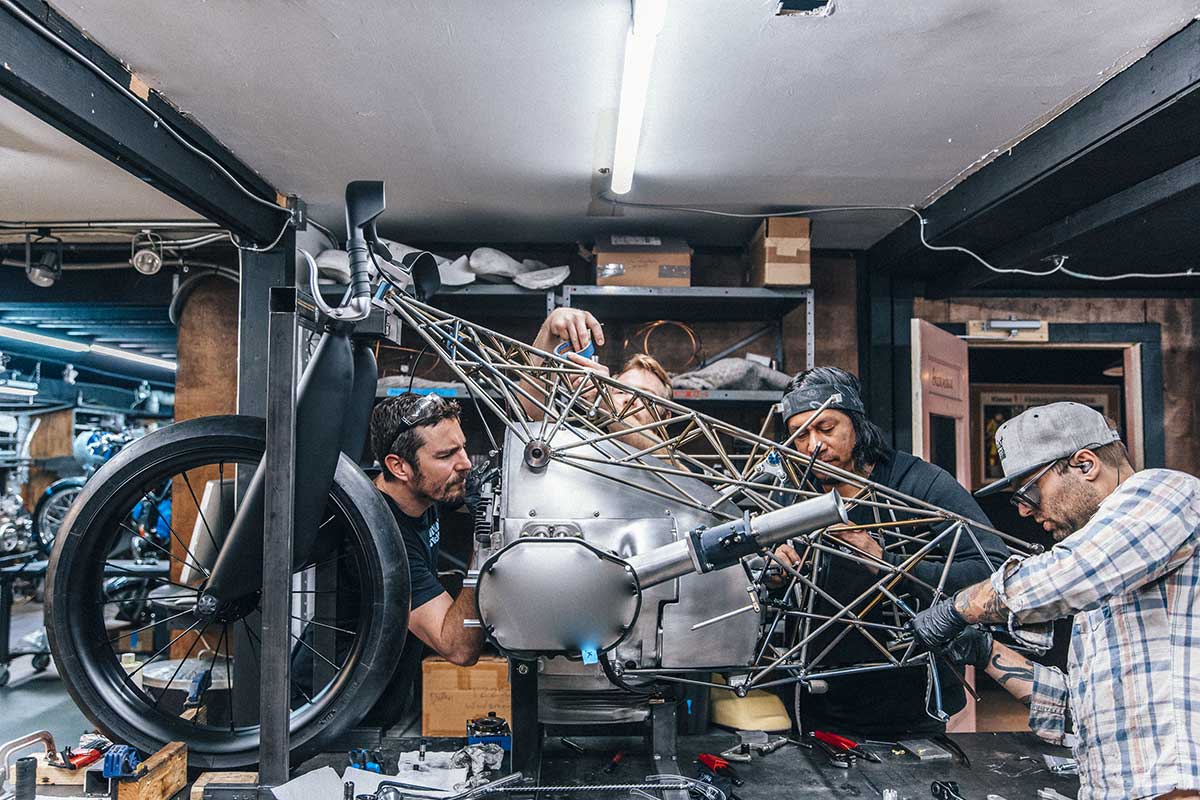 "From there we decided to build the front suspension as an updated version of BMW's famous tele-lever front forks that offer both lightweight components and feel. We engineered into the mix an Ohlins mountain bike shock and dampener and fabricated a front control-arm with CNC-cut billet aluminium and carbon fibre hexagonal tubing to connect it all. It all feels like pure magic when you hold the components in your hand and it's hard to fathom their strength to weight balance.
We then fabricated custom handlebars and shaped fork lowers to pay homage to the Henne land speed racer of the past that I admire so much. With a carbon fibre linkage connecting the hand-shifter to the gearbox and an inverted clutch lever the vintage feel is maintained, but with modern materials and components."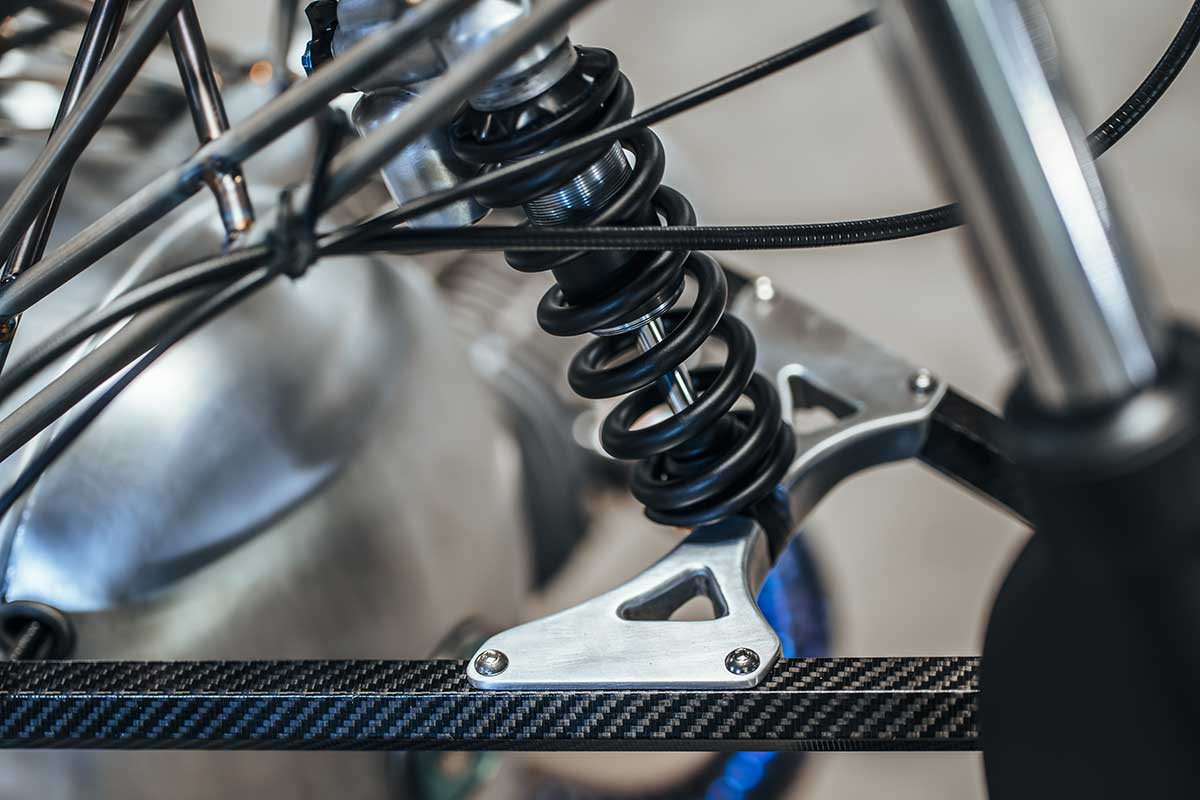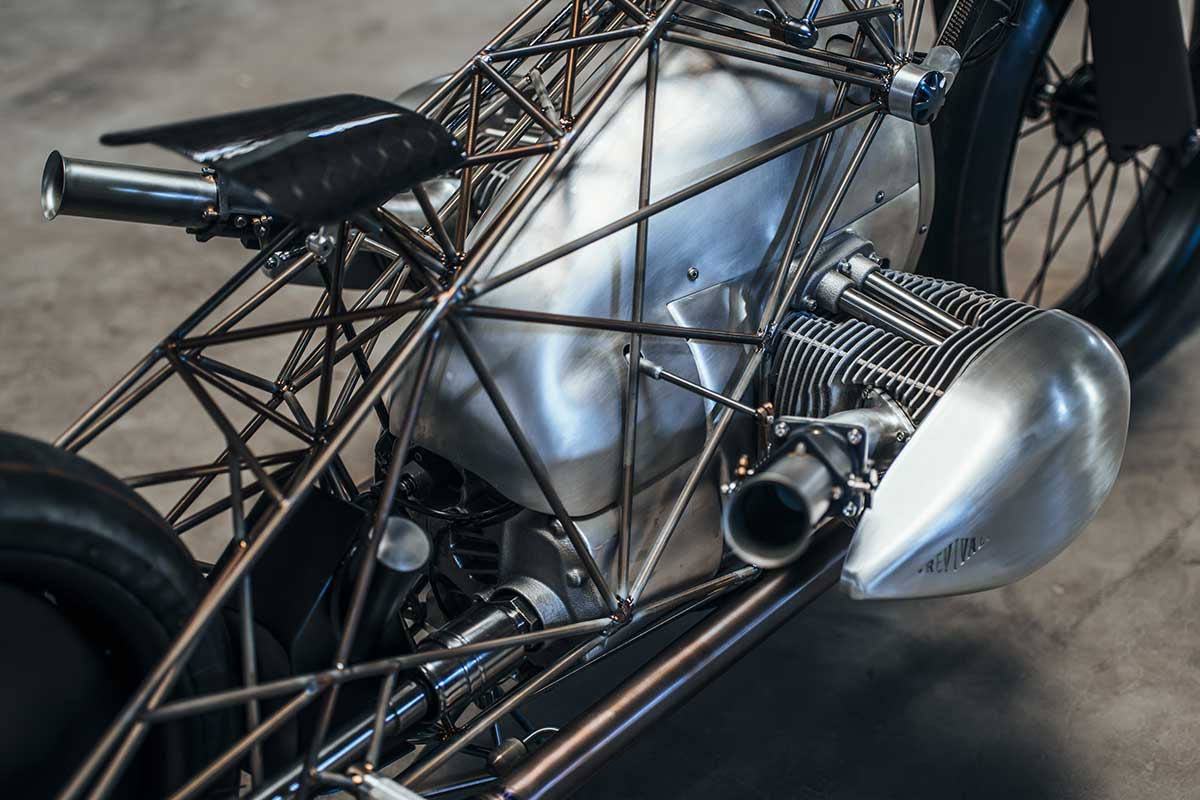 "Auerbach, our lead engineer and fabricator, designed and built the huge billet aero-shaped aluminium valve covers, a carbon fibre seat, titanium fasteners for the axles, front suspension, foot controls and footrests, the throttle linkage and many other pieces. Ty Burham, our chief welder, designed and built a full titanium custom exhaust that we then anodized for the full effect. I designed an engine and gearbox cover set out of thin aluminium that gave us the perfect spot to hide the custom ECU, charging system, ignition system, wiring and a 1-gallon fuel tank.
For fuel delivery, we chose to go the old-school hotrod route with large-mouth mechanical fuel injection bodies and bellmouth velocity stacks. They splay out just a bit wider than the huge valve covers. This leaves ample room for a rider to tuck their knees for what we hope will be top speed trials at Bonneville. The enormous 23″ slicks provided to us by Dunlop are completely enviable. The rear wheel is covered traditionally in an aluminium disc and is another throwback to the original BMW Henne racer."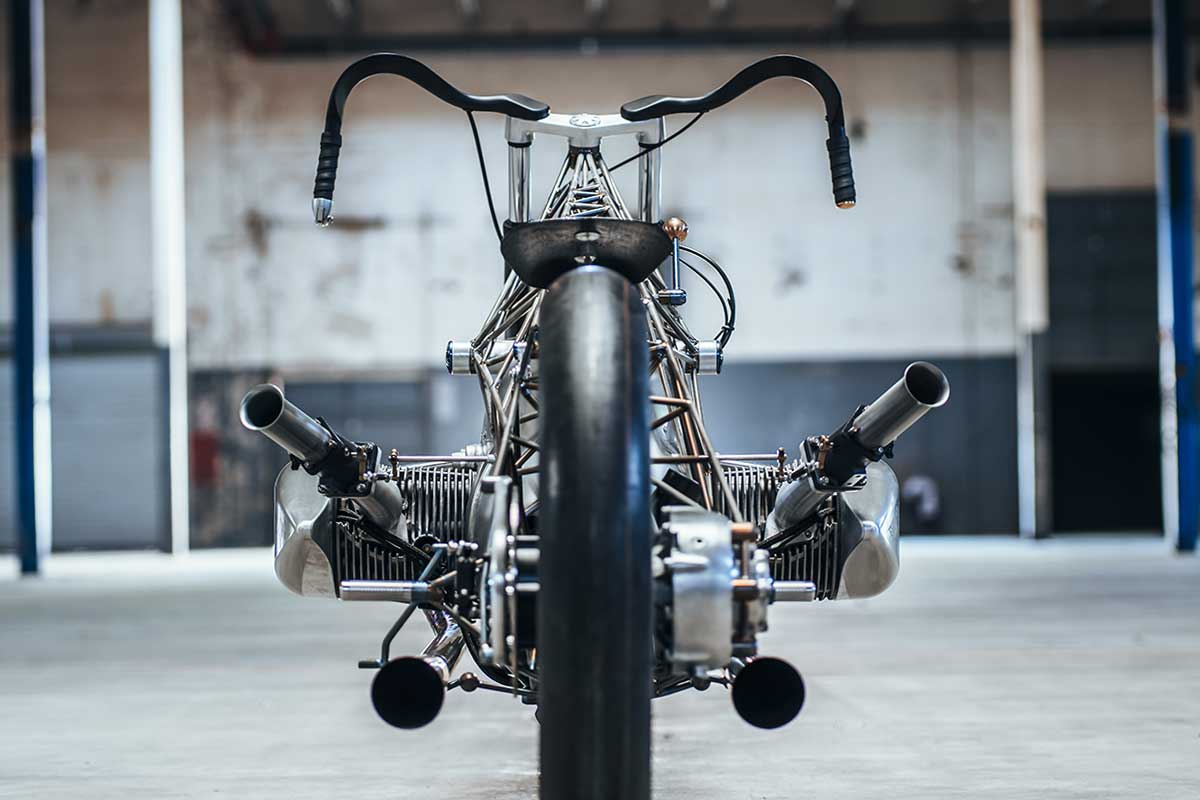 It's not often I see a bike that breaks the mould as wildly and confidently as Revival's Birdcage BMW R18. To think that this all began with nothing but an engine is a credit to everyone involved. Now the only thing left to do is see just how fast that beefy BMW R18 airhead can actually go.
Special thanks to Progressive Insurance / Photography by Brandon LaJoie