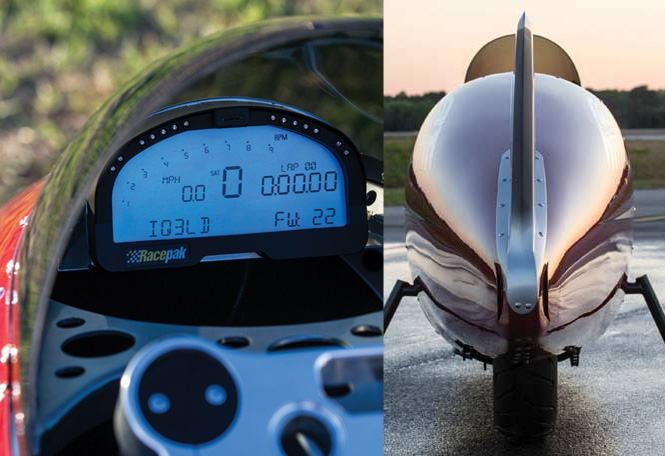 "The Spirit of Munro is a fully custom-built, the Spirit of Munro is an all-metal tribute to the racers and mechanics throughout history who have collectively built the legacy of record-breaking racing performance and strength that is Indian Motorcycle.
The Spirit of Munro was constructed by Jeb Scolman of Jeb's Metal and Speed in Long Beach, CA. It was designed from the ground up to house the new Thunder Stroke 111 engine and showcase its awe-inspiring power and performance."
"Between the years of 1926 and 1961, one man from a small town in New Zealand dreamed of setting a land speed record on a 1920 Indian Scout. In 1962 at the Bonneville salt flats that man's dream finally came true.
To honor the past and power the future, Indian Motorcycle built the Spirit of Munro, an all-metal tribute bike which would house the new Thunder Stroke 111™ engine. On May 5, 2013 the bike was run on a dry lake bed in California. A tribute to the great Burt Munro, and a celebration of the Indian Motorcycle that is yet to come."
As yet there hasn't been any mention of taking the bike out to Bonneville during speedweek, but I'm sure there would be plenty of interest in it happening. The bike may not be capable of clocking up the same speeds that Burt managed on his Scout, but it would be a true salute to Burt's legacy.
Maybe if you all share this and express your interest in this happening Indian Motorcycles will accomodate?
Unless you've been sleeping under a rock you would have already heard about the "Spirit of Munro". The bike was built as a tribute to Burt Munro's land speed, record breaking Indian Scout by Jeb Scolman and Indian Motorcycles. The company have produced a video showing the bike in action on a dry lake and a behind the scenes video with interviews about it's construction (after the jump). The original "Munro Special" used to set the 1967 landspeed record of 183mph (295kph) was powered by a 950cc Scout engine that Burt heavily modified using what ever means he could out of his modest home workshop (the Scout was originally a 600cc motor with a top speed of 55mph). The "Spirit of Munro" is powered by Indian's new 'Thunder Stroke 111' motor which  will power their new 2014 range which is being unveiled next month at the Sturgis rally.