Over the last few years, I've seen some amazing things happen in the world of custom motorcycle building, but the thing that excites me most is the growing trend of using "old" fabrication techniques. Rather than relying on machines to do the hard work for them, handfuls of builders are adapting traditional techniques using
basic tools and their bare hands 
to turn raw materials into functional components.
Vaughan Ryan is a trained coach-builder and panel beater who works as a lecturer in Automotive collision repair. His skills were honed during an 
apprenticeship at Classic Autocraft in Sydney, r
epairing, restoring and recreating exotic race and road cars. 
Under the guidance of several Spanish master craftsmen, he developed
 skills in hand forming and fabricating sheet metal/alloy as well as a passion for automotive design
. His most recent project is t
his bike, a Honda CBX1000 he has temporarily named RAW.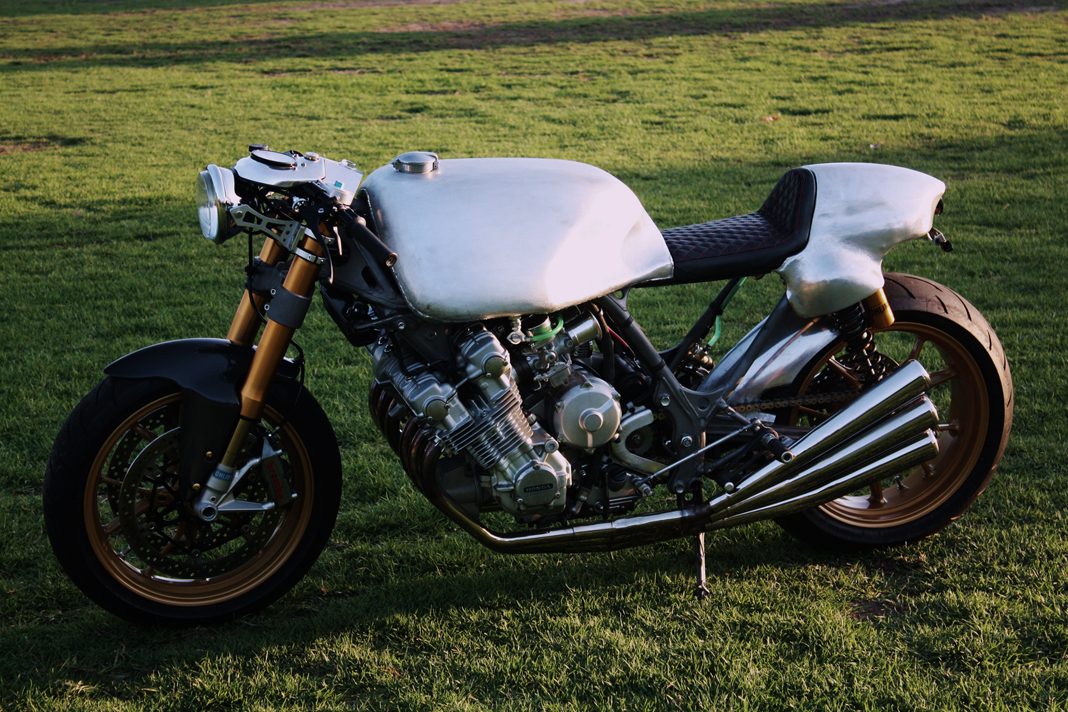 Here's what Vaughn had to say about the development of RAW so far…
"This design was based on the idea of a modern factory prototype CBX Café Racer. It's a bike that I wish Honda had built as a road going tribute to their multi-cylindered racers of the sixties. I've incorporated into the design many different inspirations, including ideas from my working life and any other sources of inspiration. These inspirations include art deco designs, WWII aircraft and historical race cars & bikes."

"Of equal importance to its aesthetics was the practicality and usability of the bike (I hate building trailer queens). I fit new suspension, brakes, wheels & electronics so the bike has modern benchmarked standards of components with old school cool. This isn't the first bike or CBX I've done, the previous CBX was a Mike Hailwood replica constructed for a customer. That CBX is now on permanent display out at Western's motorcycles in Penrith (It's a trailer queen & never gets used). That bike planted the seed for this build 8 years ago and I simply needed the right time in my life and the right donor bike to start this build. At the moment this bike's nickname is RAW."
"The major challenge with the CBX was turning the design in my mind into reality without losing sight or altering my original ideas, I could have taken a much easier and quicker path but I couldn't live with the end product. My goal was to have the bike ready for its first major test ride in the Ton Up Rockers Ride in Sydney which I achieved."
"The bike will still be undergoing design refinements over the summer of 2012/13 and around April the bike will be pulled apart then plated, painted, lock wired and polished. My design goal was to construct a motorcycle with clean uncluttered lines, aggressive looks and a sound to match. Too often bikes I've owned or ridden have left me wanting in one way or another, with RAW this won't be the case."


With Vaughans build story in mind take a look at the list of bodywork and engine modifications he's completed on the bike to date. It's an ecclectic mix of standard, fabricated, new and 2nd hand parts which have come together to create his CBX vision.
Frame de tabbed and gusseted
Swing arm widened & braced with oval section steel tubing
Dash, tank, rear seat unit, seat (upholstered by hytone trimming), seat base, rear guard, rear brake caliper mount, foot rest mounts, adjustable linkages, & various bracing, brackets, mounts & machining mostly by the owner or thanks to friends (George Rimi "bodywork" & Hugh Johnson "machining" )
Front forks, lower triple clamps, front wheel & brakes Ducati 1098R
Upper triple clamp billet machined & steering stem adaptor (Costin motorcycle engineering)
Foot rests, levers and grips by tarrozzi or domino
Electronic ignition paired with can bus completes the new wiring loom and elimination of fuses performed by Julian Lopez
Led dash lights and switch blocks supplied by Deus ex machine
Handlebars by speedymoto (Gowanaloch's)
Fuel taps & lines supplied by Gowanaloch's
Headlight & mounting brackets supplied by MCA (new handmade sheet alloy mounts & mini fairing will be made)
Rear wheel & caliper Ducati 999
Exhaust made by pipemaster, sounds rawsome! (Thanks Peter) re-bent and shortened by the owner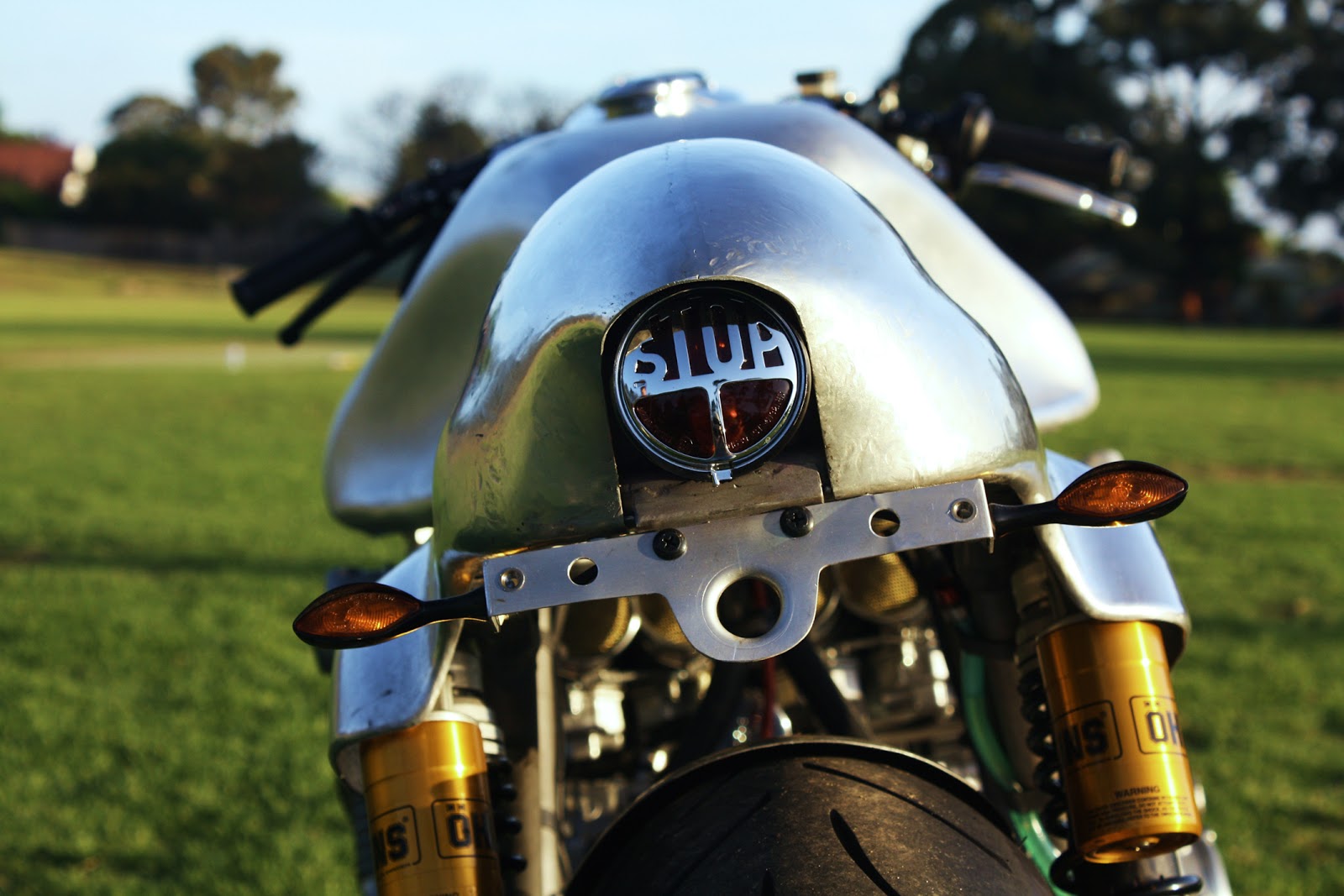 If you like the look of this bike check out Vaughan's company 
Motor Retro
where he and two other skilled builders create bespoke & uniquely designed motorcycles.